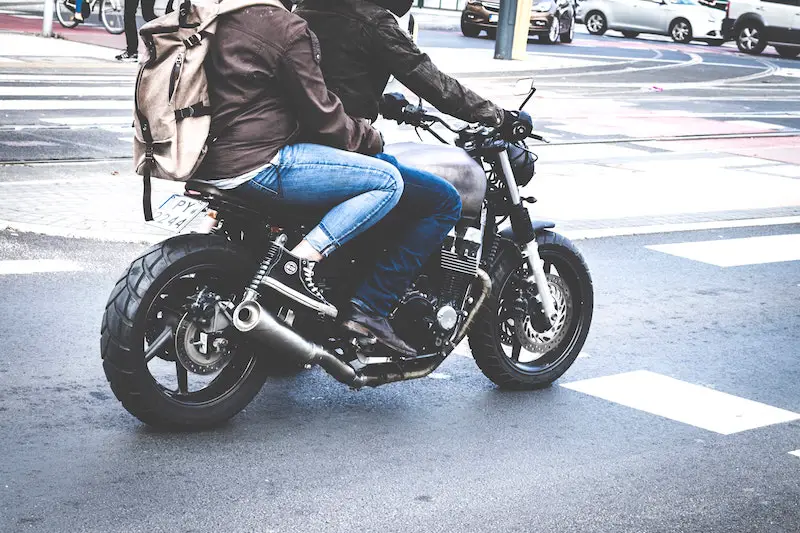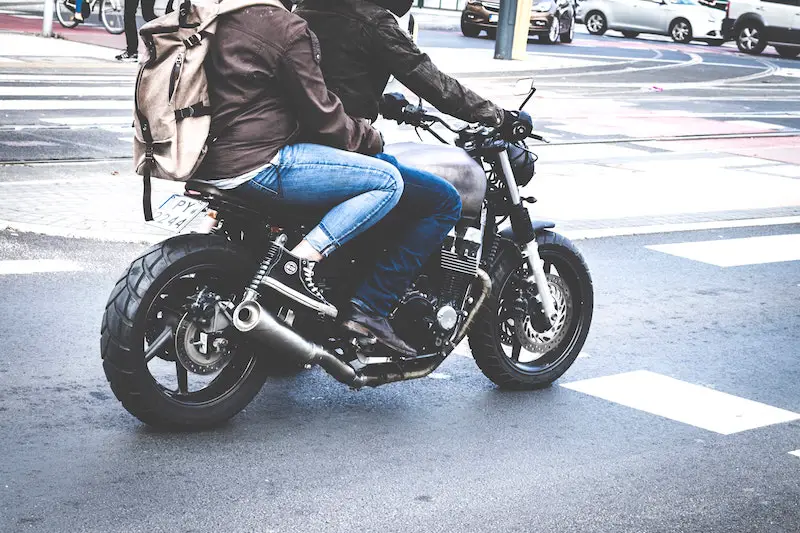 Commuting can be boring, monotonous, and time-consuming – if you're not doing it on a motorcycle. In this post, we're going to look at some helpful motorcycle commuting tips to help you get to work safely and comfortably.
Riding your motorcycle to work is a great way to start your day and improve your commute. Depending on where you live and if filtering is legal, you might even make it to work quicker.
However, if you're not properly prepared for a motorcycle commute, it can end in misery and frustration. Having done it in the past, I put together a few helpful tips and considerations to keep you prepared for your next motorbike commute.
Whether you're someone commuting year-round or just during the warmer summer months, these tips are bound to help you out. So without further ado, let's jump into some of the best motorcycle commuting tips I've learned and discovered.
Looking for a good commuter bike? Check out our post on the best motorcycles for commuting!
Helpful and Practical Motorcycle Commuting Tips
Stay Visible (Stand Out)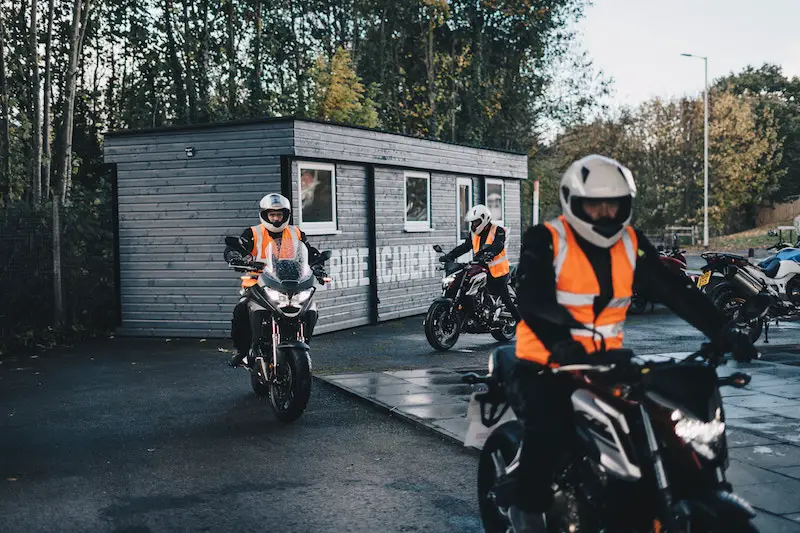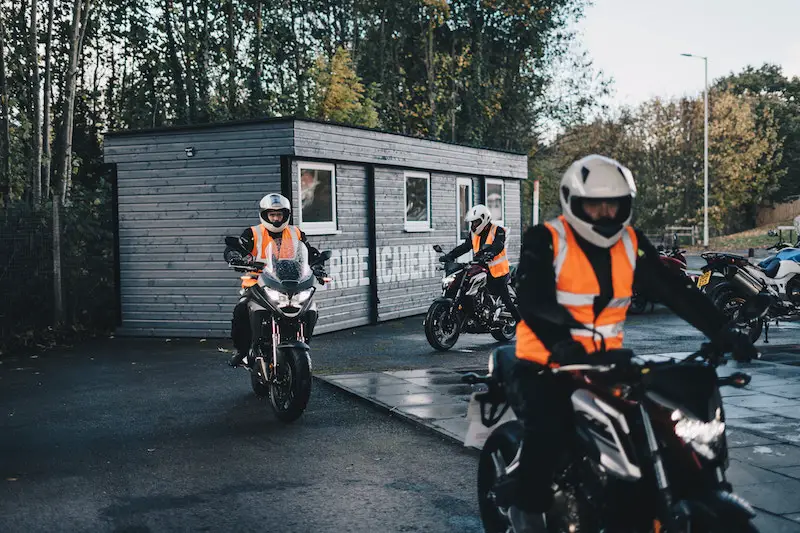 Your safety needs to be the most important consideration when you're commuting on a motorcycle. Those of you working standard hours will be driving through heavy traffic in a wide range of road and weather conditions.
In the morning, people are tired and grumpy because they have to go to work. By the end of the day, people are tired and running out of focus. This means you need to be extra vigilant when you're commuting during rush hour periods.
One of the best ways to improve your safety on the road is to be as visible as possible. You should always be wearing your motorcycle safety gear.
Avoid using any dark materials that blend into the vehicles around you. Instead, look for high visibility gear that's bright orange or yellow in color.
People aren't going to be paying attention to dark shapes moving around them. They are going to be paying attention if they see flashes of yellow or orange zooming behind them or zooming by.
If you don't want to buy high visibility motorcycle gear, consider getting a high visibility vest. Every little bit helps when you're on the road.
Don't forget about following good riding practices and make an effort to stay focused and alert. Many motorcycle accidents and close calls can be avoided if you're paying attention. Always try to predict what traffic is going to do and never take any chances when you're commuting.
Prepare for the Weather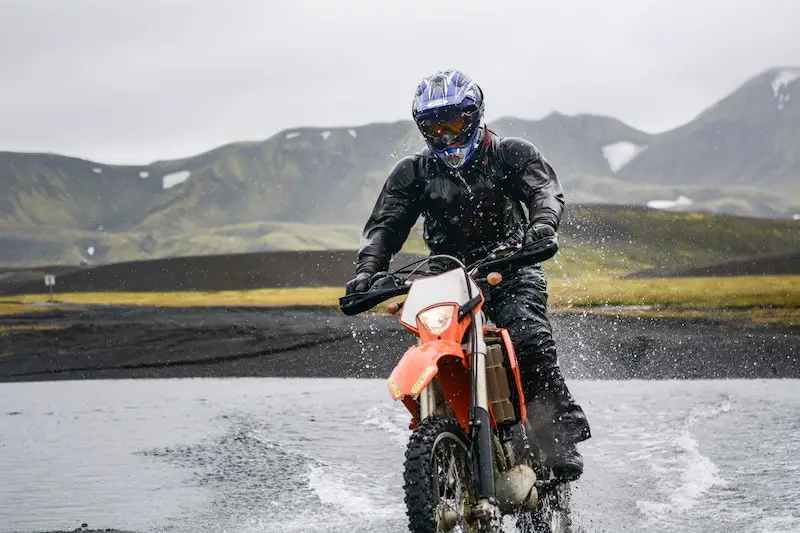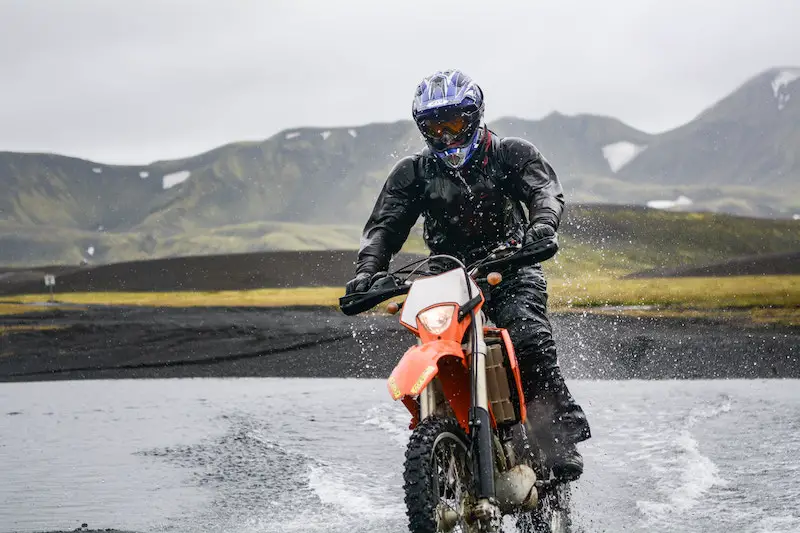 If you don't have a car for the rainy days, you're going to want to prepare for riding and poor weather conditions. For the most part, this means rain and wet weather.
During wet conditions riders will want to be even more focused. Both other drivers and current road conditions need to be taken into consideration.
If you don't have somewhere to change at work, or you don't have spare clothes, you'll need to wear motorcycle rain gear. This is gear designed to do to keep you warm and dry when you're riding a motorcycle in the rain and wet conditions.
Don't forget that you're less visible in the rain. Motorcycles also have increased stopping distance and significantly less traction, especially in turns, when the road is wet.
Along with wet and rainy weather, there's also the heat and wind to consider. During the summer, riders have a number of options available when it comes to summer motorcycle gear.
The most important items are a summer motorcycle jacket and summer motorcycle gloves. These are ventilated to provide you with better airflow and to keep you cool on those warm summer days.
If you'll be riding in cooler temperatures, you'll also want to wear the right gear. While your motorcycle jacket might not be the thickest, don't forget about base layers and layering your clothing.
Double check the weather before heading out on your motorcycle commute. If the conditions look too harsh, there's no shame in parking the bike and driving in or taking public transit for the day.
Share the Road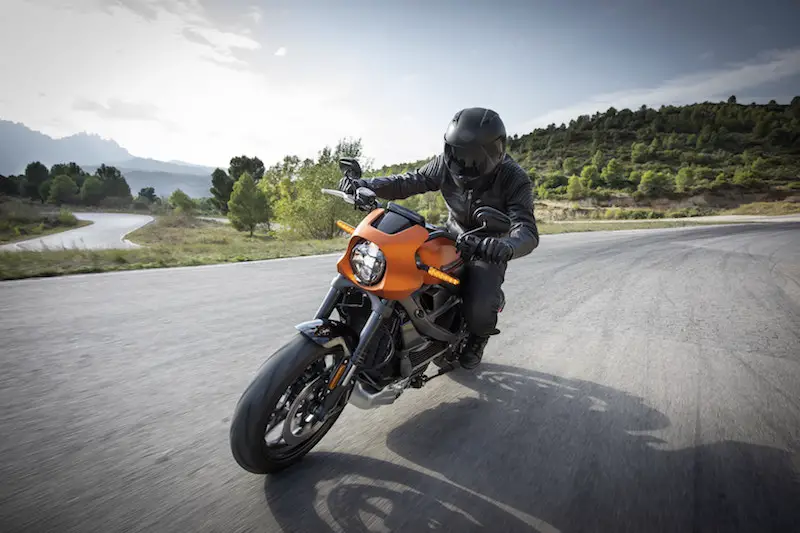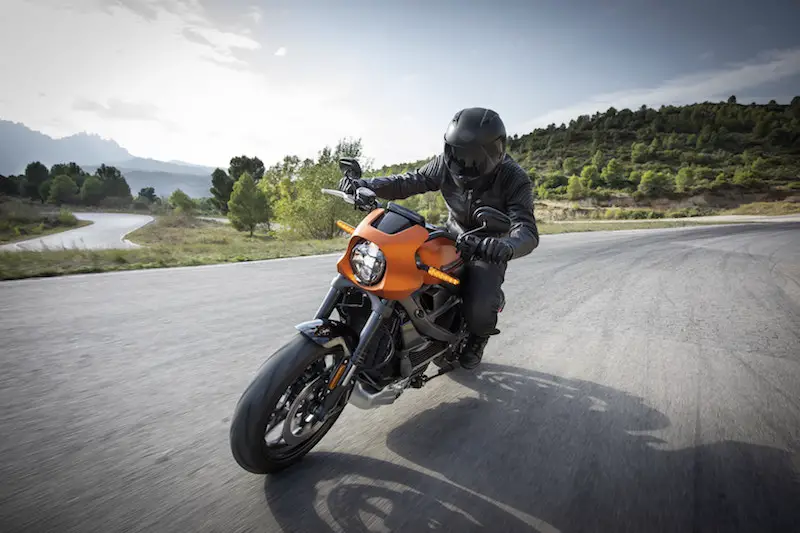 The main consideration when you're commuting on a motorcycle is dealing with the traffic in front of you. It's important to pay attention at all times and never lose focus on safely handling your motorcycle.
Practice being conscious of your surroundings along your entire commute. Always have a good idea of what's in front of you, what's coming up behind you, and what's on either side of you. With this in mind, it's easier for you to predict what's going to happen and how you need to react.
Those of you living somewhere that filtering is legal will want to take full advantage of this riding style. Filtering gets you to the front of the line in traffic and greatly lowers your chance of getting rear-ended.
Along with filtering, you'll also want to take advantage of lane-splitting in heavy traffic. With this strategy you won't be stuck waiting behind a car, you'll be able to zoom by and get to your destination quicker.
Avoid riding in any driver's blind spot and never ride beside another car for more than a few moments. Remind yourself to regularly check the mirrors and constantly be aware of your lane position.
Finally, avoid driving aggressively. Remember that you're sharing the road with other drivers and everybody's trying to get to their destination safely.
Wear a Helmet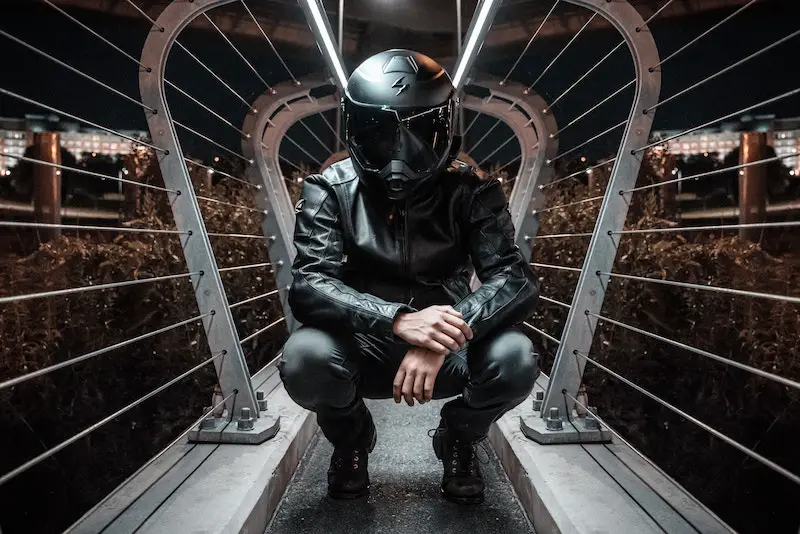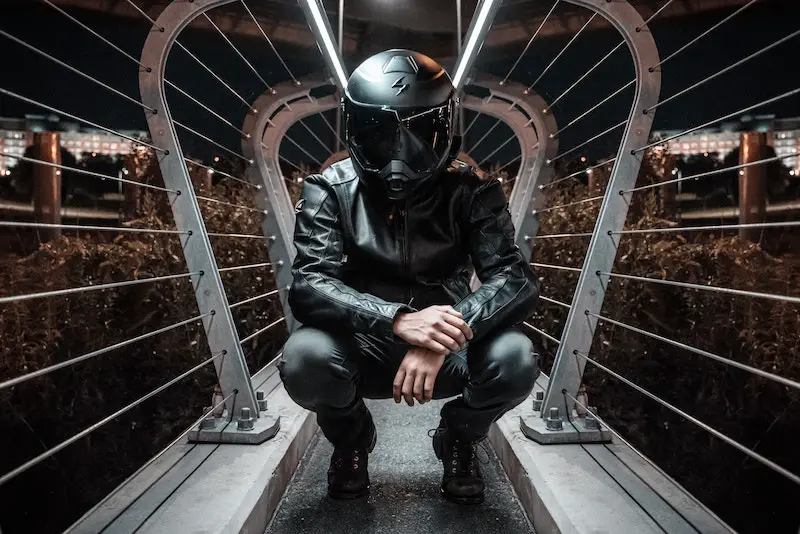 If you haven't already figured it out, safety is one of the main themes of this post. When you're motorcycle commuting you need to take your safety seriously. This means wearing a helmet whenever you're out on the bike.
In some states, and other locations, wearing a helmet isn't legally required. This is a bad idea, especially if you want to walk away from a motorcycle accident.
Full coverage helmets protect your face, chin, and entire head. You're protected from a serious impact, as well as from flying road debris such as rocks, stones, and litter.
Most other helmets leave your face, eyes, and jaw exposed. You wouldn't want to have your face scraped off if you happen to get into an accident or thrown from the bike. They may not look cool, but full face helmets provide the best protection.
Consider getting a brightly colored, or high visibility helmet. This would help make you even more visible out on the road, increasing your safety.
Check out our guide on the best motorcycle helmets to see our recommendations. Regardless of what you choose, it's always a good idea to wear a helmet whenever you're out on the motorcycle.
Mount and Charge Your Devices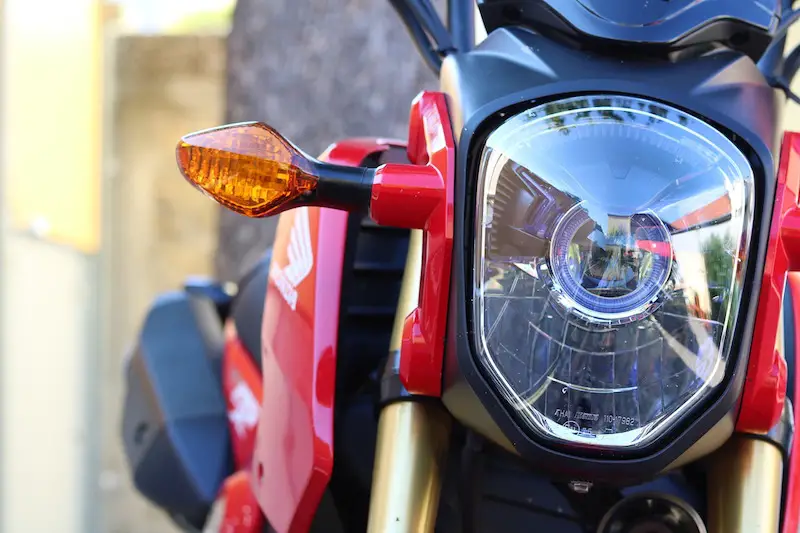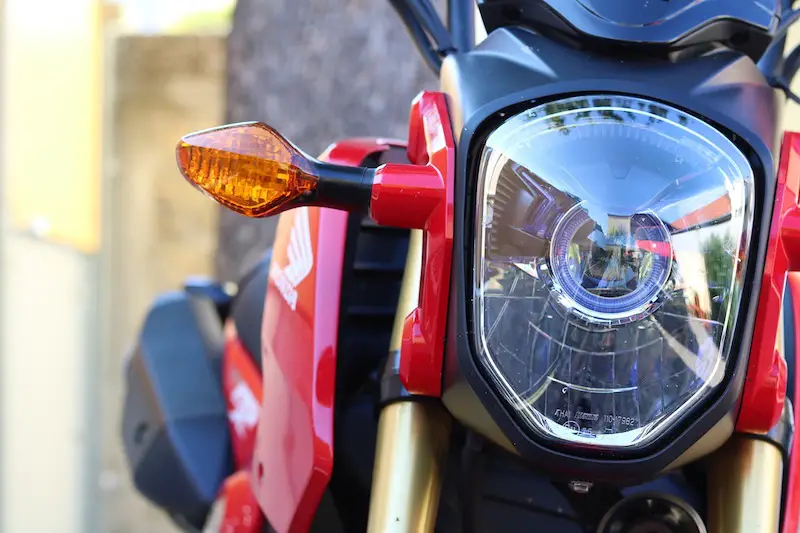 This isn't one of those crucial motorcycle commuting tips. However, it's great to be able to mount and charge your digital devices on your motorcycle. This way, you can listen to music while you ride and arrive at work with your smartphone fully charged.
Along with music and charging capabilities, a motorcycle USB charger also gives you the ability to use a motorcycle GPS. It won't be an issue keeping motorcycle helmet camera batteries or anything else charged either.
There are a number of options for motorcycle phone mounts available online. it's a good idea to check Amazon or your favorite motorcycle retailer for some ideas.
With so many options to choose from, you'll have plenty of choices for mounting, adjustability, and level of security. Regardless of the phone you're using, you'll be able to find a mounting solution.
Once the mount is installed, it's time to pick up a motorcycle USB charger and adapter. These hookup to your motorbike battery and make it easy for you to charge everything.
While a setup like this isn't necessary, it can help add to your motorcycle commute. Having a charger and mount it can also improve your riding experience in general, especially if you're going on day trips or touring.
Use a Tail Bag, Tank Bag, or Backpack for Cargo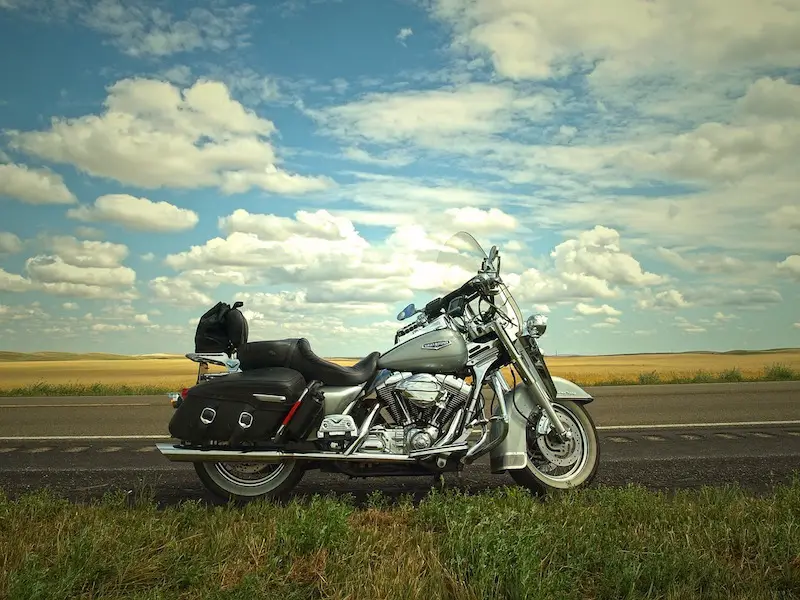 Depending on the length of your commute, you may need some practical motorcycle storage solutions. This also depends on the weather you're commuting in and what you typically need to bring to work.
There are a number of options available for motorcycle storage. These include motorcycle tank bags, motorcycle backpacks, and motorcycle tail bags.
Even if you're just riding with your phone, wallet, and keys, using motorcycle luggage makes it easier for you to manage your gear. You can also bring along waterproof motorcycle gear and other accessories you may need.
The most popular option for quick storage is using a motorcycle backpack. Check out our post on the best motorcycle backpacks if this is something you're interested in.
These backpacks are designed to be comfortable and aerodynamic. They offer a practical storage solution with plenty of options for storage space and other features. Backpacks are best suited for shorter commutes under 15 to 20 minutes.
Motorcycle tank bags are another great option. Check out our post on the best motorcycle tank bags.
These are smaller, although they're easier to access and can be used on most motorcycles. Tank bags are a great choice if you're not travelling with a lot of gear and you have a longer commute.
Finally, tail bags make a great option for people with longer commutes that are travelling with a lot of gear. Check out our post on the best motorcycle tail bags to see what your options are.
With a motorcycle tail bag you can stash your lunch, a change of clothes, motorcycle rain gear, and other accessories. They can also be used for getting groceries. These offer the most space and are a semi permanent solution for motorcycle cargo.
Use the Right Tires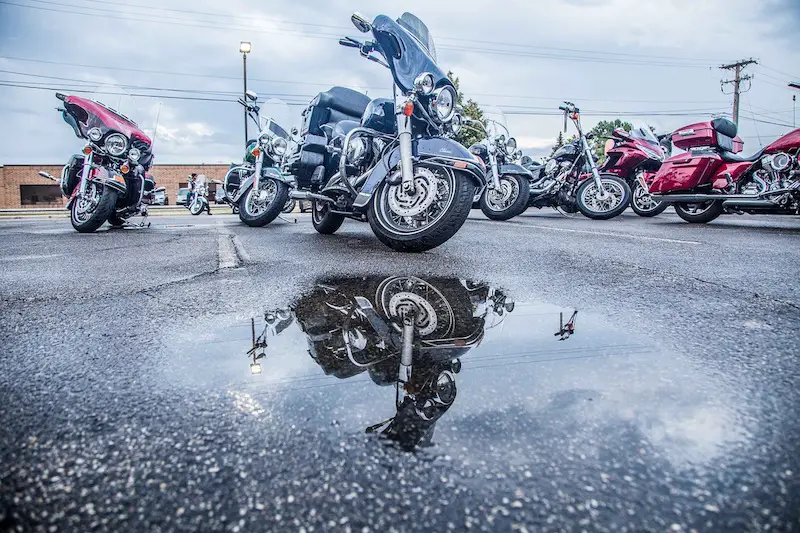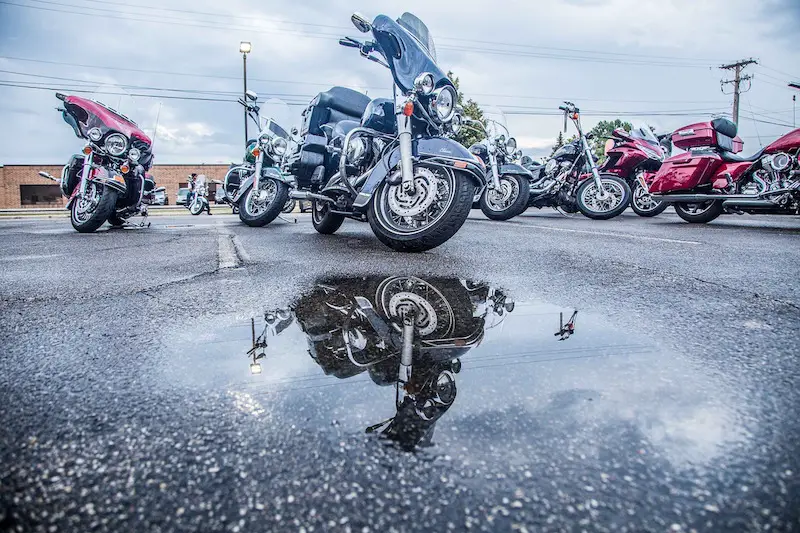 With so many different motorcycle tires to choose from, how do you know which are the best motorcycle tires for commuting? Simple. Tires designed for sport-touring and providing traction make a great option for commuting with.
Generally, you could commute on any set of motorcycle tires. However, there are specific sets that give you better fuel economy and provide a better grip on the road. These tires also have great handling, suitable lifespan, and traction in all weather conditions.
Since tires are your only contact with the road, it's important to use the right set on your motorcycle. You don't want to be riding on something that wears out prematurely or doesn't provide enough traction in wet weather.
As I mentioned, sport-touring tires are a great choice for commuting with. Generally, look for tires that are smooth with enough traction for a wide range of weather conditions.
Knobby tires and dirt bike tires aren't ideal for commuting. These will wear down prematurely and you'll end up spending more money on tire maintenance than you would otherwise have to.
Some of the most popular motorcycle tires for commuting include the Michelin Pilot Road 4's and the Metzeler ME888s. Of course, it depends on the type of bike you're riding that will dictate the tires you need.
Keep Your Bike Maintained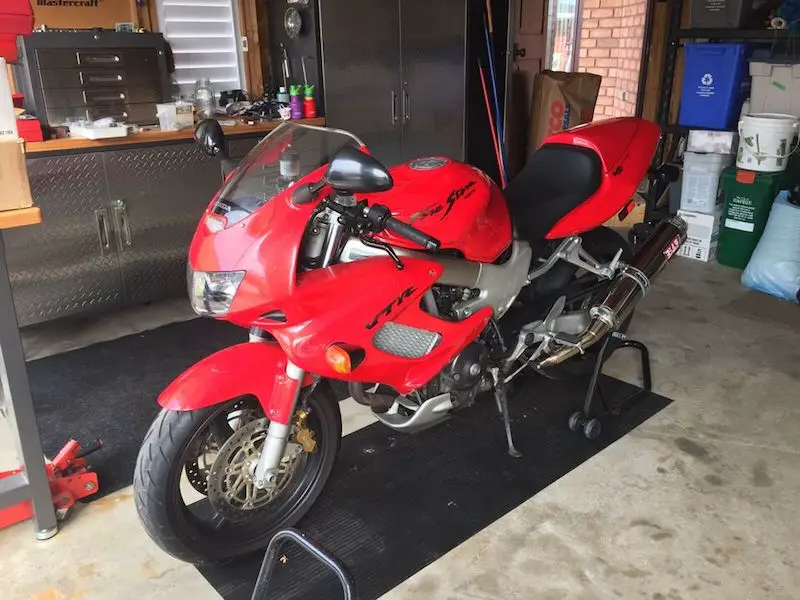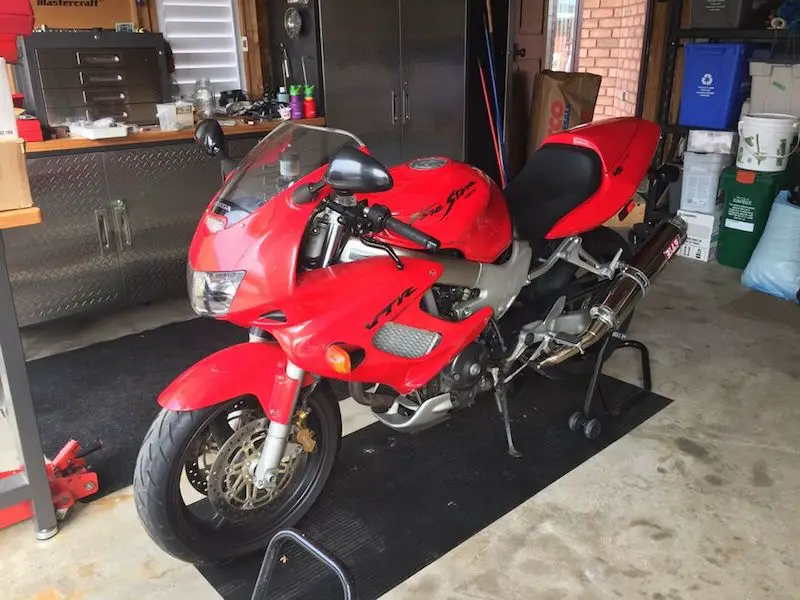 There's nothing worse than getting stranded on your motorcycle because you neglected to properly maintain it. Getting stranded means you could be late for work or late getting home, something you don't want to experience.
If you're using your motorcycle to get to and from work, it's important that it's maintained and as reliable as possible. Keeping up with the recommended routine maintenance is usually enough to keep your bike in prime shape.
We put together a list of the most helpful motorcycle maintenance tips that you can check out. Following these tips, as well as following your owner's manual recommendations, should help keep your bike running without any issues.
Longer commutes will put more wear and tear on your motorcycle. This means you need to be even more religious with maintenance.
Regardless of how far your commute is, you should always be maintaining your bike regularly. Start by getting the service manual and gathering the basic set of tools. It's also a good idea to record the work you're doing so you can refer back if you run into any issues.
Every week, try to visually inspect your motorcycle for anything that's broken, damaged, or missing. Check the tire PSI, inspect the oil level, and give your bike a thorough look-over. This should help prevent the majority of issues you may experience on the road.
Following the recommended service intervals will help to keep your bike running in prime shape. It will also help extend its lifespan and provide you with a reliable ride for many years to come.
Protect Your Vision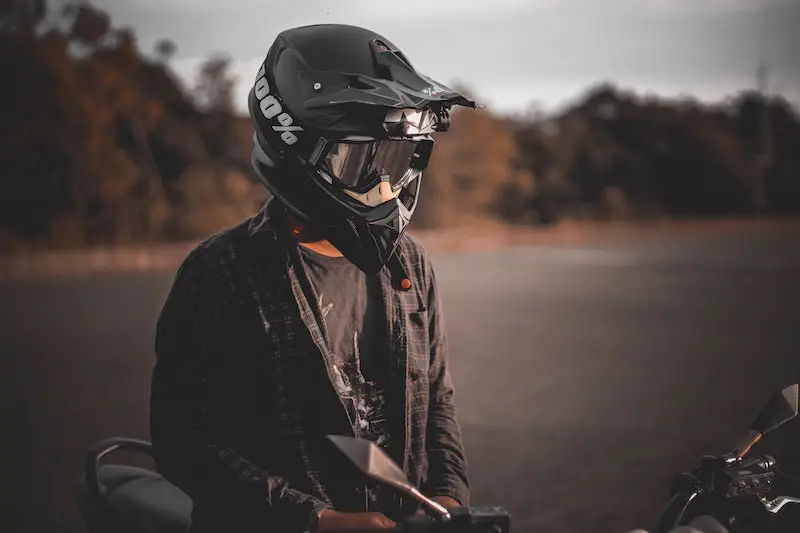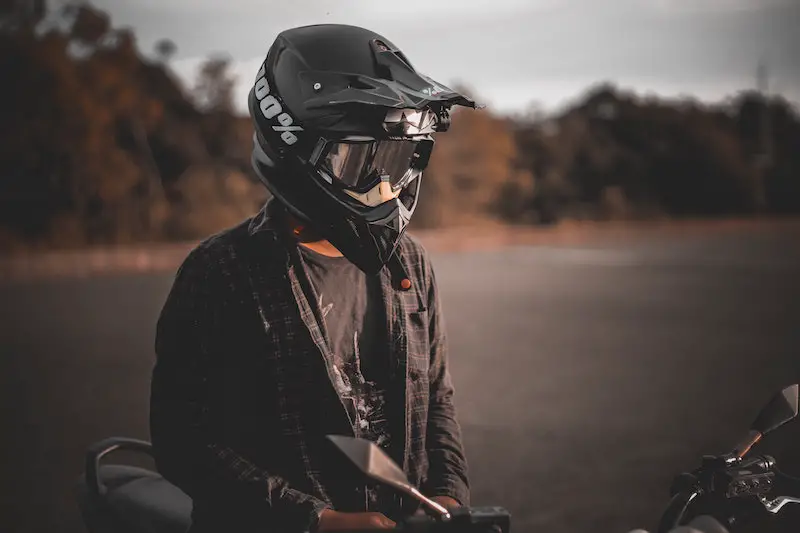 Wearing a helmet protects your head. It's also important to protect your vision and eyes when you're on the motorcycle.
During both the afternoon and morning rush hours, the sun can be in a low spot in the sky. This can be distracting to tired, weary drivers and could limit visibility.
The sun can also get in your eyes, reduce visibility, and leave you with a lowered reaction time. This is why it's a good idea to wear sunglasses, goggles, or a helmet with a tinted shield.
Personally, I prefer wearing sunglasses along with my full face helmet. This way I can still feel the wind in my face without compromising my view.
With certain helmets, such as scooter helmets and dirt bike helmets, wearing goggles is the best solution. It's even possible to use tinted shields with full-face helmets to keep the sun out of your eyes.
Never leave home without some sort of protection from the sun. You never want to compromise on limited visibility or poor eyesight when you're out on the road.
Sunglasses, visors, and goggles will also protect your eyes from any dirt or debris coming off the road. Cars can kick stones up into the air and you don't want any of these coming into contact with your eyes.
Sign Up For Roadside Assistance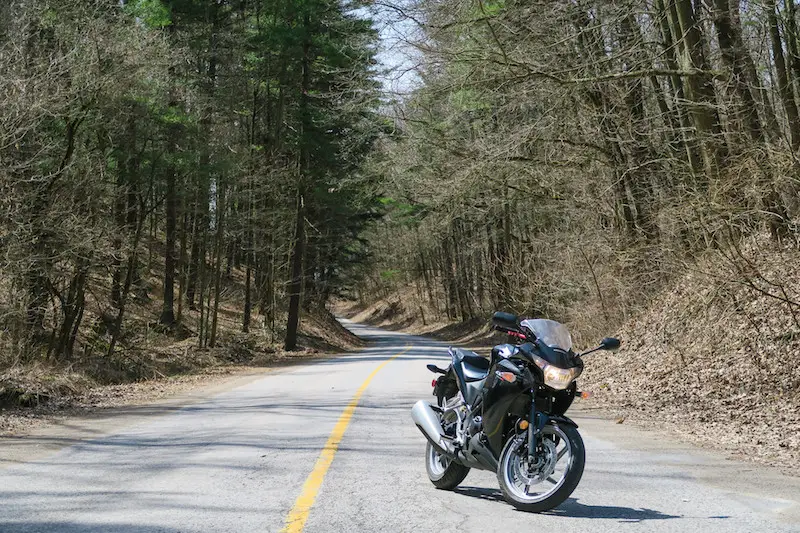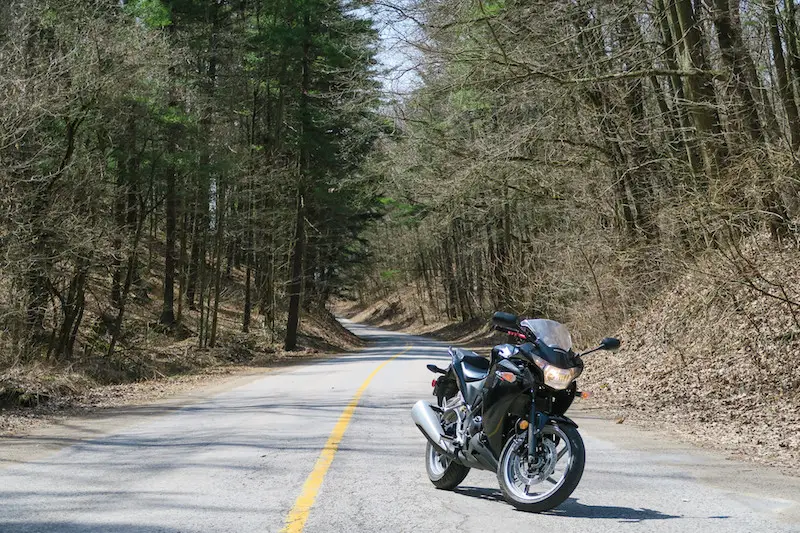 Earlier on we mentioned motorcycle maintenance as a way to avoid getting stranded. Sometimes, you won't be able to help what happens to your bike and you'll end up stranded either way.
For scenarios like these, it's a good idea to sign up for some sort of roadside assistance program. While your motorcycle insurance provider may have options for getting towed, roadside assistance programs offer better features and are more flexible.
In the United States there's AAA, while in Canada there's CAA. These are two of the best roadside assistance programs for motorcyclists.
Look into the different features available with any of the programs are interested in. Motorcycle towing, battery boosting, and fuel delivery are some of the most important features to look for.
These programs are reasonably priced and you could expect to spend less than $100 per year. This is a great insurance policy and will save you money in the long run, especially if something happens when you're on the bike.