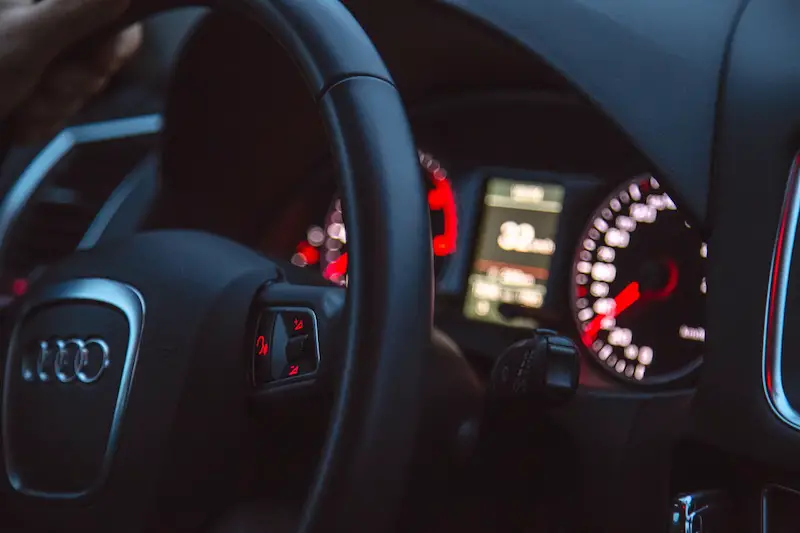 It's not surprising that almost 90% of Americans own their own car. There's a huge car and driving culture in the United States that can be seen everywhere across the country.
People need vehicles for commuting, bringing their kids to school, getting groceries, and taking epic road trips across the country. Most Americans rely on their vehicles as an important tool in their lives.
With this information in mind, companies have continued to strive to improve the driving experience. Every year, more cool car gadgets are released that make driving easier and more enjoyable.
In this post, we put together of the coolest, most interesting, and most useful car gadgets we could find. The list started at 25, but really there's no end in sight.
Regardless of what sort of car gadget or car accessory you're looking for, you're bound to find something practical for your needs in this post. If there's something we missed, don't hesitate to let us know in the comments below. Otherwise, let's jump right into it!
The 25+ BEST Car Gadgets in 2021
AINOPE USB Car Charger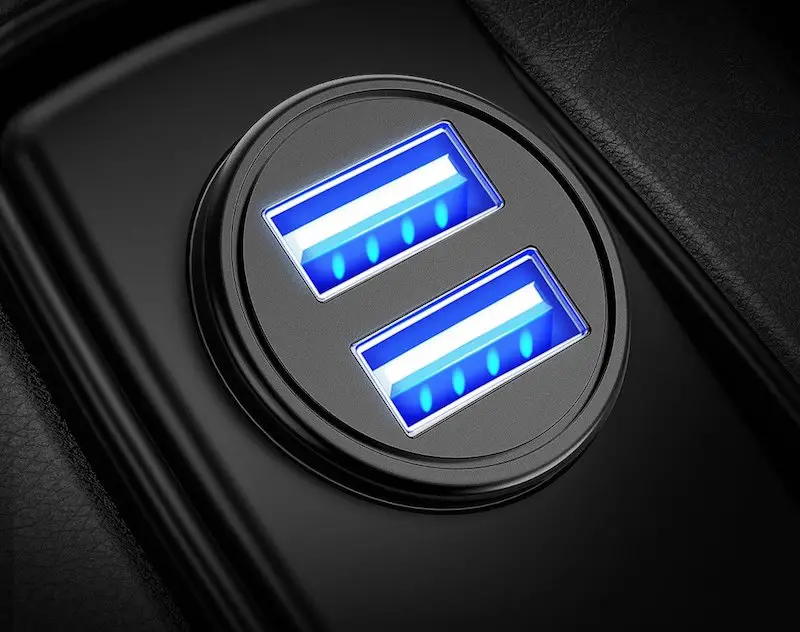 The AINOPE USB Car Charger tops on our list as one of the coolest car gadgets. This is a practical charging device that features dual USB connections.
It's stressful, and disappointing, when your phone runs out of battery during your commute or on a long drive. Thanks to the AINOPE Car Charger, it's easy to keep your devices charged. Even with old cars, as long as there is a 12v outlet, this charger can be used.
The AINOPE Car Charger can charge up to two devices at a time. It's equipped with dual 2.4A USB ports and provides a combined power of 4.8A. This should charge a fully dead phone in 2 hours or less.
The device itself is made from durable, lightweight metal material. It's sleek, modern looking, and scratch resistant. The charger is designed not to overheat, so you can leave your devices charging while you drive.
The best feature about the AINOPE Car Charger is that it's designed to sit flush with the 12v outlet in your vehicle. This gives it a modern, expensive look. It's not going to be awkwardly sticking out like some other car chargers do.
Overall, the AINOPE Car Charger is one of the most practical and coolest car gadgets we recommend. You'll definitely want to pick it up for keeping your phone charged when you're out on the road.
HOTOR Car Vacuum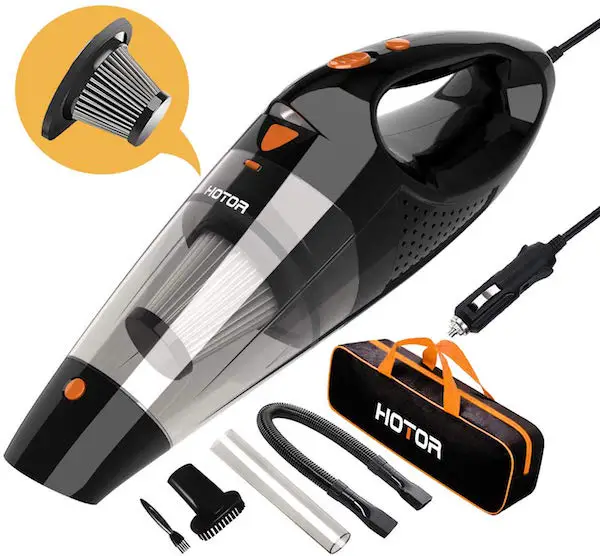 We mentioned the HOTOR Car Vacuum in our post on the best car vacuums. It's also a useful and practical gadget for your car.
The HOTOR Car Vacuum is a small, portable, and lightweight car vacuum. It easily plugs into your 12v outlet and can be used for quickly cleaning the interior of your vehicle.
When you're driving a lot, dust and other debris can build up around your seat and inside the car. Thanks to the HOTOR Car Vacuum, it's easy to vacuum it all up and keep the interior clean.
This is a powerful, 12v vacuum that's equipped with a grippy handle and easy to access buttons. it comes with a stainless steel filter, three different nozzles, carrying case, and a bright LED light. It also has a quick detach dust cup head providing you with an even easier cleaning experience.
One main complaint people have with the HOTOR Car Vacuum is that the receptacle is small. This means you'll have to empty it more often, which isn't a problem for most people. You may also have to leave your vehicle running to keep the vacuum powered sufficiently.
Overall, the HOTOR Car Vacuum is definitely one of the most practical and coolest car gadget. You'll definitely want to pick this up for keeping the inside of your vehicle clean. Forget the huge and unwieldy vacuums at the carwash, check out this one.
Everlasting Comfort Seat Cushion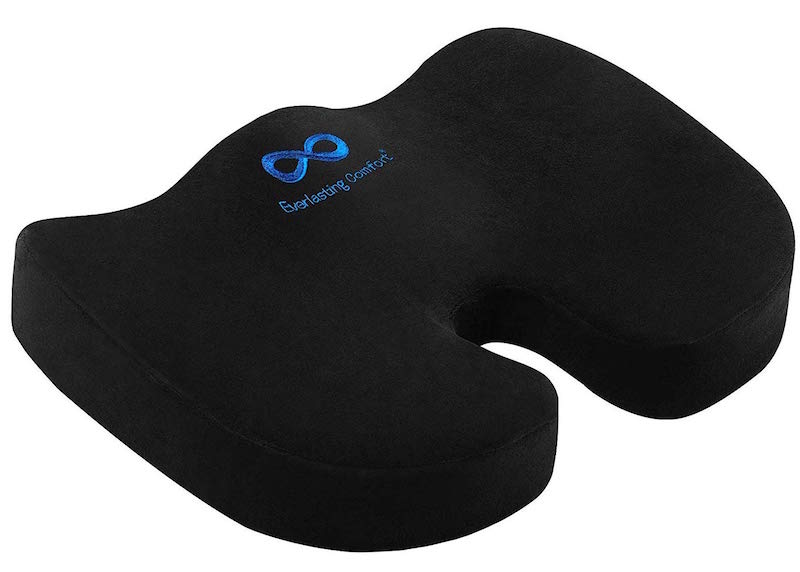 The Everlasting Comfort Seat Cushion can turn a firm, uncomfortable car seat into one you actually enjoy sitting on. Seat cushions like this one relieve leg pain, improve bad posture, and help keep your body cool.
Leather seats, especially during the summer, can make you warm and sticky. There's nothing worse than dealing with a case of the dreaded swamp butt when you get to work.
Some car seats are also too firm, uncomfortable, and don't provide enough cushion. These problems can be alleviated with the Everlasting Comfort Seat Cushion.
This is a lightweight, affordable, and versatile seat cushion that can be used in just about every vehicle. It's portable and comes with a non-slip gel rubber bottom that helps keep it in place when you're driving.
If you suffer from back pain, leg pain, or you just want better ventilation down there, the Everlasting Comfort Seat Cushion is a great solution. This makes it another one of our top choices for the best car gadgets for most people.
EPAuto Waterproof Car Trash Can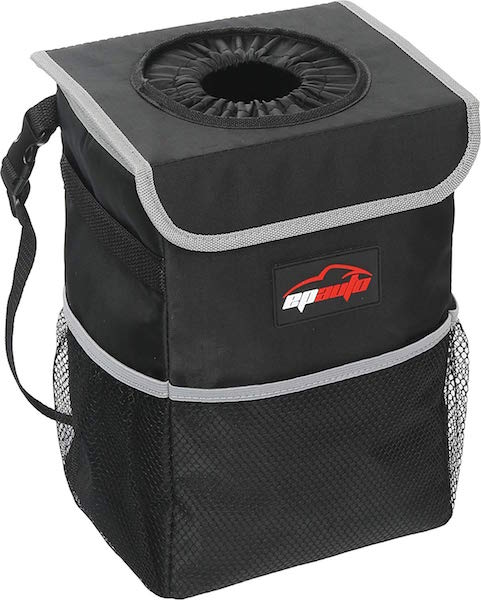 The EPAuto Waterproof Car Trash Can is a practical car gadget for people spending a lot of time in their vehicles. Instead of throwing trash and recycling behind you or onto the passenger seat, using one of these can make it easier to keep the inside of your vehicle clean.
The EPAuto Waterproof Car Trash Can has a 2 gallon capacity, plenty of space for any trash that accumulates during the week. It's equipped with a built-in, waterproof interior, so you won't be getting moisture all over your vehicle.
To help keep it in place, this car trash can is equipped with fasteners and straps. These prevent it from moving around or tipping over while you're driving.
On the top is a lid, which helps to keep all of the trash inside. It even has these nifty storage pockets on the side where you can stash other small car accessories.
It's hard to argue against wanting to keep the inside of your vehicle clean. If you're someone spending a lot of time in the car, definitely check out the EPAuto Waterproof Car Trash Can.
FORTEM Car Trunk Organizer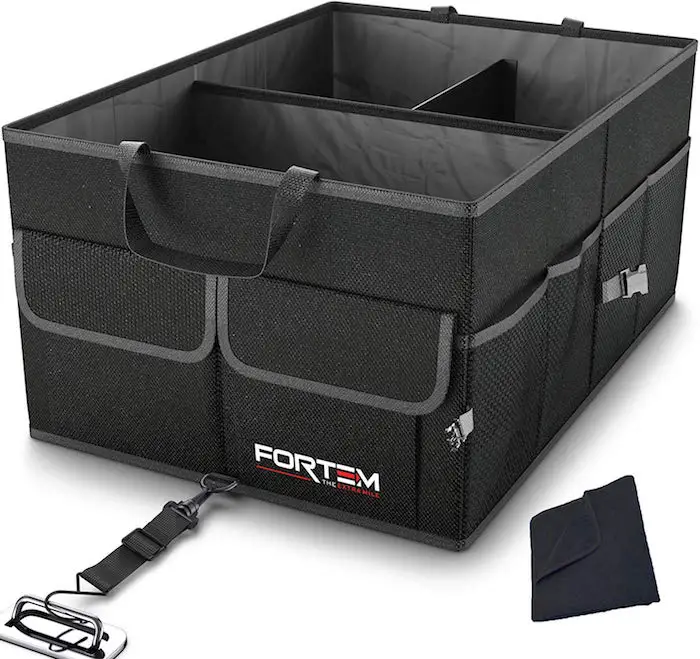 Using car trunk organizers, such as the FORTEM Car Trunk Organizer, make it easy to organize everything in your trunk. This way, you won't have random items rolling around and causing a ruckus behind you while you're driving.
The FORTEM Car Trunk Organizer is the top recommendation we featured in our post on the best car trunk organizers. This is a great choice if you're looking for something that's versatile, durable, and easy to use.
Built to last with reinforced base plates, the FORTEM Car Trunk Organizer features a durable design. It's equipped with sturdy sidewalls as well as strong carrying handles.
This one is collapsible, so you can collapse it and stow it out of the way when you're not using it. When you need it, it's easy to unfold the organizer and fill it up with groceries, clothing, or any other items.
Helping keep this trunk organizer in place are non-slip strips on the bottom. It's also equipped with securing straps to help prevent it from sliding around or tumbling over when it's in the trunk.
If you want to organize your trunk, or have something that makes it easier for organizing your groceries, it's the FORTEM Car Trunk Organizer that we would recommend. This is another practical and useful car gadget with a number of different purposes.
Mpow Bluetooth Receiver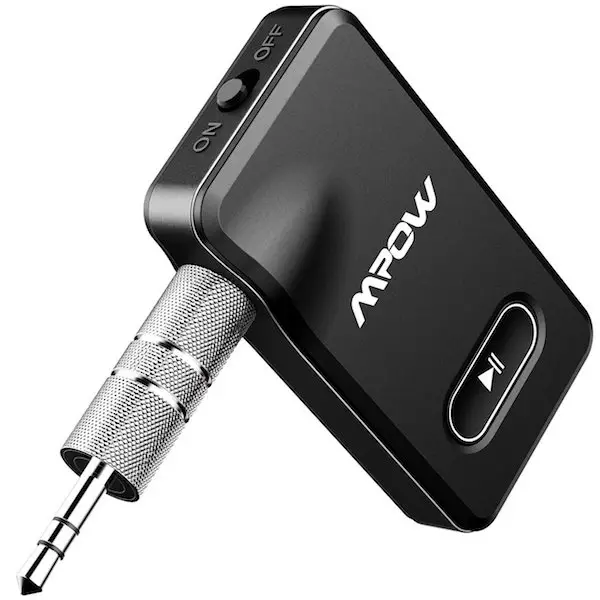 Thanks to the Mpow Bluetooth Receiver you no longer have to worry about pesky and flimsy auxiliary cords. With this simple Bluetooth device, you can easily connect your phone and listen to music in your car.
This is a practical little device that makes your car's audio system compatible with Bluetooth technology. It's as easy as plugging the Mpow Bluetooth Receiver into your auxiliary port and connecting it to your smartphone. Once connected, you can play music or make phone calls through your vehicle's stereo system.
Mpow is known for their reliable and quality car gadgets, along with the other accessories they have. This portable car Bluetooth player offers impressive sound quality and a great battery life.
Speaking of battery life, drivers are able to enjoy up to 10 hours of continuous use with the Mpow Bluetooth Receiver. It also has a great signal, making it easy to connect your smartphone and control the music without any sound or signal loss.
Another nifty feature about the Mpow Bluetooth Receiver is that you can connect two different devices to the transmitter. This way, you and your passengers can take turns choosing and playing the music you want to listen to.
Charging this device is easy and after plugging it in for a few short hours it will be ready for your next ride, commute, or road trip. Overall, the Mpow Bluetooth Receiver is one of the best car accessories that we recommend for most drivers.
WizGear Magnetic Phone Mount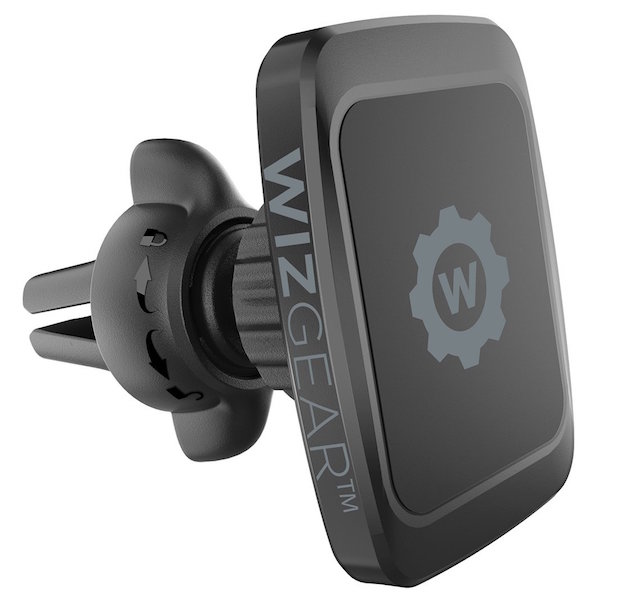 The WizGear Magnetic Phone Mount makes it easy to mount your smartphone inside your vehicle without any fancy equipment. Since most people are using their phones for music, navigation, and taking calls, a car gadget like the WizGear Magnetic Phone Mount is essential.
This nifty car accessory keeps your phone accessible and holds it securely in place. It's discreet and can be easily installed in any air vent inside your vehicle.
With the simple clip system, you can choose any vent area for mounting your phone. Make sure to choose a location that doesn't block your view.
After mounting the WizGear Magnetic Phone Mount in your vehicle, a small metal plate needs to be attached to the back of your smartphone. This is what provides the strong magnetic connection that helps keep your phone mounted in an easily accessible spot in your vehicle.
Many drivers are using smartphone mounts in their vehicles for accessibility and safety on the road. That's why we recommend the WizGear Magnetic Phone Mount that's one of the best car accessories for most drivers.