Motorcycle tank bags are essential for casual riding, commuting, and touring. Whenever you're on the bike a tank bag gives you some additional storage. It's easier to access and manage than the small area under your seat.
(BesWith a tank bag you can store your wallet, keys, and any other accessories in the bag instead of in your jacket. In this post let's take a look at your options for the best motorcycle tank bags.
Don't forget to scroll to the bottom of this post for a helpful buyer's guide and FAQ. Without further ado, let's jump right into it!
The Best Motorcycle Tank Bag
Cortech Super 2.0 12-Liter Tank Bag (Best Motorcycle Tank Bag Overall)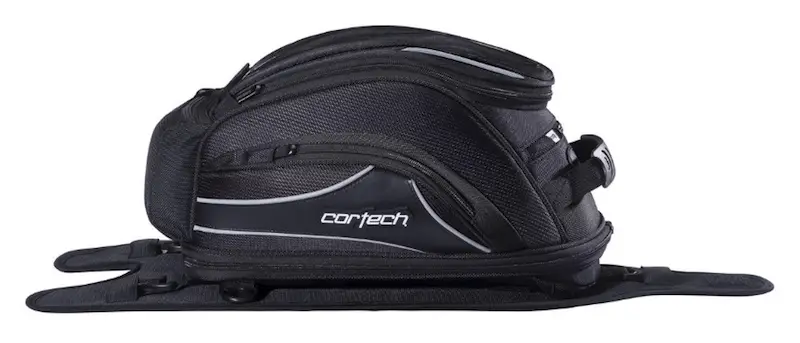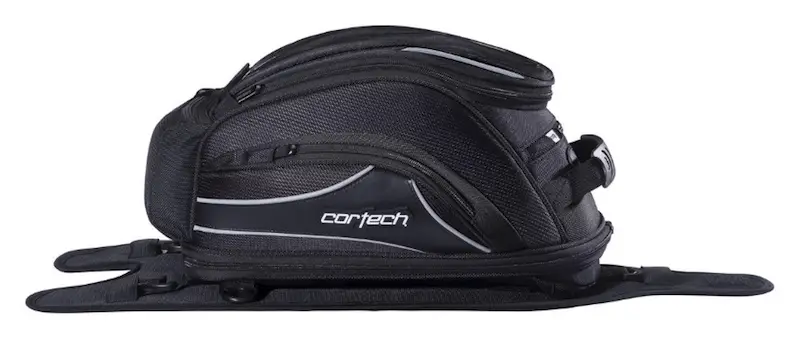 Protective, non-slip mounting base
Lockable zipperExpandable main compartment
Hideaway backpack straps
Headphone port and water bladder holder
The Cortech Super 2.0 Tank Bag is a 12L motorcycle tank bag designed for sport bikes and touring bikes. This is a tank bag that's versatile, easy to use, and simple to install. With the magnetic mounting system you just toss the bag on your tank, position it to your preference, and off you go.
The Cortech Super 2.0 is made from a blend of polyester and twill Jacquard construction. It's durable, weather-proof, and comes with plenty of interior storage.
One drawback to the Cortech Super 2.0 are the lack of permanent anchors. The magnets are strong but at high speeds if it's possible the bag could fly loose. Apart from that, the Cortech Super 2.0 is one of the best tank bags for most motorcycle riders.
Despite its simple design, this bag comes packed with all of the features you need.It doesn't matter if you're commuting, heading on longer weekend trips, or touring for weeks at a time – check out the Cortech Super 2.0 12-Liter Tank Bag. It's lightweight, durable, weatherproof, and designed to fit on most sport bikes and touring bikes.
Nelson Rigg CL-2015 Tank Bag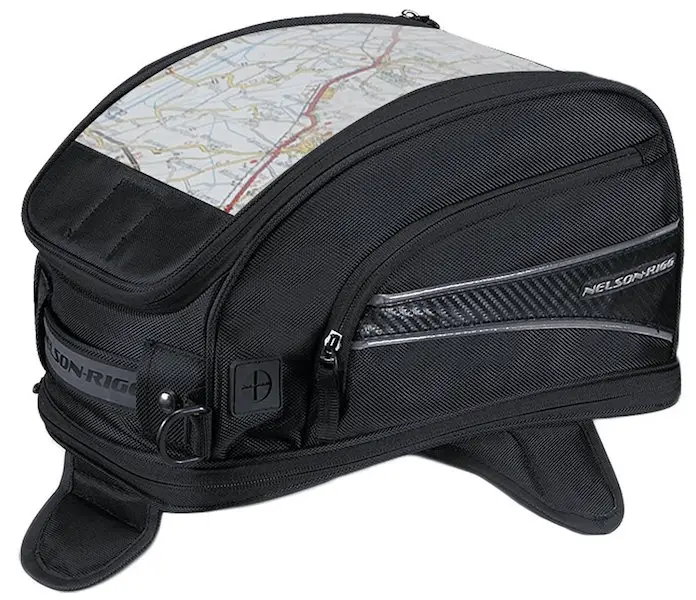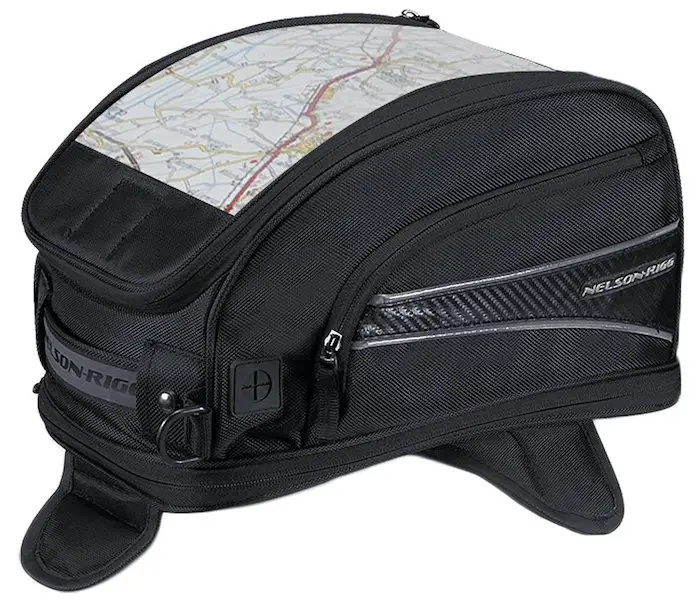 The Nelson Rigg CL-2015 Tank Bag is a midsized tank bag with a universal fit that allows for mounting on most motorcycles. There are two mounting options for the CL-2015. There is both a magnetic mount setup and a strap mount setup available depending on your preferences.
Those of you looking for additional storage when riding will love the accessible side pockets and expandable base. There are a number of small pockets and storage areas that help to keep your motorcycle essentials organized.
For weather protection, this tank bag comes with a reverse coil zipper and UV-treated Ballistic nylon design. The zipper keeps out dust and dirt while the nylon helps with weather and waterproofing.
Some other notable features include the FiberTech accents, lockable zippers, and interior hydration pocket. While we don't recommend this model for daily riders or commuters, the Nelson Rigg CL-2015 Tank Bag is one of the best motorcycle tank bags for camping and weekend rides.
Coleman Magnetic Tank Bag (Best Cheap Motorcycle Tank Bag)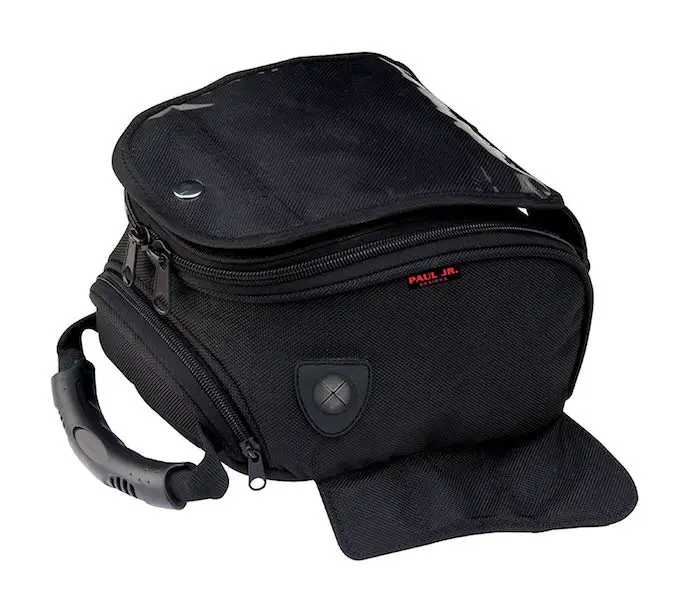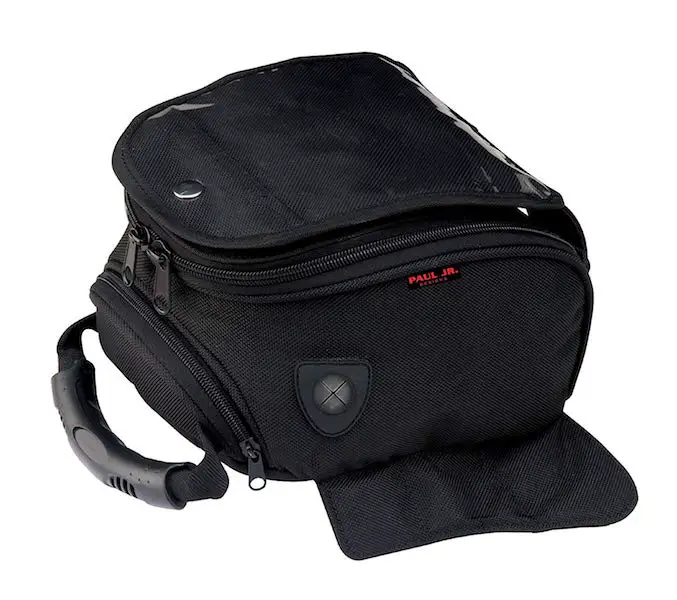 The Coleman Magnetic Tank Bag is the best cheap motorcycle tank bag for most riders. No, you're not realistically going to be able to take a motorcycle trip across Canada with this bag (although it's a possibility).
This Coleman Magnetic tank bag is a great alternative to the expensive and overpriced options from dedicated retailers. For local riding, commuting, and shorter weekend rides this bulky, ugly, and cumbersome bag is all you need. Despite its price, the Coleman Magnetic still comes with some pretty cool features.
The bag is designed from a quality 1680D polyester. It's not waterproof, but it's water-resistant enough to give you some time to put a cover on. The magnetic mounting system is easy to use. There is a scratch resistant, non-slip bottom that helps keep the bag in place when you're riding.
Be careful at high speeds and consider adding stronger magnets to this tank bag to make it more secure. Surprisingly, there is a two-year limited warranty that you could take advantage of should anything go wrong.
Overall, the Coleman Magnetic Motorcycle Tank Bag is a great choice for riders looking for something inexpensive and durable. It will easily handle your commute and weekend rides although we don't recommend it for long distance touring or camping trips.
GIVI Magnetic Tank Bag (Best Small Motorcycle Tank Bag)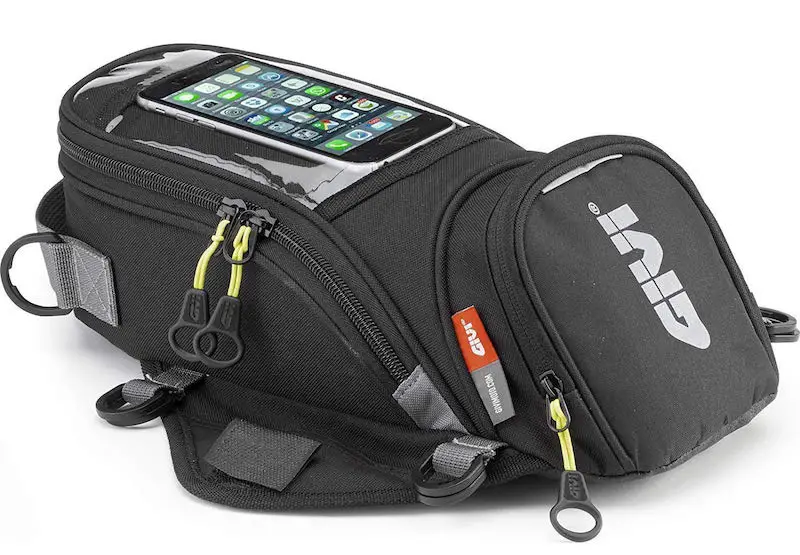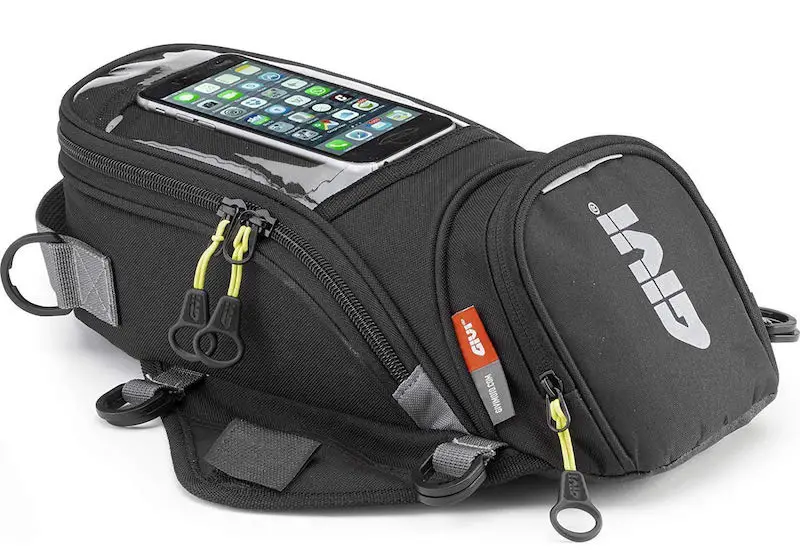 The GIVI Magnetic Tank Bag is a great choice if you're looking for the best small motorcycle tank bag. This bag has a small, streamlined profile and is designed to sit nicely right on top of your motorcycle tank. Even as a small tank bag, it can still hold your smartphone, wallet, motorcycle gloves, and other small accessories.
GIVI is a well-known motorcycle brand so it's easy for us to recommend the GIVI Magnetic Tank Bag. Those of you familiar with GIVI may have experience with their high quality and durable products. The same can be found with this tank bag.
Made in Italy, this is a small and portable 6L tank bag. Securing it to your motorcycle tank is easy, thanks to the series of straps and magnets that help keep everything in place. Once installed, the bag is unlikely to move around, except at high speeds.
This bag has two main compartments. There's a large compartments that is great for storing bigger accessories. The smaller compartment up front is easily accessible and perfect for storing your motorcycle lock, house keys, and other smaller accessories. There's even a nifty tank bag cover which makes this one waterproof and protects your things inside.
The GIVI Magnetic Tank Bag is equipped with shoulder straps. It's easy to bring with you if you don't want to leave it on the bike. Installation is simple and shouldn't take longer than 5 minutes.
The main complaint with the GIVI Magnetic Tank Bag is that the magnets are weak. We agree, the magnets could definitely be better. Consider ordering extra magnets for a stronger securement
Overall, despite the weak magnets, the GIVI Magnetic Tank Bag stands as one of the best small motorcycle tank bags. It's durable, well made, and a great choice if you're looking for something small and portable for stashing your motorcycle accessories.
KTM Adventure Tank Bag (Best Adventure Motorcycle Tank Bag)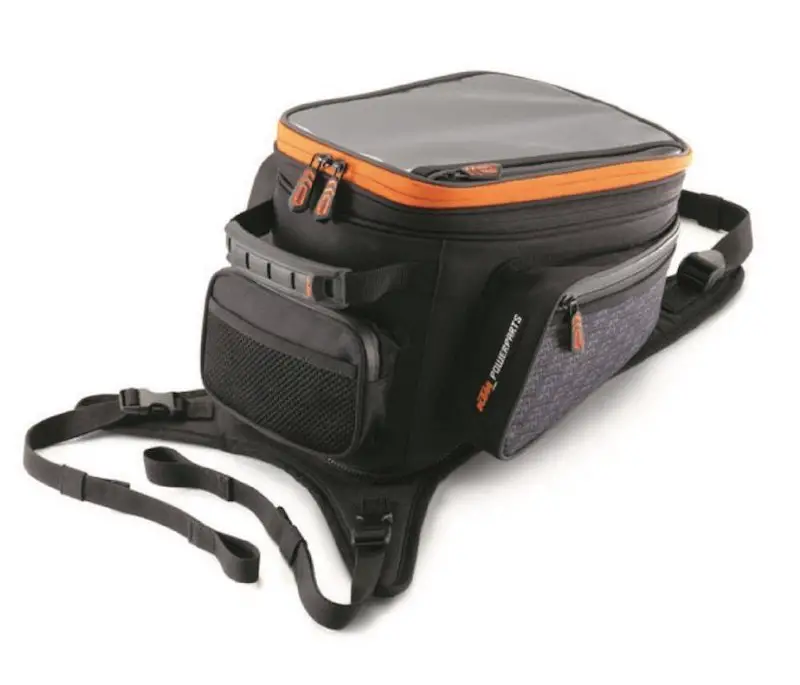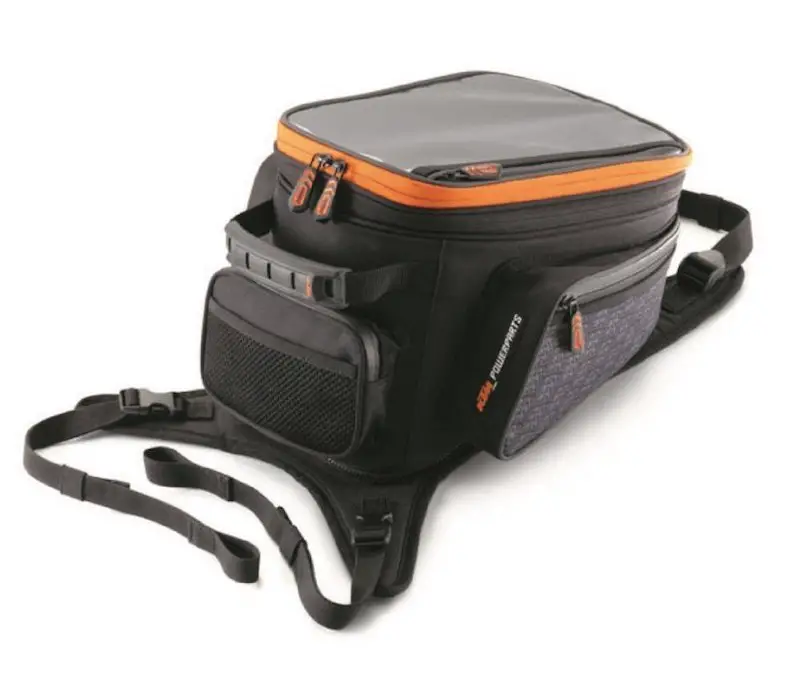 Whether you have a KTM, or you're just looking for the best adventure motorcycle tank bag, the KTM Adventure Tank Bag is a great product. With 18L of storage, it has plenty of space to stash your gear for a short commute or a multi-day trip.
The KTM Adventure Tank BagIs made from a durable nylon material. It's equipped with abrasion-resistant edging and has reflective material around the outside for better visibility.
When it comes to compartments, there's a large inner compartment, and a handful of exterior compartments. On the top is an easily accessible map compartment if you're using a map for navigation. Thanks to all the storage and different compartments it's easy to keep your accessories and motorcycle gear organized.
Securing the bag to the bike is done with a series of straps. Once strapped properly in place, it's unlikely for the bag to be shifting around or falling off the bike while you're riding. Additional features include the rain cover, which helps for poor weather, and the shoulder strap, which helps for transportation and security.
Overall, the KTM Adventure Tank Bag is durable, well-reviewed, and a great tank bag whether you're commuting or heading out on a long trip. KTM is yet another reputable brand, although you don't need one of their bikes if you want to use this bag.
Best Motorcycle Tank Bag Buying Guide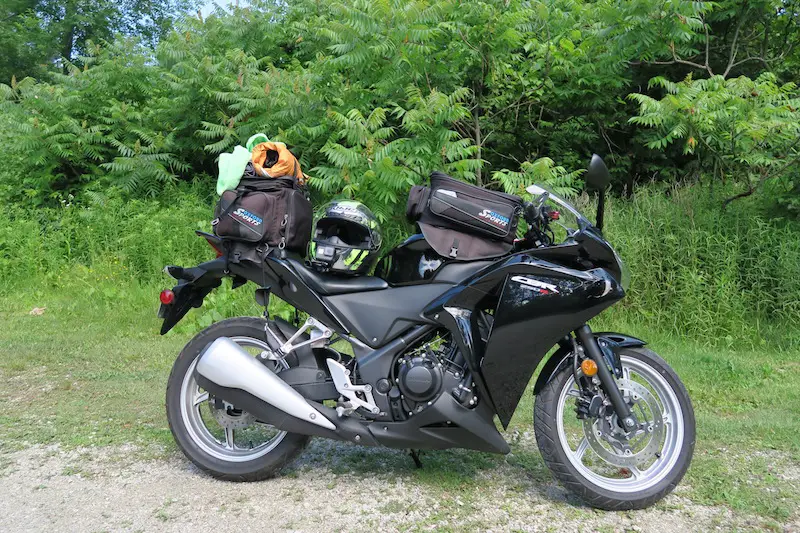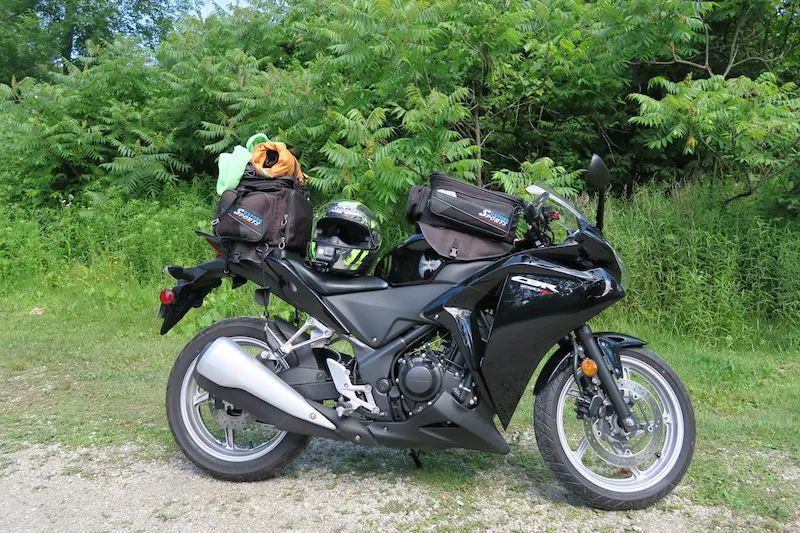 If this is your first time buying a motorcycle tank bag you're probably overwhelmed with all of the different features and options. Even as a seasoned rider you might be having difficulty choosing the right tank bag for your style of riding.
This guide should make it easier for you to find the right bag. Read through it and you'll avoid making any mistakes with your purchase. Here are some of the key features to look for during your search for a new motorcycle tank bag:
Hard vs Soft Tank Bags
There are two main types of tank bags available for riders – hard bags and soft bags.
Each of these styles of tank bag uses their own type of construction materials. They serve different purposes depending on the type of motorcycle storage you're looking for.
Hard-sided, or hard-shelled, tank bags are designed using rigid, sturdy materials. Some of the most common include PVC, fiberglass, and hard plastic. The hard-shell design offers ample protection from the weather elements and outdoor riding conditions. They're weatherproof and geared for touring, camping, and long-distance riding. This style of bag is meant to remain fixed to the motorcycle. Not only is this more secure, but many hard bags come with options for locks and additional security.
Soft tank bags are lightweight, easier to manage, and better for shorter rides. They're also well-suited for commuting or weekend motorcycle trips. The drawback to soft-shelled bags is their lack of security and poor waterproofing. They also don't offer as much packing space as the hard-shelled alternative.
If you're looking for a new tank bag, whether you want a hard or soft model, check out the selection over at Viking Bags. You'll find some great options when it comes to motorcycle tank bags for all types of bikes from cruisers and adventure bikes to dirt bikes and dual sport motorcycles.
Shape + Size
Are you using your bike mostly for motorcycle commuting? Are you going on weekend rides or week-long trips regularly? To find the right shape and size of motorcycle tank bag your riding style and preferences need to be considered.
Riders commuting will have different requirements than those camping or touring. For the right shape, small to medium-sized tank bags are better suited for commuting and lightweight motorcycle touring. Medium and large-sized tank bags are better for touring and camping.
The smaller bags are perfect for commuters or weekend riders. They come with ample space for daily essentials like your smartphone, glasses, wallet, camera, and other small items.
Consider the medium-sized tank bags if you often ride with spare clothes or extra gear, like a laptop. These can also be used for lightweight touring, giving you decent space for smaller camping and motorcycle touring accessories.
The large-sized tank bags are meant for camping and motorcycle touring. They're designed with extra interior space and packing capabilities extra touring gear. The larger bags typically come with an expandable section. Using a zipper the bag can be expanded into a larger storage capacity. These bags are ideal for touring because it can hold your essential motorcycle accessories, maintenance tools, and basic supplies. This leaves more room in your panniers/luggage for additional gear.
As for the shape, smaller bags are streamlined with a smaller profile. Larger bags are bulkier and more square. Keep in mind that the larger tank bags aren't designed to fit on every style of motorcycle. Double check that shape of your tank before pulling the trigger on a specific bag.
For the most part, tank bag designs are universal and there are a wide number of options to choose from. Above all, consider the look and appearance of any models you're interested in. It needs to be practical and match the aesthetic of your bike for it to be perfect.
Design Materials
Motorcycle tank bags are made from different materials, or textiles, depending on the brand, quality, and price. Most riders will find durable and waterproof outer shells to be practical for almost every riding condition.
The problem with cheap motorcycle tank bags is there use of poor quality materials. Not all of these bags will be waterproof or water-resistant despite claims otherwise. The best tank bags for motorcycles have outer shells made from nylon, laminated polyester, or PVC/hard plastic.
The interior lining should be permanently installed and offer additional protection against the weather elements. A lack of any lining suggests a poor-quality bag. One more design feature to consider are the zippers. Waterproof zippers are great for riding in the rain but nothing beats a dedicated tank bag cover.
Mounting Options
It shouldn't be difficult to install or remove any tank bag. Most bags have two main attachment points – magnets that grip the tank and straps for the handlebars.
This is the best method for attaching any luggage to your bike. It's recommended to strap the tank bag on first and then position in place with the magnets.
The magnet and strap system helps to keep your motorcycle luggage in place when you're riding. This setup doesn't offer much for security. Consider some additional security options if this is something you're worried about.
Another benefit to the magnet/strap system is being able to easily remove the tank bag. The bags should be removed when you are heading indoors or away from the bike for any extended period of time. Some riders will have to remove the bag to add fuel.
Motorcycle Tank Bag Security
The best security for any of your gear is to never let it out of your sight.
Always take your tank bag with you if you're heading indoors or exploring somewhere away from your motorcycle. There are models that come with backpack or shoulder straps that make it easy and unobtrusive to carry.
If you're leaving the bag on your bike unattended there are a few steps you can take to deter any malicious actions.
Take any of your valuables with you before leaving the bag unattended. Use a small motorcycle lock for the zippers and put the cover on to make it harder to steal. You could also use stronger magnets and wrap the straps around the handle bars to make it difficult to remove.
Like we mentioned that the beginning –  the best security is to never leave your tank bag unattended and always bring it with you when away from the bike.