Whether you're buying a motorcycle and need to bring it home, or you need to transport your bike without riding it, there are times a motorcycle trailer would come in handy. It's as easy as loading the bike, securing it properly, and driving wherever you need to be.
Depending on the situation, you may need a motorcycle trailer to tow your bike. That's why we put together this post with the best motorcycle trailers for you to choose from.
These recommendations will save you the time of doing your own research and let you usually find the right motorbike trailer for the job. Don't forget to scroll towards the bottom of this post for some helpful tips and buying guide.
Otherwise, let's jump right into it!
The Best Motorcycle Trailers
DK2 MMT5X7 Mighty Multi-Utility Trailer (Best Motorcycle Trailer Overall)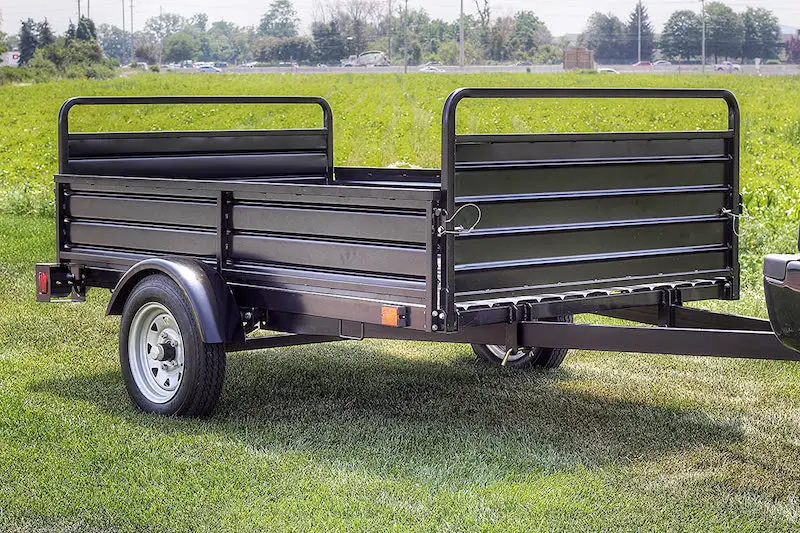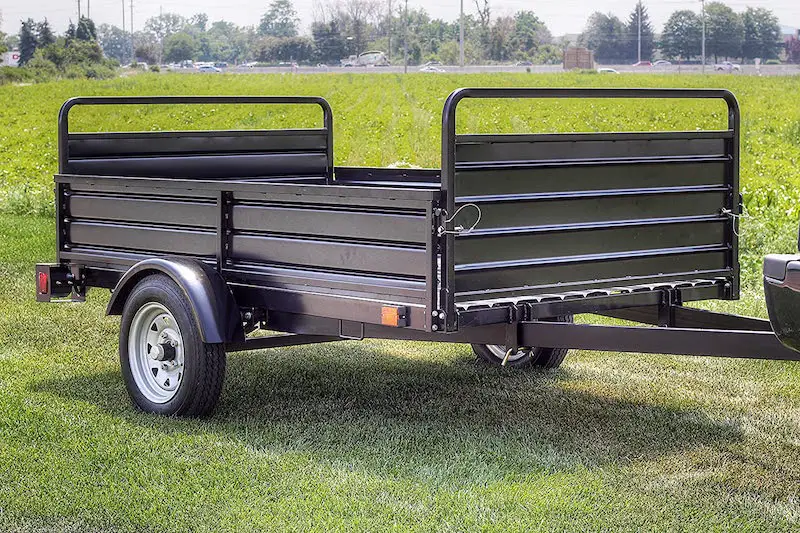 The DK2 MMT5X7 Mighty Multi-Utility Trailer is our top recommendation as the best motorcycle trailer for most riders. This is the most versatile and functional trailer that you'll find in this list or anywhere online.
One of the most impressive features of the DK2 MMT5X7 Mighty Multi-Utility Trailer is its durability. The trailer is fabricated from 100% steel with all of the components being reinforced, adjustable, removable, or interchangeable.
With an extended bed length of nearly 12-feet, you can easily load your motorcycle with room to spare. It can be used for multiple motorcycles or any other type of recreational vehicle, as long as the weight limit isn't exceeded.
As for the weight limit, this trailer has a capacity of up to 1,500 lbs. This is more than enough for one or two motorcycles, without needing to worry about the limit.
Other features worth mentioning include the tubular steel frame, quick-release lock pin, load-bearing front and back gate, corrugated steel floor, and removable steel side panels. All of this makes this trailer durable, easy to use, and ideal for towing motorcycles.
Overall, the DK2 MMT5X7 Mighty Multi-Utility Trailer is definitely one of the best motorcycle trailers available on the market. The build quality is outstanding and it's more than capable enough of towing your motorcycle wherever you need to go.
Detail K2 MMT5X7-DUG Multi-Purpose Utility Trailer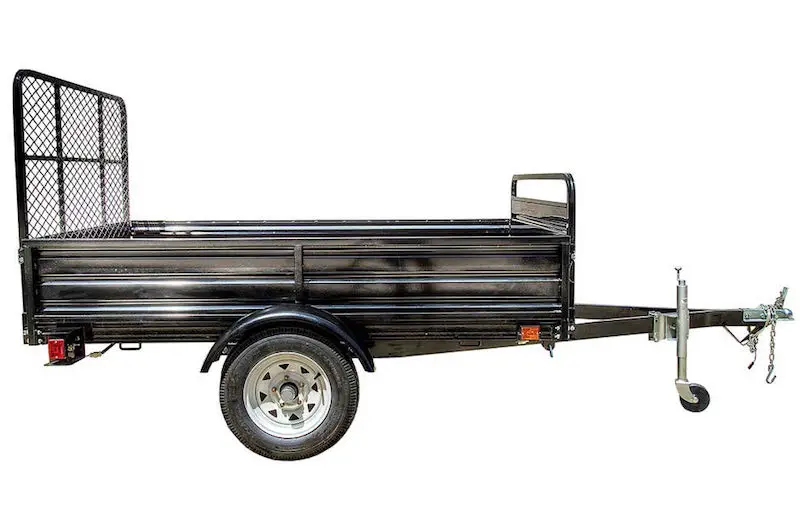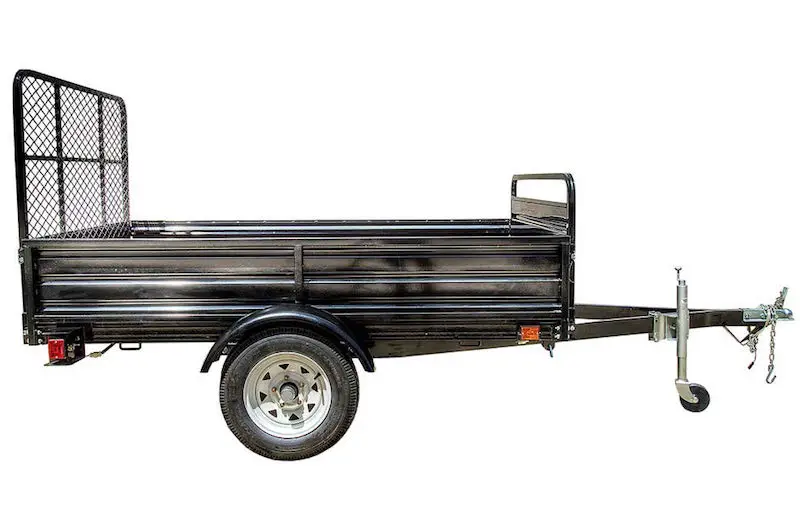 The Detail K2 MMT5X7-DUG Multi-Purpose Utility Trailer is another great choice if you're looking for a motorcycle utility trailer. This one is similar to our first recommendation, with a few key differences.
For starters, this trailer has a weight capacity of 1,639 pounds. This makes it a great choice for towing more than one motorcycle, or a heavier motorcycle without having to worry about exceeding the weight limit.
It's also designed from 100% steel components and features a fully welded, heavy-duty, powder coated tubular steel frame. The corrugated steel floor is removable and the trailer features both solid side and front panels.
What we like most about this trailer is that it's equipped with a drive up gate. Having this feature makes it easy to load motorcycles on to the trailer without the need for a dedicated motorcycle ramp.
Everything on this trailer is fully pre-wire and plug-and-play. After hooking it up to your hitch, it's as easy as plugging it in to get all the electrical components working.
Overall, the Detail K2 MMT5X7-DUG Multi-Purpose Utility Trailer is another great choice if you're looking for a durable and reliable motorcycle trailer. This one is equipped with a drive up gate, which is ideal for transporting heavier bikes without needing a ramp.
ECOTRIC Black Steel Motorcycle Carrier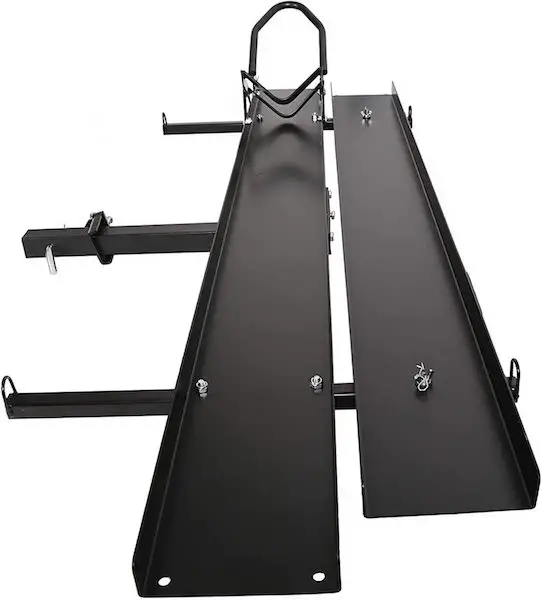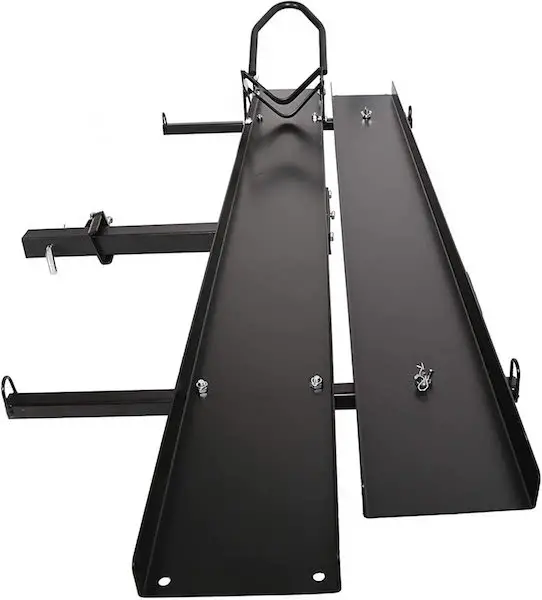 The ECOTRIC Black Steel Motorcycle Carrier is ideal if you want to transport your motorcycle but don't want to deal with the hassle of a full size trailer. This hitch carrier is easy to install and is suitable for transporting smaller to mid-size bikes.
Connecting this to your trailer hitch is simple, thanks to the 2-inch receiver and 3/4-inch pin. The entire carrier is 79-inches in length and it's equipped with an adjustable stabilizing raised wheel chock for easy loading.
With a maximum weight capacity of 600 pounds, this carrier is an easy way of transporting bikes under this weight limit. It comes with a ramp that's bolted to the hitch mount for easy loading and transport.
When it comes to durability, there's no need to be worried. The entire unit is made from steel and has a black powder coating, which helps to prevent rust.
What we like about the ECOTRIC Black Steel Motorcycle Carrier is that it's easier to use than a dedicated motorcycle trailer. It comes with two quick release locks for easy installation and secure transport.
The main drawback to this carrier is that there is a limit to what you can carry. It also has a simple design and a lack of railing or tip protection, which can be worrisome depending on how you secure the bike.
In regards to securement, the carrier is equipped with only four small loops and a lack of secure tie-down locations. It also needs to be properly assembled before it's used, as it comes in two separate boxes.
Despite the few drawbacks, the ECOTRIC Black Steel Motorcycle Carrier is still a great choice. This is an affordable alternative to using a motorcycle trailer and still makes it easy to transport your motorcycle.
MotoGroup Double Motorcycle Carrier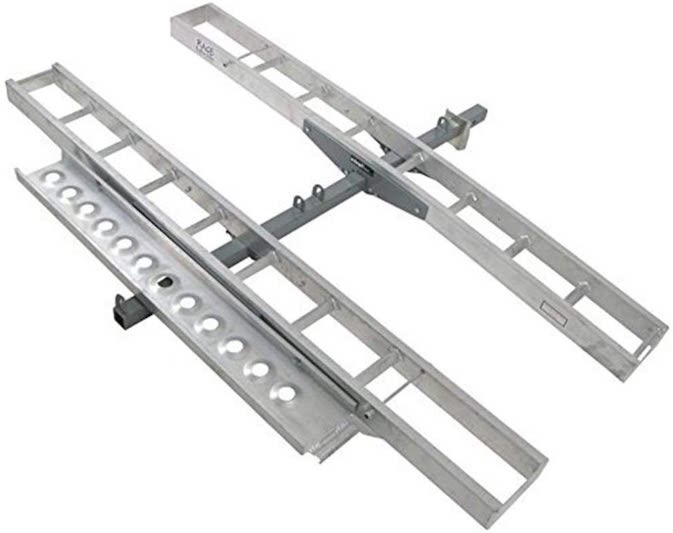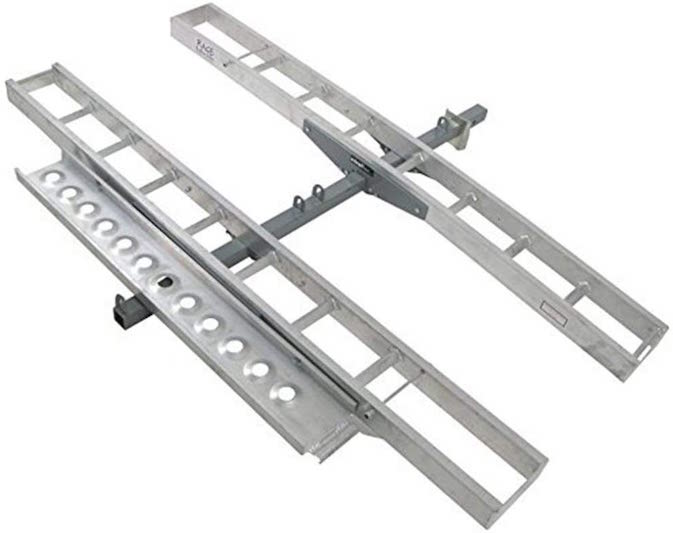 The MotoGroup Double Motorcycle Carrier is another suitable alternative to using a full size motorcycle utility trailer. This motorcycle hitch trailer is capable of transporting up to two dirt bikes or motorcycles.
Ideally, this hauler would be used for one motorcycle or two dirt bikes. That's because of the total weight capacity of 600 pounds, which is in the range of what most full size motorcycles weigh.
Keep in mind that the length of each track is 75 inches. You wouldn't want to load a motorcycle or bike with a longer wheelbase, as that would compromise the integrity of this carrier.
When it comes to durability, the MotoGroup Double Motorcycle Carrier is crafted from aluminum. Thanks to the aluminum construction there's no need to worry about corrosion or rusting.
Unfortunately, the aluminum design makes it weaker than steel haulers. However, as long as you're careful with the carrier, there's no need to worry about the durability.
Other features worth mentioning include the included ramp for easy loading and the three locking screws, which help to prevent the carrier from wobbling. Installation is simple with this hauler fitting into a standard 2-inch trailer hitch.
One of the only drawbacks is the lack of tie-down locations. While there is a dedicated loop that can be used on each side of the bike, it would be nice to see more tie-down loops for securement.
Overall, the MotoGroup Double Motorcycle Carrier is a great choice for transporting lighter motorcycles and dirt bikes. The lightweight, durable design and ease-of-use make it ideal for riders in search of a simple motorcycle transportation solution.
Versa Haul VH-SPORT Sport Bike Carrier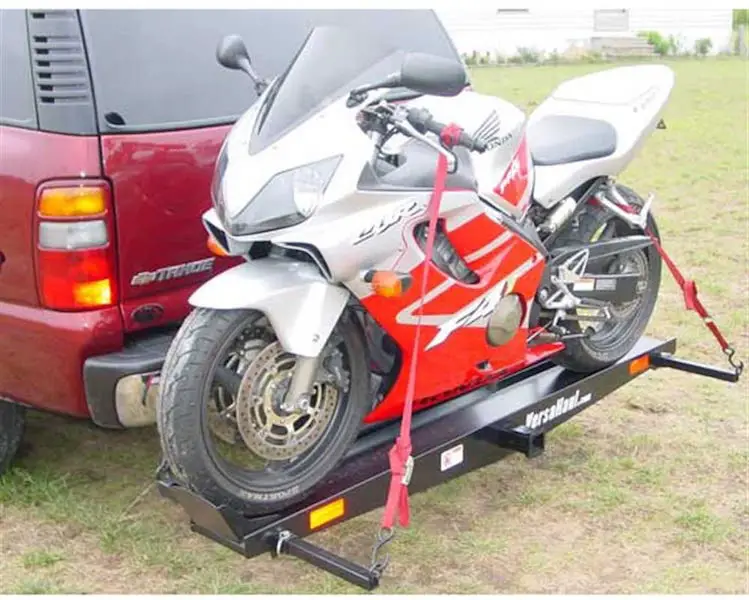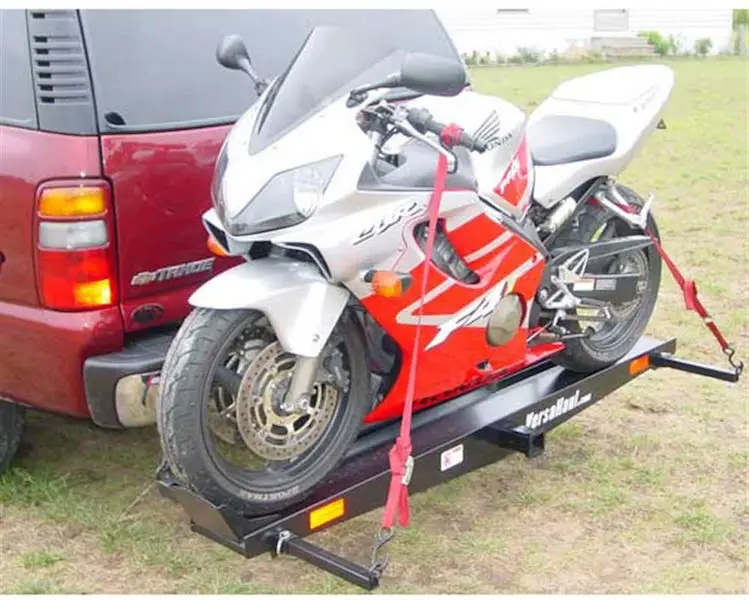 The Versa Haul VH-SPORT Sport Bike Carrier is a great solution for transporting sport bikes. It's designed to mount into a 2-inch Class III/IV hitch receiver and can be used for both sport bikes and dirt bikes.
This hitch carrier has a maximum capacity of 600 pounds. Due to the width of the frame, there's definitely not enough room for a cruiser or bigger bike.
When it comes to securing your bike, the carrier comes with four eyelet tie down points. This allows for plenty of securement and keeping the bike stable during transportation.
As for construction, this hauler is made from a heavy duty steel. It also comes with a black paint finish, which improves the appearance and protects the metal from rust and corrosion.
Everything needed for installation is included. Once installed, the carrier is sturdy and durable on the hitch mount.
The main drawback with this model is that a loading ramp isn't included. This means you'll have to buy a separate ramp or get someone to help you lift the bike on to the hauler. Don't forget that if you buy a separate ramp, you'll have to bring it with you to offload the bike.
Overall, the Versa Haul VH-SPORT Sport Bike Carrier is a great choice if you're looking to transport one sport bike or dirt bike. It's easy to install and designed to fit on most truck and SUV hitches.
Why Use a Motorcycle Trailer?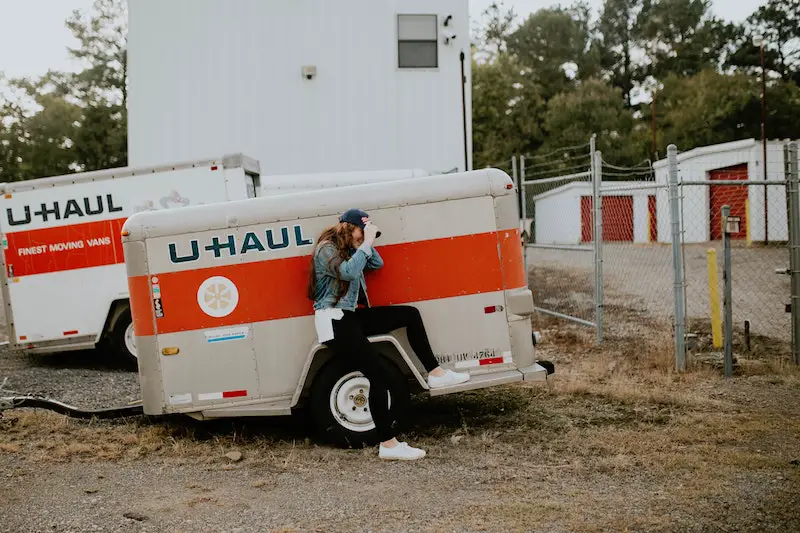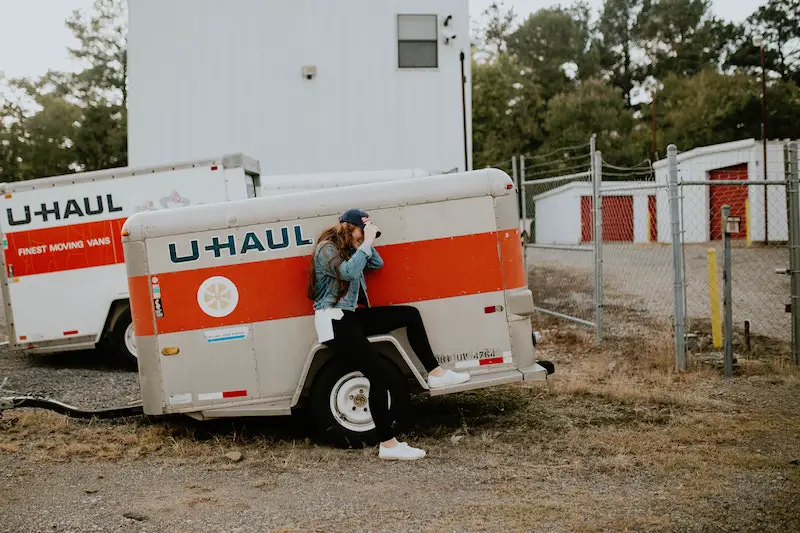 Easier Transportation
Depending on where you're going, sometimes you don't want to ride hundreds of miles to reach your destination. Although riding a motorcycle is fun, trailers make it easier to ride further.
They allow you to bring your bike to far-off destinations and arrive feeling refreshed. Then you can explore new roads on your bike without having to ride all the way there.
Transport a Broken Bike
If your motorcycle is damaged or broken, you may not have any way of riding it home or to a garage. Trailers let you easily transport the bike, if it's not safe or if you're not able to ride it.
They also make it easy to pick up a new bike and bring it home. It's not always possible to get a license plate and paperwork, so having a trailer is convenient.
Quick Storage
It's possible to store your motorcycle on the trailer and keep it safe when it's not being ridden. Using a motorcycle lock, the bike can be locked to the trailer.
This keeps the bike safe and prevents someone from being able to steal it as easily. It's a quick solution if you're in need of quick motorcycle storage.
Types of Motorcycle Trailers
Enclosed
Enclosed trailers are the most heavy duty and ideal for transporting motorcycles across long distances.They are available in a wide range of sizes and come with the trailer enclosed entirely with walls and a roof.
With enclosed trailers, the back door opens and can be used as a ramp. Some even come with side doors for easy access.
This type of trailer provides the best protection and security. They also keep your motorcycle safe from outdoor weather conditions.
Open
Open trailers are flat and don't come with a roof. The contents aren't enclosed and, depending on the model, they may or may not come with sides.
This type is lightweight, easy to manoeuvre with your vehicle, and available in a variety of different sizes. Some of them come with a ramp, while others would require you to use your own motorcycle ramp for loading.
Most open trailers are made from aluminum, with the better quality ones being made from steel. The main drawback is that your motorcycle is exposed to the elements and outdoor conditions while it's on the trailer.
Stand-Up
Stand up trailers improve on the open trailer design by being able to easily stood up on end. This means they take up less space while in storage and are very lightweight.
The benefit to using this type is if you're looking for a smaller trailer that's lightweight and easy to use. It's possible to find these with full size tires, independent suspension, and a fully balanced chassis
Front-Wheel
Front wheel trailers are small and an ideal choice for those of you on a budget. These are designed for towing short distances, specifically in emergencies or for light use.
The main drawback to this type is that they typically have a maximum capacity of around 800 pounds. This doesn't make them ideal for bigger bikes doesn't or for transporting a motorcycle long distances.
For installation, the trailer hooks to your trailer hitch. Then, the motorcycle's front wheel hooks onto it.
Motorcycle Trailers Pricing
$500 to $2000
In this price range you'll find simple trailers with basic features. These are more of utility trailers that can be adapted for transporting your motorcycle.
At this price point, don't expect to find too many models with lights, sides, or integrated wheel chocks. However, most of the trailers in this range are more than suitable enough for transporting one or two motorcycles safely and easily.
$2,000 to $4,000
In this price range you'll find slightly nicer trailers that come with better features. However, most of them will still have the open flatbed design.
Folding trailers and heavier duty utility trailers are what you'll find in this price range. There will be some additional features, including integrated wheel chocks and better design.
$4,000 to $7,000
It's possible to start finding enclosed trailers in this price range. There will also be more features available for other models in this budget.
For example, trailers in this price range will come with ramps, and integrated wheel chocks, and integrated lights. These are better suited for riders transporting motorcycles on a regular basis.
$7,000 and Above
At this price point is where you'll start to find more customized and larger trailers. Most of them are enclosed and come with other luxury features.
Some of these features include custom paint, interior lights, chrome trim, and mag wheels. While not necessary for most riders, these would be a great luxury if you're willing to shell out.
Key Features to Look For
Material
The materials that the trailer is designed from are one of the most important features to look for. Cheaper, lower quality materials will result in a less durable trailer.
The lightest trailers will be designed using aluminum. There are also trailers made from steel.
The main concern with steel trailers is that they'll weigh significantly more than aluminum ones. However, they're more durable and capable of holding a heavier load. This makes them ideal for transporting heavier motorcycles or more than one bike.
If you're looking at enclosed trailers, consider that they will be heavier than the open, flat-bed ones. Many of them also come with a wood floor, just another factor to consider.
Hitch Receiver Compatibility
Don't forget that the hitch receiver on the trailer needs to match up with the class of hitch you have on your vehicle. Check the product description or manufacturer specifications to find this information and verify compatibility.
Hitches are typically rated from Class I through Class V. This rating depends on the vehicle type and its load capacity.
Class III hitches are a good place to start, as they're designed for towing under 1,200 pounds. Class IV and V are designed for 2,700 pounds or less.
Load Capacity
Speaking of load capacity, this is the total weight that a trailer is designed to carry. It's important to go with a load capacity that exceeds the total weight of your motorcycle.
If you plan to transport more than one bike, make sure to add up the total weight of each of the motorcycles. Reference this with the load capacity of the trailer, make sure that you won't run into any weight issues.
As for motorcycle weights, most dirt bikes weigh between 250 and 400 pounds. Sport bikes typically weigh between 300 and 600 pounds, with cruisers coming in at 600 up to 1000 pounds.
Tie-Down Locations
Depending on the bike you're transporting, different tie-down locations are required. Double check the trailer that you want to use has tie-down spots in locations that make sense for your bike.
It's better to have multiple tie-down locations, as this gives you better security and more functionality with your trailer. If you're not sure, tie down locations are spots on a rail or metal loops where you can use motorcycle tie down straps for securing your bike.
Versatility
Most motorcycle trailers are versatile and can be used for a wide range of other purposes. This would be most utility trailers with the flatbed design.
On the other hand, the hitch carriers can only be used for transporting your motorcycle. Keep this in mind when you're looking at trailers and if you need to move anything else.
Integrated Chocks
It's a lot easier to load a bike if the trailer comes equipped with integrated chocks. If not, you'll have to consider buying your own motorcycle chocks and installing them on the trailer.
These work by holding the bike in place while you tighten the straps and properly secure it. You'll typically find this feature on the higher-end models, although it's easy enough to buy them separately.
Helpful Motorcycle Trailer Tips
Trailers can be heavy, awkward, and difficult to lift into position. It's a good idea to have a second person around when you're installing the trailer onto your vehicle.
Before setting off, always double-check that the trailer gate is closed and locked. Otherwise, it could open while you're driving, which could lead to serious and expensive problems. Consider buying a padlock to make it even more secure.
Always double-check that your bike is securely locked into place. Use the necessary tie down straps or rope to tighten everything and prevent the bike from wobbling or falling.
Best Motorcycle Trailer FAQ
How Can You Tell if the Trailer Hitch is Compatible With Your Vehicle?
Start by checking the size of your vehicle hitch. Next, check that the trailer you're interested in matches the size of your hitch.
You always want to check the weight of your motorcycle and the load rating of your trailer to verify its compatibility. Both need to be able to support the weight of the motorcycle and trailer combined.
What is a Vehicle's Tongue Weight?
This is the maximum weight a vehicle can carry on the hitch. For this information, refer to the vehicle's owner's handbook.
Alternatively, you could find this information online or take the total weight of the cars towing capacity and divide it by 10.
How Can You Get the Motorcycle onto the Trailer?
Some trailers come with a loading ramp for easy loading. Otherwise, you'll need to build or buy a motorcycle ramp to get the bike loaded.
Never ride the motorcycle onto the trailer as this could lead to injury or the bike getting dropped. It's a good idea to have someone with you to help you load the bike properly.