Having the best motorcycle saddlebags is ideal for carrying your gear on short motorcycle camping trips or longer tours. They're even great for commuting and carrying your daily work wear.
With so many different brands, styles, and models to chose from it can hard to find a suitable set of motorcycle panniers. In this post we'll take a look at some of the best panniers currently available to help you make the most informed choice.
From hard-shell to soft-shell you're bound to find a set of panniers that will fit on your bike. Some bikes, like the V-Strom 650, are designed for all styles. While others, like the Honda CBR250R, require some planning and ingenuity to fit a pair. Our recommendations below will help you find the right set of panniers for your bike, regardless of whether it's made for touring or not.
Be sure to scroll past our reviews and recommendations for an in-depth buyers guide and FAQ. Let's jump right into it!
The Best Motorcycle Panniers and Saddlebags
GIVI E22N Monokey Sidecases (Best Motorcycle Saddlebags Overall)
The GIVI E22N Monokey Sidecases are one of our recommendations as the best motorcycle panniers for most riders. These are designed to fit on a wide range of different styles of motorcycle. This gives you the versatility and gear storage capability you need regardless of the bike you're riding.
The GIVI E22N Monokey Sidecases feature a lightweight, plastic construction. They're durable and weatherproof with enough storage for day trips, local commuting, and shorter multi-day rides. Those of you looking for the best waterproof motorcycle saddlebags will find these to be a great choice.
When it comes to storage, the GIVI E22N panniers come with a capacity of 22L each. With this amount of space you can store a few days of motorcycle camping gear including your sleeping bag, maintenance equipment, and some clothes. Paired with a top case and tank bag, the E22N cases make for an ideal lightweight motorcycle camping setup.
The modern, streamlined design of the GIVI E22N Sidecases helps with aerodynamics and maintains the futuristic look of modern bikes. They don't stick out as much as some of the alternatives, while still providing you with practical storage space. The only drawback with these sidecases is the need to install a mounting bracket, otherwise they're awesome.
The GIVI E22N Monokey Sidecases are our top recommendation if you're looking for lightweight and durable panniers. These are well-suited for day trips, commuting, and shorter multi-day adventures.
Nelson-Rigg SE-3050-BLK Saddlebag Set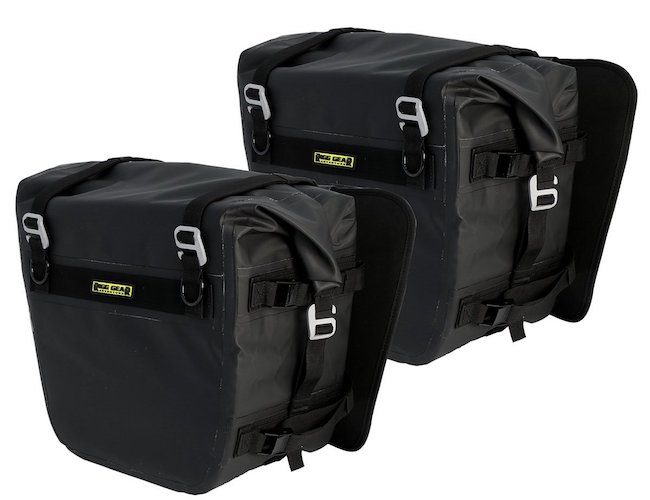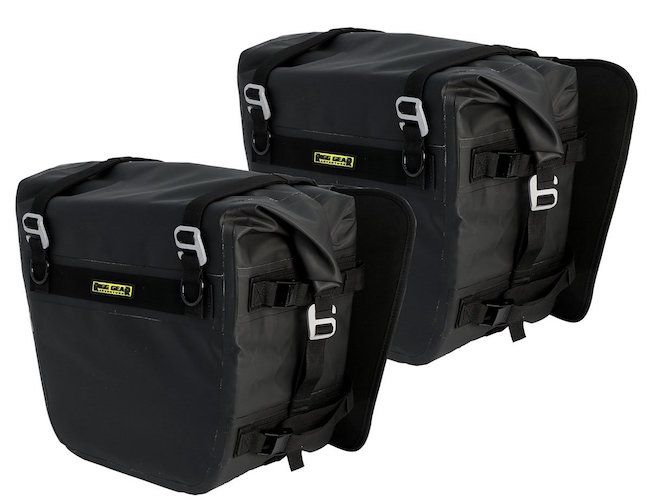 The Nelson-Rigg SE-3050-BLK Saddlebag Set is my second recommendation if you're looking for durable and versatile motorcycle panniers. Neslon-Rigg is a reliable motorcycle gear company and I'm constantly impressed with the quality of their products.
This saddlebag set from Nelson-Rigg is a lightweight, soft-shell pannier setup. It comes equipped with aircraft grade aluminum mounting hardware for a sturdy and reliable connection to your bike. There's no need to worry about breakable or flimsy plastic buckles. Keep in mind that you will need a rear motorcycle rack for mounting these side bags.
The saddlebags themselves are 100% waterproof and come with electronically heat welded seams for even better weather protection. Be outside has a UV coating that deflects the harmful sun rays and road debris while protecting your gear inside.
Speaking of the inside, these panniers have 27.53L of storage each. There's also a firm internal backplate to help support the bags and keep them up right. This is plenty of storage for your camping equipment, commuting gear, and local grocery runs.
Overall, the Nelson-Rigg SE-3050-BLK Saddlebag Set is a great choice for an easy motorcycle pannier solution. This is a durable, reliable set of saddlebags that can be used in a wide range of riding conditions.
Givi Trekker Outback Side Case (Best Adventure Motorcycle Saddlebags)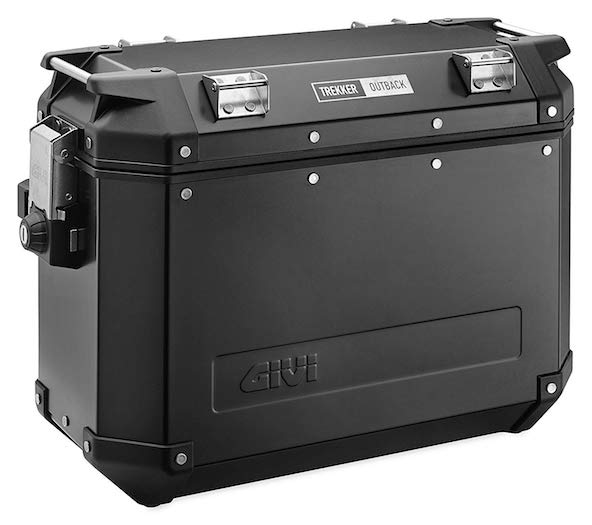 You shouldn't be surprised to see another recommendation hear from Givi. They make some of the best motorcycle side cases and it's no different with their Givi Trekker Outback Side Case.
The quality of this case model is outstanding. They're designed to be durable and suitable for use in a wide range of motorcycle touring and riding conditions.
Each side case features a heavy duty aluminum structure with a die cast aluminum fitting system. These are meant to hold up to the rigors of the road while protecting the gear stored inside.
The exterior is waterproof and weatherproof, one of the benefits of hard-sided panniers. They even come equipped with an intricate locking system to further secure your gear and protect it from theft.
For mounting to your bike you'll need a rack or specific Givi mounting kit. Depending on where you buy them from there are different capacity sizes available.
With a max load of 22 pounds and an all-around heavy duty, durable design, the Givi Trekker Outback Side Case is a great choice for serious riders. We recommend these for motorcycle touring, camping trips, and longer rides where you're carrying a lot of gear.
Cortech Super 2.0 Saddlebags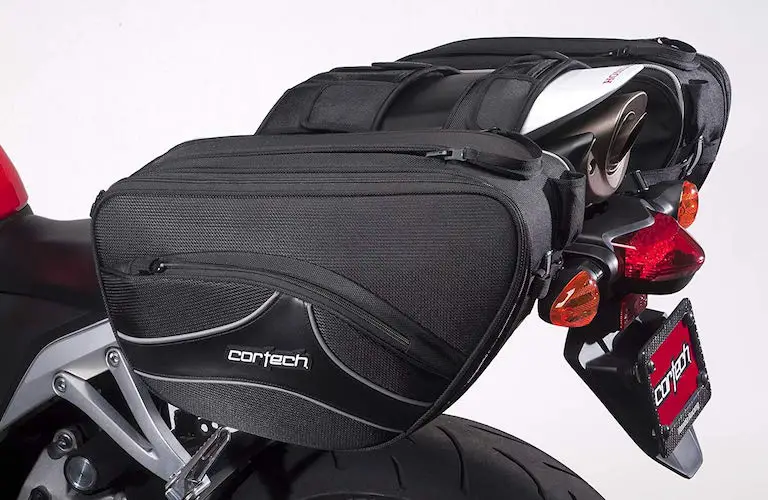 The Cortech Super 2.0 Saddlebags are our recommendation for the best motorcycle saddlebags that are versatile and easy to use. These are designed to fit on a wide range of bikes whether you have a sportbike or cruiser.
With the Cortech Super 2.0 Saddlebags you don't need a dedicated luggage rack. Simply slide these over the back seat or tail of your motorbike, adjust the straps properly, secure the bags to your bike, and you're good to go. These make it easy to get out riding without worrying about intricate luggage systems.
The saddlebags themselves are made from a water resistant ballistic polyester. While this isn't waterproof, they do come with rain covers to keep your gear dry during a heavy downpour.
On the lower section of each saddlebag is a protective heat shield. This prevents your engine and exhaust from melting the bags and offers further protection for your gear inside.
As for the interior, there are two compartments on each bag. There's a large main compartment with a soft interior for bigger items. Additionally, a smaller zippered side pocket is perfect for smaller items and accessories.
Each saddlebag has a capacity of up to 25L. This is plenty of room for commuting or long weekend trips. Along with the quick-release mounting system, the Cortech Super 2.0 saddlebags are a simple solution to traveling with your gear.
Givi Easy Range Saddlebags (Best Saddlebags for Sport Bikes)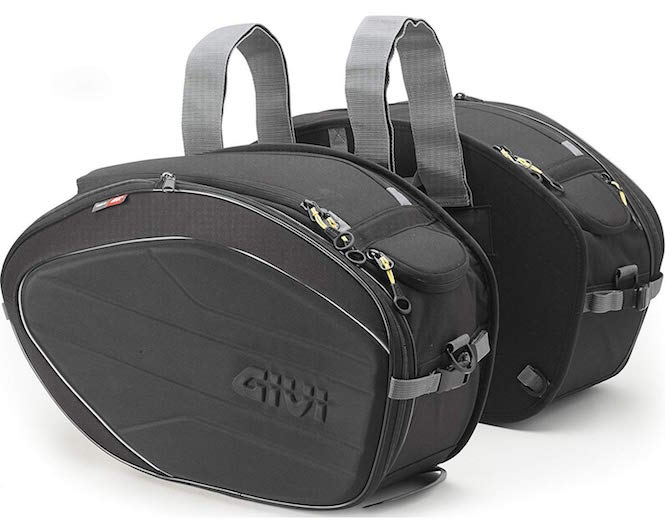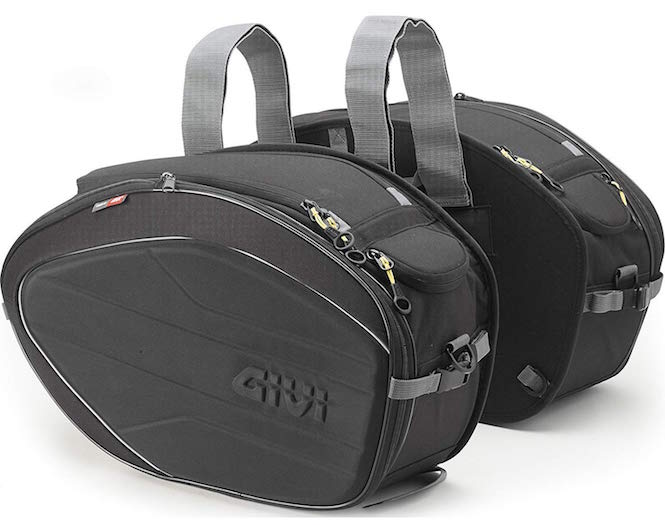 The Givi Easy Range Saddlebags are some of the best saddlebags for sport bikes and sport touring adventures. These are versatile and designed to attach to bikes without a dedicated touring rack.
Personally, I love these easy to use panniers that slide over the motorcycle. Mounting systems can be expensive, difficult to install, and unnecessary for many riders. With panniers like the Givi Easy Range Saddlebags it's simple to attach them to your bike and start exploring.
Expandable up to 40L, these saddlebags offer plenty of room for commuting or weekend trips. You could even take them on a longer adventure if you're into lightweight motorcycle camping.
The bags themselves are made from polyester and come with a rain cover for added weather protection. There are heat resistant panels on the bottom to protect your panniers and gear inside from engine and exhaust temperatures.
To make it even easier to travel with these bags come with a shoulder strap. At their base they offer 23L per side of storage capacity and can be expanded up to 40L.
Givi is a great motorcycle brand that has shown consistent quality with their products. This makes it easy to recommend the Givi Easy Range Saddlebags if you're looking for durable and versatile motorbike panniers.
Coleman Motorcycle Saddle Bag (Best Cheap Motorcycle Saddlebags)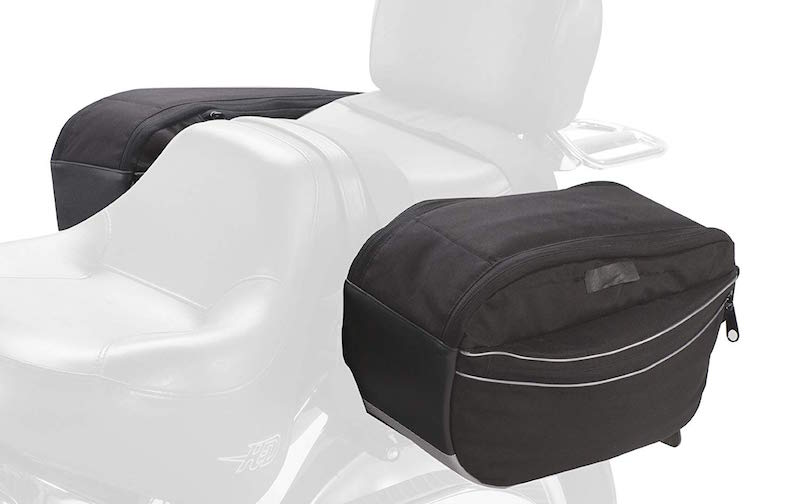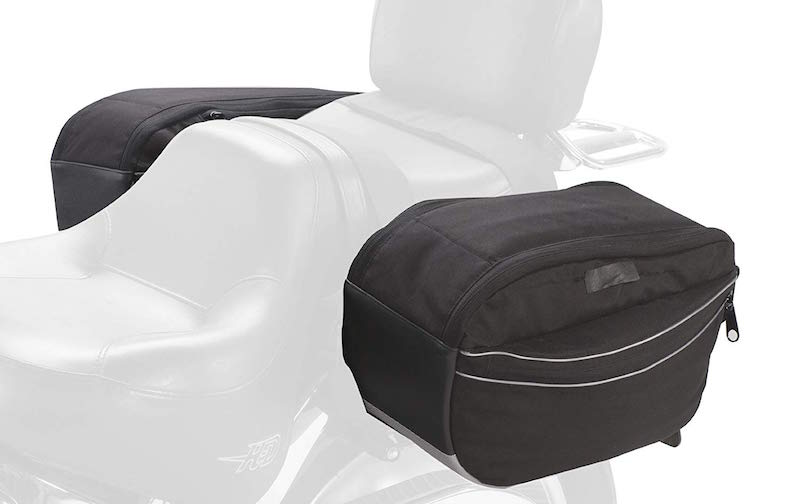 The Coleman Motorcycle Saddle Bags are ideal for those looking for the best cheap motorcycle saddlebags. These come with adjustable netted straps that are designed to fit most motorcycles.
For the price, you can't expect much from these panniers. However, Coleman is a popular camping brand and these are suitable if you're looking for something affordable to start touring or camping with.
The Coleman Motorcycle Saddle Bags come with a zippered main cargo compartment along with an easily accessible side pouch. They're designed from a UV and water resistant fabric and come with a reinforced bottom for added protection.
To make it easy to secure, these saddlebags are equipped with hook and loop attachments. They're easy to install or removed from your motorcycle depending on what you have planned.
For shorter trips, local errands, and commuting, the Coleman Motorcycle Saddle Bags are a great choice if you're on a tight budget. Don't expect the world from these panniers but they're definitely good enough if you're in a pinch.
Milwaukee Leather Saddle Bag (Best Harley Davidson Saddlebags)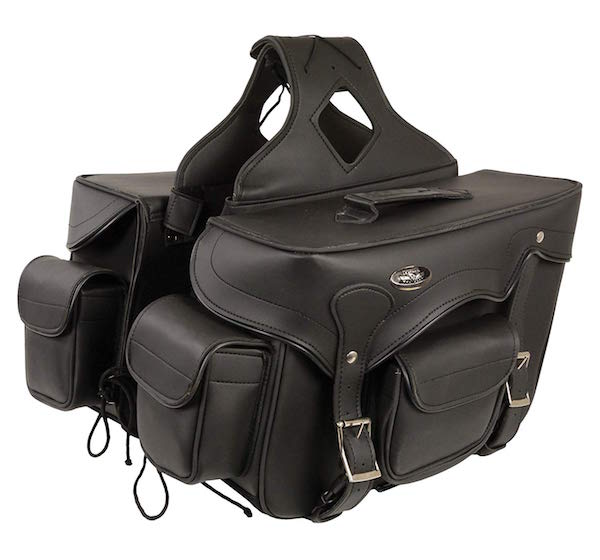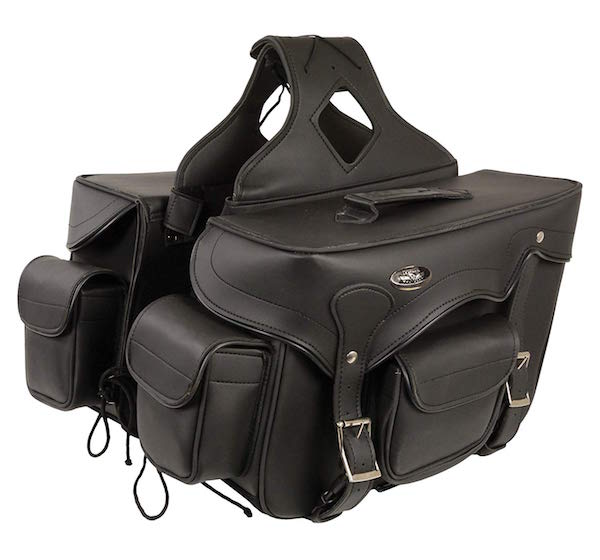 The Milwaukee Leather Saddle Bags are our recommendation if you're looking for the best Harley-Davidson saddlebags. These are designed from a black, PVC material that matches the style and design of most Harley Davidson bikes.
Hard side bags for Harley-Davidson can be expensive and difficult to install. These Milwaukee Leather Saddle Bags are an affordable and easy-to-use solution for your storage problems. Whether you're heading out on a camping trip or you want some extra space for commuting, these make it easy.
As previously mentioned, the Milwaukee Leather Saddle Bags are made from a durable and weatherproof PVC material. On the outer edges is reflective piping, which helps with visibility when you're out on the bike. There's even chrome plated studs and buckles, matching the style of most Harleys.
When it comes to storage, there are two outer velcro lock pockets. Getting inside is simple, thanks to the double straps on the front and quick release set up. These can be used for storing camping gear, a change of clothes, or anything else you want to bring with you for both short or long rides.
Overall, the Milwaukee Leather Saddle Bags are a great choice for Harley-Davidson bikes and other cruisers. These are easy to slip over the back and secure in place.
Best Motorcycle Panniers Buying Guide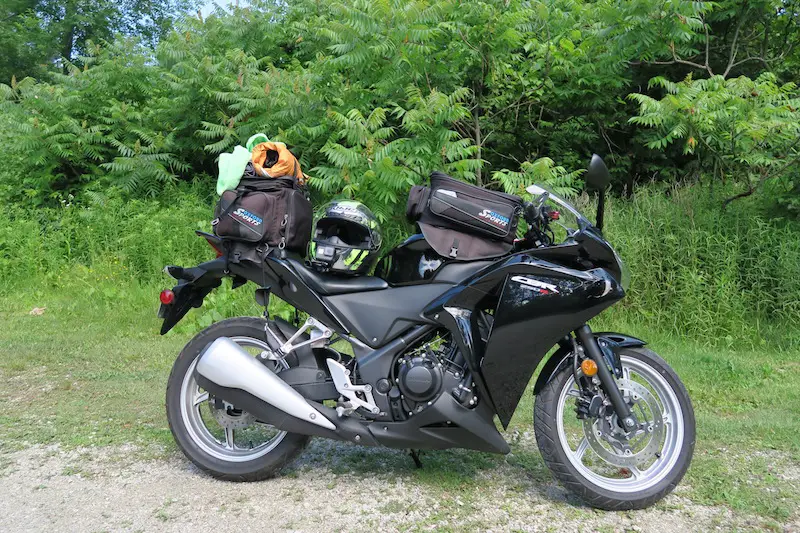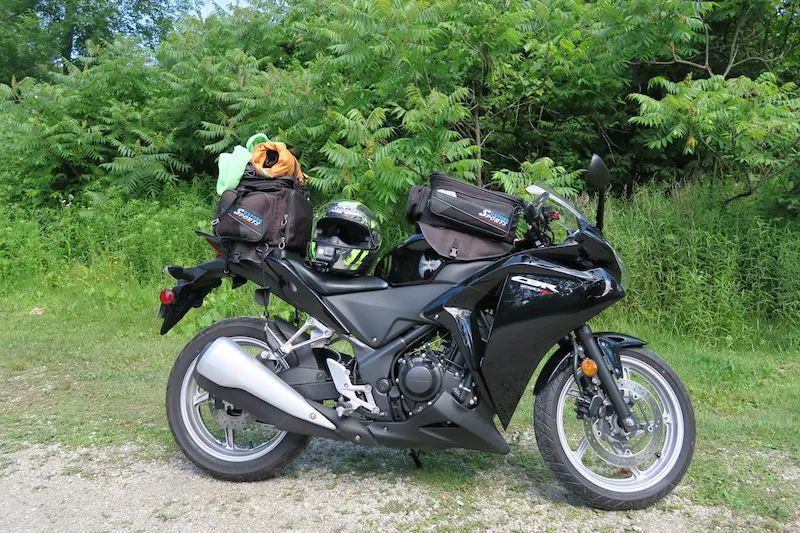 There are plenty of ways to attach gear to your bike without using panniers. People have toured around the world just fine using ropes and straps. However, using the best motorcycle panniers makes it much easier to travel with your motorcycle gear.
With panniers, or sidecases, gear can be quickly packed inside as they're typically mounted or attached to your motorcycle. There's no need to fumble with bags, awkward straps, or stopping all the time to double check everything is secure.
These cases give you bike a modern, streamlined look. It doesn't look as ridiculous compared to having your tent, sleeping bag, clothes, motorcycle boots, and who knows what else strapped to the outside.
Speaking of being strapped to the outside, panniers also help to shield your gear from the elements. Many sidecases are weatherproof, waterproof, and designed with a protective shell. Your clothes won't get wet and nothing you're traveling with is exposed to the weather or road conditions.
Most motorcycle panniers are designed for their contents to be easily accessible when needed. There's typically a zipper, or some buckles, keeping everything locked safely inside. Whenever you need anything it's as easy as opening up the sidecase and grabbing what you're looking for. You can even use your own motorcycle tie-down straps if you're looking to get a more secure fit.
All of these features and benefits make sidecases and panniers ideal for many motorcyclists. Whether you're commuting, running local errands, or going on shorter trips – these sidebags can be practical in many situations.
Tips for Choosing the Best Motorcycle Saddlebags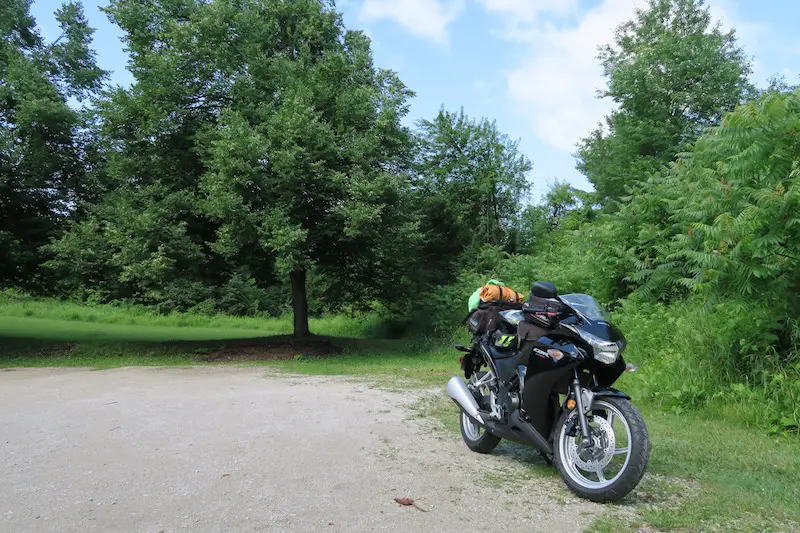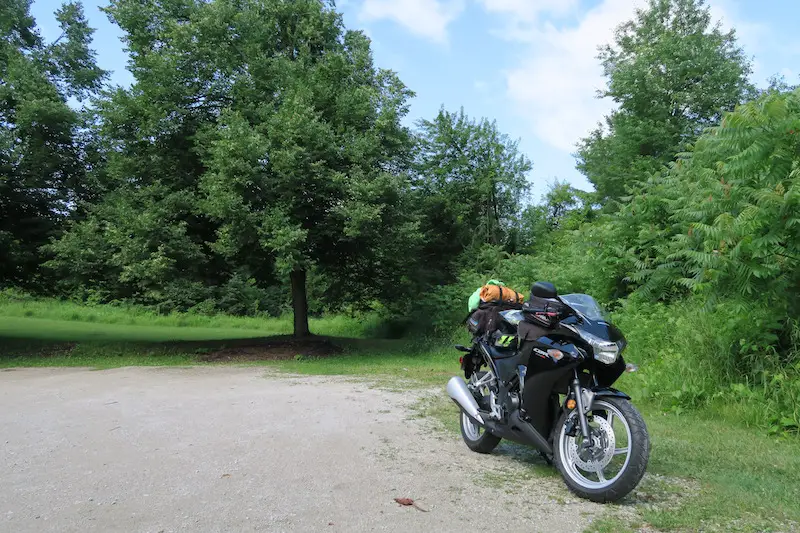 Motorcycle saddlebags, or panniers, are simple pieces of motorcycle equipment. However, there are some different features to keep an eye out for when you're in the market for new saddlebags.
Not every pair of motorbike panniers is the same. Here are some different features to consider before spending your hard-earned cash on new gear:
Attachment Type
There are two main types of pannier attachments. Those that attach directly to a touring rack and those that use a velcro strap system.
The kind you need depends on your bike and its current setup. Some bikes come with rear racks while others only have a back seat.
The velcro strap saddlebags are the easiest to use and designed to fit on most bikes. However, they're not as secure or sturdy compare to those that mount to a rack directly.
The problem with racks is that most bikes don't come equipped with them. This means you'll have to install a rack, which only adds to the cost of your motorcycle touring setup.
For an easy set-up, we recommend going with saddlebags that use the velcro attachment system. Unless your bike comes with the rack, this is the easiest way to get started with panniers.
Durability
The next thing to consider is the overall durability of the saddlebags you're interested in. This is important because these bags are what holds your gear. You want it to be kept safe and protected whether it's your commuting supplies or touring equipment.
When you're on the road your panniers are exposed to all of the outdoor elements. Along with road debris there's also wind and rain to worry about. The right side bags or cases will shield your gear from the elements and keep them safe and dry.
Look for saddlebags that are waterproof or that come with a waterproof cover. Those that have heat shields to protect the components from exhaust and engine heat are also important.
Finally, look at the overall build quality. Try to avoid plastics or softer materials. Polyester, aluminum, and other metals make great materials for durable motorcycle panniers. Don't forget to look at the reviews of any models you're interested in.
Price
It's important to have a budget when you're shopping for the best motorbike panniers. Going under budget or spending more than you want can have unwanted consequences on your riding experience.
The cheapest side cases tend to be made from poorer quality materials. They're typically not as durable and aren't great at protecting your gear.
On the other hand, there's no need to spend thousands of dollars on motorcycle luggage if you're just commuting or going on a short weekend trips. Find a happy medium with what you're willing to spend versus the quality of gear available.
Some of the better saddlebags and panniers can cost between $150 and $500. This is a reasonable budget, although there are suitable options on both sides of this price range. Don't forget that you get what you pay for, especially with motorcycle gear.
Storage
One of the last features to consider is the available storage on any panniers you're interested in. Some models come with expandable compartments while others have a fixed compartment.
Expandable compartments are better suited for overnight trips and motorcycle touring. This feature gives you the ability to increase your storage without having to buy new luggage. Keep in mind that expandable motorcycle saddlebags can be bulkier and heavier. You could also go with something smaller if you're traveling with a motorcycle tank bag or other type of luggage.
Panniers with a fixed storage compartment are better suited for day trips, local errands, and commuting. These have just one main compartment for gear storage and might come equipped with additional side pockets for further organization.
Motorcycle Saddlebag FAQ
Are Motorcycle Saddlebags Worth It?
Motorcycle saddlebags are a popular accessory among riders, as they provide a convenient way to carry gear and other items while on the road.
They come in a variety of sizes and styles, from leather to hard-shell cases, and can be easily attached to most motorcycles.
While saddlebags can be a bit of an investment, they are generally considered worth it for riders who frequently travel or need to carry a lot of gear with them.
What are the Best Saddlebags?
The best saddlebags for your motorcycle will depend on your individual needs and preferences.
Some popular options include leather saddlebags, which offer a classic look and durability, and hard-shell saddlebags, which provide extra protection for your belongings.
It's also important to consider the size and capacity of the saddlebags, as well as the mounting system and compatibility with your motorcycle.
Some top brands for motorcycle saddlebags include Viking Bags, Saddlemen, and Kuryakyn.
How Do I Choose Motorcycle Saddlebags?
Choosing the right motorcycle saddlebags requires careful consideration of several factors.
You should consider the size and capacity of the saddlebags, as well as the materials they are made of, the mounting system, and their compatibility with your motorcycle.
You may also want to think about additional features such as locks or reflective materials.
It's important to choose a reputable brand and to read reviews from other riders to get an idea of the quality and durability of the saddlebags.
What are Saddlebags on a Motorcycle Called?
Saddlebags on a motorcycle are often simply called "saddlebags," as they are designed to fit over the motorcycle's seat and rest on either side of the rear wheel.
They may also be referred to as "panniers," which is a term that is more commonly used in Europe.
Saddlebags come in a variety of sizes and styles and are a popular accessory among motorcycle riders who need to carry gear or other items with them while on the road.
Finding the Right Motorcycle Saddlebags For Your Bike
Choosing the best motorcycle saddlebags for your needs is an important decision for any rider.
When selecting saddlebags, it's important to consider factors such as size and capacity, materials, mounting system, and compatibility with your motorcycle. Some top brands for motorcycle saddlebags include Viking Bags, Saddlemen, and Kuryakyn.
Whether you prefer the classic look of leather saddlebags or the added protection of hard-shell cases, there is a wide range of options available on the market.
By investing in a high-quality set of saddlebags, you can add both style and functionality to your motorcycle and enjoy the convenience of being able to carry gear and other items with you while on the road.