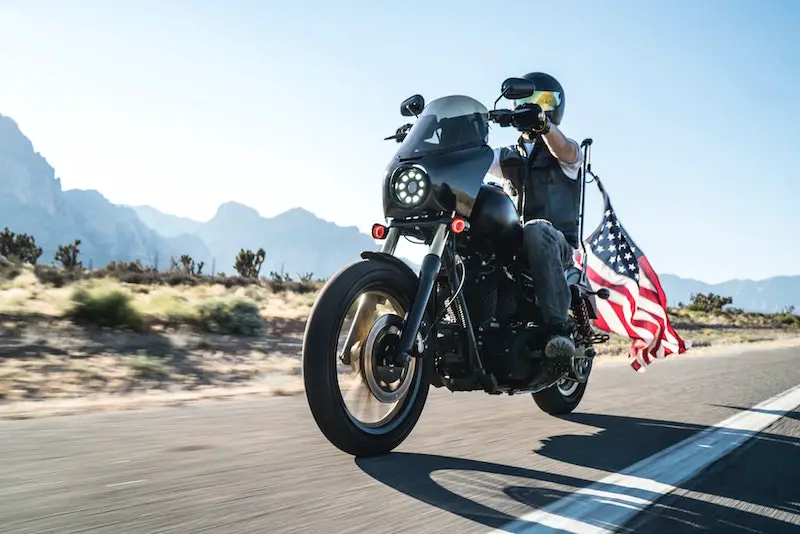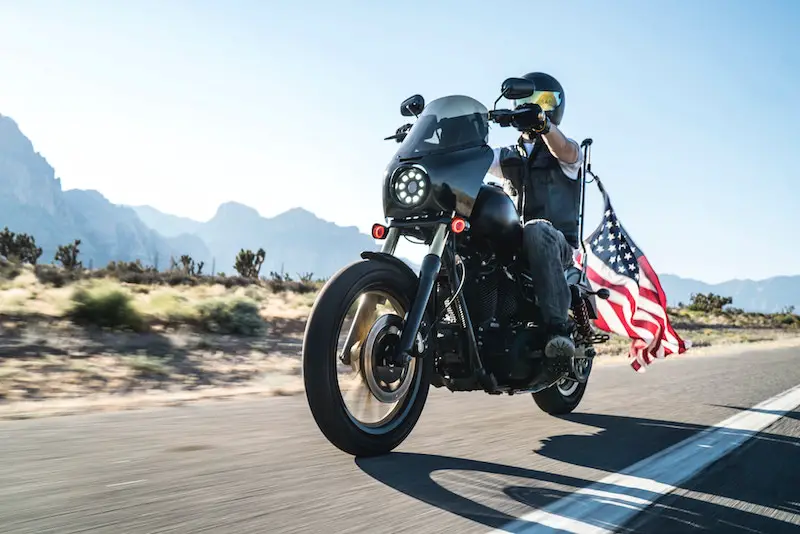 It doesn't matter if you're new to motorcycle riding or you've already been riding for years – wearing protective gear is always important. This includes investing in the best motorcycle boots for your style of riding.
You might be thinking that you can get away with a pair of running shoes or old hiking boots. This might work when you're riding around but you'll definitely regret this choice the first time you go down.
High quality boots that are designed for motorcycle riding will protect your feet and ankles from injury in case of an accident. The firm design also makes it easier to shift gears compared to regular shoes.
With so many motorcycle boots available it can be tricky to find a suitable pair for your riding style. We wanted to take out the guesswork so we put together this post to make it easy for you to find the best boots for motorcycle riding.
Be sure to scroll to the bottom of this post for an in-depth buying guide if you're having trouble deciding. Otherwise, let's jump right into it!
The Best Motorcycle Boots (Reviews) in 2023
There are a number of different types and styles motorcycle boots available to choose from. What you wear will depend on where you're riding, your style of riding, the season, and the level of protection you're looking for.
To make it easier for you to choose the right pair we've broken down the different types of motorcycle boots to highlight the best options.
Harley-Davidson Darrol Boots (Best Motorcycle Boots for Daily Riding)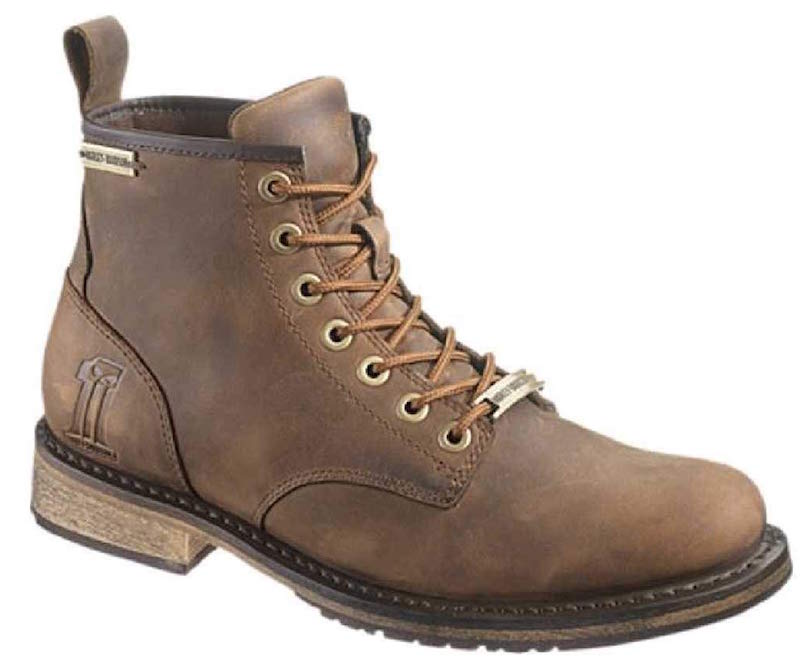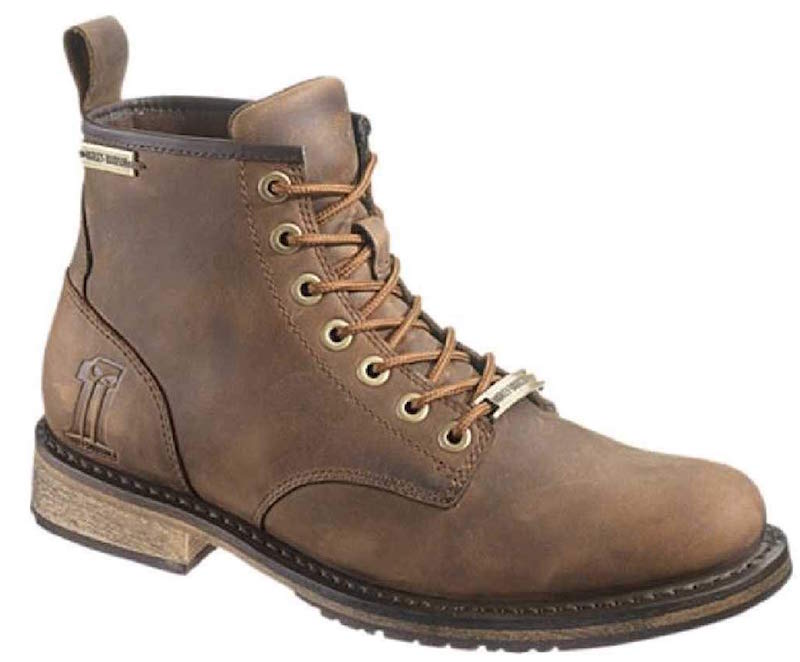 Despite the Harley-Davidson branding, theHarley-Davidson Darrol Motorcycle Boots are an affordable and comfortable pair of motorcycle boots for daily riding. The casual look gives you the ability to wear these in a variety of situations, instead of just when you're out on your bike.
These Darrol's are made from full grain leather that's flexible, comfortable, and that offers suitable protection. On the interior is a sock lining that provides a soft cushioning for a smoother ride.
The rubber sole gives you traction on your pegs and on the ground when you need to balance your bike. It's also more flexible than most motorbike boots so you can easily walk around without any discomfort.
For protection, there is a shaft covering the ankle. These higher boots will protect your ankle and lower legs from scraping across the ground if you happen to go down.
There is some Harley-Davidson branding on the laces, near the top, and on the heel. This can be removed or buffed out if you're not a fan of the HD brand.
For riders looking for a casual and comfortable motorcycle boot for daily riding it's the Harley-Davidson Men's Darrol Boots that we recommend checking out.
Joe Rocket Big Bang 2.0 Motorcycle Boots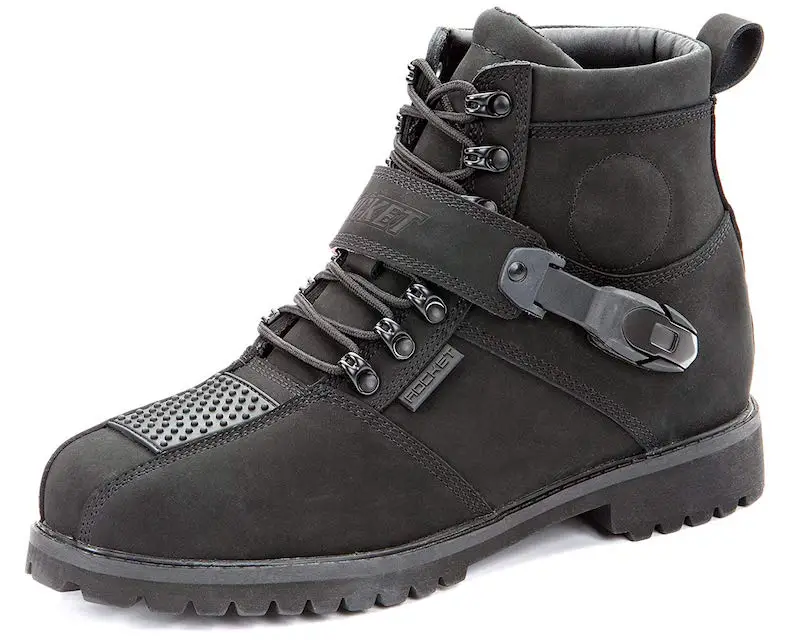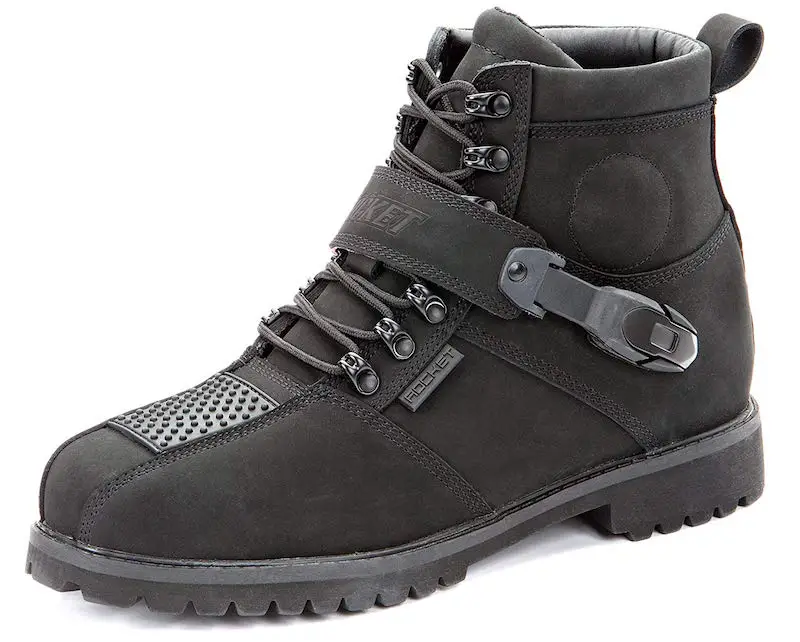 The Joe Rocket Big Bang 2.0 Boots are more of your typical style of motorcycle boot. These are equipped with superior protection for your rides and are comfortable enough for daily wear.
Our favorite part of these boots are the 2-mm thick full-grain design that offers ample protection and considerable resistance against the outdoor weather elements. For even more protection there is a molded polymer plate at the ankle and a reinforced toe-plate for for additional safety.
As for durability, all of the stress areas are triple stitched giving you the long-term performance you're looking for in a pair of boots. Speaking of performance, the sole is designed from a thick rubber that helps to provide traction on a variety of terrains and wet or oily surfaces.
For comfort there are adjustments traps with aluminum buckles. These allow you to quickly and securely lock your boots when they're equipped.
On the inside you'll find a comfortable, soft interior that's decently ventilated for those warmer summer days. The footbed is designed to eliminate fatigue, discomfort, and to absorb vibrations on bumpy rides.
Overall, we recommend the Joe Rocket Big Bang 2.0 Motorcycle Boots if you're looking for comfortable and affordable motorcycle boots for daily use. These come with practical features and the protection you want when you're out on a ride.
TCX Hero Street Vintage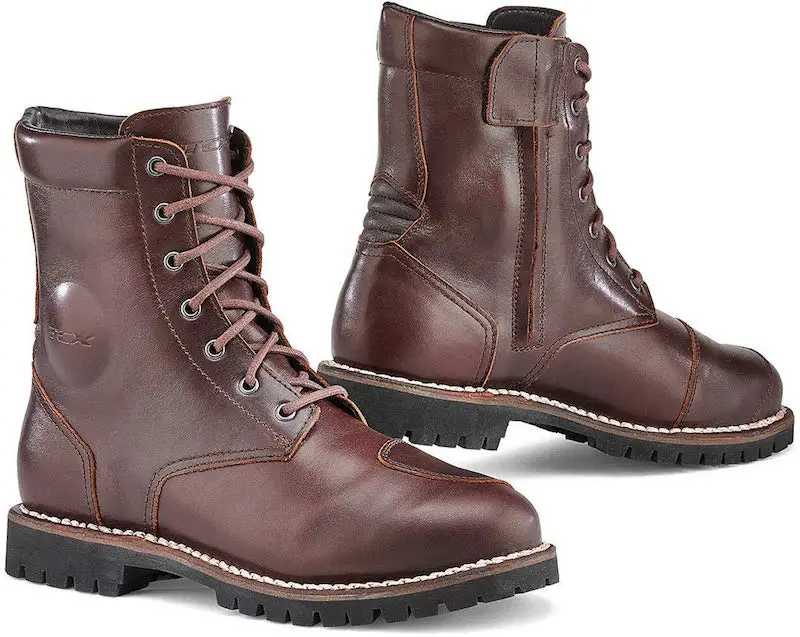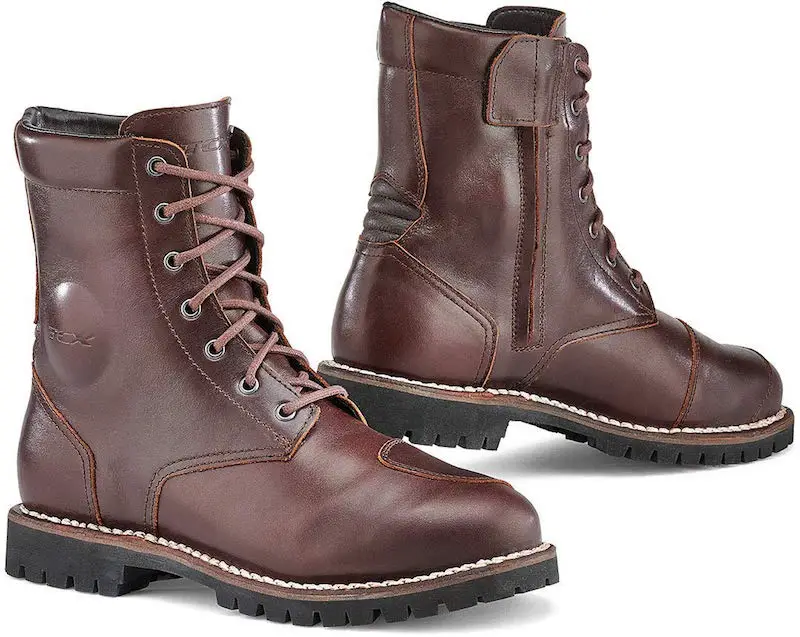 The TCX Hero Street Vintage Motorcycle Boots are a great choice if you're looking for something with a casual appearance and vintage design. These also happen to offer ample protection for your feet. This is a popular brand with motorcycle enthusiasts. It ranks up there with Joe Rocket as one of the best motorcycle gear brands.
These TCX Hero Street Vintage boots feature a durable construction with a full grain leather upper and waterproof liner. This makes them warm in cooler weather and keep your feet dry if you get stuck riding in the rain.
The interior full length zippers and velcro fasteners result in a comfortable, snug fit. With the laces you can quickly tighten or loosen the boots depending on your comfort preferences and how big your socks are.
For protection and reinforcements there is a leather shift pad and heel counters. These features help with durability and will protect your feet if you happen to go down.
The casual, vintage look gives you the ability to pair these boots with your jeans if you're heading out on the town. They can also be easily paired with a dedicated pair of motorcycle pants for longer cruises or touring.
The TCX brand is well-known and popular among motorcycle riders for the quality of their gear.  We have no problem to recommend the TCX Hero Street Vintage Boots as a great choice for daily riders.
Best Motorcycle Riding Boots Buying Guide + FAQ
Still having trouble deciding which motorcycle boots to invest in? This in-depth buying guide and FAQ will help make things easier for your decision process.
Should you have any questions feel free to contact us directly. We'll be happy to help you make the most informed choice!
Things to Consider When Buying Motorcycle Boots
Material
One of the features that's protecting your feet when you're riding is the material that your boots are made from.
Less durable materials like soft leather and canvas are going to tear to shreds if you happen to go down. That's why you'll find most boots are designed using thick, durable, and abrasion-resistant materials.
Most motorcycle footwear now come designed with a blend of breathable textiles and hard, durable fabrics. With this design your feet will stay ventilated and also protected in case of a crash.
Harder, less flexible boots come with benefits of their own. They make it easier for you to use the shift lever. They're also more comfortable for longer rides by preventing your foot from bending or flexing too much.
When shopping for boots, look for extra reinforcements in the areas that matter. Thicker materials or reinforced stitching on the toe box, ankle, and heel are all practical features.
Something else to look for is the weather-proofing of any boots that you're interested in. Waterproof boots are great for rainy days but they don't offer the best ventilation.
You might want to consider picking up a cover, rather than a dedicated pair of waterproof footwear. With a waterproof cover for your boots you don't have to invest in a new pair for those random rainy days.
Attachments (Closures)
There are heaps of different attachment types for boots. It's personal preference when it comes to how your boots are opened and fastened on to your feet.
Personally, I prefer a combination laces and Velcro. Just gives me the option to tighten the boots to my preference and strap them closed when I'm ready to ride.
Velcro is the most popular type of closure. The main problem with velcro straps is that the velcro will eventually stop sticking. Depending on how much you ride this can happen in a season or it might never happen at all.
Other popular types of closures include buckles and slide-in boots. Again, it's up to your personal preference to decide which type of closure you want on your motorbike boots.
Protection
The main purpose of your motorcycle footwear is to protect your feet in case of a motorcycle accident. That's why padding and armor is one of the most important features to be looking for.
Look for boots that are designed with hard plastic, carbon fiber, or even Kevlar in fragile and high-impact areas. Some options even come with steel plates, similar to what you would find in a pair of steel-toed boots.
While it might not look the most fashionable, armored boots with ample protection are going to keep your feet the safest. At the bare minimum you should be looking for protection in the toes, heels, and ankle.
Nothing's worse than having a peg tear through your ankle bone because you decided to wear running shoes instead of proper boots!
Ventilation
For the first pair of boots I bought I made the mistake of buying ones that were waterproof. Thinking I'd need these for riding in the rain, I never thought about how air-tight something that's waterproof needs to be.
In the spring they were fine, but all summer long I wasn't able to wear my boots as they made my feet unbearably hot. Ventilation is important for keeping your feet dry and comfortable when they're sitting beside the hot engine for extended periods of time.
You'll have to decide between going with something waterproof or choosing boots with suitable ventilation. Look for mesh and air vents that will increase air flow and keep your feet properly ventilated.
Price
For most people price will be the most important factor in choosing a pair of motorcycle footwear.
Personally, I recommend reading reviews and looking at the value of a pair of boots you're interested in. Avoid buying the cheapest options you come across. There's usually a reason why products are priced cheaply and you don't want to risk your safety to save a few dollars.
The cost of motorcycle boots typically runs between $100 and $300, although there are options outside of this price range. The cheapest boots will be made from synthetic, less durable materials. These can be great for casual riders that aren't venturing too far from home.
Better quality footwear is typically designed with leather and other more durable materials. At the higher end of this price range you can expect boots to last a number of riding seasons. You also won't to have to replace them as often, making them more cost-effective overall.
Comfort
Buying online will save you money, but it's a good idea to try on boots at your local motorcycle retailer if possible. Comfort is important, especially on longer rides and for those of you commuting.
There are different features that can make boots more comfortable. These include cushioned insoles, removable soles, ankle support, and the use of lightweight yet durable materials.
Heavy, bulky boots make it harder to use your shift lever and brakes. They're also not designed to be rested on your foot pegs, depending on the bike.
Look for boots that are lightweight, sturdy, and that come with the features that match your style of riding.
Why You Should Use Motorcycle Boots
You might be thinking you can get away with wearing a pair of old running shoes or hiking boots when you're out on the bike. This might work most of the time, but you'll definitely regret your decision the one time these boots don't offer the protection you need.
Here are some of the reasons why you should be wearing dedicated motorcycle boots whenever you're out riding:
Safety and Protection
The materials that motorcycle boots are made from, such as leather and steel/hard plastic reinforcements, offer the best protection against road debris. Large stones, random garbage, small animals, and bugs will be careening into your feet at high speeds on a regular basis.
Lightweight, fabric running shoes won't offer you any protection at all in these situations. They also don't offer any ankle or lower leg support/protection.
Not only do a pair of proper boots protect you from road debris, they're also safer to wear in case of an accident.
Comfort
The right pair of boots will keep your feet protected from the extreme heat coming from your engine/exhaust. They will also help keep your feet warm or cold depending on the weather that you're riding in.
With running shoes there is barely any protection between the heat of your motorcycle and your feet. This type of footwear can melt and it's possible to burn yourself without the proper protection.
Along with extreme heat, you might also be dealing with cool temperatures early and late in the riding season. Without the proper footwear your feet are going to be cold. This can lead to a lower response time with your shifting and braking – something that should be avoided at all costs.
Finally, the right pair of waterproof motorcycle boots will keep your feet warm and dry in wet conditions. Even with a waterproof cover, running shoes offer barely any protection against the rain or wet weather.
Grip and Support
The best motorcycle boots come with non-slip, high-traction soles. These prevent you from slipping on the wet ground or in loose gravel, dusty conditions. They also give you a better grip when your dismounting or mounting your motorcycle.
You also want to look for boots that offer ample support for your feet and ankles. These supports make it easier for you to operate the controls on your bike.
They're also helpful for protecting your feet and ankles if you happen to go down.