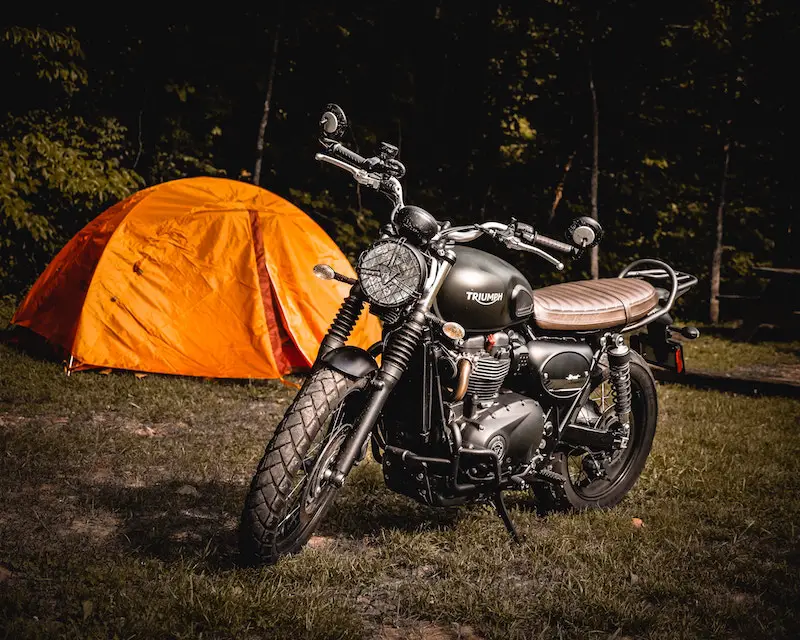 With the right motorcycle camping gear, you can have a blast. You'll always be dry, warm, and comfortable regardless of the elements. However, it can be tricky to find the right gear for the different conditions you'll be riding in.
When it comes to the best motorcycle camping tent it's important to choose a quality, durable, and well-reviewed tent. Ultimately, there are two styles of tents to consider to take with you moto-camping.
There's the dedicated camping tents. These are what you would use for motorcycle camping, backpacking, hiking trips, and general outdoor excursions. Then you have motorcycle tents. These are designed to cover both you and your motorcycle on your camping adventures. Each style has their own benefits and drawbacks depending on your outdoor experience needs.
Personally, I use a regular tent and a motorcycle cover to protect my bike from the elements. This is my preferred moto-camping setup and it's what I'll be traveling with for my upcoming trips.
On the other hand, people have different preferences when it comes to camping. In this post let's look at both types of motorcycle camping tents. This way you'll be the most informed to make the best possible decision.
The Best Tents For Motorcycle Camping
Coleman 2-Person Dome Tent (Best Tent For Motorcycle Camping Overall)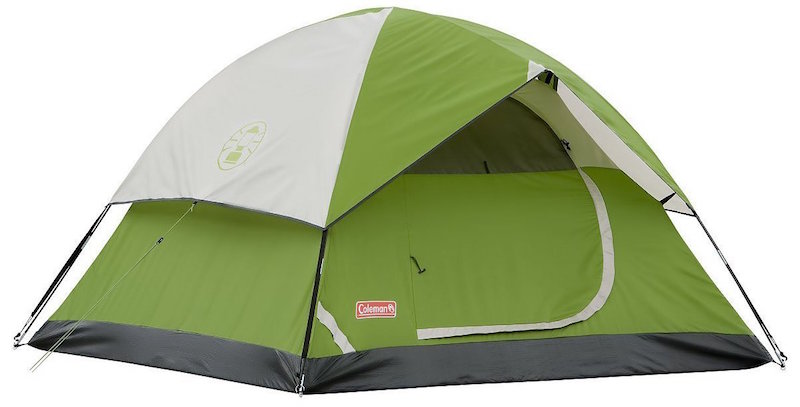 The Coleman Dome 2-Person Tent is the best choice if you're looking for something affordable and durable enough for a few summer trips. Coleman is well known for their reasonably priced camping gear and it shouldn't be surprising that this is one of our recommendations.
Personally, i've been camping using Coleman gear for years without any issues. It's great to strap a Coleman tent on to the back of my bike with the rest of my motorcycle camping gear and head out on a trip. With Coleman, there's nothing to worry about except having a good time.
This 2-person tent might be small for some of you, but it's just the right size for weekend getaways and shorter summer adventures. For a little more space, I'd recommend checking out the 3-person model.
This Coleman comes with large windows and a ground vent. This means heaps of ventilation to prevent a damp and humid interior.
The rainfly is ideal for protection against the rain, wind, and sun. For even more weather protection this tent has welded floors with inverted seams to prevent any rain or water from getting in.
The interior boasts enough space for your sleeping bag and all of your motorcycle gear/accessories. You won't be able to bring your bike inside but it will easily fit everything else.
For lightweight motorcycle travel, this Coleman weighs an impressive 7.5 pounds. It even comes with a dedicated carrying case that makes it easy to stow on your bike while protecting it from the elements. Overall, it's the Coleman 2-Person Dome Tent that I recommend as one of the best tents for motorcycle camping for most people.
Lone Rider Mototent V2 (Best Motorcycle Camping Tent for Serious Camping and Touring)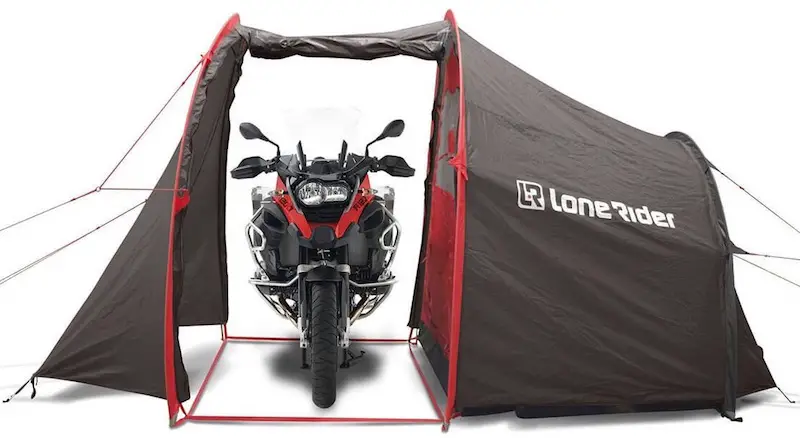 The Lone Rider Mototent V2 is one of the best tents for motorcycle camping currently available on the market. It's not cheap by any means, but for those of you looking for the ultimate touring gear – this is a tent you need to consider.
The Mototent V2 is specifically designed with a motorcycle canopy to protect your bike from the elements and keep it out of sight. The sleeping area is large enough for one or two riders along with plenty of space for accessories and gear.
A groundsheet and carrying bag are included to help make this tent easier and more enjoyable to use. It's also possible to cook or leave gear to air out in the included vestibule area.
At just 12 pounds in total weight, this is one of the lightest complete motorcycle tents available. Despite its weight, the tunnel design and quality design material will keep everything sturdy and upright when you're out in the elements.
As for the elements, the seams and zippers are as waterproof as you'll find in any camping equipment. With the sturdy build and waterproof design you're able to rest peacefully knowing you wont wake up covered in rain.
The packing size of the Mototent V2, its overall build quality, and the many useful features for riders make this one of the best motorcycle touring tents that we recommend. Take a look at the Lone Rider Mototent V2 for more information.
Catoma Switchback (Best Lightweight Motorcycle Tent)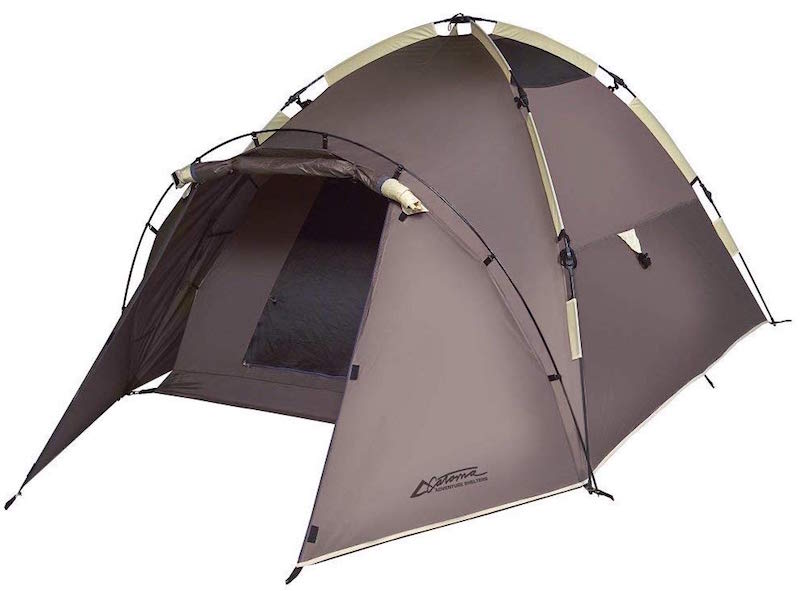 The Catoma Switchback Tent is my recommendation if you're looking for the best lightweight motorcycle tent. This tent is a great choice if you're touring on your own or with a partner.
At just 454g in weight, you'll be hard-pressed find a lighter and better quality tent for motorcycle touring. If I wasn't already using my Coleman this is the one that I would bring on my trips.
There are a few things worth mentioning about the Catoma Switchback. For starters, it comes with 2 doors and 2 storage vestibules. Just give you plenty of room for easy access and storing your gear away from the elements.
It has a special 2-wall design making it easy to setup in most camping settings. The floor features a bathtub design and has taped seams keeping everything dry and waterproofed.
Finally, the breathable inner tent prevent condensation from building up and it's great for stargazing on those dry, warm summer. Overall, the Catoma Switchback Tent is the tent I would recommend if you're looking for something lightweight, easy to set up quickly, and that's practically designed for motorcycle touring.
Coleman Hooligan (Best Compact Tent for Motorcycle Camping)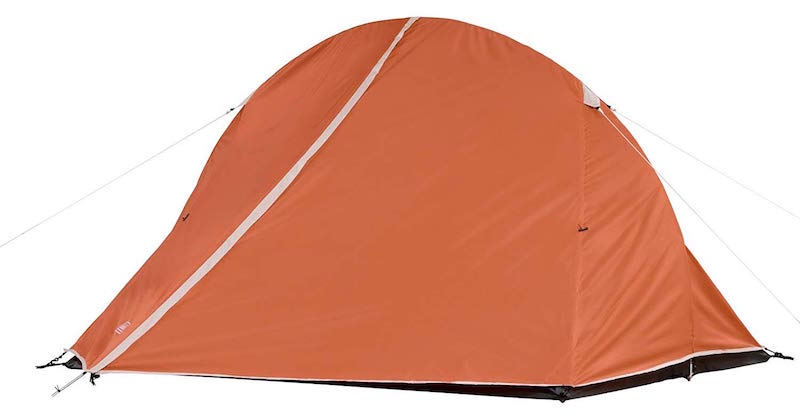 The Coleman Hooligan Tent is another lightweight and affordable option as the best motorcycle touring tent. Just like with the other option I mentioned above, Coleman makes great camping equipment that's accessible and affordable for most people.
For late spring through to early fall the Coleman Hooligan is an ideal choice for riders that aren't concerned about spending tons of money on fancy camping equipment.
At the front is a small vestibule that you can use for storing your bike or motorcycle camping gear. On the inside you'll be happy to find a spacious, simple layout that will shield you from the elements.
Coleman's very own WeatherTec system means this tent is equipped with inverted seams and welded floors. These design features how to keep water and moisture out keeping you dry during storms or heavy downpours.
Setting up these Coleman tents is simple after doing it for the first time. A carrying case is included to protect the materials while you're riding add to help keep everything organized.
The main drawback with the Coleman Hooligan is its weight, which comes in at nearly 8 pounds. For some riders this isn't an issue, though you will want to check out my other recommendations if you're looking for something lightweight.
Keep in mind that this is a two-person tent. It's going to be a tight fit for one person and unsuitable for two riders. Overall, for the price and value, the Coleman Hooligan Tent is a great choice for riders in need of a simple, reasonably priced tent that's easy to set up.
ALPS Mountaineering Lynx (Best One-Person Motorcycle Tent)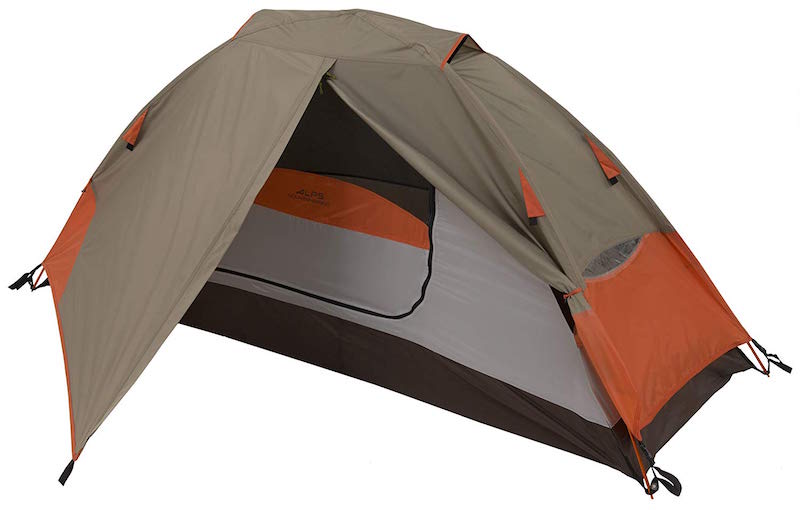 While I recommend going with at least a two-person tent, the ALPS Mountaineering Lynx One-Person Tent is likely your best choice if you're set on something designed for one person.
The problem with one person tent is the lack of space. On the inside you'll have just enough room for yourself and sleeping bag. Any of your gear and motorcycle accessories will have to be kept outdoors overnight.
Otherwise, this is a great choice for solo riders that want the absolute minimum when it comes to a lightweight motorcycle camping setup.
The ALPS Mountaineering Lynx One-Person Tent is easy to set up. For summer riding the mesh walls offer amazing ventilation and give you the ability to stargaze on warmer nights.
As a free-standing tent, there is basic assembly required and you don't have to worry about finding a soft, suitable ground for your stakes. The tent fly is made from polyester and offers ample water resistance should you get caught in the rain.
On the inside you'll find storage pockets and a gear loft for any small accessories you bring into the tent. There is a small vestibule where you could store your motorcycle luggage, boots, or anything else you don't want to leave outside.
The ALPS Mountaineering Lynx One-Person Tent is what I would recommend if you're traveling solo and looking for the most lightweight tent for your trip. Otherwise, you'll want to consider something designed for two people for more space and storage capabilities.
Best Motorcycle Tent Buying Guide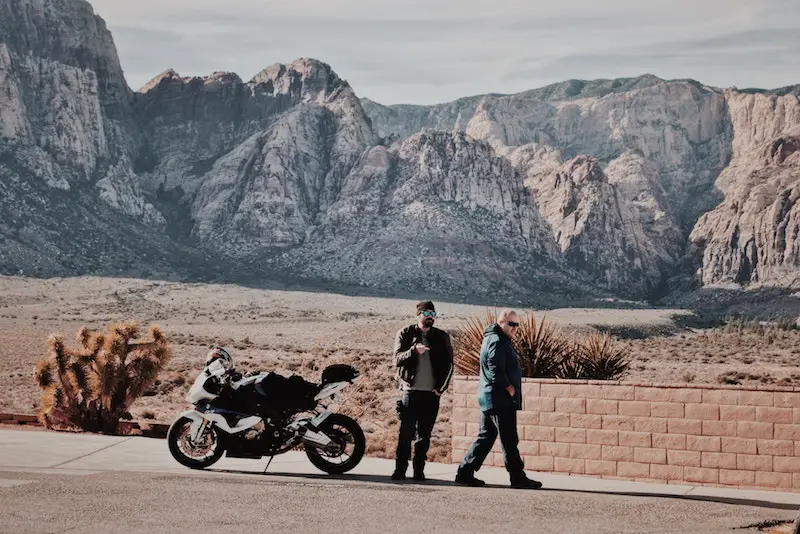 There are a number of factors to consider before buying a tent for your next motorcycle adventure.
This buying guide should help make the purchasing process easier for you to determine exactly what you need.
Check out our post on the most helpful motorcycle touring tips for information.
Size
The size of your motorcycle tent depends on a few factors:
Motorcycle Size – Tents with vestibules are designed to protect your bike from damage and weather elements. Check the dimensions of your bike and compare it with the dimensions of the vestibule to ensure there is enough space.
Storage Space

– The interior and vestibule storage space of any of the tents you're looking at needs to be considered. Think of how much room you will need to store your motorcycle gear, your bike, and everything else you're traveling with.

Sleeping

– you need more room in a tent than you think for motorcycle camping. For example, a 3-person tent is best suited for one person. Two people in a tent that size would be crowded and cramped.
Price
Before starting your search for the best motorcycle tent it's important to settle on a specific budget. This way you'll have a better idea of the tents in your price range.
You'll also be able to tell which features you can afford and those you'll have to overlook depending on your budget. Read reviews, do your research, and you'll be able to find the right balance between price and quality.
Weight
For motorcycle touring having a lightweight setup increases fuel efficiency, riding comfort, and makes it easier to travel with your bike. Tents can be some of the heaviest pieces of gear to pack in your motorcycle saddlebags so it's a good idea to go with something lightweight and durable.
All of the tents in this list are generally lightweight and easy to carry on your bike. You will definitely want to avoid anything over 10-pounds, unless you have a specific reason for needing such a large sleeping and storage space.
For choosing the right camping equipment it's important to find the balance between price, weight, and durability. Keep track of the specific features you want and look for tents that are in your budget range with these features.
You might have to make some sacrifices, but avoid heavy camping gear that's going to slow you down on the road. In the end, it's going to be the experience that matters! Obviously, all of this would be made easier with one of the best touring motorcycles, but not everyone has one of those.
Weather-Proofing
The best tents for motorcycle camping will be waterproof and offer suitable wind resistance. Rain is the most common weather element that you'll experience on your trips.
Most tents come with tarps to protect you from the rain and wind. It's possible to make the tent seams even more waterproof for better weather protection.
Bathtub floors with taped seams are the best options for waterproofing and enduring the weather elements. These are floors that extend up the side of the tent from the ground and prevent moisture from being able to seep inside.
Don't forget about stakes either. These will help keep your tent secure in windy conditions.
For heavy winds, anything that's staked down and full of your gear is unlikely to blow away. The aluminum frames that most tents are designed from are durable to withstand high winds and heavy rain.
Air Flow & Ventilation
Having a ventilated tent is important for two main reasons.
First, it's going to get hot and humid inside your tent during the summer if there's no ventilation. This will cause moisture to build up inside making for an unpleasant sleeping experience.
Second, having good ventilation is going to make you comfortable and relaxed when you're hanging out in the tent. You don't want to wake up in a puddle of sweat or have condensation dripping on you from the ceiling.
These issues can be avoided by choosing a tent with mesh ventilation and a dedicated rainfly.
Why Use a Motorcycle Tent?
Secure Your Bike
When you're touring or motorcycle camping, using a motorcycle tent will help keep your bike secure. It will be concealed from anyone nearby and you can use it in conjunction with a motorcycle lock for even better security.
With the bike inside a tent it's less tempting, and more difficult, for someone to steal. This keeps it safe and secure whether you're sleeping inside or you're exploring somewhere else without the bike.
Weather Protection
Leaving your bike outdoors in direct sunlight, moisture, and humidity can have a detrimental impact on the motorcycle's internal and external components. UV rays from the Sun can also damage the tires, cosmetic areas, and other exposed components.
Using a portable motorcycle tent can protect your bike from the elements and other weather conditions. It will be safely stored inside and protected so you don't need to use a motorcycle cover or find other shelter.
Keep it Clean
Another benefit to using one of these is that it will keep your bike clean. When it's left outside, the bike will regularly be exposed to dust, dirt, grime, and other debris in the atmosphere.
Storing it inside a motorcycle storage tent will protect it from these elements. This way you will be clean and ready to ride whenever you are.
Prevent Damage
Motorcycle tents offer an additional layer of protection against the weather, dust and debris, scratches, and other accidents or blemishes. It prevents people from getting too close and bumping it to its or knocking it over.
While it's not always ideal to use, these tents offer a number of benefits when it comes to protecting your bike. Especially for expensive bikes, this is something definitely worth using.
Final Thoughts
Choosing the right motorcycle tent is an important part in having a great experience on your motorcycle adventures.
Those of you looking to spend time exploring your local area on two wheels will want to find the best gear for the job. This way you'll know you can rely on your motorcycle camping gear for a comfortable and enjoyable experience.
Planning a motorcycle camping trip on your own? Check out some of my trip reports:
Hopefully this guide helped you make choice in your search for the best motorcycle tents for camping. Please don't hesitate to leave a comment or shoot me an e-mail if you have any questions or concerns!