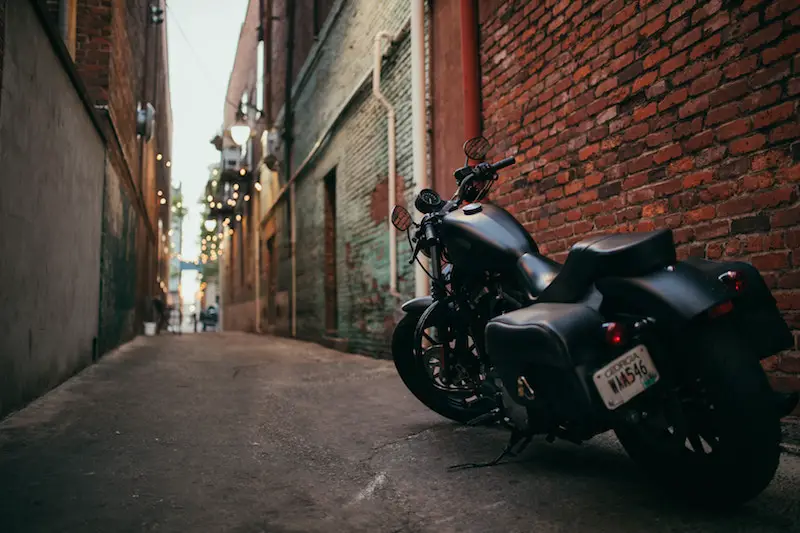 A motorcycle cover was one of the first things I ever bought after picking up my first bike.
These covers are perfect at keeping your bike safe from dust, other people, and weather elements – especially if you're leaving your motorcycle outdoors.
In this post I want to take a look at the best motorcycle covers and help you make the right choice in picking a cover for your own bike.
Let's jump right into it!
The Best Motorcycle Covers
XYZCTEM All Season Waterproof Motorcycle Cover (Best Motorcycle Cover Overall)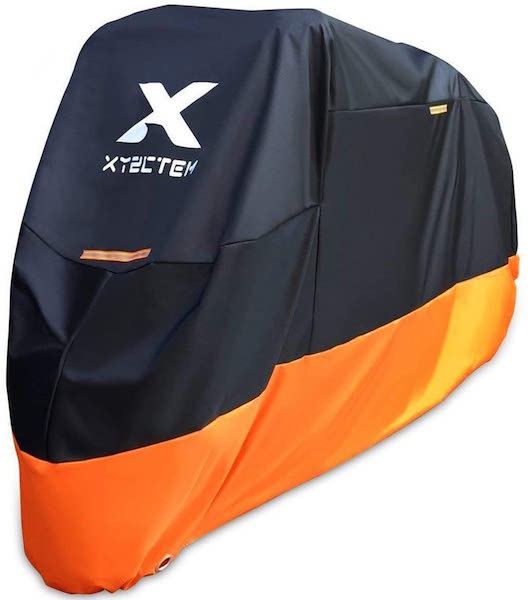 Fits sport bikes, cruisers, and loaded touring bikes
Made from a durable nylon material
Breathable fabric that releases condensation and moisture buildup
Bright design for better visibility
After researching all of the different covers online, it's the XYZCTEM All Season Waterproof that's the best motorcycle cover for most people. The XYZCTEM All Season Waterproof is suitable for bikers for a few reasons.
It's lightweight and easy to use. This cover is helpful to protect your bike from the elements if you don't have a garage.
The cover is made from a durable and breathable weatherproof fabric. This keeps your bike safe and dry in windy and rainy conditions. At the bottom of the XYZCTEM Motorcycle Cover you'll find an elastic system and buckles that secure the cover in place once it's fitted.
There are also grommets that are used to thread your motorcycle chain or security setup through depending on your outdoor storage solution. It takes less than a minute to get this cover on and can be easily removed when you're ready to ride.
Overall, the XYZCTEM Motorcycle Cover is one of the best motorcycle covers for most people storing their bikes outdoors. It's durable, equipped with practical features, and can be used to protect your bike from the harsh weather elements.
Nuzari All Season Motorcycle Cover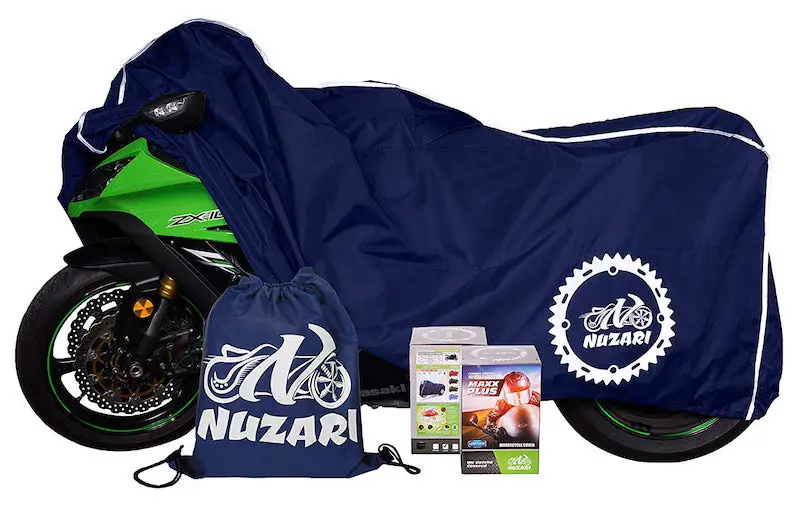 :
Breathable and waterproof polyester design with air vents for ventilation
Reflective strips for outdoor storage visibility in busy areas
Interior heat shield that prevents the cover from melting from your hot pipes
Cutouts for added security where you can use your own chains, cable, or security system
This Nuzari All Season Waterproof Outdoor Motorcycle Cover is a great choice if you're looking for something that's fitted to your bike and suitable for outdoor storage. One of our favorite features with the Nuzari cover is that it comes in four different sizes. This way you can choose a size that best fits your motorcycle style.
Whether you have a small 50cc scooter or huge touring bike you can find a fitted cover option from Nuzari. The Nuzari All Season is designed to protect your motorcycle from UV rays, rain, wind, and other outdoor elements, dangers, and pollutants.
Using a cover like this also helps with security making your bike more difficult to steal and less susceptible to theft. The air vent ventilation system ventilates the bike to prevent moisture build-up and allows air to pass through on windy days.
A thick bottom elastic and durable strap keep the cover in place when it's being used. This is a heavy duty and well made waterproof motorcycle cover that most riders will find suitable for outdoor bike storage.
Overall, we definitely recommend the Nuzari All Season Motorcycle Cover,. This is a great choice for for those of you with bigger bikes looking for suitable protection from the outdoor weather elements.
Badass Motogear All Wx Motorcycle Cover (Best Touring Motorcycle Cover)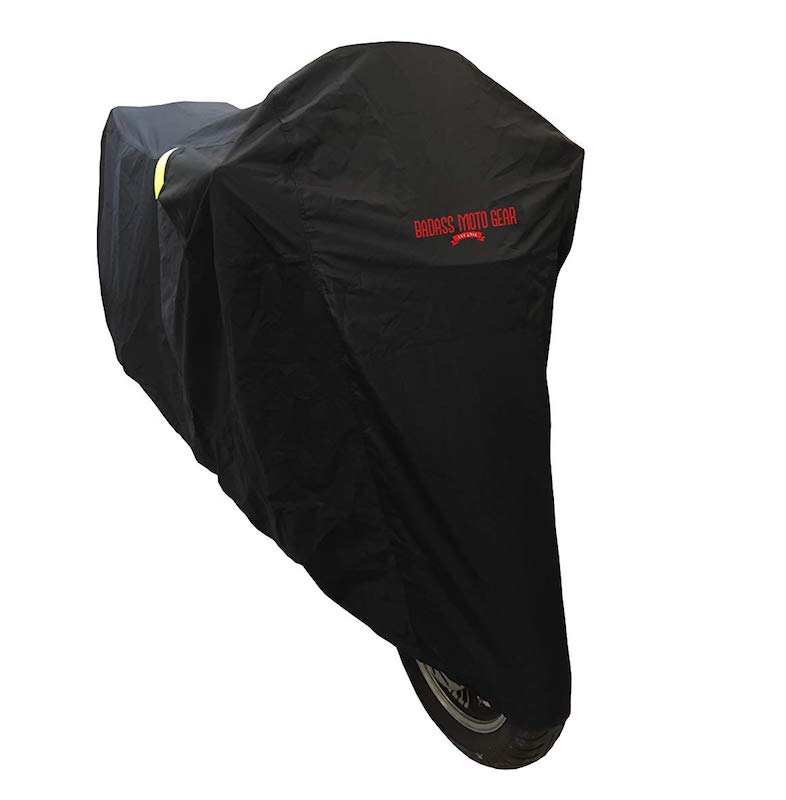 Comes in different sizes for various bike types (fits scooters and sport bikes up to cruisers and loaded tourers)
Double-vented for increased ventilation
Elastic bottom hem and a securing strap that help to keep the cover in place during poor weather conditions
Heat shield protects the cover from your hot exhaust
The Badass Motogear All Wx Cover is what we'd recommend if you're looking for the best winter motorcycle cover.
This cover boasts a heavy-duty, 300-Denier polyester fabric design and comes equipped with vents for ventilation and a high-tech waterproof coating.
With a focus on keeping your bike dry and protected from the elements, this is a great option if you're looking for outdoor winter motorcycle storage protection.
Taped seams enhance the waterproofing of this cover. The different sizes means it won't be flapping around in the wind when you secure it to your bike.
There are some reflective strips around the cover to make it more visible at night. Consider adding more reflective strips for better visibility.
Overall, the Badass Motogear All Wx Motorcycle Cover is a great choice f you're looking for something heavy duty. It's suitable for outdoor winter motorcycle storage and will definitely protect your bike from the harsh weather elements.
Nelson Rigg Defender Extreme Motorcycle Cover (Best Harley Davidson Motorcycle Cover)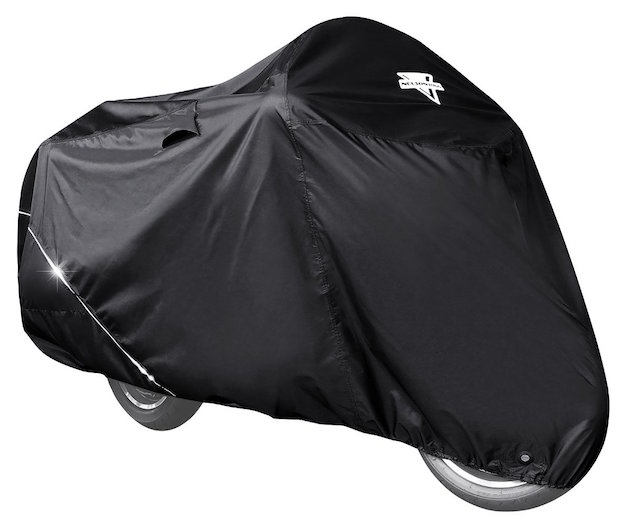 The Nelson Rigg Defender Extreme series of motorcycle covers are a great choice for most styles of bikes. There are covers available that are designed for sport bikes, adventure motorcycles, and various sizes of motorcycles depending on what you're riding.
Like with most of the Nelson Rigg products, the Defender covers can be counted on for durability and reliability. These covers come with the warranty and are designed to protect your bike from the outdoor weather elements.
The Nelson Rigg Defender Covers are 100% waterproof thanks to the polyester material and electronically taped seams. This also protects your bike from the sun's harmful UV rays.
On the sides and back is a highly reflective stripe. This helps with night visibility making your bike visible to both people and vehicles. You wouldn't want someone accidentally bumping into or knocking over your bike when it's covered.
On the inside you'll find heat resistant panels to help with the exhaust system. This cover also comes equipped with a ventilation system that minimizes condensation and helps with air circulation.
Other features worth mentioning include the soft windshield liner and grommets for added security. Overall, the Nelson Rigg Defender Motorcycle Cover is a great motorcycle cover designed to fit most bikes. It comes with the features bikers need to protect their motorcycles from the harmful outdoor weather elements.
Anglink Waterproof Motorcycle Cover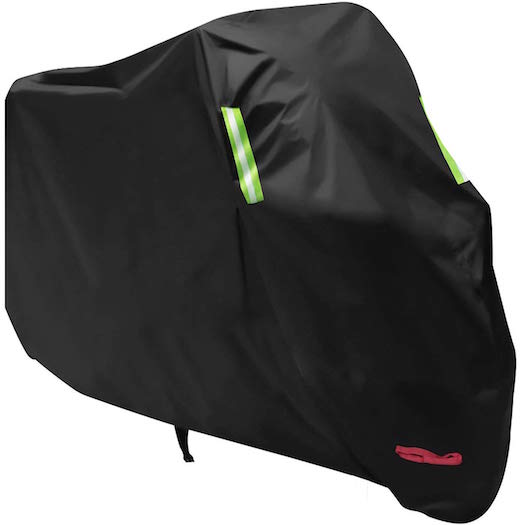 The Anglink Waterproof Motorcycle Cover is designed to protect your bike from rain and harmful outdoor weather elements. Whether you're looking from protection from the rain, sleet, snow, or wind, this is a great option for everyday outdoor use.
This Anglink Cover is made from a durable 210D oxford fabric. It's equipped with a special waterproof layer that can withstand heavy rains, snow, and other wet weather conditions. For further protection it comes equipped with double stitching and a unique waterproof strip at the seam.
To help with security there are two cloth lock holes. These can be used with chains or motorcycle locks to secure your bike in place. The cloth holes mean you don't have to worry about rusting or damaged grommets.
Rather then relying on elastics or bungee cords, this cover comes with a buckle and strap system. After covering your bike it's easy to clip the buckles together instead of fumbling with cords or elastics. There's also a reflective warning strap making the cover visible at night.
The waterproof features, practical design, and universal fit are what make the Anglink Waterproof Motorcycle Cover a great choice for most riders.
Nelson-Rigg Motorcycle Half Cover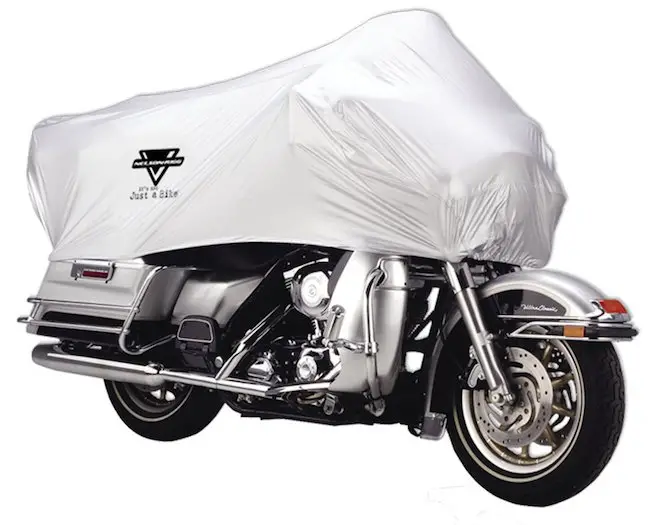 The Nelson-Rigg Motorcycle Half Cover is just that – a cover that's designed to cover half your motorcycle. This is a great option for protecting your seat, handlebars, and the top of your bike from the harmful UV rays. It's also 100% waterproof, which can help if you're in a pinch and need some rain coverage.
This isn't a cover you would use for long term outdoor storage. Instead, it's designed to protect the most exposed elements on your bike. Rather than leaving your seat, paint, handlebars, and windshield exposed to the sun, you can easily cover them with the Nelson-Rigg Motorcycle Half Cover.
This model comes with a small carrying case. It's easy to bring with you on shorter trips or on your commute. Now there's no need to come back to a hot, sun damaged seat or boiling handlebars.
The elastic hem provides a snug fit on all motorcycle shapes. There's also sewn-in elastic bungees a provide a universal mounting for almost all bikes.
The Nelson-Rigg Motorcycle Half Cover is a simple, easy to use cover that will protect your bike when you're out on the road. Whether you're in a pinch or don't want the components exposed to the elements, this is an option to consider for shorter local ride and commutes.
Tips for Choosing the Best Motorcycle Cover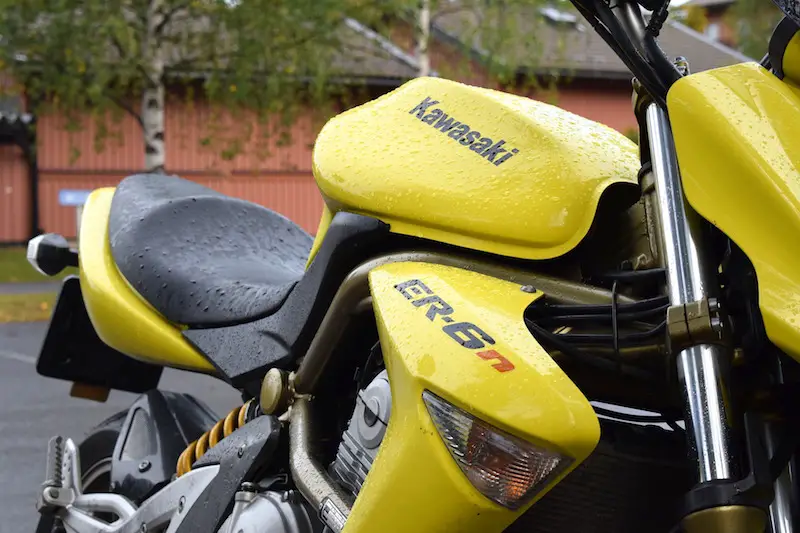 It's necessary to use a motorcycle cover if you're planning on storing your bike outdoors. This is especially true if you don't have a motorcycle shed or outdoor storage solution.
It doesn't matter if you're parking on the street or in a protected area beside your home – a cover helps to protect your bike from the weather elements.
For winter storage, covering your bike will keep it dry, ice free, and shielded from the harsh temperatures (even indoors).
This post was written to help you choose the right motorcycle cover. Let's take a look at the pros, cons, and various features to consider when you're looking for a cover for your bike.
Don't get too strung up over choosing the perfect motorcycle cover.
These are a general motorcycle accessory so it's easy to find a cover that matches your budgets and storage requirements.
Motorcycle Cover Materials
Motorcycle covers are made using a wide range of durable and waterproof materials.
The most common choices for covers include polyester, nylon, vinyl, and polyurethane. these materials are typically combined with other fabrics for better breathability and waterproofing.
You can find the fabric types and materials listed online from the manufacturer's or on Amazon.
Depending on your requirements, there are some things to consider when it comes to motorcycle cover materials:
Breathable & Waterproof
For outdoor storage it's important to use a cover that's breathable and waterproof.
Poorly made waterproof covers don't typically offer the breathability you'd want for a cover.
A lack of proper ventilation can lead to moisture build-up, rust, and further problems with the integrity of your bike.
Look for covers that come with vents or ventilated areas that allow your bike to breathe when the cover is on.
Polyester
Most covers are made using polyester as one of the main fabrics.
This material is lightweight, durable, inexpensive, and can be easily coated with a waterproof coating.
Polyester covers will be the best for most people living in normal climates.
Nylon
Nylon is used in motorcycle covers to reinforce the seams and in areas that receive the most use.
Any part on the cover that's likely to blow on the ground or come into contact with your bike is going to be lined with or made from nylon.
This is the silver edge you see around most covers.
The addition of nylon helps to improve the Integrity of the covers and reduce damage from abrasions in specific locations.
Polyurethane
Polyurethane is used in motorcycle covers for waterproofing.
The problem with polyurethane is that it's susceptible to UV degradation.
Covers using polyurethane will degrade faster when used outdoors, especially in warm and sunny locations.
This is a great material for waterproofing, although I'd recommend looking for covers that use nylon instead.
Cover Construction
There are two parts of a motorcycle cover that need to be considered – the lower part and the upper part.
The lower part is the bottom part of the cover. This section is typically reinforced with a different material and equipped with an elastic. Better materials help with waterproofing and the elastic keeps the cover in place on your motorcycle.
Some covers come with grommets along the lower edge of the cover. These grommets can be used to secure your bike in place using a chain and lock or to keep the cover from blowing in the wind.
You might also find clips, straps, or hooks attached directly to the bottom of the cover. These are also used to secure the cover and keep it in place around your motorcycle.
The upper part  is the top part of the motorcycle cover that shields your bike from the harsh outdoor weather elements. Parts of your motorcycle, like the handlebars and mirrors, are going to poke out of the cover causing stress against the material.
Look for covers that include reinforced seams in these areas to prevent further stress and abrasion. Some motorcycle covers have reinforced nylon patches that help extend the lifespan of your cover and further protect your bike.
In humid climates cover vents are necessary for ventilation. This isn't a deal-breaker, especially if you're able to remember to regularly remove the bike cover to properly ventilate your motorcycle.
Cover Size
With motorcycle covers it's usually a one-size-fits-all sizing. Some brands will offer multiple sizes for different types of bikes.
The problem is that different bikes need different sizes of covers. A little Honda CBR125R needs a much smaller cover than a Honda Goldwing with full touring setup.
The best strategy is to pick up the biggest size cover you think you would ever need for your bike. Most people will be fine with a general one-size-fits-all cover from the recommendations I made above.
Should You Use a Motorcycle Cover?
Wouldn't you want to protect your motorcycle from the wind, rain, and other elements when it's left outdoors? Some of us are lucky to have a garage or other indoor storage.
Those of you keeping your bike outside need to be using a motorcycle cover to protect your bike and increase its lifespan. Covers protect your bike from the rain, harsh UV light, dust, blowing debris, birds, small animals, and bugs.
This is a key component of long-term motorcycle maintenance for those of you storing your bike outdoors. Considering how affordable covers are, there's no reason not to pick one up ASAP to start protecting your bike.
Motorcycle Cover Installation & Care
Installing and caring for your motorcycle rain cover properly will provide your bike with the maximum benefits of using a cover. This helps to protect your bike as well as extend the life span of any covered you're using. Each cover has its own specific uses and instructions. Always read the instructions before installing a new cover.
Generally speaking, most bike rain covers can be used in a similar fashion. Take care in throwing the cover over your bike. With your motorcycle covered, tighten the elastic, straps, or close the buckles at the bottom. Having a snug fit will prevent wind, moisture, and other outdoor elements from blowing inside.
Take extra caution around the exhaust, mirrors, turn signals, and any other parts that stick out from the bike. You wouldn't want to knock off a turn signal because you were in a hurry to use the cover. Even the best motorcycle covers can be torn or melted if you're not careful. It's a good idea to be careful for both the longevity of the cover and your bike itself.
When it comes to maintenance, regularly inspect your cover. Look for any areas that are damaged, cracked, or broken and replace or repair them as necessary. It's a good idea to wipe down your cover before putting it away. This helps to prevent any mildew from growing and dry covers are easier to maintain.
With proper care and maintenance you can expect a few years of use from a motorbike cover before it needs to be replaced. This is a practical and inexpensive way to protect your bike and shield it from the outdoor elements.
Helpful Tips
Wait until the bike has cooled down before using the cover. When it's too hot the exhaust could melt the cover, which could get stuck on the exhaust. This can be difficult to remove so it's better to wait until the exhaust and engine has cooled.
It's a good idea to keep a cover in one of your motorcycle saddlebags or a motorcycle top box. This means it's always accessible and you can use it whenever you need it.
When you're covering the bike, make sure the elastic is secured around the bike at the bottom. This prevents wind and rain from getting underneath and getting on your bike.
After the rain, or on an unexceptionally humid day, it's a good idea to take the cover off to let the bike dry out. Even the best motorcycle covers will let in moisture and condensation, which you don't want building up.
Make an effort to regularly clean the cover. Wipe it down and let it dry out every so often. This can help prevent the growth of mildew, especially if you're folding it up for storage.
Adding a tarp on top of the cover can help to repel any additional moisture that might build up. This is a good idea if you'll be leaving the motorcycle outside during the winter.
With a cover on your bike it's bound to attract lots of dust and pollen. Shake it off every time you remove it and before storing it.
Be careful when you're covering the motorcycle. Pulling the material too hard could cause it to rip. Instead, take your time and be methodical.
Frequently Asked Questions
What Size Should You Get?
The size of the motorcycle cover you use depends on the bike you're riding. Smaller bikes need smaller covers while bigger bikes will need a bigger cover. Looking online you'll find that the best motorcycle cover comes with a sizing guide.
This makes it easy to find the right size cover for your motorbike as long as you follow the measurements. Always double-check the sizing guide to avoid buying a cover that's too small or too big for your bike.
How Do You Clean a Motorcycle Cover?
It's essential to regularly clean your motorcycle cover. This makes it easier to maintain and will extend the lifespan of the cover you're using.
Using a clean, soft cloth, wipe down the exterior of the cover. This will remove any dirt or debris from the surface.
Use a damp cloth with your favorite motorcycle cleaning spray to remove any difficult stains. Always make sure the cover is dry before folding it up and putting it away.
How Do You Lock a Motorcycle Cover?
Locking your motorcycle cover depends on the brand and style you purchased. Keep in mind that not every cover comes with lockable features.
The best covers for motorcycles will have reinforced slots or rings near the bottom. These can be used to pass a chain through in combination with a motorcycle lock for outdoor security.
For backyard storage being able to lock your cover isn't as important as if you're storing your bike on the street.
Do You Need a Cover for Indoor Storage?
It's a good idea to keep your bike covered whether it's being stored outdoors or indoors. Even in your garage your bike will be exposed to dust, household debris, and other nasty elements. Using a cover indoors provides an additional layer of protection that can extend the lifespan of your bike. It also helps to protect the paint and other components.
Are Motorcycle Covers Waterproof?
Most of the best motorcycle covers are waterproof and weather resistant. However, not every cover is completely waterproof.
Having a waterproof cover provides protection from the rain as well as the wind and other harmful outdoor weather elements. Read the features and look specifically for waterproof options for the best protection.