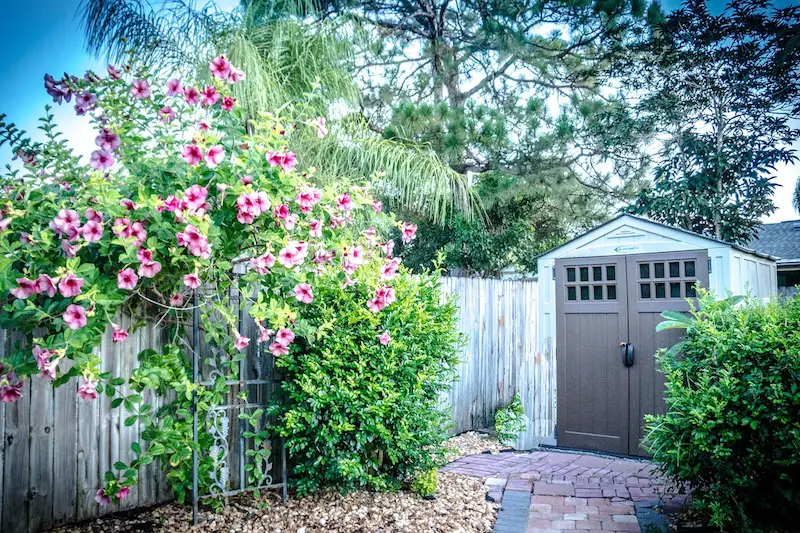 Not all of us can be blessed with a dedicated garage or underground parking. Having spent your hard-earned cash on a beautiful motorcycle, it's important that it's safe and protected from the elements.
Some people like to use a motorcycle cover, but this doesn't have to be the setup for everybody. Keeping your bike in a separate structure, like a motorcycle storage shed, is a great solution.
These sheds and motorcycle shelters shield your bike from the weather elements. They also offer better security for your motorcycle and the gear stored inside.
With so many different options to choose from it can be difficult deciding on the best motorbike garage. In this post we'll take a look at some of the best motorcycle sheds to help you make the most informed decision. Don't forget to scroll past our recommendations for an in-depth buying guide.
The Best Motorcycle Storage Shed and Motorbike Shelters
Happybuy Motorcycle Shelter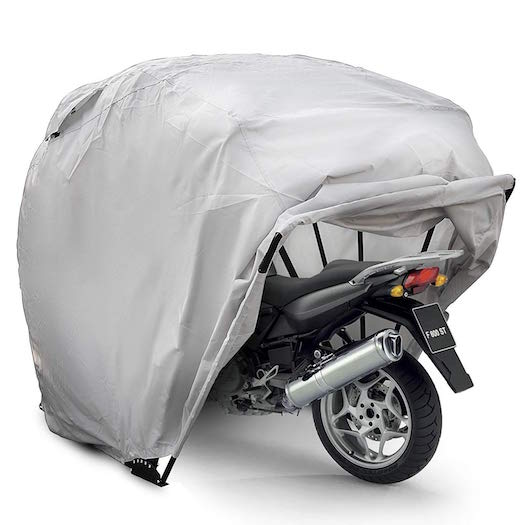 The Happybuy Motorcycle Shelter is our top recommendation for the best outdoor motorcycle storage solution. This is a durable and practical way to protect your bike from the outdoor weather elements.
With a 100% waterproof cover, this shelter is designed using steel tubing for durability and stability. The cover is made from 600D oxford fabric that protects from your bike from rain, weather, and harmful UV rays.
To help with ventilation there are ventilation windows on both sides of the motorbike shelter. This increases air flow through the shelter and prevents moisture and mildew buildup on your bike.
With just 23 pieces of steel tubing the Happybuy Motorcycle Shelter is convenient and easy to install. Thanks to the practical design it's not likely that the hot exhaust or engine components will come in contact with the cover.
Once installed, it's easy and quick to get your motorcycle underneath the cover for it to enjoy full protection against the outdoor weather elements. It's the Happybuy Motorcycle Shelter that we would recommend checking out if you're looking for a durable and versatile outdoor shelter for your motorcycle.
ShelterLogic Shed in a Box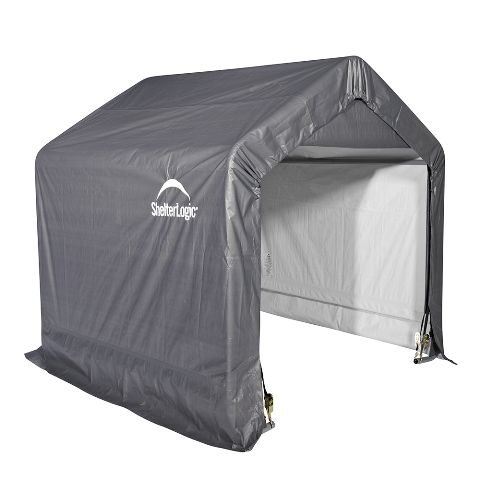 The ShelterLogic Shed in a Box is another great choice if you're looking for an outdoor motorcycle shelter. This outdoor shed is designed to shield your bike from the rain and harmful weather elements.
The exterior is made from a tough ripstop fabric cover. It has been heat sealed for better water resistance and UV-treated to prevent sun damage on your motorcycle.
The frame is made from a high-grade steel resulting in a durable and stable final construction. This steel frame comes with a premium powder coat finish that helps resist against rust, peeling, and general corrosion.
For securing the exterior to the frame there's a ratcheting cover tensioning system. This gives you a tight cover and sturdy door panel connection that keeps the exterior securely attached to the frame. Not only does this help fight against wind and moisture but it also gives the shed a complete look.
Setting up the ShelterLogic Shed in a Box is a straightforward process. This kit comes with steel foot plates, auger anchors, and step by step instructions. Consider using a plywood, brick, or concrete floor to keep your bike off the ground.
Overall, the ShelterLogic Shed in a Box is a simple and affordable solution for keeping your bike protected from the outdoor weather elements. You likely couldn't use this on the street but it's a good choice for other property types.
Cave Innovations Hidey Hood 90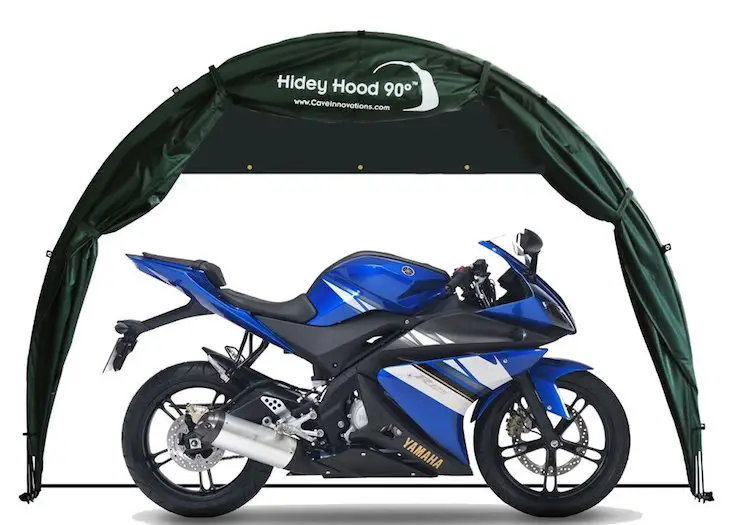 The Cave Innovations Hidey Hood 90 is a great choice for those of you without much space for a dedicated garage. This motorcycle shelter is easy to install and use making it more likely that you'll keep your bike covered.
The Hidey Hood 90 takes advantage of a unique dome shape. This allows for rain to run off the shelter without pooling and keeps it steady during high winds.
For installation, there are multiple fixing points for securing this shelter to the ground and wall. This offers even further wind and weather protection for your bike underneath.
The cover is made from a tough polyurethane coated polyester fabric with a fiberglass framework. It comes with screws, wall plugs, and guylines to help you set up the cover and secure it properly.
Easy to install, lightweight, and versatile in most conditions, the Cave Innovations Hidey Hood 90 is a suitable motorcycle shelter. This is a great choice if you're able to connected to an exterior wall or outdoor parking area.
Mophorn Motorcycle Shelter Shed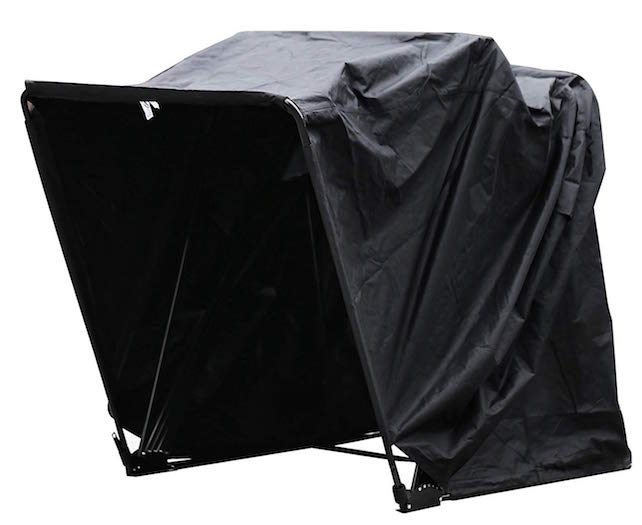 The Mophorn Motorcycle Shelter Shed is a practical solution for sheltering your bike if it's kept outdoors. This is a versatile and durable outdoor motorcycle shelter maybe using high quality, lightweight materials.
The cover is made from a black oxford 600D polyester that shelters your bike from water and harmful UV rays. To help with stability, the frame is made from galvanized coated steel poles that need to be anchored to the ground.
Soft ground anchors are supplied to help with a secure installation. It's also possible to bolt this shelter directly to the ground. Consider using a sheet of plywood underneath to avoid leaving your bike directly on the grass or uneven ground.
The folding design makes it easy to cover or remove your bike. Speaking of bikes, this shelter can be used to cover most common motorcycles and scooters.
Overall, the Mophorn Motorcycle Shelter Shed is a suitable choice if you're looking for a permanent or semi-permanent outdoor motorcycle shed. This shelter will protect your bike from the rain, harmful UV rays, and other outdoor weather elements.
Bravindew Outdoor Motorbike Storage Tent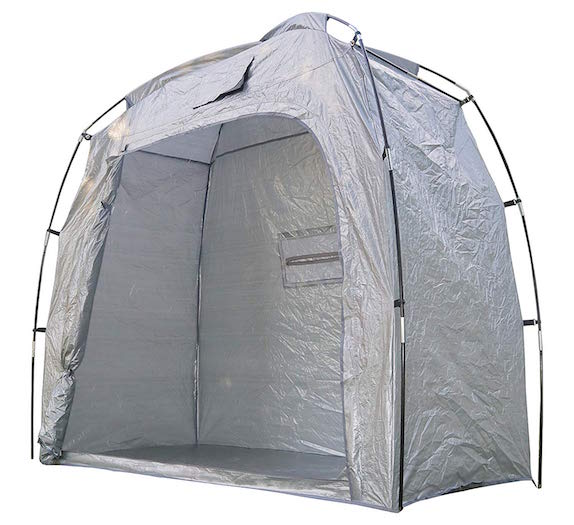 The Bravindew Outdoor Motorbike Storage Tent is one of the more unique and versatile motorbike shelters in this list. It's more of a dedicated storage tent that can be used for storing motorcycles and other outdoor equipment.
Setting up this Bravindew Outdoor Motorbike Storage Tent it's just like setting up a tent. It comes with poles that connect together and a tarp that's attached directly to the frame. Once installed this tent will protect your bike from the outdoor elements, rain, small animals, and harmful UV rays.
This outdoor storage tent is a great alternative to a dedicated shed or flimsy motorcycle cover. The cover itself is made from a high quality, waterproof polyester. There's an integrated floor along with a full zip door for easy access.
Four ground pegs are included with this storage tent. It's possible to bolted to the ground directly or set it up on plywood for different securement options.
The Bravindew Outdoor Motorbike Storage Tent is able to fit most common motorcycles with space left over for your helmet and some motorcycle gear. This is a great choice for a versatile and lightweight outdoor motorcycle storage solution.
Ainfox Steel Storage Shed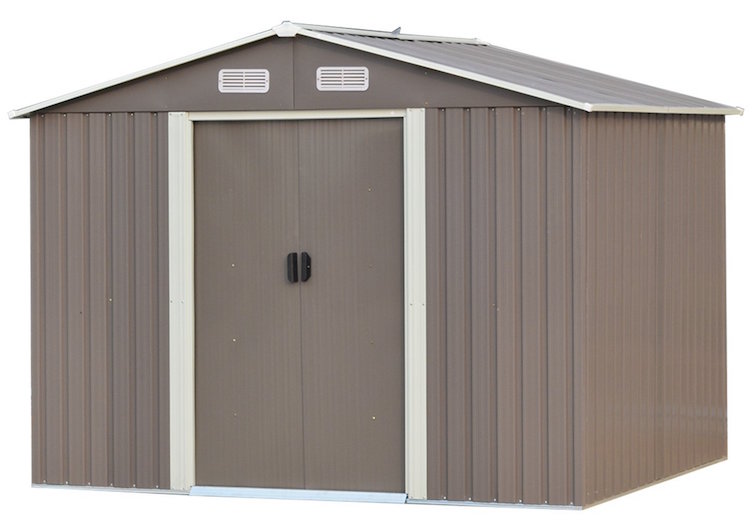 The Ainfox Steel Storage Shed is a heavy duty and permanent solution for storing your motorcycle outdoors. This is a recommendation for the best motorcycle storage shed that doesn't use a cover and interior framework.
These sheds utilize a galvanized steel construction. This protects your bike from the weather elements as well as any outdoor conditions. There's a large sliding door on the front for easy motorcycle storage and removal.
When stored inside, your motorcycle is protected from the wind, rain, UV rays, and outdoor debris. It's even more secure against theft and curious neighbors. The sliding door can be locked for an additional layer of security.
Despite its size, installation of the Ainfox Steel Storage Shed is straightforward. Detailed instructions are included along with pre-drilled and pre-cut parts. Everything you need to install this shed, apart from power tools, is included.
The Ainfox Steel Storage Shed is a great choice for a permanent outdoor motorcycle storage solution. This shed will protect your bike from the outdoor elements with room for your motorcycle gear and accessories.
Best Motorcycle Shed Buying Guide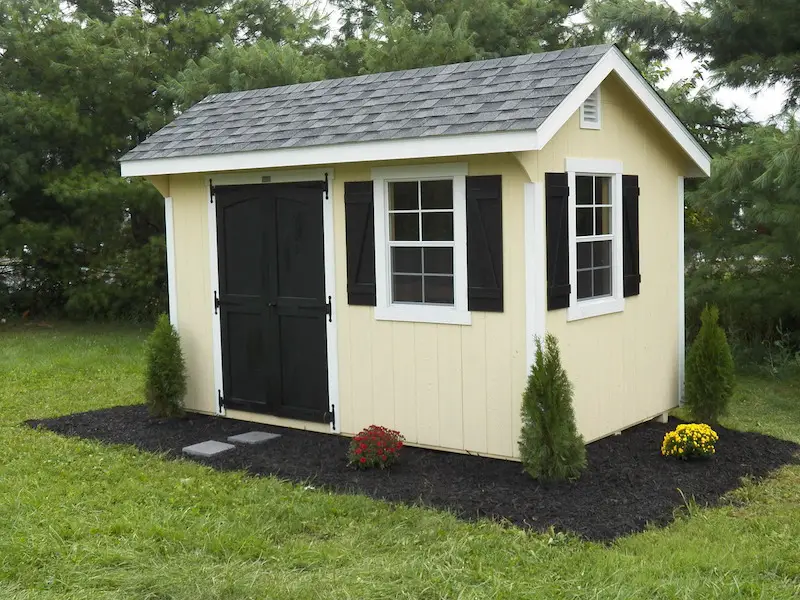 It can be daunting trying to find the right motorcycle shed for your bike. Before making any rash decisions, take a look at this buying guide on the different features and shed aspects to consider.
Storage Space & Motorcycle Type
The first thing you should look at is the available storage space. Look at the dimensions and see how much room is inside the motorcycle shelter you're interested in. Next, compare these dimensions the size of your motorbike to ensure that there is enough space.
You wouldn't want to buy a shelter, spend the afternoon setting it up, and find out your bike doesn't fit inside. Consider going with a larger shed or shelter if you want room for your motorcycle gear and accessories.
Many shelters are designed to fit a motorcycle and not much else. They tend to be smaller so that they're able to fit in tighter spaces. For larger sheds you'll need a backyard or a bigger property.
Installation Process
You don't want to kill yourself trying to set up and install a motorbike shed. Look at how to assemble any of the shelters you're interested in. Check if you'll need any extra equipment, such as power tools or anchors.
Most sheds and shelters can be easily installed by hand or by using common power tools. However, anchoring a shelter to the wall or into a concrete pad might require some additional equipment.
Consider whether you need a portable shelter or something permanent. Portable structures are easy to install but don't offer as much protection as a permanent shelter.
Ventilation
Storing your bike in a poorly ventilated area can lead to rust, like a rusty motorcycle chain, and corrosion. This is due to the buildup of condensation from a lack of airflow. Keeping your motorcycle ventilated while it's being stored is helpful for its longevity.
Look for shelters and sheds that come with ventilation. This can include windows, mesh screens, or even built-in fans. Also, consider installing your shelter in a well-ventilated area that's not in direct sunlight all day.
Well-ventilated areas are even more important for winter motorcycle storage. Moisture can freeze, which causes it to expand, and this can break or damage the surrounding parts. This is not something you want happening to your motorcycle over the winter.
Stability
Stability is an important factor to consider for outdoor storage. High winds can wreak havoc on a motorbike shelter and can damage your bike.
Many motorcycle garages and shelters are designed to be anchored to the ground or nearby wall. This prevents the wind from ripping off the cover and potentially blowing your bike over.
Fixed structures offer better stability and long term protection for outdoor motorcycle storage. Consider anchoring a shelter using cinder blocks or wall screws for even more stability.
The Benefits of Using a Motorcycle Storage Shed
There are a number of reasons why it's worth investing in a motorcycle storage shed. Here are some of the main benefits to consider.
Motorcycle Security
Using a motorcycle lock can only go so far in properly securing your bike. Storage sheds and motorcycle shelters add an additional level of security for your ride.
Storing your bike outside makes it vulnerable to thieves and curious neighbors. Using an outdoor motorcycle shelter makes your bike harder to steal and not as attractive to thieves.
Under the cover or inside a shelter it's very difficult to determine the make and model of your bike. This security is great to have, especially if you live in a high-crime area.
Weather Protection
Another one of the main benefits of using a motorcycle storage shed is the weather protection that these shelters offer. Motorcycle covers can only do so much for your ride.
A dedicated shed or shelter keeps your bike from being exposed to the elements. Under a cover or in a storage shed your bike is protected from heavy rain, wind, dust, and outdoor debris. These elements can otherwise damage your bike and lead to expensive repairs.
It's tough leaving your baby out in the rain and bad weather. Shelters protect your bike from the elements and help keep maintenance costs down.
Cleanliness
Even using your favorite motorcycle cleaning supplies, it's hard to keep the bike clean when it's kept outdoors. Rain leaves spots and dust gets all over everything even after one night.
Using a shelter keeps your bike protected from the elements. The exterior components stay dry and moisture won't be left behind on the gas tank, seat, and other exterior parts.
Interior components also aren't exposed to the elements, which can lead to rust and corrosion. Chain maintenance is also easier when your bike is stored under a shelter.
Different Types of Outdoor Motorcycle Storage Shelters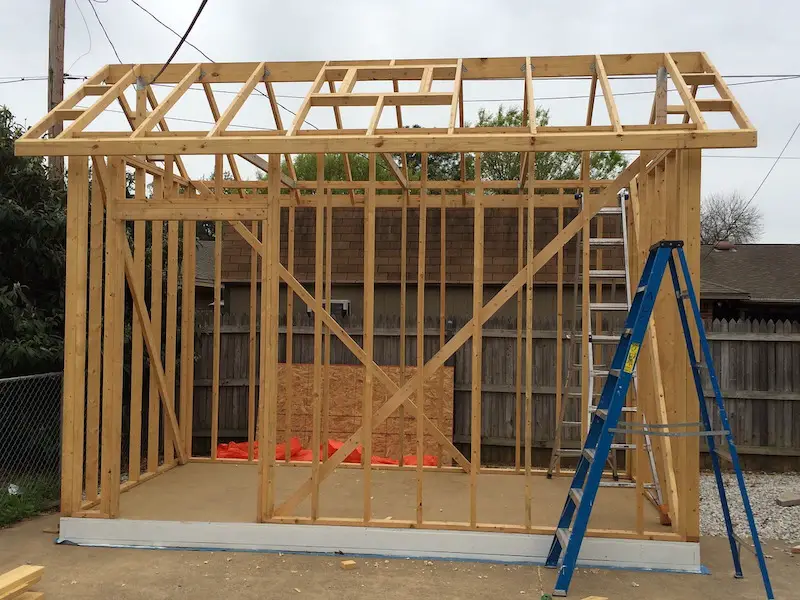 There are some different types of motorbike storage sheds depending on your budget and storage preferences. Each type has their own benefits and drawbacks that should be considered before you pick one.
Tent (Soft-Shell) Storage Sheds
Most of our recommendations are the tent-style of storage shelter. These are designed from soft materials, such as nylon and polyester.
These shelters are typically waterproof and UV resistant. They're designed to be lightweight and easy to set up to cover your bike from the outdoor elements.
Some models come with a dedicated floor, while others set up directly on the ground. You could always use a sheet of plywood or bricks to make a harder, more permanent floor for your ride.
The main drawback to this style of shelter is their lack of stability and security. Tent storage sheds aren't an ideal long-term solution for motorcycle storage compared to dedicated sheds.
Metal, Vinyl, or Hard Plastic Sheds
Some of the best motorcycle sheds are made from metal or hard plastic. These can be found online and at your local hardware retailer.
The main benefit of this style of shelter is the permanent protection that they offer your motorcycle. These sheds are durable and designed to protect your bike from harmful outdoor weather elements. They offer better security with doors that can be locked along with plenty of interior storage space for your motorcycle gear.
There are a few drawbacks to this type of shelter. Mainly, they can be difficult to install and require ongoing maintenance. Metal sheds can rust and plastic shelters are susceptible to extreme cold and high winds.
You'll also need suitable space for setting these up. Sometimes special power tools will be required for building one of these sheds.
Despite all that, metal sheds and hard plastic shelters offer some of the best protection and security for your motorbike. Yes, they're expensive, but they're versatile and a practical long-term storage solution.
Wooden Sheds
Building a wooden shed can be inexpensive and a great way to shield your motorcycle from the outdoor elements. This would be a DIY project for those of you with woodworking skills and the right tools.
When built properly, wooden sheds can last years. It's up to you to decide the dimensions and what materials to use in the building process.
This type of storage is highly customizable depending on your bike and what else you're storing inside. Wooden structures are a durable and long-term storage solution.
Best Motorcycle Shelter FAQ
What Size Shed Do You Need?
The size of motorcycle storage shed that you need depends on how big your bike is. Where you're going to be storing your motorcycle also needs to be considered.
Start by measuring the dimensions of your bike. Next, see what's available that matches or exceeds these dimensions.
You also need to consider where you'll be storing the bike. It's easy if you have a large backyard with lots of space. However, smaller areas will require a smaller storage solution.
Are Motorbike Shelters Supposed to be Waterproof?
Yes, all of the best motorbike sheds are waterproof. There's no point in buying a shelter if it's not going to properly protect your bike from the rain.
Avoid any models that aren't waterproof and that don't have adequate ventilation. Moisture on the outside, as well as moisture buildup on the inside, are two issues you don't want to deal with.
Can You Build Your Own Motorcycle Storage Shed?
If you have the skills and materials to do so, it's definitely possible to build your own motorcycle storage shed. This is a project that could be done in afternoon or weekend depending on your skill set and experience.
Building your own shed gives you the option to customize it as you see fit. It can also be built with all the storage space you want, rather than relying on something pre-built with fixed storage.
In some cases it can be cheaper to build your own storage shed. Keep in mind this all depends on your skills, woodworking experience, and the tools you have.