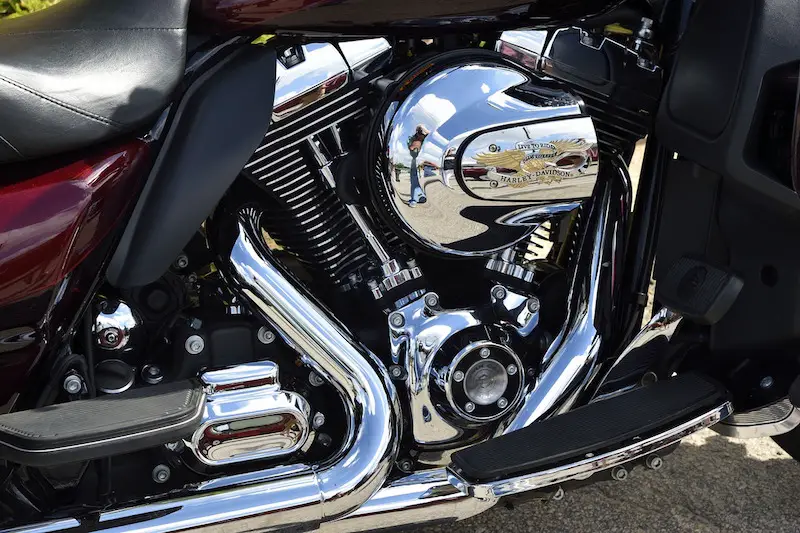 Have you been riding for weeks and having so much fun that you've neglected to clean your motorcycle? Or are you too busy to spend an afternoon hosing down the bike and cleaning it up?
Regardless of why you're here, this post is going to solve all of your motorcycle cleaning problems. There are a number of motorcycle cleaning products out there that help make the process easier. Unfortunately, a lot of them are expensive and can be ineffective at getting you the results you want.
In this post we'll take a look at the best motorcycle cleaning products that you can use on your beautiful bike. With these products you'll be able to turn your dusty, dirty ride into a sparkling clean rocket. After our recommendations we also put together a helpful buyer's guide to help you make the right decision.
Let's just jump right into it!
The Best Motorcycle Cleaning Products and Cleaning Kits
Aero Cosmetics Wash Wax Kit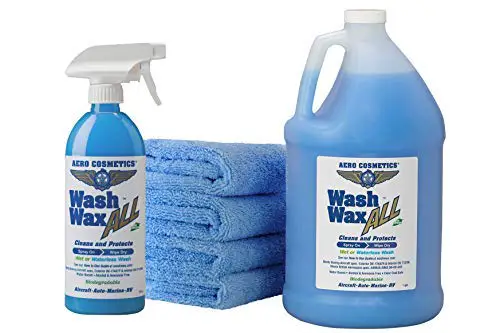 The Aero Cosmetics Wash Wax Kit is one of the best motorcycle cleaning products for most riders. This is a multi-functioning cleaner that can be used for cleaning your bike without using water. You can take advantage of a waterless wash, or use these products for waxing your washed motorcycle.
It's easy to recommend this product as it has been used around the world for more than 30 years. Originally designed for aircraft, the Aero Cosmetics Wash Wax Kit has become a staple for at-home motorcycle detailing.
This cleaner is water-based and free from alcohol and ammonia. It won't damage your paint or motorcycle clear coat. The solution is a plant-based eco-friendly formula that's biodegradable and safe to use on all your bike surfaces.
What we love about the Aero Cosmetics Wash Wax Kit is that it's effective on both wet or dry surfaces. You can use it for a quick wash after a long ride or for a longer detailing if you want your bike to truly sparkle.
The eco-friendly ingredients are also safe to use on your motorcycles internals. They won't damage the exhaust, radiator, crank case, or any of the other components covered by the fairings.
This Aero Cosmetics Wash Wax Kit comes with one full gallon of cleaner, 1 full 16 oz spray bottle, and 4 microfiber cloths. It's easy to get started cleaning your motorcycle right away with this simple, yet effective, cleaning kit.
Bike Brite Motorcycle Spray Wash Cleaner and Degreaser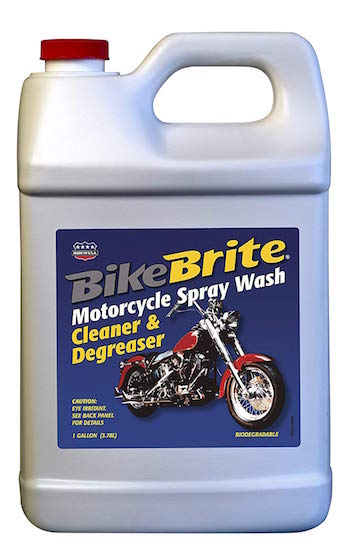 The Bike Brite Motorcycle Spray Wash Cleaner and Degreaser is a simple, no-frills cleaner that's great for washing your bike and its components. This Bike Brite product is good for cleaning the painted surfaces on your motorcycle, such as the fairings and plastics. It can also be used on the chain, wheels, internals, and tires for removing grease and adding a sparking-clean shine.
To make it safe for your motorcycle, the Bike Brite Spray Wash Cleaner is made from biodegradable, PH-controlled, and non-acidic ingredients. This is great for the environment and won't damage your bike. It also contains corrosion inhibitors that help prevent rust and water spots from occurring.
What I love most about this cleaner is that it can be used on all of the parts of your motorcycle. Whether you're hoping to clean the chain, degrease the wheels, or just shine up your bike – this is a multi-purpose cleaner you can use.
When applied, the cleaner has a nice foaming action. This makes it easy to cover all the dirty spots and see what you've missed.
The Bike Brite Cleaner and Degreaser comes in a 1-gallon container. You'll need to pick up a spray bottle and some microfiber cloths to make the cleaning process easier for yourself.
ShinyKings Wash & Shine 66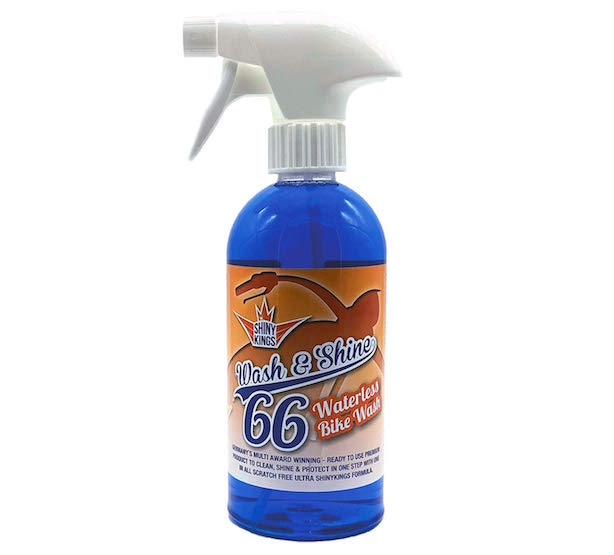 The ShinyKings Wash & Shine 66 is a waterless motorcycle cleaner that's quick and easy to use. This product makes it easy to clean, polish, and protect your motorbike without having to use a hose or buckets of water.
The spray bottle makes for easy application, even for those hard-to-reach spots on your bike. After spraying those problem areas, wipe off the cleaner with a microfiber cloth and you're good to go.
Without needing to use a hose or water, the ShinyKings Wash & Shine 66 makes it easy to wash your bike in the garage or any covered area. You can even use it for touch-ups when you're on the road or heading to a local bike meet.
This is a powerful cleaner that doesn't contain any poisonous, environmentally harmful, or toxic ingredients. It's not going to damage your bike or cause corrosion on any of its components.
For cleaning, you can use safely use the ShinyKings Wash & Shine 66 Cleaner on the plastics (fairings) as well as the wheels, internal components, and exhaust. The result is a clean, sparkling surface that you can be proud of.
Chemical Guys Maxi-Suds II Super Suds Wash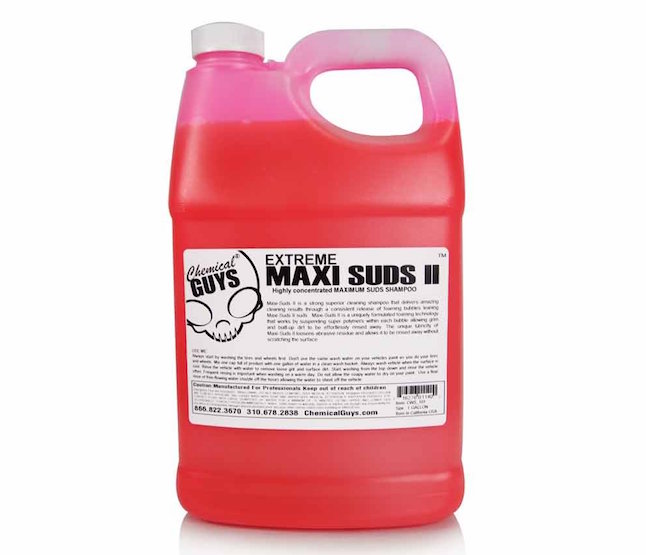 The Chemical Guys Maxi-Suds II Super Suds Wash is an all-purpose motorcycle cleaner that's great for washing your bike. This product cuts through heavy dirt and road grime resulting in a clean and sparkling bike.
You can use this cleaner in a bucket or attach it to your foam gun/pressure washer depending on your cleaning style. This is a professional-grade cleaning product that comes on as a foam so you know you're getting all the dirty spots on your ride.
Enriched with foaming agents, the Chemical Guys Maxi-Suds II Super Suds Wash will loosen and lubricate the dirt on your motorcycle. The next step is to wipe everything away with a microfiber cloth and finish with a hose-down.
It's safe to use this cleaner on your bike plastics as well as on the seat, wheels, brakes, and other dirty surfaces. Keep in mind that it's concentrated so you just need 1-ounce of cleaner in a 5 gallon bucket of water for great results.
The Chemical Guys Maxi-Suds II Super Suds Wash even has been formulated with water softeners that help to reduce streaking and prevent water spots from forming. This is a great, multi-purpose cleaner that's going to give your bike a beautiful shine.
CarGuys Hybrid Wax Sealant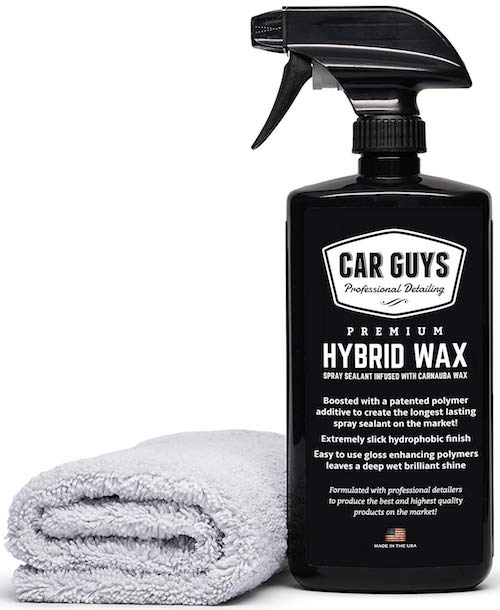 After cleaning your motorcycle you want it to stay clean and shiny, right? That's where the CarGuys Hybrid Wax Sealant comes in.
This is an advanced top-coat polish and sealer that provides a long-lasting protection for the surfaces on your freshly cleaned motorcycle. After washing your bike, it's easy to apply this spray wax and rub it in for picturesque results.
The CarGuys Hybrid Wax Sealant is a full synthetic polymer sealant that helps maintain your motorcycles shine while protecting it from the elements. It can last up to 3 to 6 months depending on how often you're riding and the conditions. This sealant even provides long-lasting UV protection to further help protect the paint and look on your bike.
Traditional waxes can be a pain to use. With the CarGuys Hybrid Wax Sealant formula it's safe to apply on your motorcycle surface and you don't need to worry about streaks or leftover white residue. After applying, rub the surface with a microfiber cloth until you reach your desired shine.
Carfidant Ultimate Wheel Cleaner Spray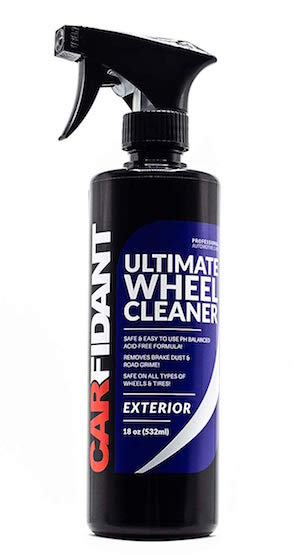 The Carfidant Ultimate Wheel Cleaner Spray is one of the best motorcycle cleaning products for cleaning the wheels on your bike. It's great at removing brake dust and safe to use for all motorcycle wheels.
It's not only safe to use, but easy to use as well. With this product it's as simple as spraying it on the wheels, letting it soak in to penetrate all the grime, and then rinsing it off.
The formula itself is pH neutral and acid-free so it's not going to damage any of the components on your bike. It also doesn't contain any harmful dyes or scents so no need to worry about irritation. Spraying it on is effortless and you'll watch all the brake dust rinse away.
The Carfidant Ultimate Wheel Cleaner Spray is a professional-grade wheel cleaning solution. You can even use it on other parts of your bike without worrying about damaging the paint, plastics, or internal components. Forget scrubbing away for hours at your tires and grab the Carfidant Ultimate Wheel Cleaner Spray.
Best Motorcycle Cleaner Buying Guide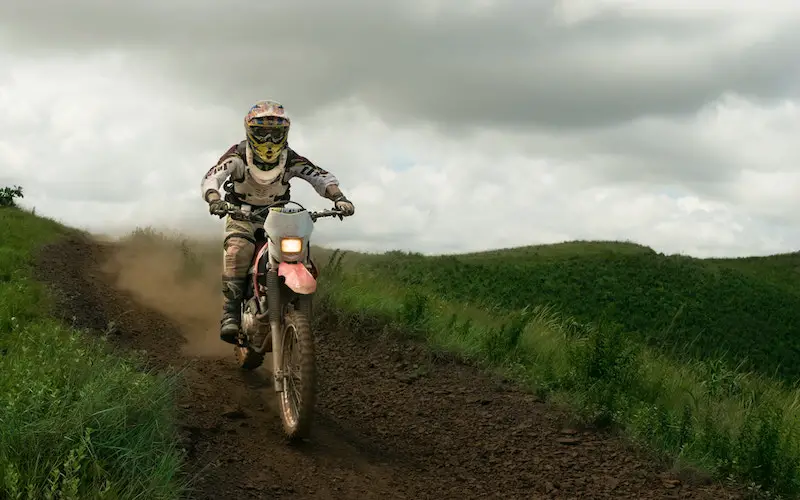 What to Look For in a Motorcycle Cleaner
Investing in the best motorcycle cleaning products is the first step towards taking better care of your bike. Along with basic motorcycle maintenance, cleaning your motorcycle it's important for its longevity.
It's easier to spot problems on a clean bike and you'll probably feel better riding it. Issues like rust, broken fairings, a damaged motorcycle chain, or worn brake pads are easier to spot when you can clearly see what you're looking for.
With so many different products to choose from, hopefully our recommendations have made it easier for you to find the right cleaning supplies. To make it even easier, we put together this helpful buyer's guide.
Let's take a look at some helpful tips on choosing the right motorcycle cleaning products.
Choose Products Specifically Designed for Cars or Motorcycles
Any cleaning products you use on your bike must be specifically designed for automotive and motorcycle use. Using random cleaners can damage your paint, break down the rubber and vinyl on your seat and interior components, and can lead to further problems in the future. You wouldn't want to use the best motorcycle wax, only to find out you used it on the wrong components.
By choosing products that are safe to use on your bike, or cars in general, you can avoid running into these issues. If you're not sure, look at the description or visit the manufacturer website to see if the cleaner you're interested in a safe to use.
Consider All-in-One and Multi-Purpose Cleaners
Some of the products recommended here are multi-purpose and can be used for an all-in-one cleaning solution. While not necessary, these products make it easier to clean your motorcycle.
Any good quality multi-purpose cleaner will contain a few special properties. These include an active degreaser and anti-corrosion additives.
You can also look for environmentally friendly and biodegradable cleaning products.
Why You Should Use a Motorcycle Cleaner and Motorcycle Cleaning Products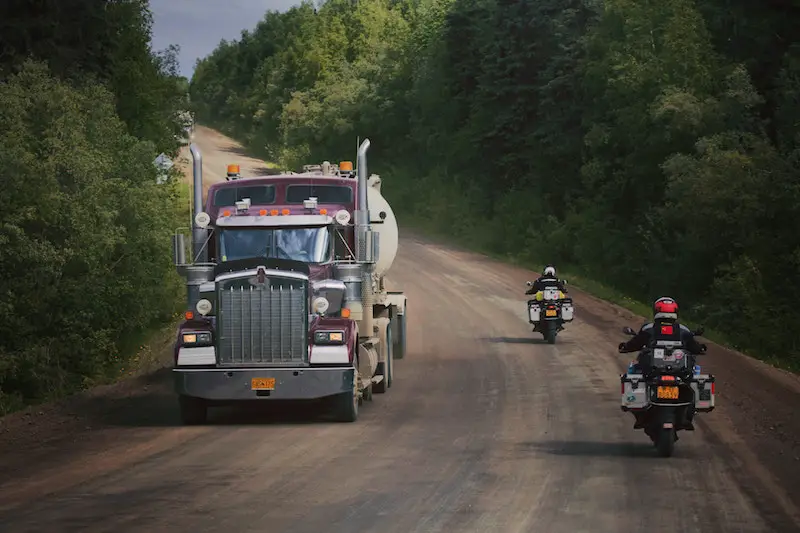 There are a number of benefits to using  motorcycle cleaning products.
Once you start using the right products you'll realize what you've been missing out on. With the right supplies properly cleaning your motorcycle can be fun and rewarding.
Let's take a look at some reason why these products are worth investing in:
Increase the Lifespan of Your Motorcycle
Using the right cleaner can extend the lifespan of your motorcycle. Dirty bikes are more likely to rust, especially the longer they're neglected.
Dirt, grease, road grime, and debris can get into the internal components. This can lead to increased wear and tear which will decrease the lifespan of your bike.
A clean bike also makes it easier to spot any potential issues, such as anything that's cracked, damaged, or broken. Rust management, such as dealing with a rusty chain, and prevention is easier when you can see what you're looking for.
Finally, products like wax sealant and better quality cleaners have protective properties. These products fight against rust and corrosion which help to make your bike last longer.
Less Bleaching with Spray Products
The metal components on your motorcycle, such as the frame, exhaust rails, and engine block, can eventually become bleached. This is when the metal turns gray and doesn't retain its original shine.
Neglecting to regularly wash your motorcycle as well as using harsh products can lead to bleaching on your bike components. Our recommended spray products use chemicals and ingredients that are safer for the exposed metal on your bike.
Foaming agents, especially those that don't require scrubbing, are the best bet for safely cleaning your motorcycle.
Easy to Use
Covering your bike with motorcycle cleaner and letting it break down all the dirt, grease, and road grime is an easy process. It's simple compared to spending the afternoon scrubbing away the entire bike.
These products are easy to use making it more likely that you'll wash your motorcycle regularly. Even if you want to scrub it, these cleaners are more effective at removing the dirt and grease resulting in a shiny, sparkling bike you can be proud of.
Many of these products can be hooked up to a hose, or power washer, making a cleaning process even easier.
Best Motorcycle Cleaning Products FAQ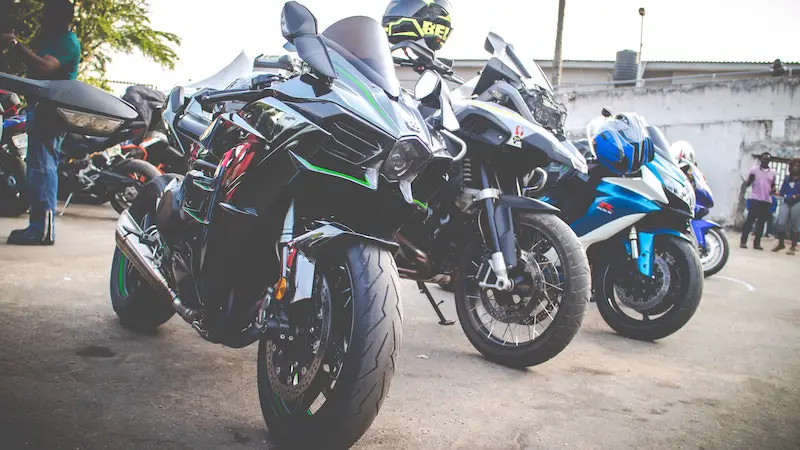 How Often Should You Wash a Motorcycle?
There's no simple answer to this question. How often you should clean your motorcycle depends on how often you ride and the general riding conditions.
Those of you motorcycle commuting in warm, dry weather can get away with washing your bike once or twice per month. On the other hand, if you're riding in the rain or muddy conditions, washing your bike every week is a good idea.
It's also important to keep your bike clean if you're riding a motorcycle in the winter. Salt and road chemicals can eat away at the metal components on your bike.
This can lead to rust and other problems which can be expensive if neglected. During the winter it's a good idea to rinse your bike after every ride, especially if the roads are covered in salt.
Can Cleaning Damage Your Motorcycle?
There are two ways you could damage your motorcycle from cleaning it – using a power washer incorrectly and using harsh chemicals.
A power washer can strip away the paint if used on the wrong setting. It can also damage the exhaust if you spray water directly down the exhaust pipe. Don't use a power washer on your bike if you're not familiar with how to do it properly.
Using harsh cleaners, such as incorrect cleaning supplies, can also lead to damage. These cleaning products sometimes contain chemicals that can damage the paint and eat away at rubber or vinyl components on your bike.
Like we recommended, always use the proper supplies when cleaning your motorcycle.
Can You Clean a Motorcycle With a Pressure Washer?
While it's possible to use a pressure washer for cleaning your bike, it's not something we recommend. That's because the high-power blast of water can damage your bike and its components.
Compared to cars, motorbikes are much more fragile, especially the plastic fairings. The high-pressure of water can also damage the brakes, the electrical system, the chain, and the exhaust.
For example, with a pressure washer you can damage the chain rings and remove the necessary lubricant. Then, if you forget to reapply lube, you'll damage the chain and sprockets on your next ride.
Using the pressure washer can result in serious and expensive problems. It's better to avoid using it and washing your bike the old fashioned way – with a normal hose.
Can You Use WD-40 for Preventing Rust on Your Motorcycle?
In case you're unaware, the "WD" in WD-40 stands for "water displacing". It's designed to be used as a rust dissolver and for getting liquid/moisture out of tight spots.
It's not a good idea to use WD-40 as a lubricant. While you can get away with using it for small household tasks, it's not going to hold up to the pressures and force exerted by your motorcycle.
You might get around the block with a WD-40 lubricated chain. Although, as soon as you hit some dust or adverse weather you're going to have a real bad day.
Even for cleaning your bike and motorcycle chain, we still wouldn't recommend using WD-40. There are better, more effective products available, such as kerosene. Don't forget to lube your motorcycle chain after cleaning it.
The best way to prevent rust is to keep your bike clean and dry. There isn't any special formula or solution that will keep the rust away.
Despite what your friends might tell you, it's a good idea to avoid using WD-40 for any of your motorcycle maintenance needs. We don't recommend it and you're not doing yourself any favors by using it.