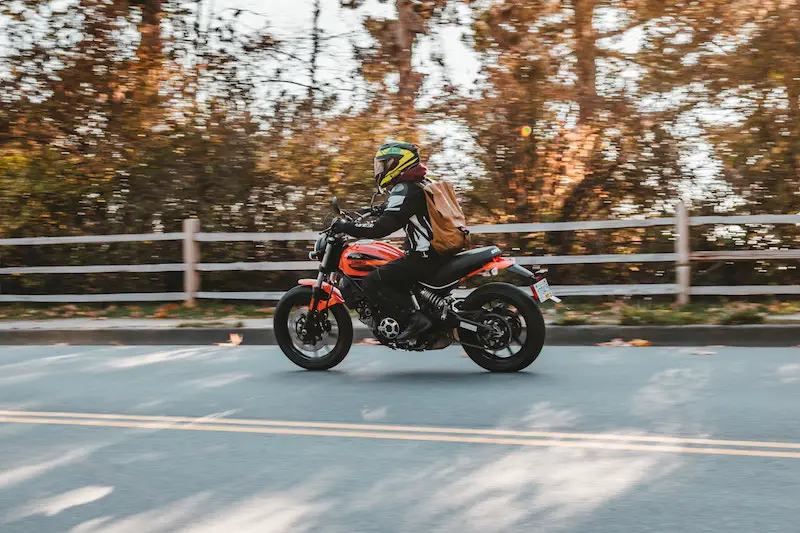 Hitting the open road with your motorcycle and letting it rip is an amazing feeling. Compared to all other forms of transportation, it's heard to beat hopping on your bike and going for a ride. That sense of freedom and rebellion is indescribable.
Despite how awesome riding a motorcycle is, it does come with some drawbacks. One of the main problems is the serious lack of storage space on most motorbikes.
Unlike scooters, motorcycles don't have much room under the seat (or anywhere else) for storage. There's nowhere to put your groceries, a change of clothes, your work-related items, or much else.
It's possible to install a rack and use some motorcycle luggage, like a top box or panniers. Unfortunately, not every bike is designed to carry this gear and these upgrades can impact how your bike handles.
The Best Motorcycle Backpack
So what's the solution? Simple – start using a motorcycle backpack. There are a number of different styles and types to choose from. They make it easier to ride with gear without having to install racks or use motorcycle luggage.
In this post, we'll take a look at some of the best motorcycle backpacks available on the market today. Afterwards, check out our helpful buying guide to make the most informed decision.
Let's jump right into it!
OGIO 123007.36 No Drag Mach 3 Motorcycle Backpack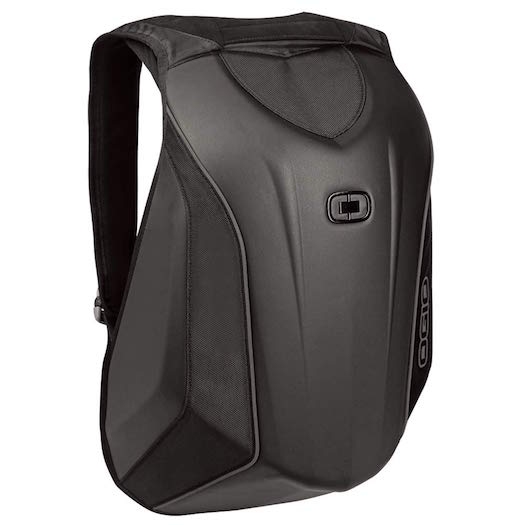 Featuring an aerodynamic design, the OGIO 123007.36 No Drag Mach 3 is our top recommendation as the best motorcycle backpack for most riders. This pack has been single-shot molded which results in an aerodynamic, streamlined exterior that won't be deformed from wind shear.
This unique design helps you keep riding along without too much wind resistance or drag. The hard-shell exterior is water resistant and suitable for carrying your gear in inclement weather conditions. When it comes to comfort, this pack is equipped with bolstered back foam for a better fit on your back. The shoulder gasket is designed to fit your body and helps to provide better aerodynamics.
As for the straps, they're fully adjustable and properly padded for extra comfort. This padding also helps to prevent exterior of your helmet from being damaged. Quick release buckles make it even easier to use this pack, especially when you're wearing your motorcycle jacket. Other great features include a removable hip belt, 360-degree reflective piping for visibility, and a concealed aerodynamic carry handle. For motorcyclists this backpack is a great choice.
On the inside you can store a laptop and other electronics in the fleece lined compartment. There's a water bottle or shoe compartment making it easier to carry these items. You can even easily attach your helmet to one of the exterior straps so that you don't need to carry it.
Overall, the OGIO 123007.36 No Drag Mach 3 Motorcycle Backpack is a great choice whether you're commuting with office gear or need something for picking up groceries. It has plenty of interior storage space and awesome compartments for keeping everything organized. The overall look, aerodynamic design, and practical features make this pack a great choice for riders.
CUCYMA Motorcycle Backpack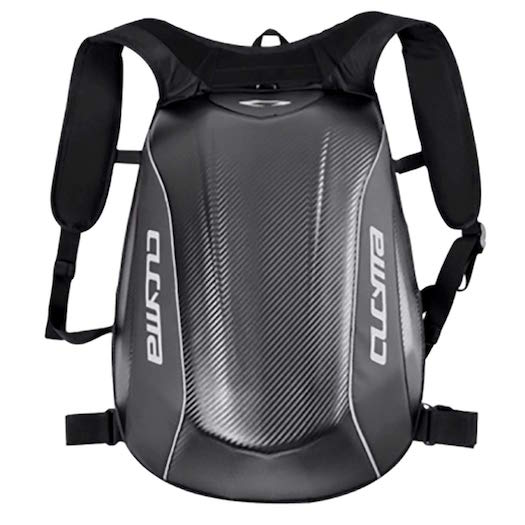 The CUCYMA Motorcycle Backpack features an aerodynamic, no drag mold design. This pack is a great choice for riders looking for a lightweight and durable way of carrying gear.
The aerodynamic design on the CUCYMA Backpack conforms to your body, resulting in less wind resistance even on windy days. With some bags, they blow around and barely stay on your back when you're riding. This isn't the case with this one.
The backpack itself is made from a water resistant nylon material. It can be used in dry, windy, and wet weather conditions while protecting your gear. For extra durability it has been made with a carbon reinforced body that helps to maintain its shape while riding. To help with visibility, this backpack comes equipped with reflective piping. The bolstered back foam helps with comfort and ventilation, a great feature to have on those warm summer days.
Speaking about comfort, the shoulder straps padded and thick for even weight distribution. Shoulder strap clips provide a tighter, better attachment when you're on the move. The shoulder neck straps themselves are made from a soft material so that they don't scratch your motorcycle helmet. As for storage, this backpack has a 30 liter cargo capacity. There are pockets for your shoes and padded compartments for your electronics. An equipped helmet hang buckle makes it easy to carry your helmet.
The CUCYMA Motorcycle Backpack is a great choice for commuters and anyone riding with extra gear. You could easily stash your shoes, your laptop, and a change of clothes inside with room to spare. The overall durability and streamlined design gives us no problem to recommend this backpack for motorcyclists.
Nelson Rigg SE-3040 Backpack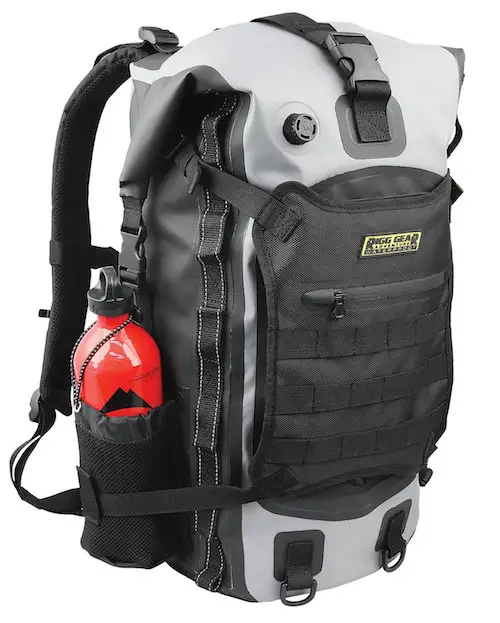 Coming in at 40L of capacity, the Nelson Rigg SE-3040 Backpack is a great choice for riders looking to carry a little more than normal. This is a durable, waterproof motorcycle backpack that can be used for more than just riding.
The Nelson Rigg SE-3040 Backpack is made from a durable, UV coated PVC material. Those of you riding in wet and rainy conditions will find the waterproof design and electronically heat welded seams to be practical for keeping your things dry.
On the top is a watertight roll closure that's easily accessible thanks to the quick release buckles. There's an integrated front pocket for smaller items or a hydration bladder. Reflective webbing helps with visibility and the external bungee storage system increases storage capability. Speaking of storage, this pack has a capacity of 40L. It can be used for traveling with electronics and laptops up to 15-inches, plenty of groceries, and most other smaller items you're riding with.
With the strap system it's possible to attach this backpack directly to your motorcycle. Connect all the straps, run them through the pack, and you can mount this bad boy on the passenger seat. This way you don't need to carry the backpack on your back. Keep riding in comfort with it securely attached to your bike.
When it comes to comfort, there's a padded back panel with airflow design for better ventilation. The backpack straps are 3-way adjustable giving you a tight, comfortable fit. As for the straps, they're thick and heavy to help distribute the weight evenly.
The Nelson Rigg SE-3040 Backpack is an amazing choice if you're traveling with a lot of gear in a variety of weather conditions. The waterproof design and all of the features in this pack make it a great choice for most riders.
Seibertron Waterproof Molle Backpack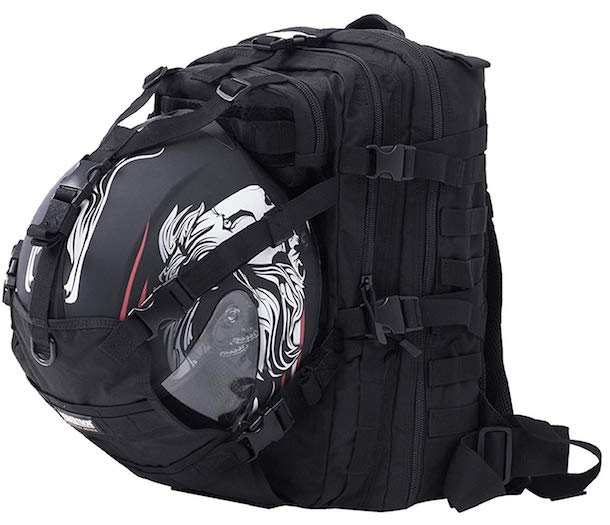 The Seibertron Waterproof Molle Backpack is a quality, versatile backpack that's suitable for a range of different riding styles. Whether you're looking for something to use when commuting, picking up groceries, or heading on an adventure, this pack would make a great choice.
The Seibertron Waterproof Molle is made from a waterproof 900D nylon fabric material. Unfortunately, the zipper is not waterproof so be careful with its placement if you're riding in the rain.
On the exterior are a number of different pockets, straps, and a dedicated motorcycle helmet carrier. It's easy to carry your helmet with you on your back, fully strapped in, instead of having to carry it by hand.
On the inside is plenty of storage space and different compartments for organization. The main compartment is expandable and there's a mesh enclosure for your smaller motorcycle accessories. There are smaller compartment as well for better organization.
The shoulder straps are wide and comfortable, evenly distributing the weight across your upper back and neck. There's also a chest strap and a large waist strap for better support.
The Seibertron Waterproof Molle Backpack is a great choice if you're looking for something versatile. This pack is practical to use for number of different writing situation (commuting, groceries, local trips, etc).
Dakine Mission Backpack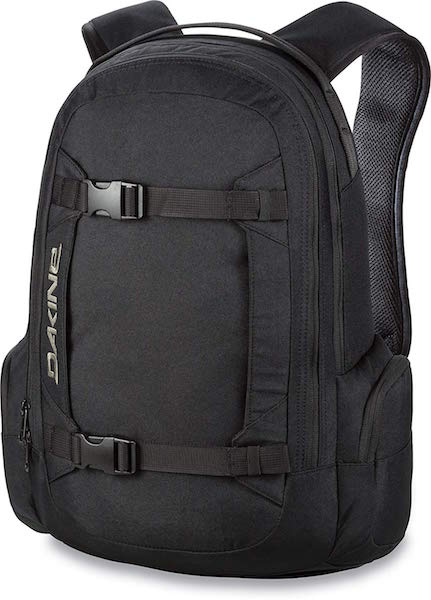 While not specifically designed for riding, the Dakine Mission Backpack is ideal for shorter local rides and commuting. It takes advantage of a small, streamlined profile that helps make it aerodynamic and comfortable to wear.
This bag is a good choice for shorter, local commutes and for picking up some groceries. It can also be used on local rides or day trips for carrying your camera, a change of clothes, or even a picnic.
Thick, padded shoulder straps and a stowable waist belt allow you to properly fit the backpack to your back. The waist belt is ideal for evenly distributing the weight of your gear.
On the inside four for interior pockets. There's a dedicated laptop sleeve as well as a padded tablet sleeve for protecting your electronics. In the main compartment you can store a change of clothes, a small amount of groceries, or any accessories you're riding with. There's even a fleece-lined sunglass pocket to protect your shades.
Despite its simple design, the Dakine Mission Backpack should be considered if you're looking for something small and lightweight. We wouldn't recommend it for a longer rides, but for shorter local rides it's a great choice.
Best Motorcycle Backpacks Buying Guide
Finding the ideal motorcycle backpack for your riding needs is essential. With so many different options to chose from, it's important to consider all the different features and styles. Before you settle on a specific pack use this guide to get a better idea of what you're looking for.
In this section we'll look at the common motorbike backpack features. This will make it easier for you to know what to look for. Since we recommend both motorcycle-specific and regular style packs, it will help knowing the benefits and drawbacks of each.
Take a look at this guide and apply these helpful buying tips before heading out and spending your money. We hope that you're able to make the most informed purchase for your next motorcycle backpack!
Features to Look for When Shopping for a Motorcycle Backpack
Like I mentioned earlier, it's hard to choose the right backpack with so many different options available. Consider creating a short list with the best motorcycle backpacks you're interested in. Then, take a look at each of their features to see which is going to be the best pack for your needs.
Arguably the most important feature of any motorcycle backpack is whether or not it's suitable for your riding. Start by considering why you need a backpack and what you're planning on carrying in it. Are you looking for something small and lightweight? Or do you want something that's more heavy-duty with a bigger carrying capacity?
Different bags are suitable for different types of riding. Someone looking for a motorcycle backpack for commuting will need something completely different than one for groceries. Features like laptop pockets, helmet straps, and shoe holders each need to be considered before buying anything.
Let's take a further look at all of the other features to consider:
Carrying Capacity
The carrying capacity of any backpack is one of the most important features to consider. What you're carrying and how much you want to carry makes it easier to find the right pack for your needs.
Carrying capacity is measured in liters. Always look for this number for any of the bags you're looking at. This way you'll have a better idea of how much you can carry with a particular pack.
Smaller bags tend to have a carrying capacity of 10-20L. These are ideal for commuting and short rides where you're not carrying much stuff.
Mid-range to larger bags tend to have a carrying capacity of 20-50L. These are better suited for longer rides and running errands, such as picking up groceries. Some of these larger packs can also fit a helmet and be used for overnight trips.
Durability
The overall quality, order ability, of any motorbike backpack is important. Your pack is going to be exposed to the outdoor elements and always in contact with road conditions.
Went on the hunt for a specific backpack, look for options made using high-quality materials. Anything that's specifically designed for motorcycle riding is a good choice to consider.
Take a look at the photos and inspect the zippers/stitching. Metal zippers are better suited for riding and less susceptible to getting damaged from road debris. Check that the stitching is strong in all the right places, such as the shoulder straps and pockets.
Poor quality, badly designed backpacks can result in your gear becoming damaged. The interior contents of a poor quality bag could get wet or dusty after prolonged exposure to bad weather.
Wind Resistance
Anytime you're riding on the road you're exposed to high winds. The wind is even stronger at higher speeds.
It's important that a good moto backpack can hold its shape, not flap around in the wind, and will fit tightly to your back. Without these features, the backpack might start flopping around and reduce how aerodynamic you are. It could even cause drag and become a hazard to you as you're riding along.
Hard shell backpacks are great for aerodynamics and wind resistance. This style of pack is designed to deflect wind and stay fitted close to your back. These make some of the best choices for most riders, especially for commuting and highway riding.
Water Resistance
Along with wind, there's also water you need to worry about. Having a water resistant or waterproof motorcycle backpack keeps its contents dry on wet, rainy days or in inclement weather.
You wouldn't want to get stuck in the rain with your laptop or work clothes becoming soaked through. Those of you riding regularly in all weather conditions will want to consider waterproof packs.
Comfort & Fit
Adjustable straps, chest traps, and waist straps are great features to have for a better fit and more comfort while riding. Being able to tighten straps across your waist and chest gives you better control over the load you're carrying in the pack.
Without straps, the weight of everything is pulling down on your shoulders and neck. This can be painful and lead to muscle strains, especially after longer rides.
Adjustable straps give you the ability to evenly distribute the weight of the pack. When properly adjusted and strapped up the weight in your bag isn't nearly as noticeable.
As for comfort, look for thick and padded straps. Having ventilation also helps to keep you comfortable and dry on warm summer days. Finally, look for soft neck straps that won't scratch your motorcycle helmet.
Weight
Lastly, the weight of any bike backpack you're interested in is important. Look for packs that are lightweight when empty. If it's heavy to start with, it's only to get heavier when you load it with gear.
Most manufacturers and product pages will list the weight of the pack. If you're having trouble deciding between two options, it's a good idea to go with the lighter one. These are easier to carry and less likely to strain your neck and shoulders.
Do You Need a Motorcycle Backpack?
Motorcycle backpacks are great for a number of reasons. They make it easier to carry gear, they can be used for running errands, and many can be used for carrying your helmet.
Having to set up motorcycle luggage or strap everything onto your bike is an annoying and time-consuming process. It's often easier to toss on a motorcycle rucksack, hop on your bike, and get going.
Being able to bring a change of clothes or a strap up your helmet so you don't have to carry it is a huge benefit. These backpacks are great to have and you'll be wondering why you didn't get one sooner.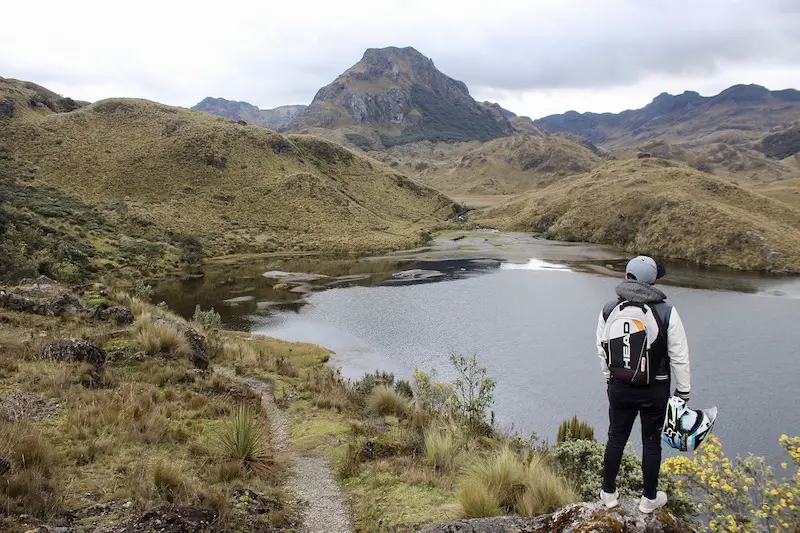 Motorcycle Backpacks vs Regular Backpacks
You might be thinking that your regular backpack is good enough for taking on your bike. While it might be suitable for short rides, you'll soon find that you need something better.
The main problem with regular backpacks is that they're not designed to be worn over your motorcycle gear. This makes them uncomfortable to wear and hard to remove or put on. The bulky shoulder and back pads on your motorcycle jacket get in the way.
Another problem with them is their poor weight distribution. These packs distribute the weight on your shoulders and neck. This might be fine when you're walking around, but on longer rides this is a problem. The uneven weight distribution is uncomfortable and can make you more tired than you normally would get.
Motorcycle backpacks are designed to evenly distribute the weight to your shoulders, hips, and back. They offer more adjustability and are more comfortable to use, especially on longer rides.
Finally, regular backpacks aren't designed with the same durable and high-quality materials. They're not well suited to the rigors of the road and are more susceptible to water and weather conditions.
As a motorcyclist, it's a better bet to find a backpack specifically designed for motorcycle riding.
Best Motorbike Backpacks FAQ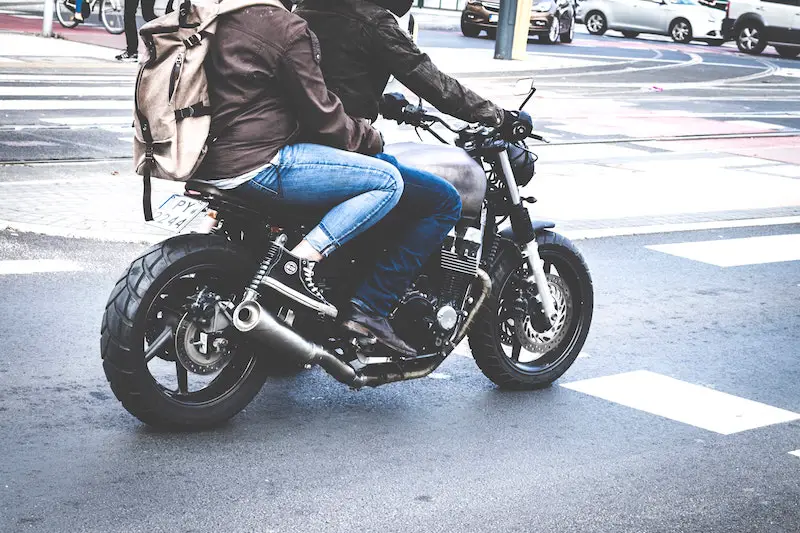 Are Motorcycle Backpacks Safe?
When worn properly, yes. using a motorcycle backpack is safe. The weight and cargo you're carrying needs to be evenly distributed, which is what these packs are designed for.
Safety becomes an issue when you become uncomfortable or if the pack takes your concentration away from riding. They're also dangerous if they become loose or if there is uneven weight distribution.
These issues are addressed with specifically designed backpacks for motorcycles. Always check that the straps are secure, zippers are closed, and that the cargo weight is evenly distributed before taking off.
Can You Wear a Motorcycle Backpack with a Passenger?
It's not a good idea to wear a backpack yourself when you're carrying a passenger. This makes it dangerous for them – they could fall off your motorcycle if you suddenly stop or hit something.
It's also uncomfortable to have the pack squeezed between you and your passenger. The safest and most comfortable way is for your passenger to be wearing the backpack.
Are There Waterproof Motorcycle Backpacks?
Yes, there are options available if you're looking for a water resistant or waterproof motorcycle backpack. Some models are completely waterproof while others come with a waterproof rain cover.
If waterproofing is important to you, look for packs made from water-resistant materials. These include nylon and poly nylon blends.
Keep in mind that this makes these backpacks suitable for protecting your gear in the rain. Avoid submerging your pack at all costs, especially if you're carrying electronics.