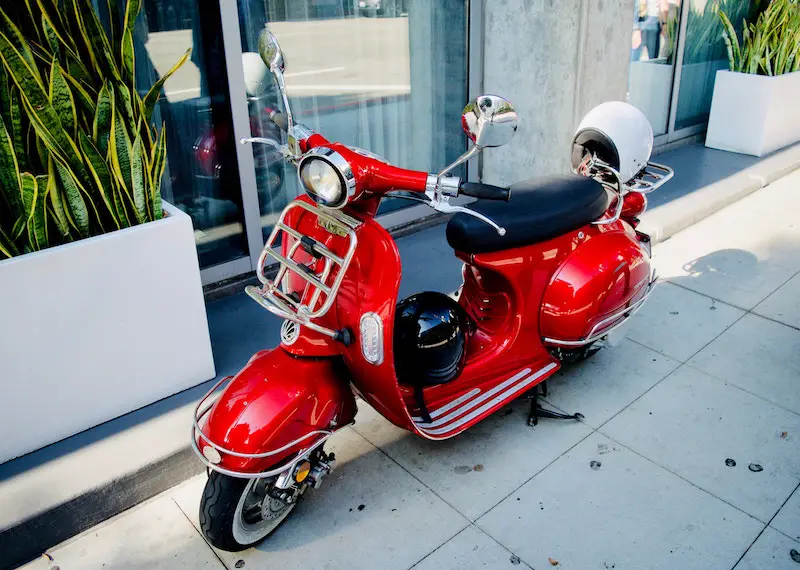 With so many different options to choose from, it can be hard to find the best scooter helmet for your riding requirements.
Over the past few years scooters have become more popular as a form of transportation. It's now more important than ever to protect yourself while you're riding a scooter.
When it comes to scooter safety, it's critical to invest in a high-quality, durable, and reliable helmet. Most accidents will result in your head impacting the ground or a hard surface. Without a quality helmet you can be severely injured.
To make it easier for new and experienced riders, I put together this helpful post on scooter helmets. These are some of the best options you'll find online and offer the safety, comfort, and other ideal features required for scooter riders. Whether you're cruising on a small 50cc scooter, or something bigger for commuting, you'll want to be wearing a bucket.
Personally, I recommend a full-face helmet. Your chin and jaw are one of the first points of impact if you fly off your ride. Without protection you can still suffered serious injuries, even when you're wearing a helmet. However, I'll share a number of different options so you can pick the best scooter helmet that meets your requirements and riding style.
Let's jump right into it!
The Best Scooter Helmets
Bell Qualifier DLX Helmet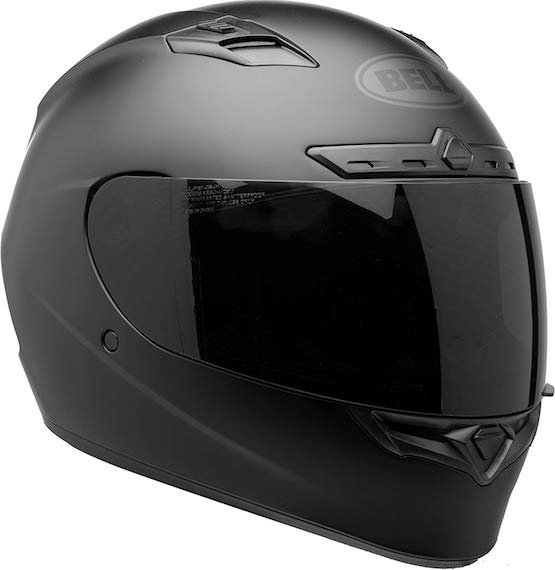 The Bell Qualifier DLX Helmet is our recommendation as one of the best scooter helmets for most riders. This is a full face helmet that's lightweight and DOT certified.
Designed with a lightweight polycarbonate and ABS shell, the Bell Qualifier DLX is aerodynamic and comfortable for scooter rides. The full face design protects you in case of an accident while preventing wind, bugs, and road debris from hitting you in the face.
The Blackout version comes with an additional dark smoke shield. These shields are great for summer riding on sunny days giving you a better view and less sun distraction.
The inside of the helmet is made from a soft antimicrobial, and antibacterial microfiber. This liner can easily removed for regular washing.
Other features include an integrated communication port for Bluetooth devices, a padded wind collar, and a ventilation system. For the price, this helmet is a great entry level choice with surprising features.
Overall, the Bell Qualifier DLX Helmet is well-suited for scooter riders looking for a helmet that's lightweight and comfortable. The full-face design offers the protection and noise reduction to provide a better ride.
HJC CL-17 Full-Face Helmet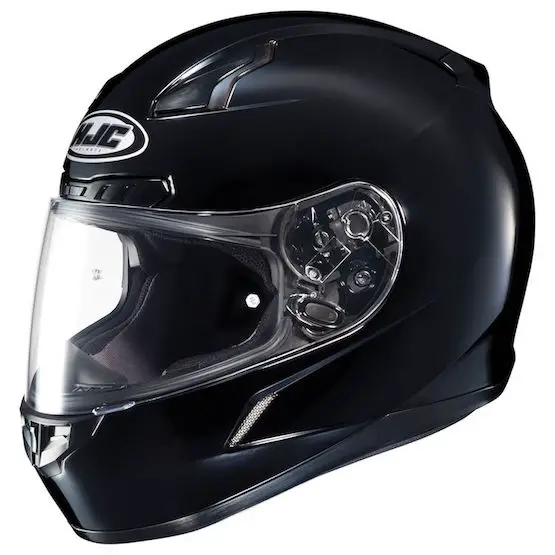 The HJC CL-17 Full-Face Helmet is another great option with a full face design. This model comes loaded with awesome features and is still suitable for riders on a budget.
Designed to keep you cool, the HJC CL-17 comes equipped with advanced ventilation channels. These funnel airflow through the helmet that keep you dry and cool on those summer day rides.
The helmet itself is designed with an advanced polycarbonate composite shell. It's lightweight and comfortable while providing the safety you need in case of an accident.
The face shield integrates an anti-scratch technology along with 95% UV protection. It also comes with a 2-stage closure system for easy open/close with a seal to prevent wind and debris from entering.
On the inside, the interior is made from an antibacterial, moisture wicking fabric. The cheek pads and crown can be easily removed for washing. There's even an integrated air deflector that's included for better comfort while riding.
Another great feature of the HJC CL-17 is the shield replacement system. This makes it easy to change the shield into a different color or style depending on your preferences. Speaking of colors, this helmet is available in a variety of different colors and styles.
Overall, the HJC CL-17 is one of the best cheap scooter helmets for most riders. It's a step above our first recommendation and comes packed with features for a comfortable and safe riding experience.
ILM Dual Visor Flip up Modular Full Face Helmet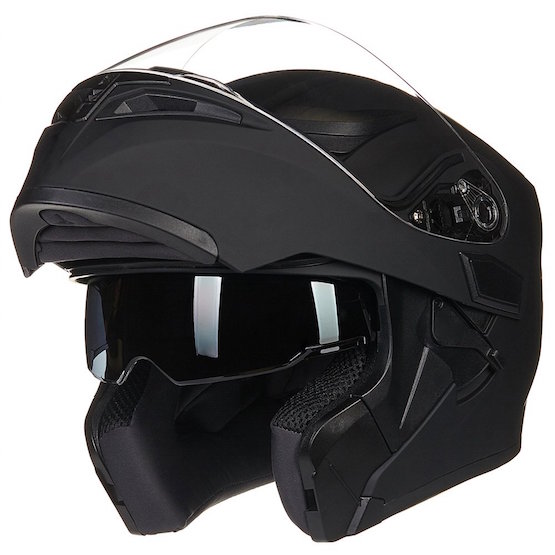 The ILM Dual Visor Flip up Modular Full Face Helmet is another great option that provides ample protection while fitting more of the scooter rider profile. It's a modular scooter helmet so it's the best of both worlds between the full-face and open-face designs.
The shell is made from a high resistance ABS material. Underneath you'll find a micrometrically adjustable strap for a comfortable, yet firm fit.
The visor is designed to be anti-scratch and anti-fog while providing you with a wide, clear view of the road ahead. Thanks to the modular design you can ride with the chin-guard up for better air flow or down for ultimate protection.
Another interesting feature is the dual-visor setup. The inner visor can be easily flip up or down and offers protection on bright, sunny days without the need for sunglasses.
For ventilation there are vents on the front and top. This helps with air flow when the chin-guard is in the closed position.
The ILM Dual Visor Flip up Modular Full Face Helmet is another great option if you're on a budget. It's DOT certified and comes with
plenty of features for a comfortable scooter riding experience.
Bell Riot Helmet
The Bell Riot Helmet is our first "traditional" scooter helmet recommendation. With its open face design, the Bell Riot has a vintage style that still provides riders with a practical, functional helmet.
Instead of the snap-on visor that's typically found with scooter helmets, the Bell Riot comes with a flip-up face shield. This is easier to use and there's no need to get stuck with a face shield that's tedious to remove.
The flip up face shield design is great for a wide range of riding conditions. Keep it flipped up for ventilation on those warm summer days and keep it closed at higher speeds so you're not eating bugs.
The modern, easy to use and easy to change face-shield is the main highlight of this helmet. There are also some other great features worth mentioning.
The Bell Riot comes equipped with a low-profile composite shell. At 2.84-pounds it's lightweight and won't weigh down your head while riding or looking around.
To keep the helmet in place is a padded chin strap. This strap uses a D-ring closure that's easy to use and can be quickly adjusted for the right fit.
On the inside is an antibacterial interior lining. There is some extra padding around the jaw, and this helps with noise reduction.
One more feature worth noting is that the face shield is designed to be anti-fog and anti-scratch. It also comes with UV-protection that protects your face and eyes on those bright, sunny days.
The Bell Riot Helmet is our top recommendation if you're looking for the best scooter helmet that takes on more of a traditional design. Despite its design, the Bell Riot awesome great features that makes it an awesome choice for most riders.
Nexx SX10 Helmet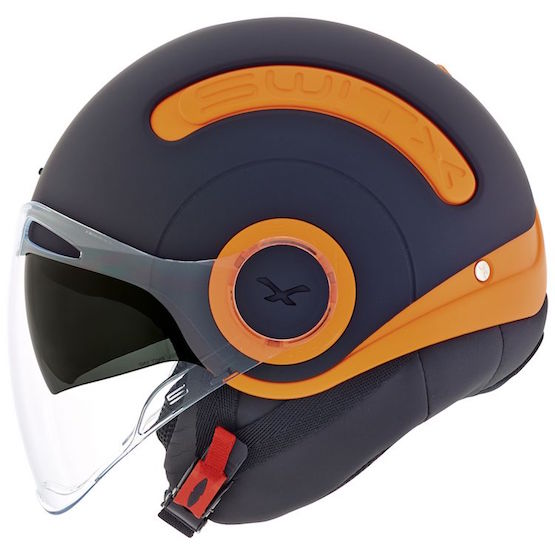 The Nexx SX10 Helmet is a modern, open-faced scooter helmet with two integrated visors. On the inside is a dedicated sun visor and on the exterior is a polycarbonate face shield.
The adjustable face shields, like those on the Nexx SX10, are a great choice compared to the traditional, permanent shields found on many scooter helmets. This one can be raised or lowered depending on riding conditions and your preferences.
For an even better riding experience a dedicated sun visor is also equipped. This sun shield can be quickly raised or lowered with one hand and provides 80% tint against the sun.
As for the Nexx SX10 itself, it's designed with an ATR/polycarbonate shell. At just 2.29-pounds this is a lightweight scooter helmet that's not going to weigh down your head or neck on longer rides.
On the inside, the interior liner is made from anti-allergic and moisture-wicking materials for added comfort. To help keep the helmet in place there's a micro-ratchet buckle closure that's easy to use and provide the firm fit.
When it comes to ventilation, the Nexx SX10 has a coolant cover tech vent system. Riders can open all five vents with just one movement.
Boasting a unique, eye-catching design, the DOT certified Nexx SX10 Helmet is bound to be a great choice for most scooter riders. Given the price, awesome features, and positive reviews – we definitely recommend checking out the Nexx SX10.
Bell Bullitt Command Helmet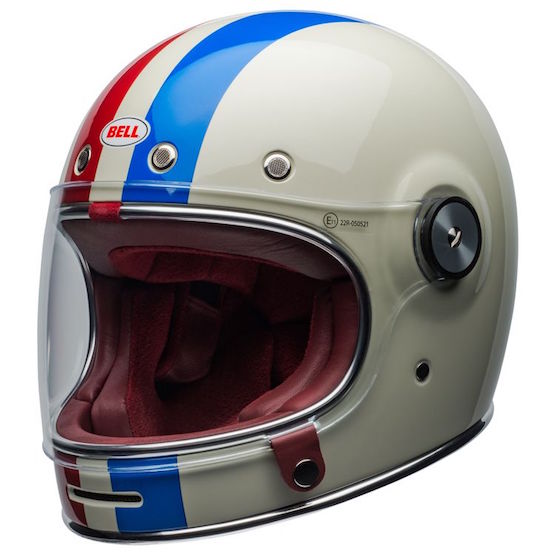 The Bell Bullitt Command Helmet not only looks cool, but the full face design provides ample protection for your scooter rides. This Bullitt inspired, vintage style scooter helmet will let everyone around you know how cool you really are.
This is yet another one of our recommendations with the flip face-shield design. As you can probably tell, this is a better design for most scooter rides due to the ease of use, comfort, and ventilation the flip face-shield provides.
The Bell Bullitt Command itself is constructed from a low profile fiber composite shell with a multi-density EPS liner. At 3.24-pounds it's slightly heavier than some other helmets, but still lightweight enough to enjoy a comfortable ride.
The luxurious features are what makes the Bell Bullitt Command such a unique an awesome choice. These include the microsuede lining with leather trim, vintage styling, and metal mesh circular intake vents. All of these together give this helmet a really 60's look.
As for the interior, it's designed with an antibacterial material that's removable and washable. The padded chin strap is equipped with a D-ring closure and leather pull tab for ease of use.
For ventilation, there are 5 intake vents along with 1 rear exhaust vent. These help air to flow through the helmet, keeping you ventilated and cool on those hot summer days.
Overall, the Bell Bullitt Command Helmet is a great choice if you're looking for a flip shield scooter helmet with a unique design. It's comfortable to wear, looks super cool, it has all the features you'd want for riding your scooter comfortably.
Best Scooter Helmet Buyers Guide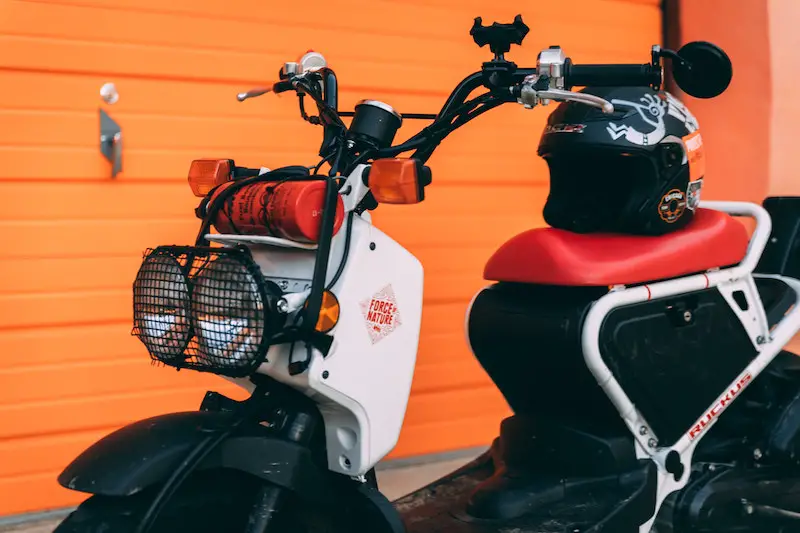 Having a good scooter helmet is important for both comfort and safety.
You want to be protected while riding on the road and still be able to enjoy all of your favorite scooter rides.
There are a number of different features to consider when you're looking for the best scooter helmets. Let's take a look at them to give you a better idea how to find the right helmet!
Design Materials
The design materials of any helmet are one of the most important features to consider. That's because these materials or what protect you in case of a crash or motorcycle accident.
They can also influence your ride, with lightweight materials being more enjoyable to cruise with.
The most popular material for scooter helmets is ABS and polycarbonate. These are hard plastic materials that offer ample protection while maintaining a lightweight design.
Another material you might come across is EPS, or Expanded Polystyrene Liner. This is used in the construction of scooter helmets and provides your head with cushioning in case of impact.
Always look at the materials used for any of the options you're interested in. When in doubt, head online and research any of the materials you're unsure about.
Helmet Weight
The overall weight of a scooter helmet is another important factor to consider. Too heavy and you'll end up with neck pain along with sore shoulders. Too light and you likely won't have the protection necessary.
Heavy ones might be more durable, but they're not ideal for longer rides. Look for options designed using lightweight materials.
For commuting and local rides, especially if you'll be in heavy traffic, a heavier helmet might be a better choice. The sweet spot tends to range from 2.5 pounds up to 4 pounds for a comfortable, durable, and still lightweight model.
Safety Rating
Any helmet you wear on the road needs to be DOT certified, especially in Canada and the USA. This is a certification safety rating as required by the federal governments.
Helmets with this certification are held up to higher standards. They offer better protection in event of a crash and are typically more reliable for riding your scooter on road.
For local rides, such as at your cottage, this isn't as important. However, in any other case a DOT certified helmet is the best choice.
Fit
Buying a scooter helmet online is a great way to have access to wide range of products you won't find in your local shops. You can also save money this way and home delivery is amazing.
For choosing one that fits, always refer to the fitment schedule that's posted on the product or manufacturer page. A helmet that doesn't fit is unsafe and can be painful or uncomfortable.
Take the proper measurements so that you're able to choose one that fits you correctly. When in doubt, ask a friend or family member to take the measurements for you.
Face Shield
Face shields provide riders with a safer and more comfortable riding experience. They help to deflect wind and prevent you from getting smacked in the face by rocks, bugs, birds, and general road debris.
There are two main types of face shields commonly equipped on scooter helmets – snap-on shields and adjustable shields.
Snap on shields do just that. They snap onto the helmet and remain in a fixed position. These aren't great because they can be annoying to snap on, hard to remove, and can fly off at high speeds.
Adjustable shields are similar to what you would find on a motorcycle helmet. These can be easily raised or lowered depending on your preferences and current riding conditions.
It's a good idea to always ride with a face shield regardless of the helmet you're using. They help to protect your face against the wind and provide a more enjoyable riding experience.
Visibility
Along with choosing the right face shield, having visibility is important for your safety. Not being able to see properly when you're on a scooter ride can lead to dire consequences.
After choosing a helmet that fits you properly, the quality of the face shield (or visor) needs to be considered. Look for visors that provide you with the best possible view of the road ahead.
There are face shields that are scratch resistant and fog resistant. These are ideal for riding in a range of different conditions and weather elements.
Having a clear view is the safest way to ride. Avoid tinted or dark visors if you'll be riding at night.
Before every ride inspect your visor or face shield. Ensure that it's clean, clear, and free from any scratches or damage. Use a microfiber cloth to clean your visor if it's dirty or scratched.
Style and Type
Of course you want to look cool while riding your scooter. It's equally important that you're safe and protected in case of a crash or accident.
That's why I recommend having a full faced scooter helmet. This is the safest type and offers the best level of protection if you have to hit the ground.
The open-faced models, which tend to be popular, don't offer nearly the same levels of protection. It's your jaw that's likely make contact with the ground if you fly off your ride head first. Without any protection in this area you're going to end up having a bad day.
For short rides or local commuting an open-faced helmet isn't a terrible idea. However, for longer rides and scooter touring having a closed face model is always recommended.