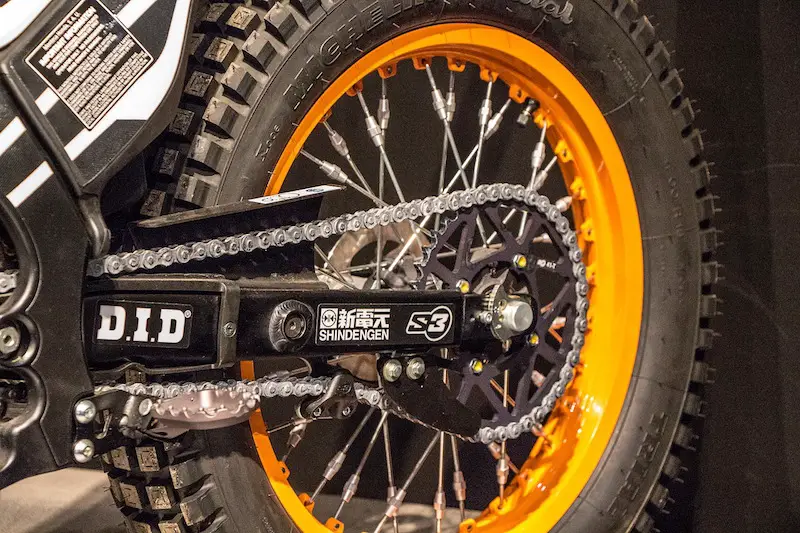 After spending the day on spring motorcycle maintenance for my bike I was wondering about the best motorcycle chain lube. It came to mind because there are so many different brands and types of lube to choose from – how do you know which are the best for your bike?
While your options were limited in the past, today there are dozens of choices for motorcycle chain lubricants available. Each of them has their own benefits and drawbacks so it's important to choose the right one for your motorbike chain.
Lubricating your chain is an aspect of maintenance that needs to be done regularly, especially if you're riding in exceptionally dry or wet conditions. Lube will keep your chain running smoothly and increase the lifespan of both your chain and sprockets.
In this post we'll take a look at the best chain lube for your motorcycle. Keep reading past our recommendations for a buyer's guide on how to find the best lube for your ride.
Let's jump right into it!
The Best Motorcycle Chain Lube
Motul Chain Lube (Best Overall)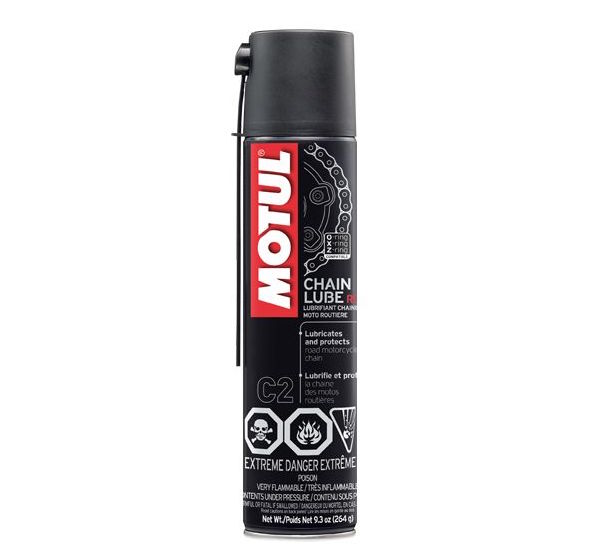 When it comes to the best motorcycle chain lube it's the Motul Chain Lube line that I would personally recommend. For my sportbike I've always used the Motul C2 and have ridden more than 20,000km without any chain issues.
Depending on your bike, Motul has the number of different products available to choose from. The C2 is specifically designed for road bikes with options for racing bikes and off-road bikes.
These Motul chain products are made with adhesive properties. This helps the lubrication stick to your chain for longer-lasting protection.
It's easy to use the Motul lubes with their spray can design. They even come with a sprayer nozzle to give you an accurate spray. This also helps to prevent the lubricant from getting all over your bike when it's being applied.
As for compatibility, the Motul chain lubes are safe to use on O-ring, X-ring, and Z-ring type chains. Also, it comes out colorless so it doesn't immediately darken or gunk up your chain.
The only drawback to the Motul lubricant is that it does tend to fling off shortly after being applied. This happens more on warmer days before it has a chance to settle on your chain. Wiping down your chain after applying the Motul product will help to prevent this.
Overall, the Motul Chain Lube is what I personally recommend and they're some of the best chain lubes currently available on the market. You'll definitely want to try out these Motul products if you're looking for something quality and reliable for your bike.
Maxima Chain Wax (Best Motorcycle Chain Wax)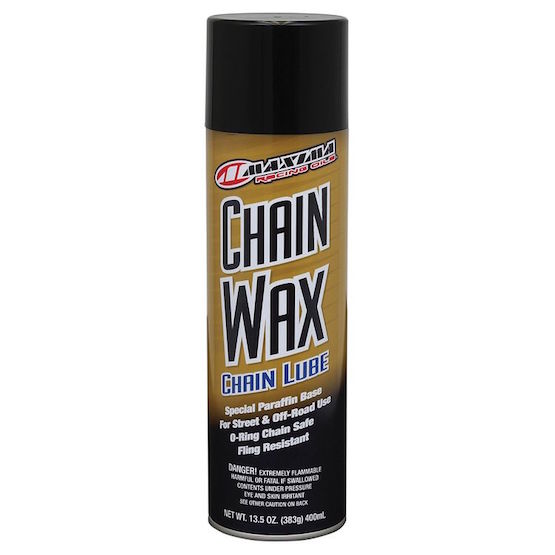 The Maxima Chain Wax is another great choice and an equal competitor to the Motul product line. This lubricant seems to be more popular and favored by a majority of riders.
Compared to lube that typically sprays off the chain, the Maxima Chain Wax is designed to cling to the chain. It provides your chain with the necessary protection and lubrication without any mess.
Even as a chain wax, the Maxima Chain Wax sprays on as a liquid. It penetrates through the chain and sets as a soft, waxy film. This provides the chain with the lubrication it needs to keep running smoothly while protecting it from the outdoor elements.
Using this wax also protects your chain from rust and corrosion. This is ideal for those of you riding in cold, wet conditions and places where salt is used on the roads.
The unique Parafilm formula lubricates chains from the inside out while coating the pins and rollers. This wax is safe to use on both O-ring and X-ring chains.
What I love most about the Maxima Chain Wax is that it doesn't fling off onto your bike after being applied. The wax formula also doesn't attract dirt or debris that could get stuck in the sprocket case.
Overall, the Maxima Chain Wax is another great choice if you're looking for the best motorcycle chain lubricant. Not only is it well-reviewed online but your bike will love you for it.
Bel Ray Super Clean Chain Lube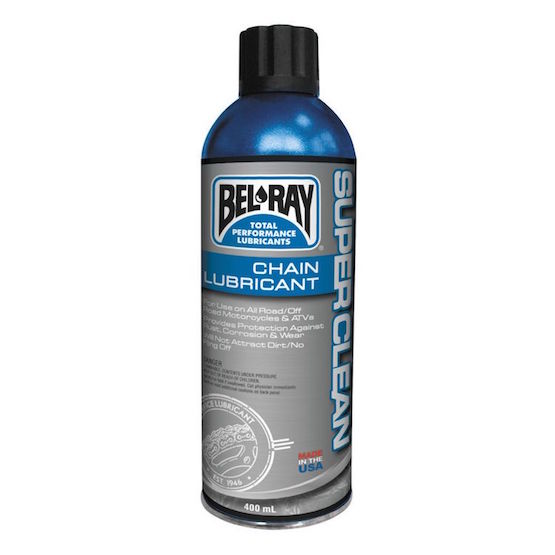 The Bel Ray Super Clean Chain Lube is a great choice if you're looking for a simple and affordable chain lube. While not designed for racing or high performance bikes, this Bel Ray product is suitable for your everyday rider or weekend warrior.
Rather than focusing on enhancing chain performance, this Bel Ray lubricant has been designed to keep your chain protected from the elements. It provides you with ample protection against water, moisture, and dirt making it a great choice if you ride in dirty or wet conditions.
The anti-wear protection is perfect for increasing the lifespan of your chain and sprockets. This is thanks to the outer protective coating that doesn't attract dirt, debris, and doesn't fling after being applied.
As for application, the lubricant sprays on clear but will leave a white film on your chain. This makes it easy to see any spots you missed to ensure your whole chain is properly lubed.
Consider letting your bike stand overnight after applying the lube. This allows for it to penetrate into your chain and properly settle before your next ride. It can also be used on O-ring, X-ring, and Z-ring chain types for street, light racing, and off-road use.
The Bel Ray Super Clean Chain Lube is a great choice for riders that want something simple, affordable, and designed to work in all riding conditions.
PJ1 Blue Label Chain Lube (Best for O-Ring Chains)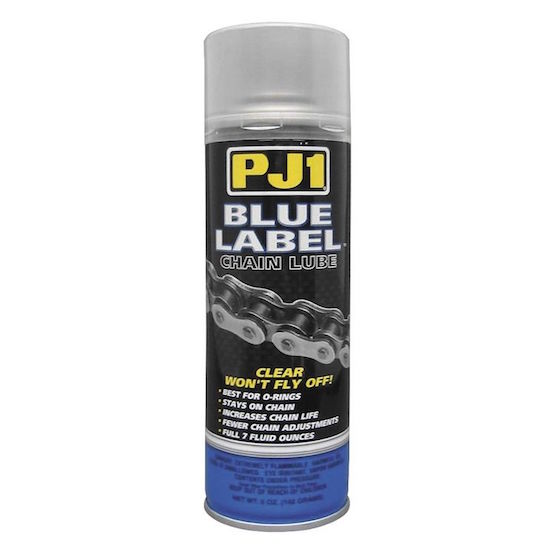 Next on our list of recommendations is the PJ1 Blue Label Chain Lube. While not as popular as the other products, the PJ1 is still a great choice for most riders.
This lubricant uses a petroleum-bases formula that's designed to stick to the chain and increase performance. With petroleum lubes there's less friction resulting in less wear and tear on your chain and sprockets.
Having less friction will increases the lifespan of these components. It also leads to better performance giving you a smoother ride.
When being applied, the PJ1 Blue Label Chain Lube comes out clear. There won't be any white spots on your chain or bike as it dries, so you will have to pay attention when you're lubing your chain.
This product is specifically designed for O-ring chains. After application, the lube will penetrate deeply into the links and O-rings. It's easy to apply and designed not to fling off the chain when you're riding.
Riders with O-ring chains will want to consider the PJ1 Blue Label Chain Lube. The anti-fling properties, ease of application, and quality of this product all make it a great choice.
Motorex Road Chain Lube (Best Dirt Bike Chain Lube)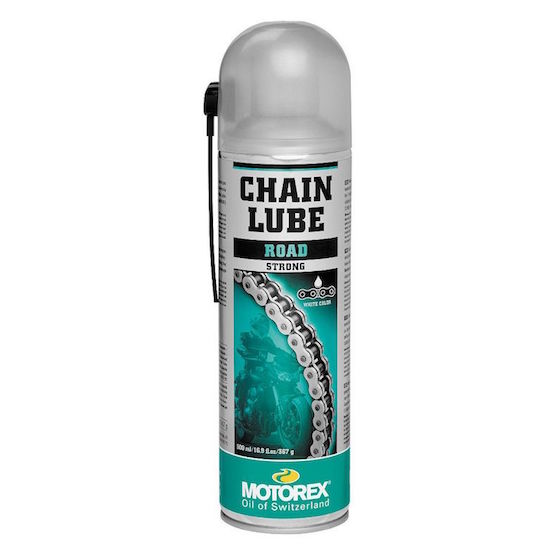 The Motorex Chain Lube is one more premium motorcycle chain lubricant we recommend. It's not as well-known as the other products on the list, but it's still a great choice for most riders.
This product is designed for multi-purpose use. That means whether you're commuting or heading out on weekend rides you can easily use this lube for your chain maintenance needs.
The adhesion of the Motorex Chain Lube is what's most impressive. After being applied it stays on the chain and isn't likely to fling-off on your next ride, especially if you wiped the chain down.
For application it goes on white. Some people don't like this, but the white application of the lube makes it easier to see. This way you'll know that you covered the entire chain and aren't missing any spots.
The water-resistant feature is great for those of you riding in wet or humid conditions. It helps to prevent rust and keeps your chain lubed for a longer period instead of coming off due to moisture.
This product is designed to be used on X-ring and O-ring chains. Consider the smaller can if you need something for touring or long-distance commuting. There's also an off-road version of this product available for dirt biking and off-road riding.
Overall, the Motorex Chain Lube is just one more great choice as a motorbike chain lube. It comes out white for an easy, accurate application and it's suitable for most styles of riding.
Other Products to Consider
Along with lube there are some other products necessary for proper motorcycle chain maintenance.
After investing in these tools and products you'll be able to use them for maintenance in the future. Only some will have to be replaced as they run out.
These are products that use myself for increasing the lifespan of my sprockets and chain. It's hard to complain about the better performance as well.
Maxima Chain Care Kit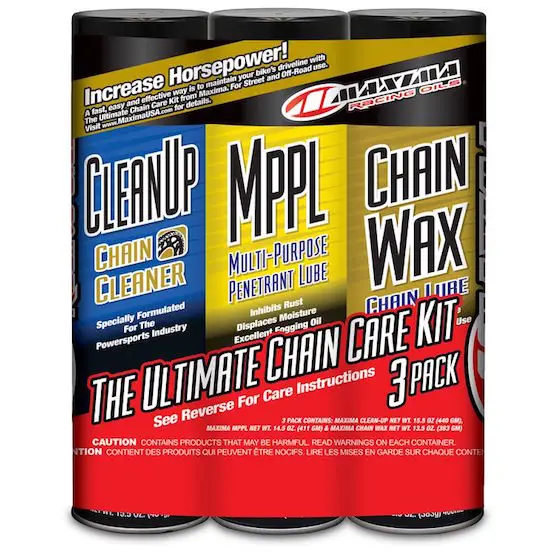 The Maxima Chain Care Kit comes with three different products that make cleaning and lubing your chain a breeze. Along with the Maxima Chain Wax you also get a chain cleaner and multi-purpose penetrant lube.
This kit helps to enhance your chain cleaning and maintenance experience.
Starting with the cleaner gets your chain clean and free from old lubricants, road grime, and debris. Next goes on the multi-purpose penetrating lubricant that gives your chain a protective barrier against rust and corrosion.
It all ends with the Maxima Chain Wax that sprays on as a liquid and finishes as a soft, protective wax. The combination of these three products will keep you riding with a well-maintained and lubricated chain.
This Maxima Chain Care Kit is a great choice if you don't want to shop around and just want something simple and easy to use for chain maintenance.
The Grunge Brush

The Grunge Brush is another essential tool for performing the most effective motorcycle chain maintenance. This one comes with fully replaceable bristles so you can swap in new ones as the old ones wear out.
These chain brushes make it easy to get into all of the small, inaccessible areas on your chain. They're a tool I use myself and it makes it easy to stay on top of maintenance.
Using the Grunge Brush is simple. Start with a quick wipe down of your chain and then follow up with the brush. Spin the back tire with the brush in place and watch all the gunk get removed.
The Grunge Brush is suitable for all types of bikes thanks to the adjustable bristle blocks. Pick up this tool today, you don't want to be without it when it comes to maintenance.
Choosing the Best Motorcycle Chain Lube | Buyers Guide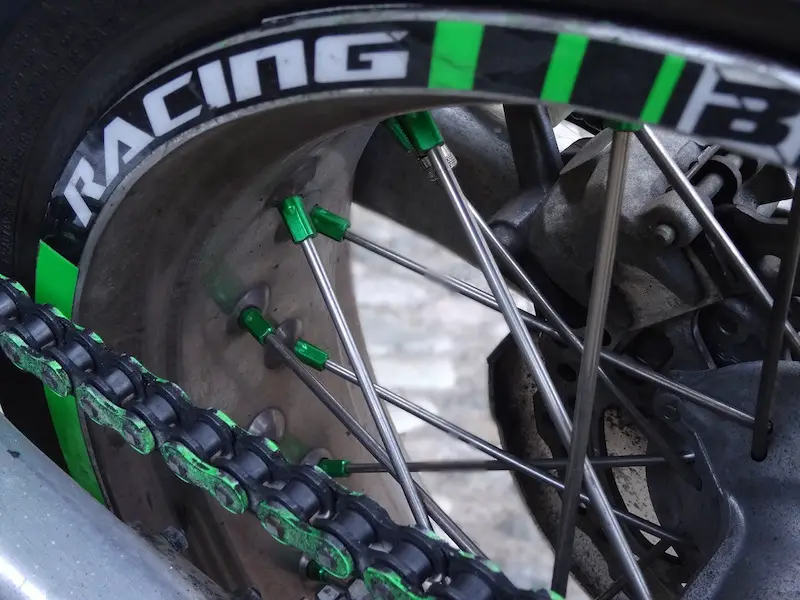 Check out my post on the best motorcycle chains if you're looking to replace or upgrade the one currently on your bike.
As a passionate motorcyclist, nothing beats hopping on your bike and hitting the open road. It's easy to spend hours riding around aimlessly without worrying about your problems.
I don't know about you, but going for a rip helps to clear my thoughts. Longer rides are a great stress relief that get me out of the house for some fresh air.
To be able to keep riding it's important to properly maintain your motorcycle. Poor motorcycle maintenance can eventually lead to expensive, or even dangerous, problems.
Your motorcycle chain drive is one of the most important aspects of maintenance to stay on top of. The chain is a key component that moves your motorcycle forward. You don't get any second chances with a chain problem – if it breaks or comes off the sprockets you're going to have a bad day.
The best way to keep your chain healthy is to make sure it's clean and properly lubricated. Motorcycle chain lube keeps the chain running smoothly. It also prevents dirt and debris from getting stuck to it, which can get caught in your front sprocket case leading to further damage.
That's why it's critical to pick the best motorcycle chain lube for your ride. Different bikes have different requirements so you can't just pick any random one.
Motorcycle Lube Factors
When it comes to choosing the right product, there are a number of factors to consider. These include your type of chain, the specific lubricant it needs, your personal budget, the type of riding you do, and the conditions you're most often riding in.
Looking at the reviews above, you probably already know that each lube has its own benefits and drawbacks. They all have their own different features that make them a great choice depending on your needs.
All the products above are a great choice for most riders. To make the buying process even easier for you, let's take a further look at the different factors you need to consider when buying motorcycle chain lubricant.
Type of Chain
The first factor to consider is the type of chain on your motorcycle. This will make it easier to determine the specific type of lube you need to use.
Chain lubes will be most effective when applied to the type of chain they were designed for. Today, the most common chain types are X-ring, O-ring, and Z-ring.
Look at the box your chain came in to determine its type. Alternatively, this information will be available in your motorcycle owner's manual.
Different Types of Lube
After reading this review you can probably tell that there are a few different types of chain lube. The two most common types are aerosol spray and wax.
Aerosol sprays are the most popular, readily available, and the easiest to use. Simply spray your chain, let it penetrate, wipe it down, and you're good to go. There's no need to wear any gloves or get your hands dirty.
Chain wax needs to be manually applied with your hands to the entire chain. It's sometimes less expensive and not as messy once it's applied. The problem with wax is that it doesn't penetrate as deeply as a spray.
When it comes to the two types it's more preference and riding style that will determine which kind you use. Personally, I prefer using the sprays. They're essentially "spray and go" without requiring much maintenance to use.
Your Riding Style
The final factor to consider when looking at lubricants is your style of riding. This includes your type of bike, where you're taking it, and the physical/weather conditions you're riding in.
Those of you riding in humid, wet, or snowy conditions will want to consider using a wet lubricant. These cling to your chain more effectively and prevent the moisture from causing corrosion or rust. The drawback is that this type attracts dirt and debris more easily so you'll have to keep on top of maintenance.
Those of you riding in dry, warm, and dusty conditions will want to consider using a dry lubricant. This type is thinner and typically comes with dirt resistant features. Using a dry lube will help to slow down the wear and tear of your sprockets and chain in these conditions.
Finally, there are all-purpose lubes that are a great choice for most riders. These are ideal if you're riding in a variety of different conditions and you don't want to worry about choosing specific products. Keep in mind that anything all-purpose will need to be applied more often.
Cost
While not an essential factor, the cost of any products you're interested in needs to be considered. This would depend on your budget and how much you're able to spend maintaining your bike.
Most lubes are in a similar price range, so for many people this won't be an issue. If you're on a tight budget you might want to consider riding less and choosing a long-lasting, high-quality lubricant that won't need to be applied as often.
When it comes to motorbike maintenance it's better to be proactive. Taking care of your ride and spending money upfront for upkeep will save you money in the long run.
What Makes a Good Motorcycle Chain Lube?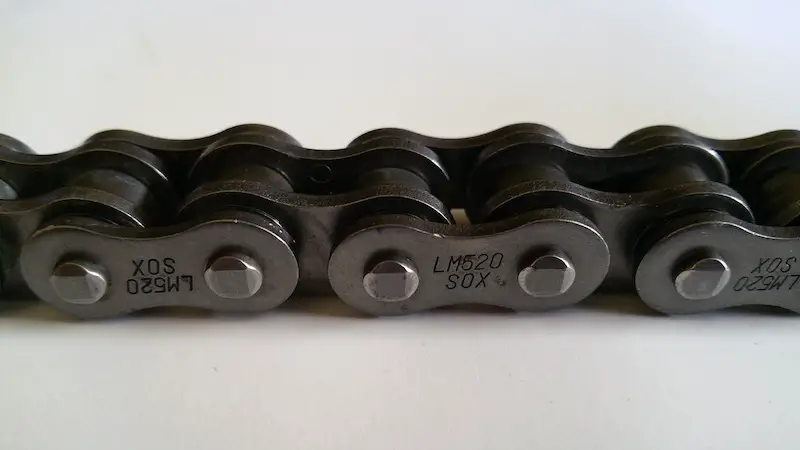 These are some of the different features that most of the better quality lubricants will have.
Anti-Fling Formula
It sucks getting home after a long ride, looking at your bike, and seeing lube all over the frame and wheels. This is the lubricant that you applied being flung off the chain and onto your motorcycle.
To avoid this, choose a product that takes advantage of an anti-fling formula. Many of the top products will showcase this as a feature – those are the ones you want to look out for.
Not only do you not want to clean your bike after every ride, you want the lube to stay where it belongs – on the motorcycle chain.
Easy to Apply
The main reason I don't like using chain wax is because it's not easy to apply. Products in a spray can are easy to apply and can coat your chain fully in under a minute.
These sprays will penetrate more deeply into your chain keeping it properly lubricated for a longer period of time. It's also easy to take a spray can with you for an application if you're heading out on a motorcycle trip or longer ride.
Water Resistant
Those of you riding in wet, rainy, or humid conditions will find is to be one of the most important features. Water resistant motorcycle lube protects your chain from water damage. It also remains on the chain even when you're riding in wet conditions.
Using a product that's water-resistant doesn't need to be applied as often in wet or humid weather. It stays applied and gives you more time to keep riding without worrying about maintenance.
Dust Resistant
Those of you riding in dry and dusty conditions will want to look for a lubricant that's designed to be dust-resistant. This feature helps to prevent dust and small road debris articles from getting stuck in your chain.
The more dust that gets stuck the more often you'll have to clean your chain just to reapply more lube. Look for this feature on the bottle before buying any product.
What Are the Benefits of Lubing Your Motorcycle Chain?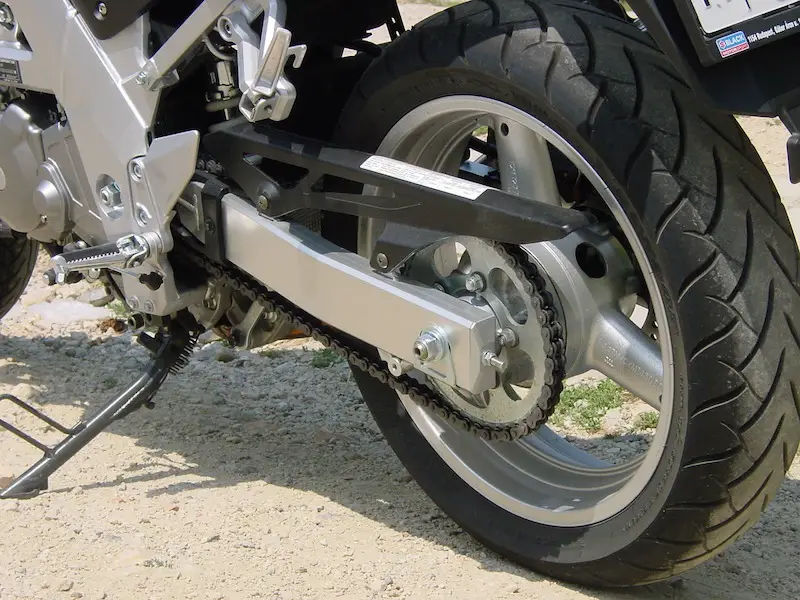 There are a few benefits to keeping your motorcycle chain properly lubricated. This is an important aspect of maintenance that you don't want to overlook.
While you can extend the time between oil changes or new tire replacements, you're better off lubing your more often than not. Here are some of the reasons why it's important to do so:
Better Performance
Have you ever been riding and you notice your motorcycle is jerking when you hit the throttle, especially at lower speeds? While one symptom could be a loose chain, another issue could be that the chain is too dry.
On a dry chain the sprockets could bounce over the links resulting in a jerky ride. The sprockets will also wear down with a dry chain rubbing against them leading to serious problems in the future.
A clean chain provides the best riding experience and gives you the most performance out of your bike. Lubrication keeps the chain running smoothly over the sprockets and reduces wear and tear.
Water and Rust Resistance
Your average motorcycle chain should last anywhere between 15,000 and 30,000 miles depending on how you ride. Without proper maintenance and lubrication you might not even get 10,000 miles on a new chain.
It costs you more money when you're not properly maintaining your bike. A lack of lube we'll also expose your chain to moisture and debris, which can eventually lead to rust.
These are problems you don't want to be dealing with, especially when you're out on a ride and your rusty chain decides to snap. Keeping your chain properly lubed with a good chain lube helps to prevent water damage and corrosion from occurring.
Dirt Protection
Along with water protection, lubricant also protects your chain from dirt. Many products come with dirt resistant properties that make it easier for you to maintain your chain.
A dirty chain that's full of debris won't last as long and is more likely to break if it's not properly maintained. Inspect your chain regularly, keep it clean, and use lube often to avoid any issues.
Best Motorcycle Chain Lube FAQ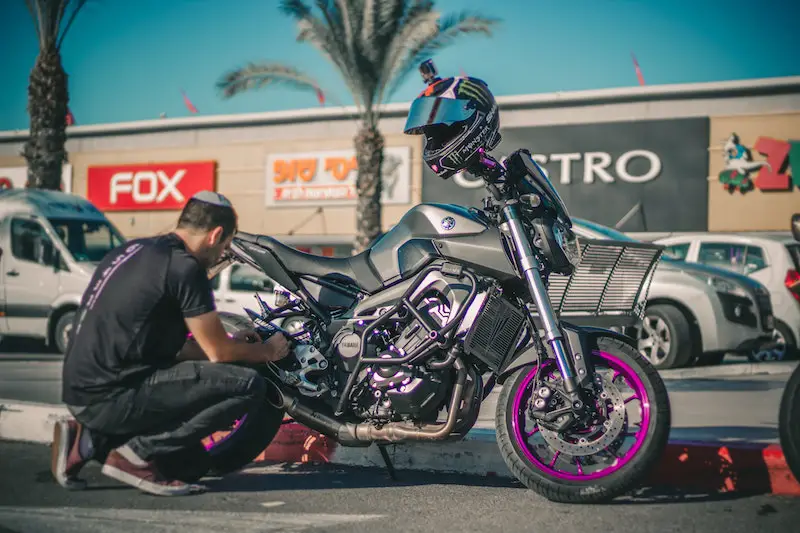 What is Motorcycle Chain Lube?
Chain lube is a lubricant designed to help your chain run smoothly along the sprockets.
There are a number of benefits to keeping your chain properly lubricated. Increased motorcycle performance and a smoother ride is one of the most noticeable.
Keeping your chain lubed will also help to increase the lifespan of the chain and sprockets. Rust, corrosion, and dirt isn't able to build up as quickly which makes maintenance easier.
How Do You Apply Motorcycle Chain Lube?
It's easy to apply motorcycle chain lube whether you're using the spray can or wax paste.
Start by cleaning your chain and inspecting it for any damage or premature wear.
Next, spray a small section of the chain until it's fully coated. Let the lubricant penetrate into the links and rollers before moving on to the next section.
With the wax, the same instructions apply. Work on a small section at a time to ensure that everything is properly coated.
When you're done, wipe the chain clean. Let your bike sit for a few hours before riding to avoid any flinging lube.
How Often Should You Lube Your Motorcycle Chain?
This information is available in your motorcycle owners manual. Alternatively, everyone has a different opinion on how often you should lube your motorcycle chain.
Personally, I recommend lubing your chain every 300-500 miles depending on the riding conditions. Always inspect your chain after every ride and apply lubricant when necessary.
Some riders recommend doing it after every ride. This is overkill, expensive, and ineffective for long term chain performance.