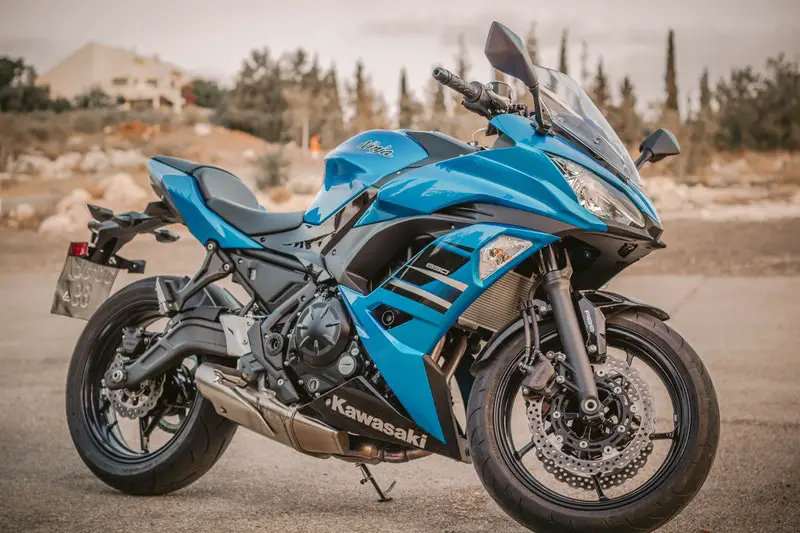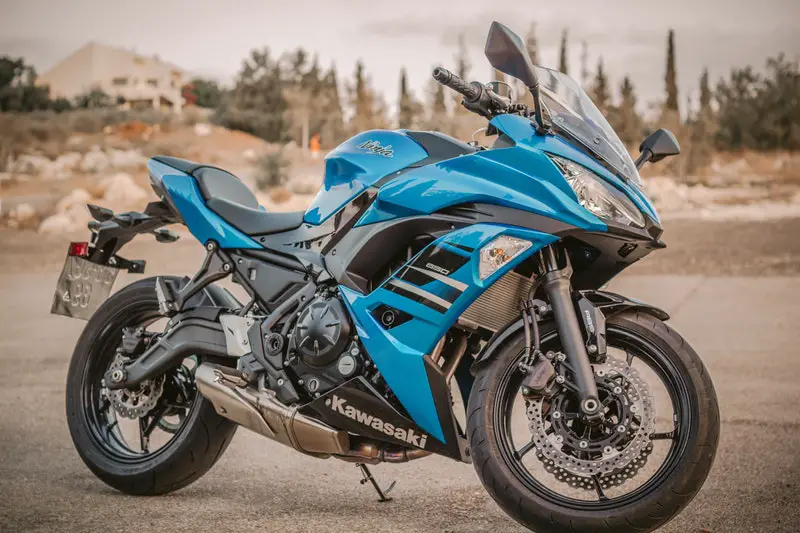 In this post I want to talk about the best motorcycle battery for your bike. With so many different options to choose from, it can be difficult knowing which batteries are suitable.
There are a seemingly endless amount of options available both online and from your local retailer. I put together this helpful guide to make the motorcycle battery buying process easy for you.
We'll start off by looking at the best motorcycle batteries. Then, scroll to the bottom for an in-depth buyers guide and FAQ.
Let's jump right into it!
The Best Motorcycle Batteries (Reviews) in 2023
ChromesPro Rechargeable YTX14-BS iGel Powersport Battery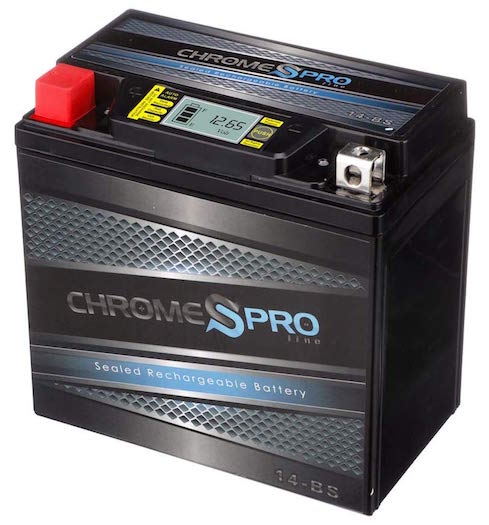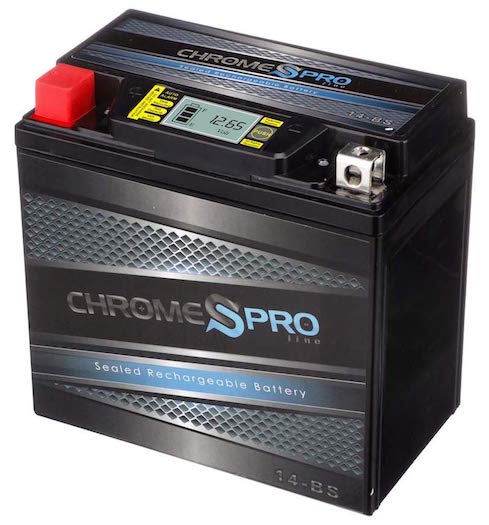 The ChromesPro Rechargeable YTX14-BS is our top recommendation for the best motorcycle battery. This is a reasonably priced and well-reviewed rechargeable chrome battery that's designed to fit in most bikes.
The ChromesPro Rechargeable YTX14-BS comes with some amazing technology that you don't typically find in other options. For example, there's a small LED screen on top that tells you the battery alternator voltage. This is great for quickly checking the condition of your battery.
Another interesting feature is the iGel designation. These batteries are filled with gel electrolytes that helps to provide a low maintenance, longer lifespan battery. This great for extending your scheduled maintenance intervals and keeping maintenance costs down.
The ChromesPro Rechargeable YTX14-BS comes fully charged when it's delivered. It's ready to be used right away with an easy install process.
To help with safety, such as leaks and spills, this battery features a hardened plastic housing. Thanks to the Absorbent Glass Technology riders will enjoy a longer service life and consistently high currents to power the electrical system on your bike.
Where your original motorcycle battery comes short, the ChromesPro Rechargeable YTX14-BS gel battery stands out. Designed using quality materials and the latest battery technology, the ChromesPro Rechargeable YTX14-BS will likely exceed the deliverability of your original battery while providing you with a longer battery lifespan.
With such great features, a relatively maintenance-free lifespan, and being well-reviewed it's only fair that we recommend the ChromesPro Rechargeable YTX14-BS as one of the best motorcycle batteries for most riders.
ThrottleX MX20L Motorcycle Battery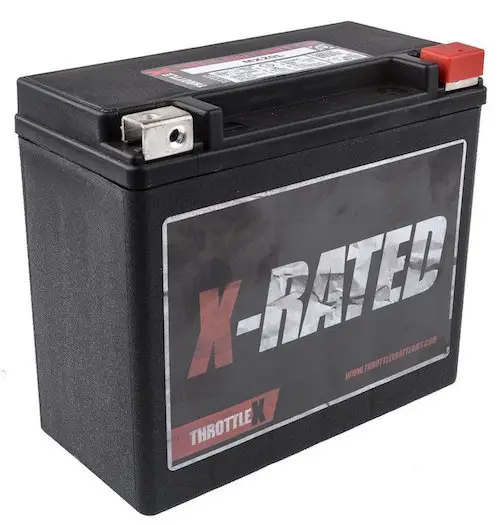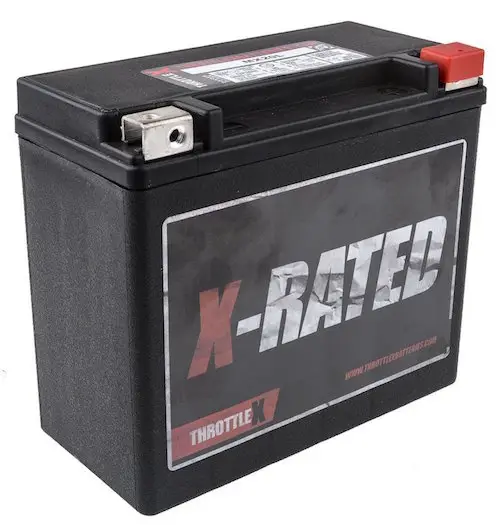 The ThrottleX MX20L Motorcycle Battery is another great choice if you're looking for a battery that's reasonably priced, easy to maintain, and ready to install. This bad boy also comes with a 12 month free replacement warranty along with a 30-day money back guarantee. For peace of mind it's hard to beat those buyer benefits.
Like many of our other recommendations, the ThrottleX MX20L takes advantage of the famed absorbed glass mat technology. This provides riders with a high performance battery that's easy to maintain.
It's likely that the ThrottleX MX20L will exceed the lifespan of your motorcycles original battery. This is thanks to the high-quality design and technology behind each of the ThrottleX products.
For example, the ThrottleX MX20L is designed to be spill-proof and leak-proof. It also comes with added vibration resistance that helps to prevent the battery from rattling around too much on your rides.
These features provide riders with a better overall performance and longer battery service life. They also make it safer and more durable for longer use.
The absorbed glass mat technology helps with cold starts and get your bike running right away. Many people have stated that this battery cranks faster than any of the alternatives they've used before. This is likely due to the AGM separators that are protected by full frame plates. The result – increased cranking amps and lower discharge rates for better longevity and maintenance free ownership.
Overall, I have no problem recommending the ThrottleX MX20L Motorcycle Battery as one of the best motorcycle batteries for most riders. Whether you're ripping around on a Harley Davidson or zooming by on a sportbike, this is definitely an option to consider.
ThrottleX HDX20L Harley Davidson Motorcycle Battery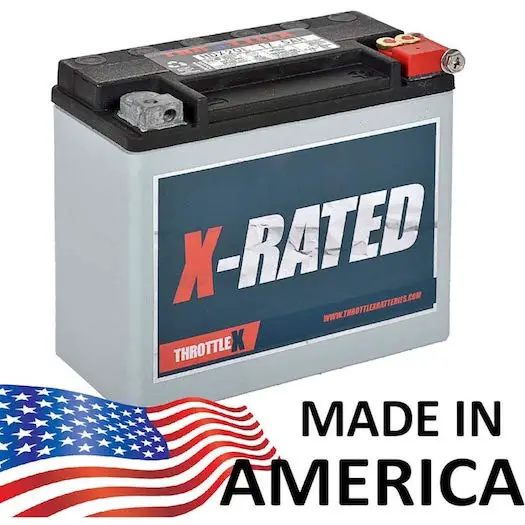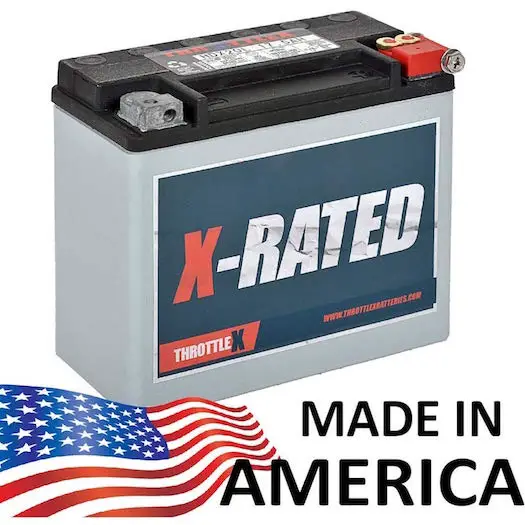 The ThrottleX HDX20L Harley Davidson Motorcycle Battery is my recommendation as the best Harley-Davidson battery for those of you cruising around on a big hog. These are made in the USA and designed for helping those larger harley-Davidson motors crank and get started.
One of my favorite features of the ThrottleX HDX20L is that it comes fully charged and ready to install. This means you just take out your old battery, pop this one in and hit the throttle. Stainless steel bolts are included for an even easier install process.
Compared to the OEM Harley Davidson battery, the ThrottleX HDX20L offers the same quality and power. Standing behind their product, ThrottleX offers a 30-day money back guarantee. They also provide you with an 18-month free replacement warranty for the ultimate peace of mind.
The key feature with of ThrottleX HDX20L is AGM technology. Yet again this technology reveals itself as being great for extending the lifespan and safety of motorcycle batteries. It also helps to make them safer and easier to maintain resulting in less headaches and better riding experiences.
Those of you riding a Harley-Davidson will definitely want to check out the ThrottleX HDX20L if you're looking for a Harley Davidson replacement battery.\
Mighty Max Battery YTZ12S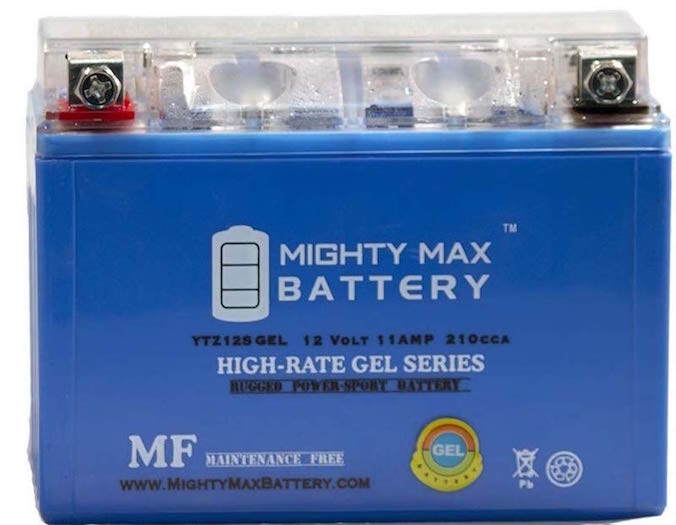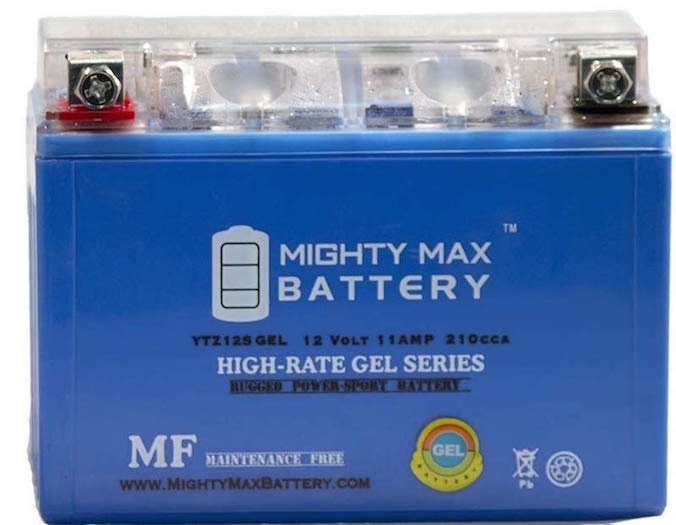 The Mighty Max Battery YTZ12S is a factory activated gel battery that's easy to install, safe for riding, and maintenance-free. There's no acid pack needed so it works right out of the box once it's connected to your motorcycle.
With 12-volts of power and 210 cranking amps your bike will likely be roaring to go as soon as you hit the starter. Installation is simple, and once installed you'll be ready to hit the streets.
The advanced design that the Mighty Max Battery YTZ12S takes advantage of results in a longer lifespan than most standard motorcycle batteries. This is thanks to the extra electrolytes and gel design that doesn't rely on battery acid.
As a deep cycle battery the Mighty Max Battery YTZ12S can be mounted in a variety of different positions. It's resistant to shocks, vibrations, and will continue to provide high performance in a range of outdoor temperatures.
The battery casing design means that there aren't any chemical or fumes escaping the casing. This bad boy is environmentally friendly and won't harm the environment while it's charging or discharging.
Overall, the Mighty Max Battery YTZ12S is a great motorcycle battery for most riders. It doesn't require any maintenance, it's easy to install, and the long lifespan will keep you on the road.
Yuasa YUAM320BS YTX20L-BS Battery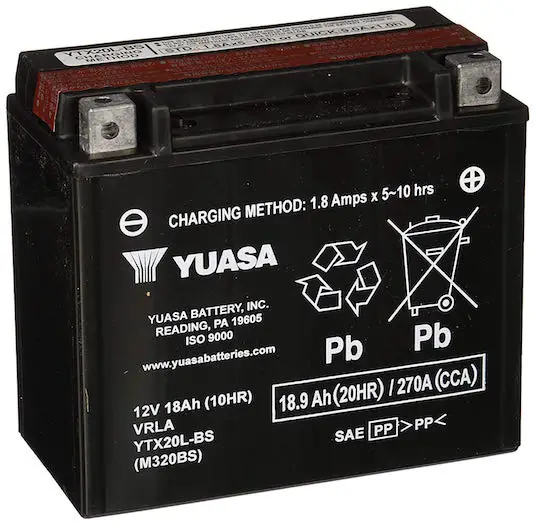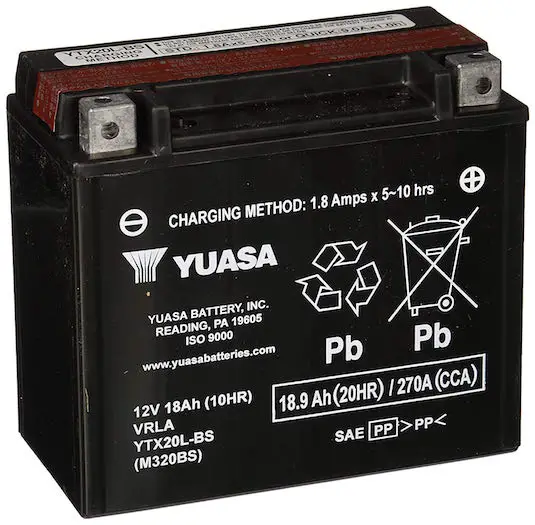 The Yuasa YUAM320BS YTX20L-BS Battery is a simple, no frills motorbike battery designed to fit most makes and models of motorcycles. These have been developed by one of the biggest motorcycle battery producers in the world.
This specific Yuasa YUAM320BS YTX20L-BS model takes advantage of the advanced absorbed glass mat technology. The result is a durable, reliable battery that provides a maintenance-free experience.
With 12 volts of power and 270 cold cranking amps you'll be able to get your bike going in a variety of different conditions. The lead calcium technology used helps the battery to keep its charge. This helps to prevent it from dying on you during the winter or longer periods of your bike not being ridden.
The battery acid inside is absorbed in special plates and the glass mat separators. Along with the completely sealed and spill proof design you won't have to worry about any leaking or dripping acid.
One thing to mention is that this battery is supplied dry. The acid bottle is included so you will have to install it on your own.
Otherwise, the Yuasa YUAM320BS YTX20L-BS Battery is a great choice. It's simple to install, easy to maintain, and is likely to provide you with years of maintenance-free riding fun.
Best Motorcycle Battery Guyers Guide + FAQ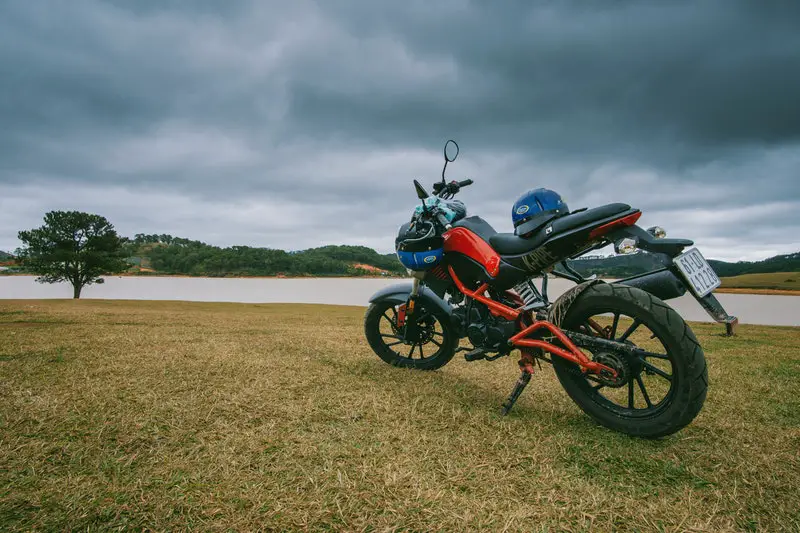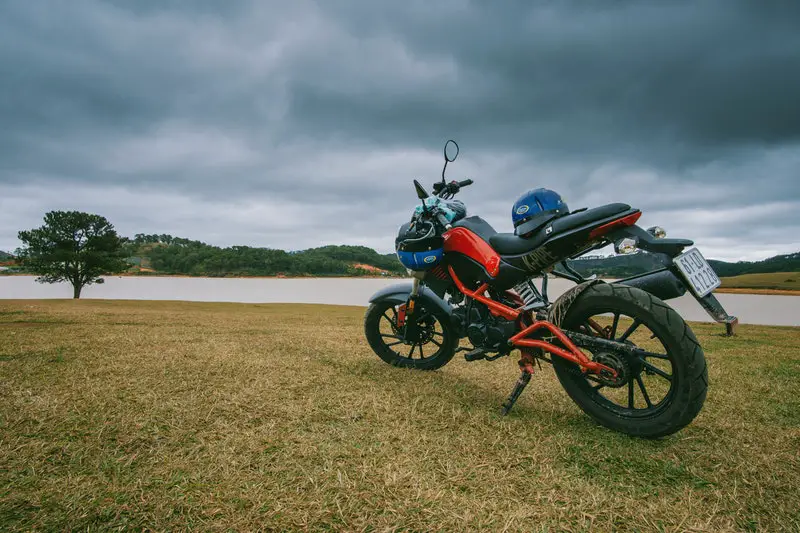 In this section let's take a look at how you can make the most of your motorcycle battery buying experience.
We'll go over the different features to look for, the features that are important, and any common questions you might have.
Features to Consider When Buying a Motorbike Battery
Sealed vs Unsealed
There are number of different types of motorcycle batteries available to choose from. That's why you'll want to know the exact type for your bike before buying any random one.
The best way to determine this is to take a look at the battery currently installed in your motorcycle. This will give you a better idea of the exact type you need for a replacement. You can also refer to your owner's manual or maintenance manual for more exact specifications.
Because there are so many different options and types to choose from it can be overwhelming picking a battery. Starting off, set your specific budget and then find the options suitable for your bike.
During your search for a 12v motorcycle battery you'll find three main choices – sealed batteries, gel batteries, and traditional lead acid batteries. Right now sealed and gel batteries are quickly becoming the favorite among riders. The traditional lead acid models are on their way out.
Electric motorcycles and some new bikes, lithium motorcycle batteries are an option, as well as those with lithium ion. However, there aren't a lot of makes/models available to choose from and they're currently not super reliable. These will eventually become popular but they're not yet at that point. For now, let's stick with the battery types that are most widely available and accepted.
AGM and Gel Batteries come sealed and feature modern designs/technology. They don't require any maintenance and can be operated in any position, apart from being upside down. AGM motorcycle batteries are typically better than gel types, especially in most standard riding conditions.
Sealed batteries come with battery acid, but their benefit is that they don't need to be topped off. They also should be kept vertical when placed in your motorcycle. This type requires very little maintenance, aren't prone to leaks, and provide a suitable lifespan for most riders.
Lead acid batteries need to always be kept in a vertical position, regularly maintained, and occasionally topped off with acid. This type requires the most maintenance and it's possible for an acid leak to occur. The acid that leaks is corrosive and can damage your motorcycle.
Capacity and Construction
Another important factor to consider before buying a new battery is its capacity. It's important that you check the dimensions of the battery currently installed in your bike. This will make it easier for you to find the one that's the right fit.
Buying a battery that's too big could damage your motorcycle. It could provide it with too much power. This would cause serious damage to electrical system and components.
Buying a battery that's too small is also a bad idea. A smaller model won't provide enough power and can vibrate around resulting in more damage. It's even possible that the cables won't reach so you'll be stuck returning it for the right model.
When it comes to the construction, it's a good idea to look at the different materials being used. Keep your eye out for models that come with resistance to vibration, heat, and pressure. Also, look at the weight and build materials to get a better idea of the construction quality.
Voltage
Most motorcycle batteries come with 12-volts of power. In reality, it depends on the size of your motorcycle that will determine the voltage it needs. As recommended above, refer to your owner's manual to guarantee you're getting the right voltage.
Installing a battery with more voltage than what's required can damage your bike and its electrical system. Installing one without the required voltage can hinder performance and will likely fully discharge on longer rides.
Cold Cranking Amps and Performance
The Cold Cranking Amps, or CCA, is am important metric to be aware of. The CCA is the number of amps any battery can deliver for 30 seconds at 32 degrees Fahrenheit while maintaining 1.2 volts per each battery cell.
In more basic terms, this is the amount of power your battery provides when starting your motorcycle in cold weather. The CCA is a great indicator of the power your battery supplies. It also reveals the load of raw power that can be provided at once for starting your bike.
If you're having trouble decide between two batteries, the one that has a better CCA will be a more suitable choice. The CCA rating is determined by the internal components, battery type, and construction type.
Batteries with higher cold cranking amps are better suited for colder temperatures and older bikes. Those with lower amps are ideal for newer motorcycles and those ridden in warmer temperatures.
As for the performance, this is another feature that must be considered. A battery with less power is going to need to be charged more often. This will put more pressure on the engine and the battery which could reduce its lifespan and overall performance.
Amp Hours
The amp hours refers to how many amps the battery can produce over a period of time. For example, a battery with 12 amp hours is able to produce 1 amp at 12 volts for 12 hours.
How many amp hours does a motorcycle battery need? This would depend on the amps your bike is pulling off the battery for starting and running. How well your alternator can charge the battery also has an impact.
When looking at amp hours, always refer to your owner's manual to see what's recommended. Keep in mind that additional motorcycle accessories, such as heated grips, will require more power to keep running.
Lifespan
One more feature to consider is the expected lifespan of any model you're interested in. Purchasing a better quality battery that features the latest technology will result in it having a long-lasting lifespan.
This is ideal as you won't have to replace it or maintain it as often. Look for batteries made from high-quality materials that have a low self-discharge rate. These are typically designed to resist extended wear and provide you with many more miles of riding experiences.
Keep in mind that most batteries will last between 500-1500 cycles. This will depend on how often your motorcycle is used, how often the battery is discharged, and how your motorcycle is stored.
Other Features to Look For
Many batteries now come with even better features for riders. These include:
Battery hours display
Voltage display
Voltage alarms
Discharge indicators
All of these different technology features make it easier for you too keep on top of battery maintenance. As a rider you'll enjoy a longer lifespan and know when it's time to replace the model currently in your bike.
For example, with a voltage display you'll be able to get heaps of information regarding the electrical system on your motorcycle. With just the push of a button there's a lot a battery equipped with one of these can tell you.
When in the market for a new battery, keep an eye out for these features. However, these are just extras with the other factors in this buyer's guide being more important to have.
Motorcycle Battery Life Expectancy
Depending on its usage, your motorcycle model, and style of riding you can expect a motorcycle battery to last or at least two years. In some cases, like on my Honda CBR250R, it's possible to get five or more years of use from a single battery.
For a better life expectancy, choose a model that requires little maintenance and offers the right features. Keep in mind that batteries that require regular maintenance typically have a lower life span than those that are designed to be maintenance-free.
Like we always recommend, refer to your owner's manual before buying anything and read reviews online to make the most informed decision.
Best Motorcycle Batteries FAQ
How Do I Install a Motorbike Battery?
The process of installing a motorcycle battery will be detailed in both the owners manual and maintenance manual. There are also blog posts and YouTube videos detailing the process for most makes and models of bikes.
This is a simple maintenance procedure that anybody with basic motorcycle tools can do.
Start by locating the battery. Next, remove the negative terminal followed by the positive terminal. The battery should lift right out of your motorcycle.
To reinstall, put the new battery in your motorcycle. Connect the positive terminal first followed by the negative. Assuming it's charged, test it out by starting your bike and going for a ride.
How Do You Maintain a Motorcycle Battery?
Most modern batteries won't require any maintenance. However, traditional motorcycle batteries will need to be maintained to keep them working properly.
For maintenance, inspect everything at least once per month. Keep the area clear, clean, and check the terminals to verify a tight fit.
With older batteries it's important to charge it regularly, especially during the winter. Going for a short ride of 30 minutes will keep it charged.
Does a New Motorcycle Battery Need to be Charged?
Charging your new motorcycle battery depends on the type that you bought.
Many new, modern ones won't have to be charged at all. After installing, you'll be ready to go for a ride immediately.
However, older style batteries will need to be charged before being installed in your bike. The best way to do this is by using a motorcycle battery tender or trickle charger.
These will provide a slow, steady charge over a period of time. It's best to read the provided instructions or recommendations of any new battery you purchase.
Avoid jump starting it at all costs. This can cause damage and could also damage your motorcycle's electrical system/components.
Conclusion
At this point you probably have a better idea on how to find the best motorcycle battery for your bike. While I can't recommend a specific match for your exact motorcycle, the recommendations above are a great place to start.
Before ordering a new battery, always verify with your owner's manual or local mechanic that you're ordering one that will fit in your bike. Also, think about any current accessories your bike has or if you'll be adding in the future. These will require more power and need to be considered.
Now that you have a better idea about your motorcycle battery and what to look for, it's time for you to pick one out for your bike. Start with the recommendations on this list and you're bound to find a suitable replacement battery for your motorcycle.