Here in Ontario, and in other places with harsh winter seasons, winter motorcycle riding is something many of us have considered.
It's a terrible feeling to put your bike away at the end of October and let it sit untouched in the garage until April.
You have two options when it comes to the winter season in your area:
Winterize your bike and put it in storage
Invest in the right winter motorcycle gear and keep riding through to the spring
In this post let's take a look at how to ride a motorcycle in the winter and everything you need to pull it off comfortably, safely, and successfully.
Tips for Winter Motorcycle Riding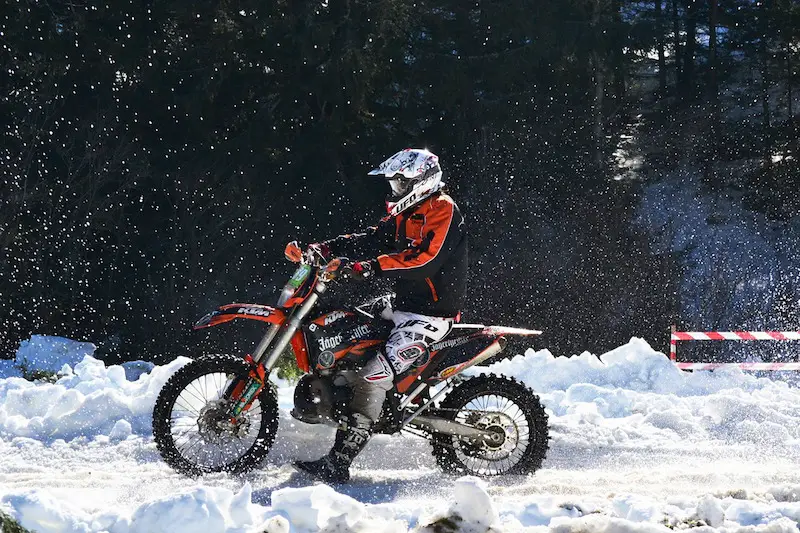 During the winter you'll be dealing with poor road conditions and cold temperatures. These factors will change your style of riding so it's important to be informed on how to safely ride your motorcycle in the winter.
This is something I personally do because I can't stand storing the bike for 3+ months at a time. As long as there isn't a snow or ice on the road you'll see me out there ripping around.
Here are some of the most helpful tips I learned riding a motorcycle during the winter.
Check That It's Legal
Not everywhere in the world can you ride your motorcycle during the colder winter months. Some countries have laws that dictate the months that riders can be out on the roads.
There might be specific aspects of these laws that apply to you. For example, you might be required to use winter tires or you might not be allowed to ride at all.
Look into the local regulations of your hometown and double-check that you can ride your motorcycle year-round. Don't forget about any specific requirements that your city or country has about winter riding.
Unfortunately, depending on the laws, some of you might not be able to ride through the winter months. If this is the case consider looking into other fun winter activities, like snowmobiling.
Ride in Ideal Conditions
Just because you can ride a motorcycle in the winter doesn't mean that you should. It's important to consider the conditions outside before heading out on two wheels.
Personally, cold weather isn't something that I'm worried about. It's the ice and snow that you have to look out for.
On clear, sunny days there's no reason why you can't head out on your bike. Look at the forecast and if there's no call for snow or rain then you'll be fine out on the road.
Sure, your tires will have less traction in colder temperatures. This isn't an issue if you ride carefully, plan your turns, and avoid any sudden acceleration.
Some riders will say it's dangerous to ride in temperatures approaching and below the freezing mark. These individuals are more worried about their comfort rather than the realities behind cold weather riding.
If there is snow on the ground or if there is snow/rain in the forecast you will want to avoid riding. There are too many variables in these cold and wet conditions that can lead to problems when you're out on the road.
Always check the forecast to guarantee that you will have dry and sunny riding conditions. Otherwise, wait for the weather to change before heading out on your bike.
Use Proper Gloves and Heated Grips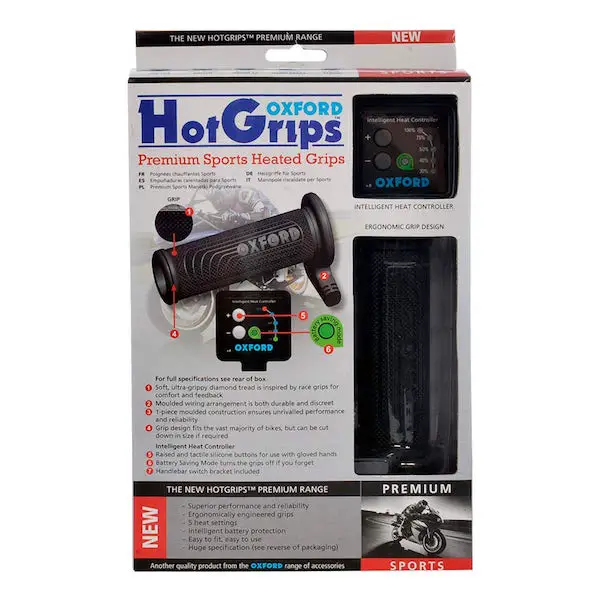 Winter riding gloves and heated grips will have the biggest impact on keeping you warm when you're riding in winter conditions.
Check out our posts on the best heated motorcycle grips and the best heated motorcycle gloves for our recommendations. These pieces of gear will enhance your cold weather riding experience and make it more comfortable to ride in the winter.
The reason keeping your hands warm is important it's because they're how you control your motorcycle. It's difficult to operate the clutch, throttle, and front brakes if you can barely feel your hands.
For me personally, heated grips have made the biggest difference. They have given me an extra 2-4 months of riding during the season. Combined with a proper pair of gloves there's no reason why I couldn't ride through the entire year.
The problem with letting your hands get too cold is that they will take forever to warm back up. Holding them against your exhaust for a few minutes isn't going to do much and you'll be suffering by the time you get home.
Heated gloves and heated grips will make a world of difference for winter riding. You'll be more comfortable and safer with this gear.
Be sure to scroll to the bottom part of this post for a better look at the winter motorcycle riding gear that we recommend.
Install a Helmet Breath Deflector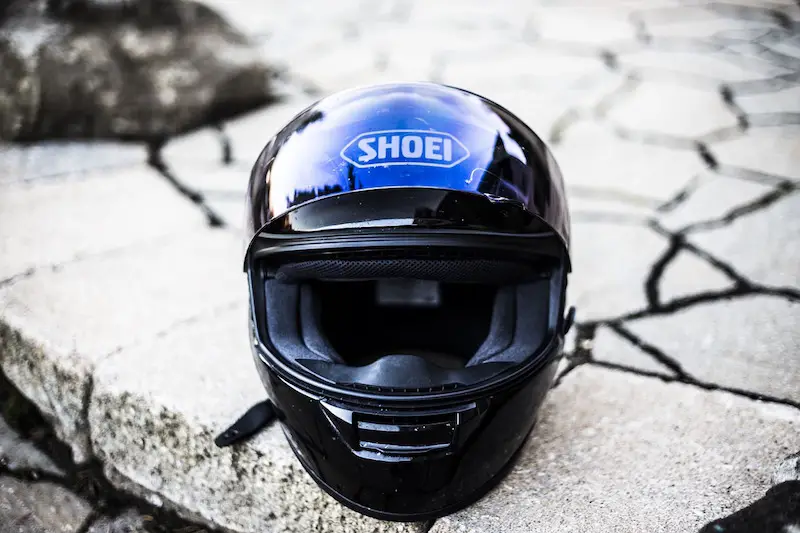 Many motorcycle helmets come with a breath deflector. This small accessory is meant to be used during the winter and cooler riding conditions.
The breath deflector is designed to prevent condensation from building up on your visor. This keeps your view clear so you can focus on your riding.
During the warmer months the deflector isn't necessary. It can be easily removed and installed only when needed.
This will make a noticeable difference on your winter riding experience, especially if you're wearing a face mask. A foggy or unobstructed visor makes it harder to focus on the road and can lead to accidents.
Consider Winter Tires
Believe it or not – there are motorcycle winter tires designed specifically for cold weather riding. Summer tires won't offer the same grip in low temperature conditions.
For local rides and short commutes summer tires will be fine. Longer rides, or commutes with a lot of turns, will require a dedicated set of winter motorcycle tires.
Multi-compound tires are ideal for riding in cold weather. These give you great mileage while providing the grip and handling you need in the corners.
These winter tires are designed with deeper grooves and smaller grooves in the tread blocks. This gives you better grip on frozen roads and snow compared to your summer tires.
Alternatively, studded winter motorcycle tires are also available. These are meant for the most extreme riders that plan to take the bike out in snowy and icy conditions.
Winter Riding Gear
The key to staying warm on your bike during the winter is by taking advantage of layering and heated gear.
In places where the winter temperatures don't typically dip below freezing heated gear or grips aren't necessary.
Those of you riding in winter temperatures below the freezing mark will want to consider investing in heated gear or grips.
There are 7 key elements of winter riding gear for staying warm and dry:
Winter motorcycle jacket

Insulating layer

Base layer

Winter motorcycle pants and bottoms  

Face protection (balaclava, wrap, etc)

Winter motorcycle boots
Expect to spend $1,000 to $2,000 for an entry-level set of winter-ready cold weather motorcycle gear.
When shopping for gear, I always look for gear that's waterproof, windproof, durable, and well-reviewed.
These are the features to keep an eye out for that are going to get you through the winter warm and dry.
Each piece of gear has a specific purpose in keeping you comfortable during cold weather riding.
Let's take a look at why each of these layers is important and how they impact your winter motorcycle rides.
Winter Motorcycle Jacket (Outer Shell)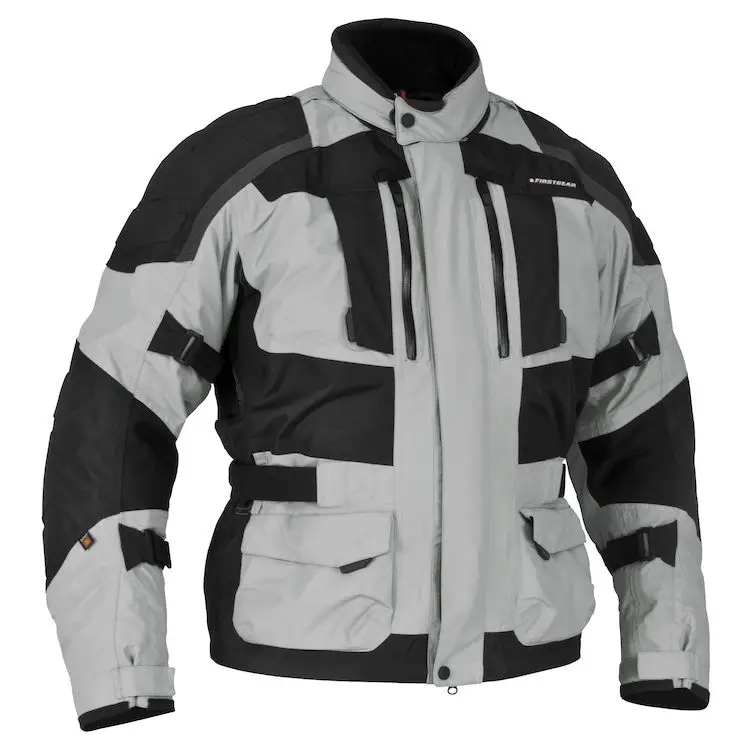 A winter-specific motorcycle jacket is designed to protect you from the outside weather elements.
This is your outer shell and it's important to find something that's waterproof and windproof.
Heated jackets are available for those of you riding in freezing temperatures.
Your winter motorcycle jacket needs to protect you from the rain, wind, snow, and all of the road grime kicked up from traffic around you.
It should be comfortable, well-ventilated, and durable enough to last you a few seasons of winter riding.
For comfort and ventilation, look for zippered vents on the armpits and back. These are necessary to prevent you from overheating, especially on those deceivingly warm and sunny days.
Personally, I prefer motorcycle jackets with adjustable straps and closures. These make it easy to tighten or adjust the jacket to give it a better fit when on the bike.
Adjustable straps and cuffs also help to keep the cold wind from blasting up your jacket.
Before buying any jacket make sure to look at reviews and any other features you're looking for.
Heated winter jackets, or those that come with a removable heated liner, are great for those harsh northern winters.
Insulating Layer
The insulating layer helps to keep your body heat against your body inside your jacket.
This is your secondary layer of protection to fight against the wind and cold temperatures you'll experience out on your bike.
These layers retain heat without trapping moisture which helps with ventilation and comfort.
With a cotton insulating layer you'll be sweating and feel stuffy.
Synthetic materials (fleece) or Merino wool are the best materials for an insulating layer that will keep you warm and dry.
Fleece is one of the most popular materials for insulating layers available online and at most outdoor retailers.
There's no need to go with a motorcycle specific insulating layer – anything you have will do.
Base Layer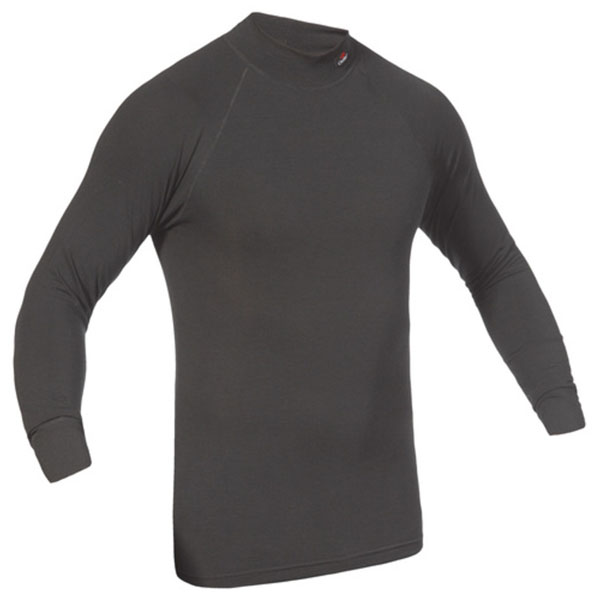 The base layer is the layer of clothing closest to your skin.
This layer helps to add a bit of warmth and provides comfort between your skin and the insulating layer.
During cold rides, a long sleeve base layer is recommended.
The best materials for base layers include synthetics and Merino wool.
Some riders like to use a nylon or spandex base layer for added comfort and better mobility underneath the rest of their winter gear.
Just like with an insulating layer, there's no need to buy a motorcycle-specific base layer – anything you have will do.
Winter Motorcycle Pants
In the winter you can't get away with wearing plain jeans when you're out on the bike.
Even with long-johns underneath, jeans don't offer enough wind and cold weather protection against the winter elements.
During the colder riding months a pair of dedicated winter riding pants will keep you warm and dry.
Motorcycle pants designed for winter riding come with proper protection and are designed with different materials than summer riding pants.
Winter riding pants typically come with removable thermal liners and are designed with a breathable waterproof Gore-Tex membrane.
For winter rips keep your eye out for gear that's waterproof, windproof, and warm.
There are decent options for winter motorcycle pants online starting from the low  $200's.
Winter Motorcycle Gloves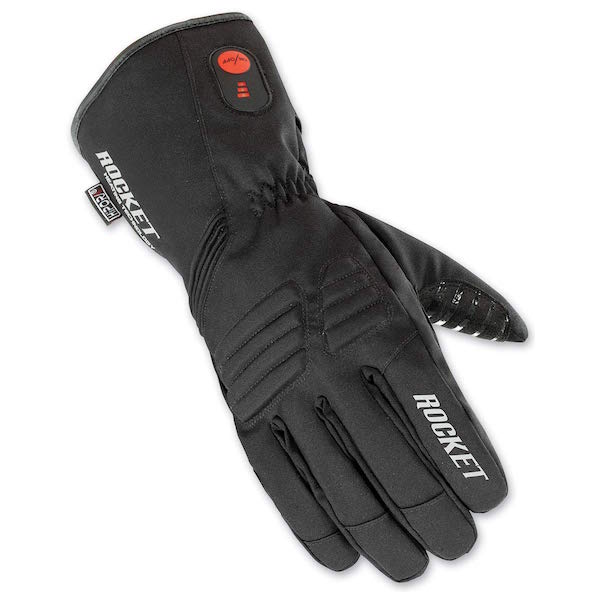 Take a look at this post here on Rips and Rides about how to find the right motorcycle gloves for winter riding.
Since you operate your bike with your hands it's important they're kept warm and dry.
Cold, wet hands will impact your ability to properly operate your throttle and brakes.
It's likely you'll have difficulty gripping your handlebars and controlling your bike safely if your hands get too cold and wet.
That's why heated motorcycle gloves are important for winter riding, especially in temperatures below freezing.
These gloves are designed to keep your hands warm using a rechargeable battery for your motorcycle's own battery for power.
For winter rides these make a world of difference. Heated gloves/grips are arguably one of the most important winter upgrades for your bike.
Face Protection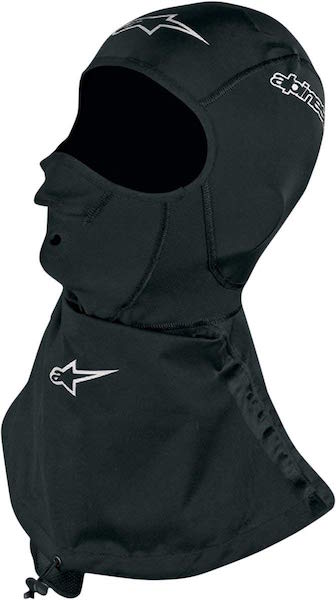 Underneath your motorcycle helmet your face and neck are exposed to the wind and outside weather elements.
Riders using open-faced helmets are even more exposed to the elements and weather conditions on their bikes.
Face protection, such as a balaclava, protects your face and neck from the wind as well as  from any rocks or salt chunks getting kicked off the road in front of you.
Look for face protection that offers adjustable straps and a nose hole for breathing.
The straps make it easier to properly fit the face protection underneath your helmet. The nose hole prevents your helmet visor or sunglasses from fogging up.
Even in the late spring and early fall lightweight face protection, like a bandana, can make a noticeable difference on your comfort on the bike.
Winter Motorcycle Boots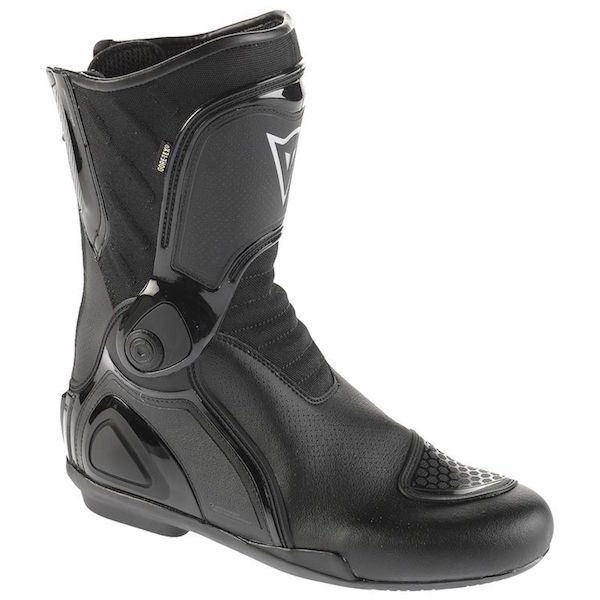 In the case of winter motorcycle boots your best option is to go with a quality pair of waterproof motorcycle boots paired with warm winter socks.
This combination will get you through most of the outdoor winter weather elements you'll experience.
The problem with a pair of dedicated winter riding boots is that they're limited with their capability of usage.
For most of the year lined winter boots are too warm, too cumbersome, and impractical for riding.
The practical, and affordable, alternative is to combine waterproof riding boots with your best winter motorcycle socks.
Socks made from Merino wool or a warm synthetic material are ideal for cold weather.
Cotton socks should be avoided.
The motorcycle engine will keep your feet  somewhat warm once it reaches normal operating temperature.