After spending hours researching all of the different winter gloves for motorcycle riding, we think the Joe Rocket Rocket Burner's are the best winter motorcycle gloves for most people.
Of all the different options, the Rocket Burner's offer the best comfort and battery life for the price while still meeting most riders cold weather requirements.
Keep scrolling through this guide to see more of your options for winter motorcycle gloves.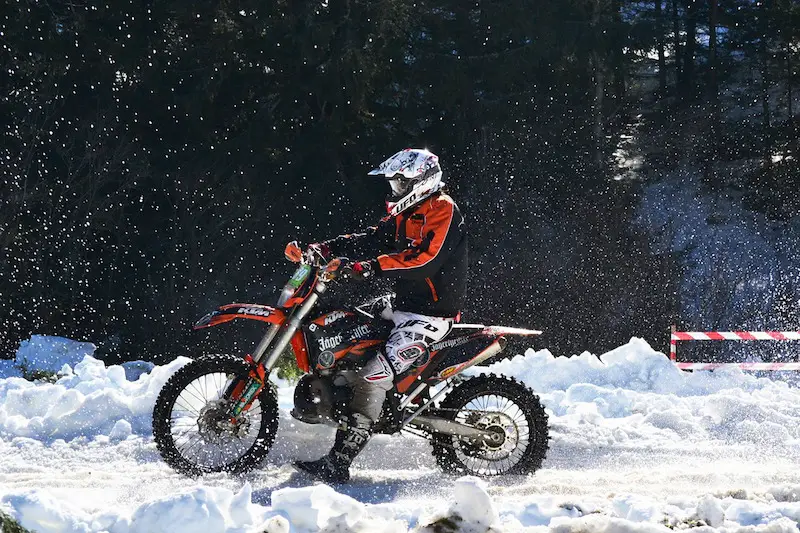 Hoping to keep riding your motorcycle through the winter?
Depending on where you're from this is definitely possible!
Although, you'll probably need some winter motorcycle gloves to keep your hands warm. This way you can keep operating your controls safely and enjoying your ride.
In this post lets take a look at the best heated motorcycle gloves for winter and cold weather riding!
Joe Rocket Rocket Burner Heated Gloves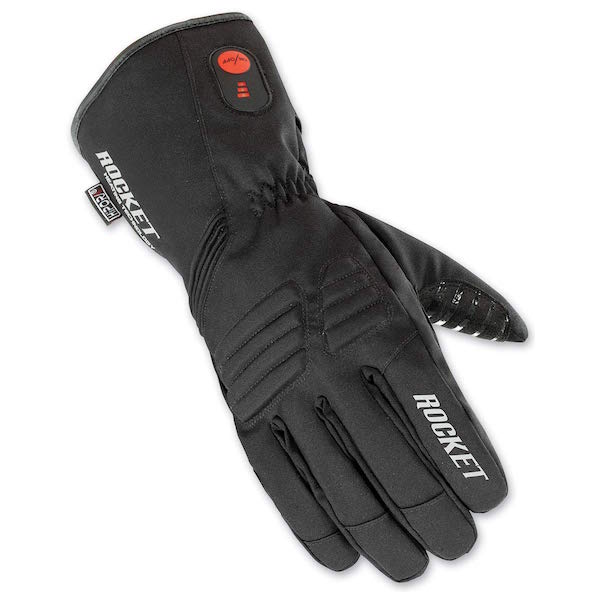 Like I mentioned at the beginning, it's the Joe Rocket Rocket Burner's that are the best heated gloves for most riders.
I'm a big fan of Joe Rocket and I love how they provide reasonably priced and high-quality gear for us motorcycle enthusiasts.
Features
Up to 4 hours of battery life
Waterproof & windproof
Multiple-port charging system that you can connect with your heated gear
Armored for additional protection
Touchscreen capable
The Joe Rocket Rocket Burner feature a durable design and 3-stage heating system.
These gloves use 2 rechargeable batteries for providing heat with three different heat settings depending on the outdoor weather conditions.
The outer glove takes advantage of a heavy duty nylon design making these both waterproof and windproof.
The wrist cuff is fully flexible for better mobility and provides ample grip to help keep the gloves in place when you're out riding.
The batteries can be tucked away in a small pocket under the wrist area.
With these gloves you can expect between 2.5 and 4 hours of heat depending on the setting.
These are a great choice if you're looking for something reasonably priced and durable that will keep your hands warm on your shorter winter rides.
It's the Joe Rocket Rocket Burner's that are the best heated motorcycle gloves for most people.
VOLT Motorcycle Heated Gloves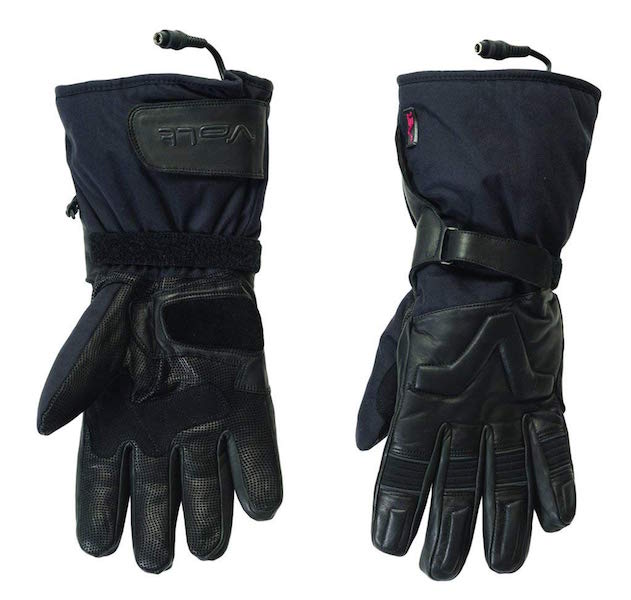 The VOLT Motorcycle Heated Gloves are another great option for keeping your hands warm during cold weather riding.
Instead of rechargeable batteries, these gloves are powered by your motorcycles electrical system.
This way you can keep your hands warm and toasty for as long as you're out on the bike without have to worry about your battery running out.
Features
Heats the palm and back of your hands

Dedicated temperature controller with 3 different heat settings
Leather palm and extra padding for comfort and protection
These VOLT gloves are ideal if you're looking for something simple and basic to keep your hands warm when you're riding.
The best feature is being able to hook these gloves up directly to your motorcycle battery.
These gloves are designed using full grain leather with velcro wrist adjustment straps. They come pre-curved so you can start comfortably using them right away.
The VOLT Motorcycle Heated Gloves are a great choice for anyone looking for durable heated motorcycle gloves.
Savior Heated Gloves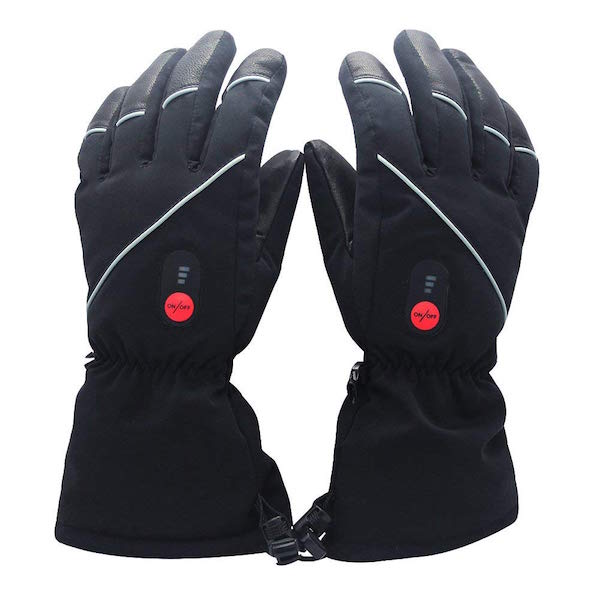 While not specifically designed for motorcycles, the Savior Heated Gloves are perfect for zipping around town on quick runs during those colder months.
For local rides under 30-60 minutes where you won't be riding in heavy traffic at high speeds these gloves are a great choice.
There isn't any added armor or protection, which is why I can't recommend them for longer rides.
Features
Up to 6 hours of battery life

Suitable for any outdoor use (not only motorcycles)

Carbon Fiber heating elements

Extra batteries available
Although these are a normal heated winter glove without any additional protection, I'd still recommend them for winter riding.
They're perfect for quick local rides where you want warm hands but don't need all of your serious riding gear.
These Savior Heated Gloves are powered by a small lithium polymer battery that will provide up to 6 hours of heating.
On the interior is a warm insulation cotton, fleece liner, and a waterproof heat liner to keep your hands warm and dry.
The exterior is made from Sheepskin and comes equipped with an adjustable buckle, a pully string, and your thermal control.
Despite not being ideal for riding, the Savior Heated Gloves are still a great option if you're looking to keep your hands warm on your bike during colder weather.
Why You Should Use Heated Gloves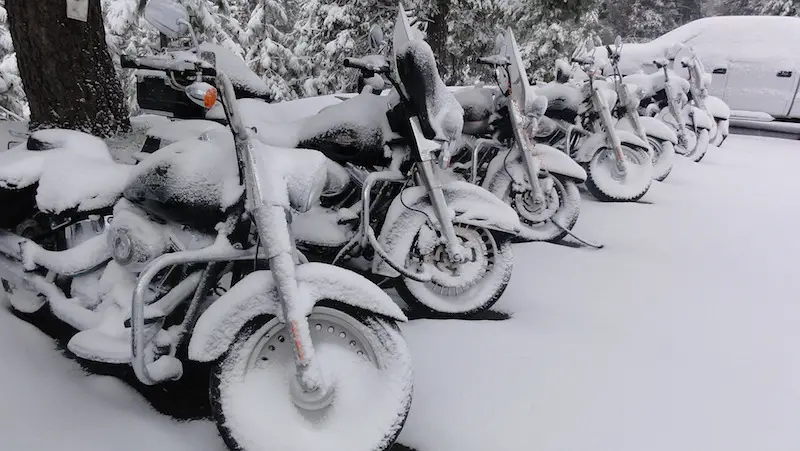 Low outdoor temperatures and wind can have a detrimental impact on your comfort while riding.
As the colder weather starts to creep in you'll find your hands getting colder, especially if you're not wearing motorcycle gloves already.
By mid-October here in Southern Ontario my hands start to get really cold in the morning and at night when I'm riding.
Why does this matter?
Cold hands are uncomfortable and dangerous to ride with.
The cold weather will affect your reaction time and make it harder to use the throttle and brakes effectively.
How to Choose the Best Winter Motorcycle Gloves
There are some things to consider before investing in your first pair of dedicated winter motorcycle gloves.
Most heated gloves uses rechargeable batteries for their power source. The other most common option are gloves that connect directly to your battery.
Made from a wide range of different materials, with various features, it's important to know what to look for.
How Are the Gloves Powered?
As mentioned, rechargeable batteries are the most common power source for motorcycle heated gloves.
These use dedicated batteries that need to be charged before for your ride. It's possible to expect up to 6+ hours of use from a single battery charge. In reality, 2-3 hours is more likely.
The main drawback to relying on batteries is their effectiveness in cold weather conditions. As the temperatures approach and start to dip below freezing the batteries become less effective.
Another problem is running out of charge on your ride before returning home. This can be dangerous depending on the weather and how long it will take you to get back.
The other option for powering your gloves is by connecting them directly to your motorcycle battery. This connection is done through a 12-V connector and can be paired with other heated gear items.
By connecting your heated gloves or gear directly to the battery you don't have to worry about the power source while the motorcycle is running.
Heated Motorcycle Glove Features
Protection
Safety first is the most important rule to follow as a motorcycle rider. This is especially important when it comes to your riding gear.
Winter riding gloves are no exception. It's important to look for the best heated gloves that will protect your hands in a crash. Your safety is not something worth compromising on.
Riding gloves are made from a range of different materials and fabrics. Some of these materials are better designed for safety than others.
We recommend looking for gear made from leather and modern composites. These typically combine armor protection with comfortable, wearable materials.
Check for armor on the knuckles and fingers. Avoid any gloves that don't offer armor or hard-shell protection.
Wrist Cuffs
A great pair of gloves will have long, velcro cuffs on the wrist.
This is to prevent wind and road debris from blowing down your jacket while riding.
Cuffs will keep you warmer, offer more protection, and provide a better fit.
Where to Buy Your Motorcycle Gear Online
There are two places you can find motorcycle gear online – Amazon and dedicated motorcycle gear and accessory retailers.
For basic gear, like motorcycle cleaning supplies and smaller accessories, Amazon has a decent selection.
Otherwise, a dedicated online retailer, like Revzilla or Fortnine, is going to have the best prices selection for motorcyclists.
Here in Canada I use Fortnine to order most of my motorcycle gear. Twisted Throttle is a great alternative if I'm looking for something specific.
Storing your bike outside during the winter? Consider using a motorcycle cover for better protection!