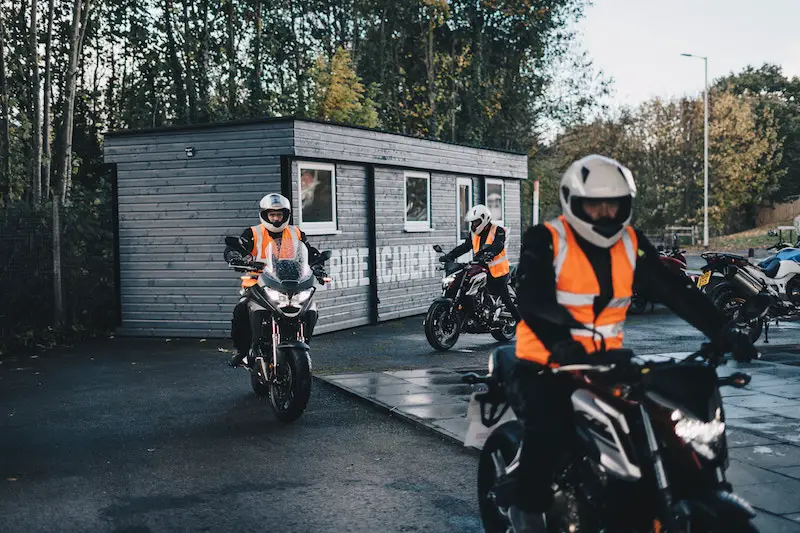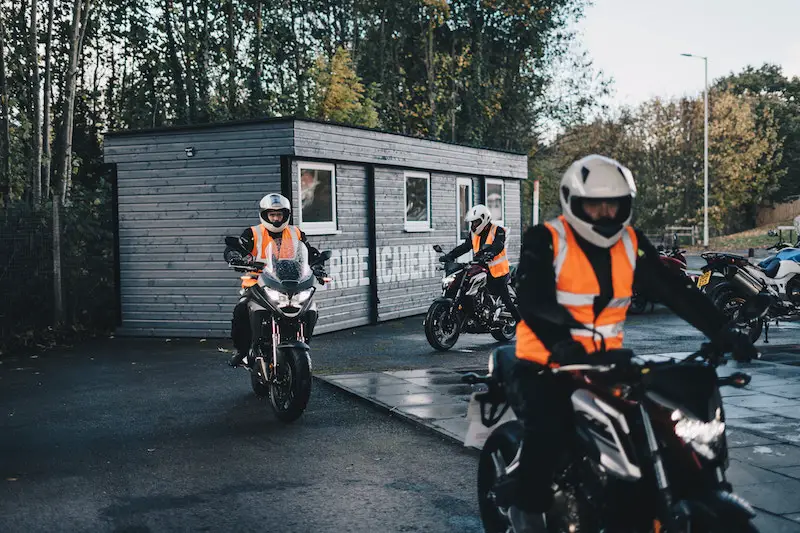 In this post we'll take a look at the best motorcycle for beginners and new riders! After getting your motorcycle license, you're probably going to start looking for your first bike right away.
Personally, I started on a "small" 2011 Honda CBR250R. For a beginner, that 250cc engine was perfect for learning on.
With more than 20,000KM in my first season of riding I have yet to feel the need for a "bigger" or "faster" bike. Having seen a number of beginner riders go off the road with their overpowered bikes keeps reminding me that for most of you a smaller, 250cc or 500cc bike is perfect for starting with.
Of course, there are some bigger bikes that are great for starting out on as well. Don't get me wrong, big bikes are a lot of fun, it's just going to be easier for you to learn the basics of riding with something smaller and slower that you can completely control. When you're just starting out it can be overwhelming trying to find the right beginner bike.
The Best Motorcycles For Beginners in 2021
In this post we'll take a look at the different factors that make certain motorcycles great for beginners and what you need to look out for when you're shopping around.
Once you have a better idea of how to find the right bike you can take a look at some of the best beginner motorcycles that we've put together.
Honda CBR300R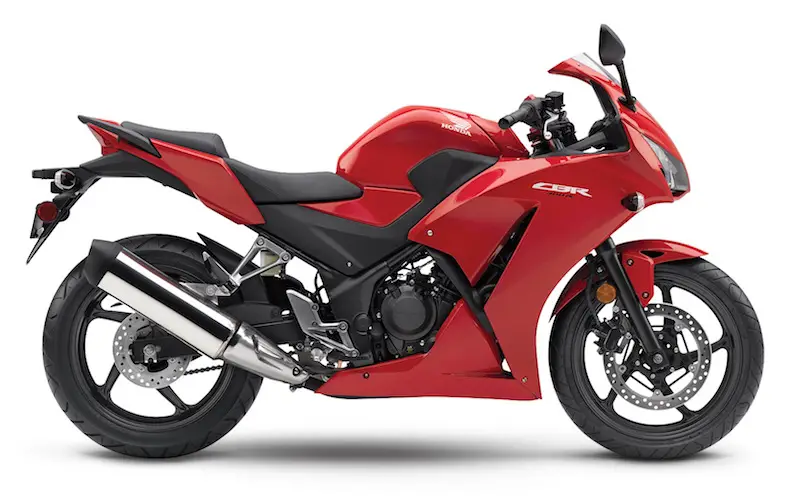 Lightweight, affordable, and easy to ride are the features that make the Honda CBR300R one of the best beginner sport bikes.
This is Honda's upgrade from the popular Honda CBR250R and it's a great choice if you're just starting out. It's hard to go wrong with the Honda CBR300R.
Some of the features that make this bike a great choice for beginners are the smaller displacement, low seat height, and the lightweight size of the bike itself. It's easy to control and learning on a smaller bike like the CBR300R will teach you the skills you need when you decide to upgrade to something bigger.
The CBR300R is perfectly suitable for commuting, weekend riding, and even long-distance touring. Whatever you have in mind you can put this bike through and it will come out the other side without any problems at all.
When it comes to maintenance, it's also hard to go wrong with a Honda. This CBR300R will go tens of thousands of miles without needing anything more than basic motorcycle maintenance and upkeep.
Having started out on a 250R myself, I have no problem recommending the Honda CBR300R as one of the best sport bikes for new riders.
Kawasaki Ninja 300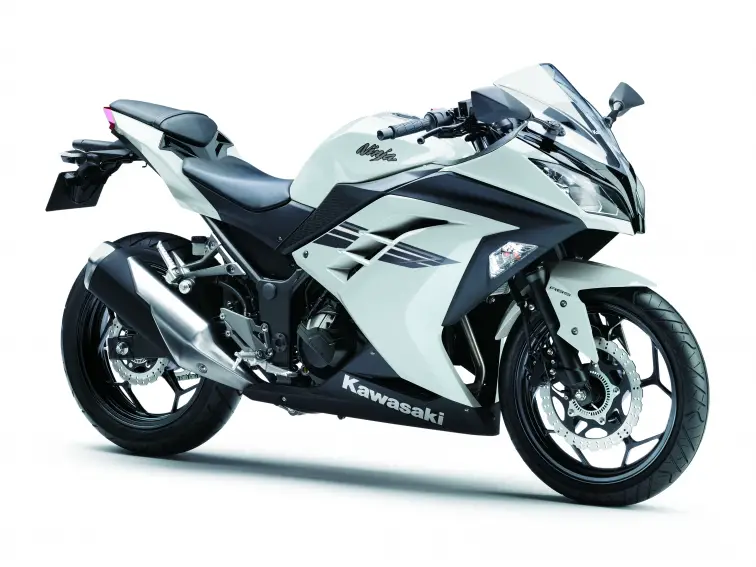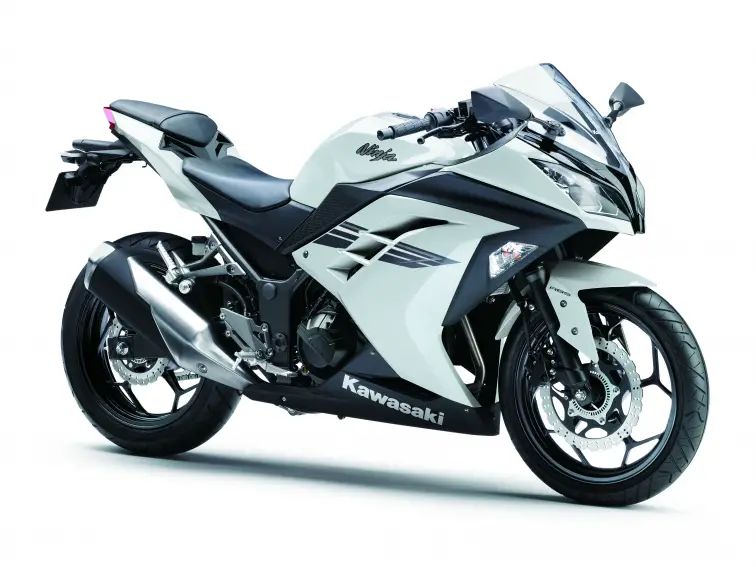 The Kawasaki Ninja 300 is one of the best cheap beginner motorcycles.
This competitor to the CBR250R is lightweight, easy to ride, and fuel of efficient. Those of you familiar with the 250cc class of bike know how easy these bikes are to maneuver and flick around when you're on the street.
For a better ride, the Ninja 300 was built with a small frame and digital fuel injection technology. This provides the rider with a smoother throttle control and better fuel economy.
Speaking of fuel economy, you can expect to get upwards of 66MPG out of a tank. This is perfect for motorcycle commuting, weekend cruising, or long-distance touring when fuel is the last thing you want to be worrying about.
Like with most lower-cc bikes, with a Ninja 300 you can expect to pay less on insurance and maintenance. These bikes are built to last and can be ridden thousands of miles without anything beyond basic maintenance.
Unlike the older Ninja's, the newer 300 boasts a modern, streamlined designed that's bound to catch the eye of sport bike lovers.
Considering how affordable and available they are in the local used markets, beginner riders definitely need to be looking at the Kawasaki Ninja 300 for their first bike.
Yamaha YZF-R3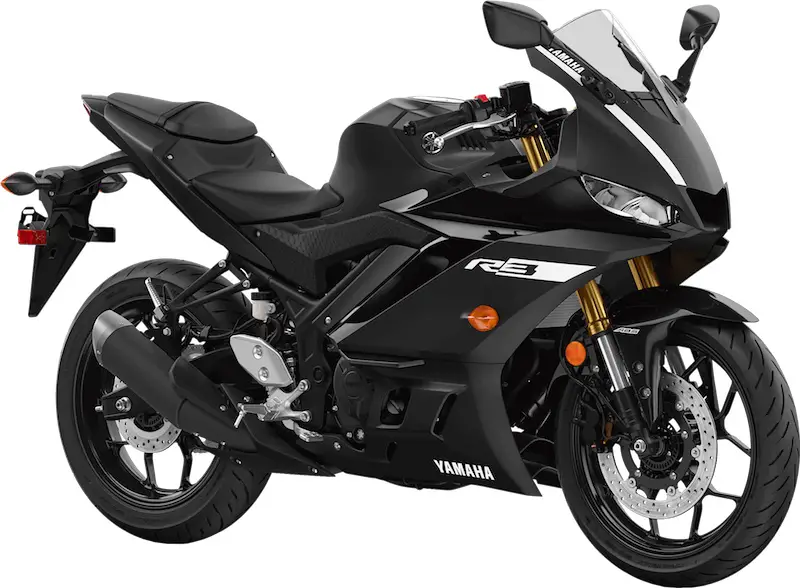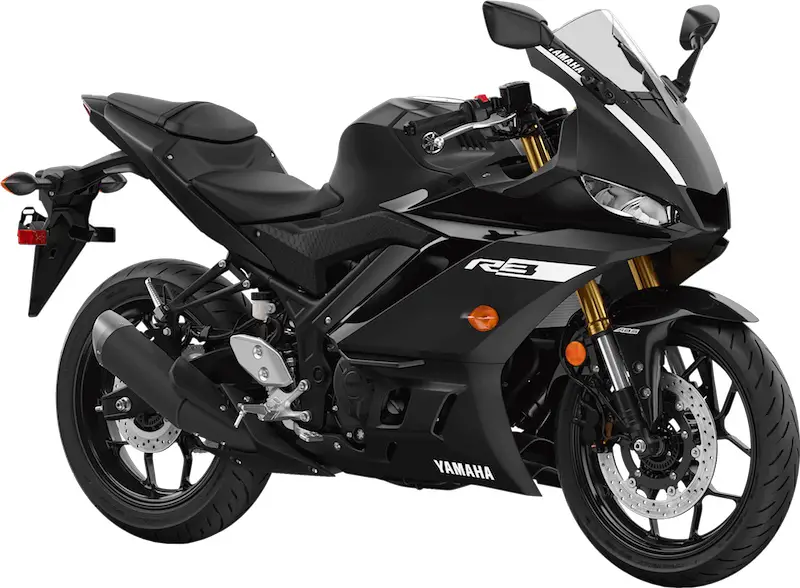 Yamaha is most well known for their R6 and R1 bikes so it's not surprising they're tapping into the beginner market with the Yamaha R3. This bike is designed for casual and beginner riders looking for something sporty and reliable without too much power.
It's hard to go wrong with any of the Japanese bikes in this power range and the Yamaha R3 is no exception. This bike is a load of fun whether you're using it for commuting or carving up the twisties on the weekends.
Thanks to the lower-cc's new riders will enjoy more reasonably priced insurance. Smaller bikes like these are also easier and cheaper to maintain.
Speaking of maintenance, the Yamaha R3 is just as reliable as its competition – the CBR300R and Ninja 300. You'll be spending more time riding rather than tinkering on the bike or watching it waste away at your local mechanic.
The best thing about the R3 is that it's powered by a 321cc engine. This is more than both the CBR300R and Ninja 300 making it slightly faster and more fun to ride.
Finally, everybody raves about the stock exhaust sound on the R3. It sounds like a bigger bike and they really scream when you grab a handful of throttle.
Suzuki SV650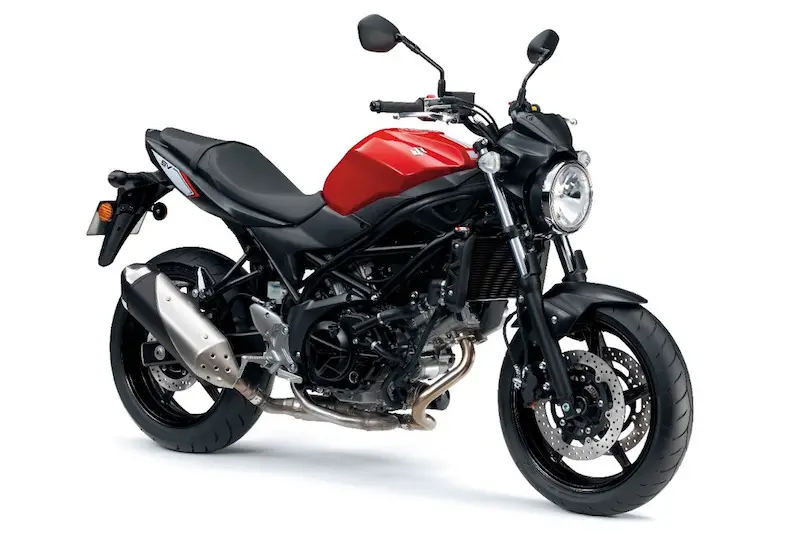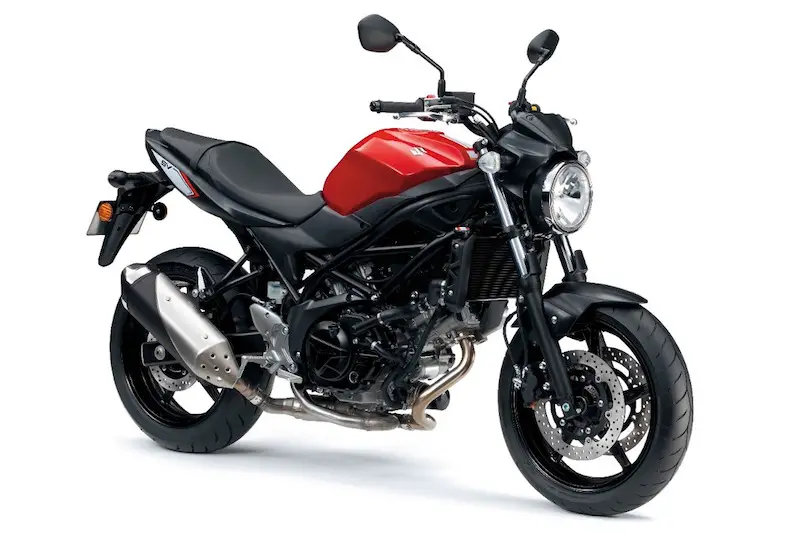 The Suzuki SV650 is a great choice if you're looking for a beginner bike with a little extra power. This is more of an upright, sport-touring motorcycle making it a great choice for commuting, touring, and weekend rips.
The 645cc V-twin Engine provides plenty of consistent power. With this bike you can easily keep up with traffic or hit those higher RPM's for a bit of fun.
For a 650cc bike, the SV650 has a surprising fuel economy and is still considered lightweight for a bike in its class. It's great to learn on, thanks to its reasonable size, and you'll be cruising for hours before having to refuel.
Some people might not like the cafe-racer style without fairings, but this setup does give the bike an aggressive look. With the Suzuki badge behind it this is another Japanese bike that's easy and affordable to maintain.
There are plenty of options for affordable Suzuki SV650's in local used markets. This bike also comes with a number of possible upgrades and different accessories that you can install.
Beginner riders looking for a bike with ample power that's suited for a range of different riding conditions will find the Suzuki SV650 to be a great choice.
Honda Rebel 500 (Best Cruiser For Beginners)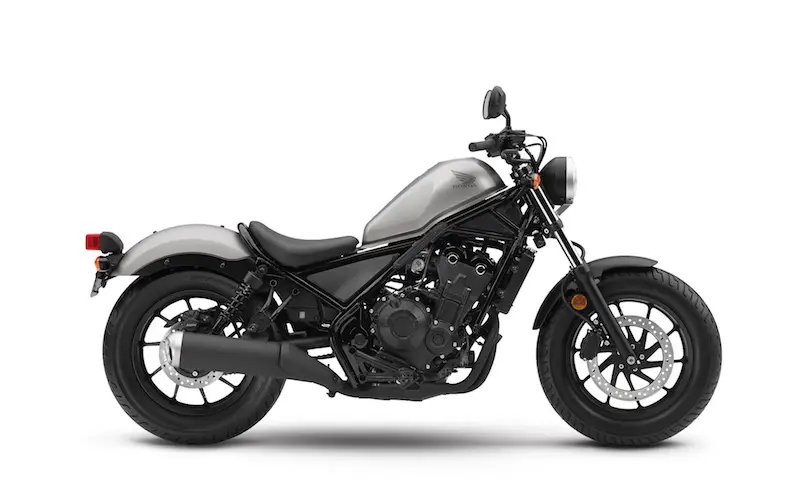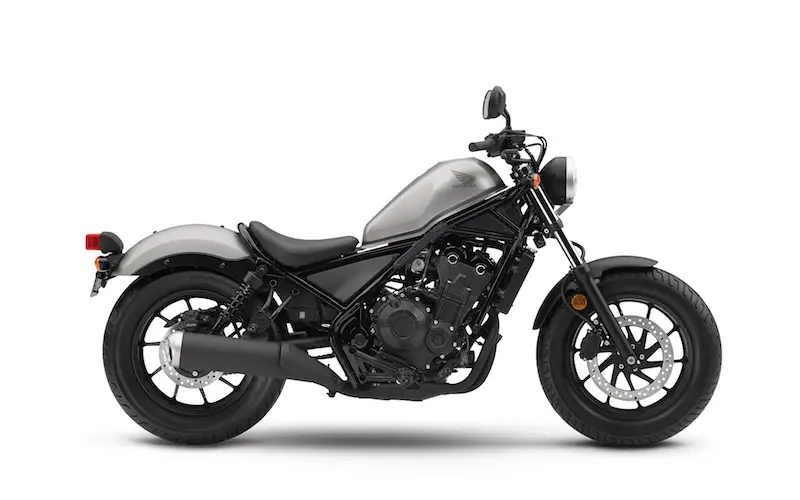 The Honda Rebel 500 features a growling 471cc Twin with all the torque you need for ripping through the streets.
This is the ideal beginner cruiser if you're looking for something reliable, comfortable, and easy to ride.
Sport bikes can be cramped with awkward leg positions. On a cruiser like the Honda Rebel 500 you can enjoy an upright, more ergonomic riding position.
With a liquid-cooled engine and reliable six-speed transmission the Rebel 500 was made to be hopped on and ridden. Forget about engine issues or riding problems thanks to the Honda reliability you can count on.
Harley Davidson Street 500

The Harley Davidson Street 500 is an excellent introduction into the Harley cruiser lifestyle.
At 500 pounds this hulking black beauty is easy to handle for beginner riders. The 494cc of power gives you all you need for weekend rides, commuting, or showing off in town.
Making the Street 500 even easier to handle is the low-slung 25-inch seat height. It's perfect for short dudes, chicks, or anyone that doesn't want to swing their leg over like its a sport bike!
For a Harley there are plenty of options for customizations. For better wind protection and more storage a large front fairing and saddlebags have been added.
This bike is a beauty and one of the best beginner cruisers. As a beginner you can't go wrong with the Harley Davidson Street 500.
Honda Grom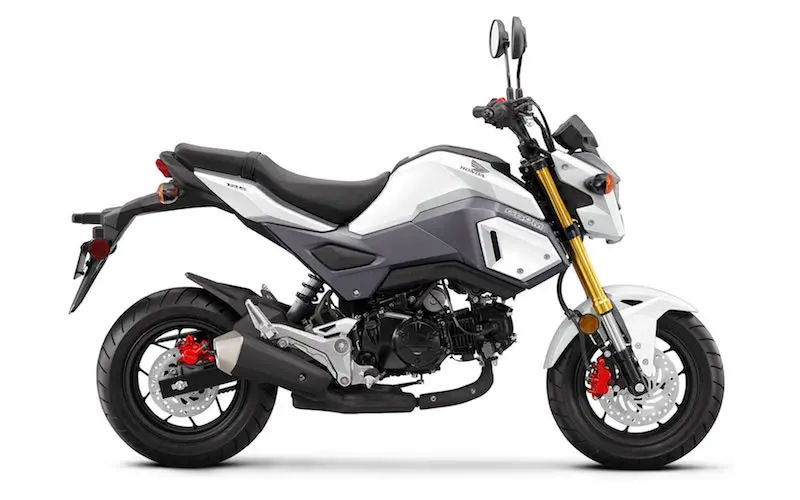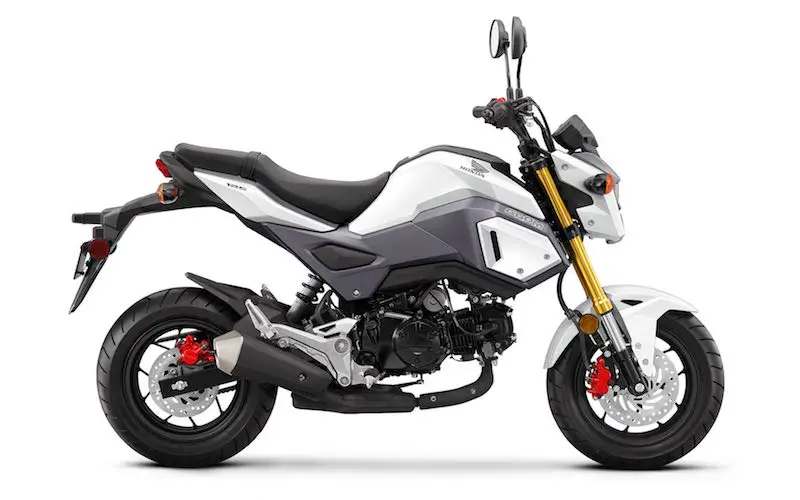 Ever watch those crazy Honda Grom Youtube videos? It always looks like people are having a lot of fun on this peppy little bike.
The Honda Grom is a miniature sports bike at an affordable price. No, you're not going to be zipping at 200mph. With the Grom as a beginner bike you'll ease into riding with better skills when it's time to upgrade.
With 9 horsepower you're not going to get into much trouble with a Grom. While it's not exactly highway capable you're bound to get a lot of head-turns and questions when you're on a Grom rip.
The Grom has a base weight of 229 lbs. This is easy to manage for new riders or female riders. These features make the Grom one of the best 125cc motorcycles out there!
What's most impressive is the 134 MPG fuel economy. That's incredible! It's almost twice what my Honda CBR250R is able to achieve.
For a lightweight and fuel efficient beginner motorcycle that's fun to ride it's hard to go wrong with the Honda Grom.
Yamaha V-Star 250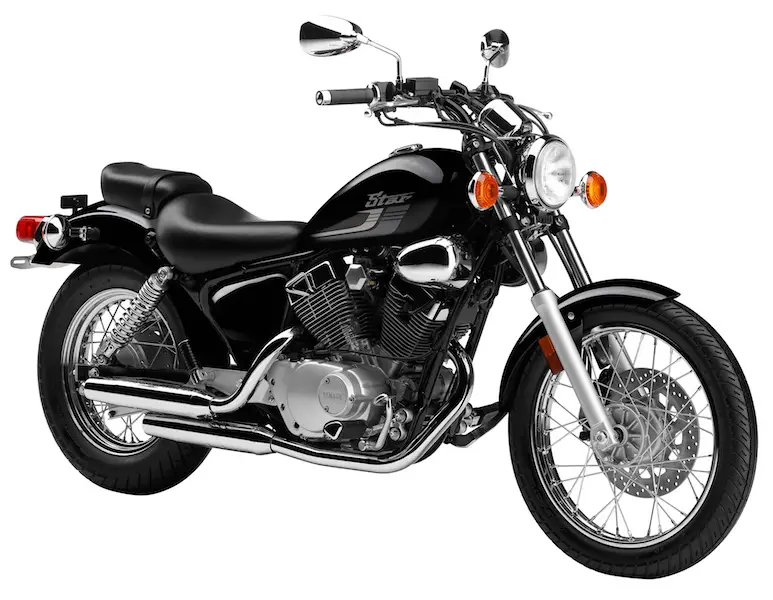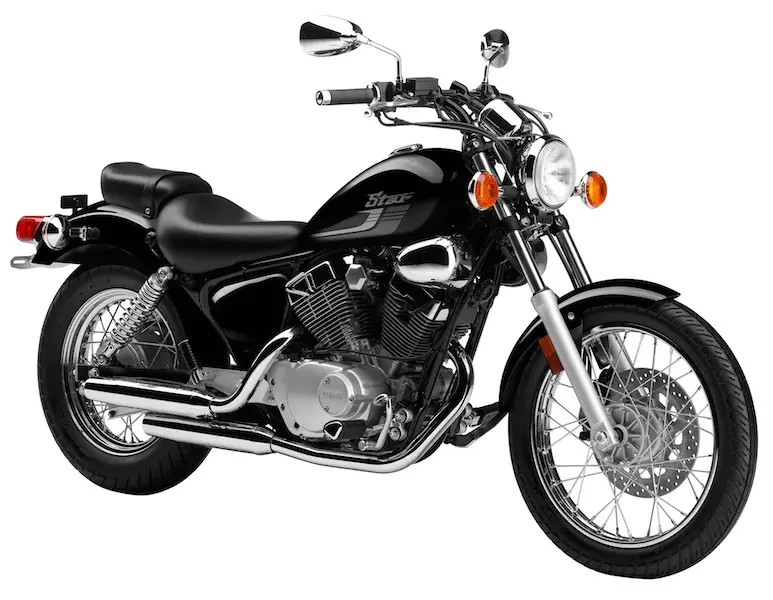 The Yamaha V-Star 250 is a lightweight cruiser that's well-suited for beginner riders. Known for its reliability and fuel economy, the V-Star brand of Yamaha bikes are some of the best cruisers available.
The V-Star 250 is easy to handle and comfortable to ride. The low seat gives riders an upright riding position with great visibility and hand positioning.
With the amazing fuel economy, close to 78 MPG, you can ride for hours without having to worry about fuelling up.
In line with the cruiser branding, the V-Star 250 comes equipped with an array of cosmetic upgrades. This includes quality chrome caps on the fenders and handlebars. People aren't going to miss the low-profile, stylish chrome mirrors either!
For local rides and short highway trips the 250CC V-twin engine is perfect. Beginners can learn how to ride properly without worrying about too much power.
The Yamaha V-Star 250 is a great beginner bike for riders looking for a bike that's affordable, comfortable to ride, easy to maintain, and fuel efficient. It doesn't hurt that this little Yamaha is a head turner as well!
Choosing Your First Motorcycle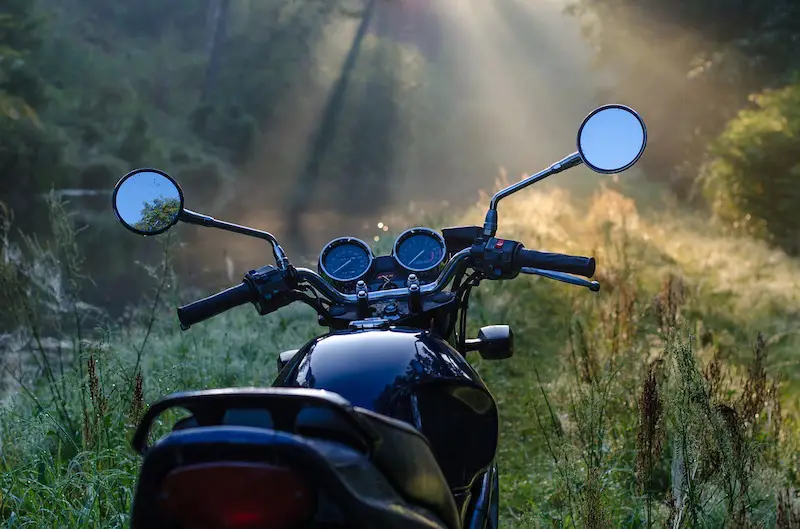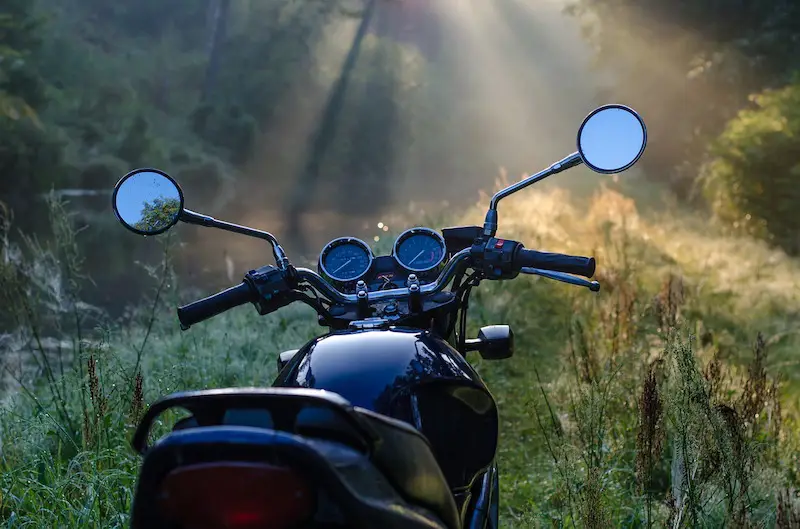 Buying your first motorcycle can be a daunting experience, especially if this is a lifestyle that you're not familiar with.
For the most part people are honest and reliable. It's unlikely that you'll run into any issues buying your first bike new or used.
To make it easier for you I put together this short guide with some helpful tips on how to buy your first bike.
Doing your own research is important so you'll need to practice your trusty Google skills before spending money on anything. It also helps to decide the specific type of bike you want (sport, sport-touring, touring, cruiser, adventure, etc) to make the process even easier.
Here are some things to consider before buying your first bike:
Choose a Reliable Bike
One of the best ways to have a positive experience with your first bike is to choose one that's known for its reliability. Most Honda, Kawasaki, and Suzuki motorcycles are bulletproof and easy to maintain.
These bikes also tend to be popular meaning there are a lot of affordable options in used local markets. Every bike listed in this post is reliable, affordable to maintain, and easy to find parts for.
As you stray from the Japanese bikes and move into brands like BMW or Harley Davidson you'll start running into more problems. Maintenance for these brands and parts can be costly.
Always Google any of the specific bikes you're interested in to read reviews, check complaints, and see what other riders have to say. YouTube is also a great source of information that gives you what up close look at just about every motorcycle.
Feel free to leave a comment below if you have any questions about any beginner motorcycles you're interested in. I'm happy to help you out if I can!
What Do You Need the Bike For?
This is a question you need to be asking yourself before buying any motorcycle. Are you planning on motorcycle commuting  every day or are you looking for something to ride on weekends?
The purpose of your purchase can help better determine a specific type of bike that will work best for you.
For instance, a sport bike wouldn't it be the best choice if you're planning on exploring dirt roads and going on casual local cruisers. For commuting, a cruiser wouldn't be ideal if you're looking for something fuel efficient and multi-purpose.
Having a better idea of your intentions is going to make the buying process significantly easier.
Consider Something Lightweight
Lightweight bikes are a better choice for beginners because they're easier to maneuver, balance, and control. They also have less limitations while providing you with the learning experience that you need as a new rider.
Let's face it – you're probably going to drop your first bike at some point. It's better to hop on that you can lift up, dust off, and ride away with rather than something that's going to be stuck on the ground until help comes along.
Heavier bikes will also sustain more damage if they happen to get dropped or involved in any type of accident. This means higher maintenance and repair costs, something you don't want to deal with when you're starting out.
Starting out with a lightweight motorcycle is the best way to set yourself up for success as someone learning to ride.