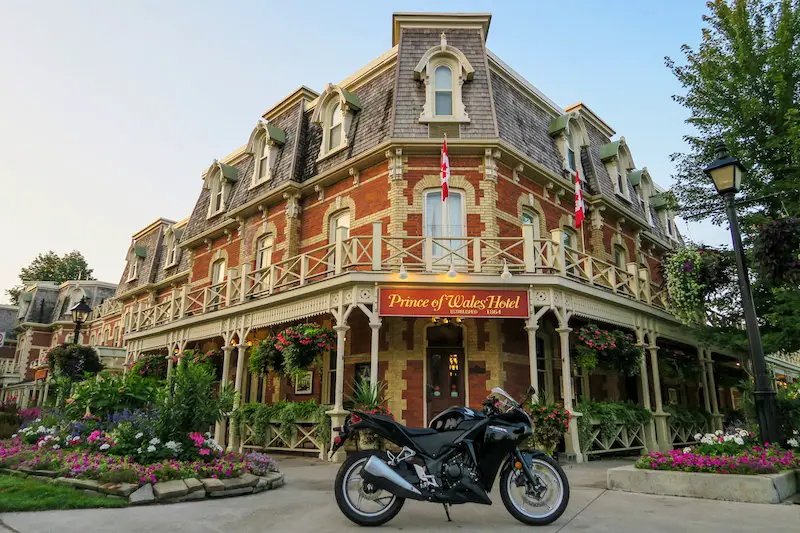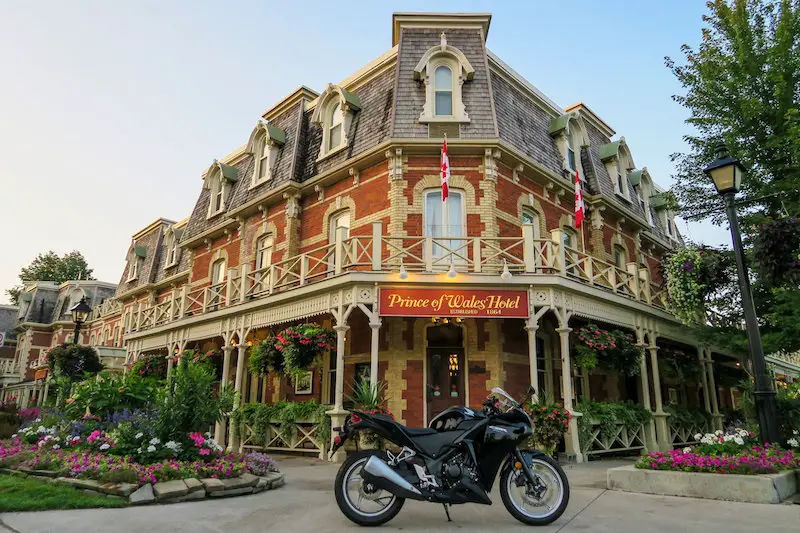 Before buying my Honda CBR250R I spent weeks researching the best motorcycles for beginners.
Eventually I ended up going with the CBR250R as my first bike. After a year of regular use i'm still completely happy with my choice and haven't found the need to upgrade yet.
In this post I want to talk about why the Honda CBR250R is a great beginner motorcycle.
Honda CBR250R Specifications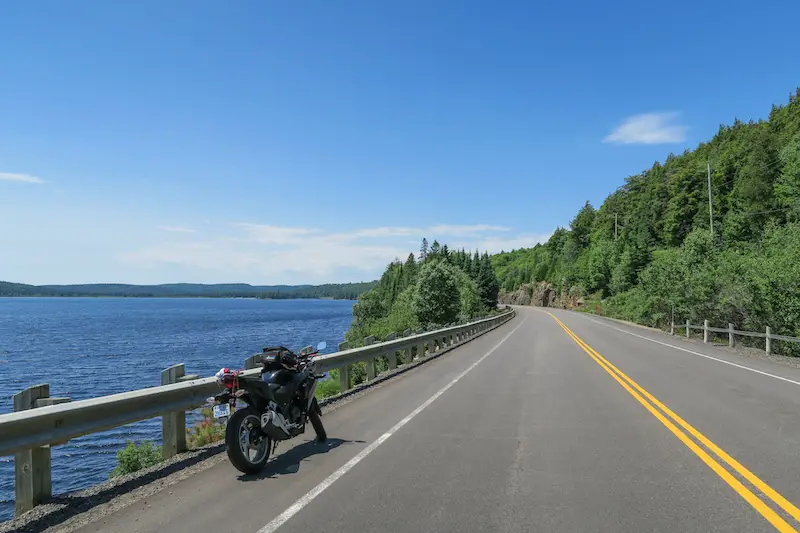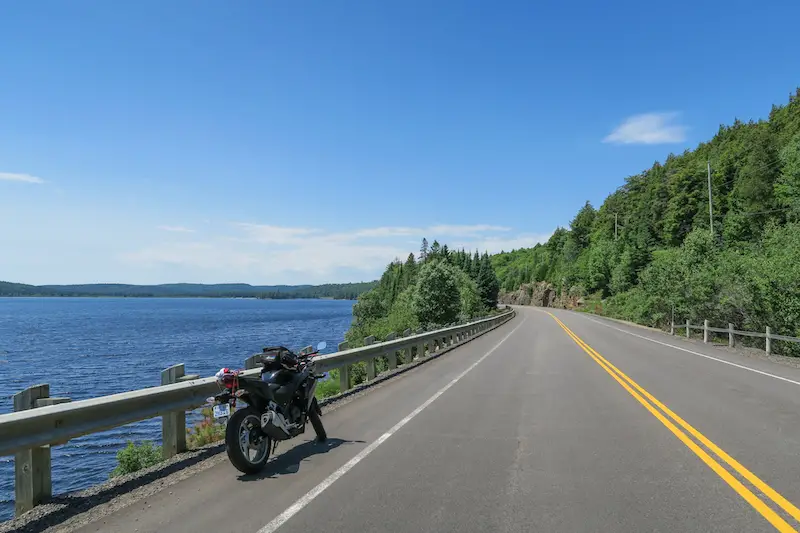 Here are a few of the key specifications of the 2011 CBR250R. This is the bike I'm currently riding so it's most relevant for me.
The specifications will be similar for 2012 and 2013, although you can look them up if you're interested.
Price: $1500-$3500 (used)
Colors: Black, Red/Silver, Repsol Orange
Engine: Single cylinder, 249cc fuel injected engine
Horsepower: Peak @8500rpm, peak torque @ 7000rpm
Transmission: 6-speed, chain final drive
Frame: Diamond twin-spar steel
Fuel capacity: 3.4 gallons (12.9 litres)
Seat height: 30.5-inches
Weight: 359 pounds (Stock, non-ABS)
Honda CBR250R Top speed: 90mph or 155kmh
Honda CBR250R Review
In this post we'll be taking an in-depth look at the Honda CBR250R. This is a wonderful little machine that's reliable, affordable, and fun to ride.
If it wasn't for my accident, I'd still be riding my CBR250R. Whether you're a beginner looking for something easy to control or you're an experienced rider and want a bulletproof, affordable bike for tinkering around on, this is a great choice.
In this review we'll be looking at how the bike rides, its ergonomics, its fuel economy, its maintenance requirements, and a few other considerations. If you have any suggestions or questions, don't hesitate to let me know down in the comments!
Otherwise, let's jump right into it!
Easy to Ride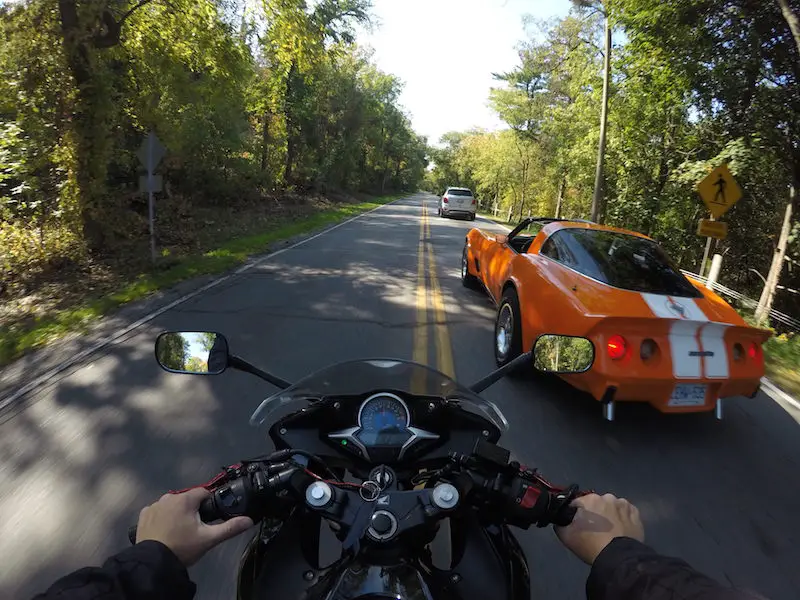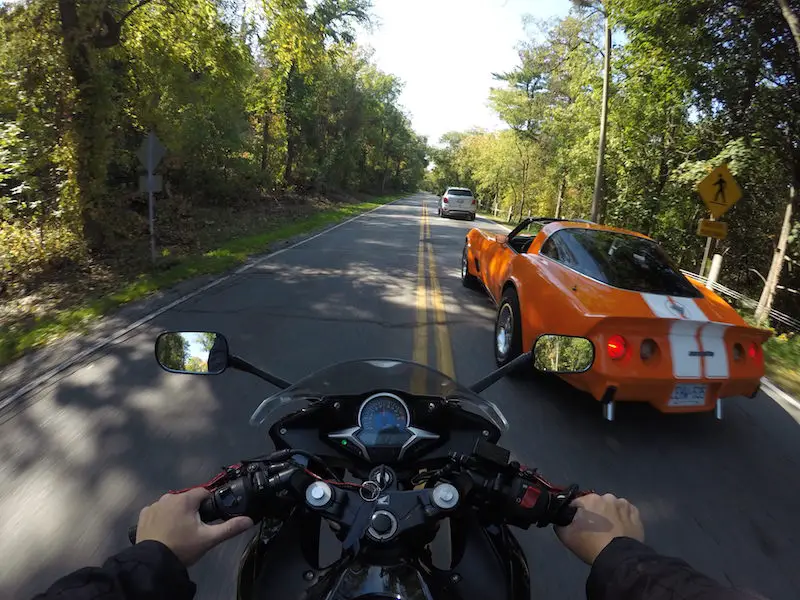 New riders will find the Honda CBR250R easy to ride, especially when they're starting out. This is a lightweight bike with a small, streamlined profile.
Compared to other heavier sport bikes, cruisers, and touring or adventure bikes, the CBR250R is designed for you to be able to hop on and ride. The lightweight design and low effort clutch make the bike easy to control.
You can hit your local twisties or go for a city cruise without worrying about catching a speeding ticket or losing the bike from too much power. Shifting through the gears is a breeze. Most riders will find the handlebar input to be sensitive while providing you with all the control you need.
The low-end torque is a blast for pulling from stop lights or out of sharp turns as you feel the counterbalanced engine screaming beneath you. Once you hit the powerband, past 6,000 rpm, this little 250cc motorcycle turns into a demon on the street.
It's hard to beat something as simple as the CBR250R. Fire up the engine, kick-in the side stand, give it some throttle, and away you go!
Comfortable Ergonomics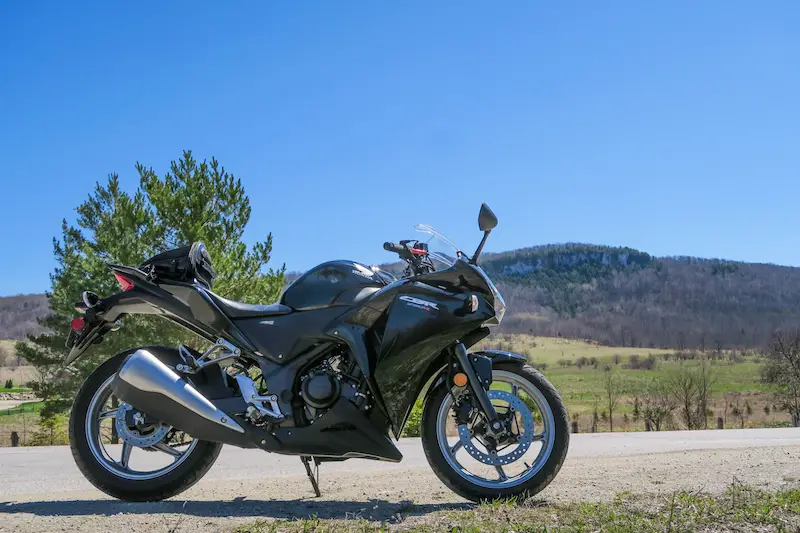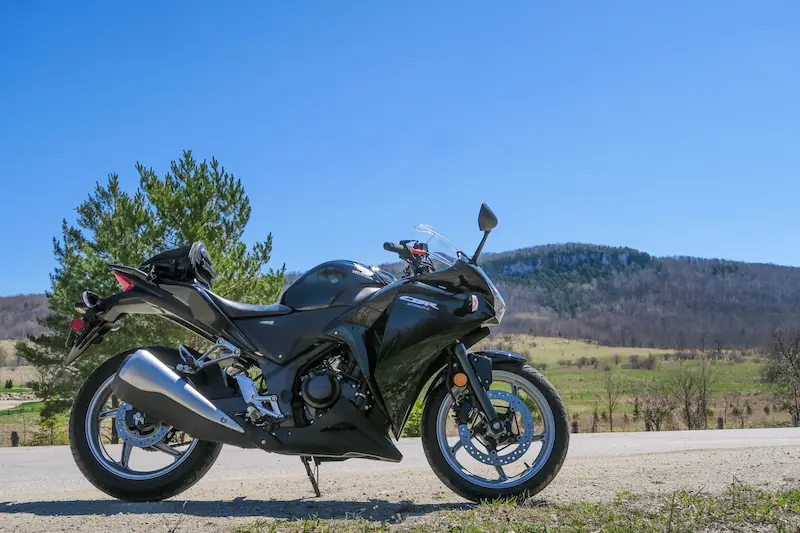 Unlike most sport bikes, the CBR250R provides riders with a comfortable and semi-upright riding position. With the saddle at just 30.5-inches you'll be able to keep both feet planted on the ground or resting comfortably on the pegs with their ergonomic positioning.
Some might find the knee bend to be aggressive, especially taller riders. Personally, at 5'11" I haven't experienced any discomfort in the knees even with 600+ mile (1000+KM) days on the CBR250R.
In the seat riders are rewarded with a simple cockpit view of the large, easy to read tachometer. The digital fuel gauge, odometer, temperature gauge, and clock can be easily read when you're cruising along at any speed.
With your hands on the grips none of the switches or buttons are out of reach or require any awkward stretching. The horn, kill switch, starter button, high beam, and turn signals can all be activated with your thumbs.
Amazing Fuel Economy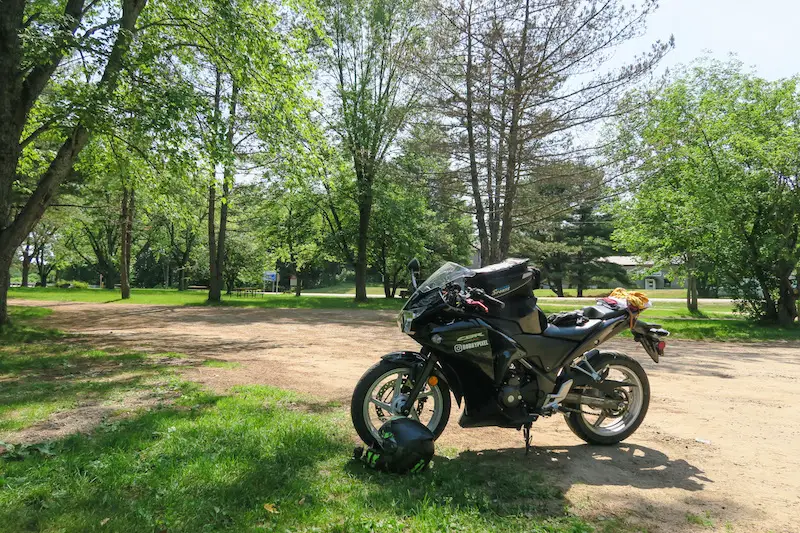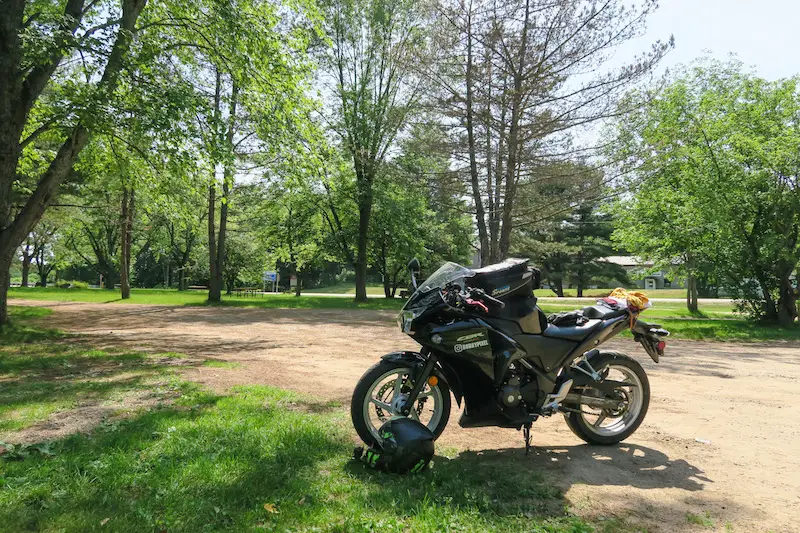 One of my favorite things about the Honda CBR250R is its incredible fuel economy. People have been known to get 250+ miles (400+KM) out of a single tank despite it having a fuel capacity of just 3.4 gallons (12.9 litres). It's one of the most fuel efficient motorcycles you could ever ride!
This is another feature that means you can keep riding and enjoying the scenery without having to worry about fuelling up. Bigger sport bikes and cruisers are lucky to see even half of the same fuel economy as this bike.
The amazing fuel economy makes the CBR250R a suitable choice for commuters and long-distance touring. It's even great on weekend rides when you can spend the day riding and only have to fill up on your way home.
Finally, as recommended in the owner's manual, this little 250cc bike will happily sip 87-octane fuel. There's no need to fill it up with high octane, expensive premium fuel helping you save money.
Affordable to Maintain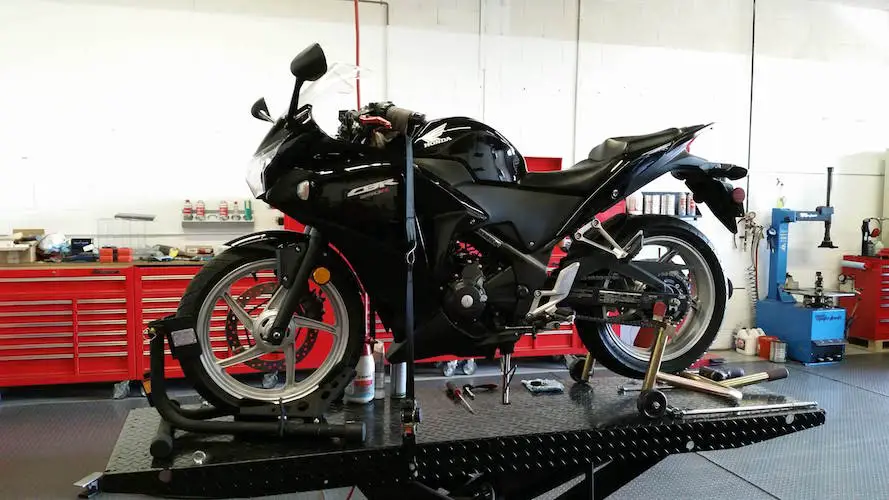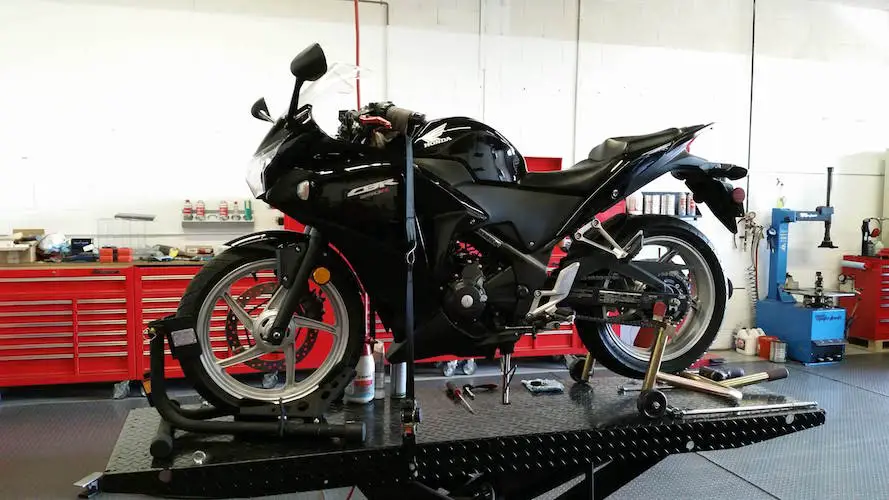 Smaller bikes are easier and more affordable to maintain. This is definitely the case with the CBR250R.
They also happen to be some of the most reliable motorcycles you could own. The little 250cc engine is seemingly bulletproof requiring nothing more than regular maintenance and preventive upkeep.
After riding more than 12,000+ miles (20,000KM), my personal CBR250R only needed a new back tire, chain, rear brakes, and regular oil changes/chain cleanings. In my second year of ownership I expect to only change the oil and keep the chain clean/lubed.
This is one of Hondas flagship bikes in Asia and India. Having been designed to be ridden hard in these conditions, Western riders will experience little to no issues with their 250R's.
It's unlikely that there is a more reliable and easier to maintain motorcycle available. You can't go wrong with any Honda and this continues to hold true with the CBR series of bikes.
Should you happen to run into any issues, parts are affordable and readily available. Most mechanics have experience with a bike like this. You'll never find anyone that's not able to work on it properly.
Consider picking up the owners maintenance manual if you're interested in doing all of the maintenance and upkeep on your own.
Perfect for Touring and Commuting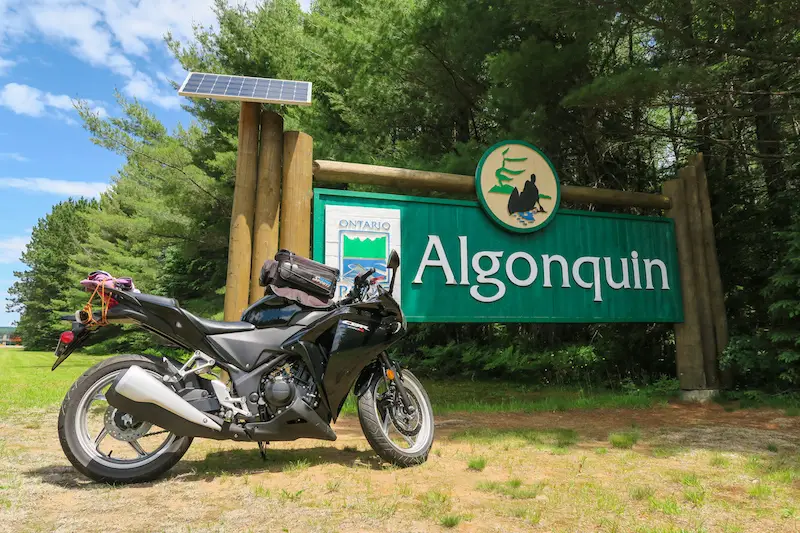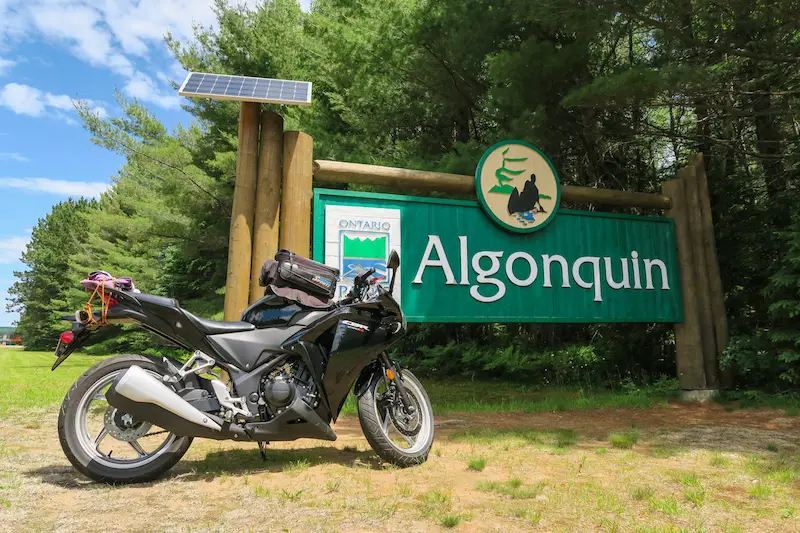 Those of you planning on motorcycle touring or motorcycle commuting will find the CBR250R to be ideal for both riding situations.
Personally, I commute more than 40 miles (60KM) each day on the bike. The comfortable ergonomics and surprising fuel economy make it a great choice for getting to and from work compared to taking the car.
I've also used the bike for long distance touring here in Ontario. This summer I'll be taking it on longer trips across Canada and into the US without any worries about how it will handle.
Loaded up with touring gear the CBR250R happily chugs along while still enjoying great fuel economy. It's the perfect bike for exploring new places without having to worry about breaking down or fuelling up.
The upright ergonomics provide a great view from the seat so you can keep your eyes on traffic or enjoy the scenery. While a cruiser or dedicated touring bike might be more comfortable, the CBR is a definite competitor for those of you looking to commute or go motorcycle touring on a budget.
Cheap on Insurance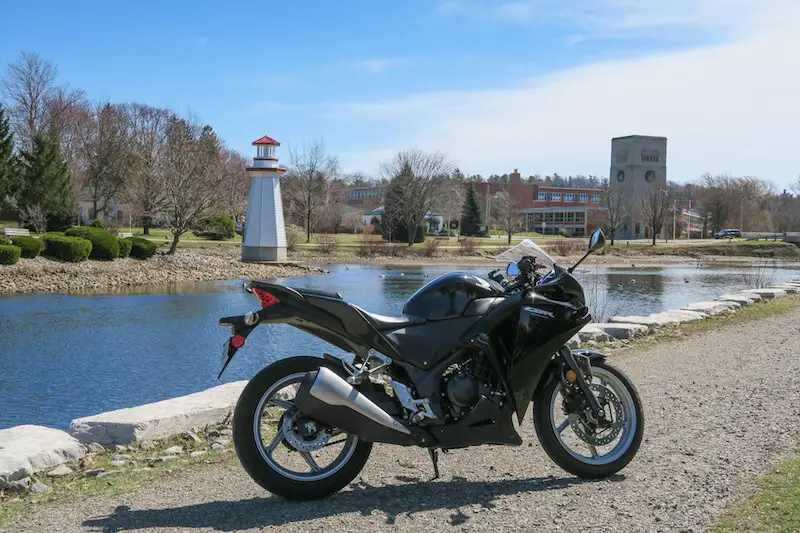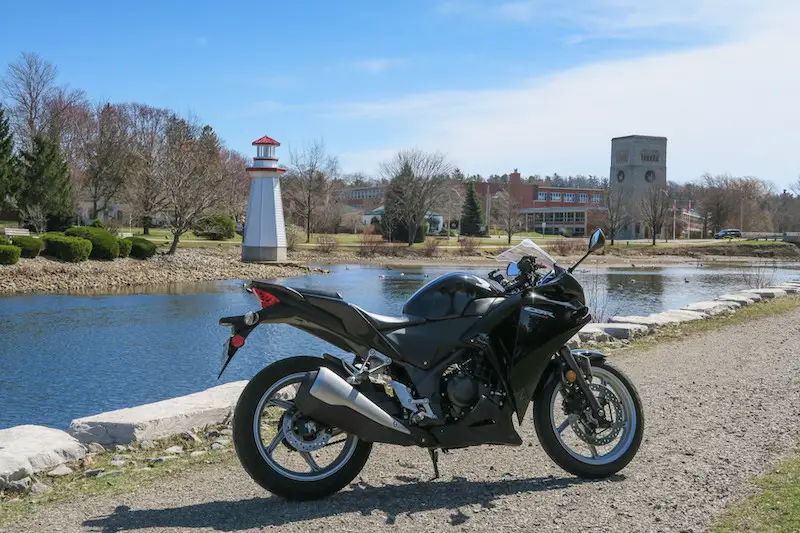 A bike like the Honda CBR250R, with its low cc's, is going to be great for insurance. Many riders rush out to buy a 600+cc sport bike and wonder why their motorcycle insurance is so high.
Personally, I wouldn't want to pay hundreds of dollars each month when I start riding. That money is better spent on bike upgrades, riding experiences, or saving it for your next motorcycle purchased.
It's even worse if you live in Canada, with places like Ontario having some of the highest motorcycle insurance rates in the world. You'll end up paying for more insurance in your first year of riding than the entire bike is worth.
Insurance companies know you can't get into too much trouble with a 250cc motorbike. That's why insurance rates are more reasonable for the CBR250R compared to bigger sport bikes.
The type of this motorcycle also helps with rates. It's designated as a "sport-tourer" instead of a full sport bike. All these factors contribute to lower insurance premiums, keeping more money in your pocket.