Shortly after getting my first bike I embarked on a short 3-day motorcycle camping trip to the Bruce Peninsula here in Ontario. You can check out my Tobermory motorcycle trip report if you're interested in reading about my first moto-camping experience.
I learned a lot about touring in the 3 days I was away and it sparked my motorcycle camping interest. Since then I've gone on a few longer trips around Ontario with more planned for this year.
In this post I want to talk about the best motorcycle camping tips I've learned so far. Hopefully, these will be able to prepare you for your own outdoor experience with your bike!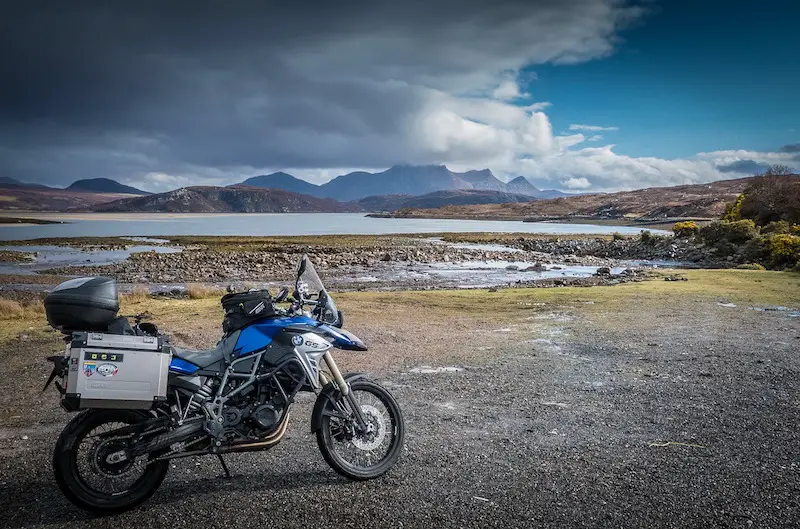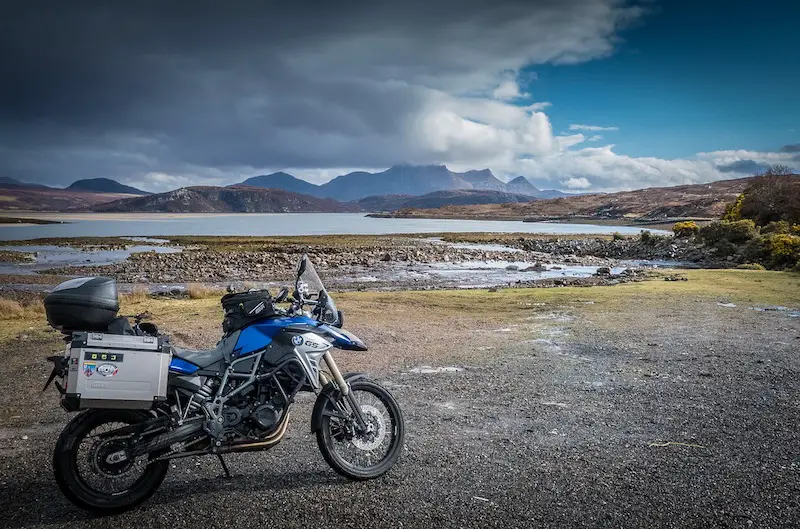 Essential Motorcycle Camping Tips
Motorcycle camping is one of the best ways to explore the roads less travelled. On the bike you can quickly zip out of the city and into the beautiful natural surroundings or small towns you're looking for.
With these helpful motorcycle camping tips you'll be more prepared than ever to tackle the adventure that lays ahead of you. Whether you'll be spending nights at campgrounds or you're looking to rough it wild camping – this guide will help you get started.
There's no need to overboard with the planning. With these simple yet helpful tips for motorcycle camping you'll learn that you don't need much to have a good time.
Any bike will do, and paired with the right gear you'll be ready to go in time. Let's jump right into it!
Tip #1 – Prep Your Bike for the Road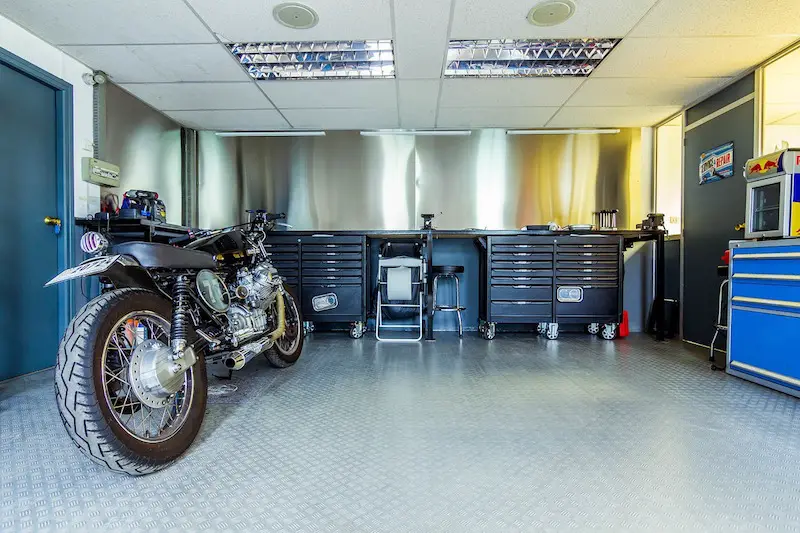 Before do anything else it's important to ensure your bike is ready for an overnighter. On short, weekend trips this isn't a big deal. For longer, multi-day trips your bike should be in great shape before heading out.
Start by performing any preventative motorcycle maintenance you may have missed, or been too lazy to do so far. This means changing your oil, cleaning and lubing your chain, tightening all the fasteners, and inspect the different components for any damage or wear and tear.
Check that your tires can handle the mileage you'll be putting on them and make sure they're properly inflated. You could even go over your maintenance manual to look for any upcoming scheduled maintenance that needs to be done.
This would be the right time to learn, or practice, any basic maintenance or repairs that you might run into on the road. Learn how to fix a flat tire and how to adjust or clean/lube your chain.
Most issues won't be catastrophic and you'll be able to start riding again faster if you can fix any problems you run into.
Not confident in your maintenance or repair abilities? Bring your bike to your local mechanic for them to take a look. They'll definitely be able to get everything in the right condition for your trip and let you know about any problem areas to look after.
Tip #2 – Pack the Essentials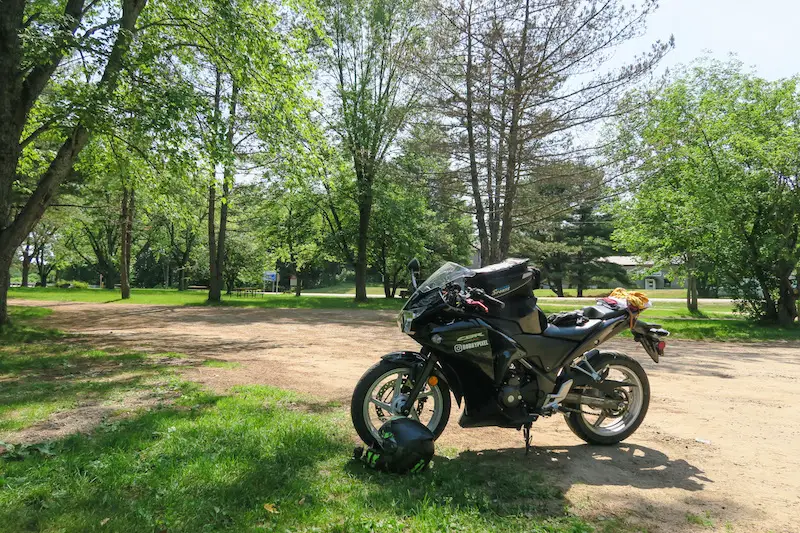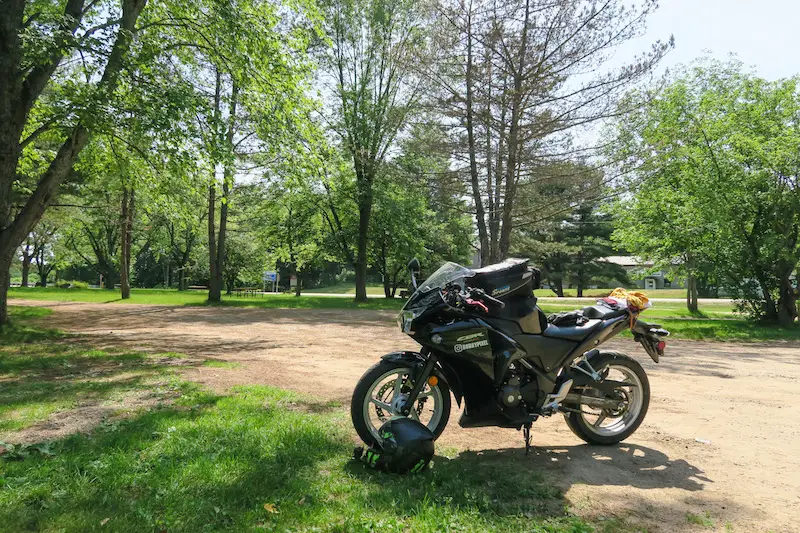 You don't need much to have an awesome experience on your moto-camping trip. All you need are these motorcycle camping essentials and you're ready to go!
Some of these essentials include a tent, sleeping bag, motorcycle luggage, and basic maintenance supplies. There are a few other important items you wouldn't want to overlook but it's nothing too extravagant or expensive.
That's the beauty about taking your bike camping – it's easy, fun, and affordable.
Don't have motorcycle luggage like tank bags or a rear rack? That's still nothing to worry about. People have explored continents just by strapping everything they need to the back seat.
However, for a better experience consider investing in some luggage. You can find plenty of options second-hand in your local market that will be perfect for your next trip.
Who knows – you might fall in love with motorcycle camping. Once you figure out if it's the right hobby for you that's when you can invest in better quality gear.
A few days before you leave go over everything you're bringing. Make sure that you're going to be using it on your trip. It's better to under-pack and have to buy something you need rather than stuff everything on your bike.
Tip #3 – Pack Your Bike Properly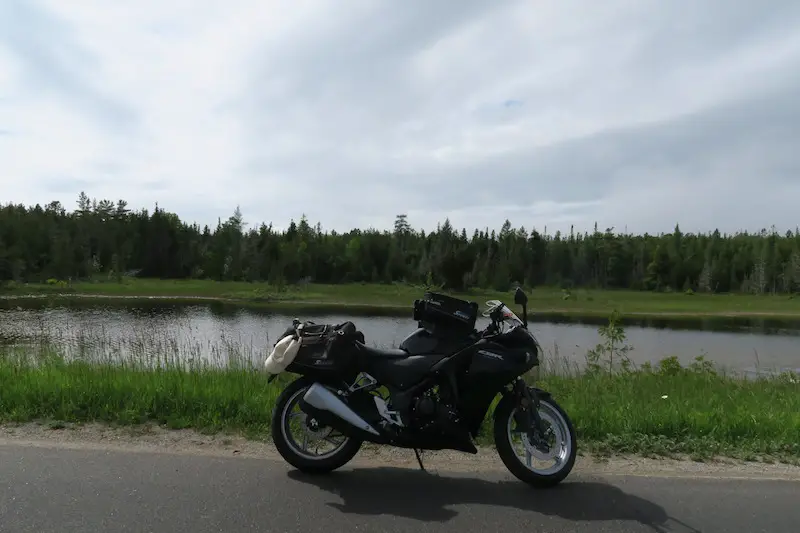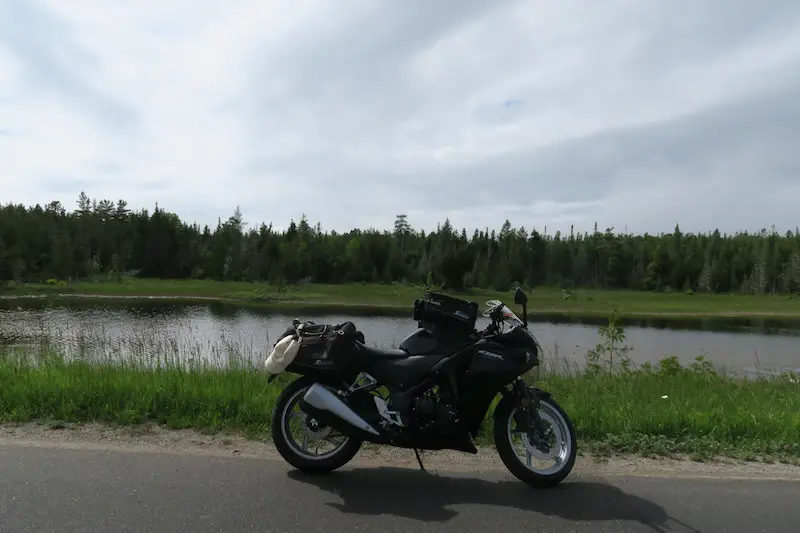 With the right gear it's important to pack everything on your properly. Uneven weights can cause wobbles at high speeds and have a detrimental impact on your fuel economy.
The key to packing your bike is to have the heaviest gear closest to the center of gravity. This means the bulky, larger items get packed first. Lighter gear can be strapped to the outside or stuffed into your luggage before you head out.
This will make for a better, more steady ride. Packing everything closer to the center will also help balance out the bike and improve fuel economy.
Pick up some bungee cords, cargo nets, and extra rope so you can strap everything down. Leave the important items that need to be quickly accessed, like your camera, water bottles, and wallet, close to the outside.
It's smart to pack everything the same way every time. This way you know where all your gear is and it's easier/faster for your to set-up or take-down your camp.
Tip #4 – Plan Your Route
Google Maps is a great place to get started for planning your route.
Before leaving decide on the general areas and specific locations you'd like to explore. Add these locations to Google Maps and look around on the app or website for anything interesting nearby.
Instead of using the default route, select the "Avoid Highways" option and let the map do its thing. This will give you routes to follow that avoid busy, traffic-filled highways and that travel along local scenic routes.
You don't need to plan everything down to the last detail. Having a general itinerary is less stressful when you're traveling and helps to give you a purpose for your adventure.
Once you have a general route in mind you can find places to stay and look for other interesting points along the way. You can also check out Instagram to see locations and interesting spots that other motorcycle riders have shared.
The great thing about using Google Maps is that you can save the locations, directions, and maps directly to your phone. This way they're easy to access when you're traveling and you will have to be fumbling around looking where to go.
Tip #5 – Choose the Right Campsite
Whether it's your first time camping or you have previous experience, choosing the right campsite can make or break your trip.
On your first few excursions consider booking a dedicated campsite at a local campground. As you gain more experience with motorcycle camping you can start looking for free campsites or camping on Crown Land, State forests, and other free motorcycle camping areas.
As for choosing the right campsite, there are a few things to look out for. Start by looking for flat and level ground where you can easily pitch your tent. For hammock camping you'll need to find two trees that are far enough apart and strong enough for your hammock.
Next, do a preliminary look around the potential campsite. Kick away any rocks, move loose branches, and look for any dead trees above that might fall on you during the night. You also want to avoid setting up your tent on uneven or sloped ground as this won't be comfortable for sleeping.
Depending on when you arrive try setting up your campsite in the shade and in an area that's blocked by the wind, if possible. Take a look at this helpful guide on choosing the right campsite for more ideas.
Tip #6 – Follow Leave No Trace Principles
It doesn't matter if you're staying at a campground or wild camping, you need to be following the "Leave No Trace" principles. These are a set of outdoor ethics that promote conservation for people spending time outdoors.
There are seven main principles:
Plan ahead and prepare
Travel and camp on durable surfaces
Properly dispose of waste
Leave what you find behind
Minimize campfire impacts
Respect wildlife
Be considerate of other visitors
Following these principles helps to ensure that you don't harm or damage the natural areas you're spending time in. This is a conservation effort got all outdoor adventure seekers should follow.
For the most part it's common sense and it boils down to not being a dick wherever you're spending time outdoors.
Tip #7 – Effectively Deal With Bugs, Pests, and Other Wildlife
Nothing is worse than the cause of mosquitoes, black flies, or other bugs start typically bother you when you're camping. Other pests like rodents and bears can also be a problem in the backcountry or at campsites.
Being prepared to deal with these problems is a great way to make the most of your motorcycle camping experience. Instead of worrying about the mosquitoes and whether or not a black bear is going to roll through your camp, the right preparation will leave you safe and comfortable.
For bugs, like mosquitoes and black flies, a two prong approach is the best. This approach combines bug spray and the right gear to manage any of these flying pests.
It's hard to go wrong with a big can of DEET bug spray. Paired with a mosquito hat and long sleeves you'll be able to sit outside without worrying about the bugs at all.
Double check the bug net on your tent or hammock for any holes before you leave. Those of you planning to spend the night truly under the stars without any additional protection – best of luck!
As for the Bears and other critters – avoid leaving food and garbage close to your campsite. Never cook inside your tent and always follow the local guidelines for dealing with bears.
In some places there will be bear boxes available for your food and gear. Other places, especially if you're wild camping, you'll need to hang your food in a bear bag to keep it away from the bears and mice.
Consider bringing bear spray if the bears in your area are active or interested in human activity.
Tip #8 – Pre & Post-Trip Your Bike
Get in the habit of inspecting your bike at the beginning and end of each day. These pre and post-trip inspections make it easy for you to find any issues that might be arising with your bike.
Check out the chain, check the condition and inflation of the tires, and give the bike a once-over. Look for anything out of place or unusual that needs to be taken care of.
This inspection will give you the confidence to keep riding through the day without having to worry about any nagging issues. It's better to find something and deal with it right away, or in the morning, rather than have something go wrong halfway to your destination.
While you can't plan for any unforeseen circumstances, smaller issues like low tire pressure or a loose chain can be easily managed.
Tip #9 – Pick Up a Motorcycle Seat Cover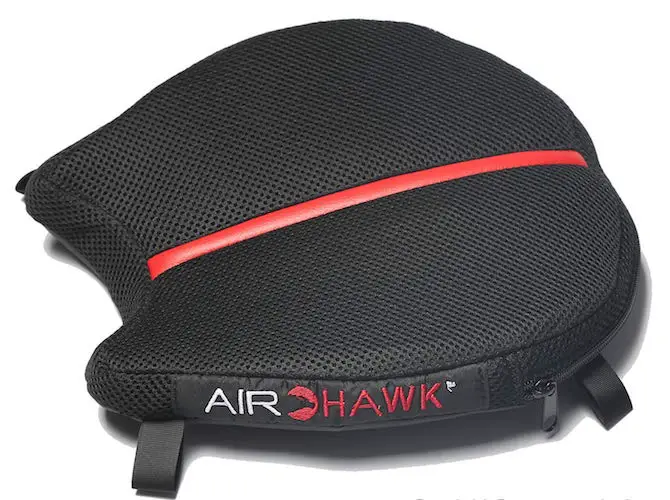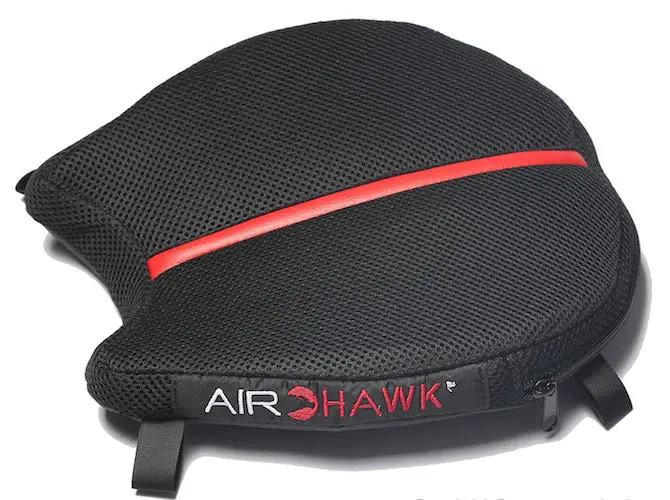 Motorcycle seat covers make a world of difference when it comes to staying comfortable on longer rides. Having the pad or seat cover makes it easier for you to put in more miles on the bike. The extra cushioning helps with ventilation and removes any of the painful pressure points you might be experiencing.
Seat covers and seat pads are reasonably priced and easy to install. There are different types of available for every kind of motorcycle. Consider checking out our post on the best motorcycle seat covers for some recommendations and ideas.
Before using a seat cover, I was only able to travel one or two hours on the bike before needing to get off and stretch. Now, with the pad installed, I can easily ride for 3 hours before worrying about any pain or discomfort. They're a practical and affordable motorcycle upgrade that will definitely improve your riding experience.
Helpful Posts