Since getting my first bike motorcycle camping trips are high on my list of priorities.
Before I started touring I had some gear. Even with everything put together I still didn't have enough of the motorcycle camping gear essentials.
In this post let's take a look at the recommended camping gear for motorcycle touring and camping. This way you'll have a list of everything you need to pack away, hop on your bike, and take off!
Motorcycle Camping Checklist & Gear Essentials
For your first trip, it can be daunting finding the right motorcycle camping gear. With so many options for gear and accessories how do you know to choose?
Today, let's look at the basic moto-camping essentials you'll need when you hit the road. This gear will carry you on a weekend trip or week-long getaway.
After discussing the right gear to bring we'll talk about how to pack it all on your bike.
Disclaimer: Unless you're off-the-grid backcountry camping all of your touring and camping problems can be solved with some ingenuity and your credit card.
Check out my own Tobermory motorcycle trip to see my first motorcycle camping experience!
Before diving more in-depth into the various pieces of gear you'll need, let me share my motorcycle camping checklist:
Motorcycle Camping Tent
For moto-camping the best tent is one that's lightweight and easy to setup.
Tents that are "one-person" bigger in size will offer additional space for storing your camping and motorcycle gear.
For example, a solo traveler should consider a two-person or three-person tent. Two-up travelers should consider a three-person or four-person tent.
The extra space is great for gear storage and added comfort. More room to relax and stretch doesn't hurt at the end of a long riding day.
Sleeping Bag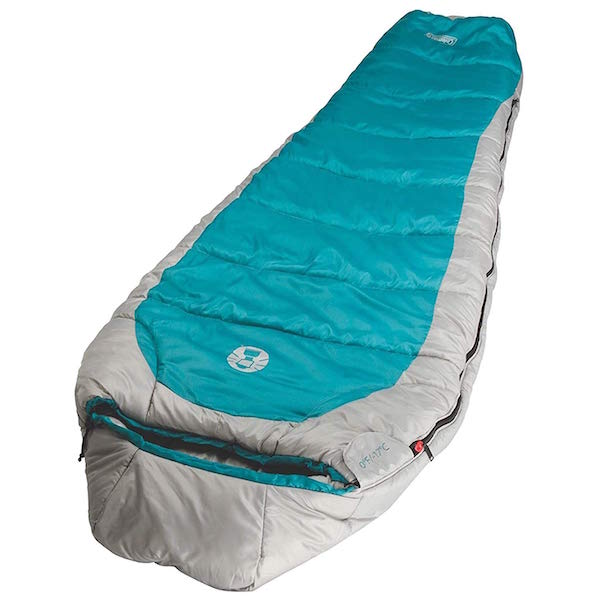 For outdoor motorcycle camping a sleeping bag is a must. Whether you're using a camping hammock or just a regular tent, sleeping bags are essential to your motorcycle packing list.
With so many different types of sleeping bags to choose, which are the best for motorcycle camping?
For most riders, down sleeping bags have the greatest benefits over any other material.
Synthetic sleeping bags are great if you're on a budget. They're better suited for summer camping or for riders that won't be camping regularly.
Down sleeping bags are lighter, warmer, and more comfortable for sleeping with. Keep in mind that anything made with down will be more expensive then its synthetic counterpart.
Personally, we believe lightweight down sleeping bags are the best choice for most riders.
Sleeping Pad
Sleeping pads are necessary for a warm and comfortable night's sleep when your motorcycle camping. Whether you're using a hammock or a tent – you'll definitely want to bring your sleeping pad.
The two main benefits of sleeping pads are that they elevate you off the ground and add comfort for your rest. You can choose from foam or inflatable sleeping pads depending on your preferences.
Foam pads are affordable and lightweight. Their drawback is that they aren't as comfortable as inflatable pads.
Inflatable sleeping pads are typically more expensive. Their benefit is that they are super comfortable for camping with.
Without a sleeping pad the ground and surrounding air will suck all of the warmth from you. You'll be cold, sore, and left without a good night's rest.
Start by investing in a simple foam sleeping pad. After trying it out, consider upgrading to a better pad or something inflatable.
Motorcycle Jacket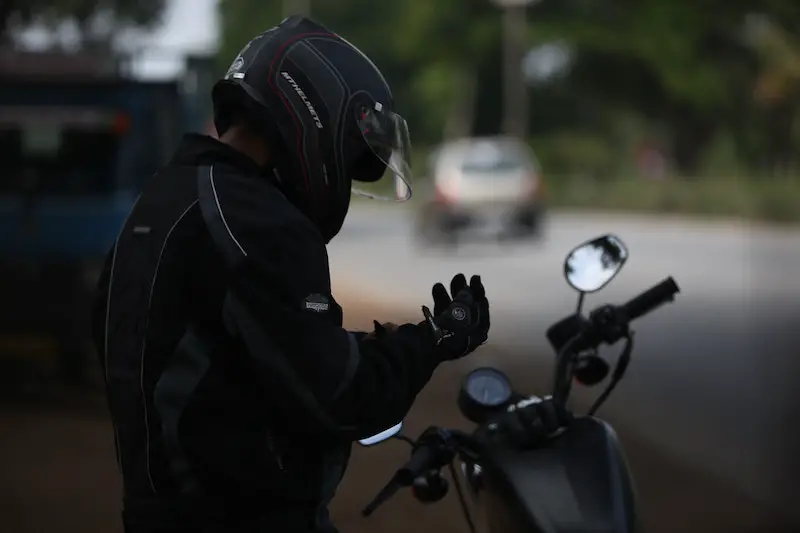 As a smart rider you already don't leave home without your motorcycle jacket. However, the jacket you wear for riding to work or short rips around town might not be as comfortable or suitable for a camping trip.
There's no need to run out and upgrade your jacket right away. Before making any changes, check to see if you could take your current jacket on your next trip.
Ask yourself – Is your current jacket comfortable for a longer rides? Does it have a liner or is it ventilated/waterproof? Can it be attached to motorcycle rain pants or do you have a rain suit?
If your current motorcycle jacket is comfortable enough and has all the features you need, there's no need to upgrade. Heavy, uncomfortable, or awkward jackets should be changed out right away. Take a look at our guide on the best summer motorcycle jackets for some ideas!
Smartphone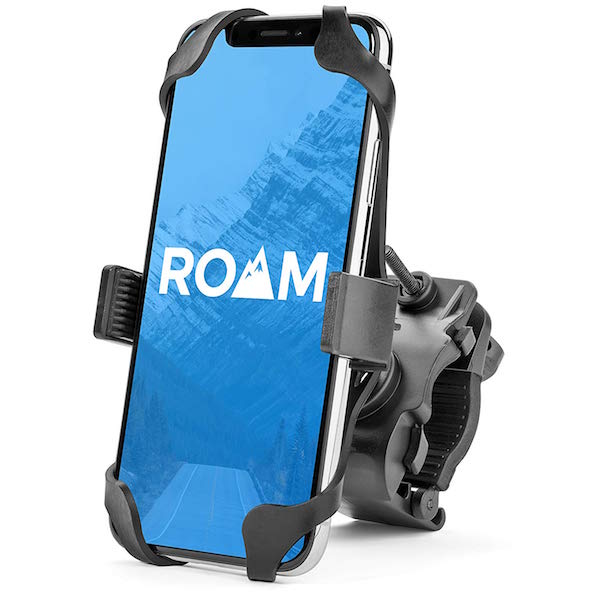 Unless you're using a dedicated motorcycle GPS, you need a smartphone for navigation and trip planning. There are a number of helpful apps for motorcycle touring that you can use for finding campsites and navigating off the grid.
Many riders choose to mount their smartphones to their motorcycle handlebars. Keeping your phone in your pocket and using headphones for navigation is a less intrusive alternative.
Riding with your smartphone also means you can listen to music, take photos, quickly look up any nagging bike issues, and plan your ride.
Your phone will come in handy in case of any emergencies, whether you need to look something up or call CAA/AAA for a tow.
Basic Motorcycle Toolkit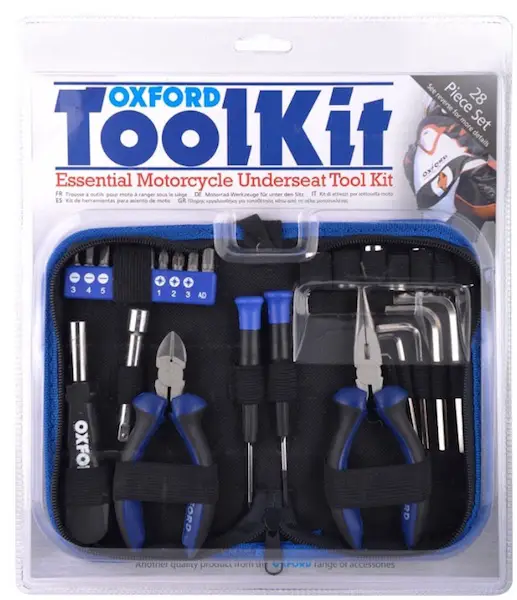 The most dedicated motorcyclists never leave home without a basic motorcycle tool kit.
These kits include the few tools you need to perform basic maintenance on your motorcycle when you're on the road.
Depending on your bike, your kit might include pliers, Allen keys, adjustable wrenches, zip ties, microfiber cloth, and anything else relevant to the ongoing maintenance of your bike.
Many online retailers offer basic motorcycle tool kits starting at $25. These can be a great help if you ever happen to get stuck when you're out riding.
Tossing a small tool kit under your motorcycle seat can be one of the best  motorcycle investments you ever make.
For example, I was out riding just before dark and my gear shifter peg fell off when I went to shift gears. You would think this wouldn't be such a big deal, except I was 30 minutes from home.
Thankfully, after dropping my bike for the first time a few days before and not being able to reattach my mirror, I had a basic motorcycle tool kit underneath the seat.
It turned out the bolt holding the shifter came loose and rattled off. The shifter was still connected and I was able to use a spare bolt to reattach it.
Without the tool kit I would have been stranded!
Motorcycle Chain Lube

Chain maintenance is important, especially when you're on a camping or multi-day touring trip.
Normally you might put on 100 to 200 kilometres per week depending on how much you ride. Commuters will put on more mileage, but most leisurely riders we'll see this number of kilometres on average. At home you can get away with moving your motorcycle chain every other week.
On a camping trip or touring adventure you need to be performing chain maintenance at the end or beginning of each day. There won't be any motorcycle stands available.
Thankfully, it's easy to crouch down and visually inspect your chain before lubing it. For lubing your chain, spray motorcycle chain lube on the visible parts and let it settle before rolling your bike forward. Repeat this process until the whole chain is lubed.
Depending on the length of the day's ride, I prefer doing motorcycle chain maintenance at the end of the day. The chain is still warm and it's easier to roll the bike.
Chain maintenance can be done in the morning ordering your ride. The important thing is that it gets done.
Here at Rips & Rides we recommend Motul Chain Lube as our recommended motorcycle chain lube of choice. Take a look my post on the best motorcycle chain lube to find the right product for your bike.
Basic Overnight Gear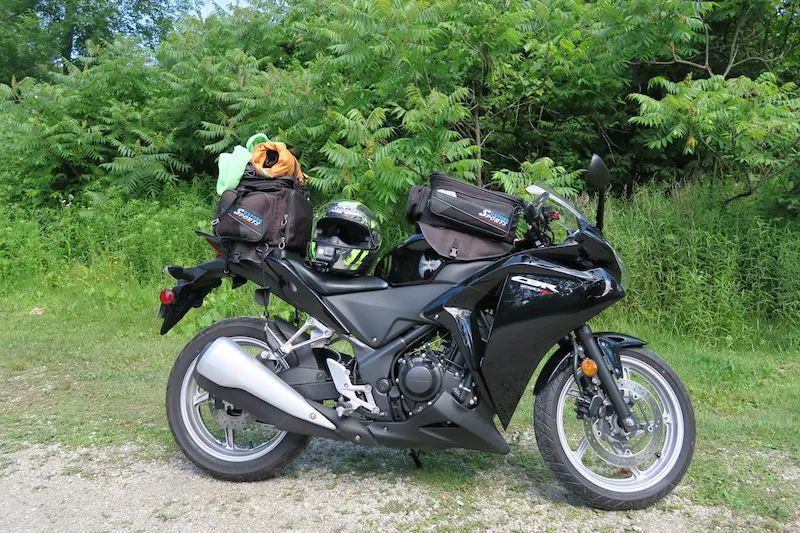 There's no point in loading up your motorcycle luggage with heavy clothes, electronics, and other items you don't need. One of the best things about motorcycle camping and touring is the minimalist lifestyle that comes along with it.
Sure, everyone can ride their own ride, but it's hard to deny how much easier it is to travel if you're not loaded down with gear. With that in mind there is some basic overnight gear most riders will want to pack away.
These basic items include:
Sandals/camp shoes so you're not wearing your motorcycle boots everywhere
Bug spray for spring and summer camping in buggy areas
Small towel and travel-friendly soap
Shaving kit, toothbrush, toothpaste
One or two changes of clothes
More than enough socks and underwear
This is a basic checklist of non-motorcycle related items. Your smartphone and Visa/debit card along with a small amount of cash can solve most problems you could run into. Everything can be bought or replaced in most places where you'll be camping and touring.
Headlamp

The first night of my first motorcycle trip is when I realized a great headlamp is necessary for camping. The low-priced headlamps available online and at local retailers typically won't produce the amount of light you need.
In the pitch black at my campsite at the Bruce Peninsula National Park I could barely see three steps ahead of me with my budget $15 headlamp. Before arriving home I had already ordered another one.
The next trip I wouldn't be so unprepared without a better motorcycle headlamp! Headlamps are a key item on any motorcycle camping checklist.
They give you hands-free capability at night with a POV lighting focus. This makes it easy to work on your bike or setup camp in the dark.
Here at R&R we recommend picking up a mid-level headlamp. You don't want to be fumbling around in the dark when you get to your camp late at night like I was!
Water Bottles
It's surprisingly easy to get hydrated when you're ripping around on the motorcycle during the summer.
The high heat and humidity will cause you to sweat. The wind from riding will immediately blow the sweat away. You won't feel as warm as you normally would.
This can lead to dehydration and you don't want to experience the symptoms of being dehydrated when you're on the bike. During the summer I recommend carrying 2x1L water bottles.
Stop regularly, every hour or so, and stay hydrated. Fast food restaurants and local businesses typically don't mind filling up your water on those hot summer days.
Tank Bag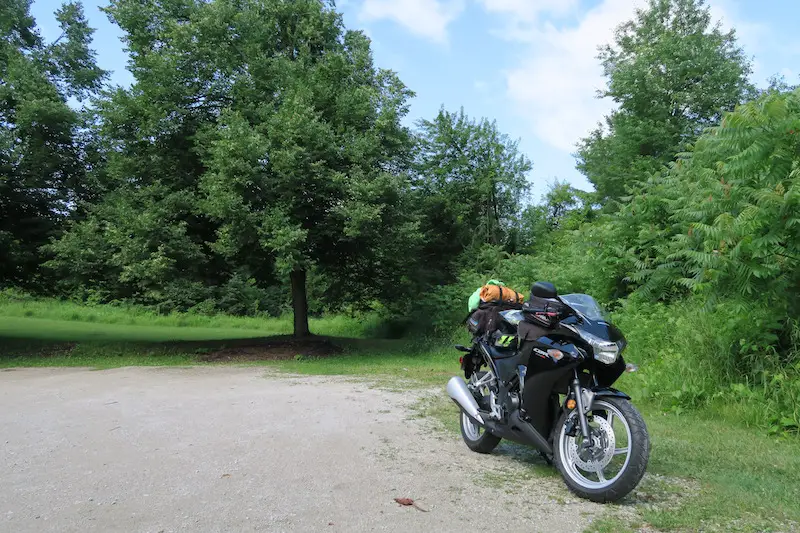 Motorcycle tank bags are perfect for short overnight trips or longer multi-day/week adventures. With a tank bag you can easily access the motorcycle accessories and tools you want within hands reach.
There's nothing more annoying than having to dig through your side-bags and packed luggage looking for something small. Instead, tank bag keeps everything close and easily accessible on the bike.
The tank bags are perfect for storing your smartphone, maps, camera, electric cords, tablet, snacks, your water bottle, heaps of other small accessories. Once stopped, you don't need to get off the bike to take a drink or capture a photo – simply reach into your tank bag that's in front of you.
Take a look at our post on the best motorcycle tank bags if you're looking for one for day trips or touring.
Portable Jump Starter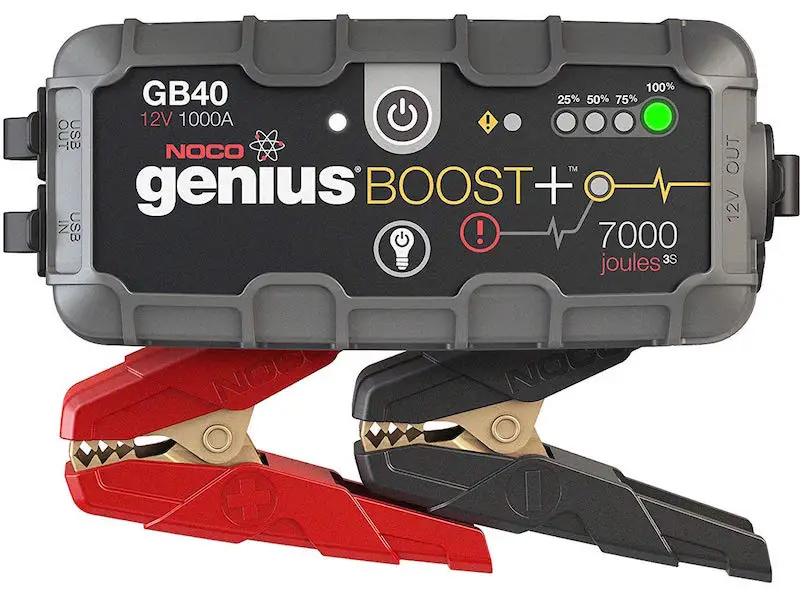 A dead motorcycle battery can put a serious damper on your trip. To avoid any battery related issue it's smart to travel with a portable motorcycle battery jump starter.
Modern battery boosters are lightweight, easy to use, and designed for motorcyclists in mind. Most portable jump starters will fit underneath your seat or can be stashed away in your luggage for easy access.
With a jump starter you don't have to rely on anyone else should you run into battery issues. You can quickly hook up the booster, get your bike started, and be well on your way without having to call for help.
It's also a good idea to keep a jump starter in your garage for your motorcycle as well as any other vehicles you have.
Take a look at our post on the best motorcycle jump starters if you're considering adding one to your moto arsenal.
Motorcycle Security Devices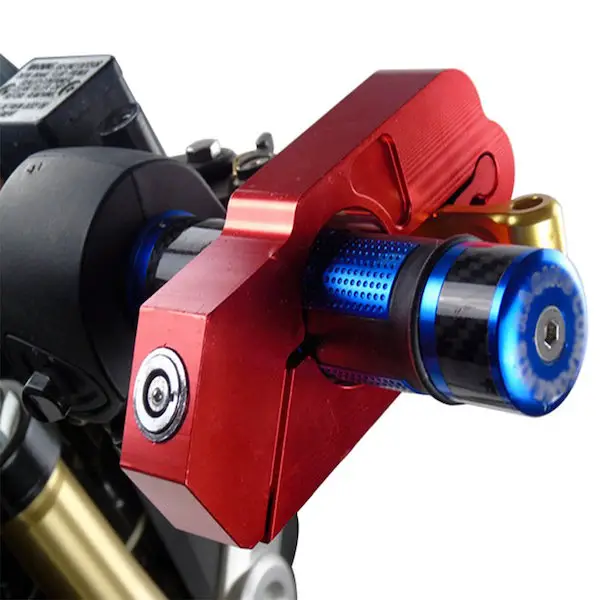 Depending on where you're traveling it's not always recommended to lock your bike and walk away. The built-in motorcycle locks are easy to break with heaps of bikes getting stolen each day.
Instead, consider investing into additional motorcycle security devices that will keep your bike secure when it's out of sight. These devices are also great for local rides and using at home for additional security.
Our recommended motorcycle security device is the disc lock. Paired with a chain, this is a practical security setup for your bike.
Take a look at our post on the best motorcycle locks for more ideas.
There are other options for additional security including locks with built-in, GPS security systems, and different types of chains/cables for securement.
Keep in mind that you won't prevent 100% of thefts. The goal with these devices is to make your bike difficult to steal. This way a potential thief will likely choose an easier bike.
And remember – it's just a motorcycle. You have insurance for a reason, risk your life over your bike!
Getting Food While Motorcycle Camping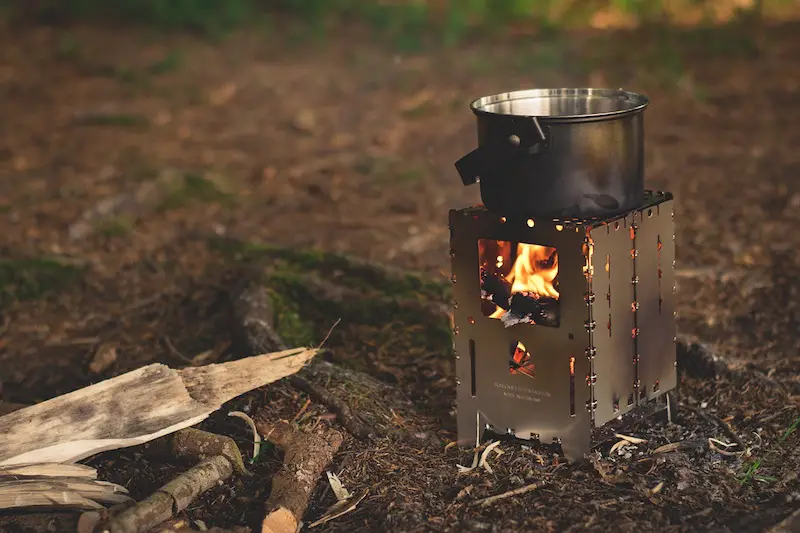 Riders will have three options for getting food while motorcycle camping. These include packing and preparing your own food, stopping at local places to eat along the way, or using ready-made camping meals.
Packing and preparing your own food is the most cost-effective option. This also gives you the ability to add variety to what you're eating while camping.
Ready-made meals and stopping at restaurants along the way is more costly and hard to plan for. It can also be stressful constantly having to look for places to eat.
If you're interested in preparing your own food you'll have to invest in a few items of camping cooking equipment. This would include a camping stove, lightweight camping pan, and any relevant utensils.
When it comes to food, it's easy to carry up to a three day supply depending on where you're traveling. Grocery stores and local shops can be found everywhere and you can always stock up at these places.
Keeping Your Smartphone and Electronics Charged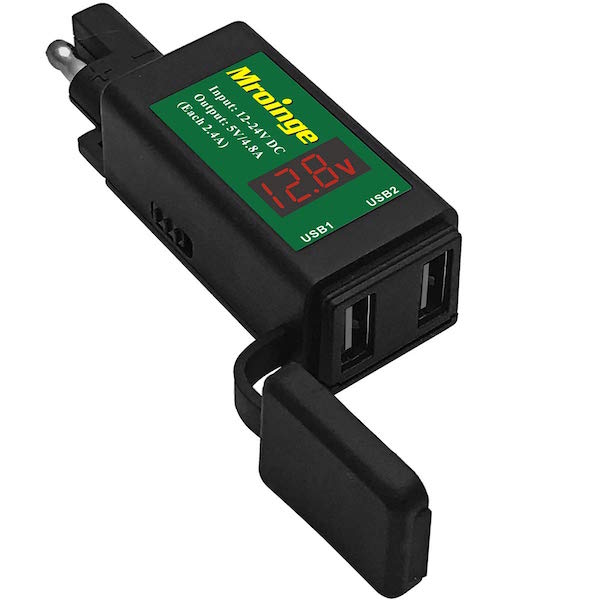 Let's face it – most riders will be traveling with a smartphone and other electronic gear like a camera, tablet, and GoPro. These devices need to be charged regularly and you will need the right setup to make this possible.
This is where having a motorcycle USB charger kit becomes handy. These kits can be picked up for around $20 and installed in under an hour.
With a USB charger connected directly to your motorcycle battery it's possible to charge all USB-based devices while you're riding. This is helpful keeping your phone, camera, and GoPro batteries charged without having to worry about where you're going to plug them in next.
For the price and easy installation, it's worth having a USB charger kit whether you're long distance touring or spending the weekend away from home.