In this post we'll take a look at the top options for the best motorcycle GPS.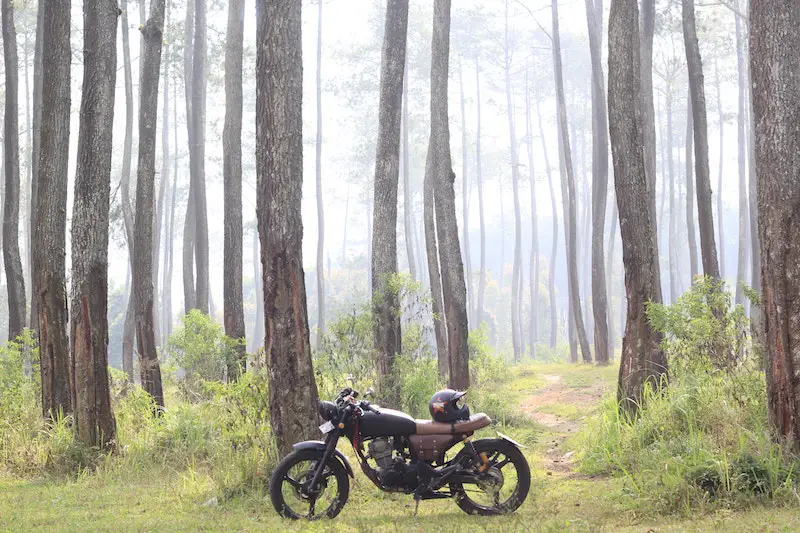 Avoid heading to your local motorcycle shop and buying some random GPS. Instead, use his guide to find the right motorcycle navigation unit for your rides.
For short, local rides it's easy to use your smartphone as a motorcycle GPS. On longer rides or when the weather isn't ideal you probably don't want to leave your phone mounted on the bike.
Even if the weather is great some additional navigation can still come in handy. Just like on my Tobermory motorcycle trip where I almost missed my turn if it wouldn't have been for my GPS!
Today, we're going to take a look at some amazing GPS systems. All of the recommendations here are reliable, durable, and practical GPS for motorcycle riders.
With a GPS you'll no longer have to worry about getting lost or finding your way around. This can be a lifesaver if you're someone that likes to explore off the beaten path!
The Best Motorcycle GPS Units for Motorcycle Riders
Here's a quick look at our top recommendations for motorcycle GPS systems.
Garmin Zumo 396

Garmin Zumo 595

Garmin nüvi 42LM

TomTom VIA 1625TM
Garmin Zumo 396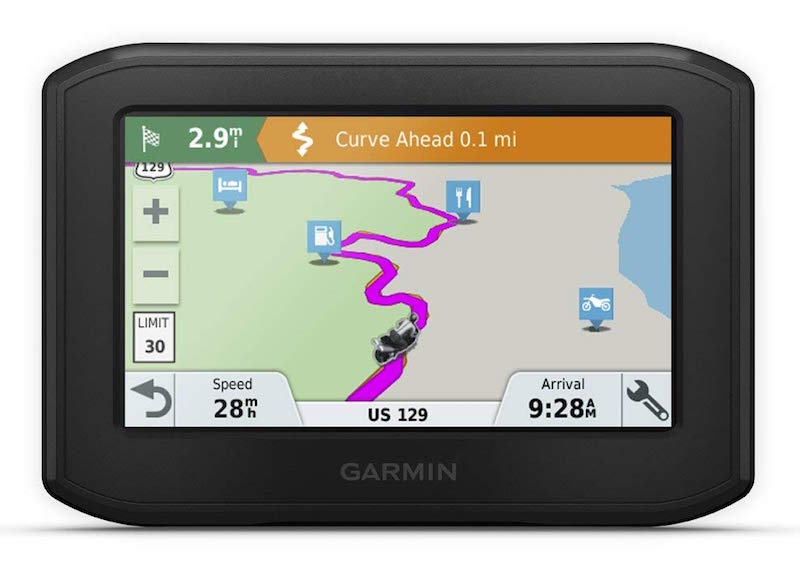 Here at Rips and Rides we recommend the Garmin Zumo 396 as the best motorcycle GPS for most people.This is an affordable entry-level motorcycle navigation device that you can use for  getting around on local rides or long trips.
Some key features of the Garmin Zumo 396 include:
Glove-friendly display for on-the-go navigation

4.3-inch screen for easy viewing in outdoor conditions

Built-in wifi for easy map access and updates when you're on the road

Built-in trip computer with digital fuel gauge

Rugged and durable – designed for motorcyclists
There are so many awesome features with the Garmin Zumo 396 that it hardly makes sense to buy anything else. It's hard to go wrong with this device as a motorcycle navigation system. It's great for planning weekend rides away from major traffic routes or using to find the closest campground on your next motorcycle trip.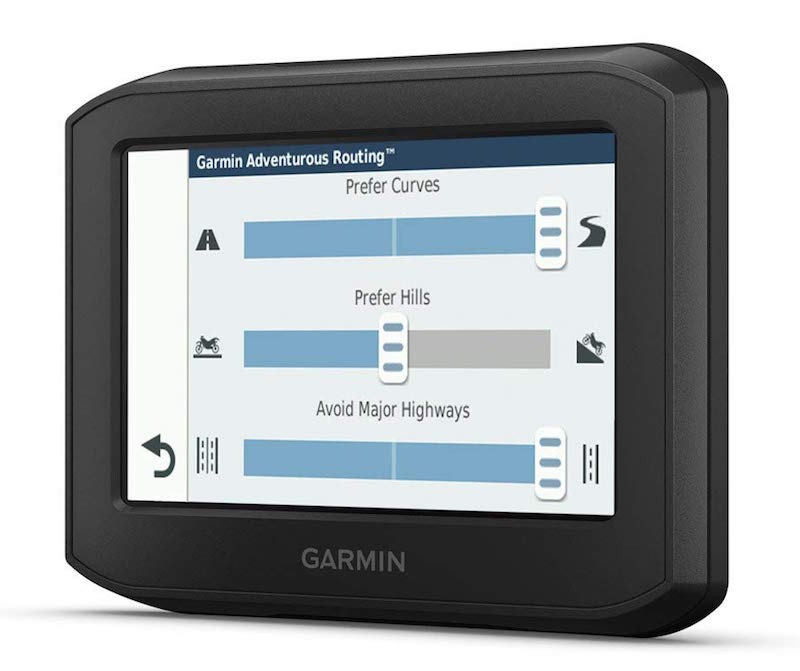 With the smartphone app you can connect your phone and enjoy hands-free calling and smart notifications. It also gives you access to live services for traffic and up to date weather reports when you're on the road.
The Zumo 396 comes with Bluetooth connectivity. You can connect your Bluetooth headset or helmet directly to the navigation device. You'll be able to make calls and listen to directions without having to stop or take off your helmet.
Two more features I love about this GPS are the built-in trip computer and navigation tools. The trip computer that's you keep track of your own fuel mileage. It also lets you track your maintenance and repair dates.
The navigation tools are perfect for finding restaurants, hotels, and other attractions along your route or close to your destination. For some this might be easier than having to pull out a smartphone.
How to Choose the Best Motorcycle GPS | Buying Guide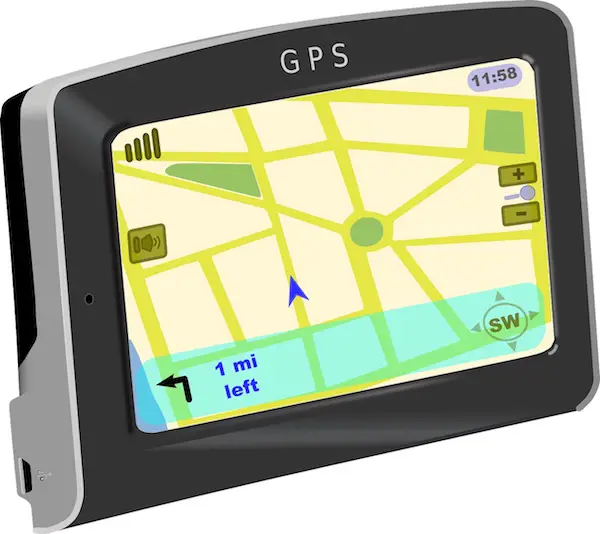 Whether you're commuting to work or exploring new roads, using a motorcycle GPS can be helpful in a wide range of scenarios. They're quick to install, easy to use, and work on just about every bike.
The best GPS for motorcycle use will get you to your destination effortlessly and without distraction. You don't want to be fumbling around with a screen while you're riding. Having a device that simply works is all you need for navigation.
With so many models and brands to chose from it can be tricky finding the right motorbike GPS. The best units will have lane notifications, the ability to pair with your motorcycle helmet headset, and let you chose the best roads for riding.
When you're using your car for local commuting or errands you can leave your smartphone mounted with accurate directions on your maps app. On your bike, you probably don't want to leave your phone out and exposed to the elements. It's also not easy to navigate when you're already on the move. Plus those screens can be hard to see when you're on the road.
So how can you navigate safely and effectively while you're on the bike? By using a GPS unit that's designed for motorcycles. These will help you navigate to your destination without being distracting or difficult to use.
In this section, let's take a look at the features you should consider when shopping for the best motorbike GPS.
Mounting Capability
There are two main types of mounting options for most motorcycle GPS units. These are the bar mounted and tank mounted style. It depends on your preferences and how much space you have on your handlebars that determines the type of mount you need.
Bar Mounted – this type of mount positions the GPS directly on your motorcycle handlebars. The unit is kept in place while you're riding and always provides you with a clear view of the screen. This style is typically more secure as the GPS unit is attached directly to your motorcycle and locked in place.
Tank-Mounted – this type of mount has the GPS unit attached to the tank. This position isn't as secure and the screen is harder to see since you'll have to look down for a clear view. You also can't use a tank mount if you're riding with a motorcycle tank bag. Compared to the bar-mounted units, this type of mount isn't nearly as secure.
There are a number of different mounting systems and adapters that can be used to mount a motorcycle GPS. Depending on your bike, you might have to get creative with how do you attach a navigation unit.
Some bikes have more handlebar space than others, making a handlebar-mounted unit ideal. Others, like my Honda CBR250R, will require a tank-mount or custom solution.
Motorcycle GPS Features
Most GPS units come with their own basic features built in. Along with the basics, there are some other important features that you'll want to look for.
The specific features you choose depend on your riding style and personal preferences. These features include:
Voice Navigation – This is an incredible feature that allows you to navigate with your voice. With voice navigation you can change settings, add new destinations or way-points, and control the GPS unit without taking your hands off your motorcycle.
Bluetooth Headset Pairing – There are some units that you can connect to your motorcycle helmet or Bluetooth headset through a Bluetooth pairing connection. This way you can listen to the navigation voice giving you accurate, turn-by-turn directions while you're riding. This makes it easy to navigate without having to look at the screen.
Route Options – For motorcycle navigation, route options are essential. This is one of the main features I look for in any motorcycle GPS. This setting allows you to choose or avoid certain routes and road types. It also helps you to miss heavy traffic areas.
Waterproofing and Weatherproofing
The reason you don't want to rely on your smartphone for navigation, especially when it's mounted on your bike, is because it's not weatherproof or waterproof. Weather always needs to be considered when you're on a motorcycle ride.
The gear you have on your bike, whether it's heated grips or a GPS, needs to be able to withstand all weather elements. This includes periods of heavy rain or even winter riding conditions.
It's a good idea to select a waterproof motorbike GPS unit. These are designed to be used in wet and rainy conditions. They won't be damaged or broken if you happen to get stuck in the rain.
Depending on the tank bag you're using, it might even come equipped with a special waterproof pocket. Consider stashing the GPS in this pocket for further protection.
Construction Quality
Another important feature is the overall durability and construction quality of the GPS you're interested in. It's likely that you'll be riding in rugged and bumpy conditions, so choosing a product that's durable and reliable is important.
Look for models with rugged frames and a durable build quality. Hard plastics and rubber guards are some construction quality features to look for. Don't forget to read the description of any specific models to see what they're recommended for.
Glove-Friendly Touch Screen
Let's assume you're riding with a pair of motorcycle gloves. Some GPS units come with a glove friendly design. These can be used when you're wearing gloves.
Any models with this feature should be considered. They're easier to use when you're on the road and there's no need to take off your gloves to operate the GPS.
Remember, always stop and pull to the side when you're changing settings or adding a new destination. Avoid using the navigation while the motorcycle is in motion.
Best Motorbike GPS FAQ
Why Use a Motorcycle GPS?
There are number of benefits to using a dedicated motorcycle GPS as opposed to relying fully on your smartphone. Modern navigation units allow you to track almost every aspect of your ride along with providing you with local navigation.
With most new GPS models you can accurately monitor your speed, track your travel distance, and assess the terrain you're about to explore. These little units also can show you points of interest nearby such as restaurants, gas stations, and historic sites.
The main problems with relying on your smartphone for navigation is the smaller screen and lack of weatherproofing. Navigation units come with large, easy-to-read screens that provide you with your navigation information at a quick glance.
They also are typically waterproof and designed to be used in all weather conditions. You won't want to spend the day riding in the rain with your smartphone mounted to the motorcycle.
How Do You Mount a GPS to Your Motorcycle?
As we mentioned earlier, there are different types of mounting capabilities depending on the GPS unit. Your type of bike will also determine how it can be mounted.
The most common way of mounting these devices is on the handlebars. This provides you with a clear, unobstructed view of the screen. The handlebar mounting option also makes it easy for you to access the screen for changing settings or adding new destinations.
Mounting the unit in your motorcycle gas tank is another option. This setup has a few drawbacks, including being less secure and harder to see while you're riding.
Always check the manufacturer's instructions how to properly mount your navigation device.