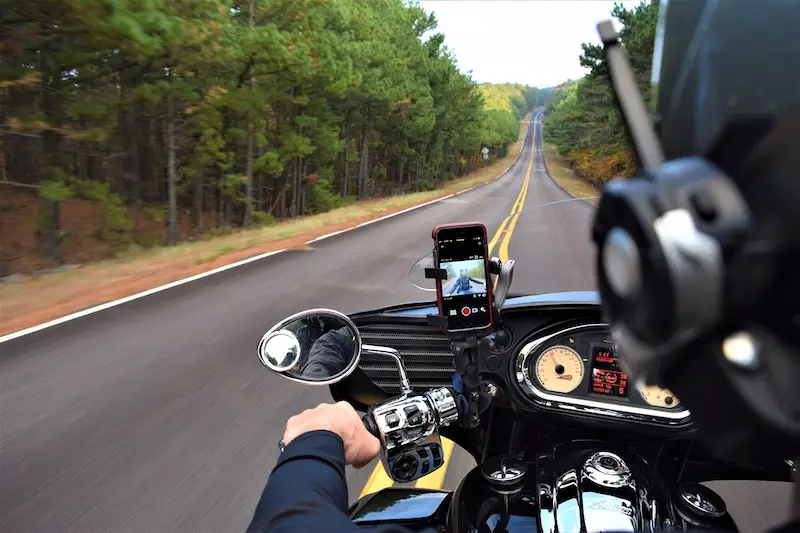 Whether you want to listen to music in high quality, chat with your wife at home, or stay connected with the people you're riding with, the best motorcycle Bluetooth headsets will let you do all of that. Instead of relying on noise cancelling earphones or having to stop and take a phone call, a motorcycle Bluetooth headset makes it easy to stay connected.
With the best motorcycle Bluetooth headset you can enjoy your favourite music with excellent noise cancellation technology, listen to accurate GPS directions, and communicate with people around you. You can also take and respond to phone calls with surprising clarity. When it comes to audio communication, these motorcycle Bluetooth headsets have it all these days.
With so many different options to choose from, it can be difficult to find the best motorcycle Bluetooth system that matches your requirements and writing style. In this post, we put together a list of the best motorcycle headsets to help you make the right decision. Don't forget to scroll to the bottom for helpful buyer's guide and FAQ. Let's jump right into it!
The Best Motorcycle Bluetooth Headsets in 2021
Sena SMH10-11 Motorcycle Bluetooth Headset

It goes without saying that Sena is the industry leader when it comes to motorcycle headsets. With that in mind, it's easy for us to recommend the Sena SMH10-11 Motorcycle Bluetooth Headset as one of the best for most riders.
With the Sena SMH10-11 you can finally start enjoying a hands-free motorcycle communication experience. What does this mean? Well, with this device you can listen to music, participate in a four-way intercom conversation, and even speak on the phone without needing to get off the bike.
What People Love
Everything is controlled by the easily accessible, and easy to use, jog dial. From where it's located at the side of your helmet you can change the volume, answer calls, dial calls, change the music, and connect to people with the same headset around you for better communication. The buttons are intuitive and easy-to-use, even if you're wearing motorcycle gloves.
This Sena SMH10-11 headset uses the latest Bluetooth 3.0 technology as well as an advanced digital processing system. This results in a better quality of incoming and outgoing sound as well as a stronger signal connections for both Bluetooth and intercom communication.
Although it sounds technical, setting up the Sena SMH10-11 is straightforward. Everything you need to get going with this motorcycle Bluetooth headset is included in the box. This would be the clamps, speakers, microphone, power cable, data cable, audio jack, microphone cap, instructions, and everything else you need for installation. Should you run into any issues, there are plenty of YouTube videos online covering the Sena SMH10-11 that can help you out.
With the speakers installed in your helmet, and the microphone properly adjusted, you'll never want to use headphones or have to stop to make a phone call again. Some other features worth mentioning include the noise control technology, which cuts down on background noise. There is the universal intercom protocol, which makes it possible to connect with other brands. Finally, there's the impressive battery life that gives you up to 12 hours of talktime and music listening on a single charge.
What People Don't Like
One of the main complaints with the Sena SMH10-11 is the price. For a Bluetooth headset, it can be kind of expensive, depending on your budget. However, this is one of the best motorcycle Bluetooth headsets for most people, so keep that in mind if you're looking to invest in Sena SMH10-11.
Another issue people have is the sound volume from the speakers. Double check that the speakers are installed properly in your helmet. Also, consider wearing motorcycle earplugs, as these can enhance your ability to hear music and other audio coming from the speakers.
Final Thoughts
Overall, the Sena SMH10-11 Bluetooth Headset is one of the best Bluetooth headsets for motorcycle riding currently available. Sena is well-known in the motorcycle headset space so it's easy for us to recommend a quality and reliable product such as this one. If you're looking for a motorcycle Bluetooth headset that's well reviewed and practical for most riding conditions, the Sena SMH10-11 is likely to meet your needs.
Sena 20S EVO Motorcycle Bluetooth Headset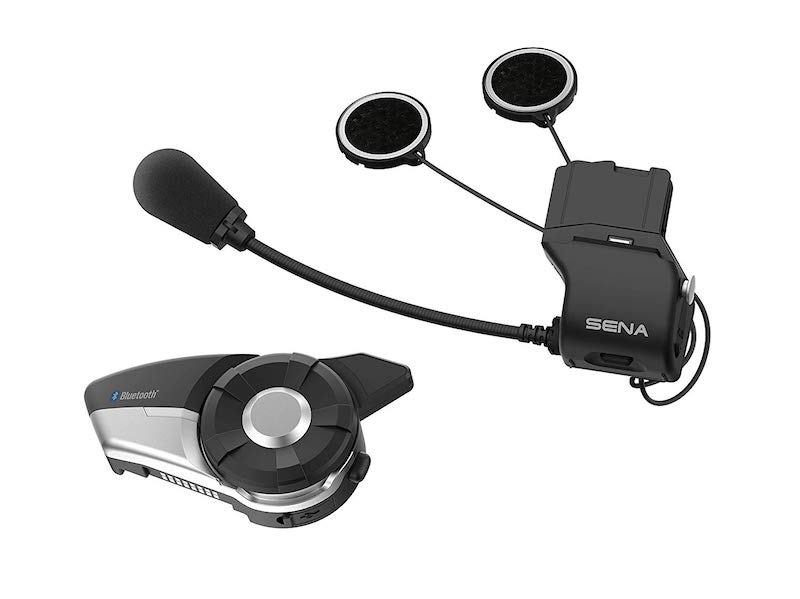 The Sena 20S EVO Motorcycle Bluetooth Headset is our second recommendation as one of the best motorcycle Bluetooth headsets for most riders. This is actually an upgraded model compared to the Sena SMH10-11 that we just reviewed. If you're looking for a little more functionality and upgraded features, this would be the headset we'd recommend.
What People Love
With the Sena 20S EVO you're able to enjoy Bluetooth 4.1 connectivity and on intercom range of up to 1.2 miles. This headset comes with built-in advanced noise control that helps to improve the audio your hearing, while reducing the noise around you. It's the shark fin integrated antenna on the top of the unit that helps with its range and Bluetooth connectivity.
Thanks to the streamlined design, all of the controls are integrated into the helmet unit. Changing the volume, changing your music, taking calls, and managing the settings can all be done with your gloved hands. Along with using your hands, it's also possible to control the Sena 20S EVO with voice commands. This makes it even easier to keep riding without getting distracted.
Everything you need to set up this Bluetooth headset is included in the box. Instructions are available as well as helpful videos online if you have trouble getting the headset setup. Worth mentioning is the dual microphone design, which takes advantage of two different microphones to provide you with a better audio experience.
Don't forget that the Sena 20S EVO comes with a built-in FM radio tuner. This is great for those of you that want to listen to the radio while you're out on the road. Also, this headset is water resistant, and will continue working in poor weather conditions.
What People Don't Like
Similar to our top recommendation, it's the price of the Sena 20S EVO that throws most people off. While there are plenty of cheap motorcycle Bluetooth headsets online, this is something that's worth investing in if you want quality audio and a streamlined user experience.
Another issue is the sound quality. Some people have mentioned that the speakers aren't loud enough and that the sound isn't good enough quality. We haven't experienced this issue and it likely can be avoided with a quality helmet and proper installation.
Final Thoughts
The Sena 20S EVO Bluetooth Headset stands as one of the best motorcycle headsets for most riders. It has slightly upgraded features over our top recommendation and would make a better choice for serious riders.
With an impressive 1.2 mile range, dual microphone set up, and Bluetooth 4.1 connectivity, the Sena 20S EVO is an amazing headset. If you're looking for something better than our first recommendation, this is what I would recommend checking out.
FreedConn TCOM-SC Motorcycle Bluetooth Communication System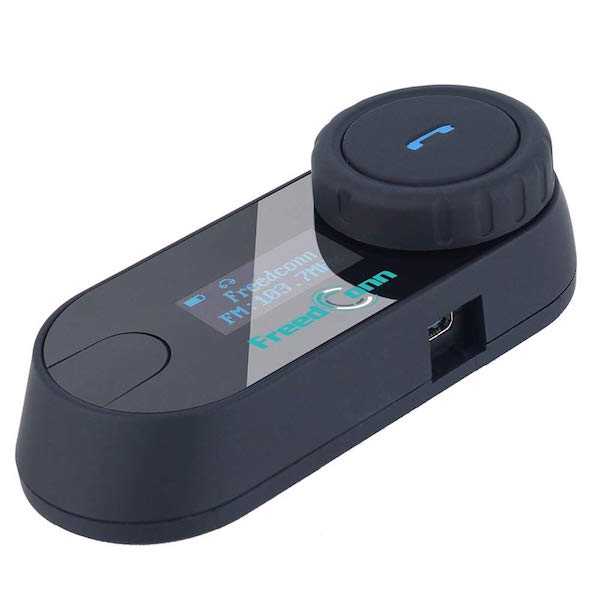 The FreedConn TCOM-SC Motorcycle Bluetooth Communication System is a great choice if you're looking for a cheap motorcycle Bluetooth headset. This would be a recommendation as an alternative to the Sena headsets, which command a premium price. The FreedConn TCOM-SC offers similar features, but is lacking in some areas to the Sena.
Whether you want to listen to music or communicate with the people you're riding with, this is possible with the FreedConn TCOM-SC headset. Installation is straightforward and everything you need, including a microphone, speakers, and control module, is included in this package.
What People Love
There are a lot of great features with the FreedConn TCOM-SC Bluetooth headset. For starters, it can be used as an intercom system for up to 3 riders at a time. At speeds of 75mph the device has a range of up to 875 yards. This makes it ideal if you want to easily communicate with the people you're riding with.
All of the connection is done through the Bluetooth 3.0 network. The intercom system is equipped with an LCD screen, which shows you the pairing status and battery life. This makes it easy to stay on top of the different outcomes you're looking for.
When it comes to battery life, the FreedConn TCOM-SC lasts up to 7 hours of intercom use. You can expect up to 10 hours of phone use when you're talking on the phone, listening to music, or listening to your GPS instructions. Speaking of that, the headset can be connected to FM radio, your smartphone, and even through a Bluetooth enabled GPS.
As for sound quality, the speakers take advantage of echo cancellation and noise suppression technology. This helps to provide you with a better quality audio coming through the speakers while you're riding. Finally, it's easy to control the device thanks to the control module that's located within reach at the side of your helmet.
What People Don't Like
There are a few complaints with the FreedConn TCOM-SC, which it should be expected for such a budget-friendly device. Keep in mind that this isn't a Sena, so it's not as popular or well-known in the motorcycle Bluetooth headset world.
One of the main complaints has to do with audio quality. Some people have complained that the bass could be improved and is hard to hear at highway speeds. Depending on what you're listening to, this might not be a problem at all.
Another common complaint is the time it takes to connect when your first setting up the device before your ride. It can take a few moments to connect to your music or to the intercom conversation. This can be annoying, but not a serious issue for most people.
Some smaller concerns include the FM radio and mounting quality. Riders have complained that the FM radio reception could be better. They have also complained about the quality of the mounting clips, although most people don't seem to have any issues with this.
Final Thoughts
Overall, the FreedConn TCOM-SC motorcycle Bluetooth headset is a great choice if you're on a budget and looking for something reasonably priced. It's better suited for people that are riding as often and that aren't using their bikes for commuting. If you're only riding on weekends, or going on irregular rides, you'll probably find the FreedConn TCOM-SC to be a suitable choice.
If you're in the market for something affordable and don't want to spend hundreds of dollars on a motorcycle headset, it's the FreedConn TCOM-SC that we would recommend. The features are suitable for most people and it allows you to listen to music or communicate with other riders while you're riding. For something better and with more features we would still recommend the first two Sena devices we mentioned.
Best Motorcycle Bluetooth Headset Buying Guide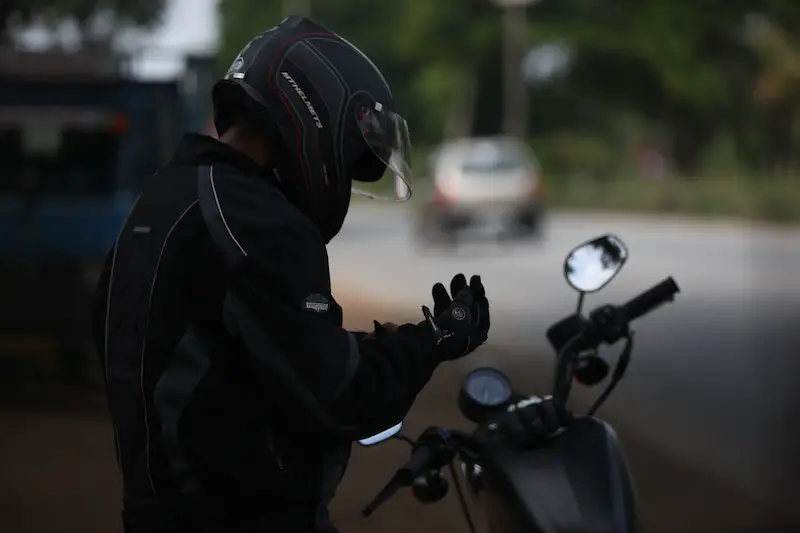 We put together this guide to help make it easier for you to find the right Bluetooth headset for your motorcycle. There are a lot of options out there to choose from. If you're not informed on what to look for, you might end up with something you're not happy with.
Read through this buying guide learn more about these motorcycle headsets. This way, you'll be informed with your find decision and find the right model for your riding style.
Should you have any questions, don't hesitate to leave a comment down below. Otherwise, let's take a further look at these motorcycle Bluetooth communication devices.
Why Do You Need a Bluetooth Headset For Your Motorcycle?
The main reason to pick up one of these headsets is for easier communication. Whether you're riding with people or you want to talk to your family back home when you're on the bike, these headsets make it possible.
They use both intercom and Bluetooth technology to connect you with other headsets or with people through the phone. The alternative is using your smartphone, which means pulling over to make a call. Not only is this distracting, it's dangerous, and can take away from your riding experience.
These days, Bluetooth headsets aren't used just for communication anymore. They come loaded with features that make them a versatile tool and one of the best motorcycle accessories you could have. Some of the different things you can do with these devices include:
Streaming music from your smartphone without having to stop and set it up, or stop to change songs
Hear directions from your smartphone or

motorcycle GPS

without needing to wear headphones or use a paper map
Enjoy a phone conversation with your friends, family, and loved ones while you are cruising down the road
Have conversations with the other people you're riding for a more enjoyable riding experience. Share directions, discuss problems, and even make changes on the go without having to stop.
Provide real-time coaching or helpful advice to new riders through the intercom system
Listen to your favourite podcasts, audio books, or even FM if you're so inclined
All of these different features make Bluetooth devices a great choice if you're someone that spends a lot of time riding. It doesn't matter what your doing on the bike, these headsets can enhance your experience and make it easier for you to communicate with those around you.
Tips For Choosing the Best Motorcycle Bluetooth Headset
After having spent so much time researching the various motorcycle Bluetooth headsets, I kept coming across the same features that are important to look for. Here are some helpful tips for choosing the best motorcycle Bluetooth headset. Be sure to keep an eye out for these different features if you're looking for a headset that's reliable, durable, and suitable for your motorcycle riding experiences.
Cost
What are the most important factors when choosing the best motorcycle headset is the cost. Ultimately, it's your personal budget that will determine which headset you're most likely to buy. It's a good idea to do your research, such as reading posts like this, to find the right headset. Never choose a product because it's the cheapest one, this can lead to disappointment as the cheapest products typically use the cheapest materials.
While it's not always the most expensive products that are the best, price typically dictates the quality you can expect to receive. There's always going to be a range in price where you'll find the best products. In this post we recommended the best Bluetooth headsets for motorcycles for a few different budget ranges.
There's that saying, "buy once, cry once", and this rings true when it comes to motorcycle gear. We always recommend buying products from brands you recognize or that are recommended online. This way, you might have to spend more upfront, but you'll have a better experience in the long run.
Sound Quality and Voice Control
The next most important feature when it comes to motorcycle Bluetooth headsets is the sound quality. You probably want to be able to enjoy the music you're listening to and clearly communicate with your riding buddies. It's never enjoyable having to deal with poor audio quality, especially after you spent so much money on something.
When you're looking for the best Bluetooth motorcycle headset for music or communication, keep an eye out for noise cancellation technology. This is used to block out unnecessary noise and results in a clearer audio coming through your headphones. Most headsets come with this technology, except for the cheapest ones, which should be avoided anyways.
Voice Command
This is a feature that isn't necessary, although it's nice to have when you're out on the motorcycle. Most headsets use a small control module that allow you to answer calls, pair with other riders, and change the music. However, there are some headsets that come with voice control so you can continue to operate your motorcycle without taking your hands off the handlebars.
If this is an important feature for you, look for this feature in the specifications. Some of the better quality Sena headsets will come equipped with voice control. Personally, I don't find it necessary, although it is a nice feature to have on longer rides.
Battery Life
Another important factor is the battery life of any motorcycle Bluetooth headset you're using. It's the battery life that decides how long you can use a device for. Most devices have a reasonable battery life, with some of the better quality models offering an impressive full-day battery life.
Those of you going on shorter rides, or not riding very often, won't need to consider battery life as importantly. If you're taking a lot of long rides, day trips, or multi-day trips, then you'll want to focus on finding a good motorcycle headset with long battery life.
Either way, as long as your motorcycle has the USB battery charger set up, you can always charge the headset on the go. For the most part, headsets will last for an average day of riding before needing a charge. Of course, this depends on how much you're using it and what you're listening to.
Control Module
For your own safety, you're probably wearing motorcycle gloves on all of your rides. This can make it difficult to operate the controls on the headset control module. Any headsets that use small buttons should be avoided, as they can be hard to press while you're riding.
These days, most headsets use bigger buttons or dials that are easier to use when you're wearing gloves. Alternatively, look for devices that come with voice-activated technology. This way, you don't even need to touch the control module if you want to take a call or change the music.
Range
Those of you wanting to communicate with the other people you're riding with will want to take this factor into consideration. The best motorcycle Bluetooth headsets will have a range of 800 yards or more. In most cases, this is more than enough for staying in contact with the other people you're riding with.
Keep in mind that local conditions, such as weather and line of sight, can cause problems with your connection. Interference and unstable connections aren't uncommon problems, especially if you're riding in rough terrain with a lot of curves or geology. Those of you listening to music or making phone calls will have to worry about this issue.
Weatherproof Design & Waterproofing
Considering the Bluetooth headset is mounted on the outside of your helmet, you might be worried about getting your motorcycle Bluetooth headset wet. In the past, moisture and inclement weather would be a concern for riders as it could permanently damage the headsets.
Today, most headsets are waterproof, weatherproof, or water-resistant. This means you can keep riding in wet and raining weather conditions without worrying about damaging your headset. Advances in technology have also allowed the Bluetooth connection to maintain its audio quality, even during periods heavy rain.
As long as you have the right motorcycle rain gear, you won't have to worry about getting your headset wet. Should you have any concerns, pull over and cover the device or wait it out until it stops raining. Don't forget to check the manufacturer's specifications and look for the waterproof or weatherproof rating.
Customer Service
For better quality brands, like Sena, you can expect a higher level of customer service. With some of the lower quality and lesser-known brands, don't expect much from their customer service if you run into any issues.
The best way to find out about customer service satisfaction is by looking at reviews. Alternatively, check the product description or manufacturer website to see what customer service options they have available.
Chin Strap
It's important to use a motorcycle Bluetooth headset that doesn't get in the way of the chin strap on your helmet. These straps are designed to keep the helmets in place on your head while you're riding. They provide the same purpose should you get into an accident or crash.
The chin strap needs to be accessible and easily fastened with the headset installed. If it's not installed properly and getting in the way, move its location or consider a different headset.
Warranty
Whenever you're buying anything, online or offline, warranties are great to have. This helps to give you peace of mind and takes care of any issues you might experience with your device. It also makes it easy to return or have repaired any devices you're having problems with.
Look for a warranty in the product specifications or description. Alternatively, consider reaching out to the company directly and asking if they have a warranty. Sena has a great warranty and stand behind their products. Look for companies that offer similar warranty solutions.
Durability
Whenever you buy any motorcycle gear it's important that it's designed to withstand the rigors of use on the road. Anything you use on the bike is going to be subject to a lot of bumping, banging, and moving around.
That's why it's a good idea to buy products that are durable, made from quality materials, and well-reviewed. Always check the reviews and look at the product description to get a better idea of the headsets durability.
Frequently Asked Questions
Do You Need Mobile Reception For The Headset to Work?
Typically, you don't need any mobile or cell reception for your motorcycle Bluetooth headset to work. To listen to music or communicate with the people you're riding with, the Bluetooth connection is all that's required.
If you want to make calls then of course, you're going to need cell reception. You will also need reception if you're using a motorcycle GPS and you want to hear the directions coming through the headset. Otherwise, cell reception isn't required for intercom communication and listening to music over Bluetooth.
How Do You Pair a Motorcycle Headset to Your Smartphone?
Each headset will have its own pairing instructions. However, there's a basic process for pairing your smartphone to a headset.
Start by turning the headset on and enabling the Bluetooth feature. Make sure Bluetooth is also enabled on your smartphone and that both devices are capable of pairing.
Next, search for Bluetooth devices on your smartphone and wait for the headset to get detected. Once detected, select the pair device option. Wait for the connection to complete and you should get a notification on your phone that the devices are connected.
How Do You Install a Motorcycle Headset?
Installing a motorcycle headset is straightforward and shouldn't take longer than 30 minutes. Everything you need for the installation, including instructions, should be included in the box.
The easiest way to install the speakers and control module is by using double-sided tape. You'll have to remove the pads on the inside of your motorcycle helmet to ensure everything is properly positioned. Consider using glue if you want a more permanent solution.
Should you have any problems, there are always videos on YouTube that can help you with the installation process. As I mentioned, installation is straightforward and most of you won't find it difficult.