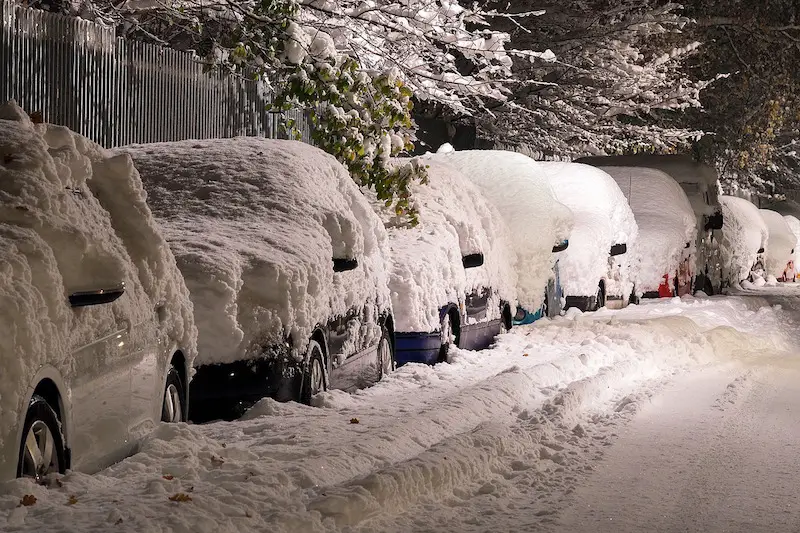 Most drivers want to keep their cars protected. Unfortunately, this means parking outdoors and using car washes on a regular basis. You probably know that this isn't the best way to protect your car.
Instead of neglecting your vehicle outdoors, consider using one of the best car covers you can find. These vehicle covers provide plenty of benefits for your vehicle, especially if you're hoping to keep it looking great for years to come.
For example, a proper cover can protect the paint work on your car, shield it from harmful UV rays, prevent the components from freezing during the winter, and delay the onset of rust. They're also a great way to deter thieves from being able to easily steal your car.
Using a car cover isn't for everyone, however, if you're in the market for the best automobile cover you've come to the right place. In this post, we're going to look at the best rated car covers available at the moment. This should help you make the most informed decision on choosing the right cover for your vehicle.
Don't forget to scroll past our recommendations for an in-depth buying guide and FAQ. Without further ado, let's jump right into it!
The Best Car Cover
kayme 6 Layers Car Cover
The kayme 6 Layers Car Cover offers 6 layers of protection that help to protect your car from dust, harmful UV rays, wind, rain, people walking by, and other outdoor elements. It's easy to install and the cotton interior won't scratch or damage your car while it's covered.
Thanks to the universal fit, this cover is designed to fit most cars. The exact dimensions are 186-inches to 193-inches in length. It's also possible to choose a different cover from the same brand with both longer and shorter dimensions depending on your vehicle.
The cover itself is made from a durable, lightweight, and waterproof material. During the summer it's highly reflective and can prevent your car from UV damage. For the winter months, it will prevent snow, ice, and frost build up from damaging your vehicle.
To strap everything in place are a set of buckles. There's also elastics at the front and rear that further help keep the cover in place. Reflective strips across the mirrors and edges of the cover make it easier to see and help prevent people from bumping into it.
An interesting feature worth mentioning is the door zipper. This makes it easy to enter or exit the vehicle through the driver door if you forgot something or want to check it out. There's even mirror pockets so that the mirrors aren't getting awkwardly pushed or stretched with the cover on.
Overall, the kayme 6 Layers Car Cover is a simple yet practically designed car cover. It's a great choice for people looking to cover their vehicles and protect them from the outdoor weather elements. Features like the door zipper and window pockets make this our top recommendation as the best car cover.
Classic Accessories OverDrive PolyPro Car Cover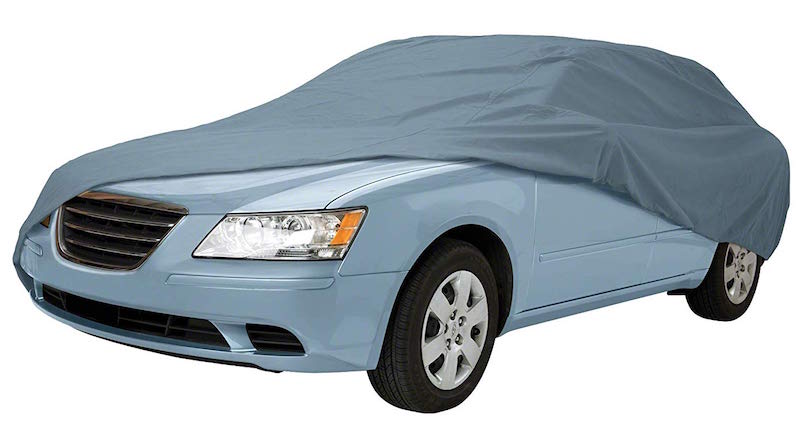 The Classic Accessories OverDrive PolyPro Car Cover is a great choice if you're looking for the best inexpensive car cover. While not as feature-rich as our top recommendation, discover does its job without a fuss.
Depending on your vehicle, there are three different sizes of covers to choose from. The sizing ranges for vehicles from 175-inches up to 210-inches in length. Choose the right size for your vehicle to avoid any issues with fit.
The PolyPRO is designed to protect your vehicle against harsh weather elements, sun damage, dirt, and scratches. The exterior is water repellent, which helps to keep moisture away from your vehicle. On the inside is a soft fabric that won't damage or scratch your paint during storage. The material itself is breathable, and this helps to reduce the buildup of mold and mildew.
When it comes to installation, the elasticized hem on the bottom of the cover helps to keep everything in place.There's a nifty antenna reinforcement patch, preventing the antenna from ripping through the cover. Finally, there are non scratch tie-down grommets if you want to strongly secure the cover for long-term storage.
Other features worth mentioning include the convenient storage bag. This is practical for storing the cover when it's not being used. It even comes with a two-year limited warranty to give you peace of mind for your purchase.
Overall, the Classic Accessories OverDrive PolyPro Car Cover is our recommendation if you're looking for the best cheap car cover. It's a great choice if you're on a budget, but you still want something durable to protect your vehicle. For indoor or outdoor vehicle storage, this is an affordable solution.
Budge B-3 Lite Car Cover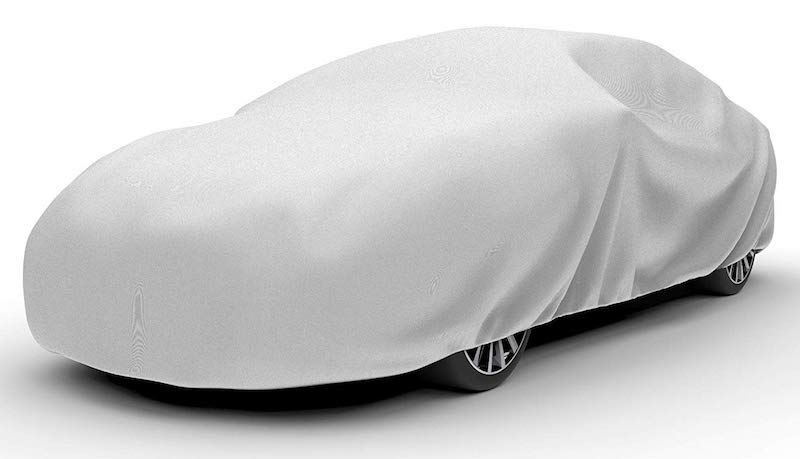 The Budge B-3 Lite Car Cover is our recommendation for the best indoor car cover. This is a lightweight and entry level cover that's well-suited for protecting your vehicle while it's being stored indoors.
The cover uses a single layer of polypropylene to protect your vehicle against dust, moisture, falling objects, and general debris. It's designed using double-stitched seams, which help with durability, and non-abrasive materials that won't scratch your vehicle.
As an indoor car cover, you're probably looking for something reasonable. That's the case with the Budge B-3 Lite Car Cover. It uses a breathable material that improves air flow, reduces condensation, and helps to prevent the buildup of mold and mildew.
When it comes to fit, this cover is designed to fit most standard vehicles. Always double-check the sizing and different options to find the right size for your own car.
As for securing this over your vehicle, there is a full elastic hem that helps to keep the cover in place. It's also equipped with built-in grommets, that allow you to tie the cover down during windy conditions or for better security.
Overall, we would recommend the Budge B-3 Lite Car Cover as the best indoor car cover for most people. It's lightweight, basic, and offers ample protection against indoor elements.
Best Car Covers Buyers Guide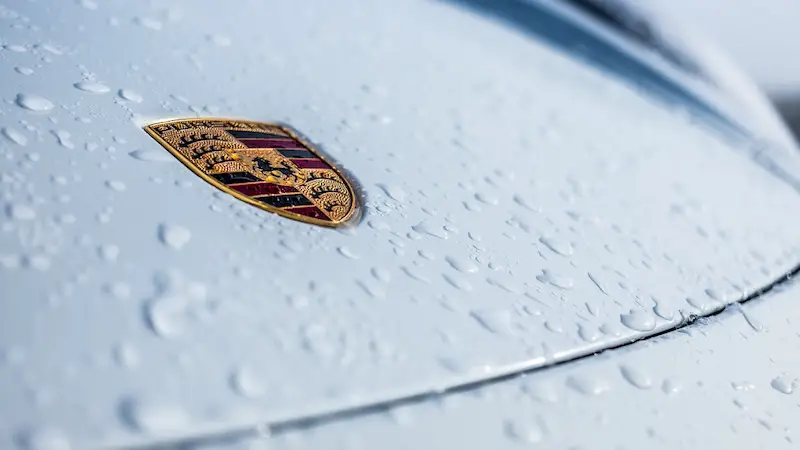 At this point, hopefully you have found the right car cover for your vehicle. However, with so many different options to choose from, you still might be having some difficulty choosing the right model for your needs.
To make things easier for you, we put together this helpful buying guide. This way, you'll be the most informed when looking for the cover that matches your needs and requirements.
Helpful Tips for Buying a Car Cover
The type of car cover you purchase is going to depend on your individual preferences and automotive care requirements. Here are some helpful tips on choosing one and the different factors to consider.
Budget
For most people, budget is one of the main deciding factors. Keep in mind, spending more money doesn't necessarily get you a better quality product. It's only worth investing in a car cover if it does everything you need it to.
Regardless of your budget, it's possible to find a good quality car cover. Double check the product description and see if the cover includes the features are looking for. If not, keep searching until you find the right one in your price range.
Size
One of the main problems people run into when picking up a car cover is buying the incorrect size. This might not seem like an issue, but a cover that doesn't fit properly isn't going to work as intended.
Covers that are too big are going to flap around in the wind and could possibly get blown away. They're also going to let moisture, debris, and other elements inside.
Covers that are too small won't be able to properly cover the car and protect it from the elements. They're also going to look ridiculous when they're not covering the entirety of your vehicle.
Don't forget to check the manufacturer specifications and compare them to your car measurements before buying one. This way you can guarantee a better fit and keep your car protected from the start.
Indoor vs Outdoor Car Cover
There are two main types of car covers to choose from. Indoor car covers are designed for indoor use and don't offer as much protection against the harsh outdoor weather elements. Outdoor covers are designed for outdoor use an offer better protection against the weather and harmful UV rays.
Always choose the right cover for the location you're planning to use it with your vehicle. You're only doing yourself a disservice by using any product that it's not intended for. While outdoor car covers are more expensive, they offer better protection and are more durable for outdoor use.
Portability and Size
Generally, the size and portability of a car cover isn't important. It's not a big deal if you're storing your vehicle in the same place on a regular basis. However, if you're travelling a lot you'll probably be interested in a lightweight and portable car cover.
In this case, look for lightweight covers that come with their own storage bag. This makes them easier to manage and you can pack them away when it's not being used. Check the product description for the weight and to see if there is a storage bag included.
Season
The season and weather elements what determines the type of cover you need.
Winter car covers are typically thicker, equipped with multiple layers, and designed to protect your vehicle against snow and cold weather.
Summer car covers are usually made with one or two layers and tend to be more lightweight.
Why You Should Use a Car Cover
There are a number of benefits to using a car cover. Let's take a look at some of the most important advantages.
For starters, covers protect your vehicle against dust, dirt, debris, and other pollutants while they're being stored. They offer suitable protection against the harsh weather elements for outdoor storage.
Speaking of outdoor storage, covers can be a practical deterrent against thieves. This is something to consider if you live in a high-crime area.
Believe it or not, automobile covers can actually save you money. Not only will you save on car storage costs, you'll be able to spend less on car maintenance. Vehicles that are covered are less likely to rust or get scratched. The covers also help to prevent the buildup of mold and mildew.
Finally, a good car cover will protect the windows, glass, and paint on your vehicle. This helps keep it looking clean and pristine, not covered in rain spots or dust. Overall, there are a number of benefits to using a car cover.
Best Car Covers FAQ
Do Car Covers Scratch the Car?
Good quality car covers are designed with a soft interior lining. This lining is typically made from cotton or fleece. These soft materials aren't abrasive and won't scratch or chip the paint on your vehicle.
Some of the cheap car covers don't use the same materials. It's possible that one that's poorly made could scratch your car or damage the paint. Always read reviews and check the design specifications before buying anything being used on your vehicle.
Can You Put the Car Cover On When the Car is Wet?
Generally, it's a good idea to wait until your vehicle is dry before putting on the car cover. Moisture, dust, and other debris can get trapped under the cover. It could rub against the cover and this could damage the paint on your vehicle.
Even with breathable covers, it's still a good idea to wait until the vehicle is completely dry. Consider drying it on your own or parking a vehicle in the sun to help it dry quickly. Once the vehicle is dry, only then should you put on the cover.
 Are Car Covers Worth It?
Depending on the vehicle, car covers can definitely be worth it. They can help extend the lifespan of your car while preventing the exterior from getting damaged.
Daily wear and harsh weather elements can damage the paint. This can result in your vehicle looking dull and aged. People walking by, tree sap, animals, and other elements can also damage the exterior of your vehicle.
Using a cover is definitely worth it for the health of your vehicle. They will keep it looking better for a longer period of time. It also makes the vehicles easier to maintain and less susceptible to rust.