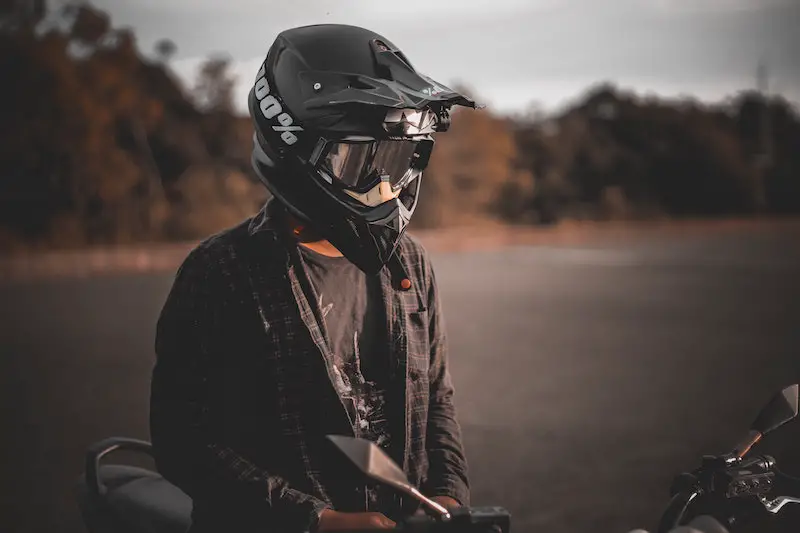 When it comes to riding a motorcycle, nothing is more important than your safety. Wearing the best motorcycle helmet you can afford is going to protect your head, face, and neck in the event of a crash or accident. This is a piece of gear you don't want to skimp on.
Getting hurt isn't fun and a serious injury can end your riding career. You might get lucky and never get into an accident. If something does happen then a good motorcycle helmet can be the difference between walking away from the crash or spending weeks in a hospital bed.
How people can ride without a helmet is beyond me. I understand personal freedom and all that, but it's hard to argue with the statistics of helmet-wearing riders in accidents. Thankfully, most countries have laws requiring motorcyclists to wear helmets.
In this post I want to help you find the right motorcycle helmet. This can be tricky as there are so many different options, styles, prices, and specifications when it comes to motorbike helmets. To help you find the best motorcycle helmet I've gone through hundreds motorcycle helmet reviews.
The result of this research intensive process is the following list of the top motorcycle helmets for most riders. Don't forget to scroll to the bottom of this post for a buying guide and more helpful information. Let's jump right into it!
The 9+ Best Motorcycle Helmets (Reviews) in 2021
HJC CL-17 Full-Face Motorcycle Helmet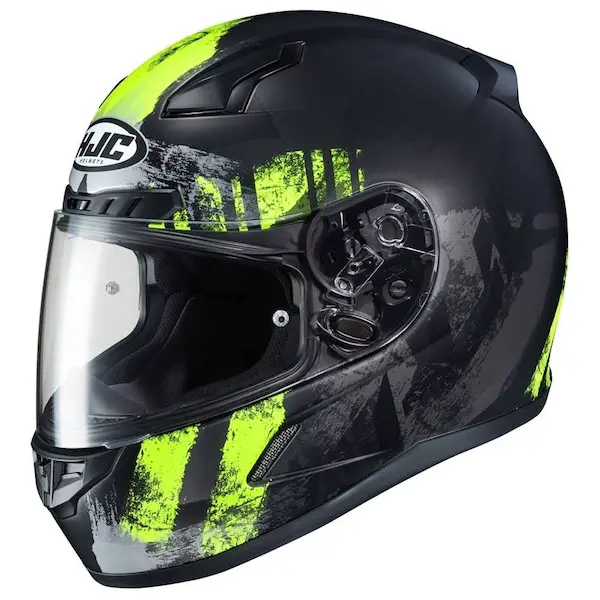 The HJC CL-17 Full-Face Motorcycle Helmet is a reasonably priced and well-reviewed motorbike helmet. This is the helmet I personally use and have no problem recommending it for most riders. While it's not packed with features, it gets the job done without any fuss.
HJC is a big name in the motorcycle helmet game and this is one of their top sellers. The HJC CL-17 offers full face protection, which helps in event of a crash or accident. Having a full face design is also practical for riding as it keeps bugs, dirt, road debris, rain, and wind from constantly blowing in your face.
When it comes to style, there are a number of different colors available with the HJC CL-17 depending on your preferences. The helmet itself has a sleek, modern look with a range of options for different visors.
On the inside is a lightweight, comfortable padding that keeps the helmet in place on your head. A great feature of the HJC CL-17 is the removable padding that can be cleaned at the end of the riding season. There's also space to slip your Bluetooth speakers or motovlogging microphone behind the padding.
The further help with comfort, there are airflow vents on the front and top of the helmet. This encourages ventilation and increases air flow on those hot, summer days.
One of the main drawbacks with the HJC CL-17 is the amount of wind noise that gets let in. This may be a problem for some. The wind noise can be avoided by using earplugs or headphones on your rides.
Overall, I would definitely recommend to the HJC CL-17 Full-Face Motorcycle Helmet as one of the best budget motorcycle helmets. It's reasonably priced, comfortable to wear, easy to maintain, and will protect your head in case of an accident.
Bell Qualifier Full-Face Motorcycle Helmet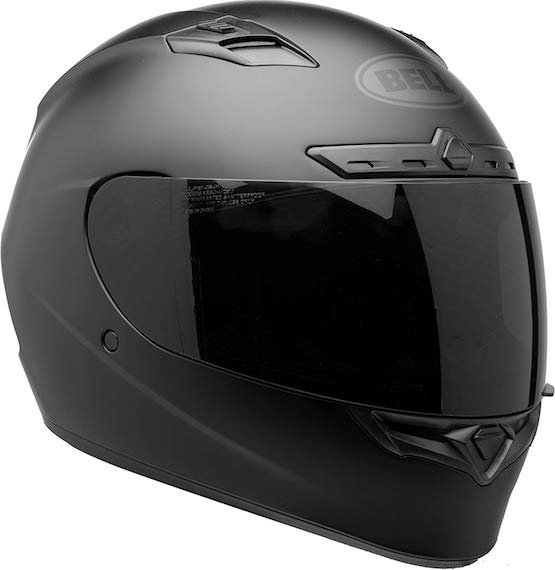 The Bell Qualifier Full-Face Motorcycle Helmet is another great choice, especially if you're in the market for the best full-face motorcycle helmet on a budget. For the most part, there's no need to spend thousands on a helmet. These budget models come with ample protection and are suitably comfortable for everyday riding.
The Bell Qualifier is a full face motorcycle helmet. This model is comfortable and come to the handful of useful, practical safety features. To start, there's the padded chin strap with a D-ring closure. This helps keep the helmet in place during any riding conditions.
To help with visibility, the visor has been designed to be anti-fog and anti-scratch. There's also the contoured cheek pads for a better fit and added comfort. This helmet even has integrated speaker pockets making it easy to set up your motorcycle Bluetooth headset.
On the inside of the Bell Qualifier is a removable, washable, and antibacterial liner. A padded wind collar adds even more comfort while preventing wind from blowing inside the helmet. Vents on the front, top, and back help with air flow and helmet ventilation.
Depending on your preferences, there are a number of different sizes and colors to choose from. The Bell Qualifier has a sleek, stylish design that looks cool regardless of what you're riding. You can even choose from different visors whether you want something colored or shaded.
The Bell Qualifier Full-Face Motorcycle Helmet is another great choice if you're on a budget. Bell is also a well-known and popular helmet manufacturer that makes great products for beginner riders.
1Storm Modular HB89 Helmet
The 1Storm Modular HB89 Helmet is our recommendation for the best modular motorcycle helmet. If you're the type of rider that wants a modular helmet, the 1Storm HB89 is a model you'll definitely want to check out. This is a great style for when you want the fresh air blowing on your face combined with the safety and practicality of a full-face helmet.
One of the best features of the 1Storm HB89 is its built in, dual lens system. There is a full face shield with a clear visor along with a set of retractable inner sunglass lenses. This way you can cover your face for wind, debris, and bug protection while keeping the sun out of your eyes when necessary.
These modular helmets are great for both local trips and longer rides. Being able to flip up the entire front of the helmet is amazing on those hot, dry days when you don't want to be baking. It's also great being able to shut the helmet when necessary during inclement weather or when you hit the highway.
The 1Storm Modular Helmet boasts a lightweight, aerodynamic design. There are six different openings to help with airflow and ventilation. On the inside is a comfortable, removable, and washable liner and pads. Finally, the quick release buckle makes it easy to take the helmet on or off without fumbling with any straps.
Those are you looking for a modular helmet will definitely want to check out the 1Storm HB89 Modular Helmet. It's well reviewed and comes in a wide range of different colors to match your bike or style preferences. Depending on your riding style, you might find that a modular helmet like this is better suited for your rides.
ILM Motorcycle Half Helmet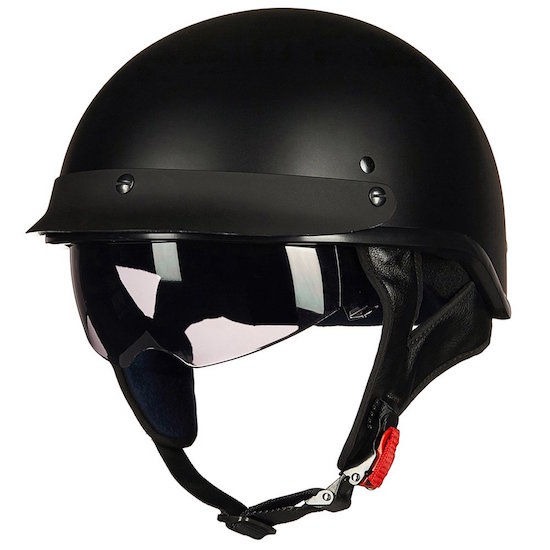 While not as safe, some riders prefer the half-helmets, or buckets. in this case, I'd recommend the ILM Motorcycle Half Helmet as the best motorcycle half helmet for most riders. For safety, you would be better off with a full-face or modular design, but some of you will choose looks and style over safety and comfort.
One of the best features of the ILM Motorcycle Half Helmet is the integrated drop down sun visor. This removes the need for sunglasses and helps to keep the sun, wind, and road debris out of your eyes when you're riding. The visor can also be removed and replaced whether it needs to be cleaned or if you don't want to use it.
This model comes with a quick-release chin strap making it easy to put on and take off. To help with ventilation, there is venting through the pads to improve air flow. Speaking of the pads, the padding inside can be removed and easily washed at the end of the season.
There aren't many style options with the ILM Motorcycle Half Helmet. You can choose from a matte black or glossy black design depending on your preferences. This helmet is also DOT certified and meets the minimum of motorcycle safety requirements.
Some riders have complained that the padding is stiff and firm. I would imagine that the becomes more comfortable the more it's used. Personally, I would still recommend going with a full face or modular design for more safety. Otherwise, the ILM Motorcycle Half Helmet is a good choice if you're looking for this style without breaking the bank.
Daytona Cruiser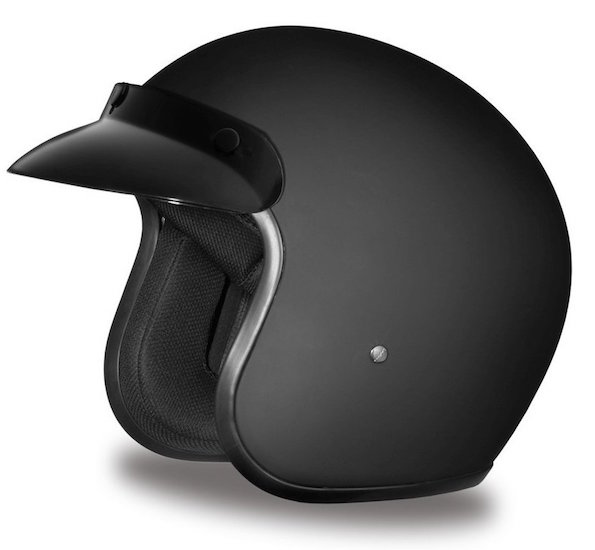 The Daytona Cruiser Helmet is another practical, and safer, choice for an open-face helmet. This modern, stylish half helmet offers slightly more protection for your face and neck. It's the Daytona Cruiser thought I'd recommend if you're looking for a helmet with this style.
Not only is the Daytona Cruiser a good choice for scooter riders, but it's a cool style for motorbikes as well. It has that futuristic design while being a practical choice for most riding conditions. The larger sides help to protect your neck, the size of your face, and ears should you get involved in a crash or accident.
On the inside of the Daytona Cruiser you'll find a fully lined, custom formed interior that's moisture wicking for better ventilation. This results in a sleek, comfortable design that hugs your head and keeps the helmet in place. It even comes with a removable, snap-on visor to be used depending on your style preferences.
Making it easier to use is a quick-release lock with a one finger release lever. The Daytona Cruiser is available in a range of different sizes along with a few different colors to choose from. For an open-face, half helmet, the Daytona Cruiser Helmet offers slightly more protection while still maintaining a reasonable price for budget-minded motorcyclists.
Bell Bullitt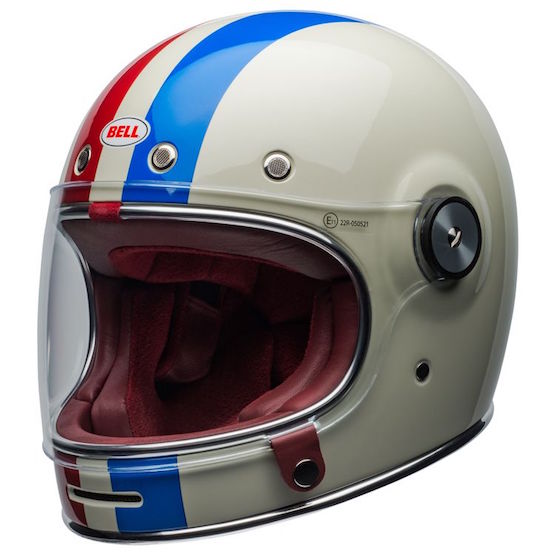 The Bell Bullitt helmet with the full-face visor is a great choice. Whether you want to look cool on your scooter or you want something stylish with full face protection, this is it. This helmet style is better suited for cruisers and vintage motorcycle riders looking to fit the image.
The full face shield offers protection against the wind, road debris, and weather elements. It also comes with vent ports to keep your head and face ventilated on those warmer days. We've recommended other Bell motorcycle helmets and we're pleased with the overall build quality and durability of the brand.
On the inside is a genuine leather interior. The inner lining is removable, washable, and antibacterial to help keep things clean. There's also a padded chin strap and contoured cheek pads for more comfort. Getting everything done up is simple with the leather d-ring closure.
Another interesting feature on the inside are the integrated speaker pockets. This makes it easy to set up your motorcycle Bluetooth headset to listen to music. Unlike some of the more budget oriented helmets, the Bell Bullitt boasts a comfortable fit and durable design.
Depending on your preferences there are a few different helmet colours to choose from. It's also possible to change the visor depending on what you're looking for. Overall, the Bell Bullitt Motorcycle Helmet is a solid choice for the best motorbike helmet. It's stylish, durable, and makes you look great on the bike.
Shoei RF-SR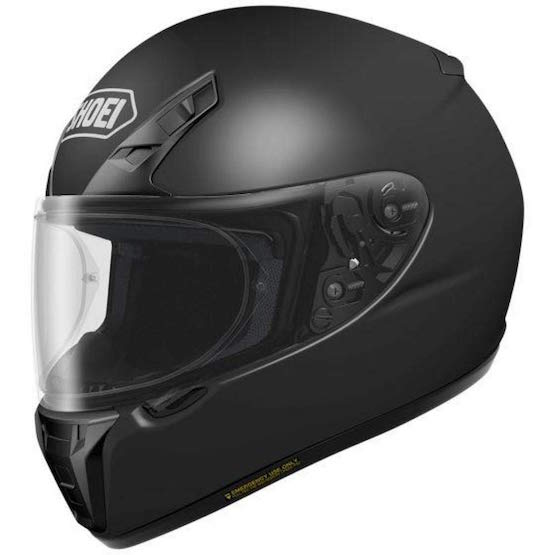 Shoei is a popular choice when it comes to the higher-end motorcycle helmets. The Shoei RF-SR Full-Face Helmet is our recommendation from the brand if you're looking for something reasonably priced and durable with a full-face design.
The company has taken every step to design the Shoei RF-SR to be quiet and comfortable. It features an aerodynamic shell design to help manage wind buffeting. The helmet is equipped with a practical ventilation system featuring upper and lower intake vents. These vents help to exhaust hot air and eliminate shield fogging. This way you can focus on the ride and not worry about being too sweaty or not able to see.
The helmet itself has gone through extensive testing in a wind tunnel to keep it small, lightweight, and are dynamic. With a smaller exterior shell, there's less turbulence, less neck strain, and a lower total weight.
As for the interior, the interior lining can be removed for cleaning. It's even possible to replace the centre and cheek pads with something thicker for a more customizable fit. There are also removable ear pads, breath guard, and a chin curtain depending on your riding style.
Thanks to the full-face design, the visor helps to keep wind, road debris, and weather elements out of your face. The dual lip, dual-layer construction ensures a windproof and waterproof seal every time you shut the visor. There's even a five-stage rotating dial so you can fine-tune the base plate for visor adjustments.
Overall, the Shoei RF-SR Helmet is a premium motorcycle helmet that can't be overlooked. If you're looking for a quiet, comfortable ride and you have a higher budget, you'll definitely want to take a look at the Shoei RF-SR.
The Best Motorcycle Helmet Buying Guide + FAQ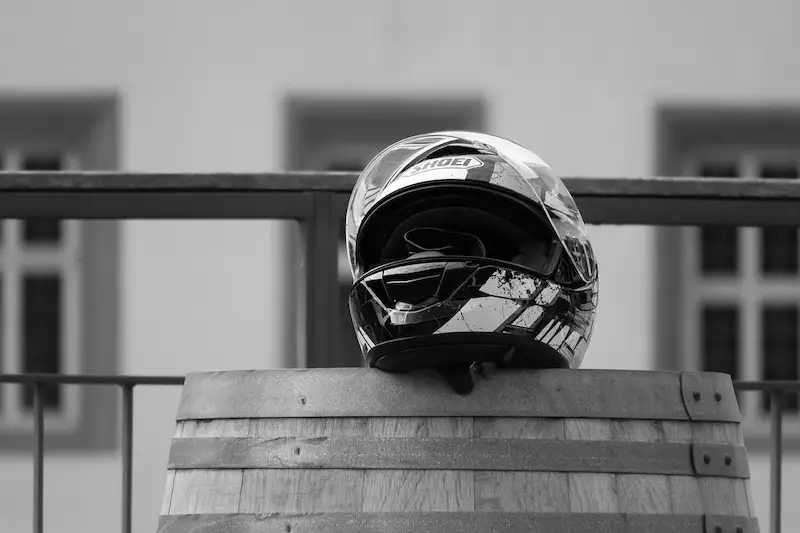 Well, that just about covers it. Hopefully you've found something suitable in this list of the top motorcycle helmets in 2019. If you're still having difficulty deciding, or you're looking for more information on what makes a good motorbike helmet, then this in-depth buyer's guide is for you.
In this section you'll find helpful tips on choosing the right helmet for your preferences and riding style. We've also gone ahead and answered some of the most frequently asked questions for helmets in the FAQ section below.
If you have any further questions or concerns, feel free to leave a comment. Otherwise, let's hop right into it!
Factors to Consider When Buying a Motorbike Helmet
As helmets are the most important item of motorcycle safety gear, there are a number of different things to consider before buying one. Modern helmets come with different technology, features, and sizing. It's not as easy as taking the color you like or going with one that looks cool.
With so many different options to choose from, it can be tricky finding the right helmet for your riding needs. You may even need one or two different helmets depending on your riding style.
Those of you looking for comfort and practicality will most likely be looking into a full-faced or modular helmet. Traditional, old-school bikers might be looking for the best basic helmets and something easy to ride with.
Regardless of what you're looking for, let's take a look at the different features to consider when buying a motorcycle helmet.
Protection
Every helmet is designed to protect your head against impacts. Whether the impact is from an accident, crash, or fall, the helmet needs to protect your head and face. They're also designed to shield your head from the weather elements, excessive road noise, road debris, and pollution.
For this protection helmets need to be designed using proper materials. For example, lightweight, durable materials will provide a comfortable ride while offering the safety and protection you need. Engineering also goes into helmet design ensuring proper fit and aerodynamics.
When shopping for a helmet, always buy one that's certified by your local department of transportation. In the USA and Canada this means going with a DOT-Certfied or SNELL-Certified helmet. These have gone through rigorous testing and pass the necessary local safety regulations.
Finally, consider reading reviews online for any of the helmets you're interested in. Most options will have detailed online reviews. This will give you a better idea of what to expect and what to look out for.
Comfort
The next factor to consider is the comfort of a helmet. Not only should a helmet protect your
head, it should also be comfortable to wear on your rides.
The fit of your helmet has a lot to do with how comfortable it is. After getting your first helmet, it's not necessary to try them on all the time. You could even use a tape measure to find the right size for your head.
If your helmet isn't comfortable, try returning it or exchanging it for a different one. Even though you might feel fine wearing it, an uncomfortable helmet can cause neck problems, headaches, and will take away from your riding experience.
Comfortable helmets should have the following features:
A snug, close fit on your skull and forehead
No painful pressure points
Comfortable on your cheeks, not squeezing them together too much
Lightweight without any pressure on your neck or shoulders
You don't want your helmet to be pinching your temples or wiggling around when it's strapped. It also shouldn't push hardly on any spots on your head.
A comfortable helmet, regardless of the type, will protect you while being comfortable to wear. It won't be too tight or too loose. Always look at the different features a helmet comes with regarding its comfort. This will include straps, inner linings, wind collars, and padding.
Price
In the motorcycle world it's not always the most expensive products that are the best. However, there are price points that match the difference between quality and affordability. Since it's your head a helmet is protecting, you don't want to buy the cheapest one.
Build materials, branding, integrated technology, and certifications all play a role in the price of a helmet. With this in mind, it's possible to get helmets for a better price from less popular brands. This doesn't mean you can buy from just any brand. Instead, stick to those that are known in the motorcycle world but are less popular.
As for materials and certifications, this is not an area to skimp on. A well-designed, good quality helmet will protect you from any collisions or crashes. The same goes with certifications – always go with one that passes the local regulations in your area.
For a beginner motorcycle rider, it's not unreasonable to spend between $150 and $400 on a new helmet. Of course, options will be available on both sides of this price range. Consider deciding on a budget then looking for a helmet that meets your riding requirements.
Benefits of Using a Motorcycle Helmet
Everybody knows that riding a motorcycle is dangerous. It becomes even more dangerous when you're not wearing protective gear.
Unfortunately, the leading cause of death in motorcycle crashes is due to head injuries. Thankfully, this can be avoided by wearing a helmet at all times whenever you're on the bike.
Let's take a look at some of the benefits of wearing a motorcycle helmet. Even if you're in a state or location where they're not required, you should always wear one for your own safety.
Personal Safety
The main purpose of any element is to protect you against head and neck injuries should you be involved in a motorcycle accident, crash, or collision. Whether you're sliding on the ground or flying through the air, there's no way to protect your head without a helmet.
Many fatal and serious injuries can be prevented by wearing a helmet. When it comes to your personal safety, why would you want to take the chance?
Comfort
Not only is wearing a helmet safer, it's also more comfortable. Wind, road debris, bugs, and the weather elements are constantly rocketing towards your face when you're on the bike. A helmets will protect you against the outdoor elements so that bugs and rocks aren't flying down your throat.
Modern helmets come with ventilation that help keep the air circulating around your head. This way, you can still feel the wind on your face. you also don't need to worry about sunburn, face injuries from debris, or messy hair.
Cool Factor
Yes, you already look cool when you're riding a motorcycle. Wearing a helmet complete the look and definitely increases your cool factor.
With so many different options to choose from, you can choose one that matches your bike. Whether you're riding off road or just commuting to work oh, there are a number of different styles available.
Types of Motorcycle Helmets
After going through this post you probably noticed that there are different motorcycle helmet types. Each offers their own benefits and drawbacks depending on your preferences and writing style. They also come in different shapes, sizes, and styles making it easy to find a personalized choice.
There are six main types of motorcycle helmets to choose from. These include:
Full-faced
Open-face
Half-helmets
Modular helmets
Off-road
Dual-sport
With so many different types, how do you pick the right one? Start by considering your own needs. Decide where you'll be riding most often and the conditions you'll be riding in. You can also look at the different styles and which you prefer most. Finally, your budget place an important role in the right type for you.
To make it easier to find the right type of helmet, let's take a more in-depth look at the different types of available:
1. Full-Face Helmets
Full-face helmets are the safest, the most common available, and the most popular with riders. This style comes equipped with a full face protective design along with a protective visor. Your head and face is protected in case of an accident, crash, or collision. The visor helps to keep wind, dirt, debris, and other outdoor elements out of your eyes and face. There are some full-face helmets that come with integrated technology, including Bluetooth, internal speakers, and communication systems. The more features, the more expensive the helmet.
2. Open-Face Helmets
This style of helmet doesn't cover your face while riding. Consequently, your face isn't as protected should something happen. For riding in the city or using a scooter, this type of helmet is suitable. They're designed to be lightweight and comfortable, so they're well suited for shorter rides during good weather. Unfortunately, your face is fully exposed. This means you'll always be dealing with the weather elements unless you combine the helmet with sunglasses, motorcycle goggles, or a bandana. Your face can also be injured during an accident or fall.
3. Modular Motorcycle Helmets
These helmets are designed to flip up in the front. This design combines the safety of a full-face helmet with the comfort and freedom of an open-face one. It's possible to remove the lower section which offers even more versatility depending on your riding references. While these are convenient, they aren't as safe as the full face models. They also tend to be heavier and more expensive.
4. Half Helmets
Half helmets cover only the top part of your head. This means your entire face and neck is exposed at all times. Not only can this be uncomfortable, it's unsafe. This style of helmet tends to be popular with cruiser riders and those trying hard to look cool on an old bike. Unfortunately, riders with this helmet type are exposed to all the outdoor elements. They're also offered very little protection in case of an accident, fall, or collision.
5. Off-Road Helmets
Motocross helmets, those designed to be used off-road, offer full face protection. Typically, they don't come with a visor. Instead, they're designed to be used with a pair of motorcycle goggles. Off-road helmets are better ventilated and typically more lightweight than the full-face counterpart. The main drawback with this style is they tend to be louder at high speeds.
6. Dual-Sport Helmets
Dual sport helmets combined the practicality of the full face models with the versatility of a motocross helmet. They offered great ventilation, are equipped with a sun visor, and can be use comfortably at higher speeds. This style is best for riders taking both on-road and off-road adventures.
Best Motorcycle Helmet Frequently Asked Questions
How do Motorcycle Helmets Work?
Helmets are designed with a strong, durable shell and comfortable, thick internal padding. This design helps to protect riders from impacts to the head and face during a fall, accident, or collision. In many cases, helmets can save you from death and protect you from serious injuries. They also help to protect your neck.
The outer shell, with a hard and rigid design, is what protects your head from coming into direct contact with the pavement or another hard object. It's the thick, padded inside layer that protects your brain from rattling around. The interior layer and padding also keeps the helmet snug on your head and comfortable to wear.
Consider using the best motorcycle earplugs you can find if you're having trouble with wind noise. These will reduce the wind sound while providing you with a better riding experience.
How Often Should You Replace Your Motorcycle Helmet?
In general, it's a good idea to replace your motorcycle helmet every 5 years. You should also consider replacing it if it has been seriously dropped or damaged in any way.
Modern helmets are designed to be durable and tough. They'll typically easily last 5 years or more assuming it's not dropped and that you don't get into a motorcycle accident.
In many cases, it's possible to replace the interior padding if you find it's deteriorating or getting loose. You should also consider washing the helmet regularly, especially during the warmer summer months.
It's never a bad idea to have more than one helmet. This will help increase their lifespan and you never know when you'll need a spare.
How Can You Test a Helmet?
Every riding season, take a few minutes to inspect your helmet. Over time, wear and tear, general damage, and age can affect its ability to protect you properly.
Start by checking when you bought the helmet. If it has been more than five years, consider upgrading or picking up a secondary one. Next, inspect the outer shell and look for any parts that are scratched, damaged, cracked, or broken.
Take out the inner liner and inspected as well. Don't forget to look for any damage on the inside of the outer shell. After this, inspect the straps and verify that they're still in good working order. Finally, inspect the visor to ensure that it's not damaged, cracked, or broken in any way.
Can a Helmet Help to Prevent Brain Injury?
Yes, wearing a good helmet can help to protect your brain from any trauma that occurs a result of an impact or crash. They're designed to absorb and disperse the harmful shock an energy fast can impact your head and brain after a collision. The interior padding, proper fit, and hard, outer shell do their jobs properly to protect your head and brain.
Looking at the statistics, you can see that motorcycle helmets actually reduce the risk of death by a significant amount. They also reduce the risk of head injury even more. It's hard to argue against the fact that you're better off wearing a helmet anytime you go for a ride.
How do You Maintain Your Motorcycle Helmet?
Properly maintaining your helmet, just like with motorcycle maintenance, will increase its lifespan. Thankfully, they're easy to maintain and should give you many years of use.
Start by cleaning the helmet on a regular basis. Mildew, dust, and body sweat can build up inside and get stinky. You can remove the liner and put it through a wash cycle. The rest of the helmet can be washed using soap and water.
When it comes to storage, keep your helmet somewhere cool and dry. Never leave it outside, especially in direct sunlight. You also don't want to leave at near your hot exhaust.