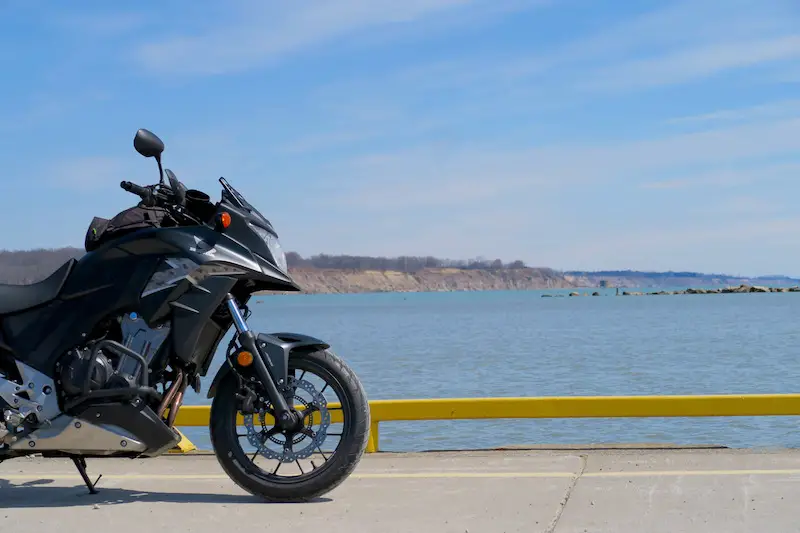 Living in Toronto and the GTA doesn't provide many options for epic motorcycle rides. Riding in the city is dangerous so many of us like to hit the scenic country roads nearby.
Unfortunately, with traffic and suburban sprawl, you're looking at at least an hour of riding to get anywhere worth it.
In this post, I want to share some of the best motorcycle day trips from Toronto you can take. These day trips and scenic routes are perfect for weekend rides or exploring on your day off.
The goal is to get you out of the city quickly. This way you can start enjoying some beautiful landscapes and better roads.
For the shortest of these motorcycle day trips from Toronto you're looking at spending at least three to four hours on the bike. Some of the longer day trips can be combined with an overnight stay for a different riding experience. With that in mind, let's jump right into it!
Want to Take a Guided Day Tour?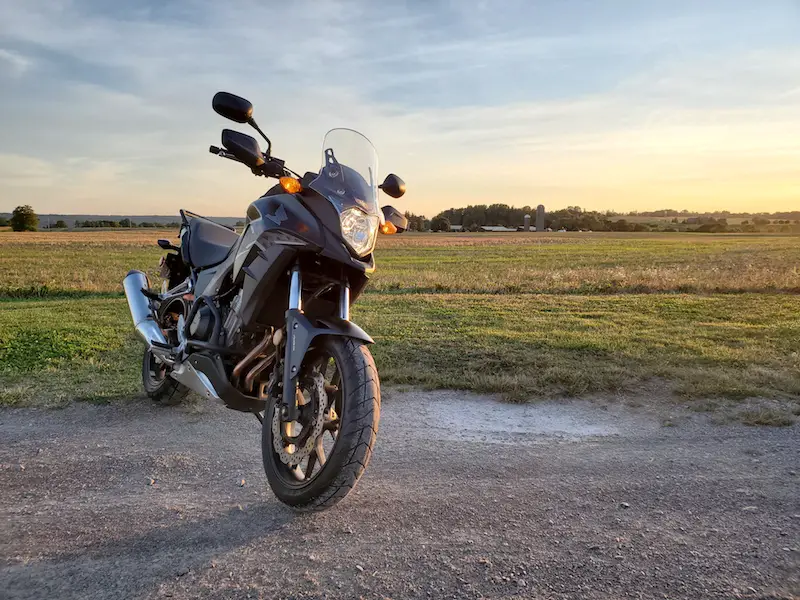 Would you rather enjoy the scenery and relax at each stop than stress out about planning the perfect route? Then you'll definitely want to consider booking a guided day tour!
Starting at $25/per person, I'll take you on a custom-planned day trip where all you need to do is focus on having a good time. With a guided day tour I'll put together an itinerary with the best stops, scenic routes, photo opportunities, and some amazing places for lunch, dinner, and snacks.
The tour would follow a relaxed place and take some of the best scenic roads you could find in Southern Ontario. This way you don't have to spend hours on Google looking for the best routes and instead can enjoy the ride.
If you're interested, don't hesitate to contact me for a tour! I'd be happy to spend the day riding with you and showing you the best motorcycle rides Toronto has to offer!
The Top Motorcycle Day Trips From Toronto
Forks of the Credit Motorcycle Route (2 hours | 150km)
Topping our list of the most scenic motorcycle day trips from Toronto is the Forks of the Credit ride. This easy cruise takes you to the roads in and around the Forks of the Credit Provincial Park. From downtown Toronto it's a short and quick 70KM ride. On Sundays, without traffic, you can make it in under an hour.
The best strategy is to take the highway straight to Forks of the Credit. Then, after hitting the twisties for half an hour or so through the park, make your way back to Toronto.
Instead of the highway, stick to the secondary roads and explore the small towns along the way. If you have the time, stop by and check out the Cheltenham Badlands. This is a unique and interesting geological formation nearby.
From Forks you can head North and cruise around Orangeville, Caledon, and even up to Collingwood. Heading west will bring you towards Burlington and Hamilton where you can rip the locally-famous Snake Road. All around the area are quiet, country roads waiting to be explored.
Forks of the Credit will get busy on the weekends, especially in the afternoons. Motorcyclists and car enthusiasts flock to the area for the hairpin turns and beautiful scenery. Try to arrive early to avoid the crowds and to enjoy the road all to yourself. The Forks of the Credit motorcycle route is easy to follow. Any of the roads leading into the park are scenic and ideal for riding.
Hamilton & Halton Region (2 hours | 150km)
Believe it or not, there are some great scenic motorcycle rides in Hamilton. Just an hour away depending on traffic, the Hamilton and Halton region makes for a great motorcycle day trip from Toronto.
Starting with Snake Road in Burlington/Waterdown, it's possible to cruise the back roads around the entire city. There are some twisties, long sweepers, and beautiful views from the Niagara Escarpment that you can enjoy.
On weekends, Hamilton and the surrounding areas are fairly quiet. Most people are getting their shopping done or hanging out at home. This leaves the country and back roads open and ready for you to explore.
Check out the guide linked above for a more in-depth look at the scenic roads through the area. Don't forget to visit the Steeltown Garage, Hamilton's very own motorcycle cafe.
Coming back from Hamilton, consider taking Lakeshore until you get to Mississauga. It's a peaceful, scenic ride along the lake through a number of smaller towns. Alternatively, Highway 5 is another option that's not as fast paced as the 400-series.
Ride the Edge in the Ontario Highlands Small Loop (4 hours | 400km)
This Toronto motorcycle day trip can take up to 700km of riding to complete. You'll definitely want to leave early to take full advantage of all the beauty in the areas you'll be riding through.
The highlight of this route is the "Small Loop" section of the Ride the Edge scenic route in Gravenhurst/Muskoka. With all of the incredible scenery and photo opportunities this can be a day trip you could easily turn into an overnighter on the bike.
Check out this in-depth guide with a map from Explorers Edge for more information on this route.
Coming from Toronto, you'll want to start this loop in either Gravenhurst or Haliburton. Reaching either town, get off the bike for a few minutes and stretch. With such beautiful roads you won't want to get off after you start riding.
Along the Small Loop you'll ride through some of the most beautiful small towns in near-northern Ontario. These include Port Carling, Rosseau, Parry Sound, Magnetawan, and Huntsville. For a day ride you'll be pressed for time, but it's worth stopping in many of these places to look around.
This scenic route is best done during the fall with the spectacular fall colours in Ontario. Don't forget to set up your heated grips beforehand to keep your hands warm!
Tobermory – Grey & Bruce County (7 hours | 600km)
This is going to be one of the longer motorcycle day trips from Toronto. You're looking at a round trip of at least 600+km getting to and from Tobermory. This can range up to 1000km depending on the route you take and any side roads you explore.
Many riders will find 600-1000km of riding in a day to be impossible. That's why this can make a great overnight or multi-day trip.
Otherwise, it's doable if you leave early in the morning and stick to the main roads getting there. Taking the secondary roads on your way back is easier riding and will leave you with better scenery.
I spent a few days exploring Tobermory and Bruce County. You can check out my trip report here for more information. There's also a helpful website, Ride Grey Bruce, with scenic routes and even more information on cruising the area.
The ride to Tobermory from Toronto follows the old colonization roads that were built into the Bruce Peninsula. Along the way are countless small towns and a seemingly endless amount of farmland. Some of the places worth stopping include Shelburne, Walkerton, Paisley, Wiarton, Lion's Head, and Tobermory itself.
Don't expect to find jaw dropping twisties or countless sweepers. This is more of a scenic, relaxed ride hop into the Bruce Peninsula. I recommend checking out Highway 1 as its hugs the shores of Georgian Bay and Highway 9 as it snakes its way into Lions Head.
Cruise the Lake Erie Coast (6 hours | 500km)
Just a few hours away from Toronto is the lovely little coastal town of Port Dover. Canadian Riders will be familiar with Port Dover as it's home to one of the biggest Ontario motorcycle events – Friday the 13th. From Port Dover it's a peaceful cruise along Lake Erie where you can check out a number of other small coastal towns.
The best strategy is to take the highway to Hamilton. From Hamilton, follow Highway 6 as it makes its way into Port Dover. Leaving Port Dover, continue to follow the coast. Some of the other towns worth stopping in include Port Rowan, Port Burwell, and Port Stanley. Getting back home is easy – hop on the 401 and follow the 403 back to downtown.
In these small towns you'll find countless local shops, lovely restaurants, and incredible scenery along the lake. The roads are well-maintained and during the summer you'll see plenty of other riders out and about.
For more information you can visit the Cruise the Coast website. This site showcases all of the main attractions and motorcycle routes on Ontario's "south coast". You can also check out the Ontario's Southwest Motorcycle Guide. This site has a number of recommended routes that are ready to be explored.
Port Dalhousie to Fort Erie Via Niagara-on-the-Lake (4.5 hours | 400km)
One of my favourite motorcycle rides from Toronto is the loop around the Niagara Peninsula. This scenic ride is made even easier thanks to the 400 series highways that will whisk riders all the way to Port Dalhousie. Getting off at Port Dalhousie, the highway can be avoided all the way to Fort Erie.
Along the way this route passes through the beautiful small town of Niagara-on-the-Lake. There's also the world's famous Niagara Falls, where you can stop and look around or grab something to eat. Fort Erie is the best place to end this ride before getting back on the highway.
Alternatively, you can continue onwards and follow the Lake Erie Coast. Or, turn around and go back the way you came for a different riding experience.
What makes this route to such a scenic ride is the Niagara River Parkway. This is one of Ontario's most scenic roads, especially during the fall with the picturesque colours and cooler weather. the parkway stretches for more than 55 km as it follows the Niagara River between Niagara-on-the-Lake and Fort Erie.
For its entirety the Niagara River Parkway is a two-lane, low traffic scenic road. There are jaw-dropping views of the Niagara River, Niagara Falls, and beautiful scenery along the entire way. This route is easy to reach from Toronto and most other locations in the GTA.
For the best experience, try arriving early in the day. The parkway can get busy on weekends, especially in the late afternoon with all the tourists and tour buses.
There are countless historic sites, local shops, and places to eat on the entire route. Don't hesitate to overtake any slow-moving vehicles and remember to follow the speed limit. Check out my post on the most scenic rides in the Niagara region for more routes and ride ideas.
Algonquin Park Loop (6.5 hours | 600km)
Leaving from Toronto, it's a relatively easy and scenic ride up to Algonquin Park. This is a great day trip, especially with the fall colours out in full force.
For this route, it's a good idea to get an early start. This lets you get to Algonquin Park quickly so you can take your time on the scenic route back home.
The best way to start this ride is by taking Highway 400 North up to Highway 11 North. From here, follow 11 through the towns of Orillia, Gravenhurst, Bracebridge, and Huntsville.
There are some great places to stop along the way, including unique restaurants, cafes, and bakeries. Once you reach Huntsville, hop onto Highway 60 as it winds its way through the park.
The ride through Algonquin Park is incredibly scenic. Don't forget to stop at the Visitor Center halfway through your route for a bathroom break.
After leaving the park, take Highway 35 South as far back towards Toronto as you want. This highway is even more scenic than the road through Algonquin, with less traffic as an added benefit.
Exploring Prince Edward County
Not too far from Toronto is the beautiful Prince Edward County. This is an easy, scenic ride along Lake Ontario that's full of small towns, beaches, wineries, and great food.
Getting to Prince Edward County from Toronto is simple. Take the highway until Port Hope, where you can connect with Highway 2.
This is a historic, scenic highway that follows Lake Ontario all the way to Prince Edward County. Along the way there are some interesting stops, such as the small towns of Colborne, Brighton, and the unique Presqu'ile Provincial Park.
After getting to Prince Edward County, it's yours to explore. Some of the highlights include Glenora with its Lake on the Mountain, the Picton old town, and Sandbanks Provincial Park.
The area is also covered in wineries, giving you a number of options where you can stop for a relaxing and delicious lunch. After cruising Prince Edward County you could stop for dinner in Belleville before heading on the highway back home.
Photos From My Toronto Motorcycle Day Trips