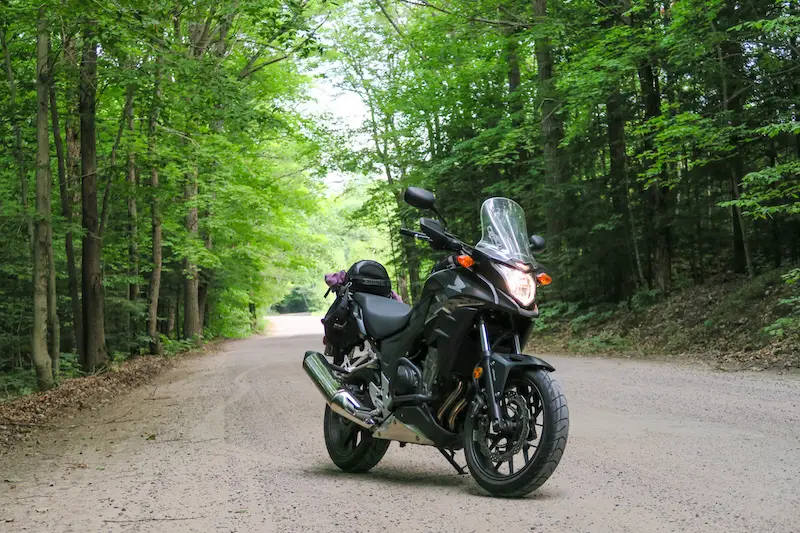 There are a surprising number of scenic routes and motorcycle rides and Hamilton if you're looking for somewhere to cruise. In this post I've compiled some of my favourite scenic routes in Hamilton for motorcycles, although I'm sure they'd be just as fun in a car.
These routes will take you through beautiful wooded areas, past countless farmers fields, and away from the busy traffic of the city. Given the landscape of Southern Ontario these are mostly straight, flat rides, with a few twisties and sweepers along the way.
Please share your own favourite rides in the comments!
The Best Motorcycle Rides in Hamilton
Snake Road + Mountain Brow + King Road
This is my personal favourite motorcycle ride in Hamilton. It's easily accessible right from downtown.
Depending on where you start this ride can be turned into a 60+ minute loop that's packed with beautiful scenery, maintained roads, and heaps of twisties.
Otherwise it's an exciting 30-minute there-and-back from the city.
Dundurn Castle is a great starting point for this route. There's a large parking lot where you can plan to meet other riders or check your bike over before your rip.
Leaving Dundurn Castle, follow York Street to Plains Road and make your first right onto Hillsdale Avenue.
Right away the fun starts and immediately you'll find yourself riding on a quiet, forested road. This is probably not what you expect to find so close to downtown Hamilton!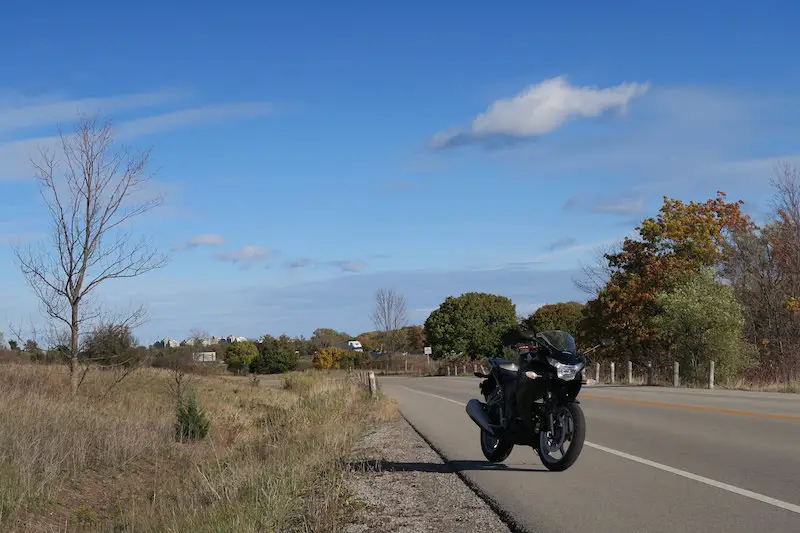 Hillsdale meanders up and down parallel to the highway before turning into the famed Snake Road.
The cemetery on the left marks the start of the Snake Road twisties. Soon you'll be plunging down into the Snake Road Valley.
After the straightaway at the bottom – don't forget to pick up speed – there is a series of 3 nearly 180-degree turns.
Be careful here as the steep roadside allows for gravel and other debris to get washed onto the road.
In this direction you can ride the engine brake around the turns. The downhill direction requires more finesse with your gearing and trail braking.
After reaching the end of Snake Road follow Main Street, then Mill Street until making your right onto Mountain Brow Road.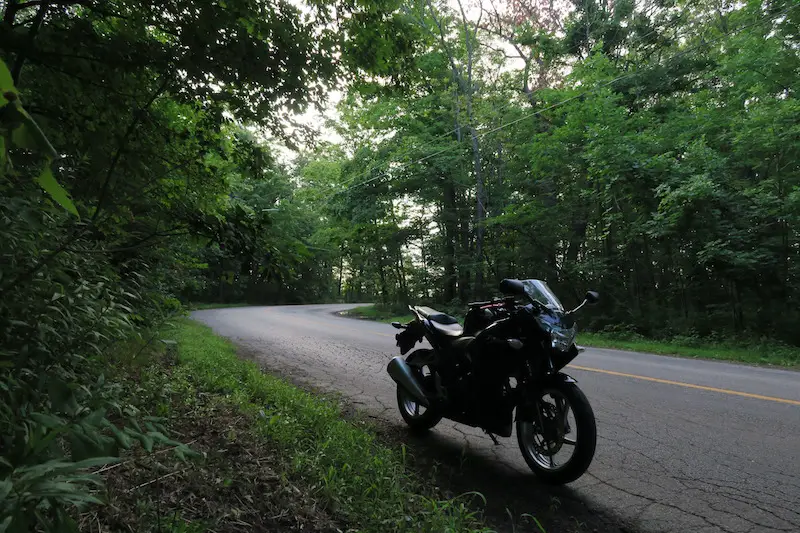 From here the scenery along Mountain Brow and King Road is incredible. There are some great twisties before you begin the decline down the Escarpment.
Continuing from the bottom King Road twists and sweeps until reaching North Service Road.
At this point you'll want to turn around, catch your breath, and rip the same way back to Hamilton!
This is my personal favourite route in the city. All summer long you'll see heaps of riders hitting the Snake Road twisties!
Back Roads from Dundas to Ancaster
This scenic motorcycle ride starts at the top of Sydenham Hill in Dundas. From here you can follow the scenic back roads in to Ancaster.
This ride can be paired with the Snake Road ride for an awesome rip of nearly 90 minutes.
After enjoying the view and taking bike photos at the Sydenham Lookout, turn left out of the parking lot and cruise down the hill. Follow Sydenham Road and turn right onto King Street (Highway 8).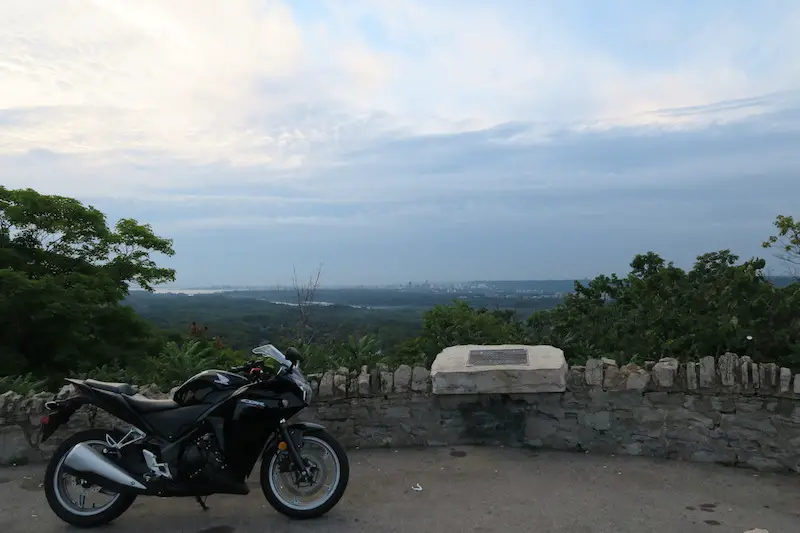 King Street will take you up the escarpment and reward you with incredible panoramic views of Hamilton. At the top, continue past Bullocks Corners until you reach Crooks Hollow Road.
Webster's Falls, Tews Falls, and the Dundas Peak are to the right if you're interested in checking out the natural scenery or doing some hiking.
Turn left onto Crooks Hollow Road if you want to continue the route. This is a short, but amazing road that winds past the Crooks Hollow Conservation Area and Darnley Grist Mill. There are some great photo opportunities along this road if you're hoping to capture a shot of your bike for Instagram.
Avoid cutting the turns here too sharp. The locals don't pay much attention to the lines on the road so there could be a close call depending on the turn.
When you reach Highway 8 again turn right. Follow the highway for a short distance then turn left onto Weirs Lane.
This unassuming side street takes you along a heavily winding and forested road. After about 1KM you'll reach Governor's Road, or Highway 99. Take a right and make your first left onto Binkley Road.
Don't go too quick on this straightaway. It's possible you could run into a deer or wild turkey depending on when you're riding.
Follow Binkley Road until you reach Mineral Springs Road. This is the highlight of the route – almost 3KM of tight, winding, forested roads bringing you up and down through the surrounding valleys.
In the spring there is a lot of water and debris on the road – be mindful of how quickly you're taking the turns.
Continue following Mineral Springs Road and Sulphur Springs Road until you reach Wilson Street in Ancaster. From here you can head back into downtown Hamilton or turn around and continue exploring these beautifully forested surroundings.
Turning around, you can connect with Highway 99 and follow it into Paris, Ontario to check out the Paris Bike Night or to extend your scenic ride. Alternatively, continue towards the Meadowlands and take Scenic Drive along the Escarpment back into downtown.
Hamilton Waterfront to Port Credit
While the scenery isn't as spectacular, this is a relaxing and scenic city ride from Hamilton to Port Credit. Along the way are a number of cafes, restaurants, parks, and small towns that you can check out.
This Hamilton motorcycle ride starts at Confederation Beach Park, close to Wild Waterworks.
From the park, follow Confederation Drive on to Van Wagner's Beach Road. Continue on to Beach Boulevard and follow the road as it turns into Eastport Drive, and then Lakeshore Road.
There are a number of parks with direct beach access on this route. The Burlington Canal Lift Bridge is also an interesting place to stop.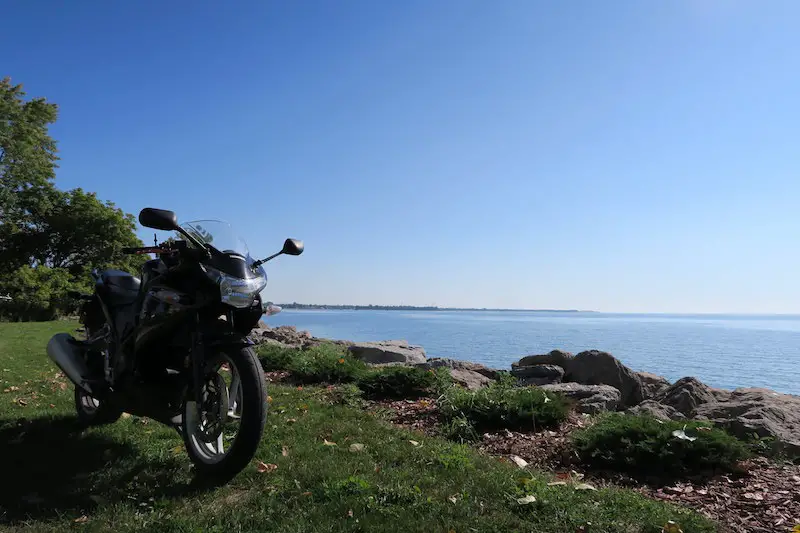 Once you get to Lakeshore Road that's about it until the end of this route in Port Credit.
The maximum speed fluctuates between 40 and 60 KMH depending on where you're riding. Traffic is light on weekends and throughout the day.
There are some great places to stop in downtown Burlington, including Spencer Smith Park and Sunshine Donuts.
After leaving Burlington the commercial district stops and you'll be rewarded with enormous mansions until you get to the next town. The large homes are incredible and the wealthier, pouring out of Toronto, is astounding.
Personally, I like to stop in Bronte to stretch my legs and look around. There is free parking near the harbour. Bronte Bluffs Parks offers amazing views over Lake Ontario.
There is a small waterfront area in Oakville with some restaurants and cafes.
Port Credit is the next best place to stop, especially in the summer when it's lively with tourists and locals. There are some great restaurants and cafes here with amazing views over the lake – perfect for relaxing after a long ride.
This is typically where I decide whether I will continue on into Toronto or turn back towards Hamilton. For a longer ride consider backtracking and following Highway 1 as it cuts Northwest towards Georgetown.
Near Georgetown you can take any of the Concession Roads or sideroads that will bring you back towards Waterdown and Hamilton. Eventually you'll run into Highway 6 that you can hop on and quickly get back downtown.
Ridge Road to Beamsville
During the summer the Ridge Road to Beamsville route is one of the most popular with local riders.
Ridge Road follows the length of the Escarpment from East Hamilton until it descends into Beamsville at Thirty Road.
Along the way are a number of scenic lookouts and vantage points offering incredible sweeping views of the city and Lake Ontario. On clear days you can easily see the Mississauga and Toronto skylines.
You might even catch a glimpse of the mist as it rises over Niagara Falls!
Consider taking some of the sideroads that lead South, away from Ridge Road and into the interior of the region. There isn't much to see until you reach the Grand River but it's quiet and peaceful country riding.
The best place to start this ride is the Battlefield House Museum & Park in East Hamilton (Stoney Creek). There is a large, shaded parking lot here where you can stretch and check your bike before heading out. Fuel up at the gas station as there aren't any fuel stops until you reach Beamsville.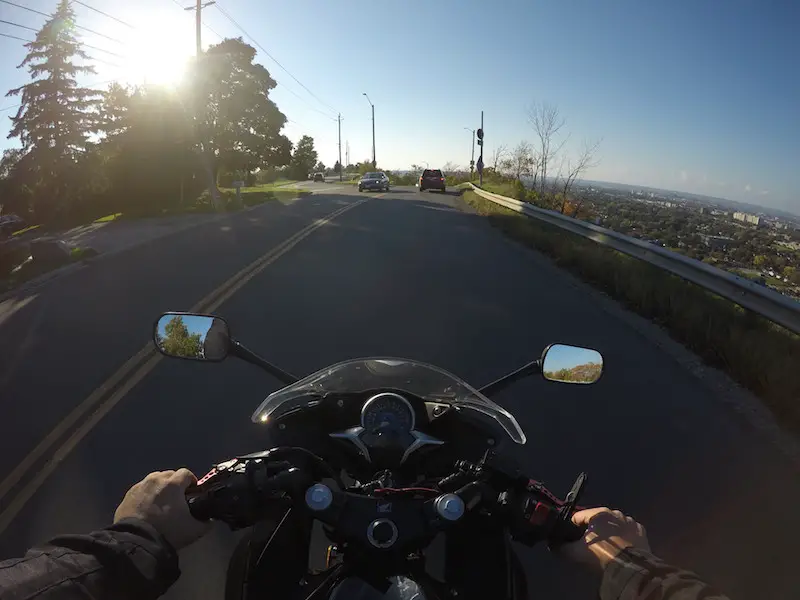 Leaving the Battlefield House lot, turn left onto King Street. Take your first left onto Highway 20 which will bring you up the Escarpment. Follow the signs for Ridge Road (it will be your first left).
Almost immediately after turning on to Ridge Road you'll reach the Devil's Punchbowl Conservation Area and the Punch Bowl Market & Bakery. Park your bike at the market, grab a snack, and walk over to the conservation area to admire the waterfall.
From here it's an easy ride along Ridge Road all the way to Grimsby. The Beamer Memorial Conservation Area is another great place to stop with incredible panoramic views of Lake Ontario.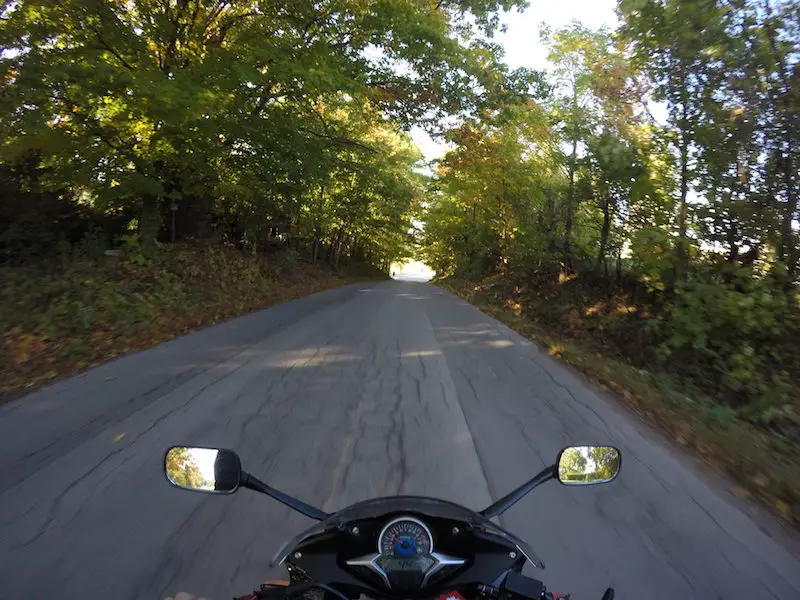 After leaving the conservation area it's a short ride to the end of Ridge Road. Continue on to Thirty Road and follow the signs into Beamsville.
At this point you have a few options.
Beamsville is a cute town with a few interesting things to do. There are some great restaurants, cafes, and wineries if that's what you're into.
Another option is to turn around and head back into Hamilton. You could follow King Street all the way back downtown, take Ridge Road, or heading to the interior and cruise around.
Finally, this ride can be turned into an epic day trip to St. Catherine's or Niagara Falls. Instead of driving down the escarpment at Beamsville, continue following the escarpments until you reach the area around Jordan and Short Hills Provincial Park.
From here the world is your oyster and it's up to you where you want to explore.
Hamilton to Port Dover – the Scenic Way
Port Dover is well known for being the motorcycle mecca for riders in Southern Ontario. Personally, I don't see the draw, but it makes for an interesting ride from Hamilton.
The easy way to get there is to pop on the 403 from downtown and connect with Highway 6 South. This will get you right into Port Dover without any stress. The problem with this route is that it's boring, a fairly high speed, and devoid of any interesting scenery.
Instead, you're better off following my recommended scenic route for a more enjoyable ride into Port Dover and the rest of Norfolk County.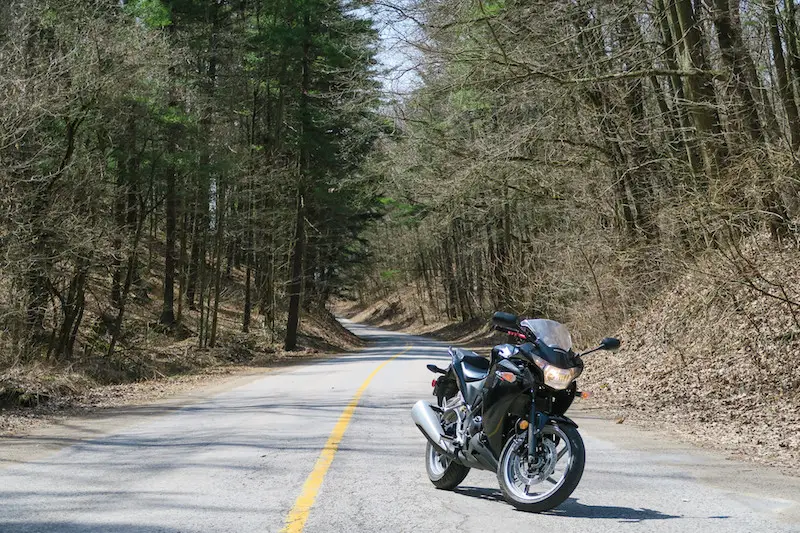 Starting in Hamilton follow King Street until it merges with Main Street in Westdale. Keep following Main Street into Ancaster along Wilson Street until it intersects with Jerseyville Road.
This road will eventually connect with Highway 6 in the small community of Brant.
Along the way you'll pass through the small town of Jerseyville while enjoying the typical rural farmer's fields and countryside that we're so often rewarded with in the greater Hamilton area.
In Brant you will want to take the Highway 18 exit and follow until it merges with Highway 4. At the end of Highway 4 follow Highway 24 South until it meets again with Highway 6, west of Port Dover.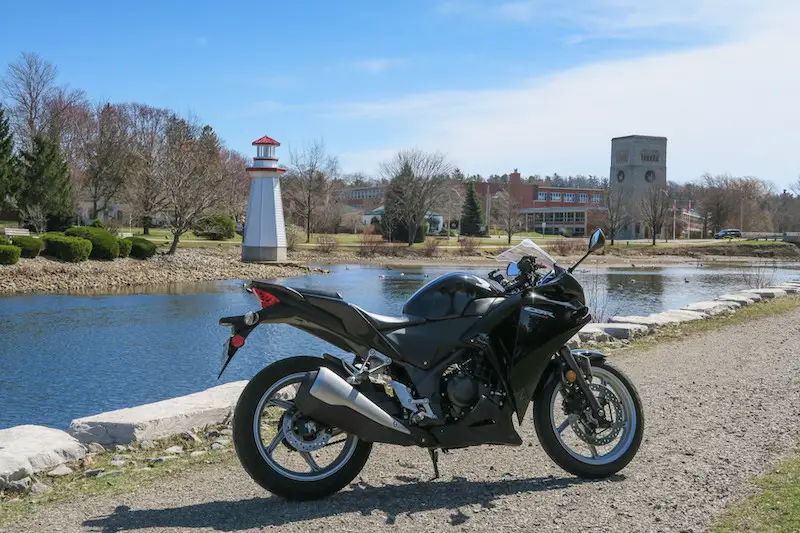 Following Highway 24 you can take the opportunity to explore the small towns of Waterford and Simcoe.
These are two beautiful and picturesque Ontario small towns each with their own unique history. You'll be able to find places to stop here including cafes, small restaurants, local shops, and historic sites depending on what you're interested in.
Once you meet back up with Highway 6 it's an easy ride into Port Dover.
Hamilton-Cambridge-Paris-Hamilton Loop
This is a fun loop I like to ride during the weekend when there's less traffic. Plan for this ride to take up to 3-hours depending on how often you stop.
This scenic route starts in Hamilton with a relaxing cruise down Highway 6. Heading towards Guelph, look for the Highway 97 exit on your left. There's a Shell gas station on the right, just before the turn, if you need to refuel.
Hopping onto Highway 97 begins the scenic part of this route. This Regional Road is mostly straight with a few slight sweepers to enjoy. Cruising along you'll pass by farmland, some lightly forested areas, and the picturesque Valens Conservation Area.
The smaller town of Cambridge is the first stop on this loop. You can continue to Paris or stop in Cambridge for a look around. After a short ride through town, Highway 97 intersects with Highway 75. This is the scenic road that will bring you into the beautiful small town of Paris, Ontario.
Along the way are a few small farms where you can buy local products. There's also the Bannister Lake and Pinehurst Lake Conservation Areas to check out. Traffic is generally pretty light, even during the week. After arriving in Paris, you'll definitely want to get off the bike and look around. This is a lovely small town and a popular place for motorcycle riders to visit on the weekends.
From Paris you have two options. Brantford is a short ride away, although the scenery is far from impressive. Alternatively, you can hop onto Highway 5/99/Governors Road and make your way back into Hamilton through Dundas.
Cruising the Lake Erie Coast
One of my favourite rides in the summer is along Lake Erie from Dunnville to Port Dover. After reaching Dunnville, it's a short ride to Lakeshore Road.
This is the road you're going to follow along Lake Erie most of the way to Port Dover. When it comes to the best scenic motorcycle rides in Hamilton, it doesn't get much better than this.
Along the entirety of Lakeshore Road you'll be rewarded with sweeping, panoramic views of Lake Erie. The lack of businesses or other facilities means the route has light traffic, making it ideal for riding.
Since Lakeshore Road follows the coast of Lake Erie, it's surprisingly curvy in some parts. Keep an eye out for sand that gets kicked off the beach, you wouldn't want to lose a tire in some of these turns.
There really isn't much to see or do along the way, except enjoy the beautiful scenery and views of Lake Erie. In some places, it's possible to park and head down to the water, although these areas aren't as frequent as they could be.
Make sure to fuel up in Dunnville, the options for fuelling are limited. Before getting to Port Dover, check out the small town of Selkirk, just a short drive away from the main route.
Following Lakeshore Road is a peaceful and relaxing ride from Port Maitland all the way to Nanticoke. From here, the road connects with Highway 6 and you can either had into Port Dover or make your way back into Hamilton.
Waterloo Region Loop
The Waterloo Region Loop is a great way to escape the city and ride through some of the best farmland scenery in Southern Ontario. Along this loop there are plenty of places to stop for lunch, coffee, and photo opportunities.
Leaving Hamilton, take your preferred route into Cambridge. Once you reach Cambridge, set your Google Maps to avoid highways.
This will bring you along some of the most scenic routes in Waterloo Region. After leaving Waterloo, you'll be riding through prime farm country.
Stop by St Jacobs for a lovely small town experience and to catch some glimpses of the Amish living in the area. Afterwards, cruise by West Montrose and get a photo with the last remaining wooden covered bridge in Ontario.
From here you'll be riding through Fergus and Elora, some of the most picturesque small towns in Southern Ontario. Next, set your sights on Rockwood and take the back roads through Milton and Burlington as you make your way home.
This is a great way to spend the morning or afternoon riding. There are countless places for you to check out and explore, leaving no shortage of adventure on this scenic route.