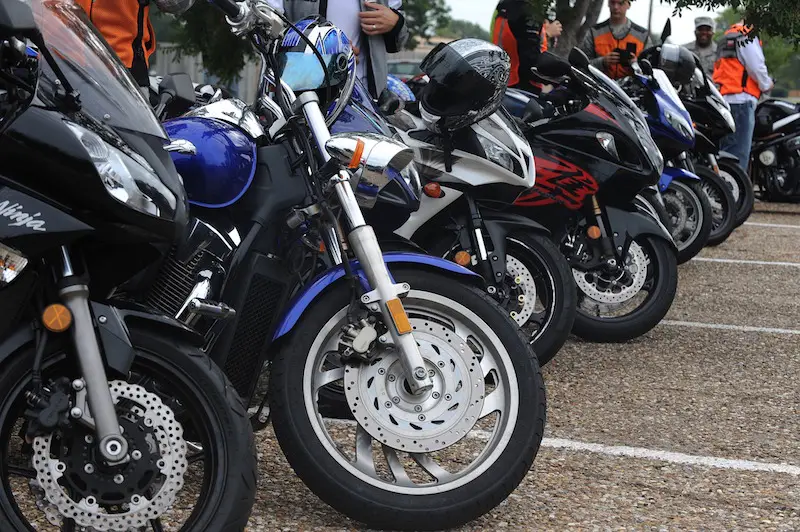 This is the ultimate list of Ontario motorcycle events. Everybody knows about the Toronto Motorcycle Show and the world famous Friday the 13th meet in Port Dover.
What about the other motorcycle events in Ontario that are worth checking out? I put together this helpful list to make it easy for you to find motorcycle events to attend nearby.
Do a quick search (CTRL+F or CMD+F) for any locations if you're looking for somewhere specific.
In this list of events I've tried to include everything relevant from small motorcycle meetups and bike nights to large rallies and everything in between.
Feel free to contact me about any events that I missed. I'm happy to add anything relevant to this list!
An In-Depth Guide to Motorcycle Events, Bike Nights, and Meetups in Ontario
The two biggest events that most Ontario motorcyclists are likely to visit are the Toronto Motorcycle Show and the meetup in Port Dover on Friday the 13th.
Not only are these two events popular here in Ontario, they're some of the biggest motorcycle-related events in the world!
The Toronto Motorcycle Show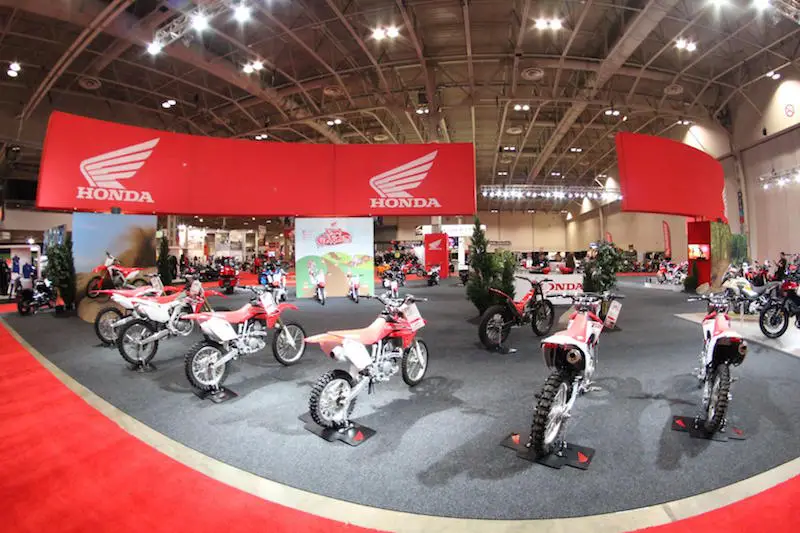 This show typically runs for three days over the weekend in February.
Tickets for this event are $20 for adults.
The 2021 dates are February 19th to February 21st
This event is being held at the Enercare Centre in Toronto
The Toronto Motorcycle Show is the biggest manufacturers show in Ontario. It's the perfect event for motorcycle enthusiasts and anyone looking to upgrade their gear for the upcoming riding season.
At this show you'll find a wide range of the latest motorcycles from all of the top brands. Different companies showcase their newest gear and you can pick up last season's gear for steep discounts.
Other highlights of the Toronto Motorcycle Show include the various motorcycle experts you can speak with, the chance to join a riding club and meet other riders. You can also find help with planning your next motorcycle trip –  basically anything you could want motorcycle related!
Friday the 13th Motorcycle Rally in Port Dover
Next Friday the 13th is November 2020
Free motorcycle parking
Most bikers know about the Friday the 13th Motorcycle Rally held every Friday the 13th in Port Dover, Canada. With good weather this rally typically exceeds an attendance of 100,000 bikers.
This crazy gathering of bikers has been described as the biggest single-day motorcycle event in the world. I was lucky to enough to be able to attend the July 2018 Friday the 13th in Port Dover.
At this motorcycle event you'll find every different type of motorcycle and two-wheeled vehicle imaginable. Vendors from all over North America come to showcase their gear to all of the riders and you can find some decent deals on t-shirts and accessories.
Throughout the day there's live music, great food, and plenty of events to keep you occupied. Make sure to arrive as early as possible to find a great parking spot and to avoid waiting in traffic!
The Toronto Spring Motorcycle Show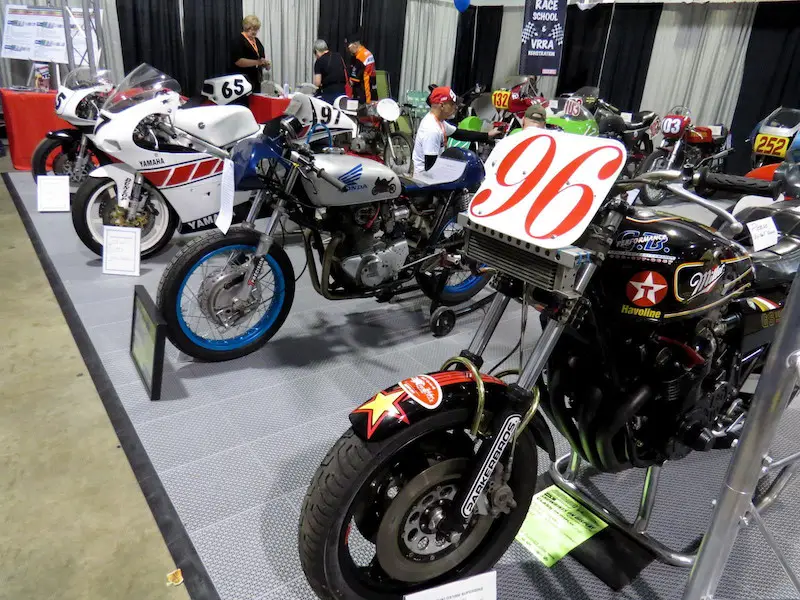 The Toronto International Spring Motorcycle Show is one of the most popular motorcycle shows in Canada.
At this show you'll find more than 50 Canadian motorcycle clubs and associations along with national dealers. You can check out new bikes and even by one to drive home the same day!
The event's main sponsor is Riders Plus Insurance, one of the best insurance companies for motorcycle riders in Toronto and Ontario.
Some of the other highlights of the Toronto Spring Motorcycle Show include the classic motorcycles, the number of used bikes for sale, the beautiful custom show bikes, the pickers market, and some other great features and events as well.
For 2019, this show runs on April 6th and 7th at the Toronto International Center. Free parking is available for those attending this show.
#TheMotoSocial Toronto
View this post on Instagram
#TheMotoSocial is a popular Toronto bike meet held on the first Wednesday of every month from May to September. Each of the meetups is held at a different location – typically local cafes or small eateries.
The #TheMotoSocial event is a monthly community meetup for local motorcycle enthusiasts and anybody curious about the culture. This Toronto bike meetup is great because it highlights local cafes/eateries and introduces you to people in your community that ride.
At the #TheMotoSocial events you're bound to meet new riding buddies and find new group rides to participate in. Along with Toronto, #TheMotoSocial is held in other popular cities such as Montreal, New York, Budapest, and Auckland.
Bike Night at Steeltown Garage (Hamilton)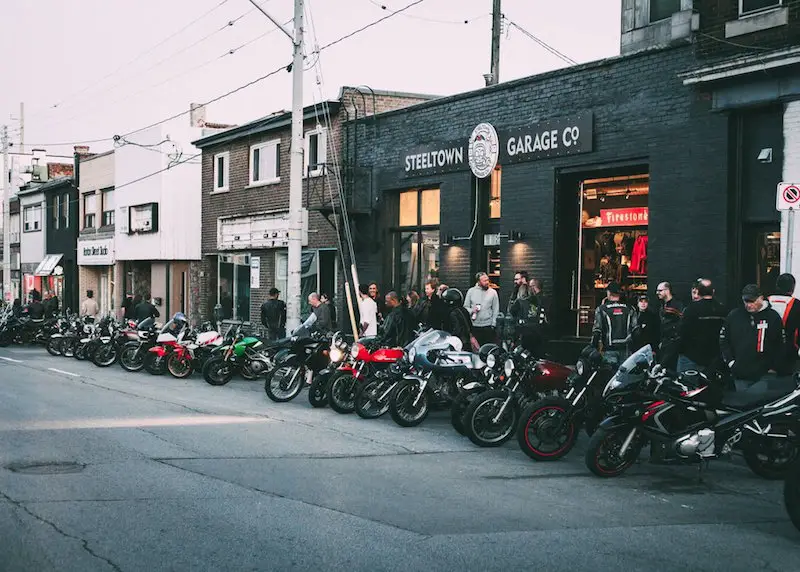 Believe it or not Hamilton has its very own motorcycle cafe, the Steeltown Garage at James and Barton. Every second and fourth Thursday, starting in May, the Steeltown Garage hosts "Bike Night' for riders in the local community.
Riders come from all over the greater Hamilton area to enjoy some delicious coffee drinks and hang out with other motorcyclists and enthusiasts here in the Hammer. Along with coffee, the Steeltown Garage has a physical retail store on site with premium riding gear and other accessories.
The Bike Night event has grown massively popular with hundreds of bikes lined up and down Barton and James Street during the summer nights. This is a great meetup for meeting local Hamilton riders and checking out some awesome looking bikes!
Bike Night in Paris (Paris, Ontario)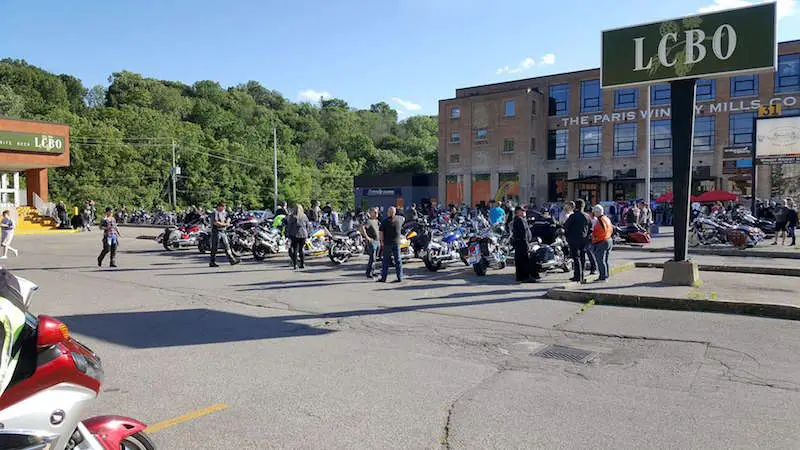 Just outside of Brantford and a short drive from Hamilton/Kitchener-Waterloo is the beautiful small town of Paris, Ontario. This town gets taken over by motorcycles and other bikes every two weeks from April to October.
What started as a small, local motorcycle Festival has turned into the biggest bike night in Southern Ontario! The Bike Night in Paris is held at the Wincey Mill, just a few blocks away from the historic downtown of Paris.
The event runs from 6 p.m. to 9 p.m. with some group rides typically happening afterwards. Each of the different Bike Night in Paris events features different local bands and local businesses.
This event is great for checking out local bike culture in the Paris/Brantford area and interacting with all the awesome local vendors!
Niagara Falls Motorcycle Show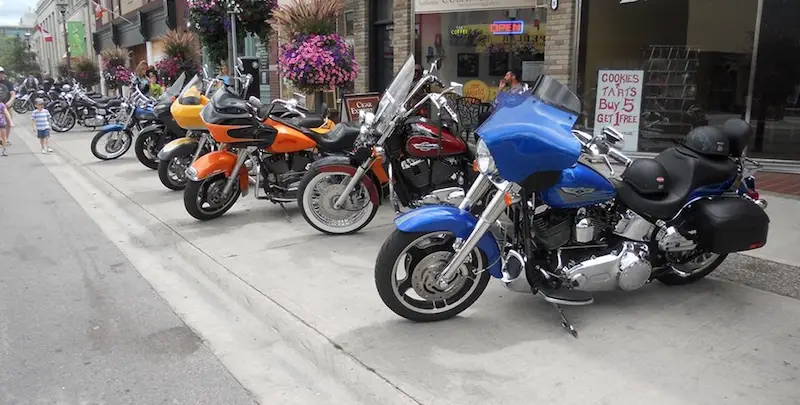 Every summer in August the Niagara Falls Motorcycle Show is held in downtown Niagara Falls. This year, 2020, will mark the 5th annual occurrence of this show.
The show typically takes place over the weekend on a Saturday and Sunday during the middle of August. This event is free, although you'll have to pay for parking if you're arriving by car. Riders will enjoy free parking along Queen Street.
Visitors can view the motorcycles parked on Queen Street between St. Lawrence Ave and Ontario Street. Along with hundreds of bikes, there are some local vendors and stalls to check out as well. After the show, you might want to check out some of the Niagara Falls scenic motorcycle rides in the area!
Ride, Dine 'N' Stein – Kitchener Waterloo Oktoberfest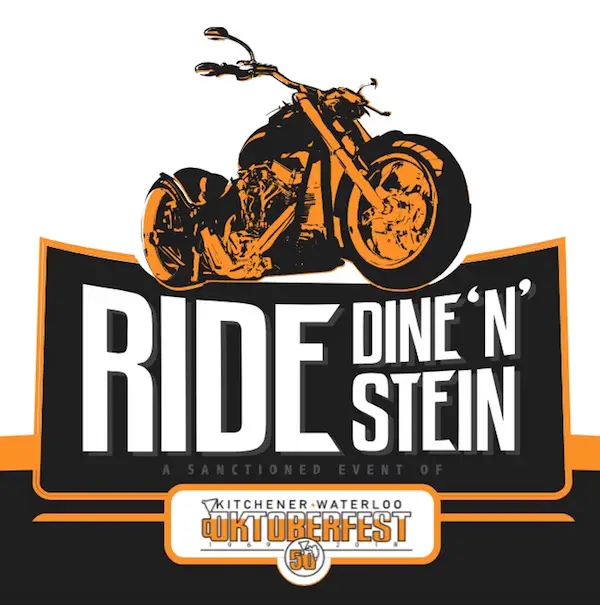 The Ride, Dine 'N' Stein is a the motorcycle meet and group ride that's held at the kitchener-Waterloo Oktoberfest. This is one of the newest kitchener-Waterloo area events and it's bound to be an amazing experience for those that attend.
Oktoberfest in Kitchener on its own is always a good time and it's made even better with this motorcycle event. Start the day off meeting other local riders and enjoy some of the Oktoberfest amenities. These include live music, vendor food trucks, and the rest of the Oktoberfest experience.
Tickets for the event start at $50. Some riders might consider this to be pricey but it's for an all-day experience held at the biggest Oktoberfest outside of Germany!
Distinguished Gentlemen's Ride (Hamilton)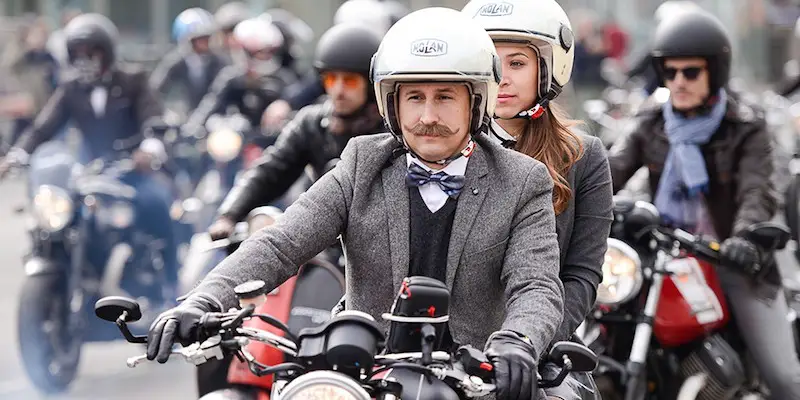 The Distinguished Gentlemen's Ride is a ride that strives to raise funds and awareness for men's health. This event focuses specifically on prostate cancer and men's mental health, although each aspect of men's health is important.
What makes the Distinguished Gentlemen's Ride different is that riders are asked to put on their Sunday best and join the ride on one of their vintage, or classic motorcycles. Even if you don't have one of these bikes, all bikes and people are welcome.
While it's not required, riders are encouraged to make a donation to support the Distinguished Gentlemen's Ride cause. Each rider can create their own personal fundraising page and raise money for their own men's health cause.
This has become one of the most popular motorcycle events in Hamilton. Hundreds of riders attend the Distinguished Gentlemen's Ride and it has started to garner local media attention.
Registration opens in August. After the ride many riders get together for a photo opportunity and a drink or meal at a local restaurant.
Biketoberfest (Welland)
This year, Welland, Ontario will be celebrating the 18th Annual Biketoberfest in September. The Biketoberfest festival has become one of the biggest motorcycle events in Welland and the Niagara region.
At this event riders will be able to enjoy food trucks, live music, vendors, and even a beer tent. There's a "show'n shine" event that will have some amazing motorcycles for you to check out.
Camping is available for the weekend, and there are plenty of options for accommodation nearby. This is a great event if you're looking for a day trip into the Niagara region from Toronto or the GTHA.
Each year a motorcycle is auctioned off through a raffle. All the proceeds go to a charity, most recently being the Pathstone Foundation.
Vicious Varieties Bike Night (Merrickville – Cornwall)
Those if you living in Cornwall will be pleased to learn about the Vicious Varieties Bike Night. This is a riding event that includes a scenic ride and picnic at the locks.
The starting point is at the Harvey's on Brookdale Avenue in Cornwall. From here, the ride continues into Merrickville with a quick stop at Tim Hortons.
Once arriving in Merrickville, the ride stops at the locks. This is where riders can relax, enjoy a picnic, take in the beautiful scenery, and get to know each other.
The Vicious Varieties Bike Night is usually held in August. There is no registration fee and all bikes are welcome. This is a scenic ride with great company and gorgeous scenery.
For more information, check on Facebook for the next Vicious Varieties Bike Night event page. There is no official website.