Many of the riders here in Southern Ontario will typically head north for their scenic rides. It's hard to argue against the abundance of incredible scenery once you escape the clutches of the GTA.
Thankfully, for those of us with only a few hours to spare on the weekend, there are some incredible scenic motorcycle routes much closer!
The Niagara River Parkway can be combined into an interesting loop that starts and ends in the Hamilton/Toronto area. This is one of my favourite motorcycle routes in Southern Ontario, especially if I don't have the time to go any further.
To avoid the bulk of traffic I recommend following this route counter-clockwise. Leaving early in the day will also help you beat the weekend traffic in Niagara Falls.
There's a lot to do along the way. You can choose to spend a few hours riding or turn this into an epic day trip around southeastern Ontario.
Motorcycle Cruising the Niagara River Parkway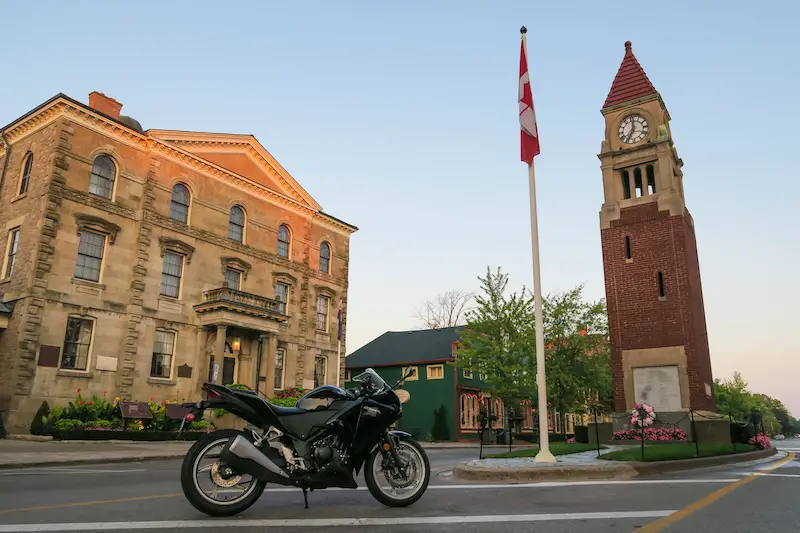 Start: Port Dalhousie
The starting point for this Niagara Region scenic route is Port Dalhousie. Coming from the direction of Hamilton or Toronto there are three ways to get here:
Take the QEW (fastest)
Follow Ridge Road into St. Catharines (most scenic)
Follow Lakeshore, the Service Roads, and Highway 87 (not recommended)
Park the bike in Port Dalhousie, there's free parking by the water. This is a small town but it's interesting to explore if you have the time. If not, fuel up and take Highway 87 as it heads east along Lake Ontario towards Niagara.
The next destination is Niagara-on-the-Lake. Relaxing scenery, miles of vineyards, and heaps of wineries dot the landscape while you slowly cruise into the next town.
First Stop: Niagara-on-the-Lake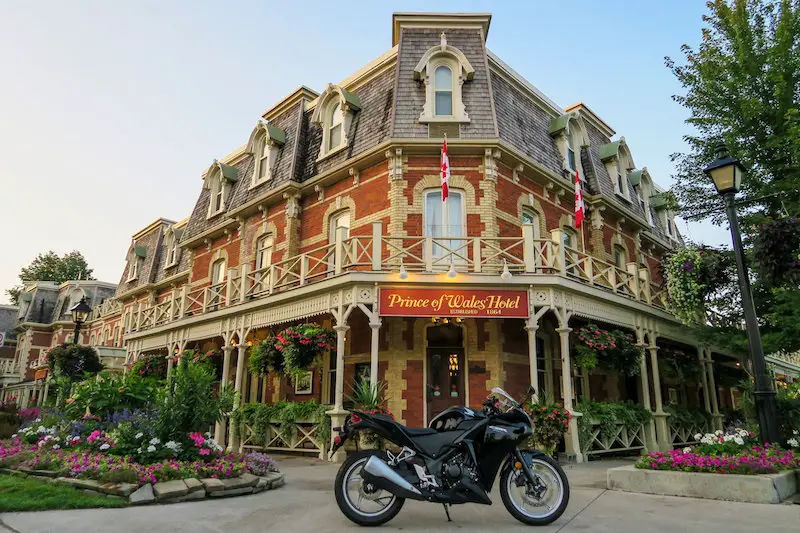 Leaving Port Dalhousie connect with Highway 87 and follow it along the lake. Unfortunately, the scenery isn't spectacular but you'll pass some of Niagara Region's best wineries on the way.
The highway, which is more of a two lane road, crosses over the Welland Canal at Port Weller. This is a great place to stop to watch the boats cruising through the canal. From here Highway 87 becomes Lakeshore Road and meanders right into Niagara-on-the-Lake.
This small, historic town is one of the highlights of this route. Niagara-on-the-Lake has a rich, interesting history and played an important role in the development of this province. As a War of 1812 lover myself, there are a number of historic sites worth checking out.
Park the bike in town away from the main tourist area. The parking is free and you won't have to worry about people touching your bike. My personal recommendation – stop at Balzac's Coffee Roasters for an amazing coffee!
Second Stop: Niagara Falls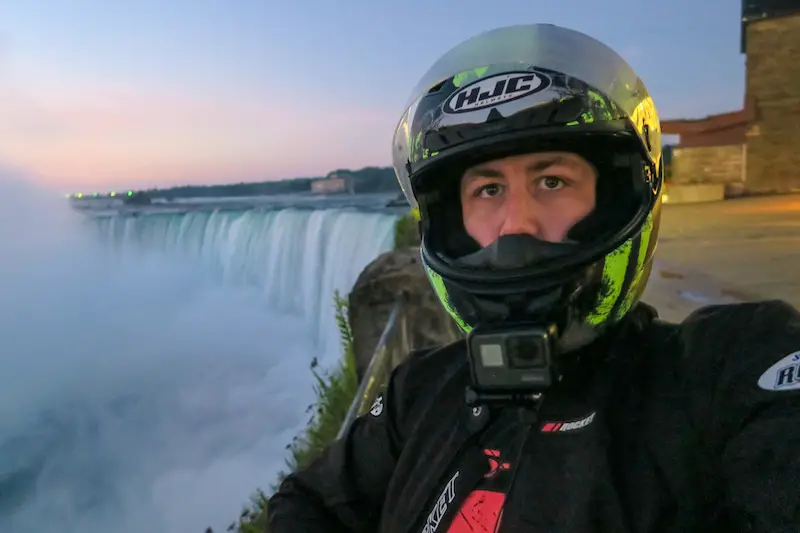 The stretch of road from Niagara-on-the-Lake to Niagara Falls is my personal favourite on this route. It's also one of the most scenic motorcycle rides in Ontario.
There are a number of historical highlights between Niagara-on-the-Lake and Niagara Falls that you might be interested in checking out. Even if you're not into history you'll want to stop by some of the sites for some great bike pics.
Leaving Niagara-on-the-Lake the main street turns into the Niagara Parkway. For more than 20KM the road follows the path of the Niagara River and ascends the Escarpment at Queenston.
The straightaways are few. Instead, riders are rewarded with sweeper after sweeper. It's easy to overtake cars along this route and there aren't any stop signs or lights for its entirety.
One of the best places to stop is the lookout point halfway up the Escarpment, just after Queenston. Near the lookout is the Brock Monument and Queenston Heights Park – two more interesting places to stop and explore.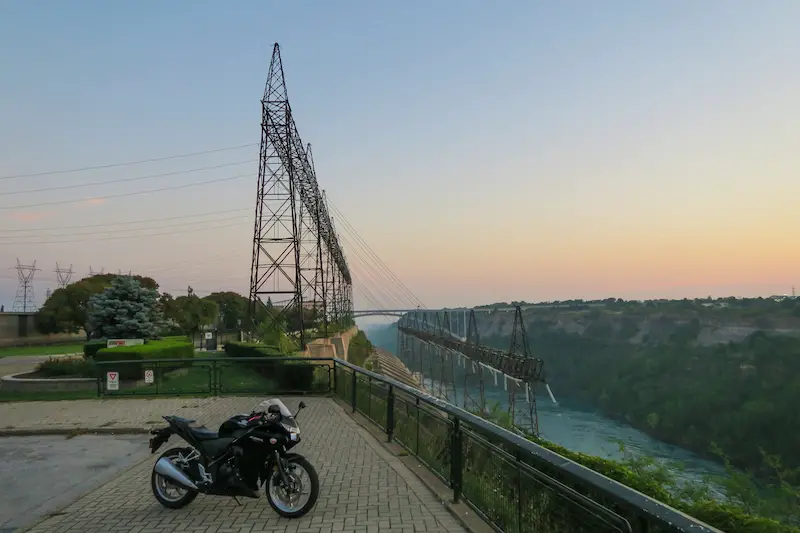 To avoid traffic and tour buses you'll want to hit this ride early in the morning or during the week. On weekends it's almost impossible to overtake and you'll be stuck riding behind a bus going 10 under the limit.
Along with historical sites there are a number of wineries on this section of the route. Some of the best wineries would include Inniskillin Wines and Peller Estates Winery if that's what you're interested in.
As for Niagara Falls – on its own is underwhelming and boring if you've been before. Parking is expensive and I'd be worried about leaving my bike unattended and out of sight with all the tourists around.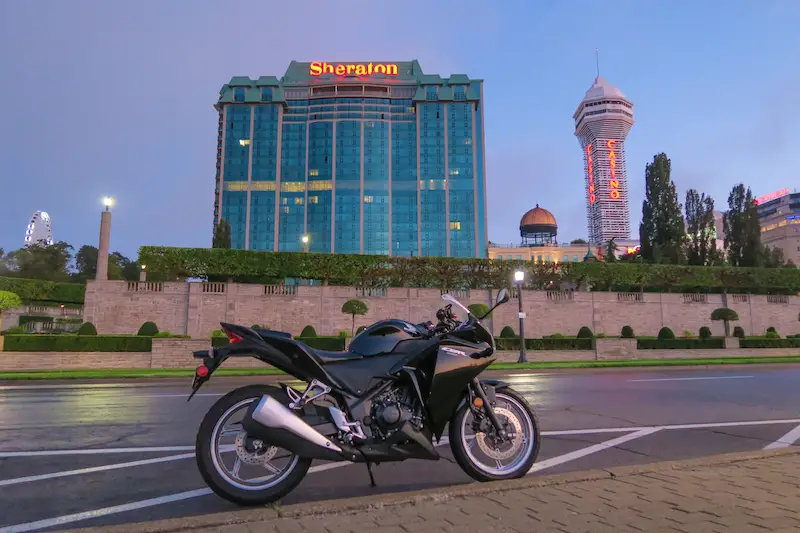 If you arrive early in the day you can park right at the falls, take a gander, then hop back on the bike.
Otherwise, feel free to cruise around the falls. There isn't much to do on the bike and it's unbelievably busy for half the year.
Consider continuing on the route for a more scenic and less busy riding experience.
Third Stop: Fort Erie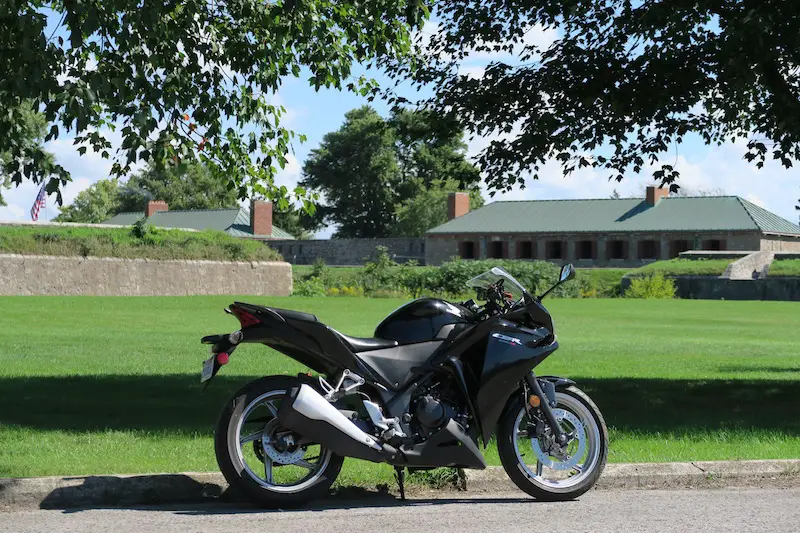 The ride from Niagara Falls to Old Fort Erie along the Niagara River is equally as incredible as the previous section. This part is quieter with hardly any traffic, even during the summer months.
Regardless of the direction you take the views of the Niagara River and surrounding scenery are amazing. Traffic is light and there aren't any stop signs or lights along the route.
There are a number of pull-off areas where you can stop, get off the bike, and enjoy the view. It's good to stretch your legs while riding and these are the perfect places to relax. Consider bringing a picnic or something to eat to avoid having to spend money at any of the overpriced tourist stops in the area.
The route passes by mostly high-priced residential estates and a few historic sites. There are no distractions until you get to the small town of Fort Erie.
Feel free to stop in Fort Erie and look around. This is a picturesque small town that gets overlooked by the nearby tourist highlights at the Falls.
For lunch I recommend stopping at the gas station in Fort Erie called Robo Mart. It sounds unusual but these guys make the most incredible sandwiches you'll find anywhere. This is also a great spot to fuel up since there aren't many other places along the rest of this route.
Fourth Stop: Port Colbourne
The ride from Old Fort Erie to Port Colborne is relaxing with a few interesting stops along the way. Rather than taking the direct route, consider stopping in Crystal Beach to look around.
Crystal Beach is a small cottage town on the shores of Lake Erie. During the summer, especially on weekends, it can get busy in the area so be cautious when you run into any traffic.
There's a great parking lot right on Lake Erie in Crystal Beach that provides incredible views of the lake. This is an interesting place to get off the bike, walk around, and read some of the historic signs.
Leaving Crystal Beach it's a short 15-minute ride into Port Colborne. This is a small town at the entrance of the Welland Canal. There are a number of cafes and restaurants in Port Colborne along with a beautiful historic town area.
Typically this is where I'll stop for a short break to watch the boats coming into or leaving the canal. Even during the summer Port Colborne is a quiet place and I personally prefer it over Welland as a riding destination.
At this point on the ride you have two options. If you need to get back you can hop on the highway and connect back with the QEW. This will get you anywhere you need to go in Southern Ontario.
Alternatively, you can keep riding along the Lake Erie coast and explore a few more destinations. It depends on where you're coming from and what your final destination is to see if you have enough time to finish this route.
Final Stop: Port Maitland & Dunnville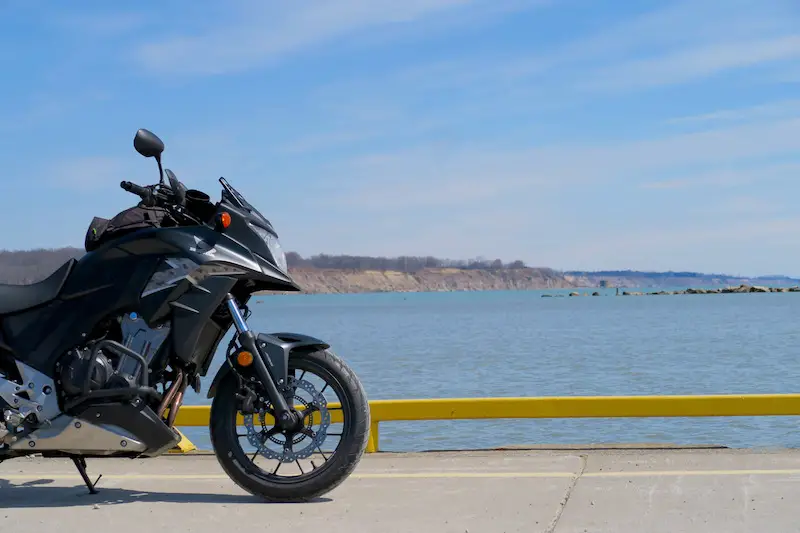 From Port Colborne you can continue following Lake Erie to the even smaller town, or settlement rather, of Port Maitland.
Along the way you'll enjoy picturesque scenery of Lake Erie without having to deal with any traffic. This is a quiet, scenic route that's overlooked by most riders.
There isn't much to explore while following Highway 3 into Port Maitland. The small cottage towns of Lowbanks and Burnaby are sleepy and seemingly uninhabited, although it's obvious that people are living here.
Those of you interested in hiking can stop at the Rock Point Provincial Park for some outdoor exploration. In Port Maitland you'll have to go on a bit of a longer ride to reach the public beach and Port Maitland lighthouse. For some reason there's no access to the other side of the Grand River here at this point.
Leaving Port Maitland your next destination is going to be another small town – Dunnville. This town gets busy during the summer thanks to the nearby provincial parks and conservation areas.
It's also the starting point of the Grand River Scenic Parkway that follows Highway 17 and Highway 54 into Brantford. Be sure to check out my grand River Scenic Parkway motorcycle route post!
Dunnville is the end point of this Niagara region motorcycle cruise. Hopefully this gives you some ideas or inspiration on cool new places to explore on your bike in Southern Ontario.
Looking for more scenic rides or motorcycle events?