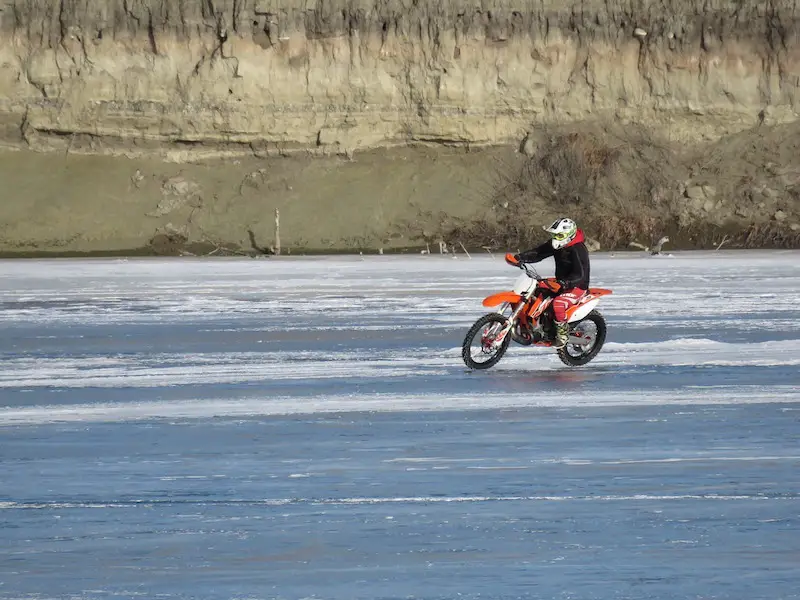 Heated grips make a world of difference when it comes to early and late season riding.
When your hands are warm it's easier to keep the rest of your body warm with the right gear.
Winter riding is possible with heated grips and some extra layers, as long as there isn't any snow or ice on the roads.
Since upgrading, I've been able to start riding as early as March and keep the bike on the road until the first snowfall in December. Before, without the grips, I only had a 5-6 month riding window here in Southern Ontario.
In this post I want to take a look at the best heated motorcycle grips for most riders. This way you'll be able to find the right pair of grips for your bike and keep riding as long as possible!
The Best Heated Grips for Motorcycles
Let's take a look at the best options for heated grips for your bike.
These recommendations are designed to fit most bikes and styles of handlebars. For the most part, these grips are affordable and easy to install.
Should you run into any issues with the installation you can refer to YouTube or bring the bike to your local mechanic.
Oxford Heaterz Premium Sports Heated Handlebar Grips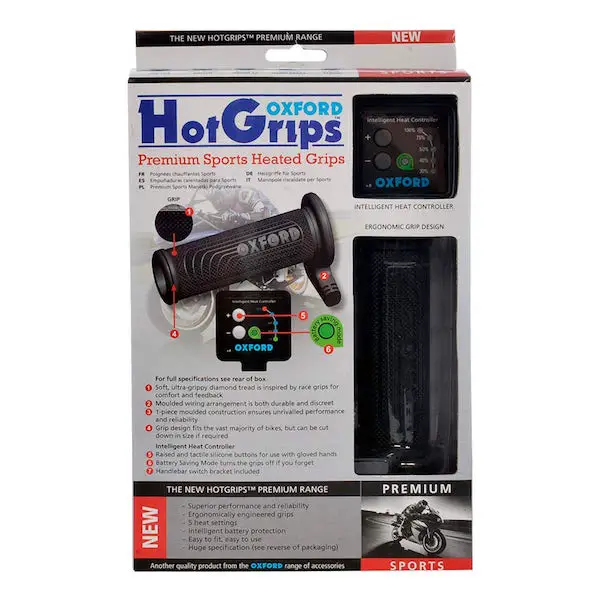 The Oxford Heaterz Premium Heated Handlebar Grips are the most popular among riders in North America and Europe.
These are the same grips I use on my Honda CBR250R. They give me the ability to ride in freezing temperatures without losing feelings in my hands or fingers.
Depending on your bike these can be easy to install or you might have to take them to your mechanic. It's possible to connect them to your battery or use the front light circuit as a power source.
These grips are designed to keep your hands warm as the temperature approaches the freezing mark. There are five different heat settings, depending on the ambient temperature, and a rainproof switch for control.
The grips themselves are superior in quality and design to most stock grips that bikes come with. They're designed with a stick rubber material that provides better wear resistance and durability.
You'll definitely want to use these with gloves as they can get pretty hot, even on the lower settings. There's also a battery saving mode that turns off the grips if you happen to forget.
These are easy to install, ideal for keeping your hands warm in cooler temperatures, and great for all-season riding. The Oxford Heaterz Premium Sports Heated Handlebar Grips are one of the top options if you're in the market for the best heated grips for your motorcycle.
Browse the different types of available. There are grips made specifically for the different types of bikes.
BikeMaster Heated Grips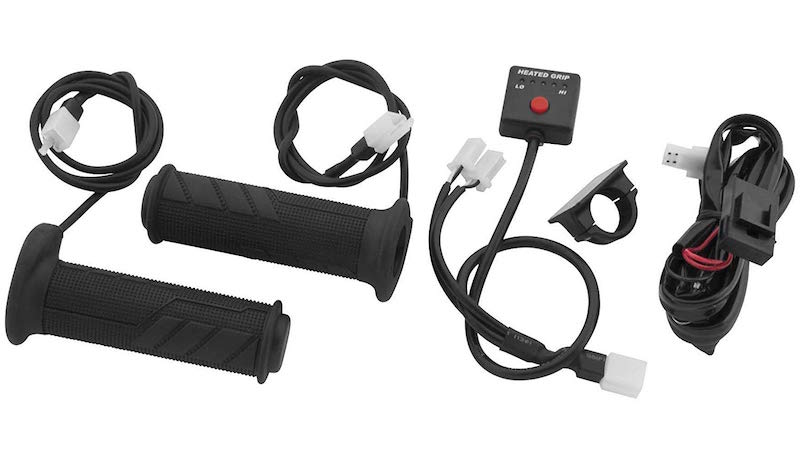 The BikeMaster Heated Grips are a great runner up against the Oxford's that I just recommended. These are more affordable and a great choice for anybody looking for heated grips on a budget.
Compared to the Oxford's, the BikeMaster Heated Grips aren't as easy to install and don't appear to be as durable (though time will tell). Otherwise, the latest model comes with a grip design and a five level temperature controller.
It's possible to choose between five different heat settings depending on me weather, although the heat output doesn't seem to be as strong as with the Oxford's. They also take a few minutes longer to heat up so you'll want to pair them with thicker gloves if you're planning on riding right away.
Overall, the build quality of the cables, grips, and clips is impressive. Once installed I can see them lasting a few years of regular riding depending on how you treat your bike.
Unfortunately, the lack of an on/off switch is concerning for me. I was surprised that the instructions recommend wiring the cables directly into the ignition wiring harness. This is something I'm not comfortable doing or leaving setup on my bike.
Those of you riding in temperature is above freezing without any winter riding will find these grips to be suitable. They're also a good choice if you're looking to save some money on this upgrade. Definitely take a look at the BikeMaster Heated Grips and decide for yourself if they're going to work out for you on your ride.
Heat Demon External Grip Warmer Kit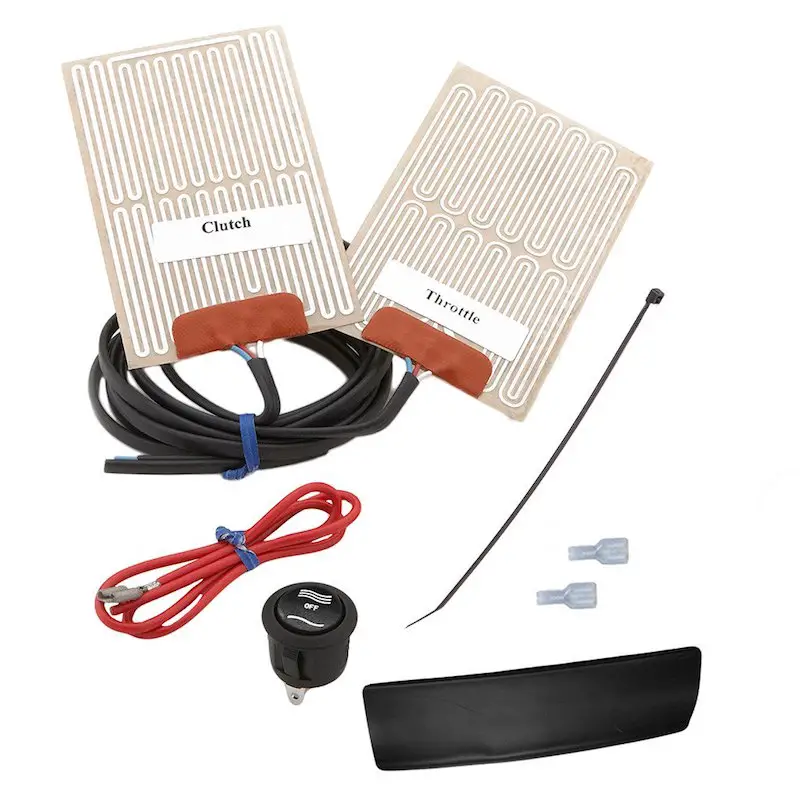 The Heat Demon External Grip Warmer Kit is a practical alternative to using dedicated heated grips. With grips, there is an installation process required which can be tricky depending on your mechanical skills.
This warmer kit is designed to be installed under your current grips without the need to upgrade. These are an affordable and simple solution for warmer hands in cold weather riding.
Unlike with the Oxfords, this warmer kit can fit on most bikes (sport, touring, adventure, etc). They're not model-specific and are easy to install compared to most other types.
Keep in mind that, for this price, you shouldn't expect too many features. These are 2-stage heated grips with just two different heat settings so they might not be suitable for extreme cold weather.
As for installation, after connecting the cables to your battery the warming pads are glued directly to the throttle/clutch tubes. Follow the instructions to ensure the adhesive is used on the proper side.
This kit is easy to install, affordable, and no need to deal with bulky wires or controls. The Heat Demon External Grip Warmer Kit is an affordable solution for warm hands as opposed to the Oxford Heaterz.
Are Heated Grips Worth It?
Heated grips can definitely be worth it if you're commuting by bike during the colder winter months. They're also useful for rides longer than 20 minutes when the temperature approaches the freezing mark.
Those of you riding during the summer won't find them to be useful. Even in late spring and early fall a thick pair of motorcycle gloves is good enough to keep your hands warm.
Otherwise, heated grips make a world of difference for winter motorcycle riding. When your hands are warm it radiates into your body and keeps the rest of you warmer than you would expect.
Even on the lowest setting they can provide just enough warmth to make your ride more comfortable regardless of the weather elements.
The biggest drawback is the price, along with any issues with installation. It's possible to find grips starting at $40, although the more expensive ones make for a better experience.
Personally, thanks to my heated grips i'm able to ride year-round unless there's snow or ice on the ground. They're even practical on those cool summer days when the sun hasn't warmed you up yet.
It's unlikely that we'll ever ride another bike of my own without installing the Oxford Heaterz for the first winter season. You'll have to decide whether or not they're worth it for you based on how much you ride and how you use your bike.