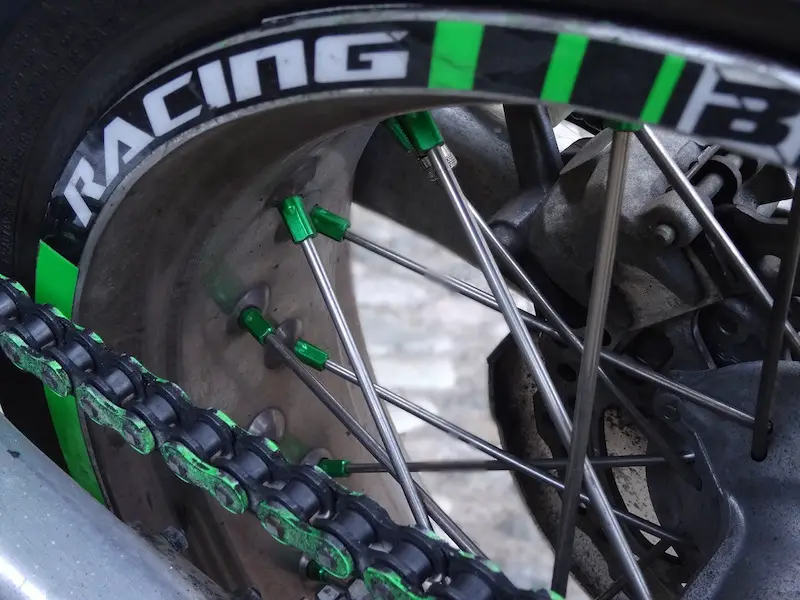 Keeping your motorcycle chain clean and well lubricated is an important aspect of basic motorcycle maintenance. A dry, dirty, or rusty motorbike chain can impact the performance of your motorcycle.
At best, you'll have to replace your chain and sprockets prematurely if they're not properly maintained. The worst case scenario is a broken chain, which has the potential to be dangerous and expensive.
Starting with a clean chain is where all of your motorcycle chain maintenance will begin. Using one of the best motorcycle chain cleaning tools makes the cleaning process easy and efficient.
Everyone has their own style and preference of cleaning using a range of different tools and motorcycle cleaning products. In this post, we'll recommend the best tools for keeping your motorcycle chain clean and easy to work on.
For good measure, regularly clean and inspect your motorcycle chain. This will help with his longevity and make it easy for you to find any possible issues.
Let's jump right into it!
The Best Motorcycle Chain Cleaning Tool
Simple Solutions Grunge Brush (Aluminum)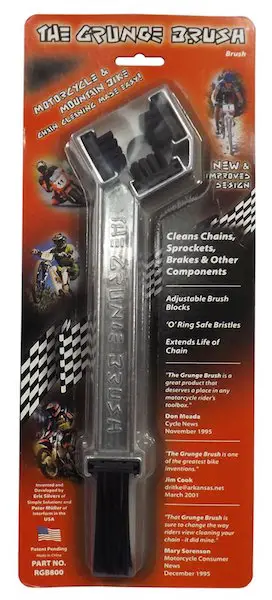 The Simple Solutions Grunge Brush makes it easy to clean your motorcycle chain. It's a small, practical tool used to clear all those hard-to-reach spots from built-up lube and dirt.
The main difference with the Grunge Brush compared to the other, less expensive models is its durable design. This motorbike chain brush has a reliable build quality with a long-lasting aluminum design and replaceable bristles.
The replaceable bristles mean they can be switched out once they're worn down. No need to buy a new brush every season, simply switch out the bristles and you're ready to rock.
At the top you'll find three sets of bristles that make cleaning the chain a breeze. Hold the brush up to the chain, spin the back wheel, and the brush will clean each side of the links. The bristles at the bottom are for getting into those hard-to-reach spots between the links and around the sprockets.
Overall, the Simple Solutions Grunge Brush is our recommendation for the best motorcycle chain cleaning tool. The bulky build, durable design, and quality components make it a great choice for most riders looking to stay on top of chain maintenance.
Tirox 360 Degree Brush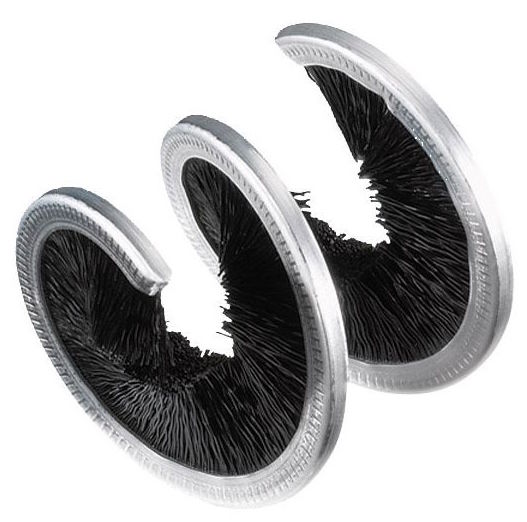 The Tirox 360 Degree Brush that makes for a unique motorcycle chain cleaning solution. This brush wraps completely around the chain so that the bristles can reach each side effectively.
Unlike the Grunge Brush, the Tirox 360 Degree Brush twists on to your chain for 360 degrees of cleaning action. With this brush there's no hard scrubbing or elbow grease required.
It works by forcing the bristles between the links and chain plates to remove hardened chain lube, built up dirt, and road debris. The bristles are made from a chemical resistant nylon, which won't damage your chain during the cleaning process.
With 360 degrees of flexibility, the Tirox brush can be easily adjusted to fit on any size of chain. This brush is best suited for O-ring chains.
While most other brushes are big and bulky, the Tirox 360 is small and compact. It's easy to store and perfect for taking with you on multi-day trips for chain maintenance.
The Tirox 360 Degree Brush is another great chain cleaning brush that we recommend for most riders. This is an essential tool for keeping your chain clean and extending its lifespan.
Cycle With Style Motorcycle Chain Cleaning Tool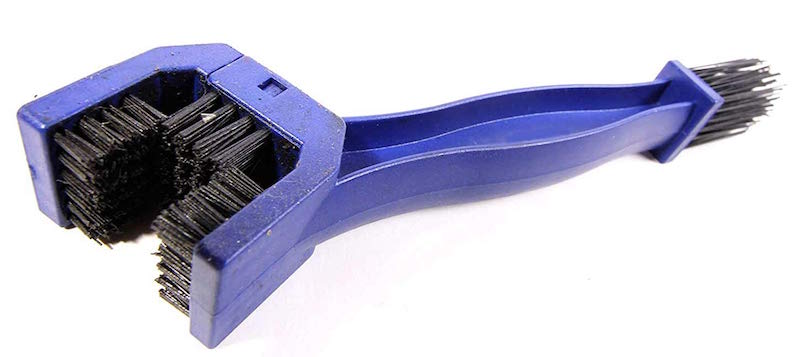 The Cycle With Style Motorcycle Chain Cleaning Tool is similar to the Grunge Brush with its bristle design. Personally, this is the tool I use for cleaning my own chain and have yet to experience any problems with it.
This is a multi-purpose chain brush that you can use on your motorcycle chain and sprockets. It comes with 3-sided bristles making it easy to clean all sides of your chain.
The stiff, durable bristles effectively remove dirt and grime so you can easily inspect your chain. After being cleaned with this brush your motorbike chain will look almost brand new and be ready for lubrication.
The long bristle side is perfect for cleaning your sprockets and those hard-to-reach spots on your wheels. Thanks to the hard plastic design, this is a durable brush that should provide you with a number of chain maintenance uses.
Using a brush like the Cycle With Style Motorcycle Chain Cleaning Tool helps to prevent premature wear on your chain and will extend its lifespan. Proper chain maintenance is important for any motorcycle owner and this tool will make the process easier.
Having used it myself, I have no problem recommending the Cycle With Style Motorcycle Chain Cleaning Tool. This tool makes for a reasonably priced and effective way of cleaning your motorbike chain.
Simple Solutions RGB800 Grunge Brush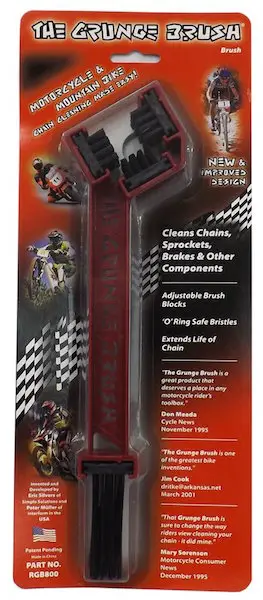 The Simple Solutions RGB800 Grunge Brush is different from the previous model we mentioned. This brush is made from a hard plastic, as opposed to aluminum like the other model.
While this difference does impact the overall durability, the Simple Solutions RGB800 Grunge Brush is still a great choice for keeping your chain clean. It comes with replaceable three-sided bristles that increase the lifespan of the brush itself.
At the bottom of the brush is a long bristle side for cleaning sprockets and wheels. Regular cleaning of these motorcycle components helps to prevent premature wear and results in smooth operation of your motorcycle chain.
It's safe to use this brush on O-ring chains along with your sprockets, chain case, and wheel components. You can also use it for cleaning the brakes and other hard-to-reach spots on your motorbike.
Despite the plastic design, we still recommend the Simple Solutions RGB800 Grunge Brush. This is a great choice as one of the best motorcycle chain brushes and most riders will find it useful for maintenance.
Best Motorcycle Chain Brush Buying Guide & FAQ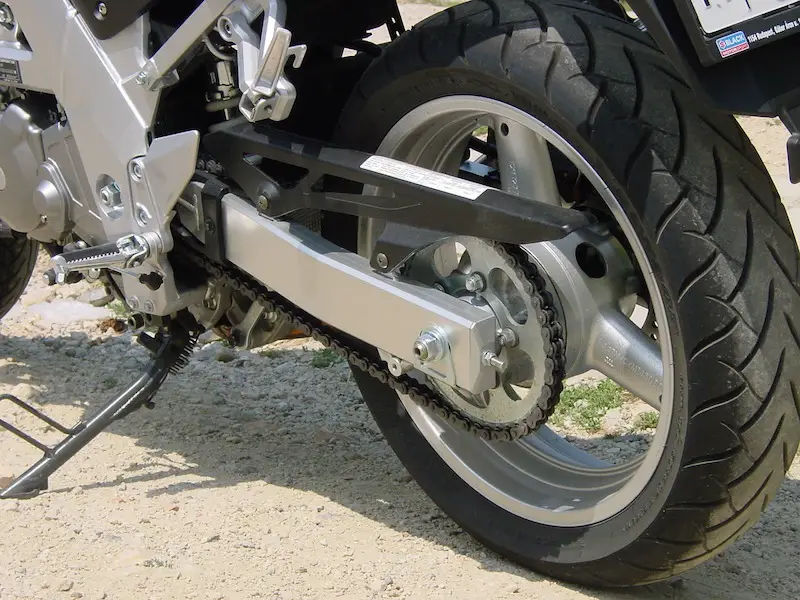 Why Should You Clean Your Motorcycle Chain?
It's important to properly maintained all of the components on your motorcycle. This includes the chain, which is what provides the necessary power to your rear wheel.
Dirty, rusty chains can be detrimental to the performance of your bike. They can damage your chain, sprockets, and won't last as long compared to a properly maintained chain.
It's also possible that the chain can snap if maintenance is neglected long enough. Depending on the riding conditions this can lead to serious injury and expensive damage to your bike.
A clean motorcycle chain results in better performance and a longer lifespan for the related components. You don't want to be replacing the chain and sprockets every year, unless you're riding tens of thousands of miles each season.
Check out our post on how to clean a motorcycle chain for an in-depth guide on this aspect of maintenance. Also, take a look at our guide on the best motorcycle chain lube to see our recommendations on keeping your motorcycle chain lubricated. We also have a guide on the best motorcycle chains if you're looking for something new.
Will a Chain Brush Damage the Chain?
Always check that the brush you're using is rated for your type of chain. Some brushes can be used on all chain types, while others are better suited for O-ring chains.
These brushes are designed with firm bristles that will remove old lubricant, dirt, and other road debris from the links. Models made for motorcycles are unlikely to damage the chain.
Avoid using hard bristle brushes or those that aren't designed for motorcycle use. These are what can damage the components on your bike if you're not careful.
Can You Use a Microfiber Cloth Instead?
Yes, using a microfiber cloth is another effective way of cleaning your chain. However, these are harder to use than a chain brush and can't reach all of those small, tight spots between the links.
It's also possible that the fibers from a microfiber cloth can get left behind on the chain. While not a problem, this just means you'll need to maintain the chain more regularly.
Using one of the best motorcycle chain cleaning tools is an effective an easy way of keeping on top of chain maintenance.
What Products Will Remove Dirt, Grease, and Debris?
Take a look at our post on the best motorcycle cleaning products for some ideas. These are great products for cleaning your motorbike, including the chain.
Alternatively, many riders have seen success using kerosene for their chain cleaning maintenance. Kerosene is effective at removing old lubricant and debris. It's safe to use on newer chains and isn't likely to damage any of the motorbike components.