Scooters are a great alternative to motorcycles for people looking for something that's easy to ride and affordable to maintain. They also tend to be cheaper than motorbikes and are perfect for riders living in busy cities.
In this post I want to talk about the best 50cc scooters and mopeds. Despite not coming loaded with power, these 50cc scooters are fuel efficient and ideal for short-distance transportation.
Even if you wanted to explore the countryside or go on a trip, there's nothing stopping you from hopping on your scooter and taking off. I mean there's people exploring the world on 50cc scooters and motorbikes, so there's no reason you couldn't do the same!
Scooters can be just as fun, if not more fun to ride than a motorcycle. The style of riding is similar, but some people find mopeds to be more freeing and exciting to ride. There's also a friendly community of scooter riders who are always happy to welcome new riders.
In case you're worried, I wrote a post about whether or not it's worth it to buy a 50cc scooter. Check out that if you're still not sure!
Some of you may be looking to buy a 50cc scooter on Amazon. Here are some of our recommendations for the best 50cc scooters you can buy online:
Otherwise, let's take a look at the 50cc scooters that would make a great choice if you're looking to start scooting!
The Best 50cc Scooters for Most Riders
Honda Ruckus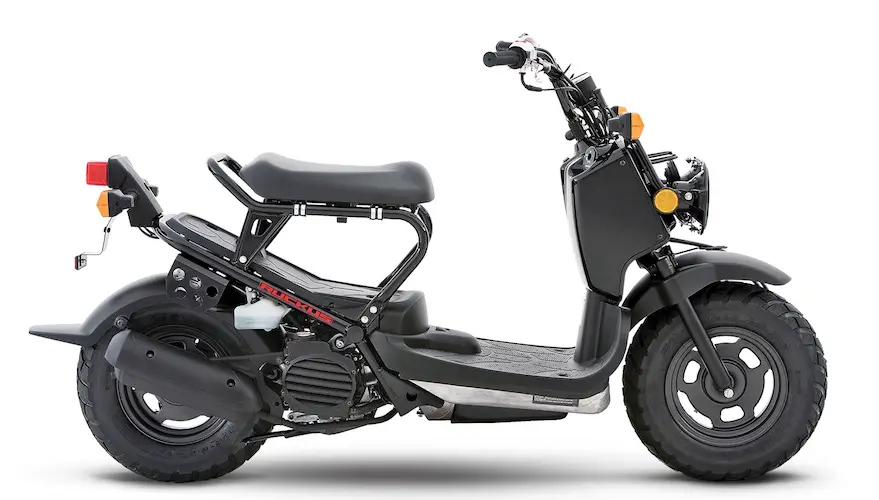 From zipping around town to cruising off-road trails, the Honda Ruckus is one of the best 50cc scooters for most riders. It's affordable, fun to ride, and easy to maintain. Plus there's a huge community of Honda Ruckus enthusiasts that love this scoot.
There are a number of reasons why the Honda Ruckus is a great choice for anyone looking to hop onto a 50cc scooter.
For starters, it's extremely easy to ride. The Ruckus comes with a fully automatic transmission so there's no clutch to worry about while you're cruising around. Using the clutch can be a pain in the butt, especially in the city, but with the Ruckus you just twist the throttle and go.
For braking capability the Ruckus comes equipped with drum brakes. The brake handle is easy to reach when you need to slow down or stop.
You might be thinking that drum brakes are too outdated for a scoot. Well at just 194 pounds it's not a problem at all with these brakes on the Ruckus. They're easy and cheap to maintain. This means you'll be able to enjoy riding for a longer period before having to worry about maintenance.
What I personally love about the Honda Ruckus is its unique appearance. It has an aggressive yet rugged and minimalist design that makes it stand out when you're zipping around.
This scoot is definitely a head-turner. You're bound to get asked about it every time you ride. The tubular metal frame is easy to maintain and there's no worrying about cheap plastics.
Finally, the Ruckus boasts an incredible 114MPG (2.06L/100KM). You can use it for errands and local rides for days without having to fill up. This is yet another reason that the Ruckus is the perfect bike for a budget-minded rider looking for something fun for around around.
It shouldn't be surprising to anyone to see the Honda Ruckus listed as our top recommendation for the best scooter under 50cc. There are plenty available for reasonable prices in local used markets, maintenance is cheap to nonexistent, and it's a blast ride.
Vespa Sprint 50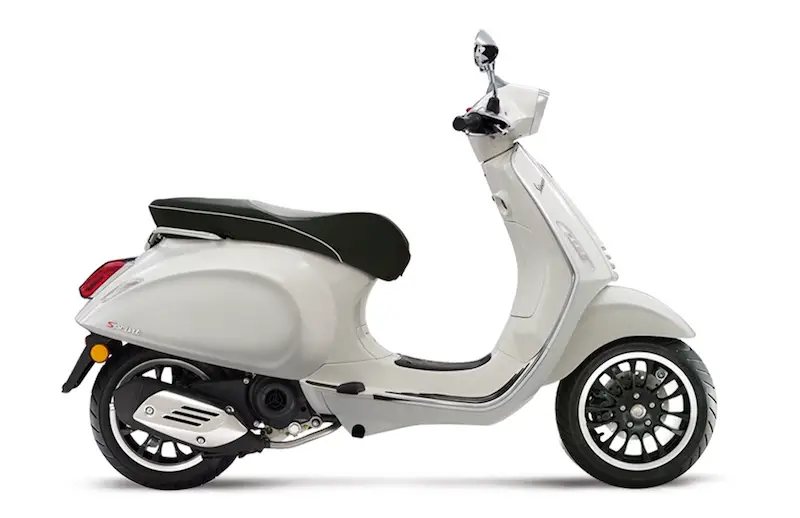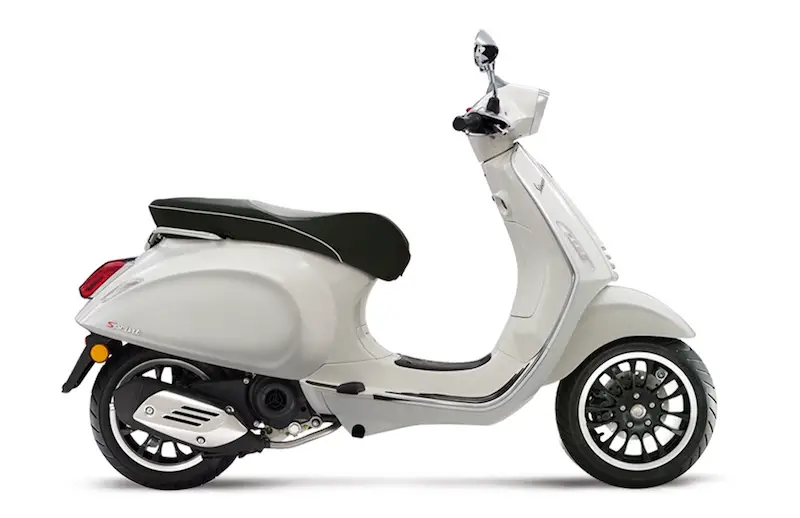 The Vespa Sprint 50 is a higher-end 50cc scooter compared to the Ruckus. On its own, the Sprint model of Vespa's has been around for more than 50 years making this one of the most popular choices for new scooter riders.
In 2018 the Sprint was refurbished giving it its modern, sleek, and sporty look. Not only does it look cool but it's a great machine for local commuting and zipping around town.
The latest models come with newer electronics, better fuel efficiency, and a slightly more powerful engine. However, there are plenty of affordable older options with low mileage available on local used markets.
This Vespa was designed to be quiet and to provide a smooth, comfortable ride. It's enjoyable for cruising although you won't get the same experience that you would on an Aprilia SR50R.
This is a scooter that's made for a refined, mature individual looking for something inconspicuous yet fun to ride. The one cylinder 4-stroke 50cc engine provides ample power for local cruising and city commuting.
Despite the Vespa name, the Sprint 50 is easy and affordable to maintain. With a little experience you can definitely do all of your own scooter maintenance without having to rely on an expensive mechanic.
When it comes to cruising riders will enjoy a fuel economy of 80+MPG (34+KM/L). With the 2.1 gallon (8 litre) fuel tank capacity you can ride quite a while without having to worry about filling up.
For storage, there is plenty of space under the seat for your helmet or groceries. There's also a small storage area on the front shield for smaller items.
Some other notable features of the Sprint 50 include disc brakes, contoured seat with double stitching, and a powerful LED headlight. As a Vespa, there are plenty of options for aftermarket upgrades and accessories.
The Vespa Sprint 50 is a great choice four Riders looking for something that's upscale, fun to ride, and easy to maintain. Thanks to the extensive Vespa dealer network there are a countless options for picking up this scoot either new or used.
Aprilia SR50R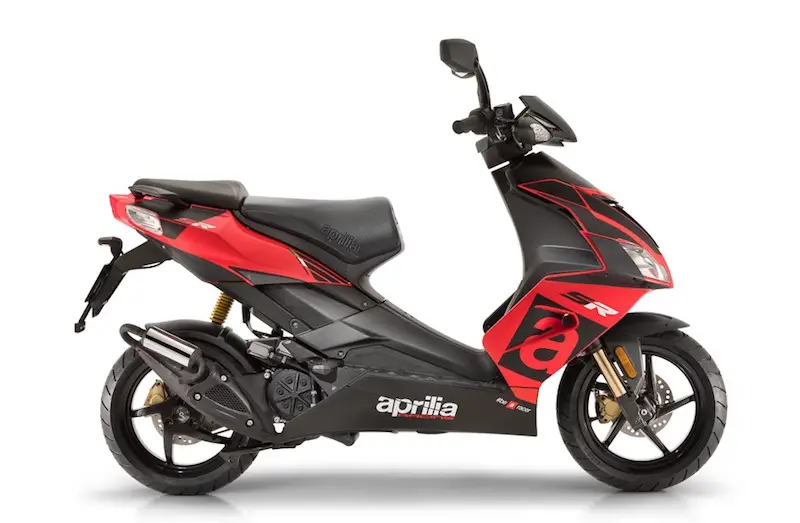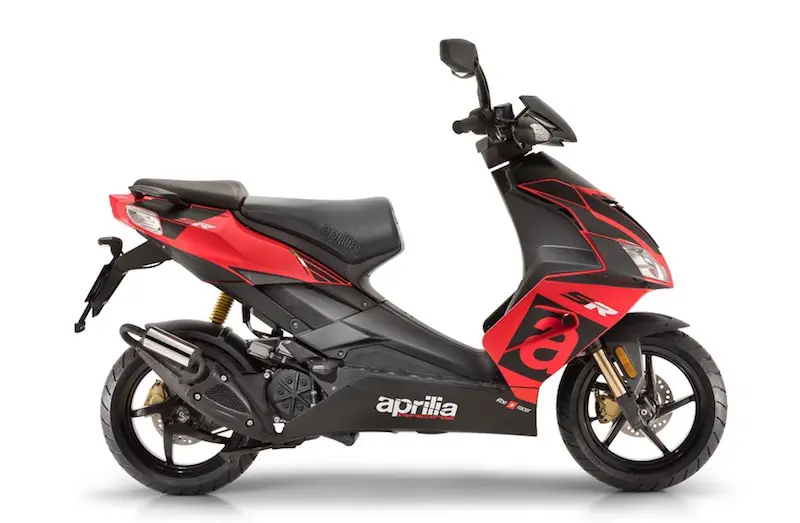 Now known for their sportbikes, Aprilia used to be the king of scooter brands in Italy and Europe.
Today, they're still a popular choice for riders looking for a fast and trendy sports scooter. This is a high-end brand, so expect the SR50R to command a higher price compared to our other recommendations.
The Aprilia SR50R boasts a sharp, modern design with clean lines and catch graphics. With its two-stroke motor you'll come to love the demonic sounds this beauty makes as you twist the throttle.
It's hard to beat the comfort of the SR50R sports scooter. The upright riding position and contoured saddle is enjoyable for hours on end. For storage, there's a helmet compartment and another compartment under the lug with an impressive 1L capacity. This is great for groceries, commuting, or for anything else you'd want to pick up.
When it comes to durability, this is yet another outstanding aspect of owning an Aprilia. The SR50R is designed from a steel frame and equipped with 13-inch wheels.
For braking, the Aprilia SR50R uses a disc-brake system that offers supreme stopping power in all conditions.
Finally, the liquid-cooled 50cc engine is at the top of its category for speed gains (get a faster 50cc scooter for free), drive experience, and acceleration. The electronically-operated carburetor runs smooth, is easy to maintain, and gives the scoot that bit of oopmh you're looking for.
With the Aprilia SR50R riders will enjoy a fuel economy of between 90 and 120MPG. There's a stock top speed of 30MPH (50KM/H) though it can modified to reach speeds of 55MPH (90KM/H).
Overall, the Aprilia SR50R is a great choice for riders looking for something snazzy, fuel efficient, and fun to ride around to town. It's ideal for commuting, short city rips, or longer rides depending on your riding style.
Yamaha BWs 50 (Best Honda Ruckus Alternative)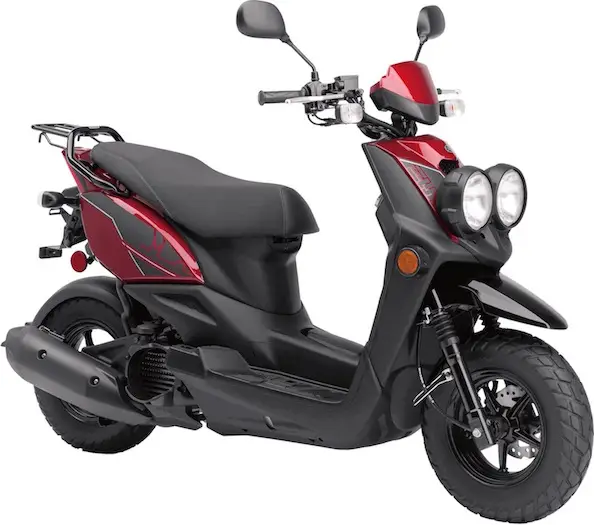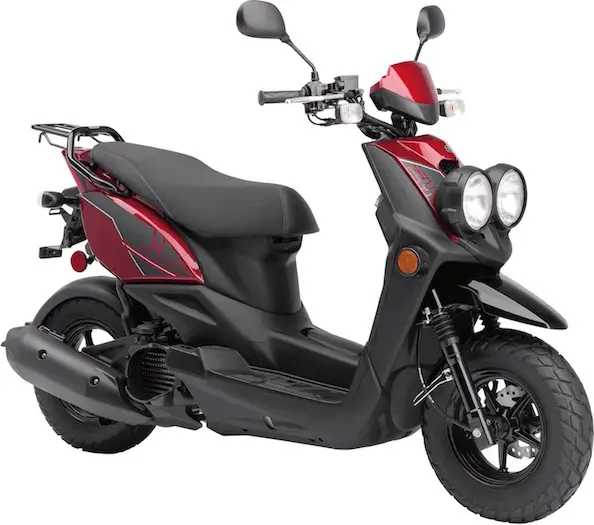 The Yamaha BWs50 is a small, lightweight, 4-stroke 50cc moped designed for urban use.
Whether you're looking to save money on commuting costs or you want something fun for getting groceries, this is a scoot to consider – it's also a great option if you're looking for a Honda Ruckus alternative.
The BWs 50 is equipped with a 49cc, liquid cooled and fuel injected 4-stroke engine. It provides riders with an amazing fuel economy and enough peppy, easy-to-use power for city cruising.
Speaking of fuel economy, you can expect to get up to 130MPG (1.8L/100KM) out of each tank. With rising fuel prices this could save you a good chunk of money each month if you're commuting.
There's enough storage on this scoot weather using it for groceries, local rides, or taking it to work. Under the seat is a spacious 23-litre compartment perfect for your scooter helmet, your laptop, or groceries. You could even stash some gear under the seat for a day trip or scooter touring adventure.
Yamaha consistently rates as one of the most reliable scooter companies. It's no different with the BWs50. You'll be able to ride countless miles without having to worry about high maintenance costs.
Thanks to be fully automatic CVT transmission you just twist the throttle and off you go. The lightweight body and steel frame is effortless to flick around city streets.
When it comes to stopping power, disc brakes on the front and rear drum brakes provide ample grab. In the right conditions you'll have no problem stopping when necessary.
Other great features include an easy to read instrumentation panel, a comfortable seat with excellent comfort, and a rugged rear cargo rack. There's also a center stand and easily accessible oil level dipstick so you can do your own maintenance.
The Yamaha BWs50 is an affordable, reliable scooter that's easy to maintain and fun to ride. This is a great choice whether you're looking for something for commuting, running local errands, and everything in between.
Yamaha Vino 50 (Best Used 50cc Scooter)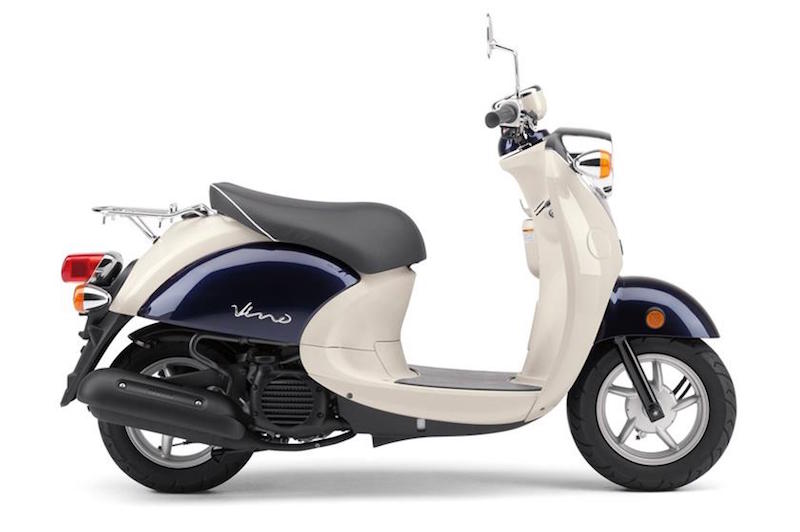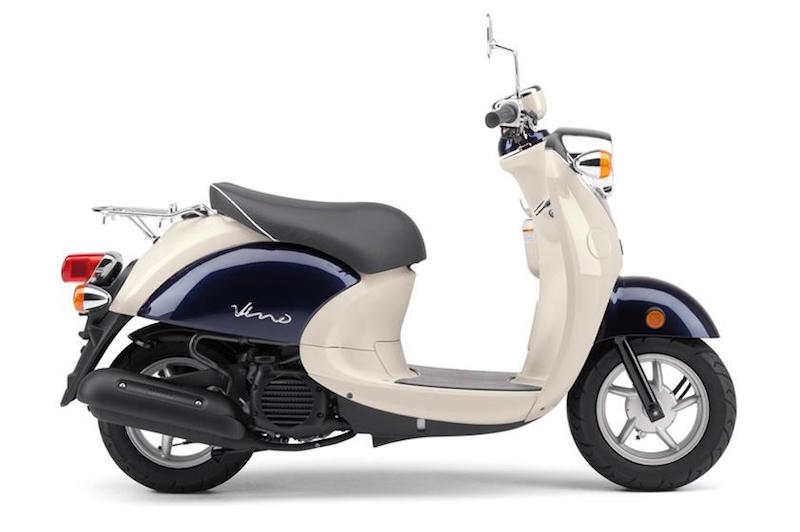 The Yamaha Vino 50 is a 50cc scooter that's especially popular in the North American scooter market. This is a great entry-level gas scooter that's extremely reliable and known for holding its value.
The Yamaha Vino 50 was first released in 2002 as Yamaha's response to Vespas successful return to the North American market. Considering the higher price tag on Vespa scooters, the Vino 50 quickly became popular among entry-level and budget-minded buyers.
The first generation of the Yamaha Vino 50 used a peppy 2-stroke motor. This generation was available from 2002 until 2005, when the Vino was upgraded.
Since 2006 the Vino 50 has used a fuel efficient, 4-stroke engine. There were also some style tweaks made for this latest model, which remained on sale until 2018.
Both generations of the Vino offered a nice amount of storage volume.This included a large space under the saddle, which could easily hold a full-face helmet or a couple bags of groceries. Unfortunately, there isn't a glove box on the Vino 50, which means riders need to carry everything on their person, use a motorcycle backpack, or stash everything under the seat.
When it comes to reliability, it's hard to beat the Yamaha Vino 50. The first generation scooter used a simple Minarelli engine and was air cooled and carbureted.
For the second generation, the engine was upgraded to a 4-stroke, which was also air-cooled and carbureted. Many riders continue to prefer the first generation as its two-stroke engine can be more heavily modified.
It's hard to go wrong with the Yamaha Vino 50 if you're looking for a reliable, affordable, and fuel efficient 50cc scooter. If you're living in North America, especially in a larger metropolitan area, you're bound to see tons of these available on your local used marketplace.
Piaggio Liberty 50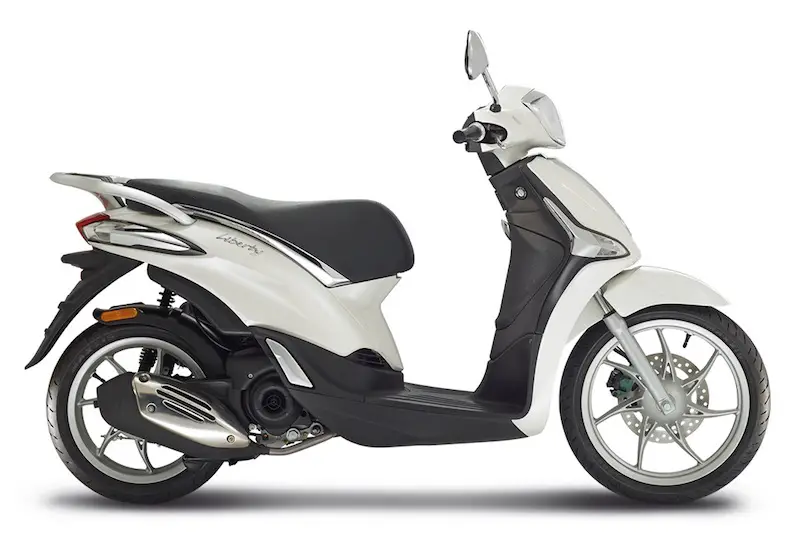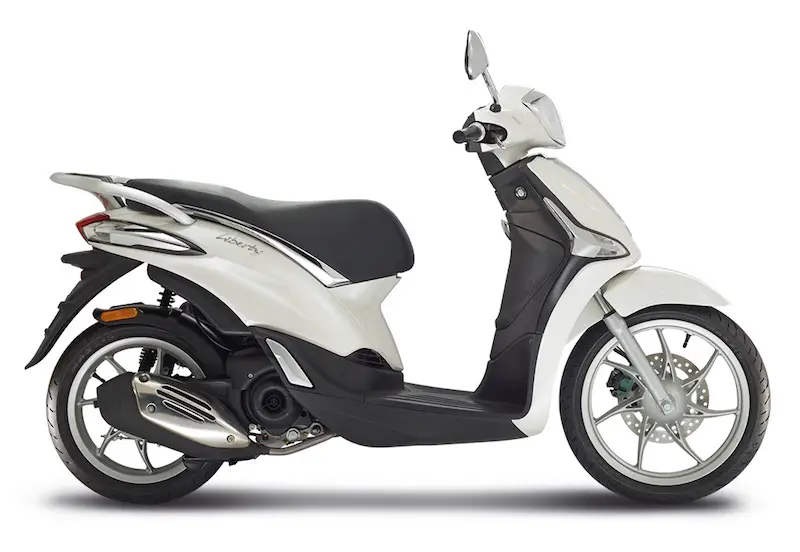 When it comes to the best 50cc scooters it's hard to go wrong with anything from Piaggio. In this case we recommend the Piaggio Liberty 50.
This scoot makes great choice for riders looking for a lightweight, entry level moped that's reliable and fun to ride. The Liberty also comes with a 150cc version if you're looking to upgrade to something faster.
With an incredible performance, the Liberty 50 is powered by a single cylinder 50cc engine. Thanks to the three-valve timing system riders will enjoy an increase reliability and an amazing fuel consumption.
For a better riding experience the Liberty 50 has been constructed to provide maximum safety and a comfortable ride. The larger wheels offer better precision an maneuvering on the road.
On a wide front shield is an easy to read, modern LCD display. This shield also protects riders from wind and rain. It's a great choice for commuting in all seasons.
As for storage, there is a spacious under seat compartment. This can hold a full-face helmet, your groceries, or any gear you need for the day. There's also a rear shield storage box design for storing smaller items, such as your keys and smartphone.
The distinctive style and reliability of the Piaggio Liberty 50 make it a great choice for most riders. Keep in mind that the Piaggio name will command a higher price on used markets.
Kymco Super 8 50X 4T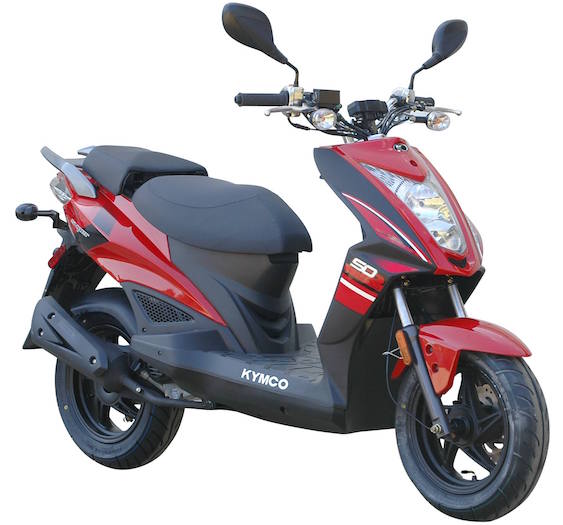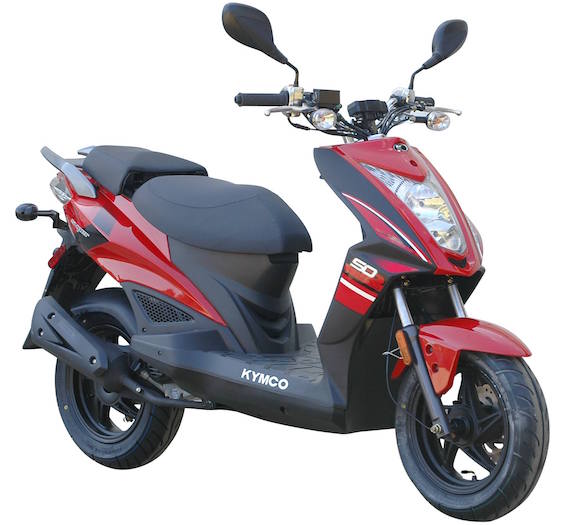 The Kymco Super 8 50X 4T is our recommendation if you're looking for the best cheap 50cc scooter. Kymco is a brand that's growing in popularity and known for their affordable and reliable mopeds.
The Kymco Super 8 50X 4T is perfectly designed for neighborhood errands and urban commuting. You could even use it for carrying a passenger on local cruises.
The exposed handlebars, high front fender, and fat dual-purpose tires give this scoot a masculine, aggressive look. These features also help to make the Super 8 50X 4T stand out from the less-impressive scooter designs that have become popular.
When it comes to fuel economy the Kymco Super 8 boasts a decent 72MPG (3.3L/100KM). This isn't as high as some of our other recommendations, but it's still better than cars and most motorcycles.
For the price, there are some features not included on this moped. One example is the cooling system. This Kymco comes equipped with a forced air cooling setup so you might run into issues on high heat, heavy traffic days.
Other features we like include the under seat storage, easy-to-read digital display, and the helmet hook on the front fender.
Otherwise, the Kymco Super 8 50X 4T is a great choice if you're looking for a cheap 50cc scooter. It's fun to ride, easy to maintain, and an affordable choice for riders on a budget.
Honda NSC50 Vision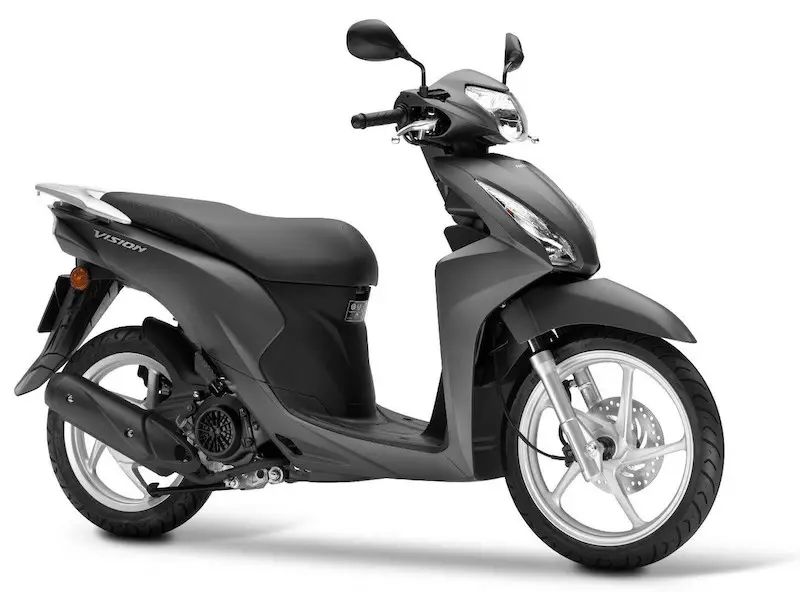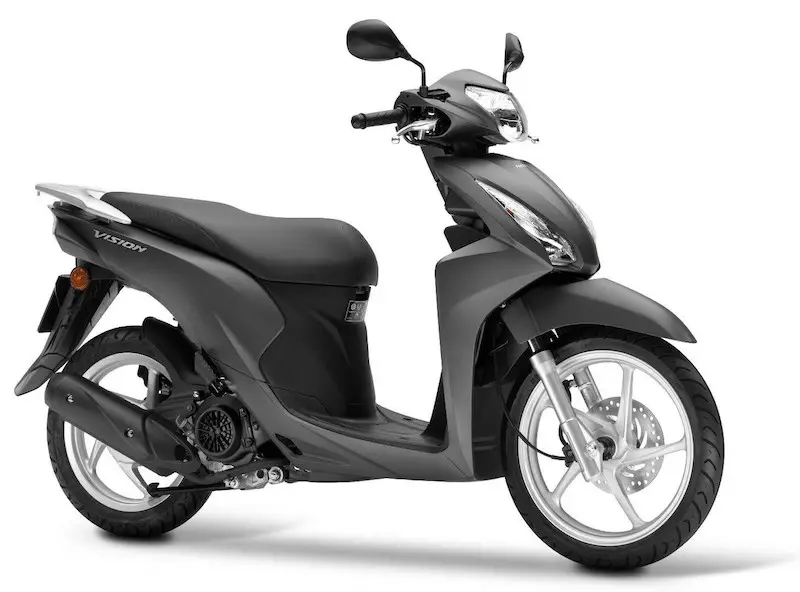 Depending on where you're from the Honda NSC50 Vision could be a great choice if you're in the market for a 50cc scooter. Honda isn't only about the Ruckus when it comes to the moped market.
The Honda NSC50 Vision is a refined, stylish, and affordable scooter designed for local commuting and urban exploration. Despite its small 50cc 4-stroke injected engine, the Vision truly packs a punch.
With the Honda engine inside, there's no need to worry about reliability. These 4-stroke engines are tough and can go thousands of miles with just basic maintenance.
The fuel injection system along with electric start means the Vision is easy to ride and fuel efficient. Riders will enjoy a cruising range of up to 150+ miles on a single tank of gas.
The Combined Braking System on this moped makes it a great choice for beginners. The CBS links the front and rear brakes resulting in stable, swift breaking regardless of experience or road conditions.
The seat has been ergonomically designed providing the rider with plenty of legroom. A base weight of only 225 pounds (100KG) makes the Vision easy to handle on the streets. The 14-inch wheels also help with secure handling and better performance.
When it comes to storage riders will love the under seat space. There's enough room for a full face helmet, your weekly groceries, or anything you're commuting with. More storage is available in the leg shield for smaller items.
Ultimately, it's hard to go wrong with any of the Honda scooters in the 50cc range. The Honda NSC50 Vision is another great choice whether you're commuting or looking for something fun to ride on local cruises.
Helpful Tips for Choosing the Right 50cc Scooter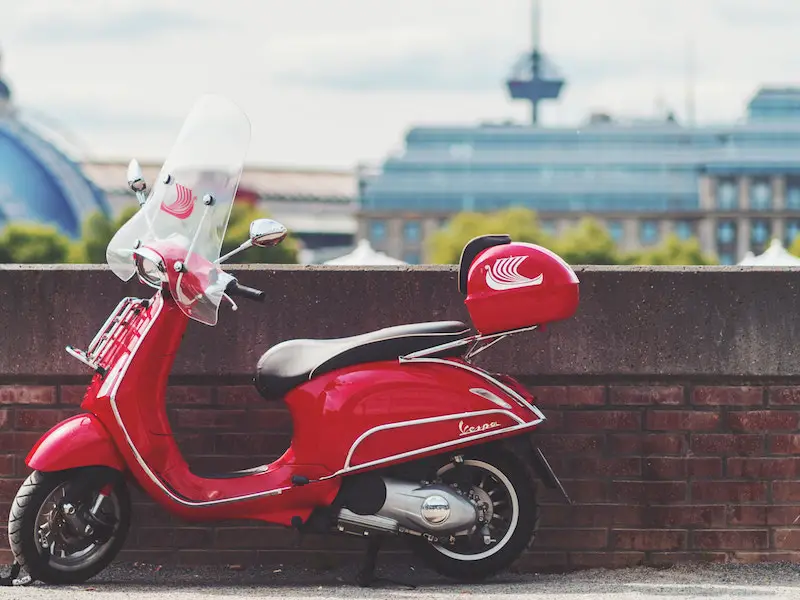 i
There are a lot of options available when it comes to scooters and mopeds. It can be overwhelming finding the right 50cc scooter for your riding needs.
These helpful tips should make it easier for you to decide on the right scoot.
1. Price (Buy Used)
Unless you're set on buying new, a used scooter will provide the best value for your scooting experience. Many people buy a moped, ride it for a few weeks or months, and decide they want something different. This results in local used markets having heaps of scooters for sale for affordable prices.
Before deciding on a specific model, set a budget that you're comfortable with spending. Don't forget you'll also need money for gear, basic beginner maintenance, insurance, and any registration fees in your area.
In the US, Canada, and Western Europe it's possible to find a great 50cc moped for less than $3000 USD. There are even options under $1000 USD if you're on a tight budget. Though they might need some work or basic maintenance before you can start riding.
After making your purchase, owning a scooter is affordable. These rides tend to fuel efficient and don't typically require much maintenance. Parts are available and affordable given the smaller size of scooters 50cc's and under.
2. Check Forums and Online Reviews
Always check forums and read online reviews about any specific scooter or moped you're interested in. This will prevent you from buying something that isn't reliable or that other riders aren't happy with.
Online forums are full of helpful information, reviews, and guides for just about every moped on the road. Here you'll find real-world experiences and reviews that make it easier for you to find the best 50cc scooter.
For example, some makes and models might have specific, hard to fix problems that you won't be aware of unless you do your research. Before going to see a scoot in person always look it up online. Watch YouTube videos, browse forums, and read reviews to get all the information you can.
This way you'll be the most informed and in a great position for buying the right scooter for your needs.
3. Registration + Insurance
The registration and insurance costs of buying a new or used scoot need to be considered. Depending on where you live you can expect to pay between $100 and $1000 USD just to get your ride on the road.
During the buying process ensure that the seller has the proper paperwork. Verify the names, dates, VIN, and any other relevant information before finalizing the transaction.
Then you'll need to head to your local transportation office to transfer the ownership. At this point you should have insurance for your scooter, as this is required in most places for registration.
When it comes to scooter insurance it's a good idea to shop around for quotes. Depending on where you're from insurance could be expensive. Always price compare before setting with a specific company.
With the registration, insurance, and other paperwork completed you're finally able to hit the road!
4. Other Factors to Consider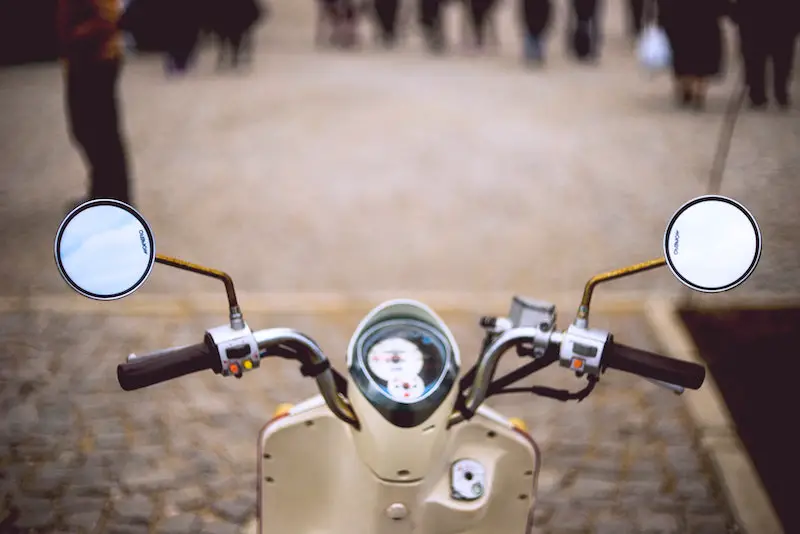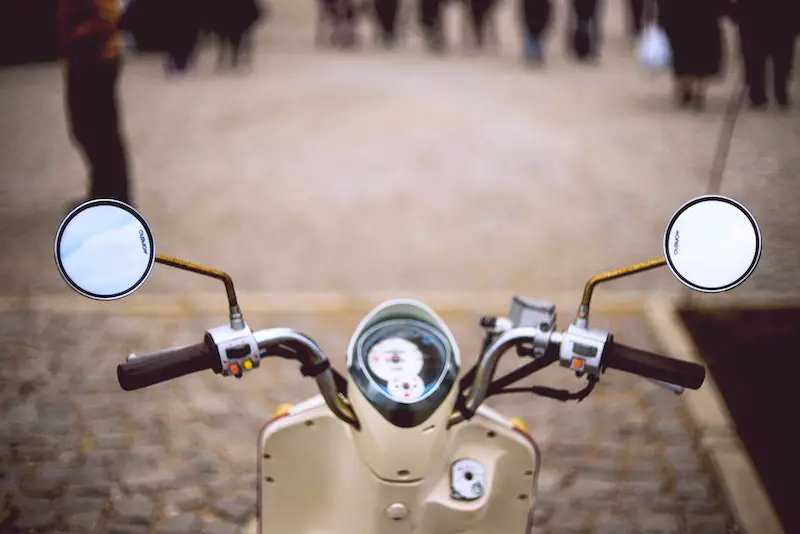 There are a few other factors to consider when buying a new or used scooter. These include the fuel economy, maintenance costs, availability of parts, weight capacity, and your local mechanic options.
Fuel economy is important for commuting and keeping costs down. With rising fuel costs people are looking for more economical forms of transportation.
By design, most 50cc scooters, mopeds, and 50cc dirt bikes for kids are incredibly fuel efficient. Always check the exact specs from the manufacturer for exact fuel consumption.
Maintenance costs and parts availability are another factor to consider. Brands like Vespa and Honda have lower maintenance costs given their reliability. There also tends to be more parts available for popular moped brands.
Weight capacity is important if you're planning on riding with a passenger. Unless you're in excess of 300 pounds this is nothing to worry about as a solo rider.
Finally, look online for local scooter mechanics. This is important if you're not able to do your own maintenance.
Most motorcycle mechanics will be able to work on mopeds, though it's important to contact them and find out for sure.
5. Protective Gear
Just like riding a motorcycle, it's important to have the right protective gear when you're out on the scoot.
At the bare minimum, gloves and a helmet should be worn.
At slower speeds boots, pants, or a special jacket aren't as important. However, to protect your head in hands in case of a crash or accident always wear your helmet and gloves.
Feel free to check out my post on motorcycle safety gear for a better idea on what to wear when riding.