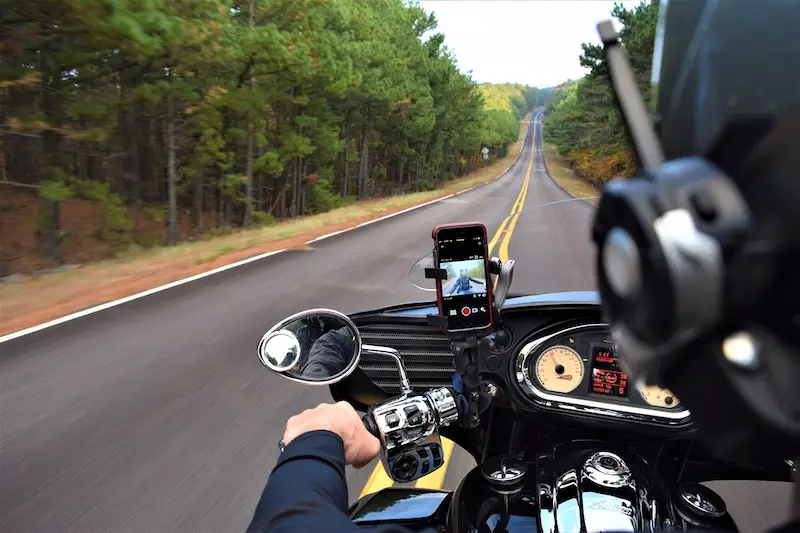 As a modern motorcyclist, you're probably riding with at least one or two different electronic devices. Smartphones, camera batteries, GPS units – all of this gear needs to stay charged.
Thanks to the various reliable motorcycle USB chargers available, it's easy to keep everything charged and ready to use. This way you don't need to worry about running out of batteries and getting stranded or lost.
In this post, we put together a list of the best motorcycle USB chargers. Our recommendations should help you narrow down your choices if you're in the market for a USB charger for your motorcycle.
To help save you time and keep you riding, we put together this list of our top recommendations. If you have any questions, comments, or concerns, don't hesitate to let us know in the comments below. Otherwise, let's jump right into it!
The Best Motorcycle USB Chargers
Mroinge 5V 4.8A Motorcycle USB Charger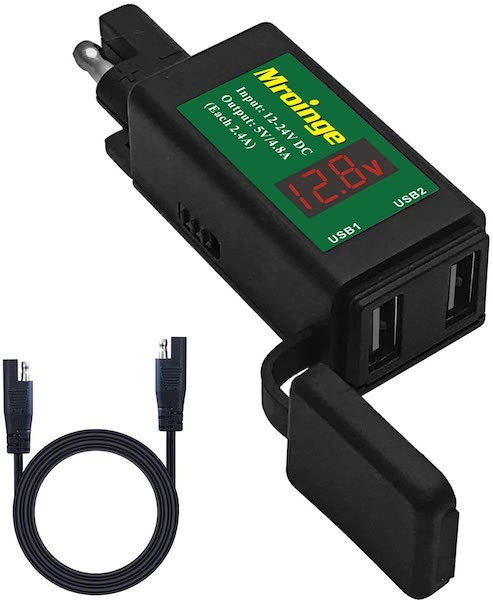 The Mroinge Motorcycle USB Charger is our top recommendation as the best motorcycle USB charger for most riders. This charger is easy to install, comes with 2 ports, and has outputs of 5V 4.8A.
The kit comes with everything you need for setting up the charger on the bike. Keep in mind that you'll already need a SAE output hooked up to your battery to get this charger connected.
Once installed, it's possible to charge up to 2 devices at the same time. Each port has a 2.4A output and can be used for charging your smartphone, camera batteries, GPS, and other devices.
Thanks to the on/off power switch you can turn off the charger when you're not using it. It even comes with output overload and short circuit protection to protect both your devices and motorcycle battery from any damage.
It's possible to mount the charger on your motorcycle dashboard, although it might fit better underneath the seat. Other features include the built-in voltmeter and ammeter display, waterproof design, and multi-level safety protection.
The Mroinge Motorcycle USB Charger is a great choice if you want to keep your devices charged when you're out riding. It's easy to install and comes with a range of practical features that make it ideal for most riders.
MOTOPOWER MP0609A 3.1Amp Motorcycle USB Charger Kit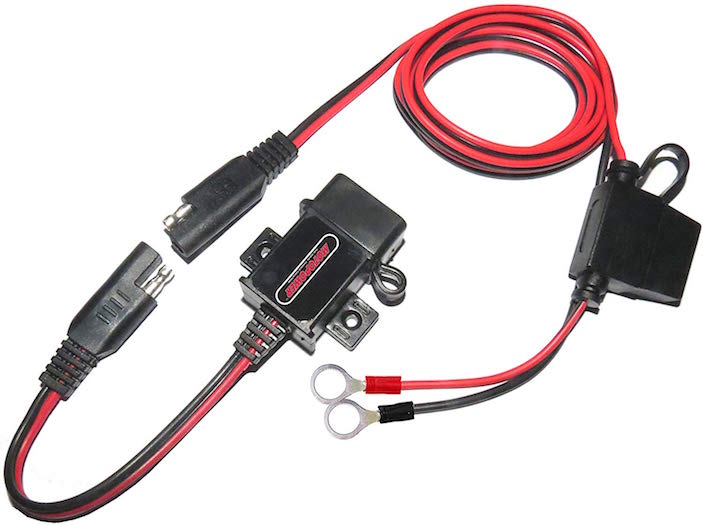 The MOTOPOWER MP0609A 3.1Amp Motorcycle USB Charger Kit is a great choice if you're looking for the full USB charging kit. This one comes with everything you need to start charging devices on your motorcycle.
Unlike our top recommendation, this kit comes with the cables needed to connect the charger to the battery. This provides you with the SAE output needed to hook up other devices, including this charger.
Installation is simple. With access to the battery, connect the connectors to the right battery connection and you're good to go. Slide the cables through the fairings or motorcycle frame and mount the USB charger anywhere you want.
The charger itself has a single USB port and an output of 3.1A. This is more than enough for keeping your devices charged, just one at a time.
As for the design, the charger is made from a water resistant, polycarbonate case. It's durable, waterproof, and suitable for most riding conditions.
There is built in over-voltage and over-current protection that helps to protect your devices in case of a battery surge. Unfortunately, this charger doesn't have a switch, any battery discharge protection, or reverse polarity protection.
Despite these drawbacks, the MOTOPOWER MP0609A 3.1Amp Motorcycle USB Charger Kit is still a great choice if you're looking for a complete USB charging kit. For the price we would definitely recommend this kit and find it to be a great choice for riders in need of a complete USB charging setup.
Battery Tender USB Charger Adaptor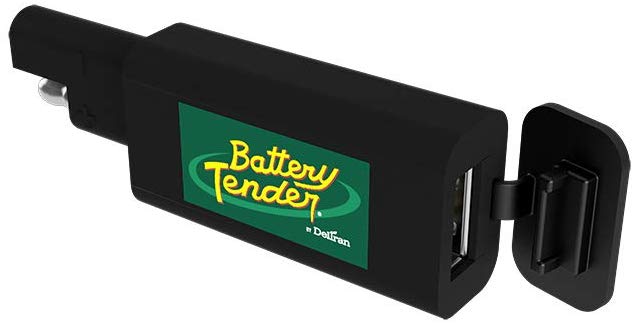 The Battery Tender USB Charger Adaptor is a simple and affordable way for installing a USB charger on your motorcycle. With this setup, you'll already need to have the SAE connectors installed or an existing battery tender quick disconnect.
With a simple design and reasonable price, the Battery Tender USB Charger Adaptor provides an easy charging solution. It allows riders with an existing SAE connection to quickly install this adaptor and start charging their devices.
The adaptor itself is small and takes advantage of a streamlined, low profile design. It's equipped with a single USB port that has an output of 2.1A maximum.
This nifty gadget is perfect for charging one device at a time. With the Battery Tender name behind it, you know it's something that can be relied on when you're out riding.
Overall, we would definitely recommend the Battery Tender USB Charger Adaptor for riders looking for an affordable and simple charging solution. This setup works best for those that already have the SAE connectors installed and hooked up to the battery.
Best Motorcycle USB Charger Buyer's Guide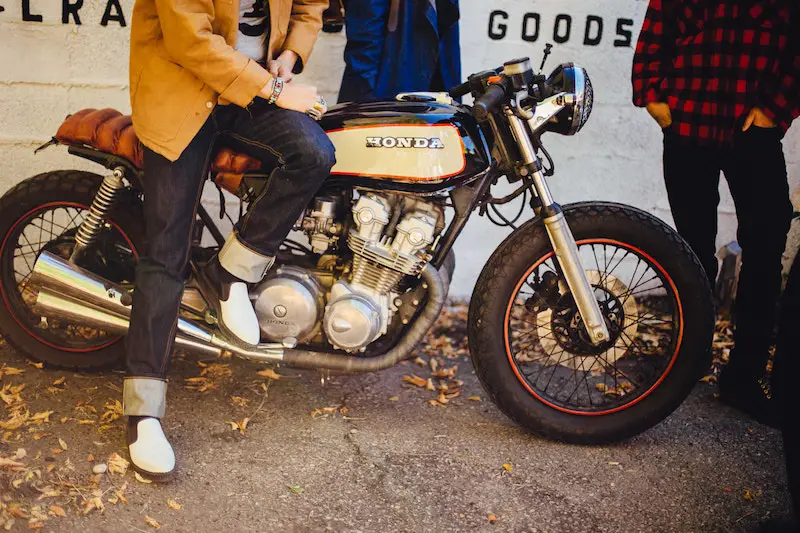 With so many different options to choose from, it can be difficult to find the right USB charger for your motorbike. We put together this helpful buyer's guide to make the process even easier for you to find the right charger.
Types of Motorcycle USB Chargers
SAE Connection
Most USB chargers will take advantage of the SAE connection. This is a type of charger that requires an SAE lead and attaches directly to the motorcycle battery.
Many riders will likely install a permanent SAE lead on their bikes. This is an easy install and allows for more flexibility for using chargers and other electronics.
Another benefit to the SAE connection is that it's safe and designed to prevent short circuits. Installation is as easy as connecting the connectors to the right battery connections and cleaning up the existing wires.
On a new motorcycle you'll probably have to install the SAE connection on your own. Many used motorcycles will come with the connection already installed.
Direct Connection
Some USB chargers are designed to connect directly to the motorcycle. These can be mounted on the handlebars and plugged directly into the motorcycle battery.
Compared to the SAE connection, a direct connection charger it's just as easy to install. The main drawback is that it's less versatile and could cause more drain on the battery.
With a direct connection, always verify that everything is connected properly before starting the bike. This helps to avoid any issues with shorting or overcharging the battery.
DIN
The DIN type of USB charger is designed to fit into any existing power ports on your bike. For example, some motorcycles come with a 12V socket and this is where the DIN charger can be used.
The DIN setup is able to handle a larger electrical current from the battery. This usually results in better performance overall and a more powerful current for faster charging.
Compared to the other styles, a DIN connection is safe and has better stability under vibration. It's also the easiest to use, especially if your motorcycle already comes equipped with the 12V outlet.
Benefits of Motorcycle USB Chargers
There are a number of benefits to using a USB charger on your motorcycle. Whether you're motorcycle commuting, going on long trips, or just riding around, it's great to be able to keep your devices charged.
Convenience
With a USB charger on your bike, you won't have to look for power outlets or somewhere to charge your phone. Everything can be connected on your motorcycle and charged while you're riding.
This way you don't have to worry about getting stranded because your phone ran out of battery or your motorcycle GPS died. Instead, everything is charged and ready for you to use it.
Compact Design
Compared to wall charger, USB chargers take advantage of a streamlined, compact design. They don't take up as much space and can be easily installed on your motorcycle.
Even the smallest chargers can be used to charge up to two different devices at a time. Whether you mount in on your handlebars or stash it under the seat, these chargers rarely get in the way.
Easy to Install
If you're someone that rides a lot, there's no reason why you shouldn't have a USB charger. Keeping your phone charged means you can always easily take photos, refer to your navigation, change music, or just keep in touch with people at home.
Installation is simple and even the most novice garage mechanic would be able to figure it out. Installing your own USB charger can also help build your confidence when it comes to working on your bike.
Pricing for Motorcycle USB Chargers
Depending on your budget, there are different options available for a wide range of prices.
Under $20
At this price point you're looking at basic chargers that don't come with any extra features. However, they're more than capable of keeping your devices charged for when you need them.
Don't expect to find features such as power switches and locking mechanisms with chargers under $20. Thankfully, there are still some great options that are reliable, durable, and suitable for riding with.
Over $20
At this price point you'll be looking at some of the better quality chargers. These will come with more features, better mounting options, and different installation options.
Chargers in this price range will be more versatile and include a wider range of different features. You'll also be able to charge more than one device and take advantage of a better output.
Important Features
Safety
Safety is one of the most important things to consider when choosing a motorcycle USB charger. This is where it might be worth spending a few extra dollars to buy a better quality model with safety features.
Most newly-designed chargers are equipped with overcurrent protection. Unfortunately, some of them still might be susceptible to short circuits and other types of electrical damage.
Check the safety features beforehand and look for any additional features you're interested in. This could include weather resistance, volt limits, and a more durable design.
These safety features are important if you're planning to spend a lot of time riding outdoors in different weather elements and conditions. It's important to protect your device, and the charging unit itself, from dirt, dust, water, moisture, and other harmful elements.
Mount
Most riders likely want to mount the charger to the handlebars. Alternatively, there are other mounting options depending on your preferences.
For example, some devices can be installed in places that are less accessible and exposed to the elements. Under the seat or on the side of the motorcycle attached to the frame are other popular choices.
Think about which setup works best for your bike, riding style, and personal preferences. For convenience, handlebar mounting is the best, while under-seat or frame mounting is ideal for riding in rough conditions.
Charging Speed
Not every charger is designed the same way. They aren't all compatible with the same devices and compatibility depends on the technical specifications.
Connecting a phone that requires a fast charger with a slow USB adapter will result in a slower charge. It can even be dangerous connecting two units with different technical specifications which could lead to short circuits or electrical problems.
Number of Ports
Depending on the charger, there will be either one or two USB ports. This is something to consider before making a purchase.
If you need a charger that can charge more than one device at a time, you'll want to go with two USB ports. Otherwise, for keeping your smartphone charged, one port is enough.
Installation
Always check whether a charger is compatible with your motorcycle and current battery setup. Take a look at the different types of chargers mentioned above for a comparison of the different setups.
Not all chargers are designed the same. It's important to use one that's compatible with your motorcycle battery and that can be easily connected.
You may need to buy all of the connection wires if your battery isn't set up for it already. Alternatively, an adapter might be all that you need.
Power Switch
The power switch feature is found on the higher-priced, better quality chargers. This allows you to turn the charger off when it's not being used.
The power switch is a useful feature that helps to make it safer. Many of the newer models come equipped with the switch, although some of them will stay on all the time.
Helpful Tips
Most riders will use the USB charger to keep their smartphones and GPS devices charged. You can also use the charger for charging your motorcycle camera batteries, tablet, and other motorcycle accessories that you're using.
Keep an eye out for motorcycle USB chargers that come with weather protection. This would be a cover that provides additional protection from moisture, dust, and dirt. It's great to have this feature if you're riding daily in various weather conditions.
Alternatively, be careful about using your USB charger if it doesn't have any weather protection. It's possible for the internal components to get soaked in water and this could lead to short circuits that could damage your motorcycle battery.
Best USB Charger For Motorcycles FAQ
Do USB Chargers Drain the Battery?
Even with nothing connected, it's likely that the USB charger will drain a small amount of current. Thankfully, this isn't enough to fully drain the battery if you're riding regularly.
Don't forget to disconnect any devices if you'll be away from the bike for more than a few minutes. It's also a good idea to disconnect the charger when you're putting away your motorcycle for the winter season.
What Are the Installation Options for Motorcycle USB Chargers?
In this post we covered the three main USB charger connection options. These would be a direct connection, DIN, or SAE connection to the battery.
Each of these connections is easy to install and compatible with every type of motorcycle battery. Refer to the included instructions or check on YouTube if you're having any difficulties with the installation.
As for which option is the best, this depends on the power options included on your motorcycle. It also depends on your personal preferences and which style would work best for your type of riding.
Are Motorcycle USB Chargers Waterproof?
Some models are waterproof and we recommend going with a water-resistant charger. Not every charger offers the same level of protection.
If you're looking for extra protection against water and harsh weather elements, look for chargers that are completely waterproof. Those that have higher IPX ratings are also ideal in this situation.
Final Thoughts
At this point you should have a great idea on which motorcycle USB charger is best for you. Hopefully this post has been helpful and has made the buying process a little easier for you.
When it comes to the best motorcycle USB charger, our top pick would be the Mroinge 5V 4.8A Motorcycle USB Charger. This is an efficient and reliable unit that's versatile and easy to install.
Alternatively, the Battery Tender USB Charger Adaptor is a great choice if you're on a limited budget and looking for something inexpensive. While it's not loaded with features, this model is more than capable of keeping your devices charged.