Using a motorcycle dash cam is a great way to protect yourself if you're ever involved in a crash or accident. While you could use a motorcycle helmet camera, a motorbike dash cam ensures that everything in front of you is captured, even if you fly off the bike.
Another benefit to using a dash cam on your motorcycle is that they're great at capturing your favorite rides and scenic road trips. Compared to a helmet cam, there's no need to worry about batteries, simply start recording and off you go.
If you're someone that rides a lot, or if you're commuting daily by motorcycle, you'll want to invest in the best motorcycle dash cam you can find. We put together this help buying guide to make it easier for you to find the best one for your needs.
Don't forget to scroll past our recommendations for some helpful tips and an in-depth FAQ. Otherwise, let's jump right into it!
The Best Motorcycle Dash Cams
INNOVV K2 Dual Channel Motocam (Best Motorcycle Dashcam Overall)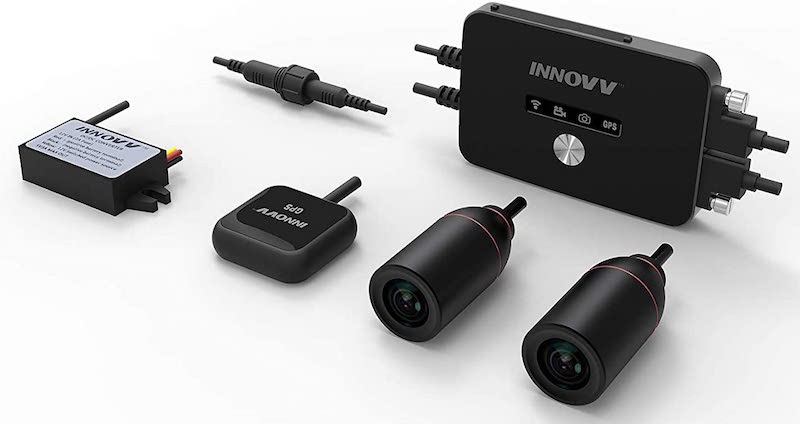 It's the INNOVV K2 Dual Channel Motocam that we'd recommend as the best motorcycle dash cam for most riders. This is a dual channel camera that features a simplistic yet effective design for capturing both in front and behind while you're riding.
Those of you looking for a lightweight and compact camera that won't get in the way of your riding experience will find this one to be ideal. It's durable, reliable, easy to install, and blends well with the aesthetic of most motorcycles.
Each of the cameras are equipped with water resistant housing. This protects them against water, sand, dirt, and other elements you encounter on the road.
The recording resolution is full HD and each camera captures footage at 1080P, 30 FPS. This is more than enough to see any specific details and enjoy watching the playback at high quality.
Everything needed for installation is included. This would include the necessary mounting brackets and cables for getting the camera up and running.
Thanks to the INNOVV app, it's easy to change the camera settings, download footage, and share footage online. Other features worth mentioning include the speed logging, GPS logging, and the looping setting so you don't have to worry about clearing out the SD card.
One main problem people have with this camera is that downloading the video onto your own device can take a long time. It also doesn't come with an external microphone, which most riders won't find necessary.
Overall, we'd still recommend the INNOVV K2 Dual Channel Motocam as the best motorcycle dash cam for most riders. The dual channel design and overall quality of this device make it a great choice for capturing your rides.
HaloCam M1 Motorcycle Recording Camera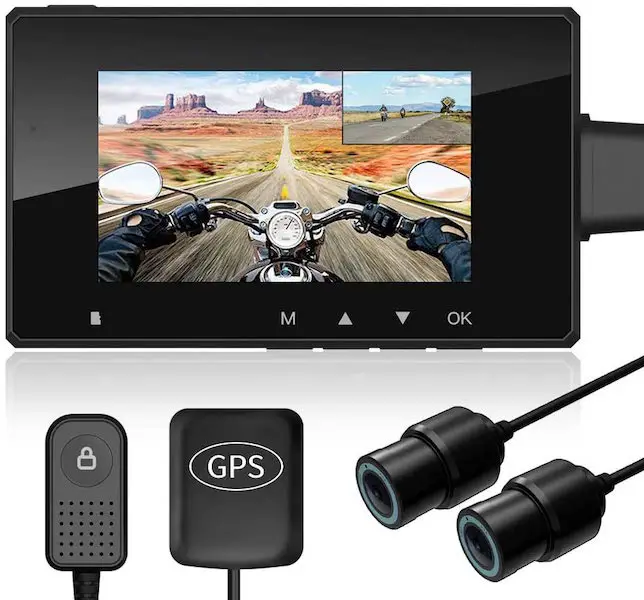 Up next we would recommend V HaloCam M1 Motorcycle Recording Camera as the second best choice compared to our top recommendation. This is another great camera that's easy to install and uses your own motorcycle as its power source.
The HaloCam M1 Motorcycle Recording Camera is a dual lens dash cam that's perfect for recording both the front and rear view from your motorcycle. It records in full HD Resolution, capturing videos in 1080P for a high quality playback.
The lens is a 155-degree wide-angle lens that covers nearly everything happening in front or behind you. With the cameras impressive F1.8 aperture, it offers a better quality picture and darker environments and captures up to 30% more light in low-light conditions.
Installation is relatively simple, assuming you're confident with your motorcycle mechanical skills. This device can be connected directly to the motorcycle light or ignition switch, which means it will start and stop recording when the engine turns on and off.
Changing the settings, looking at recorded videos, and uploading your footage can all be done through the related smartphone app. This makes it easy to connect your smartphone and download, edit, and share your videos online.
Both the camera and the lens are waterproof and dustproof. It's also worth mentioning that the device comes with a GPS antenna, making it possible to track your route when you're riding.
One problem is that the monitor and head unit isn't waterproof. This is the screen that shows a real time view of what the camera is taking up. Thankfully, it's easy to protect the monitor by tossing it into your motorcycle tank bag or wrapping it in a plastic bag.
Overall, the HaloCam M1 Motorcycle Recording Camera is another great choice if you're looking for a reliable and well-reviewed dual channel motorcycle dash cam. It's durable, easy to install, and the smartphone app makes getting your footage a breeze.
VSYSTO Motorcycle Dash Cam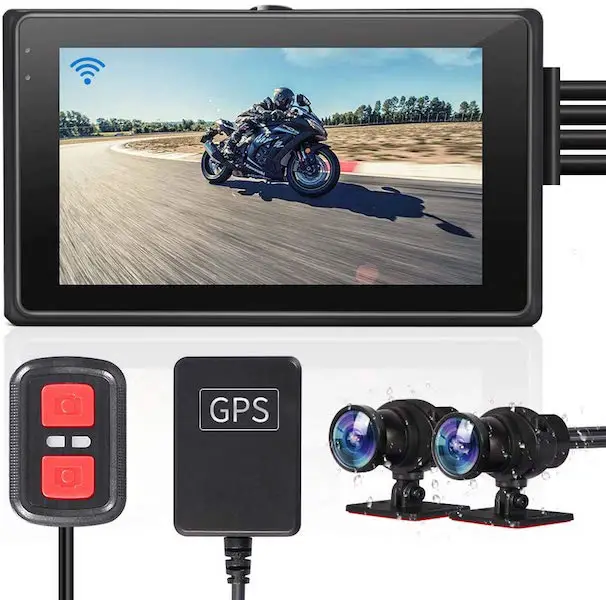 The VSYSTO Motorcycle Dash Cam is one more motorcycle recording device that we would recommend. This is another dual-channel camera that's well-suited for recording your motorcycle rides and adventures.
For recording, this camera records in full 1080P resolution. It's equipped with a loop recording setting so that you don't have to worry about clearing out your memory card.
The wide-angle lens is capable of recording a 150-degree field of view both in front and behind you. It's easy to freely adjust the angle of the camera and both of the lenses feature excellent water resistance.
Those of you riding at night will love the image sensor that provides clearer footage in low light conditions. It even has voice recording if you want to control the cameras with your voice, as opposed to using the Wi-Fi capability through your smartphone.
The camera comes with a 3-inch display monitor unit. This allows for playback and changing the settings, though it's not waterproof so you'll want to store it under your seat or in a tank bag.
Installation is simple with all of the brackets and wiring included to get the cameras installed. It's easy to hide the cables and the small, portable design makes the camera easy to mount wherever you want.
Overall, the VSYSTO Motorcycle Dash Cam is another great choice if you're on the hunt for the best motorcycle dash cam. It's well-reviewed, easy to install, captures great footage in low light conditions, and has some other amazing features for riders.
Benefits of Motorcycle Dash Cams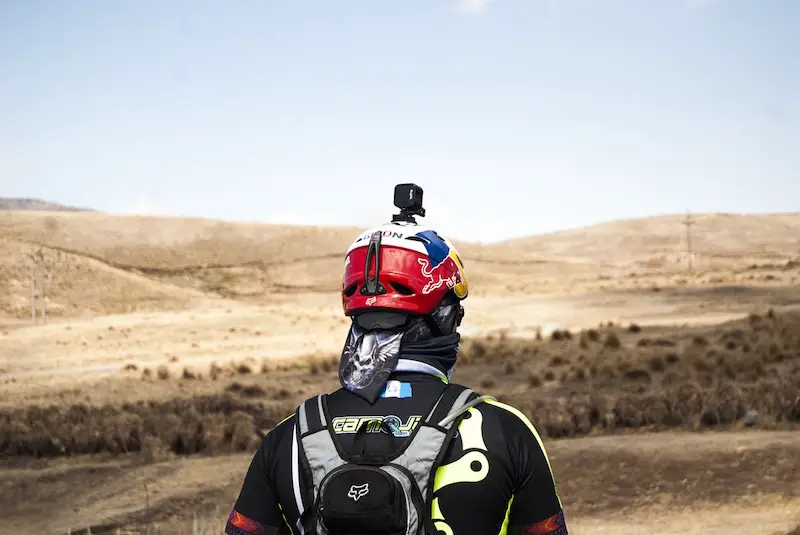 Record Accidents
You never know when you're going to get into a motorcycle accident. Unfortunately, they're not as uncommon as riders like to think and it's a good idea to cover your butt if you're ever involved in one.
With the best dash cam for motorcycles you'll be able to record the footage of any accident you're involved in. This is great for insurance purposes, dealing with the police, or proving that the accident was someone else's fault.
They can also be used for sharing the footage if an accident happens in front of you. Not everybody uses a dashcam and you could help somebody else out with your own footage.
Provide Evidence
You might need to go to court to defend your actions if you're ever involved in a motorcycle accident. With a bikers dash cam you'll have the evidence and proof you need for an accurate portrayal of what happened.
The insurance company will probably want a copy of the footage as well. This makes it easier for them to work through your settlement and finalize all of your insurance claims.
Identify Other Vehicles
If there's an accident in front of you or if you're the victim of a hit-and-run, it's possible to gather relevant information using the motorcycle camera. You'll be able to find license plate numbers and vehicle descriptions, even if you can't remember them yourself.
Capture Scenic Rides and Road Trips
Installing an action camera on your motorcycle it's a great way to document your favourite rides and any road trips you go on. This makes it possible to watch footage later or share it with other riders.
The footage you capture could also be used if you're planning to start a motovlog. It can definitely be helpful in setting up your channel.
Types of Motorcycle Dash Cams
Single Channel
When the word "channel" is mentioned it refers to the number of cameras featured in a motorcycle dash cam. Until recently, most cameras were single-channel dash cams with a front facing camera.
This type has only one forward facing lens and can only record footage in that direction. Typically, it will be pointed towards the front of the motorcycle, capturing everything that happens upfront.
Dual Channel
Dual channel dash cams are equipped with two cameras. They come with a forward facing camera as well as a rear facing camera.
This type of setup is ideal for capturing footage from the rear of the bike. If someone hits you from behind, or if there's an accident behind you, you'll have the extra footage available.
Pricing: How Much Do Motorcycle Dash Cams Cost?
$150 – $250
You can expect to spend between $150 up to $250 on the best cheap motorcycle dash cam. In this price range the cameras won't have as many features, though they're still ideal for capturing your rides.
At this price point the camera might not work with a certain operating system or it will have a narrower field of view. There might also be less accessories available and less functions overall.
$250+
The higher your budget for a motorbike dash cam, the more features you can expect. At the higher end of a budget you'll have GPS tagging, speed, and other location data.
Higher-end cameras will come with more features that make the device more user-friendly and easier to use. They'll typically come with extra accessories and have additional accessories available as well.
Key Features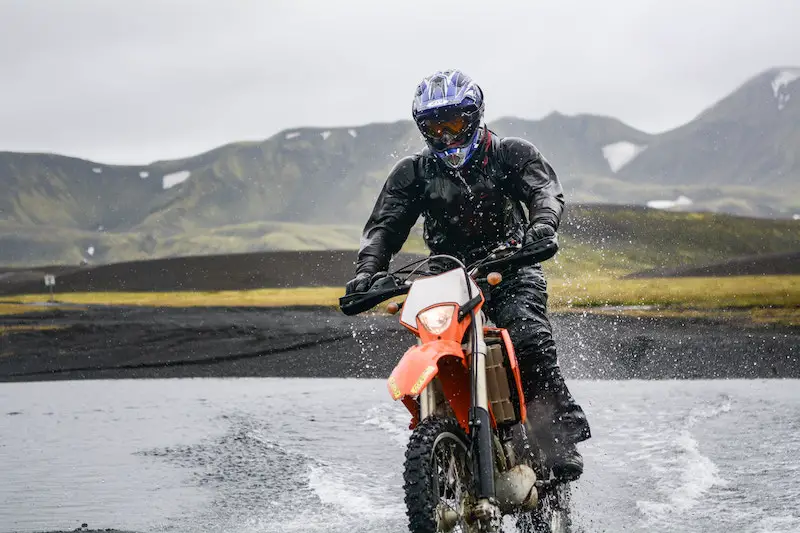 Construction
One of the most important features to consider when it comes to the best dash camera systems is the construction. Look for cameras that are made from high-quality and durable materials.
Inexpensive and cheap motorcycle dash cams are made using low quality materials, which can negatively affect durability. The picture won't be great and the camera probably won't last that long either.
Spending more money gets you a camera that's solidly built and able to withstand the rigors of regular motorcycle riding. Higher-end models tend to last for several years, where cheaper ones will need to be replaced more often.
Waterproof
Motorcycle dash cams are regularly exposed to the weather elements, including snow, rain, and varying temperatures. Look for a camera that's either water resistant or waterproof so that it doesn't become permanently damaged if you happen to get stuck in the rain.
Most waterproof options will come with a shell or casing that shields the device from any harmful weather elements. Many of the lower end models might be water resistant, but aren't waterproof, which isn't ideal if you're riding in wet conditions.
Video Quality
Video quality, otherwise known as resolution, is an important consideration when it comes to the picture that the camera is able to capture. For example, lower resolutions, such as 720P, don't provide a quality picture and make it difficult to see any particular details.
At the bare minimum, you should look for dash cams with a resolution of 1080P or 1440P. These will provide a clear image and the higher resolution, the clearer the footage will be.
Automatic On and Off
You'll typically find the automatic on and off feature on mid-range to higher-end cameras. This is a great feature to have and means the camera will start recording once you turn the ignition on.
On the other hand, when you turn the ignition off, the camera will stop recording. This is convenient as you won't have to play around with the device every time you want to go for a ride.
Loop Recording
When you're riding a lot with the camera on you'll be capturing a lot of footage. Eventually, the SD card will fill up. With loop recording you don't need to worry about changing the card or deleting footage.
What happens is the camera will overwrite the footage that's already stored on the SD card, once it fills up. This is more convenient than swapping out the memory card and you don't have to worry about it while you're riding.
Size
For the most part, motorcycle dash cams come in a small and portable shape. However, there are some larger ones available to choose from.
We would recommend avoiding the larger devices, as they draw too much attention to the bike. They're easy to steal if someone notices it, which you don't want happening for such an expensive device.
Look for small motorcycle dash cams that are discreet and out of the way. With a smaller profile they'll also be more aerodynamic.
Simple Controls
When you're wearing motorcycle gloves or you're out for a long ride, the last thing you want to be doing is fiddling with the controls on your camera. Look for models that come with simple, large, and easy-to-use controls.
This way you can start recording or change settings on the fly. It's even better if there is an app available that allows you to control the device through your smartphone.
Additional Features
There are some other features to consider when you're looking for the best motorcycle dash cam. These features would include a wide-angle camera, the ability to record on micro SD cards, sensors that detect vibration, and GPS tracking.
Other features worth mentioning include night vision and software apps that can control the camera through your phone or computer. You can expect to find most of these features on higher end devices.
Helpful Tips
Before installing the camera on your bike, set it up at home. Take some time to get familiar with the device and learn how to properly use the system. Play around with it before installing it so you don't have to worry about draining the battery or learning to use it when you're on the road.
Look for cameras that allow you to download the videos via Wi-Fi or Bluetooth. Relying on the SD card is a cumbersome process and can be time-consuming to get your footage onto your computer.
Not all cameras have a universal design to fit on every bike. Double check the specifications to ensure that the device will fit on your specific motorcycle.
Frequently Asked Questions
Are Motorcycle Dash Cams Legal?
Yes, it's legal to use a motorcycle dash cam. Depending on where you're from, you may require second party consent if you're planning to record audio.
For just the video footage, using a camera on your bike is legal in the United States and Canada. Never give away your only copy of the footage, especially if you've been involved in an accident or crash.
Can a Dashboard Cam Be Used to Check Blind Spots?
Unfortunately, the display on these devices is too small to look at when you're riding. They should only be used for recording what's happening during the ride and not used as a crutch for your own riding ability.
It's never a good idea to remove your eyes from the road for more than just a few moments when you're on the bike. Learn to regularly check your own blind spots as part of your own motorcycle riding safety.
Do Dash Cams Come With GPS Tracking?
Most of the mid-range to higher-end models come with GPS tracking. This is a great feature to have as it lets you log your speed and location when you're riding.
Consider using a motorcycle GPS device for tracking your GPS. These are more accurate, easier to use, and will provide a better representation of your ride.