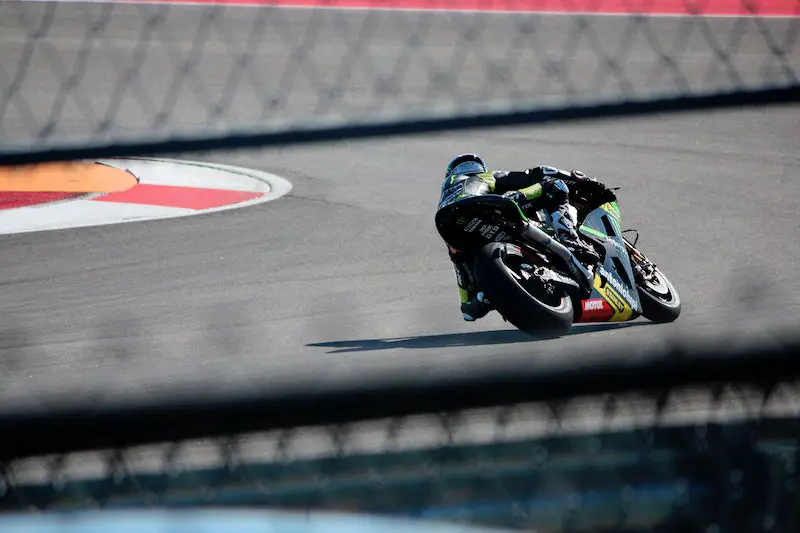 Depending on where you're riding, even the best motorcycle jacket won't cut it. Especially if you're riding a lot in various weather conditions, such as wind and bad weather, you'll want to consider using a good motorcycle riding suit.
These are full body suits designed to protect your entire body when you're on the bike. Not only will they keep you warmer and dryer compared to a jacket and motorcycle pants, they come with all the relevant riding protection you need.
With so many different options to choose from, it can be tricky to find the best motorcycle riding suit. To make things easier for you we put together this helpful guide where you can read about our top recommendations for the perfect suit.
Don't forget to scroll towards the bottom for our FAQ and some helpful tips. Otherwise, let's jump right into it!
The Best Motorcycle Riding Suit (Recommendations and Reviews) in 2021
Alpinestars Motegi V2 Leather Riding Suit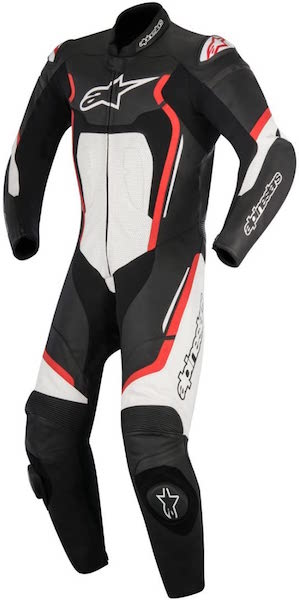 The Alpinestars Motegi V2 Leather Riding Suit is our recommendation as one of the best motorcycle riding suits. This is a great option if you're looking for a leather motorcycle suit to bring with you to the track or for using for longer rides on your sportbike.
The suit is made from a premium 1.3mm full-grain leather. It's equipped with multiple stitched main seam construction, which helps to provide maximum tear resistance if you happen to get thrown from the bike.
Other protection includes the additional padding on the knees, shoulders, and elbows. To help with quality, it comes with extended and reinforced stretch fibre panels on the arms, crotch, and legs.
There's even accordion leather stretch inserts on the knees, elbows, rear shoulders, and lumbar area. This gives you plenty of range of motion when you're riding without restricting your ability to move around or control the bike.
While there isn't any ventilation zippers, there are high-density perforation zones throughout the suit. You'll even find perforated leather panels on the torso and arms to help with windflow and to keep you cooler on those warm riding days.
Overall, if you're looking for a durable leather riding suit to wear on your next track day, it's the Alpinestars Motegi V2 Leather Riding Suit that we'd recommend. It's well-built, reasonably priced, and designed to protect your body if you happen to get involved in a crash or accident.
Alpinestars Missile Leather Riding Suit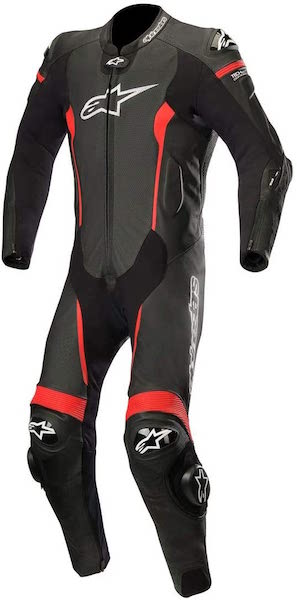 The Alpinestars Missile Leather Riding Suit is another great leather riding suit. It's designed using flexible and comfortable 1.3mm leather and equipped with large, flexible panels giving you the best range of motion on your bike.
What makes this suit unique is that it's compatible with Alpinestars own Tech Air motorcycle airbag system. You can use this system when you're wearing the suit and enjoy the extra protection that this system provides.
Along with providing excellent protection, the suit also has great temperature controls. Thanks to the ventilation, this can be your only layer when you're riding on those hot days. It also has some vents, to keep you ventilated during warm weather rides.
If you're interested in this suit, make sure to measure yourself properly before placing an order. Some people have had issues ordering from Alpinestars with their gear tending to run on the small side.
Overall, the Alpinestars Missile Leather Riding Suit is another great option if you're searching for a leather motorcycle suit. It's comfortable to wear, great for warm weather riding, and will protect you if something happens on your bike.
Joe Rocket Survivor 1-Piece Riding Suit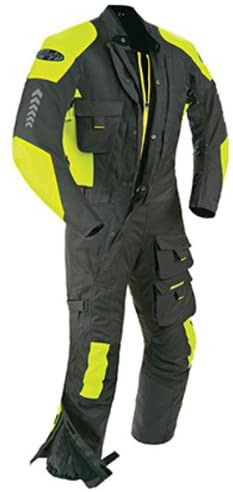 The Joe Rocket Survivor 1-Piece Riding Suit is a comfortable one piece riding suit designed to protect you from unpleasant and harsh weather elements. If you plan on motorcycle touring or heading out on some multi-day trips, this is a great choice for weather protection.
One of the best features of this suit is that a comes with a removable and insulated full-suit liner. This really helps to keep you warm during cold weather, making it ideal for those early spring or late fall rides.
The entire suit is waterproof, including the waterproof lined pockets. It's designed to keep you warm and dry if you happen to get stuck in the rain when you're out riding.
With the 14-point custom adjustment system, it's easy to get the perfect fit on this riding suit. There are adjustment points at the waist, upper legs, ankles, and chest that can be easily adjusted.
As for protection, there is double layer padding on the shoulders, elbows, and knees. This suit takes the place of a riding jacket and pants, with ample protection to help keep you safe in the event of a crash or accident.
It's also worth mentioning that it comes with a great ventilation system. There are a number of different flaps and zippers that can be open to increase or decrease air flow depending on the ambient temperature.
Overall, the Joe Rocket Survivor 1-Piece Riding Suit is a great motorcycle suit for touring, multi-day rides, or even for day-trips. It can definitely replace your motorcycle jacket and riding pants if you'll be spending a lot of time on the bike.
Firstgear Thermo One-Piece Suit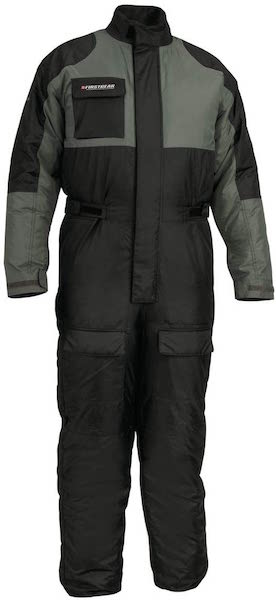 The Firstgear Thermo One-Piece Suit is another great option if you'll be regularly riding in cold and wet conditions. It's 100% waterproof and specifically designed to keep you warm and dry.
This one piece riding suit comes with 120-grams of polyester insulation to help keep your body warm. On the exterior you'll find a 200 denier Hypertex material, which is completely waterproof and keeps you dry if you get stuck riding in the rain or snow.
The outside of the jacket features full storm flap closures on the zippers, pockets, and cuffs. There are elasticized ankle closures as well, with all of these features preventing wind and rain from getting into the suit when you're riding.
Another great feature worth mentioning are the cargo storage pockets. The suit comes with ample storage, which is great for stashing your smartphone, wallet, and any other accessories you're riding with.
There are adjustment points at the waist and the wrist. While there could be more, these are suitable for providing a better fit and to prevent the suit from flapping around in the wind.
Overall, the Firstgear Thermo One-Piece Suit is just one more riding suit that's great if you'll be riding and inclement weather. While it's not something you'll be wearing every day, it's a great choice for keeping you warm and dry in poor riding conditions.
Why You Should Wear a Motorcycle Riding Suit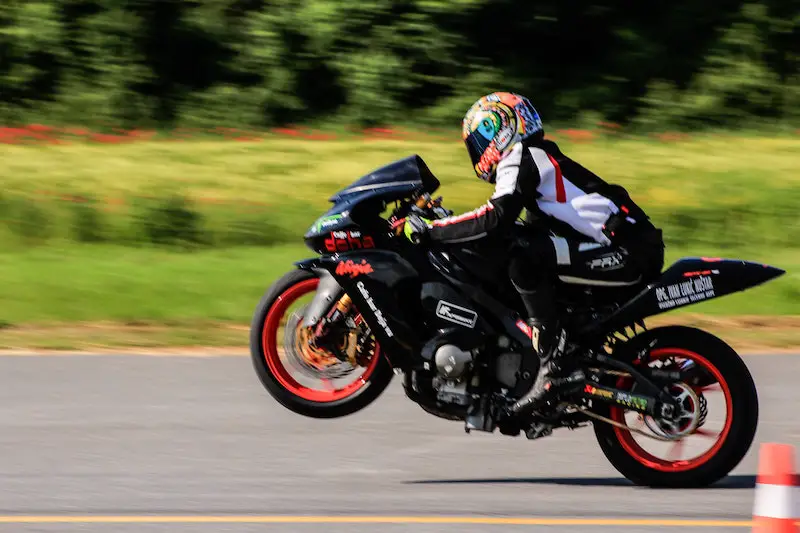 Protection From Impacts and Accidents
Most suits are made from durable, abrasion resistant materials. These materials prevent you from scraping across the ground or whatever surface you come into contact with if you happen to get thrown from your bike.
They also come with body armor at the joints, shoulders, knees, and in other vulnerable spots. This is necessary to protect your body from harsh impacts for keeping you safe if you happen to get into a crash or accident.
Protection From the Weather Elements
Those of you that are riding on a regular basis know how hard it is to avoid the rain. You might leave on a perfectly sunny day and get caught in a rainstorm when you're nowhere close to home.
The best suits for motorcycle riding are designed to be waterproof and protect you from the weather elements. Along with rain, they're usually insulated to keep you warm in cold weather and properly ventilated for keeping your cool in the summer.
Wearing one of these suits with extra body and skin from the wind and sun. You won't need to worry about getting sunburned or damaging your skin from excessive high winds.
Convenience
Compared to a motorcycle jacket and riding pants, these suits are easier and more convenient to wear. Most of them come with practical features that you won't find with other motorcycle gear.
For longer rides, it's hard to go wrong wearing a suit, especially if you'll be on the bike all day. They're even great for commuting and ensuring you arrive to work warm and dry.
Types of Motorcycle Riding Suits
One-Piece
One piece motorcycle riding suits are what you see riders wearing in motorcycle races and Motocross events. This is because they are aerodynamic and protect the rider from the elements and conditions they're riding in.
The benefit to a one piece suit is that there isn't a gap between the top and bottom halves, like you would find in a two piece. This offers better insulation and waterproofing, keeping you drier and warmer in unpleasant conditions.
The main drawback to wearing a one-piece is that it's harder to get on and off. It's also possible that your riding buddies will make fun of you for looking so serious out on the bike. However, for motorcycle touring and multi-day trips, a one piece suit is amazing for dealing with most weather conditions.
Two-Piece
Two piece suits come with a top and bottom half or a jacket and riding pants that are designed to attach together. These are more convenient for getting on and off, especially if you'll be getting on and off the bike a lot.
Just like with a one piece, two piece suits are designed to keep the rider safe and comfortable in a variety of different conditions. They typically come with just as much protective features and storage space as a similar one piece design.
The main drawback to this type is that it's harder to stay warm and dry when your gear has zippers or gaps. However, this is easy to mediate if you wear the right gear underneath.
How Much Do Motorcycle Riding Suits Cost?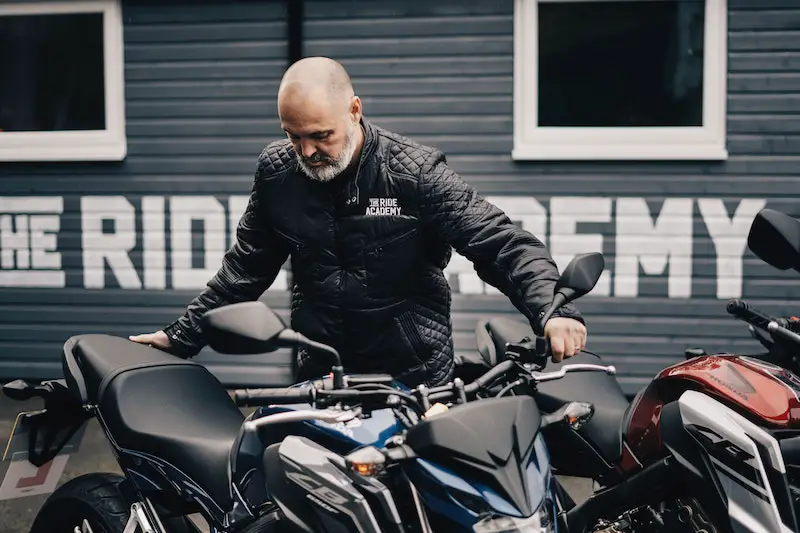 Under $100
While there are some options available for $100 or less, you're not going to find any serious riding suits in this price range. Instead, this will be more like a motorcycle rain suit or rain jacket as opposed to a full riding suit.
There will be some options available with ventilation, non-slip seat panels, and reflective strips for safety. However, don't expect to find many options with armor or other relevant riding features if your budget is at the lower end of this spectrum.
$100 to $600
In this price range you'll find some of the best motorcycle riding suits available. There will be options available from both well known and lesser established brands.
For this price you can expect to find suits that are durable in quality and made of either leather or textile construction. They will likely come with features you're looking for for improving your riding experience.
$600+
At this price point you'll find suits from the best-known motorcycle brands, such as Dainese and Alpinestars. Most casual riders won't need to spend this much, unless you have a higher budget.
The difference at this price point is finding suits from companies that have their own racing teams. This means their gear has been rigorously tested and comes with higher-end features for safety and comfort.
Key Features
Temperature Control
When you first start shopping for a motorcycle suit, it's a good idea to consider where you'll be riding it and for how long you'll be riding. Those of you riding in warm weather will want to look for suits that come with ample ventilation that would help with airflow and keeping you cool.
For riding during the cooler months, you'll want to look for suits that come with multiple layers of insulation. There are even options available that are both well insulated and well-ventilated, allowing you to easily maintain your temperature in a variety of different riding conditions.
Pockets
Unless you always want to ride with a motorcycle backpack or keep motorcycle saddlebags installed on the bike, you'll want to look for a suit that comes with storage. There needs to be a way to carry your wallet, smartphone, some money, or any other smaller accessories you'll be riding with.
Keep an eye out for suits that come with pockets that are large enough to stash whatever you plan on bringing. You can easily find this information from the photos or check reviews to see what other people have to say.
Armor Protection
One of the main features any motorcycle suit should have is armor for protecting you. This can be found in the form of dense foam padding, usually located at the knees, shoulders, elbows, and hips.
It's also important that you're wearing back armor, which would protect your back if you're ever thrown from the bike. When it comes to armor, check that it's CE Certified, which is a certification stating that the armour has met certain rigorous safety standards.
Don't forget to wear a good motorcycle helmet along with your suit. It would be pointless to protect your body without protecting your head when you're out on the bike.
Textile vs Leather
The last thing to consider is the material that the suit is made from. Textile and leather are the two most popular materials used and motorcycle riding suits.
Textile suits provide better performance and comfort if you'll be riding in a variety of different riding conditions. Leather suits are better suited if you'll be riding at high speeds and want better protection.
Helpful Tips
Make an effort to read reviews and check out YouTube videos about any of the suits you're interested in. This will give you the best idea of what you can expect with a particular suit that you're checking out. Thankfully, if you order online, it's easy to do a return if you're not happy with a particular suit.
Focus more on the important features, like safety, storage, and ventilation as opposed to style. It's these features that make the most sense for improving your riding experience when you're wearing one of these suits. Plus, once it's on, you won't even be able to see it on you.
Avoid wearing jeans if you're heading out on a longer ride. You're better off taking up a pair of motorcycle pants that come with protective features. There are even such things as motorcycle riding jeans that look like jeans but are way more practical on the bike. The problem with jeans is that they don't offer any protection and aren't going to keep you safe in the event of a crash or accident.
Frequently Asked Questions
Is Leather or Textile Better?
Both leather and textile serve their own purpose and are better suited for different situations. For example, leather motorcycle suits offer better protection and can be used after more than one crash, which is great if you're spending a lot of time on the track.
On the other hand, textile riding suits offer better ventilation and are more comfortable to wear if you'll be riding in different temperatures. These are a better choice for motorcycle touring and longer rides where you won't be riding high speeds.
How Thick Should a Leather Suit Be?
You'll be able to see the leather thickness in the specifications. Look for riding leather that's at least 1.5mm thick. This is what you'll find with better quality riding suits.
The common standard is 1.3mm, which is what you'll find on the lower end suits. There are even some with a thickness of 2.0mm, great for maximum protection.
How Do You Find a Suit That Fits?
Refer to the sizing chart listed on most product pages and measure yourself before buying a suit. This is the best way to guarantee you'll get a suit that properly fits based on your measurements.