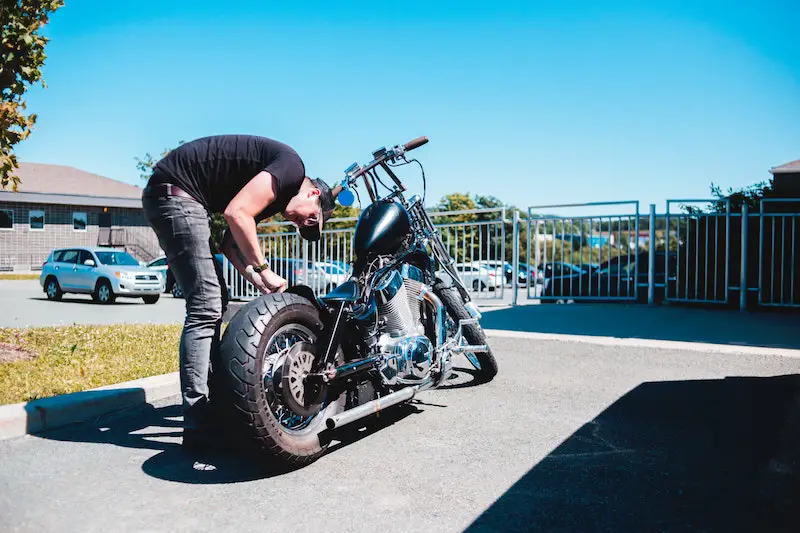 Most riders head to their local mechanic to get a motorcycle tire change done. Depending on how much you ride, this could happen every year, or every few years.
Regardless of how often you're heading in, getting the tires changed is an expensive process. Not only do you have to buy new motorcycle tires, you have to pay somebody to change them as well.
Doing your own motorcycle tire changes isn't as difficult as most people think. There are even some great tools available, such as a motorcycle tire changer, that you can use to change the tires on your own at home.
Although you'll have to invest in the gear upfront, you'll save money in the long run by doing this job yourself. In this post, we put together a list of the best motorcycle tire changers so that you can change your own tires in the comfort of your garage or driveway.
Let's jump right into it!
The Best Motorcycle Tire Changers (Reviews) in 2021
Rabaconda Motorcycle Tire Changer Machine (Best Motorcycle Tire Changer Overall)

It's the Rabaconda Motorcycle Tire Changer Machine that we'd recommend as the best motorcycle tire changer for most home mechanics and DIYers. This is a compact, durable, and easy to use tool that makes changing your own motorbike tires a breeze.
This particular tire changing machine actually holds the world record for changing a tire at 44 seconds. While you probably won't be able to do it this fast, it shows how quick and easy it is when you have a tool like this one.
As for working on your own tires, it's pretty easy with this machine thanks to the ergonomic working height. It stands at 20-inches high, so you won't be bending over or crouching on your knees uncomfortably to change the tire.
This is basically a universal setup and it's suitable for wheel sizes from 16 to 21-inches. It's even possible to use the tire bead breaker on tubeless and regular tube tires.
The stand itself can be assembled in seconds without any tools. When you're done using it, it easily fits into the included carrying bag for easy transport and compact storage.
Other features worth mentioning include the quick release bolts, 3 standing points with rubber feet for excellent traction, and included tire lever tray for convenient storage. The entire unit is made from galvanized and powder coated steel along with anodized aluminum for extra strength and durability.
Overall, you probably won't find a better motorcycle tire changing machine than the Rabaconda Motorcycle Tire Changer Machine. This stands as our top recommendation for the best motorcycle tire changer for most riders.
Pit Posse Motorcycle Tire Changing Stand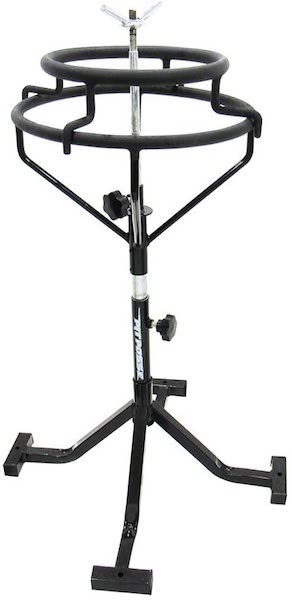 As a runner-up to our top recommendation we would suggest the Pit Posse Motorcycle Tire Changing Stand if you're looking for something more affordable. This is a reasonably priced tire changing tool that makes it easy to change your own motorcycle tires at home.
The Pit Posse Motorcycle Tire Changing Stand is lightweight and durable. With the adjustable height from 28-36 inches, you'll have plenty of room for working on your tires without having to kneel down or bend over uncomfortably.
To prevent scratching your wheels, the tire rim stabilizer comes with a rubber coating. There is a large wing nut as well, which helps hold down the wheel security so that it's not moving or wobbling when you're working on it.
You can use this changing stand to easily change most motorcycle tires. It can be used for 10-21 inch rims and there's even an adapter included to use for smaller rims.
When you're done using it, the stand can be quickly disassembled. While it doesn't come with a carrying bag, it doesn't take up much space and can be easily stored out of the way in your garage.
Overall, the Pit Posse Motorcycle Tire Changing Stand is another great choice if you're looking for a cheap motorcycle tire changer. Not only is it affordable, it's well reviewed and comes with all of the features and design qualities necessary for doing your own tire changing at home.
BikeMaster TLPTC-6 Tire Change Stand (Best Cheap Motorcycle Tire Changer)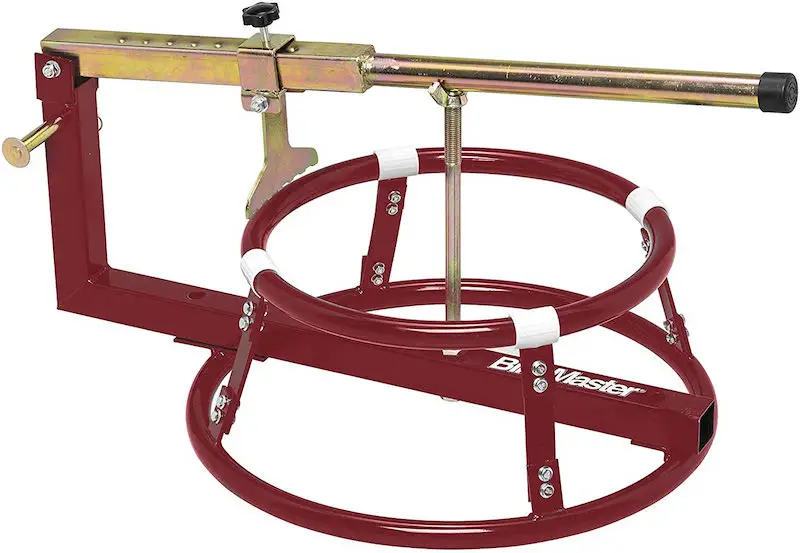 The BikeMaster TLPTC-6 Tire Change Stand is the cheapest and most basic tire changing stand that we would recommend. This is a great choice if you're on a budget and you still want to do your own tire changes with some basic tools and equipment.
The BikeMaster TLPTC-6 Tire Change Stand can be used for most motorcycle wheels measuring 16-inches up to 21-inches in diameter. It's equipped with an adjustable bead breaking function that makes it easy to separate the tire from the wheel on most motorcycles.
The extra long handle provides ample leverage for working on the tires. As for the device itself, it's lightweight, portable, and easy to work with.
This stand features a durable and sturdy metal design. Unfortunately, it's rather low to the ground, so you'll probably need to bend over or kneel down when you're working on the bike.
Thanks to the small, portable design it's easy to stash this stand out of the way when you're not using it. Overall, the BikeMaster TLPTC-6 Tire Change Stand is a great choice if you're on a tight budget and you still want to do your own maintenance at home.
Motion Pro BeadPro Tool Set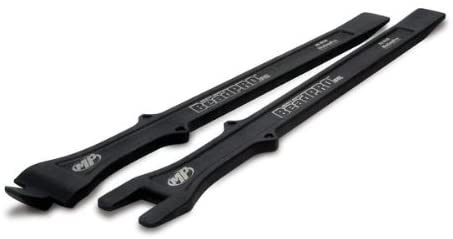 The Motion Pro BeadPro Tool Set is a great choice if you want to manually remove and change your own motorcycle tires. This is an extremely useful multi-use tire tool that's highly effective at breaking the bead on most motorcycle tires.
Whether you have street tires for off road tires, this is a tool that can be easily used in any space for tire changes. It features a heavy duty, forged steel design that offers plenty of leverage and durability when you're working on the bike.
For even more leverage the handles are 16-inches long. This makes it even easier to remove the tire or get it back on the wheel so you can get out riding again.
Another feature worth mentioning is the ergonomic design with the cross guard on the main bar. This prevents your hand from sliding forward and gives you even more leverage trying to remove the tire.
Overall, if you'd rather do your own tire changes by hand, it's the Motion Pro BeadPro Tool Set that we'd recommend. This is a great choice if you're not changing the tires very often and you want something reliable that you can use to do it yourself.
Dr Roc Tire Tool Kit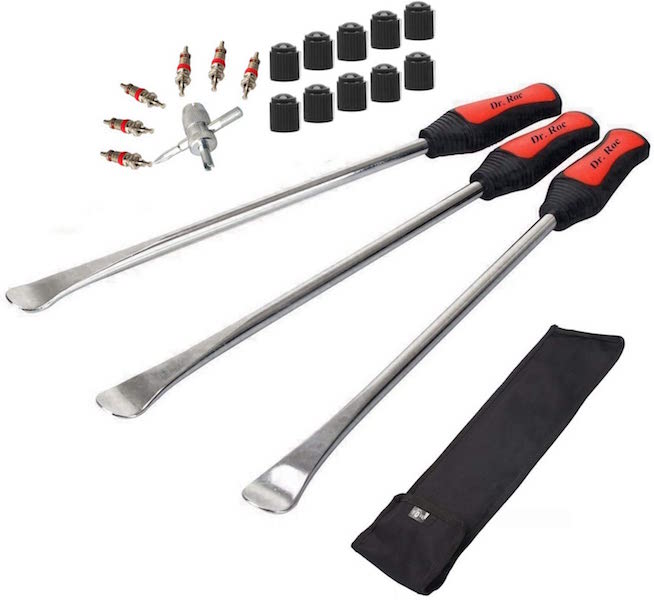 The Dr Roc Tire Tool Kit is a kit that comes with everything you would need to do your own tire changes manually without the need of a specialized machine or device. This is a set of premium quality tire irons and related accessories designed to make tire changes a breeze.
Included in the kit are tire spoons, tire irons, valve stems, and even a valve changing tool. Everything has been included to help you get the job done all at once, even changing the inner tube.
The tools themselves are designed from a durable, automotive grade drop forged-steel. They're rust proof and weatherproof with a lovely polished chrome finish.
Everything comes packed inside an easily accessible oxford case, which keeps the tools organized and together. This makes it easy to store and easy to find when you're ready to change your tires.
Each of the main tools comes with a large, comfortable grip. This gives you better leverage and prevents your hand from slipping or skidding when you're working the tires off.
Overall, if you're looking to do your tire changes manually, it's the Dr Roc Tire Tool Kit that we would recommend. This comes with all of the tools and accessories you we need for an easy changing process without a stand or changer.
Motorcycle Tire Changing Stand Guide | Features to Consider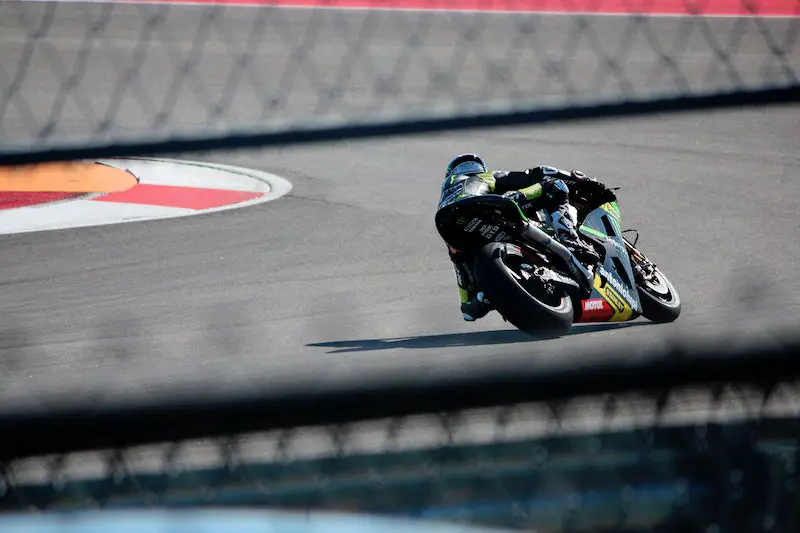 Once you've decided to start changing your own motorbike tires, finding the right setup takes some research. There's the option of buying a tire changing stand or picking up a kit with all of the tools necessary to get the job done.
Here are some features to consider when you're shopping for a tire changing stand or kit:
Durability
There's no arguing that picking up a tire changing stand is a significant investment. Since you're spending so much money, you want to find a product that's going to last more than just one or two changes.
It's a good idea to start by reading reviews and checking out YouTube videos to see what other people have to say about any specific tire changing products you're interested in. This will give you a general idea of the overall quality and durability of a specific product.
Next, check the materials that the device is made from. You'll want to look for heavy-duty materials, such as steel or aluminum, that are durable, weatherproof, and not susceptible to corrosion.
These materials need to be tough and reliable, since they'll have to stand up to a lot of force. Looking at reviews and product descriptions is a great way to get a general idea of any specific models you're interested in.
Ease of Assembly
The next feature to consider is the overall ease of assembly of any stand or kit you're looking at. It should be easy to assemble and just about ready to use when it's time to change the tires.
The last thing you want to be doing is spending hours putting the stand together. It should be easy to assemble in minutes without any particular tools or unusual requirements.
Don't forget to check on YouTube for this as well. There could be some helpful videos about putting together your motorcycle tire changer.
Portability
Unless you have a large garage, you'll have to think about where you'll be storing your tire change device. Some people can leave it in a dedicated motorcycle shed, while others will have to come up with a different solution.
Check to see if the stand can be easily put away or if it can be folded up. Look and see if it has wheels so you can easily move it around.
This is another great time to check reviews to see what other people have to say.
Ergonomics
Since you'll be using the motorcycle tire mounting stand, it should be comfortable to use and ergonomically friendly. Check if it can lift the wheel to a level where it's comfortable for you to work on it.
Some stands come with an adjustable height, which could be a great feature if you're working in a cramped space. Check the handles and other components as well to see if they have any soft coverings or grips to give you better leverage.
Compatibility
Before buying any stand, you need to ask yourself if it's compatible with the type of tire that's on your motorcycle. Stands and tire changers aren't universal, so you'll need to check with this in the product description.
While some stands can be used on most wheels and tires, this isn't always the case. Doing your research beforehand will save you time and frustration so you don't accidentally order the wrong one.
Protection
The best motorcycle tire changer will come with mechanisms and design features to protect your wheels from damage. You don't want to damage your wheels every time you're trying to remove the tires.
There should be pads, grips, or supports that prevent the wheel from getting damaged. It's also a good idea to take your time when you're removing the tire to avoid damaging the wheels unnecessarily.
What About Motorcycle Tire Changing Tools?
Not everyone is buying the whole changing stand. Some people are looking for tire changing tools instead.
When you're looking for tools there are some other things to keep in mind. Here's what to keep an eye out for when you're shopping for tire changing tools:
The tire changing tools you're using will be under a lot of pressure. Look for tools made from durable and robust materials, such as steel or hard metals. The shovel, or spoon, at the end of the tool needs to be robust as well, since it's doing most of the hard work.
Do the tools look comfortable to hold? Does it look like they'll hurt your hands when you're applying pressure? These are some factors you need to consider.
Is it possible to use the tools on the tires and wheels that are on your motorcycle? Does it seem like there is any part that could damage or scratch the wheels or tires?
Don't forget to check out reviews to see what other people have to say about the tools you're interested in. Watching YouTube videos is a good idea as well.
Finally, do the tire changing tools come with a storage bag? This makes it easier to store them in one place so they're easily accessible and protected whenever you need them.
Why You Should Use a Motorcycle Tire Changer
Riders that are having to change tires at least once per year have probably thought about how expensive it is. There's a good chance they have wondered about investing in a motorcycle tire changer.
Here are some of the benefits of owning one of these tools:
Cost Savings
You will quickly make your money back after investing in tire changing equipment. Even the most affordable local mechanics will charge at least $25+ per tire and that's if you remove the wheel from your motorcycle to bring it in.
After a few tire changes the changing gear will have paid for itself. There's also the time you save not having to visit the mechanic twice.
Convenience
Another problem with bring the tires to your mechanic is that you're relying on them and working around their schedule. It's not going to be convenient for you and you're going to have to wait for your mechanic to finish the job, however long that takes.
When you have your own tire changing equipment, you don't need to wait for any tire changes. You won't be sitting there, constantly checking your phone, and waiting for the mechanic to call.
This gear makes it easy to to change the tires when it's needed at a time that's suitable for you. There's no need to bring your bike or wheels anywhere when you can get the job done at home.
More Frequent Changes
With the cost of motorcycle tires along with changing them, it's not surprising that a lot of people push it to the very last minute. It's dangerous riding with low traction and there's even people that will use tires to the cords.
Larger bikes, especially sport bikes with a lot of torque, go through a lot of tires. It's possible you can save money in the first year of ownership when you start changing tires on your own.
Protect Your Wheels
Depending on how often you've had the tires changed, they may have come back scratched or damaged. Mechanics are going to take care of your bike the same way you would.
Changing the tires at home with the right equipment means you can be as careful as necessary to protect your wheels. It's also a great skill to learn if you're already doing most of your own motorcycle maintenance.
Easy to Work On
With the best motorcycle tire changer it's surprisingly easy and comfortable to get the job done. That's because most of them lift the wheel into an easily accessible, ergonomically safe, and comfortable position for you to work on.
There's also less effort required to get the tire off when you're using a tire changer. Even if you're not physically strong, this is still a job you can manage on your own.
Portable
Another benefit to using a tire changer is that most of them are portable and lightweight. They're easy to move around your garage or work space so you can position it's in an area that's most comfortable and convenient for you.
The lightweight, portable design also makes them easy to store when you're not using them. This way you can stash them out of place and take them out whenever they're needed.
Helpful Tips
If you're only planning to use the motorcycle tire changer on your own motorcycles, it's not worth investing in a super expensive, high-end device. These tend to be more expensive and come with options you don't need. Instead, look for a tool that's simple, well-reviewed, and reliable you can easily use at home.
Don't forget that you might need to purchase some additional accessories if you're only purchasing a single motorcycle tire changer stand. Other accessories you would need include tire irons and tire spoons, which typically aren't included.
Consider using rim stickers to avoid scratching the rims when you're using a motorcycle tire changer machine. You could even cover the tire iron with a cable insulation tube or use plastic rim protectors to avoid damaging the wheels and rims.
Frequently Asked Questions
Do You Need to Use a Bead Blaster to Change a Motorcycle Tire?
Yes, with tubeless tires, you'll need to use a bead blaster. This makes it easier to separate the tire from the wheel.
A bead blaster is easy to use and separates the tire in just a few seconds. Without one you'll be spending a lot of time and effort trying to separate the tire from the bead.
Do You Need an Assist Arm to Change the Motorcycle Tire?
While an assist arm isn't necessary, it makes the job a whole lot easier. It works by locking the wheel in place and putting pressure on the side walls without damaging them.
Next, a clamp can be used to help unseat the bead. While it's being used, the tire is still allowed to rotate to make it easier to get off.
Should Both Tires Be Replaced at the Same Time?
It's not usually necessary to replace both of the tires at the same time. Start by checking the tread depth or looking at the tread wear indicator to see if they're worn out.
Only replace the tires if they are running low on tread or are physically damaged. They should also be replaced if they're older than five years past the manufacturing date.