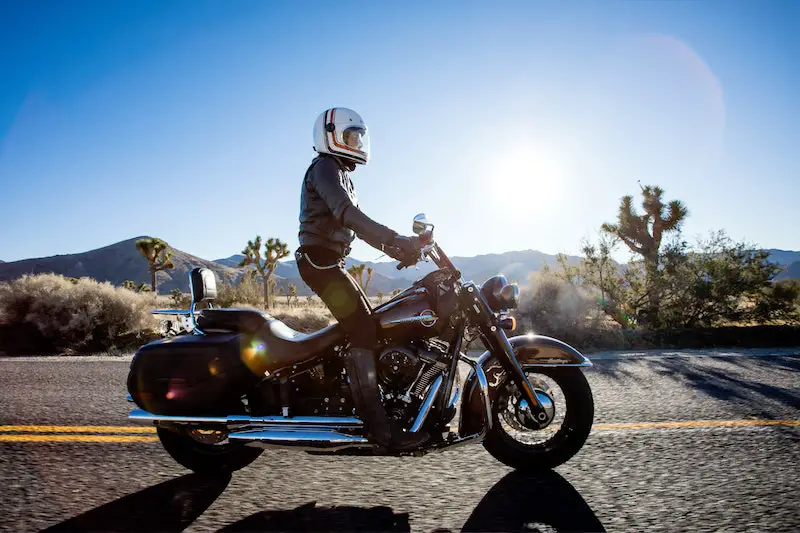 It's a great feeling cruising around on your bike and listening to your favorite tunes with the best sounding speakers you can find for your motorcycle. Some riders even prefer it over using motorcycle earbuds, which can be finnicky and take your attention away from the road.
If you've found this post then you're probably searching for the best motorcycle speakers you can install on your bike. You got lucky since we put together this in-depth guide to make the research process as easy as possible for you.
In this post we put together a list of the best speakers for motorcycles that you can easily install on your own ride. Don't forget to scroll past our top recommendations for an in-depth buying guide as well as an FAQ.
Let's jump right into it!
The Best Motorcycle Speakers (Reviews) in 2021
Kuryakyn 2720 MTX Road Thunder Sound Bar Plus (Best Motorcycle Speakers Overall)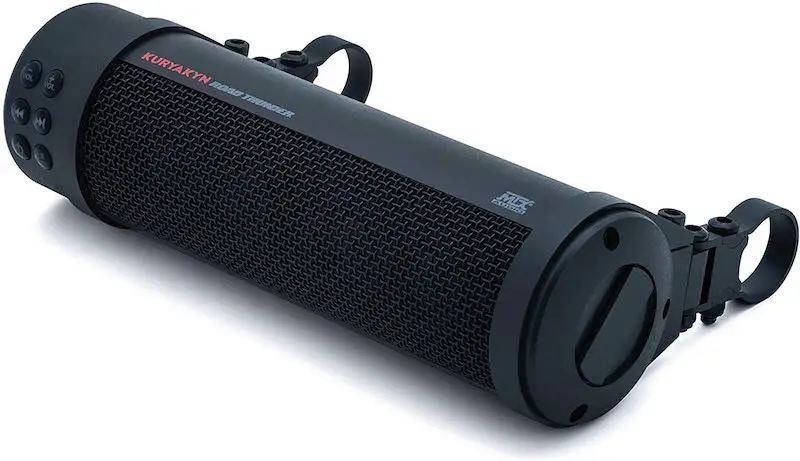 It's the Kuryakyn 2720 MTX Road Thunder Sound Bar Plus that we'd recommend as the best motorcycle speaker for most riders. This is actually a sound bar, though it's more convenient and practical than a dedicated set of speakers.
The Kuryakyn 2720 MTX Road Thunder Sound Bar Plus is the easiest way to get a sound system setup on your motorcycle. This is a handlebar mounted soundbar with 300 watts of peak power that allows you to blast your music when you're out riding.
On the inside you'll find a 4-channel amp that powers two 2×3-inch full range speakers, each with dual voice coils. What you're left with is a high quality, powerful, and distortion-free sound at any volume level.
It's simple to connect to this device through Bluetooth, allowing you to play your own music off your smartphone. There's also auxiliary input and output ports that you can use for connecting a device with a 3.5mm auxiliary cable.
Installation is easy and there isn't any difficult hardware or tools required. On the back of the soundbar are universal articulating mounting clamps, which can easily fit motorcycle handlebars between ⅞-inches and 1-½-inches in diameter.
The entire setup is enclosed in weather resistant housing. Also worth mentioning is the built-in heatsink and soft protection circuit, which prevents overheating and voltage regulation issues.
Overall, the Kuryakyn 2720 MTX Road Thunder Sound Bar Plus is the easiest and most convenient way of getting a sound setup for your motorcycle. The sound quality is great, the device is well-reviewed, and we would definitely recommend this as the best motorcycle speakers for most riders.
Boss Audio Motorcycle Bluetooth Speaker System (Best Cheap Motorcycle Speakers)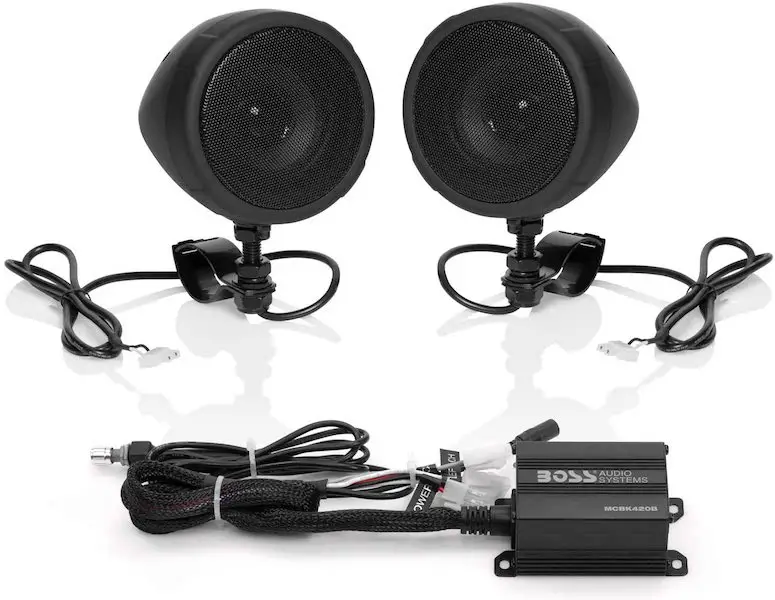 Those of you looking for the best cheap motorcycle speakers setup will definitely want to take a look at the Boss Audio Motorcycle Bluetooth Speaker System. This is a complete system that comes with speakers, an amplifier, and everything you need to set up a sound system on your motorcycle.
Included in the package are a set of two 3-inch, full range speakers. There's also a 600-watt max amplifier that allows you to clearly blast your music when you're out riding.
Thanks to the Bluetooth connectivity, it's easy to connect your smartphone to the speakers. There's also a 3.5mm port that can be used for connecting smartphones and MP3 players directly with the right cable.
Attached to the amplifier is an inline volume control. This is convenient and easy to use while giving you the option to install the volume control wherever you can easily access.
The entire setup is weatherproof, which is a great feature to have if you have to get stuck riding in inclement conditions. As for installation, all the mounting hardware, detailed instructions, and a 12v power cable is included to get the speakers up and running.
It's worth mentioning that you will have to hardwire the system into your motorcycle for power. Most of you shouldn't have any problems, though you may want to visit a professional if it is beyond your skill level.
Overall, it's the Boss Audio Motorcycle Bluetooth Speaker System that we would recommend if you're looking for the best motorcycle speaker system. This is a set of dedicated speakers along with a powerful amplifier that lets you play your music when you're out riding.
LEXIN LX-S3 Motorcycle Bluetooth Speakers (Best Wireless Speakers For Motorcycles)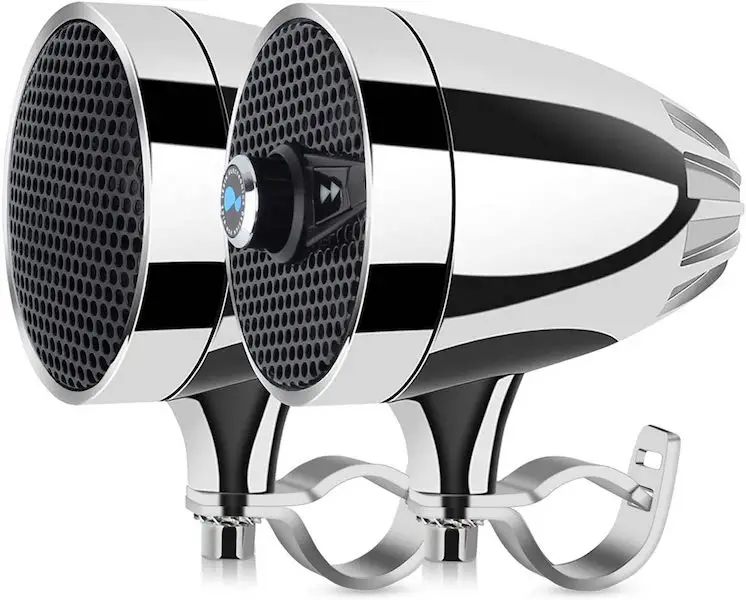 The LEXIN LX-S3 Motorcycle Bluetooth Speakers is another great speaker system, especially if you're looking for dedicated speakers for your motorcycle. What we love about this set is that it comes with a FM radio and the chrome design is great for matching the style of your bike.
Not everybody wants to listen to their own playlist, which is why having the FM radio is a great feature. Alternatively, there is a Bluetooth connectivity option that lets you connect with your smartphone as well.
The speakers themselves are 3-inch speakers, allowing for loud and premium sound quality. They feature an all-weather design, making it possible to use them in inclement riding conditions.
The 50-watt amplifier is perfect for getting you that sound quality you want. Changing songs or adjusting the volume is also simple, thanks to the easily accessible buttons located directly on the front of the speaker.
Included in the package is everything you need for installation, such as the brackets, user manual, antenna, and power cords. Installation is simple as long as you follow the directions and try out positioning before settling on something final.
Overall, the LEXIN LX-S3 Motorcycle Bluetooth Speakers are another great choice and ideal if you're looking for chrome speakers. These are easy to use, come with an FM radio for versatility, and are relatively easy to install.
Why You Should Use Motorcycle Speakers
Make Your Rides More Enjoyable
Even if you're wearing a quality set of motorcycle earbuds, you'll probably get tired listening to the sound of your motorcycle engine. This is especially a problem on longer rides and multi-day trips.
Thankfully, with the right set of quality motorcycle speakers, you can enjoy music rather than listening to your engine drone on. Instead of that constant hum, you'll be able to jam out to your favourite tunes while beautiful scenery is passing you by.
There won't be any need to mess around with earbuds or headphone cords. Speakers make it easier to listen to music when you're out riding.
Easier Navigation
If you're just wearing ear protection or you don't have a motorcycle phone mount, navigating can be difficult. You'll probably have to stop regularly to refer to your smartphone or double check your motorcycle GPS to see where you're going.
By installing the best motorcycle audio systems you can find, you'll be able to connect your smartphone and easily get directions without having to stop. There won't be any need to keep looking down at your smartphone or GPS screen for navigation.
With the directions coming from the speakers, it's a lot easier to navigate. You can focus on finding the right turns and street signs, rather than having to stop or keep looking down at a small screen.
Outdoor Entertainment
With a motorcycle audio system you can listen to your favorite music wherever you are, as long as you have your bike. These speakers tend to be pretty good as well, which makes listening to music even more enjoyable.
Whether you're working on your bike or setting up your motorcycle camping campsite, you can usually play your tunes. No more worrying about headphones or Bluetooth speakers when all you want to do is enjoy some music.
Increased Resale Value
Unsurprisingly, having a motorcycle audio system can help to boost the overall value of your bike. This will definitely come in handy when you're going to sell your motorcycle.
While you probably won't get the full value back, some people like having these additional features already installed. It's less effort for them and they're more likely to spend a little extra money buying the bike that has everything they want.
Types of Motorcycle Speakers
Handlebar Speakers
Handlebar motorcycle speakers are the most common way to install or upgrade the sound system on your motorcycle. As the name suggests, these are mounted on the handlebars and come with the necessary mounts for installation.
Once installed, they can be easily adjusted according to your preferences. Most motorcycle handlebar speakers are also sold with an amplifier system, which gives you even better sound quality.
Helmet Motorcycle Speakers
Hunter also speakers designed to be installed in your motorcycle helmet. Check out our post on the best motorcycle helmet speakers to see our top recommendations.
These connect to your smartphone through Bluetooth and can be used to play your favourite music directly to your helmet. They're also convenient for communicating with other riders or using the navigation instructions when you're riding somewhere unfamiliar.
Helmet speakers are easy to install and more convenient than using earbuds. It's also great having the communication feature, especially if you're riding with other people regularly.
How Much Do Motorcycle Speakers Cost?
Under $50
For this price point you'll typically find small motorcycle speakers with only the most basic features. This is a great price range if you're looking for the best cheap motorcycle speakers.
Most of the devices come with speakers that are just 3-inches wide with a wattage of 50 or below. They aren't that powerful and the sound quality typically isn't that great.
On the other hand, even in this price range you'll get mounts and hardware for easily installing the speakers. However, you might not even have Bluetooth functionality, which makes it difficult to connect your smartphone otherwise.
$50 to $100
In this price range there are some mid-range speakers available, which will come with some advanced features. These features might include wireless connection, Bluetooth capability, built-in amplifier, and a built-in microphone.
You can also expect these to be made from more durable materials and better suited for longer rides. Unfortunately, in this price range you probably won't get remote volume control, unless you're purchasing a set from a high-end brand.
$100+
This price range is where you'll find some of the best motorcycle speakers available. You'll be looking at some high-end products that come with multiple useful features.
Some of these features would include remote sound control, different connectivity options, and Bluetooth functionality. Spending this kind of money will get you a device that's more durable and might even come in sets with more than two speakers.
Important Features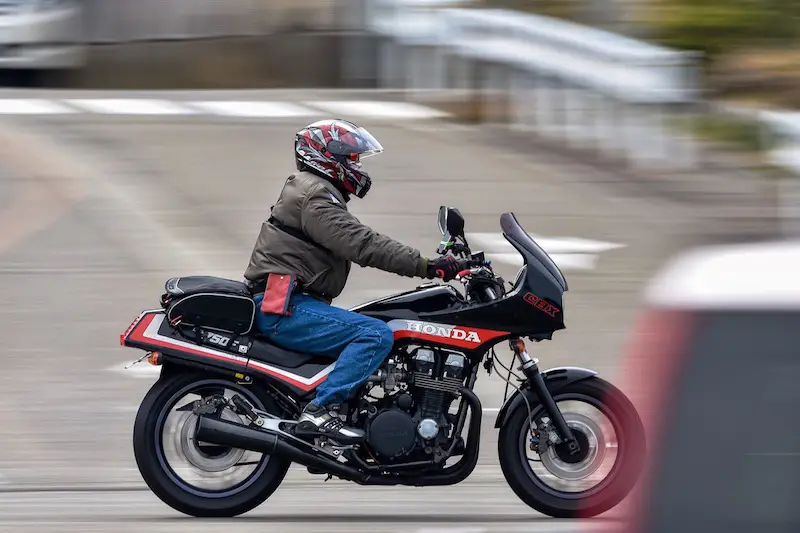 Speaker Type
There are two different types of motorcycle speakers – handlebar mounted and helmet. Before buying anything, you need to decide the best type that will meet your requirements and suit your riding preferences.
Handlebar speakers are a popular choice because they're easy to install and come with a variety of different functions. They're also louder and less intrusive when you're riding.
Helmet speakers are great if you want better sound quality coming through your helmet and the ability to communicate with other riders. These are better choice if you don't want to bother those around you with your music.
Wattage
The speaker wattage, otherwise known as the RMS power, is the maximum volume a speaker is able to produce at its peak power level. This means that a higher wattage would result in a louder volume.
For local rides, look for speakers with a low-wattage. This keeps the noise at a minimum while still allowing you to enjoy your music on the bike.
For highway rides and longer backroad cruises look for speakers with a high-wattage. This makes it easier to play your music as loud as you want so you can hear it better at those higher speeds.
Input Options
Look at the different input options available to see which is the most relevant for your current setup. Some riders prefer having FM radio capability, While others are looking for Bluetooth connectivity or auxiliary input.
There's even the option to use a flash drive or SD card to play your music, although this is becoming less popular since most people prefer to use their smartphones. Always choose the system that allows you to play music easily from your favourite devices.
Waterproof Design
While most motorcycle speakers are designed to be waterproof, always confirm this before buying a particular set. You can typically find this information in the product description or in the reviews.
Since the speakers will be mounted on your bike, you don't want them to become damaged or broken if you happen to get stuck in the rain. Good quality speakers should have a durable and weatherproof finish that protects them from the water and other weather elements.
Mounting Options
Since the speakers will be mounted on your motorcycle it's important that they have different mounting options. Double check the size of your handlebars and the flexibility of the mounts to see if it's possible to install them in various places.
Look for mounts that allow you to change the direction of the speakers. This way you can set them up for the best sound quality when you're riding.
If you don't think you'll be happy with handlebar speakers, consider picking up helmet speakers instead. Some riders prefer these, especially those that really want to hear the music clearly.
Sound Quality
Take a look at the reviews to see what other riders have to say about the sound quality from a particular set of speakers are interested in. Avoid any with bad reviews or poor sound quality ratings.
Keep in mind that helmet speakers will offer a better sound quality overall. However, they do have some drawbacks compared to handlebar mounted speakers.
Extra Features
There are a number of other extra features that speakers typically come included with. These could be things like thumb control, docking ports, and Bluetooth audio streaming.
Check the product description to see what other extra features are included. There may be something you want particularly or something you don't want, so always double-check to see what the description says.
Helpful Tips
For better sound quality, it's a good idea to download low-level compression files. While they take up more space, they offer better sound quality, especially for handlebar mounted motorcycle speakers. Otherwise, use the high quality settings on your smartphone if you're saving music.
After installing the speakers on your handlebars, make sure they're facing you. This guarantees the sound is projected directly towards you while providing the best sound quality. With the right placement, even a lower-quality pair of speakers can sound pretty good.
We would recommend using speakers that offer Bluetooth functionality. This makes it easy to connect them to your smartphone and play your music from your own music apps. Otherwise, you'll have to use cables or other accessories that aren't as easy. Connecting to your smartphone also allows for navigation while you're riding.
Frequently Asked Questions
Do Aftermarket Motorcycle Speakers Get in the Way of the Handlebar Controls?
When installed correctly, the speakers won't get in the way of your handlebar controls. During the installation process constantly check that none of the wires or components are getting in the way of anything.
Don't forget to twist the handlebars in both directions to see that they are fully functional without anything getting in the way. If you're having difficulty, you could always have the speakers installed by a professional.
Why Does the Amplifier Keep Blowing?
The most common reason why this happens is that you're using an amplifier that's separate from the speakers. It's also possible that the amplifier has a low impedance, which would blow out the speakers.
Start by double checking the wiring to make sure everything is wired together properly. Improper wiring can lead to blown out speakers, burnt wires, or even overheating in some cases.
The Speakers are Shutting Down on Their Own. Why is This Happening?
Some speakers come with automatic switches that shut off when the motorcycle is turned off. If this isn't what's happening to you, there may be a problem with an electromagnetic interference.
This can be alleviated by moving the speakers power cord away from the engine. If it's still happening afterwards, you might have to switch the speakers to something else.