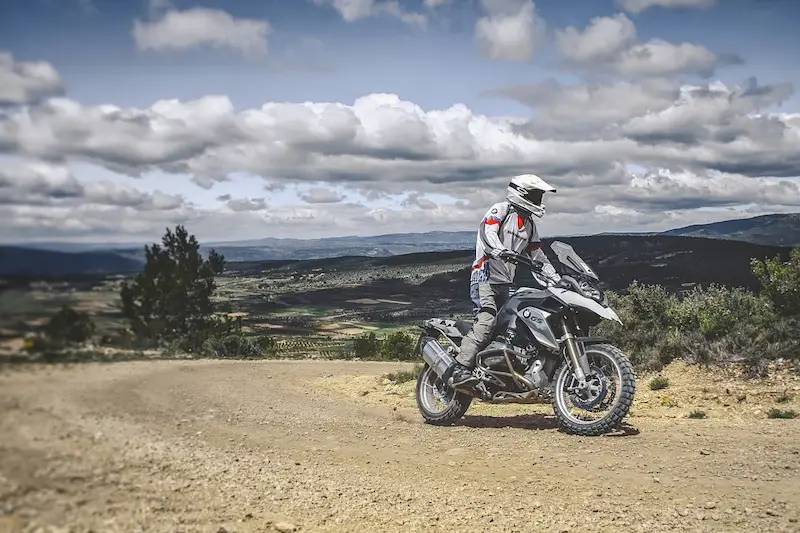 One annoying problem when you're riding a motorcycle regularly, especially if you're motorcycle commuting, is the lack of storage space. While you could wear a motorcycle backpack or use your own motorcycle saddlebags, these are expensive gear items and some people don't like the look of them.
Backpacks are uncomfortable to wear, tank bags might not be big enough, and saddlebags probably have too much space while not looking that great. The solution is to pick up a motorcycle cargo net.
This is a versatile net that can be used on your rear rack or back seat for carrying your work bag, groceries, or other smaller cargo. They're easy to use, affordable, and there's no tricky installation process.
In this post we'll be looking at the best motorcycle cargo nets you can use for transporting things on your motorcycle. Keep scrolling past our recommendations for a helpful buyers guide and some FAQs.
Otherwise, let's jump right into it!
The Best Motorcycle Cargo Nets
PowerTye 50152 Cargo Net (Best Motorcycle Cargo Net Overall)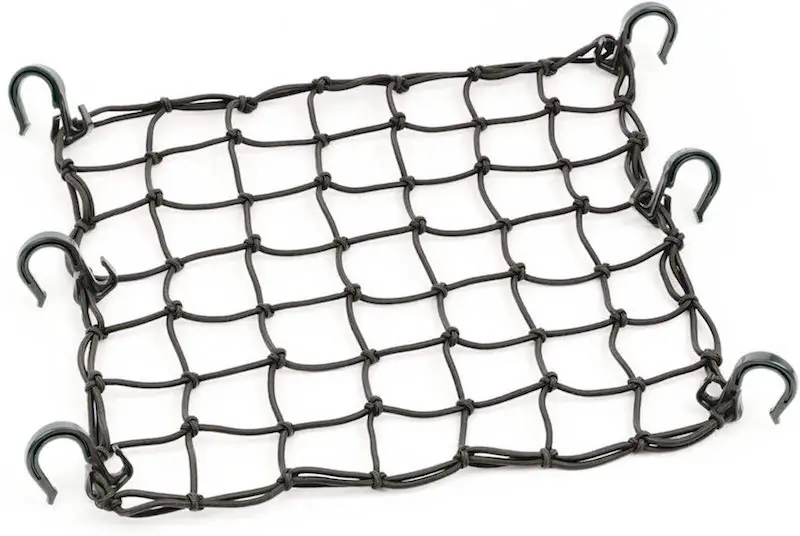 The PowerTye 50152 Cargo Net is our top recommendation as the best motorcycle cargo net for most riders. This is a great choice if you're looking for a smaller, universal net for easily securing cargo to your motorcycle.
For starters, this net is made using smaller 2-inch by 2-inch mesh. This is in contrast to the standard 3-inch by 3-inch mesh and helps to secure your cargo while preventing it from falling through the spaces.
The net itself measures 15-inches by 15-inches in size. It's a good idea to measure the cargo you're regularly carrying to see if this is enough space for you.
To help with securement there are 6 ABS plastic hooks attached to the net. These are adjustable, durable, and designed to reduce scratching on your bike.
There are also sub-hooks, making it possible to quickly tighten and adjust the net without removing anything. It's worth mentioning the bungee thickness, which is a robust 4.4mm in diameter.
Overall, if you're looking for one of the best small motorcycle cargo Nets, it's the PowerTye 50152 Cargo Net that we would recommend. It's durable, well-reviewed, easy to use, and even available in a few different colors to match the style of your bike.
Egofine Motorcycle Cargo Net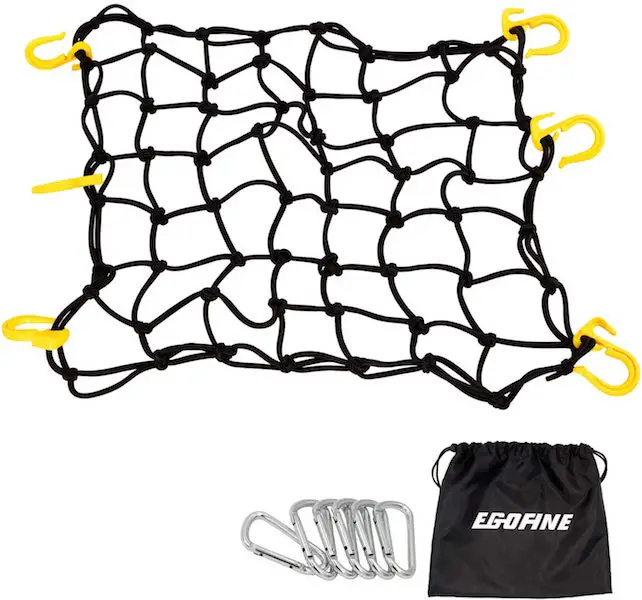 The Egofine Motorcycle Cargo Net is another great choice if you're looking for a universal cargo net for your motorcycle. This one is slightly bigger than our top recommendation, measuring at 15.7-inches by 15.7-inches, and is a better choice for carrying bigger gear.
The net features 2-inch by 2-inch spacing, which prevents any smaller items from wiggling loose and falling out. It's made of super elastic and durable latex threads, which can be easily stretched to fit your cargo.
There are 6 ABS plastic hooks as well as 6 aluminum alloy carabiners. This allows for lots of versatility when it comes to tightening, mounting, and adjusting the net depending on the cargo you're securing.
When you're not using it, the net can be easily rolled and stashed in the included storage bag. This is great to leave in a tank bag or underneath the seat until you're ready to use it.
Overall, the Egofine Motorcycle Cargo Net is another great option if you're looking for a smaller and versatile motorbike cargo net. The universal design and overall high build quality make it a great choice for most riders.
CARTMAN Bungee Cord and Motorcycle Net Kit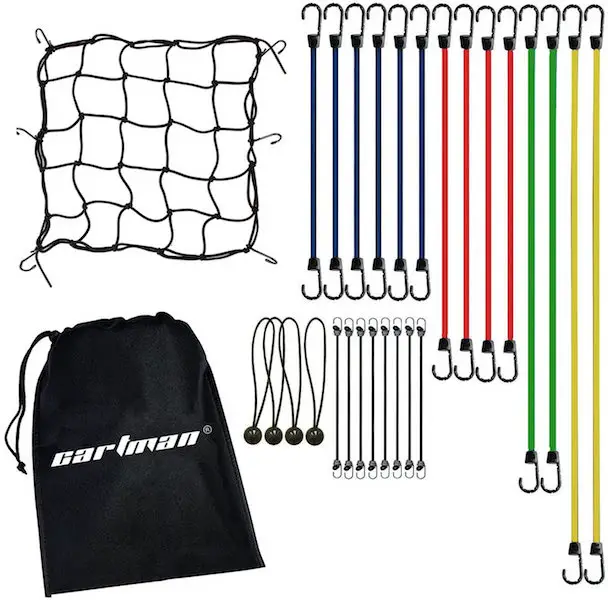 The CARTMAN Bungee Cord and Motorcycle Net Kit is a great option if you're looking for a net along with some other methods for securement. This is a 28 piece set that comes with a cargo net, carrying bag, and a number of different sized bungee cords.
Sometimes you'll need to carry cargo that requires the net as well as bungee cords for keeping everything in place. In that case, this is a practical and versatile kit that you can use for transporting a wide variety of different cargo.
The net itself measures 15-inches by 15-inches and is equipped with 6 steel hooks for securement. This is a standard sized net with the steel hooks making it a great choice for durability.
Also included in the kit are a number of different bungee cords. They're color coded, UV-resistant, and heavy duty to help keep all your gear securely strapped to the bike.
The courts themselves are made from multi-strand rubber cords. With the different lengths you can easily secure a wide range of different cargo types.
Everything can be easily stashed and stored in the convenient carrying bag. It's also worth mentioning that the hooks come with a plastic coating, to prevent scratching, and feature a 3.5mm steel core.
Overall, the CARTMAN Bungee Cord and Motorcycle Net Kit is a great option if you need the cargo net as well as some bungee cords for securing gear. This is a kit that offers plenty of versatility and functionality for your cargo securing needs.
Powertye Mfg Large Cargo Net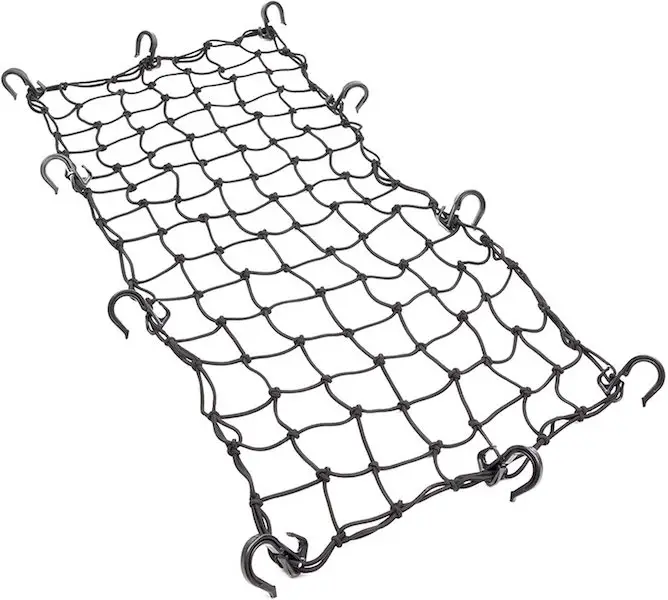 The Powertye Mfg Large Cargo Net is our recommendation if you're looking for the best large motorcycle cargo net. This one measures 15-inches by 30-inches and can stretch up to 30-inches by 45-inches for plenty of cargo securing capability.
These larger nets are better suited for carrying larger, bulkier gear. This is something you would use for motorcycle touring, longer day trips, or regularly carrying large cargo.
The net features a 2-inch by 2-inch mesh grid design. This prevents anything from falling through or wiggling out when you're riding down the road.
The net itself is made from a 4.4mm premium latex bungee material. It's almost twice as thick as most other nets, stronger than most others, and more heavy-duty.
On the outside edge are 10 ABS plastic hooks for securement. These are durable in design and come with adjustable sub hooks for easy adjustments and tightening.
Overall, the Powertye Mfg Large Cargo Net is perfect for securing larger cargo and transporting oversized goods on your motorcycle. The build quality, design features, and convenience make this a great choice if you're looking for bigger storage capability.
Why You Should Use a Motorcycle Cargo Net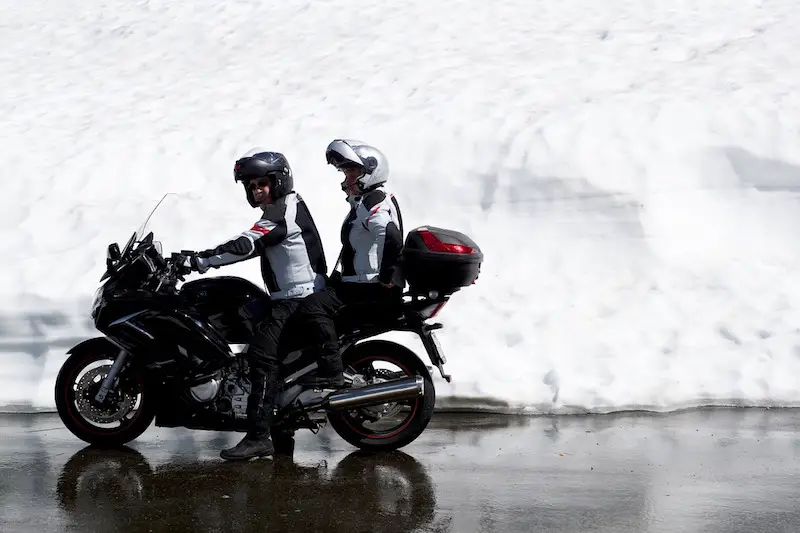 Easily Secure Your Cargo
Without a luggage carrier, backpack, or saddlebags, it can be tricky to carry bulky items on your bike. With a cargo net, it becomes easier to secure a random cargo without having to invest in special luggage.
These nets are easy to use and prevent your cargo from flying around. They help keep everything in one place so you can arrive at your destination with everything still on your bike.
Keep Track of Your Cargo
With the net design of a cargo net, it's easy to keep track of everything that's secured underneath. This way you can quickly glance back from time to time to make sure nothing has fallen off.
There's no need to worry about whether or not you forgot something either. A quick glance at the transparent cargo net will let you know everything that you're taking with you.
Easily Adjustable
The flexible design of cargo nets means they can be easily adjusted, or stretched, to secure loads of different shapes and sizes. There's no need to worry about the cords snapping as they're typically made from durable, stretchy, and heavy duty materials.
Double check the maximum stretching size as indicated by the manufacturer to see exactly how much a net can stretch. This way you can get a better idea of how much you can carry at any given time.
Easy to Use
What's great about motorcycle cargo nets is that they're easy to use and install. They all come with hooks that can be effortlessly attached to various mounting points on your bike.
This is in stark contrast to luggage, like motorcycle saddlebags, which require time, effort, and event tools to get properly installed and used. If you don't need all that storage space, a net is usually more than enough for carrying some cargo.
Durability
Manufacturers of these nets know that they're going to be used outdoors and in rough conditions. They're specifically designed to withstand the rigors of heavy road use.
This means they're made to be sturdy and durable. Even when they're fully loaded, it's not likely for them to fall apart in the rain or from constant UV exposure.
How Much Do Motorcycle Cargo Nets Cost?
Under $25
Most nets can be found in this affordable price range. For this price you'll find options with a universal design that feature durable hooks, tie-down straps, or laces for securing cargo.
The hooks are typically made from a rubber coated, heavy duty plastic. They're designed not to bend or break easily.
As for the nets in this price range, they tend to be good quality as well. The only compromise here is that they don't stretch as much as some of the higher quality options.
$25+
In this price range you'll find some of the best cargo nets for motorcycles. These are ideal for transporting bulky, heavy cargo on the back of your bike.
At this price point you can expect durable, elastic nets that stretch up to three times their original size. They'll also be designed with strong, metal hooks, as opposed to plastic, which can handle heavier loads and more stress.
It's also possible to buy custom-fit cargo nets for your bike. However, these are expensive and generally not required for most riders.
Key Features
Size
One of the first features to consider is the overall size of the cargo net you're interested in. It's possible to buy both universally sized or custom fit nets.
Always measure your luggage rack to see how much space you actually have for storage. This makes it easier to decide whether you need a universal cargo net or something custom.
When installed, the net shouldn't hang awkwardly or flap all over the place when it's not storing cargo. With cargo underneath, it should maintain a tight fit over whatever you're carrying.
Elasticity
The main benefit to using a net is that it can stretch over various sizes and shapes of cargo. There's no need to rely on a rigid or small luggage or tank bag for carrying random things.
Since not all cargo you carry is going to be the same size, having the net allows for plenty of versatility to carry different items. Look for a net that can stretch and retract without compromising on its shape or elasticity.
Material
The majority of cargo nets are made from polyester or some other synthetic fabric. This makes them ideal for everyday use and for reliability in a wide range of different weather conditions.
Synthetic materials, such as polyester or nylon, are tear-resistant, durable, and stretchable. Other features, such as waterproofing and UV resistance, can be easily integrated into these fabrics.
It's a good idea to prioritize metal, rubber coated hooks over plastic ones. These are more durable and less likely to crack or snap in cold weather.
Type of Cargo
Choose a cargo net based on the types of items you're transporting. You wouldn't want a large net if you're only transporting small items.
Don't forget that whatever you're transporting with the net will be exposed to the weather elements and road conditions. This means you should only transport items that can easily withstand these various conditions.
Ease of Installation
The last feature worth mentioning is the ease of installation of any net you're interested in. Avoid anything that needs to be screwed or drilled into your luggage rack.
Instead, look for nets that are equipped with pre-installed attachment hooks or tie down straps. These are easier to use and makes it quicker for securing your cargo.
Helpful Tips
Choosing the right size and strength of cargo net depends on the cargo you're typically transporting with your motorcycle. Consider what you'll be transported and this will make it easier to find the right net.
It's possible to find cargo nets in different colors and designs. These are interesting features, especially if you're looking to match the net to the style, color, or design of your motorcycle.
Don't forget to consider the anchor points on your motorcycle. If your bike doesn't have a luggage rack, you'll have to see if it's possible to hook up a net across the back seat. Depending on your anchoring options, this will determine the types of hooks or attachments the net is going to need to work effectively.
If the bike doesn't have a luggage rack, consider mounting one. This makes it easier to transport cargo, especially if you're using a net or any other motorcycle luggage. With a luggage rack, you wouldn't need to use your

motorcycle backpack

anymore, especially for smaller items.
Pick up the biggest net that will fully cover your most common cargo. It's better to have something a little too big, as opposed to too small. Don't forget to read reviews to see what other people have to say about any specific nets you're interested in.
Frequently Asked Questions
How Do You Install a Cargo Net
Most motorcycle cargo Nets will come equipped with multiple hooks on the edge of the net. These are designed to be hooked or secured to any of the components on your motorcycle.
It's easier to install the net if you have a luggage rack. Otherwise, attach the hooks to the secure and sturdy components on your bike that won't get damaged from the hooks.
Do You Need a Luggage Rack to Use a Cargo Net?
Having a luggage rack definitely makes it easier to use a motorcycle cargo net. For example, I recommend luggage racks in my post on the best CRF250L accessories.
It's also possible to use the racks for transporting heavier or bigger cargo. In this case, you would need motorcycle tie down straps to securely mount everything on the rack.
What Happens if the Rubber Coating Comes Off the Hooks?
With metal hooks on higher-quality cargo nets you'll typically find a rubber or plastic coating. This can come off with regular use, especially if you're riding in harsh conditions.
The problem when the coding comes off is that the hooks can scratch or damage the paint or plastics on your bike. If this happens, make an effort to recoat the hooks, design your own coating, or pick up a brand new net.
Can the Metal Hooks Be Reshaped
Yes, it's possible to reshape the metal hooks on a cargo net. This can be done using pliers or even hand strength depending on how strong you are.
However, we don't recommend reshaping the metal hooks. This can weaken the metal and cause them to snap prematurely.