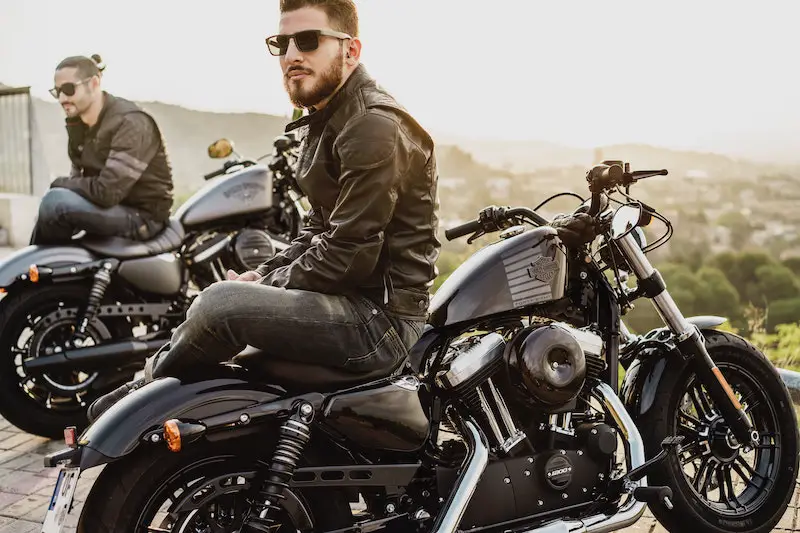 Not everyone wants to wear a motorcycle riding suit or dedicated motorcycle pants every time they go for a ride. Even wearing a full leather suit or pants can get hot and annoying to put on.
Thankfully, there's a solution for riders looking for comfort, protection, and maximum breathability. With leather being a great option for protective gear, you'll want to check out motorcycle chaps to protect your legs without the other sacrifices.
The best motorcycle chaps will protect your legs while keeping you warm and dry. Instead of walking around awkwardly in a suit or riding pants, you can easily take the chaps off when you get to your destination.
In this post, we'll be looking at some of the best leather chaps for motorcycle riding you can find online. Don't forget to scroll past our recommendations for an in-depth buying guide and FAQ.
Otherwise, let's jump right into it!
The Best Motorcycle Chaps in 2021
Milwaukee Leather Chaps (Best Motorcycle Chaps Overall)


The Milwaukee Leather Chaps are our top recommendation as the best motorcycle chaps for most riders. Milwaukee Leather is one of the best brands when it comes to motorcycle leathers so it's hard to go wrong with this pair of chaps if you like the style and design.
These are half chaps with space in the front and back for better comfort and breathability. At the front is a large buckle, as well as laces on the back, so the chaps can be easily adjusted around your waist.
There are also zippered pockets on the front. This makes it easy to stash smaller accessories, like your smartphone or wallet, since you won't have access to the pockets underneath.
The bottom of these chaps is unfinished and as a four snap closure. This is great for easy alteration so you can get the best sizing and fit for your size.
There is a zipper along the rest of the leg, making them easy to put on and take off. There's also a comfortable interior liner that helps you manage the weather better and makes these a bit more comfortable to wear.
Some people have complained about the sizing with these chaps. Don't forget to refer to the sizing chart and consider that you'll be wearing pants underneath.
Overall, the Milwaukee Leather Chaps are our top recommendation as the best leather motorcycle chaps. These are reasonably priced, well reviewed, and perfectly designed for regular riding conditions.
Viking Cycle Leather Chaps (Best Cheap Motorcycle Chaps)

The Viking Cycle Leather Chaps are another great option if you're looking for motorcycle chaps to wear on your rides. These are a bit more reasonably priced and still a great choice for protection, comfort, and style.
The Viking Cycle Leather Chaps are easy to take on and off thanks to the front belt and lace closure back. There is a side outer seam zipper as well as a snap bottom closure for quick adjustments to get an even better fit.
With the adjustable belt it's easy to adjust the waist to a size that's most comfortable. The lace on the back gives you full adjustability on both sides.
As for the design, these are made from original quality and premium cowhide leather. It's good to have pure leather, as it looks classic and saves your skin from abrasion in the case of a crash or accident.
With the high quality stitching, the chaps are comfortable to wear and durable for riding with. They even come with pockets, making it easy to access your smaller items, such as your smartphone or wallet.
One more feature worth mentioning are the durable stainless steel buttons along the side of the bottom of the pants. These are conveniently adjustable so you can accommodate various motorcycle boot sizes without having to get any alterations done.
Overall, the Viking Cycle Leather Chaps are another great choice, especially if you're looking for a cheap motorcycle chaps. These are well-designed, have great reviews, and they even look great when you're wearing them.
HWK Motorcycle Leather Chaps

Our final recommendation would be the HWK Motorcycle Leather Chaps. It's easy for us to recommend HWK as they're a high-quality company that we've mentioned in our past posts, including the best mesh motorcycle jackets
The HWK Motorcycle Leather Chaps are a great choice if you're on a tight budget and still looking for a quality set of chaps. These are made from 100% genuine leather and even come with a lifetime replacement warranty.
With these there is an adjustable waist and inseam length. It makes it easy to adjust the chaps for a proper and comfortable fit, without having to do any serious tailoring. You can even cut the bottom of the chops with scissors and quickly tailor them to your desired length.
On the inside is a micro mesh lining, which makes them more comfortable to wear in a wider range of weather conditions. This helps with temperature control, wicking away sweat, and makes the chops more comfortable in general.
Other features worth mentioning include the one pocket design, with an easily accessible pocket on the side. There's also an extra outer coin pocket, stainless steel rust free buttons, and double safety stitching for better safety and durability.
Overall, if you're on a tight budget and still want some leather motorcycle chaps, it's the HWK Motorcycle Leather Chaps that we would recommend. These come with some great features for the price and are comfortable to wear in a variety of riding conditions.
Why You Should Wear Motorcycle Chaps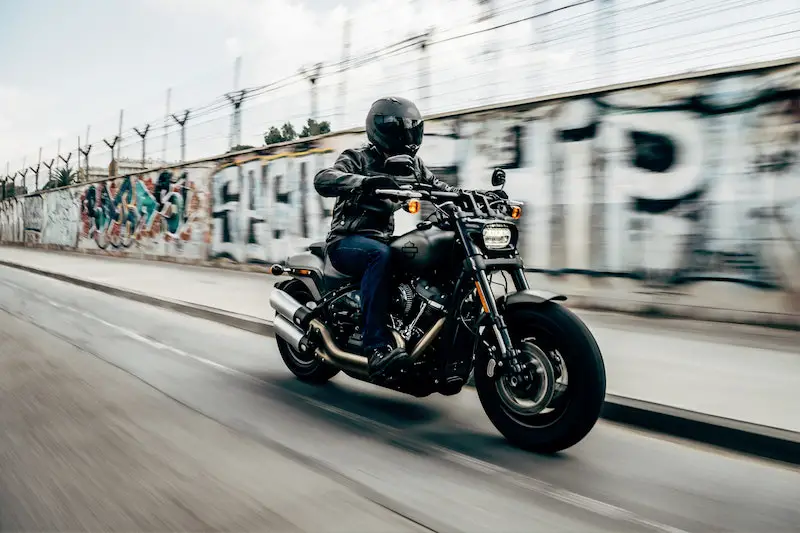 Protection
A good pair of motorcycle chaps will protect your legs when you're riding. Leather is a great choice for protection and can help you out if you happen to get into a crash or accident.
They will also protect your legs from the weather elements and road debris. They'll keep them warm and dry from the wind and rain while protecting them from rocks and other debris on the road.
Warmth
Another benefit to leather chaps is that they will keep your legs warm while riding. In some cases you don't really need heated motorcycle gear and a pair of chaps will help to maintain your warmth.
With the wind chill, especially on colder days, the wind feels colder when you're on the bike. Chaps will break the wind and keep you warm while giving you the option to remove them if you start to overheat.
Style
For some people, chaps will offer the typical biker style. This can help to complete the look you're going for when you're out riding.
It's even possible to pick up chaps with extra detailing. Some of them have unique features, including embroidery, braids, and zippers for even more styling options.
Types of Motorcycle Chaps
Full Leather Chaps
Full leather chaps are made from leather and designed to cover your entire leg. They'll run from the top of your leg down to your ankles, or even to the bottom of your boots.
Getting them on and off is surprisingly easy thanks to the zippers or snaps. These will stretch down the entire length of the leg so they're easy to put on or remove.
With full leather, they'll typically be made from cow or buffalo hide. You'll find that most of the full leather options are black, though there are some brown ones available.
Typically, full leather chaps are the best quality, offer the best protection, and command the highest price.
Half Leather Chaps
Half chaps are designed to extend from below the knee to your ankle. Some of them will extend to the bottom of your boots.
These are also easy to put it on, with a series of zippers, snaps, or laces along the side. they will protect the bottom half of your legs and aren't as warm as wearing full chaps.
Another benefit is that they take up less room in your saddlebags. This makes them more convenient to take with you on day trips or touring adventures.
Non-Leather Chaps
Riders that don't like leather can find chaps available in other materials. One of the most common substitute materials is ballistic nylon.
There are also vinyl and imitation leather chaps available. The problem with non-leather alternatives is that they're not as warm and don't offer as much weather protection.
How Much Do Motorcycle Chaps Cost?
Under $70
In this price range you'll find some lower quality, basic leather chaps. These tend to lack finer details and generally aren't as durable.
With this budget you're looking at imitation leather, weak stitching, and poor quality zippers. When it comes to chaps you're better off spending a little more money to get a better quality product.
$70 to $120
In this price range is where you'll find most chaps. For this budget you can get genuine leather, high quality materials, and stylistic details.
You can also expect to find chaps with other features, such as better quality zippers and pockets. This is a good budget for buying your first pair.
Over $120
In this price range is where you'll start to find the best leather motorcycle chaps for the money. These tend to be high quality and feature better quality components.
You can expect soft, supple leather, strong zippers, and plenty of other features with a higher budget. This is what you can expect to spend for the best quality and long-term durability.
Key Features
Size
It's tricky finding chaps in the right size because they need to fit over the motorcycle pants you'll be wearing while riding. The sizing for choosing the right pair will be bigger than what you're normally used to wearing.
It's a good idea to start by checking the product sizing chart. Don't forget to measure yourself to get the most accurate idea of finding a pair that fits.
It doesn't hurt to look for adjustable chaps as well. These can help provide a custom fit without spending the money for custom chaps.
You'll also need to hem the bottom of the chaps so they're the right length with your motorcycle boots. This is something that normally needs to be done for most riders.
Material
Spending more money will get you better quality leather, which is more comfortable to wear for longer periods of time. It's also better quality, easier to break in, and will better conform to the shape of your body.
Those of you that don't like leather will want to look for other materials. There are chaps available made from nylon and other synthetic materials.
When you're browsing different chaps, look for durable materials that are abrasion resistant. Don't forget to check the zippers for durability since they'll be under a lot of stress and need to be strong for regular use.
Features
Most chaps come with a variety of various features depending on the brand. One good feature to look for is zippered pockets, which make it easier to store your smaller accessories, like your motorcycle keys or smartphone.
Other features worth mentioning include lacing or buckled straps. These features allow you to custom adjust the chaps for a better fit.
Style
The biker chaps you buy need to appeal to your own personal sense of style. You're not going to want to wear a pair of ugly chaps if they don't do anything for you.
Take a close look at the cut, detailing, and other features that you're interested in. Look for a style that you like so that you'll actually wear them when you're out riding.
Value
There's no denying that real leather motorcycle chaps are expensive. You're definitely a worthwhile investment, especially if you're riding a lot.
When it comes to this gear, you get what you pay for when it comes to the overall quality, materials, and construction of the chaps. Try to find the right balance between your budget and how often you plan on using them.
Type
The last feature worth mentioning is the type of chaps that you should pick up. We covered the different types of above so take a look at that section to get a better idea of what's available.
This would depend on where you're riding, how often you're riding, and how much warmth or protection you want. You need to decide on the type before choosing a specific pair to start riding with.
Helpful Tips
Try to buy chaps that come with an unfinished bottom. This lets you customize the bottom so you can get the perfect fit. The chaps should be extended down over your boots without dragging on the ground.
It's not a bad idea to look for chaps that come with pockets. When you're wearing them they'll block access to your jeans so you won't be able to access the pockets there. With pockets on the chaps you can easily access your smaller items, such as your smartphone or wallet.
Double check the type of leather used to make any of the chaps are interested in. Thicker leather will be hotter and stiffer, though it will provide you with more abrasion protection. Thinner leather will be more flexible and break in faster but won't offer as much protection.
Frequently Asked Questions
What Size Should You Buy?
Start by checking the product description for a sizing chart. Next, measure your waist and thighs then refer to the sizing chart to find the right size.
Keep in mind you'll be wearing jeans or motorcycle pants underneath so there will need to be room for the chaps to accommodate them. They're also going to ride up when you're on the bike so they should be a little longer than what you would normally wear.
Why Should You Wear Motorcycle Chaps?
Motorcycle chaps are a great option for protecting your legs in the event of a crash or accident. They also offer a great protection for inclement weather conditions and any road debris that gets kicked up off the road in front of you.
Compared to motorcycle pants or a riding suit, chaps are easier to take on and off. They're also more affordable and more comfortable to wear than full leather pants.
How Do You Take Care of Your Chaps?
It's important to properly maintain your chaps if you want them to last for years of regular use. Start by washing them regularly using warm water and saddle soap to work out the dirt.
Use a rinse cloth as well to avoid grinding the dirt back into the leather and damaging it. When the leather is clean, use the right products to condition and moisturize it to keep it in good condition.