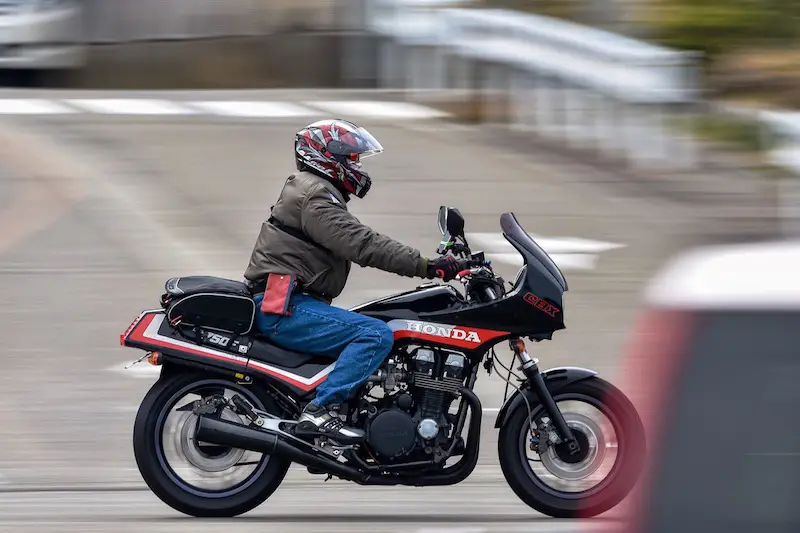 The main problem with stock motorcycle horns is that most of them aren't nearly loud enough. Since drivers won't always be able to see you, or paying attention, using your horn will be necessary for alerting them to your presence.
Surprisingly, it can be tricky to find the right motorcycle horn. There are a lot of different features and factors to consider when you're looking for one.
In this post, we put together a list of the best motorcycle horns to make the research process easier for you. Don't forget to keep scrolling past our recommendations for a helpful buyer's guide and FAQ.
Otherwise, let's jump right into it!
The Best Motorcycle Horns in 2021
PIAA Slim Line Horn Kit (Best Motorcycle Horn Overall)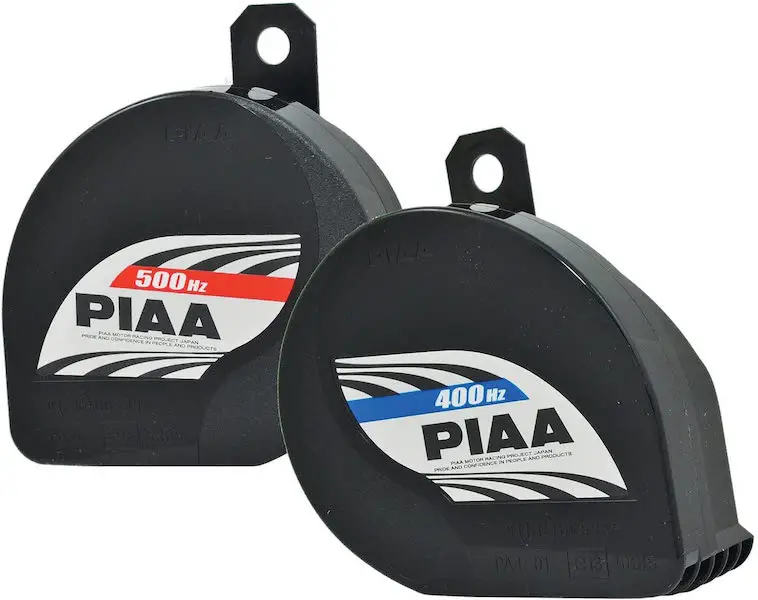 The PIAA Slim Line Horn Kit would be our recommendation as the best motorcycle horn for most riders. It's easy to install, lightweight, and much louder than the factory horn installed on most motorcycles.
This is a kit that comes with two different horns, with one at 400hz and the other at 500hz. Compared to the stock horn, these ones offer up to 115 decibels of noise, more than enough to alert drivers around you of your presence.
Thanks to the universal design, the PIAA Slim Line Horn Kit can be easily installed on most motorcycles. Even on bikes with space limitations, it's possible to find room to install these, so you may need additional hardware to install them correctly.
Once installed, each one will give about double the decibel output of the standard horn on your motorcycle. They only take around 2.7 amps of power per horn and there isn't any crazy wiring needed, simply remove the old one and hook up the wires to the new horn.
Overall, the PIAA Slim Line Horn Kit is our recommendation as the best motorcycle horn upgrade. These are loud, easy to install, and bound to improve your safety when it comes to alerting other drivers of your presence on the road.
FIAMM Freeway Blaster

Another great option as one of the best aftermarket horns for motorcycles is the FIAMM Freeway Blaster. This one is also easy to install and significantly louder than the stock horn on most motorcycles.
The FIAMM Freeway Blaster is a two terminal horn that produces 133-decibles of sound. This is great whether you're in the city or on the highway and you want to alert other drivers that you're nearby.
Everything is housed in a corrosion resistant steel housing and ABS plastic projector. On the inside is a low note, aluminum coil motor that helps to provide you with the best horn performance.
Installation is simple and the kit comes with everything you need to install the horn, including the universal mounting bracket, jumper wire, and female connectors. Once installed, the horn will draw up to 6 amps of power, which most motorcycles can handle with ease.
Overall, the FIAMM Freeway Blaster is another great choice if you're looking to upgrade the sound on your motorcycle. It's easy to install and a lot louder than stock motorcycle horns, which is great for your safety.
Uxcell Universal Horn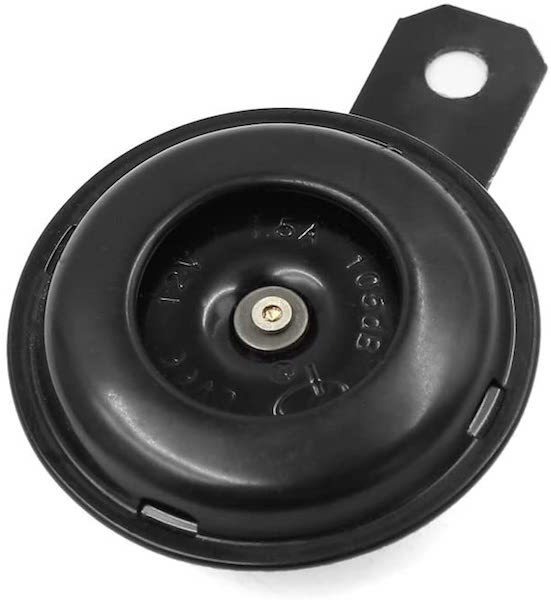 The Uxcell Universal Horn is a simple and basic universal horn that can fit on most motorcycles and scooters. It's a great aftermarket horn that's slightly louder than the stock ones on most bikes.
This one is a great choice if you're on a budget or if you just want a simple horn to install on your motorcycle. Installation is simple and it will hook up directly into the same spot as the old horn.
The overall design quality is great with all of the components made from a durable metal material. It draws just 1.5A of current once it's installed, which means I can work on most motorcycle batteries.
Overall, if you're looking to replace your current motorcycle horn, it's hard to go wrong with the Uxcell Universal Horn. It's affordable, easy to install, and works well on most bikes.
Wolo Loud One Horn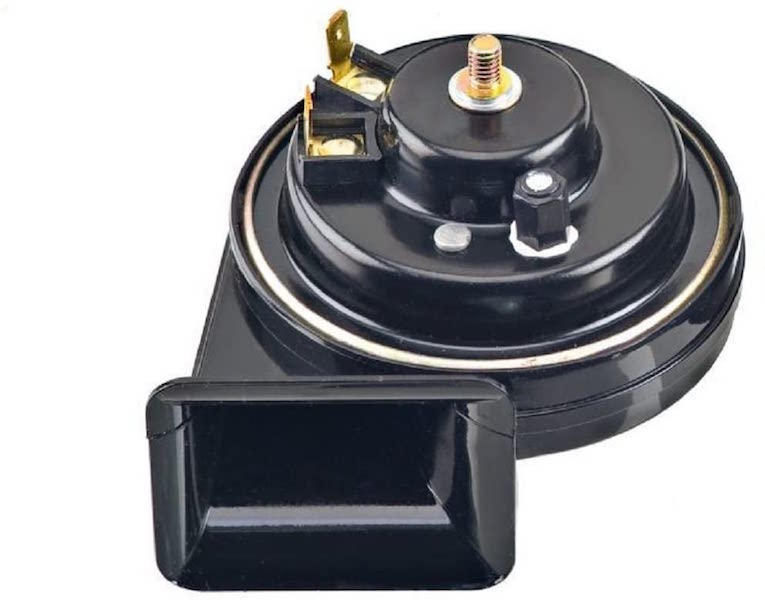 The Wolo Loud One Horn is a single low tone horn system that works great as a universal replacement. This is a great choice if you don't want to install two horns and want something that can be easily installed into the existing wire systems.
The Wolo Loud One Horn has a tone of up to 115 decibels. This is more than not enough to alert traffic around you whether you're driving on the street or on the highway.
It's easy to install and can be connected to either one or two wire systems. Everything needed for installation is included in the kit, which would include a heavy duty steel mounting bracket and all necessary hardware.
Once installed, the Wolo Loud One Horn draws just 1.5 amps of power. As for the build quality, the entire component is built with steel and plastic construction, making it very durable and dependable.
Overall, if you're looking for a loud motorcycle horn that's reliable and easy to install it's the Wolo Loud One Horn that we'd recommend. This is a great choice for installing in tighter spaces where you still want a loud blast every now and then.
HELLA Supertone Horn Kit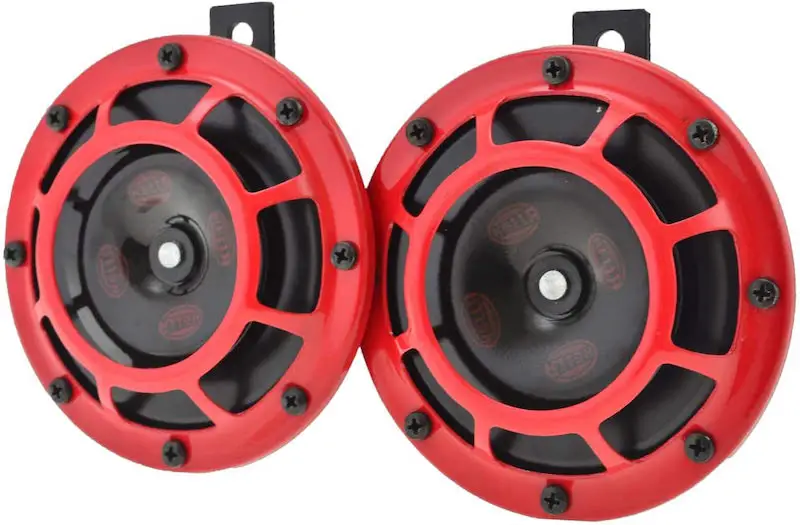 The HELLA Supertone Horn Kit is just one more great option for upgrading the current horn setup on your motorcycle. This is a twin horn kit that gives you a great sound for alerting the drivers around you in precarious situations.
The HELLA Supertone Horn Kit gives off up to 118 decibels of a volume in each of the horns. Compared to most of our other recommendations, this is the most unique and stylish horn that would look great on most motorcycles.
For a 12-volt disc horn, it's easy to install either vertically or horizontally. All of the necessary installation hardware and brackets are included to easily get everything set up.
Thanks to the teflon coating, the horns are protected from humidity and corrosion from the weather elements. This makes them ideal for installing on your motorcycle, which is constantly exposed to inclement weather conditions.
Overall, if you're looking for a loud and reliable horn set up, it's the HELLA Supertone Horn Kit that we would recommend. It's easy to install and features a unique styling that you don't see on many other horns.
Motorcycle Horn Buying Guide
Whether you're looking for the loudest motorcycle horn you can find, or you just want drivers around you to be more aware of your presence, this guide will help you out.
Here are the different features and other factors to consider when you're shopping for a new motorcycle horn upgrade.
Sound Level
Most of these devices are tested under certain controlled conditions. When you're actually using the horn, in an open space and loud environment, the perceived volume is going to be different.
There's also the sound variance that needs to be considered. This would be influenced by the direction that the horn is facing.
As we mentioned earlier, if the horn is pointed downwards or installed behind or under some motorcycle components, the output won't be the same as if it's in the open.
Generally, the sound that horns can generate depends on the size of the individual trumpets as well as the number of trumpets in the set. Double check the product description for a better idea of sound levels that you can expect.
Air Horns
Some riders will be looking for the best motorcycle air horn to install on their bikes. For this upgrade, there are some particular features to keep in mind.
These features include the air horn tank capacity, the compressor duty cycle, and the working pressure used. The higher the air pressure, the louder the air horn will be.
As for the air capacity, this determines how long the air horn can last before the tank needs to be refilled. To bgive you a better idea, a 1 gallon tank with 150 PSI of pressure could provide a 4-5 second blast of air.
Larger tanks will require a larger, more heavy-duty compressor. The more the horn is used, the more the compressor will be running.
Space for Installation
Before settling on a specific model, you need to think about where you're going to install it on the motorcycle. Most people install them in the engine compartment or underneath the bike.
It's important to make sure that there is a room for installation and that there is a mounting point for the horn. Choose a location that's convenient for installation and where the horn can be heard.
The best spot for installing would be in front of the bike, such as underneath the headlight or radiator. It's important for it to be facing the outwards direction in the open so that other drivers can hear when you hit the button.
How to Install a Motorcycle Horn on Your Own
Installing your own motorcycle horn is pretty easy. Start by finding a place to mount it and check to see if it came with any mounting hardware.
Next, take a look at the instructions to see the power source it requires. You might need batteries, though most devices can be installed through the existing wires.
Go ahead and disconnect the motorcycle battery negative terminal. Take a look at the wiring harness and find the positive horn connection.
Once you found the right connection, attach and secure the red wire and the positive connection on the horn. Then, attach the horns ground wire, which is typically black or green, to the ground connection of the wiring harness.
At this point you're all done so check the connections until you're positive that everything is properly connected and secured. Double check that the horn works and you should be good to go.
Helpful Tips
The sound of the horn is directly affected by where it's pointing. Keep this in mind when you're installing the horn. Avoid having it pointing down or installing it behind a grill or other motorcycle components. This would affect how the sound travels and how effective the horn is when you're using it.
The size of the horns trumpet affects the sound as well. Thinner and shorter trumpets will produce a higher pitched sound. Longer and wider trumpets will produce a lower pitched sound.
When you're installing the horn, the best place to put it is underneath the headlight. This is the most accessible location and also where the horn will be the loudest. You may need to drill holes in the motorcycle frame or use other attachment points for installing the horn.
Frequently Asked Questions
Can You Use a Car Horn on a Motorcycle?
Yes, it's definitely possible to use a car horn on a motorcycle. Start by checking if it fits and whether or not there are any other requirements, such as more electricity.
Car horns tend to be bigger and will probably need a dedicated power line. They might also need a relay, which makes the installation process more difficult compared to a standard motorcycle horn.
Is it Legal to Use an Air Horn on a Motorcycle?
You'll need to check your local state or provincial laws to see if this is possible. In some places, only commercial and emergency vehicles are allowed to have air horns.
Other places require the air horn to be used alongside an anti-theft system. Double check with your local laws to see what's allowed.
Do Motorcycle Horns Come With the Required Mounting Brackets?
Most of them will come with the required brackets needed for installation. On the other hand, you may need to modify the motorcycle or the horn to get everything to fit properly.
When in doubt, refer to the included instructions. There may also be helpful videos on YouTube that you could check out to help with installation.