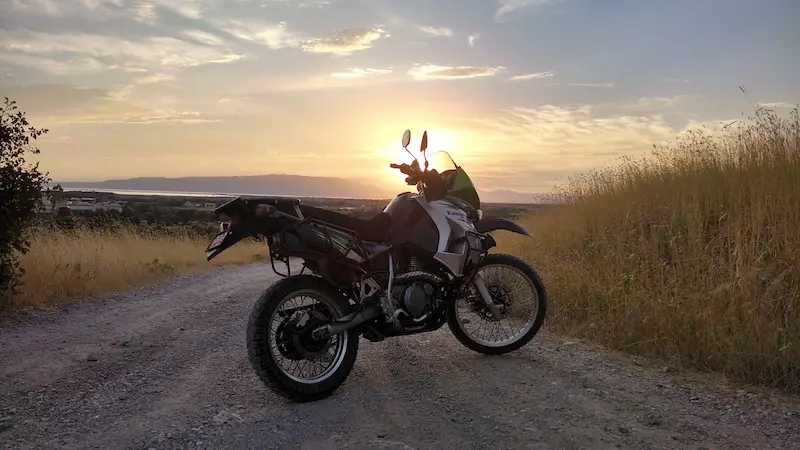 How many of you really buy a motorcycle for commuting, picking up groceries, or short local rides? That's what a scooter is for! Let's be real, motorcycles are built for giving you the thrill of adventure. These two wheeled machines are ideal for traveling and exploring new places where the world is your oyster.
That's what brings so many people to buy their first motorcycle. The thrill of being able to hop on and go, regardless of what lays ahead. It's these motorbikes that represent what's so hard to find these days – freedom, curiosity, independence, and a life you can call your own.
Adventures of a lifetime are possible on just about any type of motorcycle, but there's nothing like a touring bike to make the experience enjoyable and effortless. All of the best touring motorcycles are designed with adventures and thrill-seeking experiences in mind.
What you find on these bikes is larger capacity fuel tanks, larger displacement fairings, an upright sitting position for more comfort, and larger displacement fairings. All of these features help you have an enjoyable ride whether you're heading out on a day trip or about to start a multi-week journey across the country.
Along with these features that set touring bikes across from every other type of motorcycle, there are other aspects that make exploring even easier. These include built-in saddlebags or pannier attachments, various types of storage solutions, and comfortable seating whether you're on your own or touring two-up.
The Best Touring Motorcycles in 2019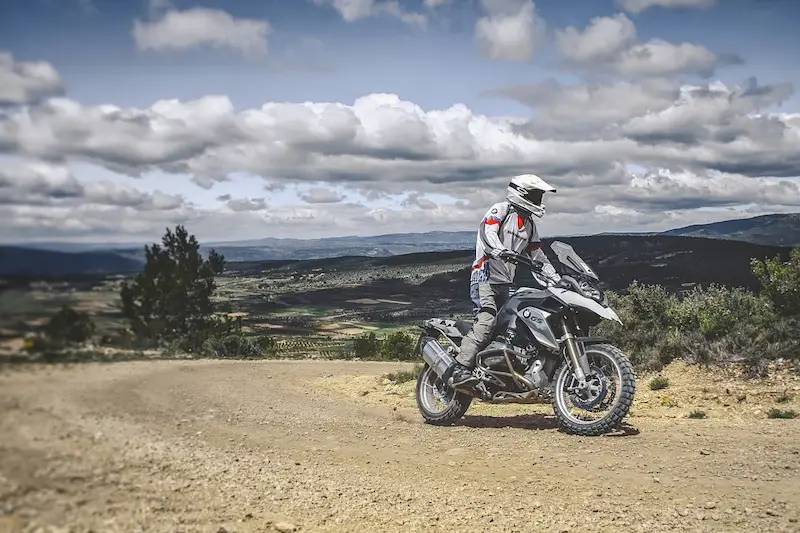 With so many different options to choose from, it can be tricky to find the right touring bike that meets your needs and budget. In this post we'll be looking at some of the best touring motorcycles currently available on the market, both used and new.
Keep in mind that there isn't a single "best" touring bike for everyone. Instead, what will find here are some amazing suggestions. This will be a place to start when you're looking for your very own motorcycle touring setup.
As always, feel free to make your own recommendations down in the comments. I'm always interested in hearing what you guys are riding or what your favorite bikes are for touring. And without further ado, let's jump right into it!
#1 – Suzuki V-Strom (DL650 vs DL1000)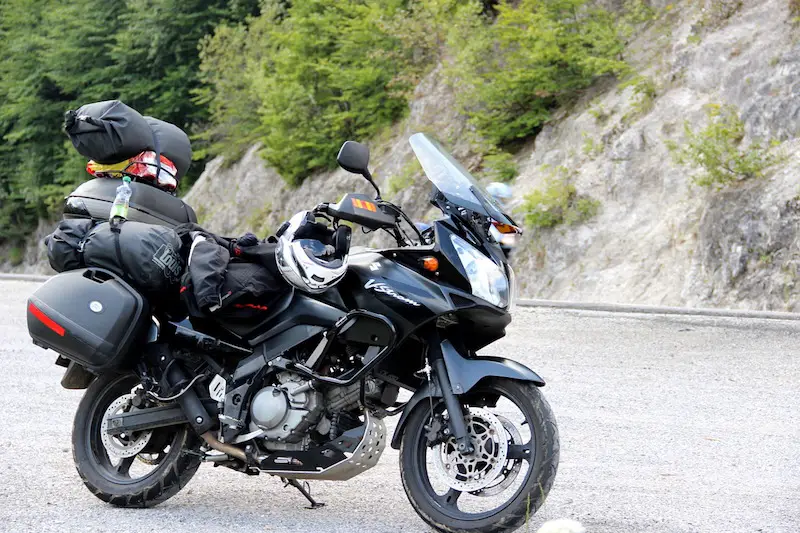 The Suzuki DL650 Vstrom, or the DL1000 depending on your preferences, is the cream of the crop when it comes to the best motorcycles for touring. Not only are these bikes bulletproof, but they're perfectly set up for long-distance adventure riding
The Vstrom series of Adventure bikes are known for being comfortable, durable, and affordable. Brand new they can be found for under $10,000 with used ones available in the $2-$5000 range. This means that even if you're on a tight budget you can find a suitable touring bike, hop on, and start exploring without breaking the bank.
While you won't be enjoying excessive speed on the Autobahn, that's not really necessary when it comes to the Suzuki Vstrom. What it lacks in speed, it makes up for in comfort and durability. The smaller DL650 on its own is capable of traveling two-up and loaded with luggage. The bigger DL1000 is all but overkill for a single rider, though it will get the job done effortlessly without breaking a sweat.
The newer models of the Vstrom come equipped with traction control and low RPM assist to help in those squirrely situations. Other helpful features include ABS, a built-in 12v DC outlet for keeping your devices charged, and different modes for all conditions of riding.
To help with touring, the Vstrom is also equipped with a 5gal/20L gas tank, extended windscreen that helps to reduce windblast, an upright seating position, and attachment points for connecting your saddlebags.
Designed with touring in mind, it's hard to go wrong with the Suzuki V-Strom. That's why this bike has snagged the number one spot in our post on the best touring motorcycles. Brand new our used, this is our recommendation if you're looking for a bulletproof bike to take on your next adventure.
#2 – BMW R1200GS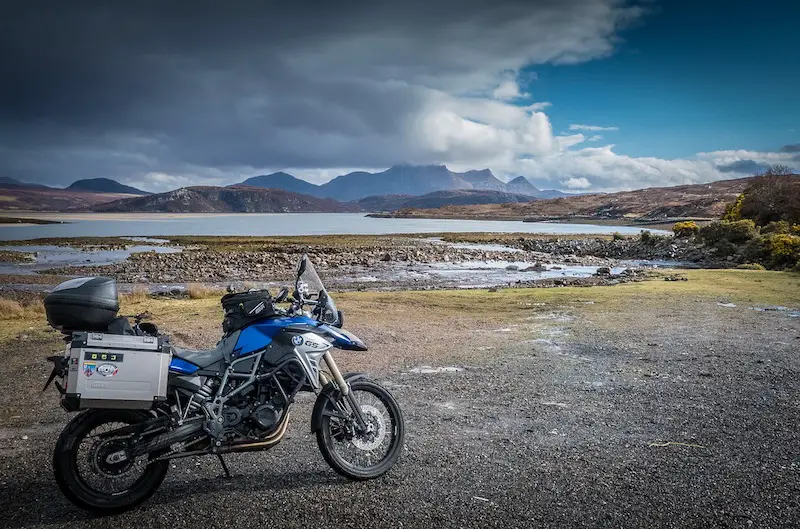 Most of you shouldn't be surprised to see the BMW R1200 GS on our list. This is another amazing, world-class motorbike specifically designed for touring. In Europe it's one of the best selling BMW motorcycles and it's gaining popularity in North America as well.
Since 1980 people have been using the BMW R1200 GS for their motorcycle touring adventures around the world. Every few years the bike is redesigned providing even better improvements and features for riders.
Compared to the V-Strom, the BMW R1200 GS is a monster of a bike. Underneath those pretty fairings the engine is packing an impressive 1254cc. This helps you get anywhere you want whether you're ripping on the highway or cruising down country roads.
The BMW R1200 GS is often touted as being the best adventure bike in the world. It's easy to see why that's the case when you take a further look at its features.
To start, this bike comes equipped with a front spray guard, wind wing elements to help with buffeting, and off-road protective parts to keep the components safe. it was designed with a firm main frame using the engine as a supporting element. This ensures a low center of gravity to help with handling and lane stability.
There's also some amazing tech underneath the fairings. This includes the automatic stability control, dynamic traction control, and various riding modes to help you in different surfaces and conditions. Worth mentioning is the hill start control, ABS brake system, and various mounting points for attaching your motorcycle touring luggage.
While the BMW R1200 GS commands a higher price point, it's completely worth it if you're looking for a bulletproof touring bike. Even on the used market these bikes maintain their value very well given their long-term reliability and popularity with riders. those of you with a little more money to spend will definitely want to check out the BMW R1200 GS as a long-term touring motorbike.
#3 – KTM 1290 Super Duke GT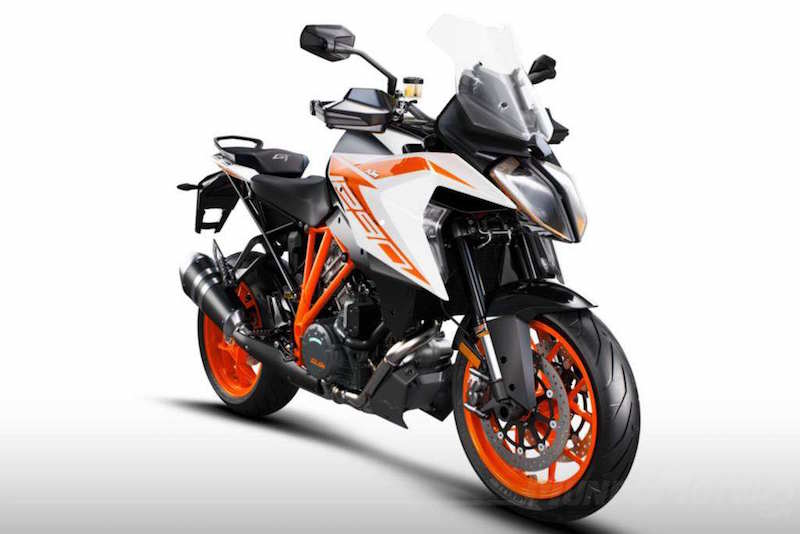 Next up on our list is the ever so impressive, and highly-touted, KTM 1290 Super Duke GT. This ultimate touring motorcycle was designed by taking inspiration from the KTM Super Duke R Beast, one of the best bikes to ever come out of KTM. The Beast was highly modified to make it more comfortable and suitable for touring and long-distance riding.
What riders are left with is a bike that perfectly capable of gobbling up all of the miles you could throw at it. Under the hood you'll find a jaw-dropping 1302cc V-twin engine giving you all the power you need. On slow, backcountry roads to the high-speed super slab, the KTM 1290 Super Duke GT is a blast to ride in all conditions.
This bike comes with some great features for motorcycle touring. To start, riders will love the huge torque from the bottom giving you quick starts, effortless gear changes, and the power you need for getting out of squirrely situations. The ergonomics need to be mentioned as well. An upright seating position, nearly forward-facing leg position, and easy-to-reach controls mean you can put in the miles without feeling tired or sore.
To help with wind and weather protection, this bike is equipped with tank side panels, storage compartments, and a USB charging port. It also has stability control, ABS brakes, a tire pressure monitoring system, LED cornering lights, heated grips, and built-in cruise control among types of other practical touring features.
Not only is the KTM 1290 Super Duke GT comfortable to ride, it's loaded with the features you want that make motorcycle touring a breeze. Combine this with the availability of optional add-ons and easy modifications and you're looking at one of the best motorcycles for touring around. In North America these bikes will be hard to find. European riders will find the KTM 1290 Super Duke GT readily available in their local markets.
#4 – Kawasaki KLR650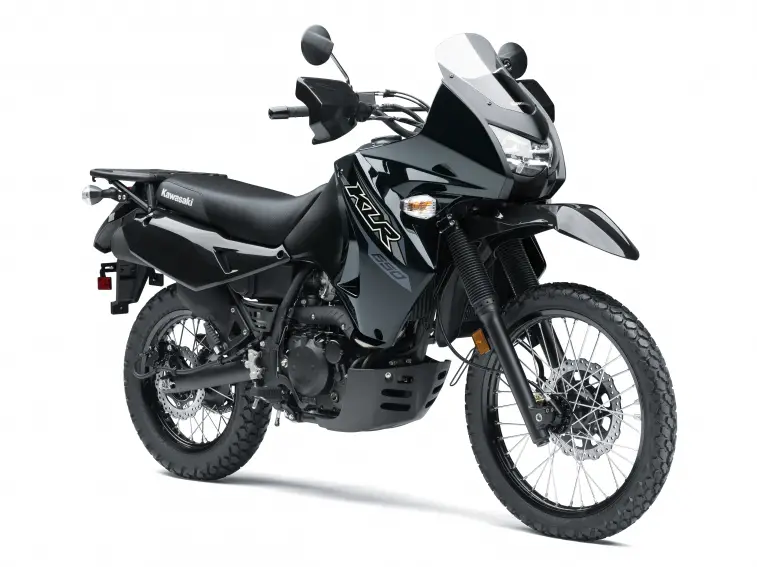 Since it came out, the famous Kawasaki KLR650 has been the off-road workhorse of choice for adventure riders and motorcycle touring. While it will easily take highway miles, the KLR650 truly excels on secondary roads, dirt roads, and off-road adventures. One of the best things about this bike is that it's easily available, both used or new, and it's the perfect choice for a budget motorcycle touring experience.
Some people might say that the 651cc engine isn't "big enough" to take on your next adventure. Well, there are thousands of people that will disagree. This is one of those bikes you can ride from Alaska to South America without having to worry about anything more than basic motorcycle maintenance. With a total weight of around 400 lbs, this is a highly practical and lightweight touring motorcycle that's built for whatever you throw at it.
The Kawasaki KLR650 comes with a number of features that make it suitable for both adventure rides and long distance touring. To start, riders will enjoy a comfortable, upright, and ergonomic seating position. The handlebars and controls are easy to reach with forward placed foot pegs to keep your legs comfortable.
Depending on the conditions, the rear suspension can be adjusted. On the front of the bike you'll find a large windscreen. This helps to reduce wind buffeting and offers ample weather protection. Every bike even comes equipped with a sturdy rear cargo rack where you can strap down your luggage or connect your own motorcycle saddlebags/panniers.
While not one of the most fuel efficient motorcycles, the KLR650 is equipped with a 6.1 gallon fuel tank. This keeps you riding on those long-range adventures without having to worry about finding a gas station. Finally, given its popularity, the KLR650 has heaps of accessories and secondary add-ons available to choose from. There's also a huge online community of enthusiasts where you can find helpful information on everything from maintenance to trip planning.
#5 – Honda Gold Wing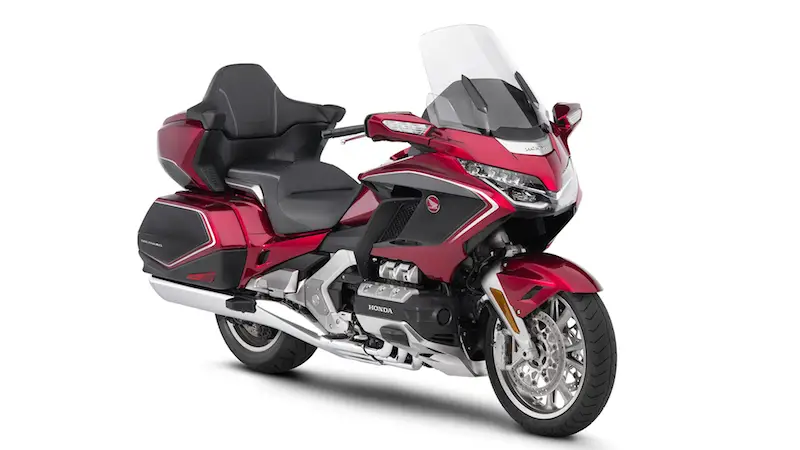 The Honda Gold Wing used to be the king of touring motorcycles. Since the 70s these bulletproof Honda touring bikes have been used to explore North America and plenty of other international destinations. Today, with so many bikes available to choose from, the Gold Wing isn't as popular. Nonetheless, it's still a viable choice if you're looking for a comfortable and reliable motorcycle for touring.
Speaking of reliability, it's not uncommon to find Honda Gold Wing's with 200,000 miles or more still being ridden today. This speaks volume about their reliability and how well Honda motorcycles stand up to the rigors of the road.
Powering this beast is an impressive 1833cc, liquid-cooled engine. At 933 lbs it's definitely one of the heavier touring bikes. Despite its weight and features, writers of the Gold Wing should be able to get a decent fuel economy of 35 MPG from the 6.6 gallon gas tank.
The Honda Gold Wing also comes loaded with features making touring easier than ever. Some of these features include heated grips, heated seats, ABS, cruise control, and lower leg wind protection. Worth mentioning is the adjustable electric windshield, advanced LED lighting, tire pressure monitoring system, onboard navigation screen with bluetooth connectivity, selectable riding modes, and the new advanced ride technology.
When it comes down to it, you won't be taking the Gold Wing off the road and seldom will you be using it for dirt road adventures. However, if you're looking to hit the highway or secondary roads with plenty of tech and all the comfort you could want, the Honda Gold Wing is a great choice.