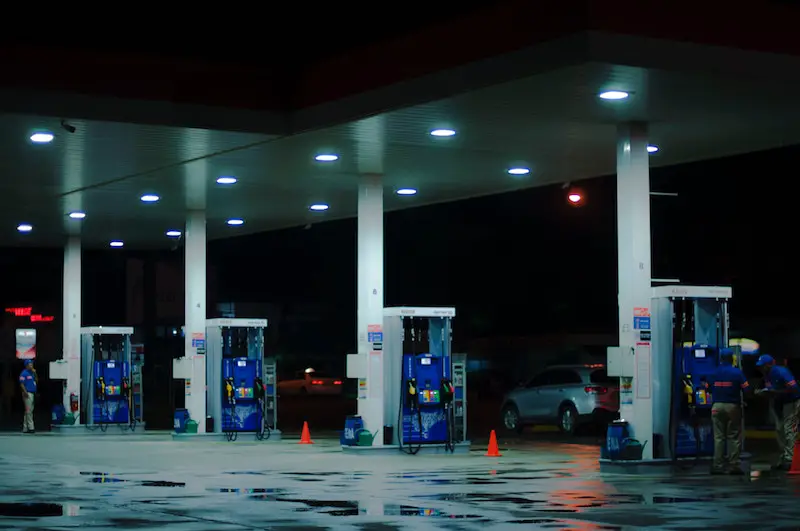 One of the main things I look for when I was buying my first motorcycle was how fuel efficient it was. Being able to go from point A to B without having to visit a gas station is one of the main reasons I chose my specific bike – the Honda CBR250R.
Now it's a pain riding with my buddies on big cruisers or high-CC sport bikes. It seems that every other hour we're stopping to get fuel while I can ride for hours without having to worry about a gas station.
In this post I want to talk about the most fuel efficient motorcycles you can buy. These bikes will keep you riding longer and having more fun instead of having to constantly wonder about where you're going to fuel up.
For me, it's all about hitting the open road and leaving everything behind. This includes gas stations!
The other benefit about riding one of the best fuel-efficient motorcycles is the amount of money you save. It's hard to go wrong filling up for under $10 and spending the whole day on the bike.
The Best Fuel Efficient Motorcycles
Let's take a look at my top recommendations for the most fuel efficient motorbikes currently on the market.
For more information check out my post on how to improve motorcycle fuel economy!
Honda CBR250R – 70MPG | 3.5L/100KM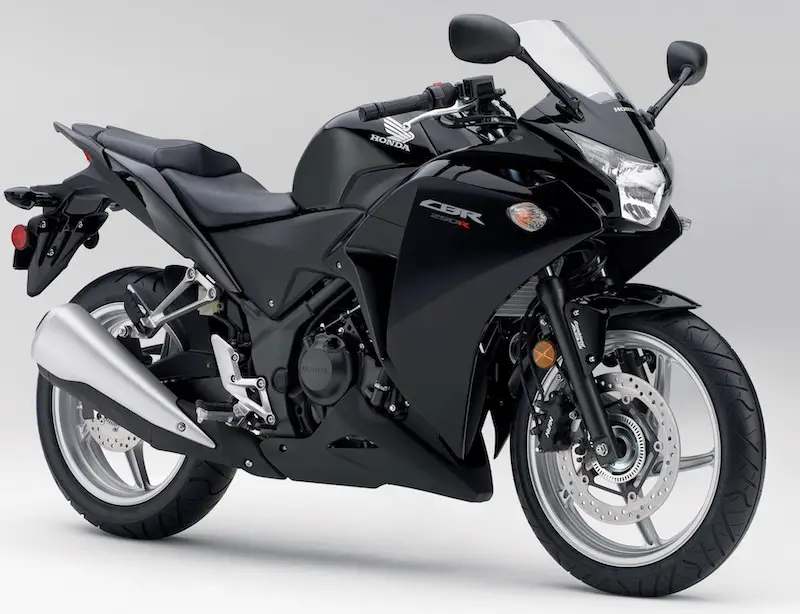 It's hard to go wrong with the Honda CBR250R whether you're looking for the best beginner motorcycle or something impressively fuel efficient. With this little 250cc thumper riders will enjoy up to 70MPG which equates to more than 225 miles of distance on a single tank.
There's no need to use anything but regular fuel in these Honda's giving you yet another area of cost savings for this bike. Of course you can redline every year and ride hard, but for reasonable riders this bike is going to give you a lot of distance.
The great fuel economy is one of the main reasons why I chose the Honda CBR250R. Personally, I have reached more than 400KM of distance from a single tank of gas cruising along at 88KM/H.
Those of you looking for an inexpensive motorcycle that's cheap on insurance and fuel will definitely want to check out the beautiful Honda CBR250R. For more information take a look at my Honda CBR250R review.
2019 Honda Monkey – 125MPG I 1.9L/100KM
The 2019 Honda Monkey if the latest of the small, retro bikes that Honda has been releasing. First, we had the Grom, and now it's the Monkey!
The Honda Monkey is a redesign of the original Monkey bike that was popular in the 70s. Where the Grom has a modern, contemporary look, the Monkey is a throwback to nostalgia for riders that grew up in that era.
Just like with the Grom, the new Honda Monkey delivers am impressive fuel economy of 125MPG. This is almost double the CBR250R and makes the Monkey one of the best fuel-efficient motorcycles currently on the market.
Keep in mind that a bike like this is better suited for city cruising and having fun around town. It's not something you'd want for highway commuting or long-distance riding.
Otherwise, for local rips the Honda Monkey is a seriously cool bike with an amazing fuel economy. Great on gas, affordable to buy, and cheap on insurance – it's hard to go wrong with the Monkey if you've got the money laying around!
2019 Honda CBR300R – 71 MPG | 3.3L/100KMH
The Honda CBR300R is Honda's upgrade to the CBR250R and offers all of the same benefits. It's a smaller, lightweight bike with an amazing fuel economy.
With the CBR300R riders will enjoy up to 71MPG per tank. With a fuel tank capacity of 3.4 gallons this means you'll be able to ride upwards of 240 miles before running out of gas.
These smaller bikes are fun in the city and perfect for commuting. Depending on your style of riding they're even great for longer day trips and multi-day tours. I've taken my CBR250R on a number of motorcycle camping trips and there's no reason you can't do the same with the CBR300R.
Since they're quite new these bikes haven't yet made it to the local used markets. There will be options available although you'll still be paying close to retail for a used CBR300R.
Just like with the previous recommendations, it's hard to go wrong with any Honda motorcycle. Currently available for less than $5000USD this is a great beginner bike if you're looking for something affordable, fuel efficient, and fun to ride.
Suzuki V-Strom 650 – 54MPG | 4.4L/100KM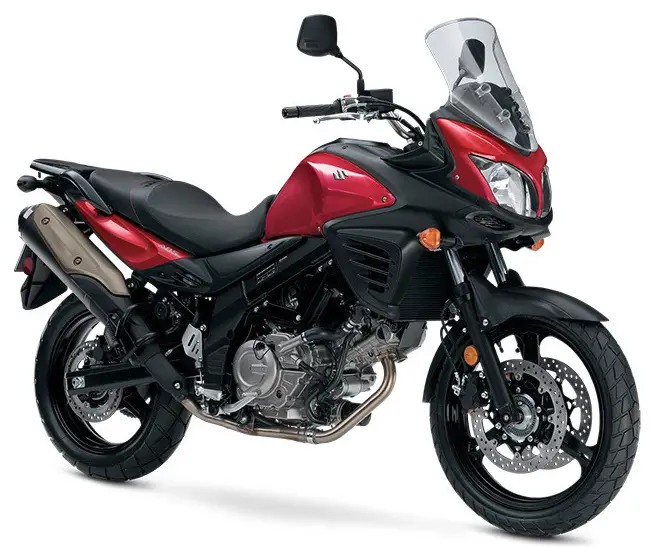 The Suzuki V-Strom 650 is our recommendation for the most fuel efficient touring motorcycle. This bike is one of the kings of motorcycle touring and long distance riding, especially if you're looking for something that boasts a reasonable fuel economy.
Riders will enjoy up to 54MPG fuel consumption with the Suzuki V-Strom 650. Thanks to the fuel tank capacity of 4.8 gallons you're able to ride up to nearly 260 miles before needing to refuel.
This bike is perfectly suited for long-distance touring and motorcycle camping – two activities where a fuel efficient bike is important. The Suzuki V-Strom 650 is also known for its reliability and bulletproof design making it a great choice for a wide range of riding styles.
Whether you're looking for something comfortable for a long commute or you need a reliable bike for long distance touring, the V-Strom 650 is another option that we confidently recommend.
Yamaha V-Star 1100 – 40MPG | 5.8L/100KM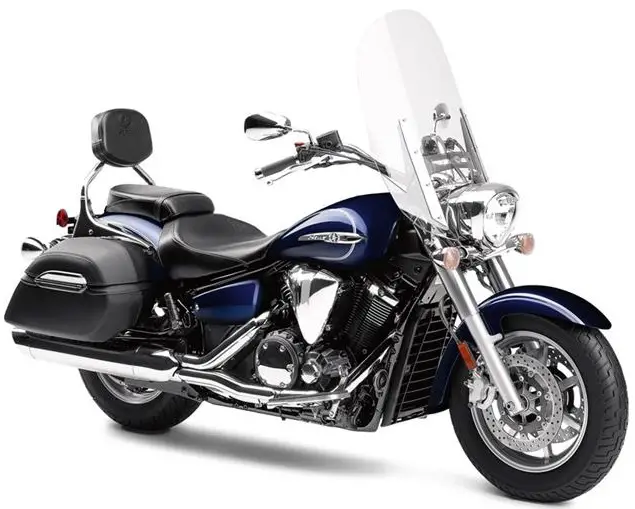 Most people don't buy a cruiser because they're looking for something fuel efficient. However, it's the Yamaha V-Star 1100 that's one of the options we recommend as a cruiser that's good on gas.
Yamaha claims that this bike gets close to 40MPG. This is a better efficiency than most cars while still being 100x times more fun to ride.
Not only do you look cool when you're cruising on the V-Star 1100, you're still able to enjoy some savings in mileage compared to other heavier, more cumbersome cruisers.
Just like with Honda, it's hard to go wrong with any Yamaha motorcycle and the same holds true for the V-Star 1100. This is a reliable bike that's fun to ride and suitable for a range of different riding conditions.
There are plenty of these bikes available in local secondhand markets for amazing prices. The reliability, decent fuel efficiency, and cool factor makes the Yamaha V-Star 1100 another one of our top recommendations.
2019 Zero S | Electric Motorcycle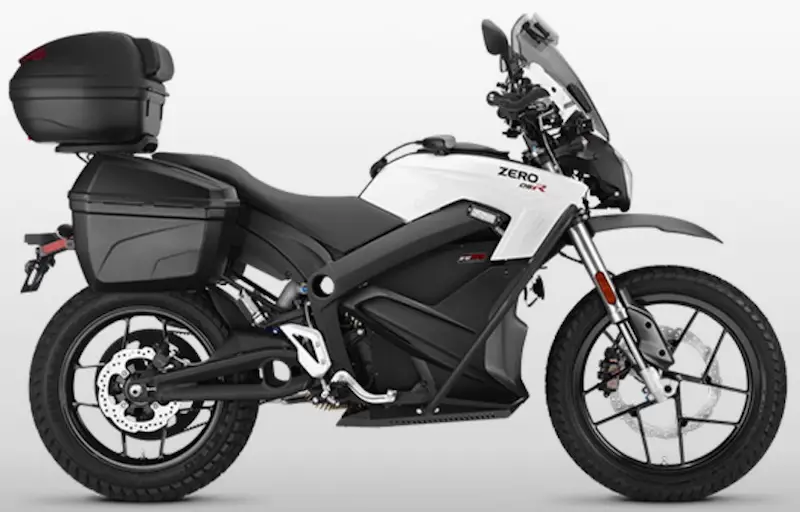 The Zero S and Zero SR are the latest and greatest when it comes to electric motorcycles on the market. There is no need to worry about fuel economy at all when your bike needs to be plugged in and charged for you to ride.
With the rise in popularity of electric cars, it's only a matter of time until electric motorcycles start to become more popular. At the moment they're pretty expensive but will be coming down in price each year.
Wondering about their range? The base model Zero S ZF7.2 has a total range of 44 miles on the highway and 88 miles in the city. For most people this is more than enough for a work commute or local city ride.
The better model Zero S ZF14.4 has an even more impressive range. This bike will get up to 90 miles on the highway and 178 miles in the city. A range like this is comparable to some of the Lesser fuel efficient motorbikes!
Both models are light, nimble, and economical if you're looking to avoid paying already high and rising fuel costs. Prices for the bike start at around $11,000 USD for the base model.
These are seriously impressive bikes with a unique look, stunning acceleration, and a "fuel" range that's suitable for most riders. Those of you looking to break into the electric motorcycle market are definitely going to want to check these bikes out.
Honda CBR600RR – 41MPG | 5.7L/100KM
It's even surprising to me how many Honda motorcycles have made it on this list. Look no further than the Honda CBR600RR as one of the most fuel efficient sport bikes currently available.
You don't always need to look at the lower powered, smaller displacement motorbikes for something that's fuel efficient. This 600cc demon will get you from point A to B with an impressive fuel economy of 44MPG.
This is one of the greats when it comes to sport bikes. The CBR600RR is well-suited for commuting, weekend rides, and for having a whole lot of fun at high speeds.
With the Honda name behind it, you can count on the reliability of this sport bike. Given its popularity riders should be able to find plenty of affordable options available in local used markets.
Honda Grom – 125MPG | 1.9L/100KM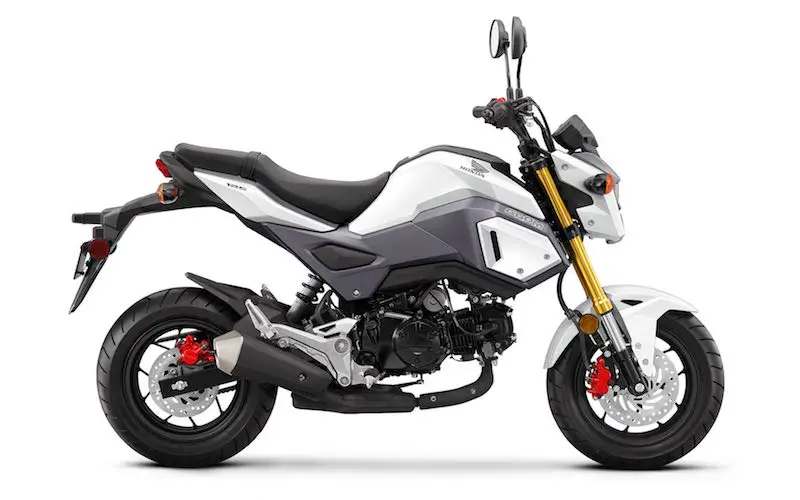 The Honda Grom, much like the Monkey mentioned above, is one of the most fun motorcycles to own. It's a blast to ride, amazingly fuel efficient, easy to maintain, and essentially bulletproof to own.
As Honda has stopped making these bikes I expect the Grom to eventually become something of a collector's item for motorcycle enthusiasts. It definitely serves a niche purpose in the motorbike market but everybody falls in love after giving it a ride.
For fuel efficiency the Honda Grom is seriously impressive. With its little 125CC dirt bike engine riders can enjoy more than 100MPG from a single tank.
This means you can have more fun riding without having to worry about where the next gas station is. Due to its smaller size, both physical and in the engine, the Grom isn't a bike most people would find suitable for commuting or daily use.
While you could use the Grom for shorter commutes and local rides, it's more of a toy than something you would ride everyday. With that said, there's a serious community around these bikes and they're more fun to ride than almost anything else on the road.
Not only is it fuel efficient but the Grom is reliable, cheap for insurance, and a great second bike if you're looking for something fun.
BMW R1200 GS – 45MPG | 5.2L/100KM
The BMW R1200 GS is one of the best adventure motorcycles currently available. It's also one of the most fuel-efficient motorbikes designed for the widest range of riding styles.
Whether you're looking for something comfortable for commuting or you're hoping to hit some local off-road tracks, the BMW R1200 GS serves up an impressive fuel efficiency of 42MPG. Despite its higher bace cost, this is a seemingly indestructible motorcycle that's per for just about any purpose.
For commuting and off-road use the 42MPG range makes the BMW R1200 GS a great choice for those riders looking for something that can take them anywhere they want to go. You would be hard-pressed to find an 1100CC bike with a better fuel range that's more reliable and fun to ride.
While you might pay more for maintenance, insurance, and parts, these BMWs are built to go hundreds of thousands of miles. You won't be worried about the cost when you spend a lifetime riding with a huge smile on your face.
The BMW R1200 GS is one of the top tier motorcycles currently available. Any rider it's bound to find this to be an impressive bike that makes a lasting impression.