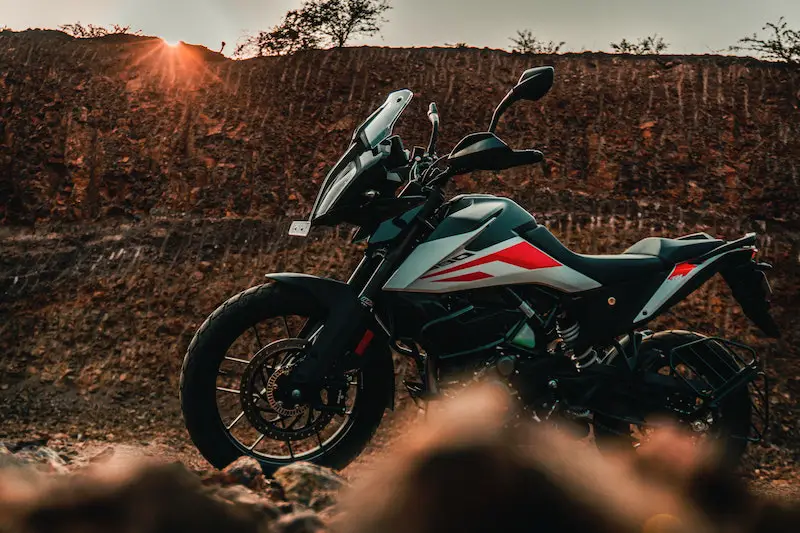 You've probably heard the saying, "It's more fun to ride a slow bike fast, than a fast bike slow". As someone who started out on a smaller motorcycle, I definitely agree with this.
Depending on where you're from, you might view 125cc motorcycles as "small bikes". They also might be considered a great daily rider, something that's lightweight, practical, and fuel efficient.
In this post, we're not here to argue the benefits or drawbacks of riding a smaller bike. Instead, we put together a list of the best 125cc motorcycles currently available on the market.
This way, you should have a better idea of the 125cc motorbike that would best suit your riding style, personal preferences, and motorcycle budget. If you have any recommendations or comments, don't hesitate to let us know in the comment section below. Otherwise, let's jump right into it!
The Best 125cc Motorcycles
Honda CB125R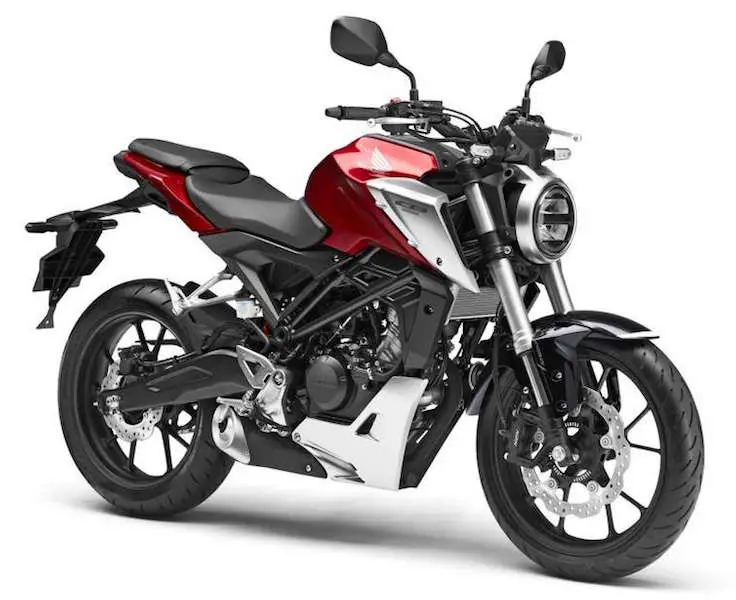 Features
$3000 (used) – $6000 (new)
124cc engine
126kg weight
Modern, cafe styling
The Honda CB125R is arguably one of the best 125cc motorbikes that you can buy right now. It's actually the upgraded version of the old CBR125R, boasting a new design and upgraded engine.
This bike is aimed primarily at beginners and is easy to ride in most road conditions. Despite being a 125cc bike, you'll have no problems keeping up with traffic in urban areas.
While you might not have the best experience on the highway, this sports cafe racer from Honda is zippy and stylish. With the fairings removed, the Honda CB125R takes on more of a stylish and aggressive look, making it a popular choice with younger riders.
Not only can you enjoy an eyecatching styling, this bike comes equipped with a peppy liquid-cooled motor, LCD dash, and these awesome inverted Showa forks. The Honda CB125R offers great value for the money while being reliable, fuel-efficient, and easy to maintain.
Honda Grom (Honda MSX125)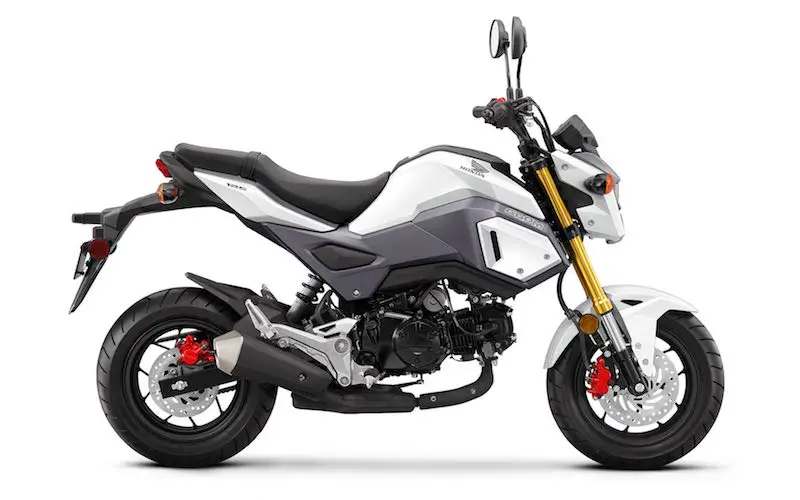 Another fun little bike from Honda is the Honda Grom. This is popular in Europe and North America with a huge following of passionate riders.
No matter where you're riding, people are bound to watch you zip by on this little bike. It's small enough that you could probably lift it up and move it around if you're trying to park in a tight space.
Despite its small size, the 125cc engine in the Honda Grom will have no problems keeping up with urban traffic. You probably won't want to take it on the highway though, so it's more of a city bike or urban commuter.
As for the specs, the Honda Grom comes with a 125cc air-cooled engine. The 4 speed manual transmission makes it a blast to ride, as you can rev it up to the redline in just about every gear.
There's no need to worry about the 5.5L fuel capacity, as the Grom uses an impressive 1.76L of fuel for every 100km. You'll be measuring your time spent on this bike in the amount of fun you had.
As a Honda, the Honda Grom is reliable and easy to maintain. It's fun to ride, there's an amazing subculture, and it's one of the best 125cc motorcycles you could ever buy.
Kawasaki Ninja 125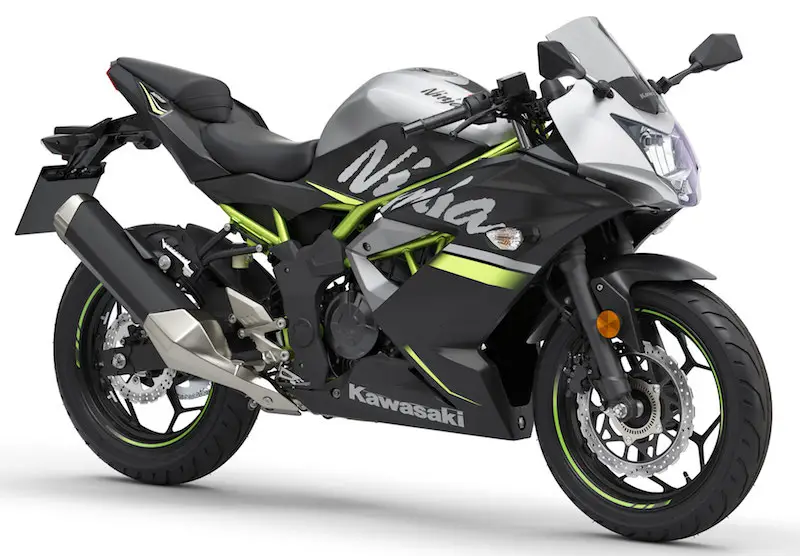 The Kawasaki Ninja 125 recently returned in 2019 with Kawasaki's entrance back into the 125cc motorcycle market. This reveals a growing interest in these smaller and more fuel efficient 125cc machines, especially in developing nations.
The Kawasaki Ninja 125 was released as a fully faired, sports bike with the same engine as the smaller Kawasaki Z125. Even for a smaller bike, it's eye-catching, fun to ride, and sporty around town in urban traffic.
Much of the engine, suspension, and chassis are based off the insanely popular Kawasaki Ninja 250. This results in a smaller, more fuel-efficient motorcycle that's incredibly reliable and easy to maintain.
As for the specs, the Kawasaki 125 comes with a liquid-cooled, 4-stroke engine. It has a 6-speed manual transmission, more than enough keeping up with traffic or short highway jaunts.
Along with the Honda CB125R, the Kawasaki Ninja 125 is another great choice if you're looking for a 125cc motorcycle. This is the perfect city bike for commuting, grabbing groceries, or just riding around town without having to worry about high fuel or maintenance costs.
KTM 125 Duke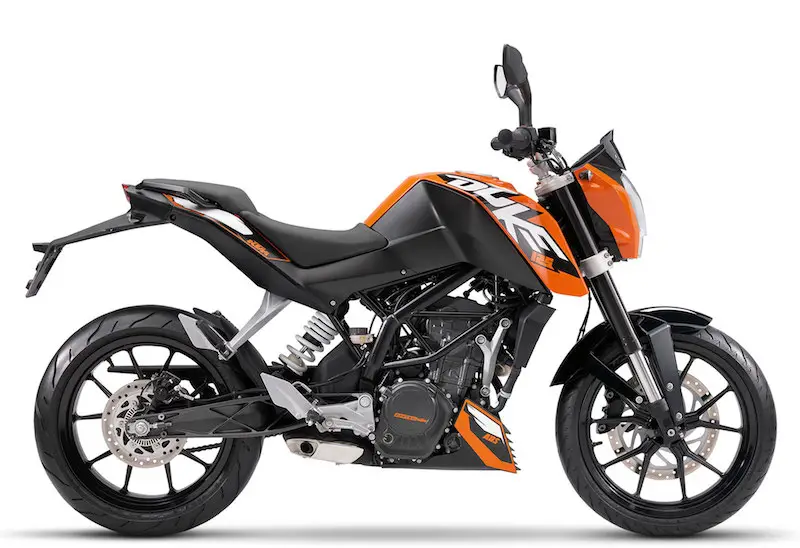 Moving away from our Japanese recommendations, the Austrian-made KTM 125 Duke is KTM's most popular entry-level motorbike. The best feature of the Duke is its naked, eye-catching styling with the bright orange branding and wheels.
As a rather popular motorcycle in Europe, the KTM 125 Duke is starting to become a favorite for riders in North America looking for something smaller. Not only does it offer great performance in urban settings, it can easily be used for quick highway rides and commutes.
The KTM 125 Duke has been classed as an "urban warrior" and comes equipped with a bright LED headlight as well as a modern TFT display. Underneath the fairing you're looking at a four stroke, single cylinder bike with fuel injection.
As for the other specs, the KTM 125 Duke comes with a 6-speed transmission and performance you can count on from KTM. It's fuel efficient, reliable, and a blast to ride through the city.
Suzuki GSX-R125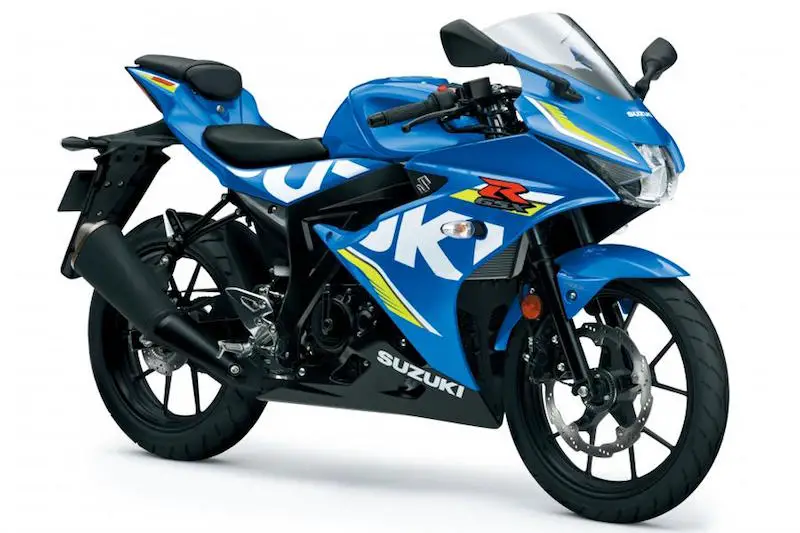 Getting back to the amazing, small displacement Japanese motorcycles, we're bringing you the Suzuki GSX-R125. This is yet another great choice if you're looking for the best 125cc sport bike.
As you'd expect from the GSX-R line, the Suzuki GSX-R125 boasts a sporty riding position. it even comes with the full fairing design, looking very similar to its bigger brother.
With the sporty and aggressive styling of the Suzuki GSX-R125, you're bound to catch the eyes of the people you're cruising by. Throw on an aftermarket muffler, install a fender eliminator, and most people won't even be able to tell the difference.
The most recent models of the Suzuki GSX-R125 come with some great features. It has an excellent power to weight ratio, nimble handing, it's affordable to maintain, and some models come with a remote keyless ignition.
As an entry level bike, it's hard to go wrong with Suzuki GSX-R125. It's one of the best motorbikes in the 125cc range and bound to put a smile on your face once you start riding.
Yamaha MT-125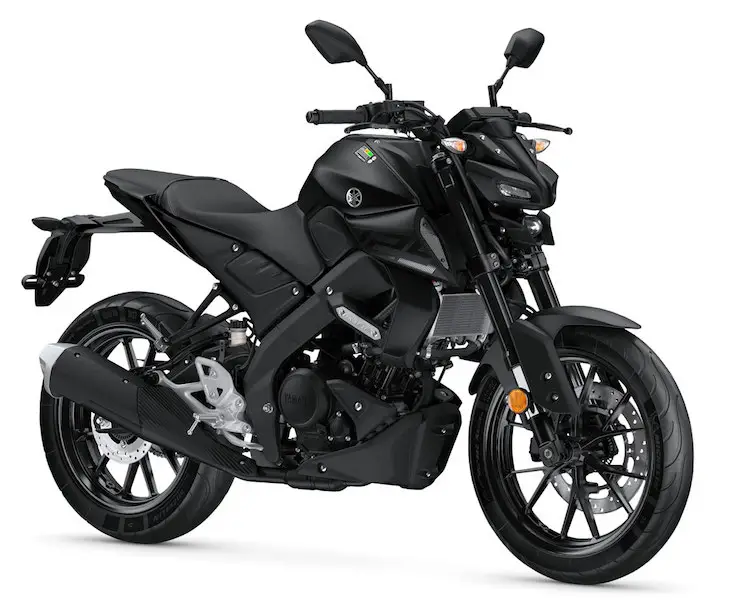 Similar to the Suzuki GSX-R125, the Yamaha MT-125 is another baby brother of some bigger bikes. This one takes after the styling and design of the Yamaha MT-07 and MT-09, two powerhorse machines you might be familiar with.
If you're looking for something a simple, easier to ride, and more fuel efficient, look no further than the Yamaha MT-125. Of all our recommendations, this is probably the best bet if you're looking for a 125cc motorcycle capable of highway speeds.
With a top speed of 80mph, you shouldn't have too much trouble keeping up with highway traffic for short to medium length rides. The liquid cooled, 4-stroke engine underneath you will keep on purring even as you approach the red line.
What we love about the Yamaha MT-125 is the radical and eye-catching naked bike styling. This is a photogenic streetfighter that's comfortable to ride thanks to the upright riding position.
At the front of the bike you'll find upside down front forks along with a high-tech LCD instrument panel. Every Yamaha MT-125 comes equipped with standard ABS and a short tail end with an LED tail light.
Aprilia Tuono 125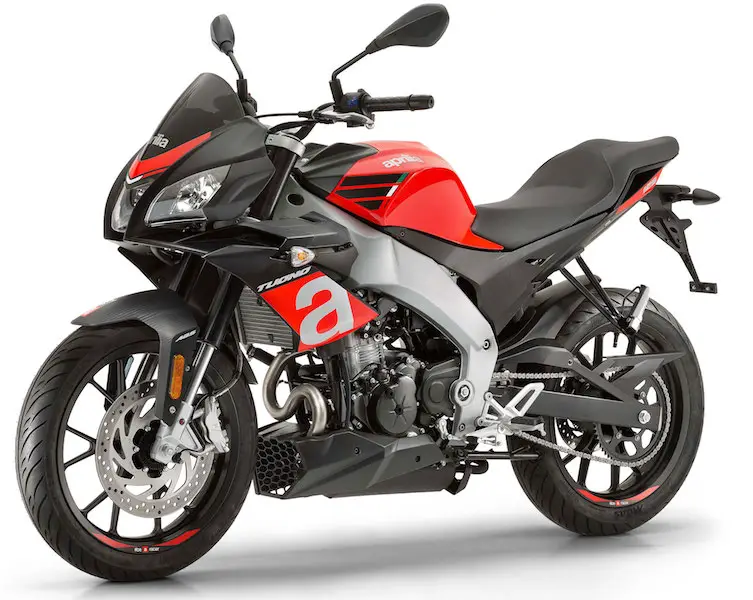 Aprilia's foray into the 125cc motorbike market has resulted in the beautiful and unique Aprilia Tuono 125. If it looks familiar, that's probably because it's styled after the famous Tuono V4 1100, a bike that many of you Aprilia enthusiasts might be familiar with.
If you're on a budget, you might want to skip over the Aprilia Tuono 125. These bikes aren't known for their low costs or affordability.
On the other hand, if you're looking for something eye-catching and fun to bomb around the streets on, the Aprilia Tuono 125 is a great choice. This is an aggressive and sporty machine with a dynamic character that's lightweight and easy for riding through traffic.
Underneath the sportbike styled fairings is a 4-stroke, liquid-cooled engine. The bike is even ready for quick-shift installation, which would definitely help improve your shifting speed off the line.
Despite being an entry-level sportbike, the Aprilia Tuono 125 boasts a comfortable, semi upright riding position. Everything on the handlebars is easily accessible and the foot pegs have been designed to keep your legs in a comfortable angle.
The Aprilia Tuono 125 is a perfect 125cc motorcycle if you're looking for something aggressive and sporty, yet still comfortable to ride. However, it's not for the budget-minded riders, as it commands a higher purchasing price and it's more costly for maintenance.
Honda Monkey (Z125)
The Honda Monkey, otherwise known as the Honda Z125, is similar to the Grom with how fun it is to ride. This small motorcycle is a remake of the original Honda Monkey, which was a hit back in the 70s and 80s.
Just released in 2019, the Honda Monkey is a great choice if you're looking for something fun to ride around town. It can be easily used for local community, picking up groceries, or just zipping around having a blast.
Even for a smaller bike, it's definitely not lacking in practical features. The Monkey comes with twin rear shocks, ABS disc brakes, and USD forks – all in a small package that's nimble and easy to handle.
The main drawback to this bike is the top speed of 60MPH. This means that in many places, it's not highway capable, although you should be okay taking it from one exit to the next.
Other specs worth mentioning includes the four speed gearbox and 4-stroke, air-cooled engine. Despite the small tank size of 5.6L, the Monkey gets an incredible fuel economy of 189MPG.
The Honda Monkey is a great urban motorcycle that can provide endless fun. It's also not a bad choice for shorter, local commutes. As a 125cc motorcycle, the Honda Z125 is a blast to ride and bound to put a smile on your face.
Lexmoto Tempest 125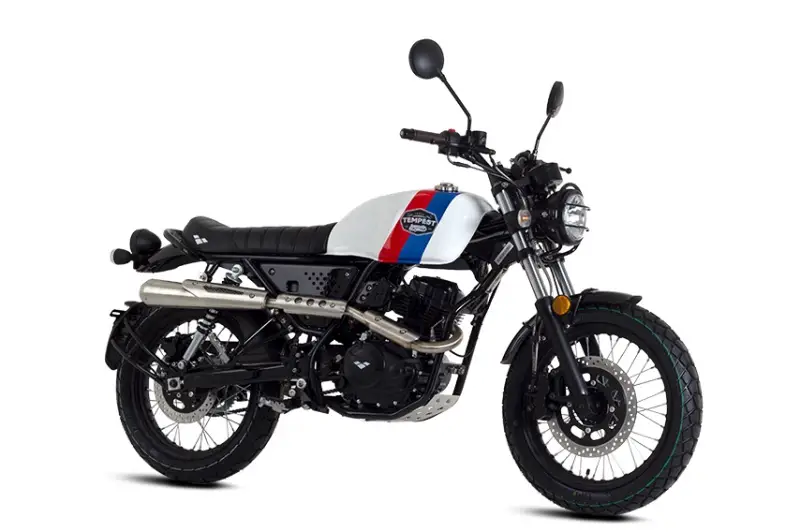 If you're looking for a 125cc scrambler, look no further than the Lexmoto Tempest 125. This Europe-only motorbike offers up a great combination of style and affordability.
For $2,200 brand new, it's hard to go wrong with the Lexmoto Tempest 125. This bike is one of the best looking 125cc motorcycles and you don't need to take out a loan to start riding.
As a scrambler, of course the Lexmoto Tempest 125 comes with a high routed system, elevated ground clearance, knobby tires, and twin rear shocks. This gives you the fun of riding a Scrambler while giving the bike its unique identity on the road.
Some of the more modern features include the digital display and built-in USB charger. Also worth mentioning is the stainless steel exhaust and combined breaking, which distributes the braking between both wheels.
The engine is a 4-stroke, air-cooled single cylinder. It comes with a five-speed gearbox and electric start, so no need to worry about a carburetor.
Riders looking for the modern throwback design of a scrambler will definitely want to check out the Lexmoto Tempest 125. For the price, it's hard to go wrong with this impressive a little 125cc motorbike.
What's the Best 125cc Motorbike For You?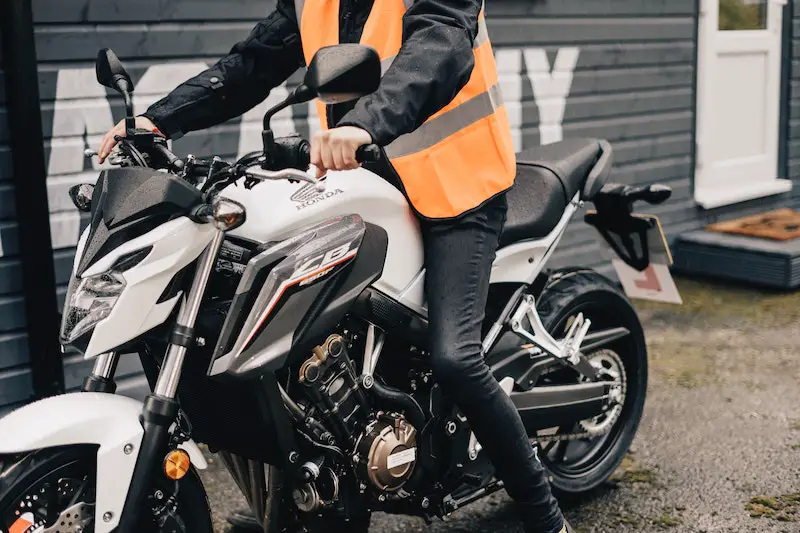 In this post we covered some entry-level 125cc motorcycles as well as some higher-end options. Whether you're looking for a scrambler, sports bike, or cafe style, you'll definitely be able to find something in the 125cc range.
Ultimately, it's up to you to choose the best 125cc motorbike. You need to think about your riding style, whether or not you need fairings, if you're going on the highway, the seat height, and bar positioning.
It's also important to consider if you need a 125cc motorcycle capable of highway speeds. Alternatively, maybe you're looking for something ideal for a short commute or picking up groceries nearby.
Whatever you decide, make sure to do the research. Check out YouTube videos, browse reviews, and head to your local motorcycle dealership if there's one nearby.
What About a 125cc Scooter?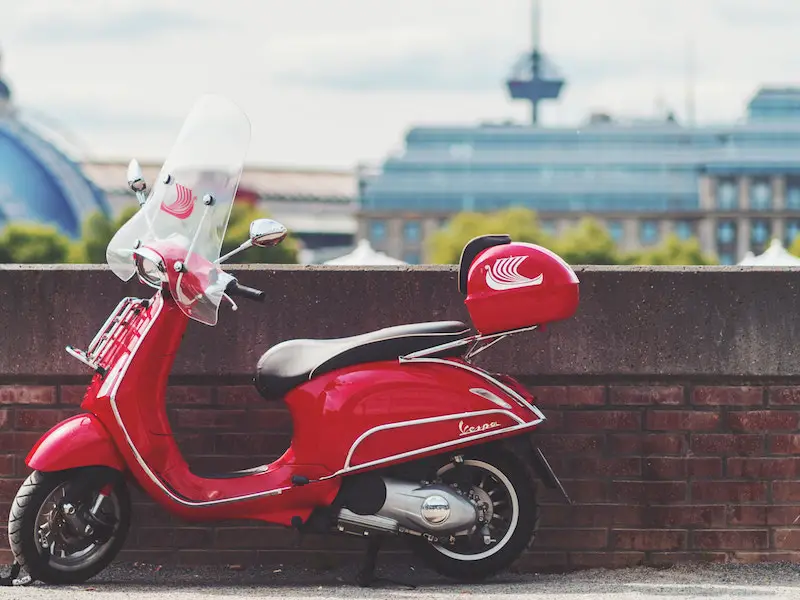 Have you considered riding a 125cc scooter instead? With a scooter there's no need to worry about a clutch or shifting gears. This can definitely make scooters safer than motorcycles on the road,
Instead, you can focus on the road and enjoying the scenery. Depending on the scooter, they're also easier and more affordable to maintain.
For some riders, a 125cc scooter makes more sense. They also come with more storage and can be a more practical choice for urban riding or commuting.
Check out our post on the best 125cc scooters to see if there's something that catches your eye. Who knows – you might find it more fun and enjoyable to ride a scooter instead of a motorbike!
125cc Motorcycle FAQs
How Fast Are 125cc Motorbikes?
Most 125cc motorcycles will be able to reach speeds of up to 60mph. Depending on the bike, some can reach up to 70mph.
Can You Take a 125cc Motorbike on the Highway or Motorway?
Depending on where you live, it's definitely possible to take a 125cc bike on the motorway or highway. Some places have speed limits between 55 and 65mph.
As long as your bike can keep up with the slower moving traffic, there shouldn't be any issues. If you're concerned about keeping up with traffic, consider taking the highway for one or two exits on a shorter ride.
Don't forget that you'll need your full motorcycle license to take a 125cc bike on the motorway or highway. It's a good idea to plan your passes or overakes beforehand as well.
How Many MPG Does a 125cc Motorbike Get?
Smaller motorcycles are some of the most fuel efficient. Many 125cc bikes will be able to get over 60mpg of fuel economy.
Some of the bikes in our list will be able to get over 100mpg. if you're looking for a fuel efficient 125cc motorcycle, check these specifications for an accurate fuel usage rating.
Are 125cc Bikes Good?
Of course they are! Every motorcycle is good, depending on what you need it for.
What's great about these smaller bikes is that they're cheaper to buy and easier to maintain. Insurance is also more affordable.