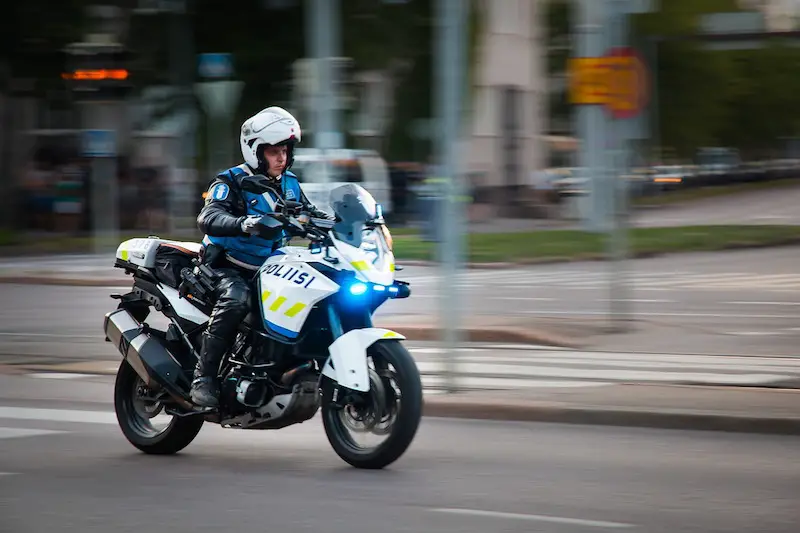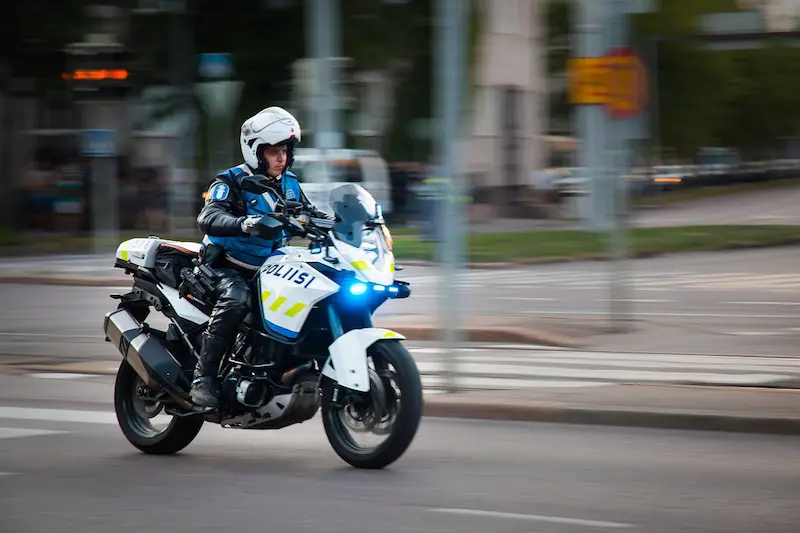 Considering how easy they are to steal, it's not surprising how many motorbikes get stolen every year. Thieves could sell the entire bike or they might chop it up and sell all your parts individually.
What happens once your bike is stolen is out of your control. Thankfully, with modern security devices, you can make your bike as hard as possible for anyone to steal.
Most thieves are looking for crimes of opportunity. They're typically not interested in taking 5 minutes to saw through your locks and other security devices.
While you can't prevent motorcycle theft completely, investing in a motorcycle lock is the first step towards securing your bike. You should also use a motorcycle helmet lock if you're planning on leaving your helmet behind.
In this post, let's take a look at the best motorcycle locks and you can use to keep your bike secure when it's out of your sight.
The Best Motorcycle Locks
Kryptonite Keeper 5s Yellow Disc Lock (Best Motorcycle Disc Lock)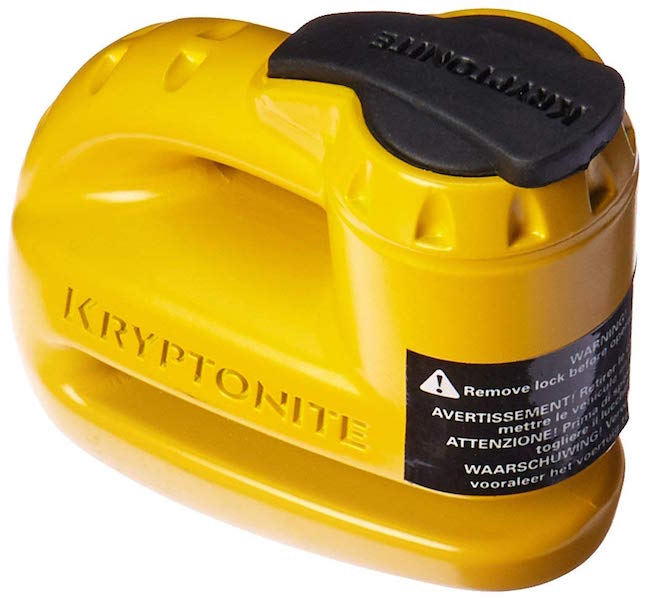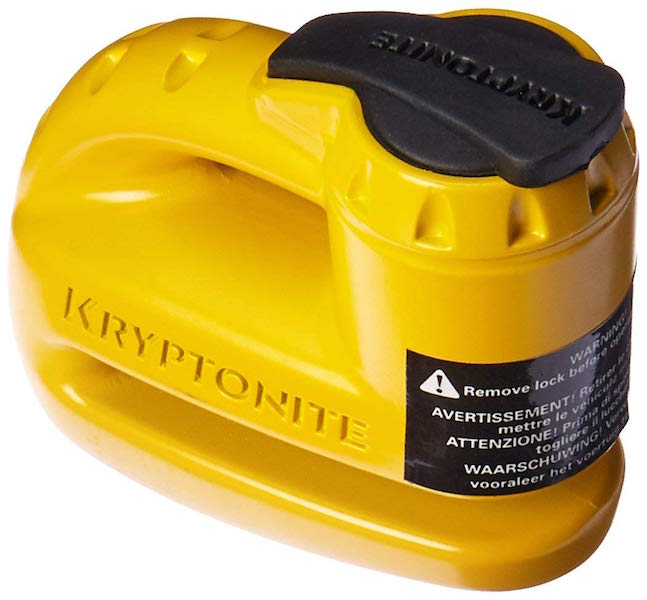 Features
Heavy duty, weatherproof design

Dual-reinforced disc style style locking cylinder

Highly visible yellow design

Portable and compact for easy use
It's the Kryptonite Keeper 5s Yellow Disc Lock that we recommend as the best motorcycle disc lock for most people. This bright yellow lock boasts a durable, weatherproof design that helps to secure your bike in public places.
What we love most about this security device is its portable size. The lock can easily be slipped into your tank bag or stashed underneath the seat until you need it.
The Kryptonite Keeper 5s is designed to lock your bike in place by preventing the wheel from turning. It will clamp onto your disc brake essentially immobilizing your bike and preventing it from being driven.
The bright yellow color is a great deterrent and shows potential thieves that your bike is secure. It's also a reminder that your bike is locked. This way you won't accidentally drive away (a reminder cable is included to help prevent this as well).
This is a great lock for smaller bikes. It's perfect to use for added security at home or when you're out on the road. Consider the Kryptonite Keeper 5s Disc Lock if you're looking for an affordable and effective motorcycle disc lock as a means of securing your bike.
Kryptonite New York Fahgettaboudit Chain and Disc Lock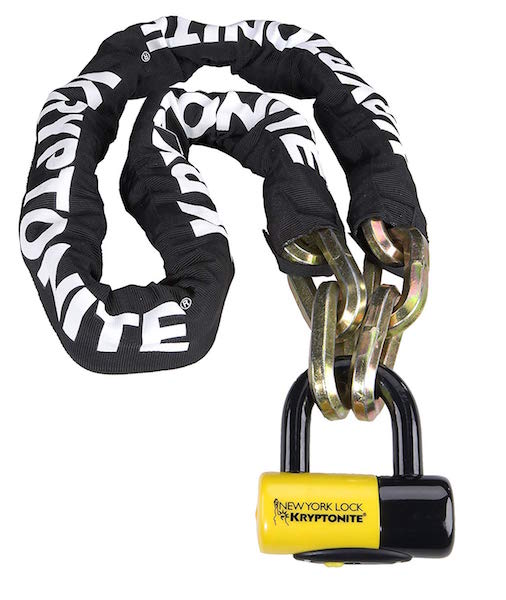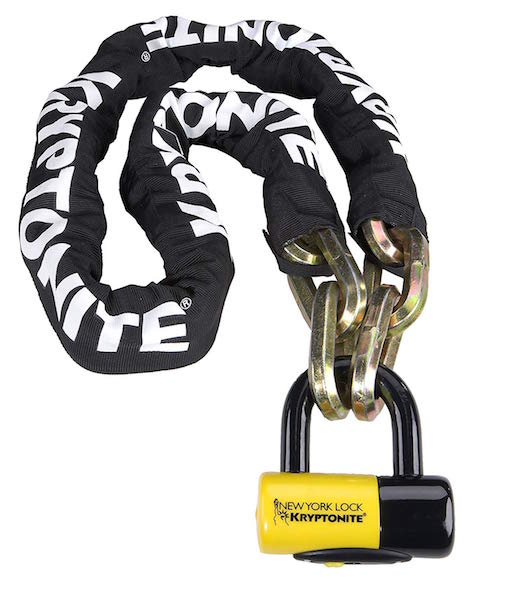 Features
Made from a durable, hardened Manganese steel

Robust, ideal theft deterrent

Adaptable design for ultimate flexibility

Great for most bikes

Resistant to rust and corrosion
It's risky leaving your bikes outdoors, especially overnight. The Kryptonite New York Fahgettaboudit Chain and Disc Lock is a practical solution for your motorcycle security. This locking setup features a heavy-duty, durable chain as well as a dedicated disc lock.
Kryptonite is well known for their quality products and this is a lock and chain setup that we stand behind. The chain can be wrapped through your wheels or around the frame depending on your bike.
The Fahgettaboudit Chain and Disc Lock set is made from hardened steel with the chain having six-sided links for additional security. It's resistant to hammer blows, bolt cutters, and offers better resistance against sawing or prying.
A lock of this size also helps to act as a deterrent against would-be thieves. Yes, it's bulky, but it's easier than having to deal with a stolen bike.
The main drawback of this set up is its weight. It's a better choice for bigger bikes or for those of you looking for an outdoor parking security setup.
Personally, we recommend the Kryptonite New York Fahgettaboudit Chain and Disc Lock as one of the best locks for motorcycles. This is a great choice if you're looking for added securement over a simple disc brake lock.
The Club UTL810 Utility Lock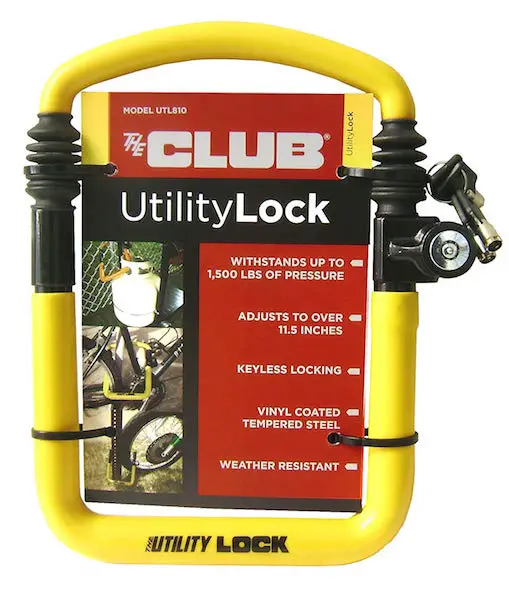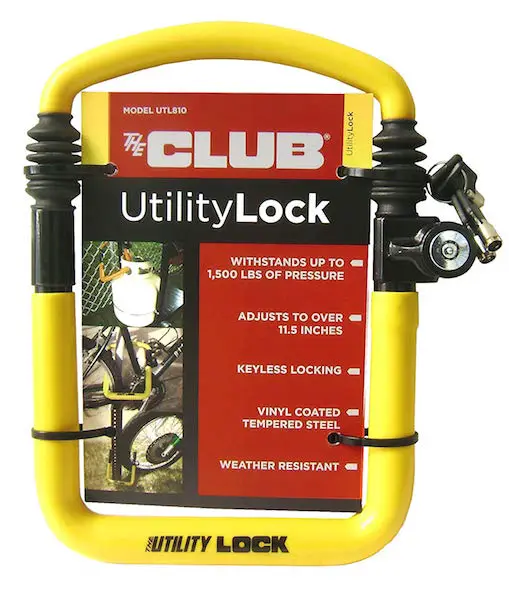 The general, all-purpose design of the Club Utility Lock makes it a suitable choice for riders to quickly secure their bikes at home or on the road. This locking design can work better than chains and disc-locks for most purposes. Its solid, single-unit design makes it easier to carry and harder to break through.
With a compact design, the Club Utility Lock can be stashed in your tang bag or under the seat for easy access. Locking it through your wheels to a solid object, or just locking it on the wheels, is an ideal theft deterrent.
For home securement, consider pairing this lock with a dedicated motorcycle cover. When you're on the road the bright, yellow design will let would-be thieves know that your bike is secure.
Other features we love include the weatherproof + rust-resistant design and it's ease-of-use. Simply open the lock, arrange it on your bike, set the lock and you're good to go.
As for protection, the lock is designed using a heavy-duty tempered steel. It can withstand up to 1,500 pounds of pressure making it difficult to bust through with bolt cutters.
Finally, the adjustable design means this lock can be used on a wide range of bikes regardless of the tire or wheel size. Overall, we fully recommend the Club UTL810 Utility Lock for those of you looking for something lightweight, durable, and affordable.
MYSBIKER Motorcycle Alarm Disc Lock
The MYSBIKER Motorcycle Alarm Disc Lock is an audible alarm lock paired with a standard disc lock. That's what makes this such an interesting choice for us here at Rips and Rides.
Audible motorcycle locks like this one are perfect for busy city settings. You could even use it for outdoor parking at home.
For times when you'll be a distance from your bike, out of sight and earshot, we recommend one of the other lock types. Otherwise, for city security we're huge fans of the MYSBIKER Motorcycle Alarm Disc Lock.
To start, the MYSBIKER lock is equipped with an audible alarm that shrills at 110 decibels. This will alert people in the area, bringing attention to your bike, and deter any potential thieves.
Powering the lock are 6 small watch batteries. There are an additional 6 batteries included in the kit. This way there's no excuse to not keep your bike locked with the alarm equipped.
Three keys and a reminder cable are also included. These can be stored in the carrying case with the allen key and reminder cable.
For added security benefit the lock boasts a sensitive design. There aren't any accessible ports or screws from the outside. The 6mm lock pin helps to keep the lock in place against prying or hammering.
Overall, we recommend the MYSBIKER Motorcycle Alarm Disc Lock if you're looking for the best motorcycle disc lock with an audible alarm.
Grip-Lock Motorcycle Lock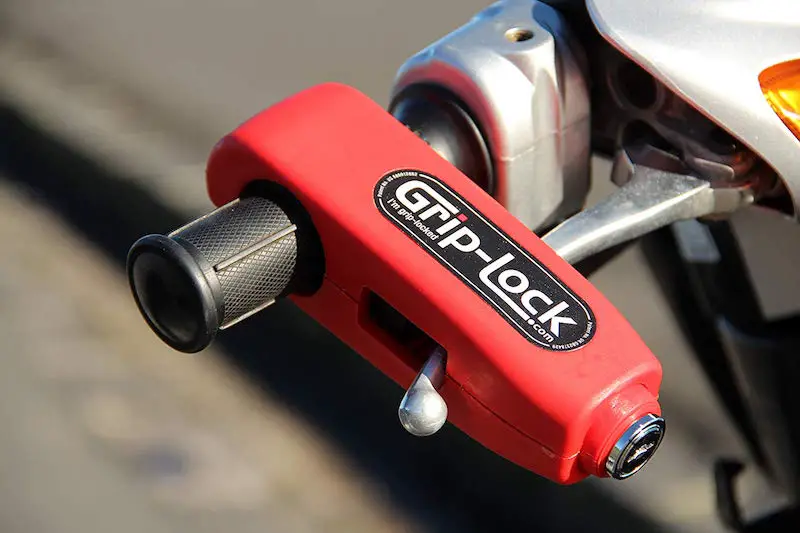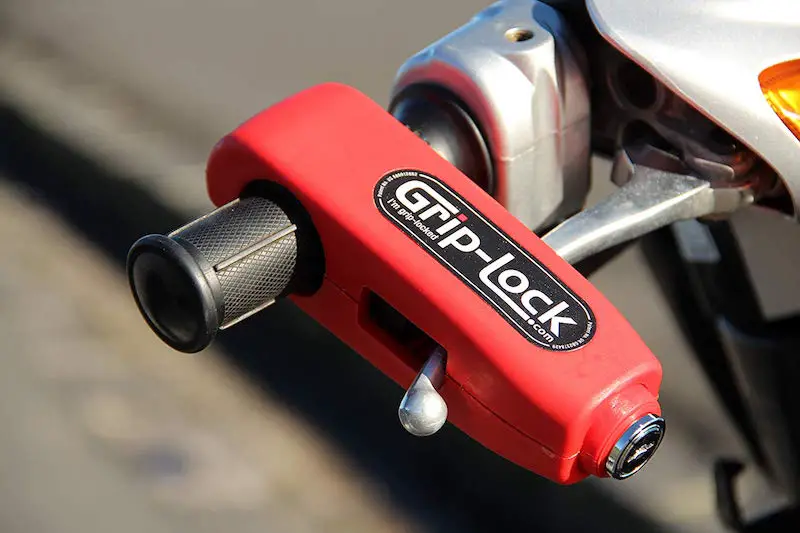 The Grip Lock Motorcycle Lock is a different style than the rest of the locks we've recommended in this post. It's designed to lock your handlebar to the brake or clutch therefore disabling your bike.
Instead of locking to the tires or wheels, this unique lock design prevents your bike from being operated properly. The lightweight, design of the Grip-Lock makes it suitable to use locally and when you're out on a ride.
While a skilled thief might be able to load your bike into a truck, they're going to run into problems once they start trying to use it. Locks like these act as useful deterrents against theft.
The Grip-Lock is designed to be tamper-resistant. It's made from a hardened steel that protects against crowbars and hammers. The steel design also ensures that this is a weatherproof lock so you won't have to worry about leaving it out in the rain.
Our favorite feature of the Grip-Lock is its small, lightweight design. It's compact enough that it can be easily stored under your seat, in your backpack, or even in the pocket of your motorcycle jacket for quick access.
Given the reasonable price and how easy this motorcycle lock is to use for securing your bike, we wholeheartedly recommend the Grip-Lock Motorcycle Lock. This is a great choice if you're looking for an alternative to a simple disc locking device.
Tips for Choosing the Best Motorcycle Lock For Your Bike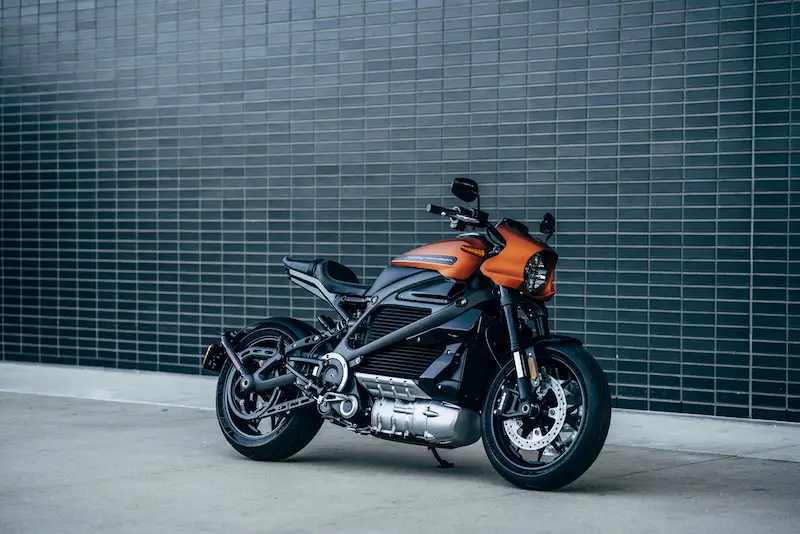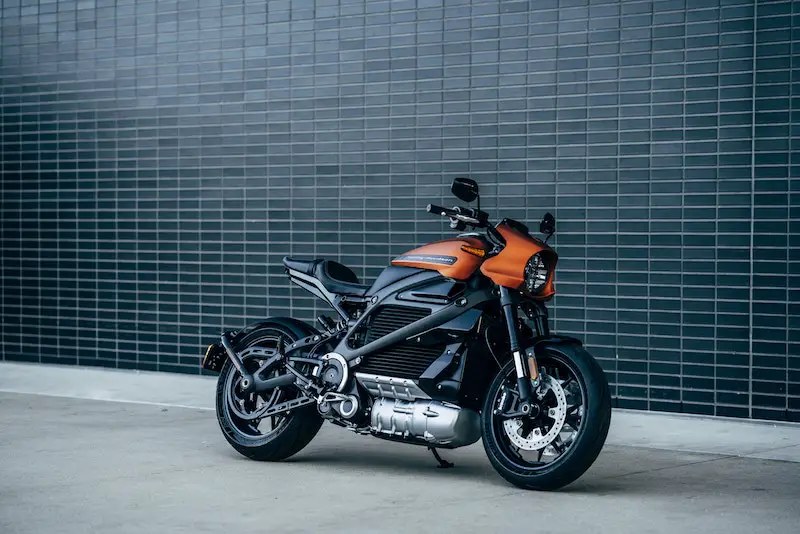 Living in the downtown area having my bike get stolen is something I'm always worried about. I'm also worried about leaving it unattended in public places – something I'm sure most of you agree with.
Whether you're riding an inexpensive, used bike or a high-priced touring motorcycle, motorbike security always needs to be considered.
Having your bike stolen will stress you out and jack up your insurance rates. Considering how affordable motorcycle locks are there's no reason not to keep your bike secured.
Here are some helpful tips on choosing the right lock for your bike and some other factors to think about:
How Effective Are Motorcycle Locks?
If a thief wants to steal your bike, they're going to do it, regardless of whether or not you're using locks or even a motorcycle ground anchor. However, properly securing your bike will deter most thieves and encourage them to look for a bike that's easier to steal.
Think about for a moment how easy it is for someone to steal a motorcycle. One person can remove your locks and ride away. Two people are able to lift your bike off the ground into a pickup truck.
The required tools for stealing bikes and breaking locks are readily available and affordable. It's not surprising that this is a common for a lot of riders.
What you can do with the right locking systems and security setup is to make your bike very difficult to steal. This would mean securing the bike to the ground, chaining the tires, and using a motorcycle grip lock.
Even with this setup it's still possible for your bike to get stolen. Thankfully, the more effort put into securing your motorcycle the less likely it is to be taken from you.
With that in mind let's go over some of the most popular lock types and how they're effective.
Motorcycle Wheel Locks (Disc Locks)
This is one of the most popular types of motorcycle locking mechanisms.
Disc locks are small, portable, unobtrusive, and easy to set up. While they're also easy to break through with the right tools few riders even go this far.
Using one or two disc locks on your motorcycle is enough of a deterrent in most places.
The drawback to this type of setup is that your motorcycle needs to be equipped with disc brakes that have milled rotors. Otherwise the lock will have nothing to attach to.
The majority of modern bikes use milled rotors. You would only run into an issue with older bikes.
Check the lock diameter and reference the holes in your disc rotor before buying any locks. This will ensure the width and depth of the rotor holes is suitable for the devices you're interested in.
Motorcycle Chain Locks
Motorcycle security chains are meant to be wound through the wheels or frame of your bike. This type of locking setup offers some benefits over the disc lock for security.
With chain locks it's possible to secure your motorcycle to a fixed object. This makes it harder for thieves to remove the lock or lift your bike into a truck.
The security chains are typically made from heavy duty temp and are covered with fabric or rubber to protect your bike. The locks are also heavy duty and tamper-proof.
The biggest complaint with chain locks is their size. Chains are heavy and not a portable solution for motorcycle security.
Instead, this chain setup is better suited for at-home or local use where it's not a problem to bring the chain with you.
For the best security setup consider combining a disc lock with a chain lock to make your bike that much difficult to steal.
Motorcycle Locks with Audible Alarms
There are some models of disc locks about come with built in audible alarms. The alarm goes off when the lock is removed without the key.
Locks like these can be bypassed, though it's difficult to quickly disable the alarm without anyone noticing.
Many of these audible motorcycle alarm locks will shrill at sound levels of 110 decibels or higher. This is plenty for urban settings with people around.
Audible alarms are also great for short hikes or off-road exploring where you're still be in earshot of the alarm system.
Reminder Cables
Forgetting to remove any locking devices can seriously damage your bike. Disc locks can tear through your brakes while the chain could rip out part of your frame or engine.
Reminder cables are essential to preventing this mistake from happening. These cables are made from a lightweight steel that's designed to attach your lock to the handlebars.
With the visible cable you won't forget to properly unlock your bike before taking off on a rip. Never neglect using these cables.
Motorcycle Grip Locks
Grip locks are designed to lock your handlebars to your clutch or brake lever. This setup and mobilizes the bike without the lock being removed.
These are also known as brake locks, hand, clutch locks, throttle locks depending on where you're looking.
Grip locks are great because they're portable, easy to use, and work on most motorcycles. There's no excuse not to stash one under the seat or in your motorcycle tank bag for easy access.
We recommend using these locks in urban settings with people around. As always, pair a grip lock with another locking setup for the best possible security.
Final Thoughts
There are plenty of options for motorbike locks depending on your preferences and location.
Here at Rips and Rides we recommend the brake lock/disc lock as the best option for most people. This setup is easy to use, portable, and suitable for most city settings.
For times when you're hiking or spending a significant amount of time away from your bike, we recommend pairing the disc lock with a dedicated chain lock setup. This combination is a great deterrent against theft, especially with other less-secure bikes around.
Before buying anything measure your motorcycle to ensure any security setup will fit on your bike. Don't hesitate to contact us or leave a comment if you have any questions or concerns.
Why You Should Use a Motorcycle Lock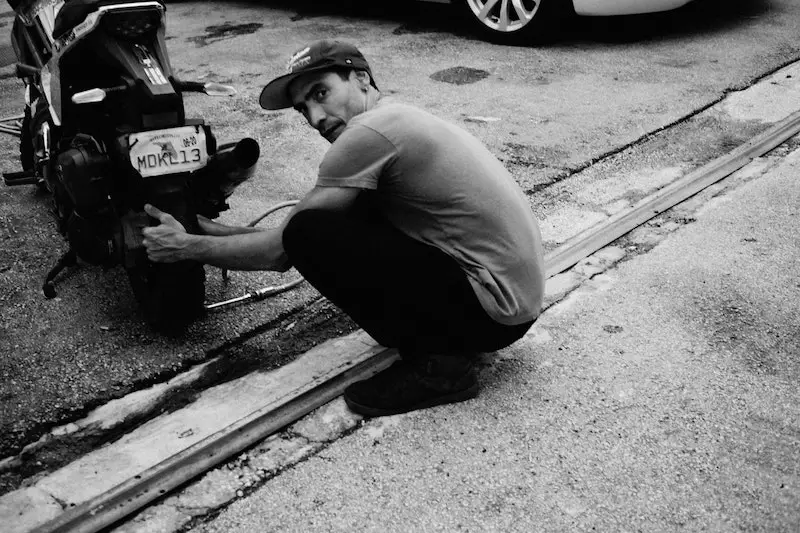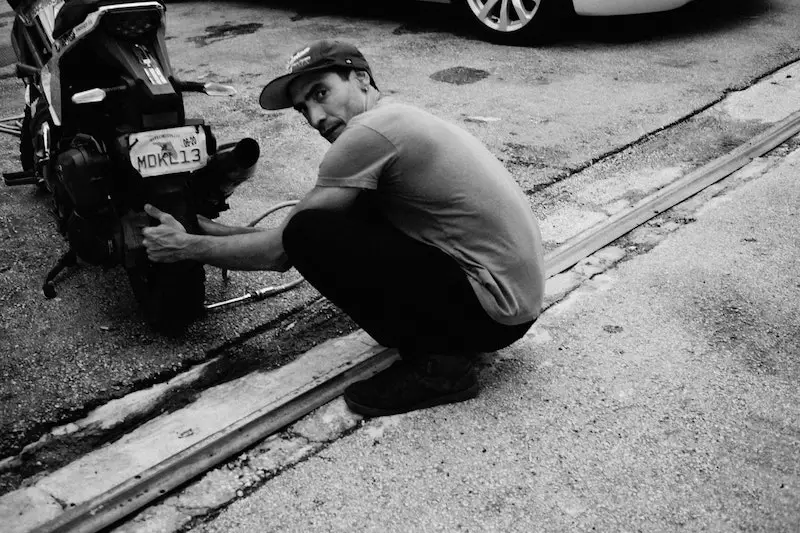 The best motorcycle locks offer a number of benefits that you could take advantage of as a rider. Let's take a look at these benefits to see why you should use a lock on your motorbike.
Theft Prevention
The main reason for using locks for motorcycles is to reduce the possibility that your bike will get stolen. A motorcycle that has a visible lock on the wheel or handlebars is less likely to be targeted by a thief.
Instead, they'll look for a bike without a lock. Considering most people don't use them, this can greatly improve the theft prevention quality of your bike.
Peace of Mind
Another reason for using a lock on your motorbike is for peace of mind. Knowing your bike is secured when it's not in a garage or safe parking can allow you to go about your day without any additional anxiety.
Whether you're inside getting groceries or spending the day at work, knowing your bike is secure means you'll worry less about it getting stolen. For some people, this alone is worth the cost of investing in a motorcycle lock.
Lower Insurance Premiums
Depending on the insurance company, you may get a break on the insurance policy by installing a motorcycle security device. Double check with your insurance company to see if they offer any discounts for this.
Generally, this applies to motorcycles that are more prone to theft. This would be higher end sport bikes and premium cruisers that tend to be stolen more often.
You Live in a Busy Area
There are certain places where motorcycle theft occurs on a higher basis than others. For example, cities like New York, LA, and Toronto are more susceptible to motorbike theft.
Those of you living in these cities will definitely want to consider using a locking device for your motorcycle. It's also worth considering storing your bike indoors, or using a motorcycle shed, if at all possible.
Motorcycle Lock Pricing
$20 – $100. Most of the strongest motorcycle locks fall into this price range. If you're looking for one to secure your bike, you can expect to spend anywhere between $20 and $100.
While there are models that cost more, there are diminishing returns when it comes to value from a lock. Depending on where you live, it's also a good idea to use two or three different types of motorcycle locks for the maximum theft protection.
Key Features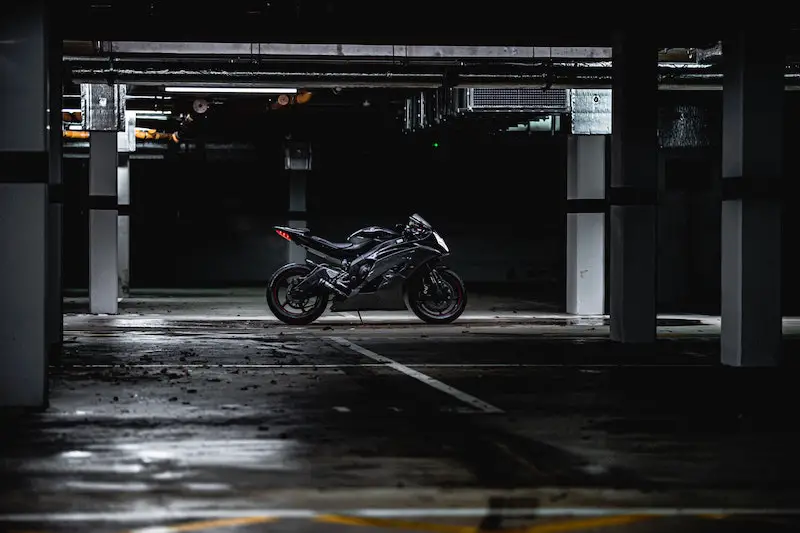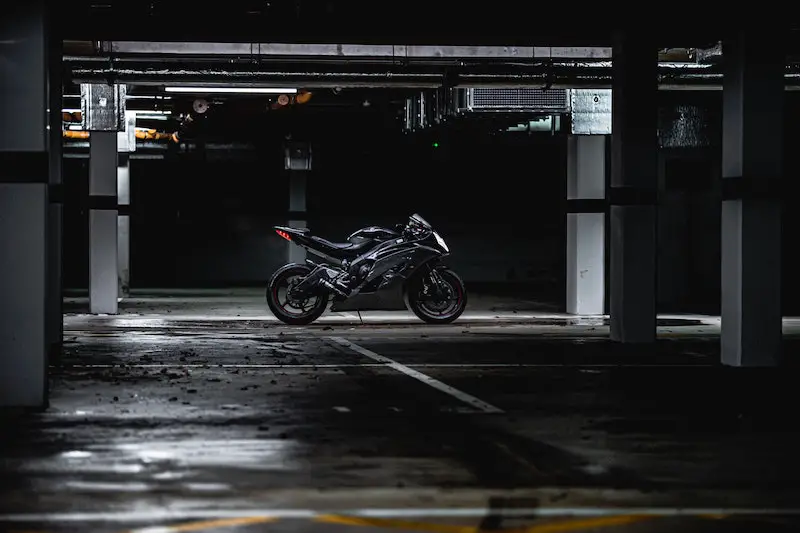 Material
When you're looking for a heavy duty motorcycle lock, look for those made out of durable materials. These materials would include steel or aluminum alloy.
Any of the products are interested in should be long-lasting and both rust and corrosion resistant. You also don't want the metal scratching or damaging your bike, so look for any exposed parts that are coated or not coming into contact with your motorcycle.
Reminder Cable
It's important that there is a reminder cable when you are browsing the best motorcycle wheel lock options. This is a cable that goes over your handlebars and connects to the lock.
It's designed to remind you that your bike is locked. This way, you don't forget to remove the lock before starting the bike and riding away. Forgetting to remove it can seriously damage some important components on your bike.
Portability
When you're out riding, you don't want a heavy or bulky lock. Instead, keep an eye out for the top rated motorcycle locks that are small, portable, and easy to carry.
It should be small enough that it will fit in your motorcycle backpack or motorcycle tank bag. Alternatively, you can even stash it in your motorcycle saddlebags when you're not using it.
The drawback of a bulky, heavy lock is that you'll be less likely to use it if it's not easy to ride with. This compromises the safety of your motorcycle and makes it easier to steal, especially if you forget to lock it up.
Ease of Use
Generally, most of the motorcycle lock system products are easy to use. Look for brands that are simple to install and just as easy to remove.
Any locks that are complicated or a struggle to use, won't be used as often. This is another way to compromise the safety of your bike.
Alarm
We have written a post about the best motorcycle alarms. However, it's also a nice feature to have when you're browsing locks.
Motorcycle locks with alarms make a noise that's loud enough to deter someone from stealing your bike if they're tampering with the lock. Some of them even have built-in alarms that will alert you if the alarm starts getting tampered with.
With an audible alarm, this is only practical if your motorcycle is parked nearby and you can hear the alarm when it's activated. Alternatively, some models have an app that will send an alert to your phone if something happens.
FAQ
How Does a Motorcycle Steering Lock Work?
The motorcycle steering lock is built into your motorcycle handlebars and fork stem. It's set by turning the bars to the right and then pushing the key to engage the lock.
We don't recommend using the motorcycle steering lock as it's easy to break if someone is interested in stealing your bike. Once it's broken, it can be an expensive fix. Riders are better off using a dedicated motorcycle lock or motorcycle security device.
What Type of Lock Fits Your Motorcycle?
The locks are available in a wide range of different styles and models. They're meant to be used on a wide range of different bikes and tend to be universal in design.
Double check the product description or manufacturer details for more information on proper fit. Alternatively, read the reviews to see what other riders have to say about the specific lock you're interested in.
How Can You Lock Your Motorcycle Saddlebags?
Most motorcycle saddlebags come with zippers that can be locked together. Otherwise, it's a good idea to use a lockable cable for securing the saddlebags to your bike.