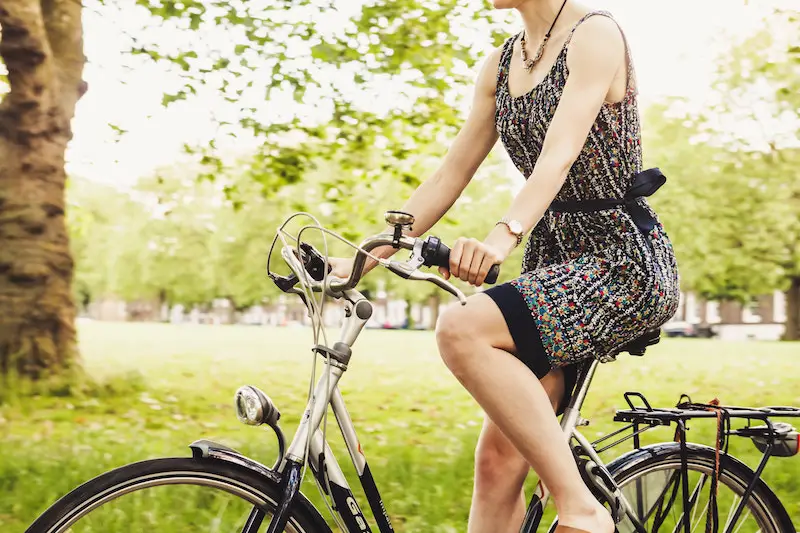 It can be tricky, annoying, and even painful trying to transport your bike using your car. Some people might find it impossible attempting to fit the bike in the back seat or jamming into the trunk.
Another issue is having to remove the wheel or other components trying to get things to fit. This makes it even more of a hassle using your car to bring your bicycle somewhere.
The solution is to use a bike rack. These make it easy to transport your bikes and explore new locations on two wheels.
With so many different options to choose from, it can be difficult to find the best bike racks for cars, trucks, or SUV's. We put together this post to share our top recommendations and to save you time during the research process.
In this guide, you'll find some of the best bike racks as well as a helpful buying guide on choosing the rack that's right for you. After our recommendations, keep scrolling towards the bottom to find are buying guide and FAQ if you're still unsure about anything.
With that in mind, let's jump right into it!
The Best Bike Racks For Cars
Allen Sports Deluxe 2-Bike Trunk Mount Rack (Best Bike Rack for 2 Bikes)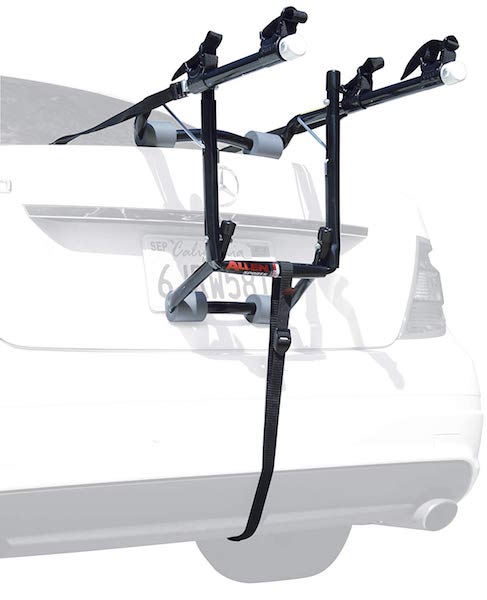 Easy to install
Suitable for 1 or 2 bikes
Doesn't require a trailer hitch
Amazing reviews online
The Allen Sports Deluxe 2-Bike Trunk Mount Rack is our top recommendation if you're looking for a bicycle rack designed to carry two bicycles. This is a great choice for drivers with sedans, hatchbacks, vans, and SUVs.
Not everyone has a large family and needs to travel with 4 bicycles at a time. This is a smaller rack that's ideal for those of you with 1 or 2 bicycles that you want to take somewhere new.
One of the main benefits to this rack is that it is designed to mount on to the trunk of your vehicle. There's no need for a trailer hitch or any special configuration to use this rack.
The carrying arms are 12-inches in length and can accommodate a wide range of different bicycles. At 11.5 inches wide, the carrying arms offer plenty of stability and compatibility for most bicycle types.
Installation is simple and shouldn't take more than 5-minutes for most people. This is an easy trunk setup that uses a series of straps so there's no need to fiddle around with a trailer hitch.
Once installed, the bicycles need to be lifted and strapped on to the rack. As long as they're properly strapped in place, the bicycles will remain relatively steady and are prevented from falling off the rack.
Overall, the Allen Sports Deluxe 2-Bike Trunk Mount Rack is our top recommendation for drivers that need a rack for one or two bicycles. This is a system that's easy to install and doesn't require a trailer hitch to use.
Allen Sports 4-Bike Hitch Rack (Best Bicycle Rack for Trailer Hitch)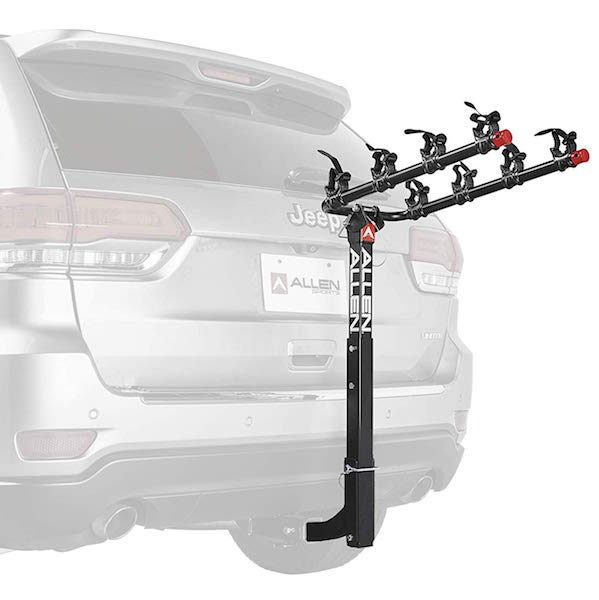 Capable of carrying 4 bicycles
140-pound load capacity
Designed for 2-inch trailer hitch
Durable steel construction
The Allen Sports 4-Bike Hitch Rack would be our top recommendation if you're looking for a rock to use with an existing trailer hitch. This is a rack capable of holding up to four bicycles and fits into a 2-inch trailer hitch.
Installation of this rack is simple. It's as easy as sliding the bottom arm into the trailer hitch and locking it into place. Set up and installation shouldn't take longer than 5 minutes.
The rack itself is made from a sturdy and durable steel material. It comes with a black powder coat finish which prevents rust and matches the styling of most vehicles.
Once installed, the rack is capable of holding up to 4 bicycles. The carrying arms are 22-inches in length and use a tie down system for securing the bikes.
People leaving this rack installed will appreciate the tilt away feature. This allows for the rack to be tilted out of the way for access to the trunk.
When not being used, it's possible to fold the carry arms out of place. This helps to prevent the arms from bashing into other objects or becoming a distraction for the driver.
Overall, the Allen Sports 4-Bike Hitch Rack would be our top toys for people looking for the best bicycle rack for trailer hitch use. This is a rack that's simple to install and capable of carrying up to 4 bicycles at a time.
Swagman XC2 Sturdy Hitch Bike Rack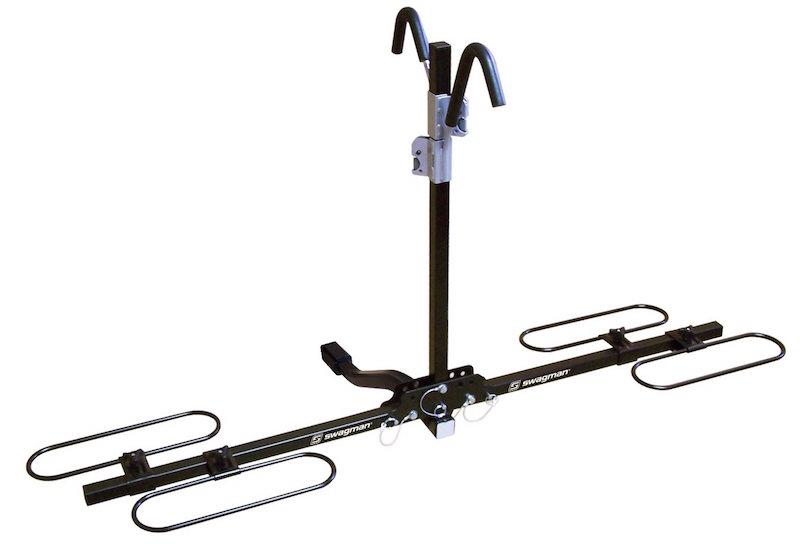 The Swagman XC2 Sturdy Hitch Bike Rack is another great choice if you're looking for a trailer hitch bicycle rack. This rack is capable of holding up to 2 bicycles and fits into a hitch size of either 1-¼ or 2-inches.
With this rack your bicycles are supported from the wheels as well as the body, as opposed to hanging in place. Some drivers prefer this style as it's less cumbersome than other styles of racks.
The Swagman XC2 Sturdy Hitch Bike Rack is easy to assemble and load onto the trailer hitch. Once installed, there is a maximum capacity of 35-pounds per bike with the rack being capable of holding tires between 20 and 29-inches in diameter.
When it comes to loading your bicycle, this rack is equipped with upright ratchet arms. These easily adjust to different bicycle frame sizes and can accommodate frames up to 59cm in size.
Thanks to the built-in anti wobble hitch device, your bikes are kept stable while you're driving. To help protect the finish on your bicycle, the frame grip arms come with a soft coating.
One more feature worth mentioning is the folding center arm. It folds down and gives you access to the rear of the vehicle without having to remove the rack.
Over all, the Swagman XC2 Sturdy Hitch Bike Rack is a great choice if you're looking for a durable rack that's easy to use and install. This can used for carrying up to two bicycles with a sturdy, anti-wobble system.
Swagman Standard Fork Down Rooftop Bike Carrier (Best Rooftop Bicycle Rack)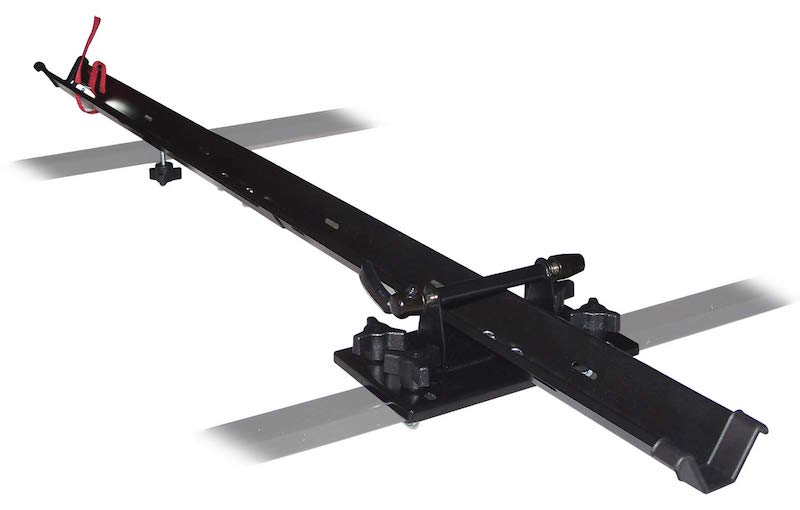 Perfect for mounting your bicycle to the roof
35-pound load capacity
Fits onto most factory crossbars
The Swagman Standard Fork Down Rooftop Bike Carrier is our recommendation if you're looking for the best rooftop bike rack. This is a rack that attaches to your existing roof rack and is capable of carrying 1 bike.
The Swagman Standard Fork Down Rooftop Bike Carrier is easy to install and doesn't require any tools for assembly. Assuming you already have a rack on your vehicle, this provides you with a way to transport your bicycle in an upright position.
Keep in mind that with this rack the front wheel of your bicycle will have to be removed. Once removed, the fork can be placed on to the secure fork mount locks that help keep your bike in place.
The rear tire is secured to the rack as well using a sturdy locking system. It shouldn't take longer than 5 minutes to remove the front wheel and get the bike on the rack ready for transportation.
When it comes to installation, this rooftop carrier can fit square, round, and oval rack bars up to 3-inches in width. Your vehicle will need a crossbar configuration for this is set up to work.
Overall, the Swagman Standard Fork Down Rooftop Bike Carrier is a great choice if you're looking to transport just one bicycle. As long as your vehicle already has a crossbar configuration, this is a great bicycle roof rack that's durable, easy to install, and simple to use.
Best Car Bike Racks Buyers Guide
As I mentioned at the beginning of this post, there are a lot of different bike rack to choose from. It can be tricky finding the right model that's best suited for your different needs and requirements.
In this section, let's take a look at some of the different bike rack features for you to consider. There are many different styles of racks and being aware of the features makes it easier to find the right one.
Scrolling through our list, you probably notice that we recommended many different styles. These would include upright racks, strap mounted, and even hitch mounted racks.
Let's take a look at the benefits and drawbacks of each design. This way you'll be the most informed when it comes to making your decision.
Features to Consider for Bike Racks for Car
Like with most products, the more features you want the more expensive a rack is going to be. Keep in mind that there are some important features that you shouldn't overlook. These are typically available on most models, with the pricier options coming with less necessary additions.
Car Attachment Points
Car attachment points are one of the most important features to consider. This is how the rack will be attached to your vehicle.
Trailer hitch hitch bike racks and rooftop mounts provide some of the most secure attachment. Trunk racks are a suitable choice, but it's important that they're installed correctly.
Additionally, look for padding on any of the rack parts that are in direct contact with your vehicle. These parts should be padded, or designed from plastic, in order to not scratch or damage the car or paint.
Some drivers like to add their own padding for added protection. This can be an option regardless of the rack you end up with.
Durable Securing Points
After attaching the rack to your vehicle, the next step would be to attach the bicycle to the rack. This is the second most important feature to consider as it's what prevents your bike from falling off while you're driving.
These securing points need to be strong enough to hold your bike and also gentle enough not to damage the paint work, wheels, or frame. As you're driving, the bicycles are going to be bouncing around and vibrating.
Look for securing points with straps or plastic cables that hold the bikes in place. Check for additional padding so the frame isn't getting scratched or damaged from rubbing against the rack. You can even use motorcycle tie down straps to secure the bike, if you have any available.
Once mounted, check that the securing points don't allow for too much free play. Ensure that the bike isn't wobbling around and that it's relatively secure on the rack.
Padded Securing Points
It's important to reiterate that the securing points on a rack should be padded. This is especially important with rocks that hold the bicycle from the top tube.
As you're driving along, any mounted bike will be shaking and vibrating while it's locked in place. Padded securing points help to prevent the bicycle from getting scratched or damaged before you even reach your destination.
Locking Cables
Locking cables are a protective feature that help to prevent your bicycle from getting stolen. These are cables that wrap around your bike and keep it locked in place.
You won't find this feature on entry level or cheap bike racks. Instead, this is a feature that is standard on some of the higher priced and premium models.
If you're on a budget, consider buying your own bicycle cable lock. It's possible to use this lock for securing your bike to the rack without having to shell out on a more expensive model.
Anti-Sway Cages
Seeing your bicycle swaying in your rearview mirror can be a stressful experience. Thankfully, many of the best bicycle racks for cars come with anti-sway cages.
This is a feature that is designed to minimize how much your bike is swaying. It's typically found on top-tube and rear-mounted racks.
The way it works is by holding your bike in place and keeping it stable while you drive. This helps to give you peace of mind and prevents the bikes from knocking into each other.
It's also a safety feature that can improve your driving experience. Anti-sway cages keep the bikes secure and prevents them from affecting the handling of your vehicle at higher speeds.
Different Types of Car Bike Racks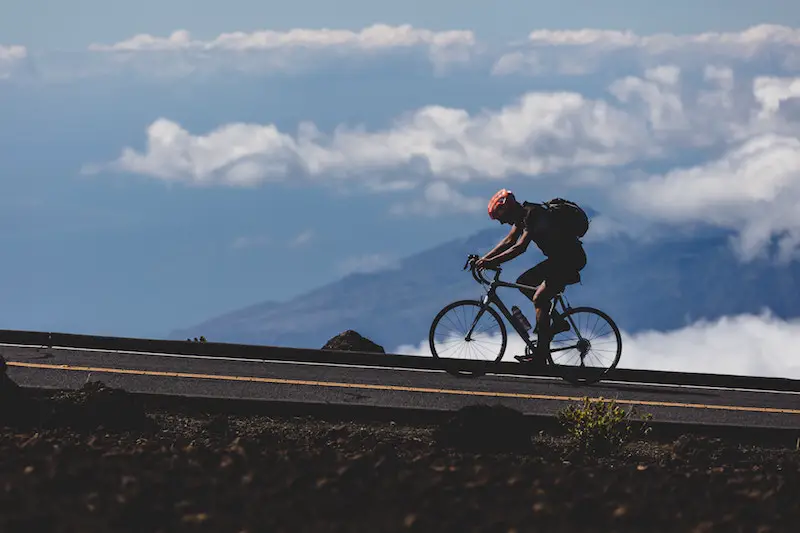 Depending on your vehicle and how it's set up, there might be a type of bike rack that makes the most sense. There are three main styles of bike carriers available to choose from.
Each of these styles is quite different from the next. They each have their own benefits and drawbacks.
Lets take a look at the different types of car bike racks. We'll breakdown the main features, the drawbacks, and benefit of each type. This will make it even easier for you to choose the right one for your car, truck, or SUV.
Strap Mounted
Strap mounted racks are designed for vehicles without a trailer hitch. This is the most popular choice for people with smaller vehicles that haven't had a hitch installed.
The benefits of this style is that they're easy to use and reasonably priced. Most models can hold between 2 and 4 bicycles making the perfect choice for families.
Another benefit is that they can be installed or removed quickly. This makes it easier to get out for a quick ride without having to fumble with any intricate parts.
The main drawback to strap mounted models is that they lack a truly strong attachment point. This means they aren't as secure as other types of racks.
With this style it's important that you mount and install everything correctly before leaving. Always double check that the rack is properly installed and that the bicycle is safely mounted.
Hitch Mounted
Those of you with a trailer hitch will find the hitch mounted bicycle rack to be a great choice. These are designed to hook up to the trailer hitch at the back of your vehicle.
The hitch mounted design is strong, stable, and easy-to-use. These types of mounts typically come with the widest variety of features compared to other styles.
Another benefit to hitch mounting is that it's easier to load your bicycle, especially compared to roof mounts. They also keep your bike out of the vehicle airflow, which improves performance and minimizes the impact on your fuel consumption.
The main drawback with hitch mounts is that they can make it difficult to see out of your rearview mirror. The also make it difficult to access to trunk, especially on the lower priced models.
Upright (Rooftop) Mounts
The third most common type of mount are the upright, or rooftop, mounts. These hold the bicycle upright on your roof.
This style provides a safe and secure way of transporting your bike. It's a great choice for those of you with smaller vehicles and just one or two bicycles.
The downside to this style is that roof racks can have a negative impact on your fuel performance. It's also more difficult to load the bike, especially with taller vehicles and for shorter individuals.
Best Car Bike Racks Frequently Asked Questions
Do You Have to Drill Holes or Permanently Alter Your Vehicle?
For the majority of racks there is no need to drill any holes or permanently alter your vehicle. All of our recommendations, and most models, are attached using straps or the trailer hitch.
Even the rooftop models are attached to the roof rack of your vehicle. There's no need to use any tools for installing most bike racks.
What if You Change Vehicles?
Drivers that change vehicles often will want to consider using a strap mounted model. These are mounted using the trunk and can be interchanged between vehicles easily.
If the vehicles are switching between both have a trailer hitch, then it's possible to use the hitch style. Double check for fit before changing vehicles or buying a new bike rack.
Are Bike Racks Easy to Install?
As long as you chose the right rack for your vehicle, the installation process is straightforward. Check the instructions or head to YouTube for a video tutorial.
Will a Bike Rack Damage Your Vehicle?
Assuming everything was installed correctly, there's a minimal chance of your vehicle being damaged. Verify that the bike is properly mounted and that there aren't any hard or sharp objects coming into contact with your vehicle.
Can You Go Through a Car Wash With a Bike Rack?
This is something that should be avoided at all costs. Going through a carwash with your bikes mounted can damage the bikes as well as the carrier.
Wait until the bicycles have been removed before using the car wash.