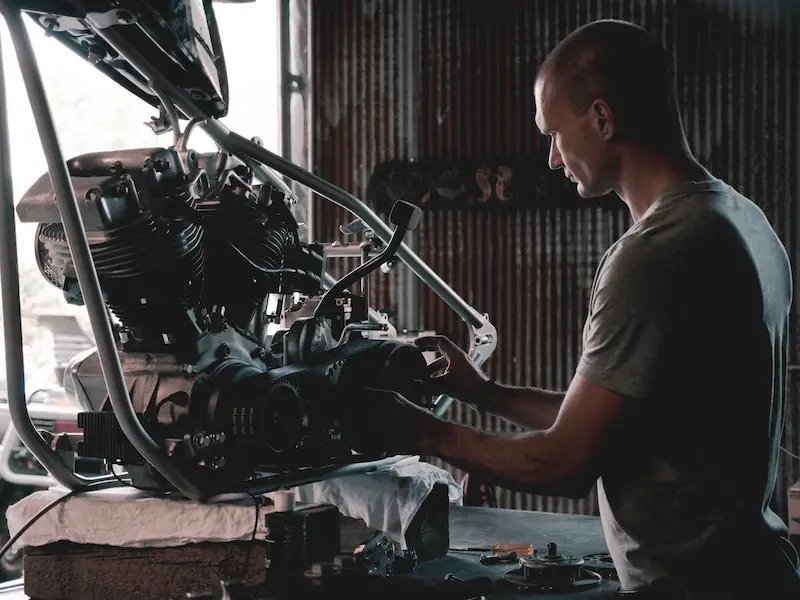 Doing your own motorcycle maintenance can be just as fulfilling as riding. Basic maintenance is an important part of owning a bike. This aspect of ownership should not be overlooked for the longevity of your motorbike.
Learning how to maintain your bike will save you money that you can use towards rides or new gear. You'll also start building your personal collection of essential motorcycle tools and maintenance equipment.
Motorcycle lifts are one of the first "big" investments to make will make your maintenance life much easier. They give you the ability to wrench on your bike without having to bend over or kneel on the cold, floor.
This is a tool that I put off buying for too long but was a total game-changer when I finally started using one. These lifts are designed specifically for motorcycles to make them safe and convenient to work on.
The Best Motorcycle Lifts
Extreme Max Wide Motorcycle Scissor Jack (Best Motorcycle Jack Overall)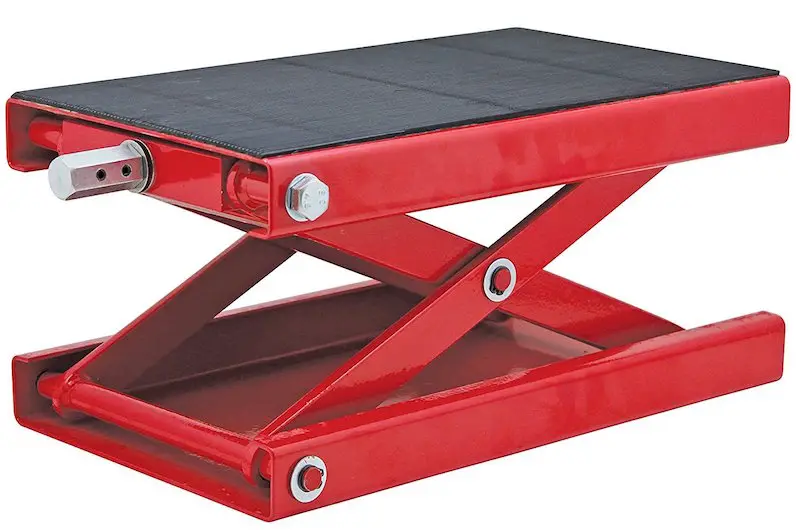 Look no further for the best motorcycle scissor jack. We've found it here with the Extreme Max Wide Motorcycle Scissor Jack and it's something you definitely want to check out if you're looking for a heavy-duty lift.
This is a durable and compact scissor lift with a maximum weight capacity of 1100 lb. It's better suited for sport bikes and standard cruisers. You'll want something with a higher weight limit for trikes, bigger cruisers, and ATV's.
The best feature of the Extreme Max Wide Motorcycle Scissor Jack is the center lift design. This makes it easy to access almost everywhere on your bike when it's time to perform maintenance.
The stand extends to a height of 14-inch giving you plenty of work space. The support platform measures 15-1/8 inches by 9 inches and it's covered with rubber padding for better support, protection, and stability.
A 7/8 inch socket or wrench is needed to operate the central lifting mechanism. Unfortunately, these tools aren't included with the jack so you'll either have to buy them or check that you have them at home.
For some this might be a drawback but it results in a smaller, more streamlined jack (folding down to ~3-inches) that's perfect for smaller garages and workspaces. Another additional piece you can buy is a dolly tray that slides under the jack.
Despite not coming fully equipped with everything you need like some of the other options, the Extreme Max Wide Motorcycle Scissor Jack is still a great choice if you're looking for something smaller and lightweight that's easy to use.
APlusLift 1500LB Air Operated Lift Table (Best Motorcycle Lift Table)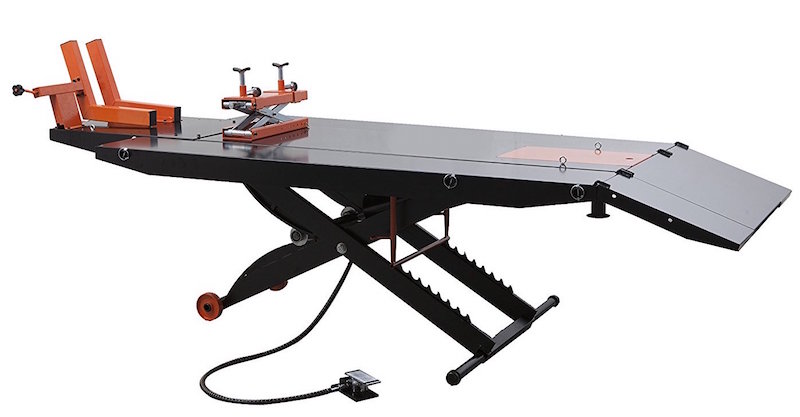 The APlusLift 1500LB Air Operated Lift Table is the king of motorcycle lifts. This is what you want to check out if you're looking to turn your garage into a dedicated motorcycle workshop.
For the price, most of you will be better off buying something less extravagant and more affordable. However, if you want to be able to work on all motorcycles as well as ATVs, sleds, and trikes then you're going to want to take a look at this.
The APlusLift 1500LB Air Operated Lift Table comes with a 1500 lb weight limit. It features a stable scissor frame that's designed from thick-gauge steel and construction grade hardware.
The unit itself weighs 550 lb so you're going to want a big enough garage to be able to use this beauty. As for using it, this lift is equipped with an air-operated system that makes it easy to get your bike to the right height for maintenance.
The front wheel clamping vise keeps your bike steady and secure when you're working on it. Thanks to the 20-inch long drive-on approach ram it's almost effortless to position your bike on this lift.
For even better stability a free service jack is included. This can be used to stabilize your bike or access those hard-to-reach spots. Overall, we recommend the APlusLift 1500LB Air Operated Lift Table if you're looking for a heavy duty lift system to easily work on your own bikes at home.
Powerbuilt 620422E Heavy Duty 4000 lb Triple Lift Jack (Best Motorcycle Jack for Cruisers)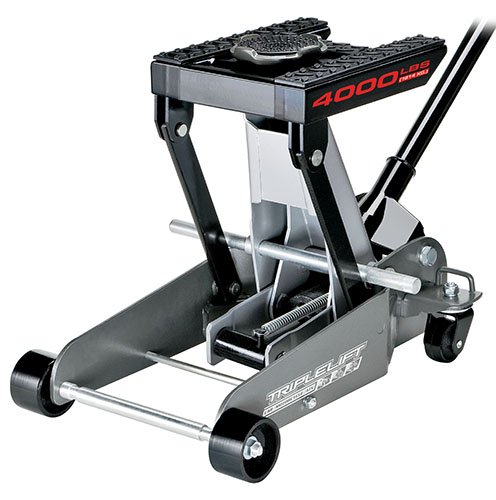 The Powerbuilt Triple Lift Jack is just what you need if you're looking for something durable and able to lift even the heaviest of bikes. This lifting stand comes with a capacity of a surprising 4000 pounds!
With a weight limit that high you can use this stand for your heavy cruiser or overweight Harley-Davidson motorcycle.
The beauty of the Powerbuilt 620422E is that it's a combined bottle jack and jack stand in a single unit. This heavy hitter has a lift range starting at 8-5/8 inches all the way up to 18-5/8 inches. This makes it possible to get heavy bike elevated off the ground providing you plenty of access for maintenance and upgrades.
With your bike in your preferred position the stand can be locked in place. There's no need to use additional jack stands for stability.
As for the design, the Powerbuilt 620422E is made from a heavy duty steel which makes it stable and durable for regular use. Even better for motorcyclists is the flat, wide base that adds even more stability and prevents the stand from sinking on softer surfaces.
Overall, I definitely recommend taking a look at the Powerbuilt 620422E Heavy Duty 4000 lb Triple Lift Jack. This is a great choice for cruisers, heavier bikes, and for those of you looking to work on various types of motorcycles.
Goplus Motorcycle ATV Hydraulic Scissor Lift Jack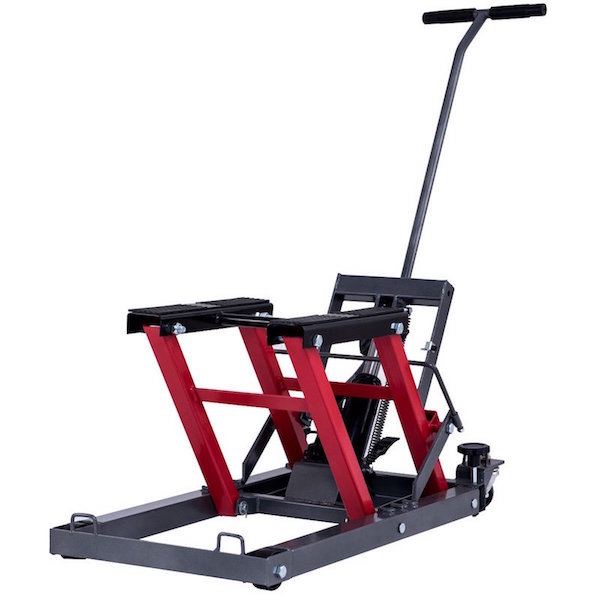 The Goplus Scissor Lift Jack is another great choice if you're looking for a lift that's durable and easy to use for a wide range of applications. This scissor-lift jack is design for motorcycles as well as for ATV's, scooters, dirt bikes, and jet skis.
Designed from a high-strength steel, the Goplus Scissor Lift Jack can hold up to 1500 pounds in weight. It's suitable for working on your sportbike, heavyweight cruiser, and just about everything in between.
The solid steel construction makes it stable when you're working on a bike. Thanks to the four casters on the bottom it's easy to roll this lift into place wherever you need it for maintenance. It can also be easily adjusted and quickly stored when it's not needed.
The large handles make it almost effortless to adjust the height of your motorcycle. As for the adjustment height, it's possible to raise your bike up to 17-3/8 inches in height.
For better stability and safety the top surface is coated with a non-slip pad. This will help keep your bike in place and prevent it from moving around.
The lift itself weights just 70 pounds so it's not as big or bulky as some of our other recommendations. The wheels on the bottom make it easy to position the stand and roll it away when it's not needed.
We definitely recommend checking out the Goplus Motorcycle ATV Hydraulic Scissor Lift Jack. It's a suitable choice if you're looking for one of the best motorcycle lifts that can be used on a wide range of different vehicles.
Extreme Max Hydraulic Motorcycle Lift Table (Best Motorcycle Jack for Small Motorcycles and Scooters)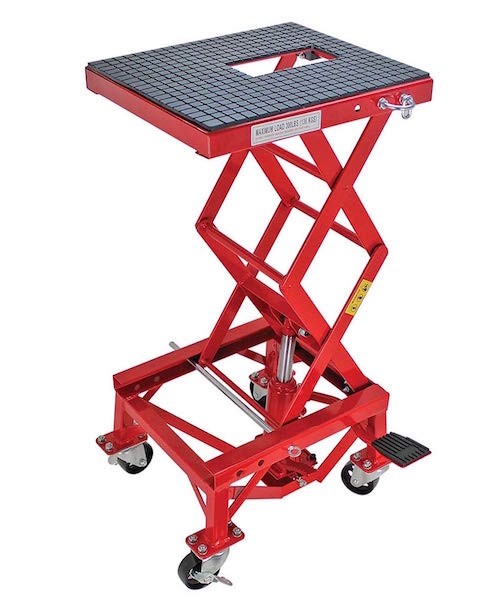 The Extreme Max Hydraulic Motorcycle Lift Table is a great choice for those of you with lightweight, smaller motorcycles or scooters. This lift table has a maximum lift capacity of just 300 pounds so you'll want to look at the other recommendations if you have a bigger bike.
Otherwise, this is a hydraulic powered lift table that can raise your bike up to a maximum height of 34.5-inches. There's a locking bar that keeps the table locked in place and prevents it from dropping your bike once it's locked. The release pedal makes it easy to lower the table and remove your bike from the stand.
The platform table is equipped with a rubber pad. This helps to prevent the stand from scratching your bike and keeps it in place while you're working on it.
When not in use, the stand can be lowered do a collapsed height of 13.25-inches. This is ideal for small work spaces or garages without a lot of storage space.
As for moving it, there are four wheels on the bottom for easy positioning. The wheels can be locked when you're working on your bike to prevent it from rolling around.
Despite having a smaller weight limit, the Extreme Max Hydraulic Motorcycle Lift Table is still a great choice for those of you with smaller bikes and scooters.
LiftMaster 1100 LB Motorcycle Center Scissor Lift Jack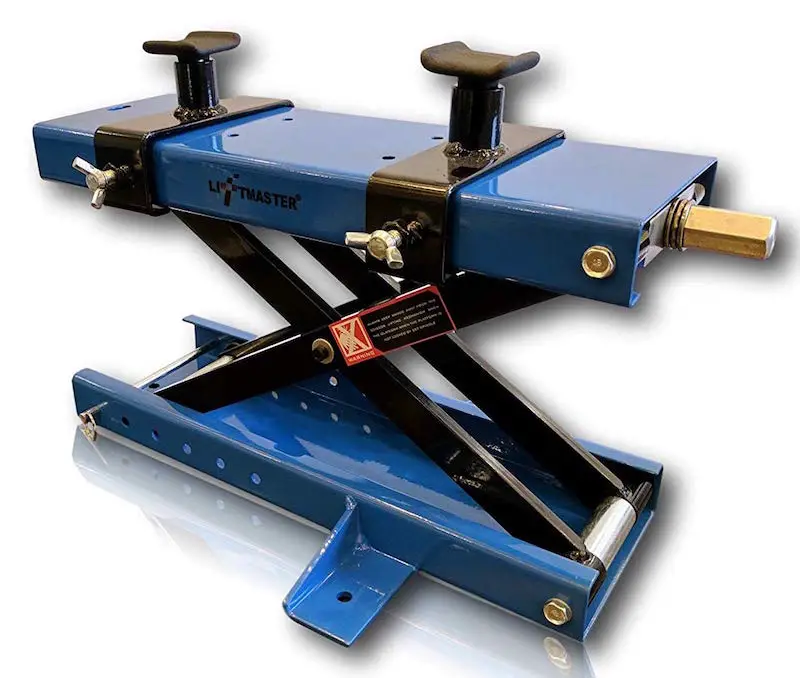 The LiftMaster 1100 LB Motorcycle Center Scissor Lift Jack is a simple crank operated jack designed to lift bikes from their center stand. Not every motorcycle can be lifted this way so verify that you can lift your bike from the center before trying.
This center-lift stand comes with the weight capacity of 1100 pounds. It's ideal for most sport bikes, scooters, heavier cruisers, and could even be used for ATVs.
There are two screw adapters that can be used for a variable height adjustment depending on your preferences. As for the height, this stand comes lifting range from 3.5-inches up to 15-3/4 inches. Raising and lowering it is done through a simple crank so there aren't any hydraulics or mechanical lift parts to worry about.
The saddles for mounting your bike on are lined with rubber. This helps to keep your bike in place and prevents it from getting scratched or damaged when it's mounted.
For safety there is a safety pin that can be used in six locking positions. This helps to prevent accidental drops it makes it so the jack can only be lowered or raised with the safety pin removed.
Although it doesn't come equipped with wheels, this center-lift weighs just 32 pounds. It's easy to maneuver around your garage and the streamlined design is ideal for storage.
Overall, the LiftMaster 1100 LB Motorcycle Center Scissor Lift Jack is a great choice if you're looking for a lightweight and reasonably priced center stand for working on your bike, scooter, or ATV.
Best Motorcycle Stands Buying Guide & FAQ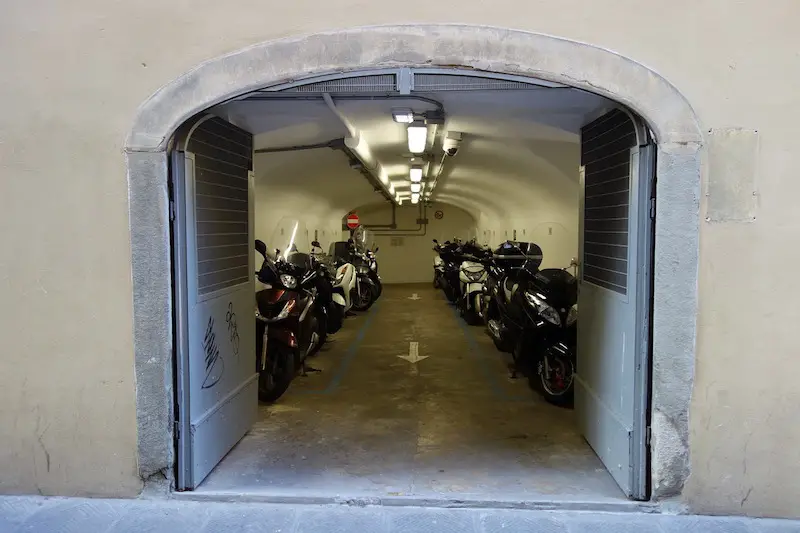 Types of Lifts
There are a number of different motorcycle lift jack types. Let's take a look at the main categories that you're most likely to use.
Hydraulic Lifts
These lifts work using both hydraulic fluid and compressed air. The compressed air is used to raise the lift. The hydraulic fluid is used to move it.
This fluid is stored in the pump housing which has a dedicated reservoir tank. Maintenance might need to be performed on this housing depending on the frequency of use.
Since the air pump is operated by a foot pedal both of your hands will be free to keep the bike steady and secure. There is very little physical effort required to operate stands like these.
Air Lifts
Air lifts are operated by compressed air that lift the bike into your preferred position. They typically come equipped with foot operated valve controls.
These controls operates an air cylinder that raises or lowers the lifting platform. The platform can be locked into place depending on how you want the bike positioned.
Mechanical Lifts
This type of lift is manually operated with a handle. Using a series of mechanisms the bike platform can be lowered or raised into position.
Scissor Lifts
The name for this lift refers to the overall design, which looks like a pair of scissors.
The lifting mechanism opens and closes the lift with a scissor-like movement.
Bottle Jacks
Bottle jacks are compact hydraulic pistons used to lift your bike. They are similar in shape to a bottle, which is where they got their name from.
Combining bottle jacks with a jack stand is the best solution for keeping your bike stable while it's being worked on.
What's the Difference Between a Motorcycle Jack and Car Jack?
While it's possible to lift your motorcycle using a car jack, this is not a solution we recommend. Car jacks are designed to lift cars for car maintenance and could damage your bike if used as a motorcycle lift.
With a car jack you would have to find a flat surface on the bottom of the bike to use for lifting. You might need wooden blocks or motorcycle tie-down straps to keep the bike in place, or even another person to help you.
The lifting surface on car jacks won't be the right size and you'll have to use jack stands to prevent the bike from wobbling around. This is not ideal for motorcycle maintenance and it would be easy for your bike to fall off, becoming damaged.
The best solution is to use a proper motorbike lift.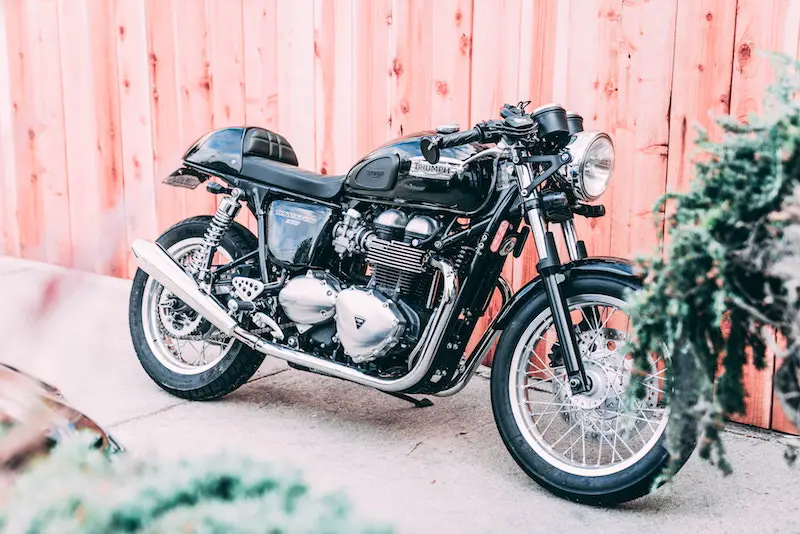 How to Use a Motorcycle Lift
Here are the steps to using a motorcycle jack to lift your bike. Follow these steps and you'll be able to elevate your bike and keep it in place while you work on it.
Choose the right motorcycle lift that's best suited for the weight, design, and style of your bike. Find one with a capacity that's approximately 1.5x the weight of your bike when it's "wet". This is the weight of your bike when it is full of fluids, such as fuel and oil. For example, if your bike has a dry weight of 600 pounds, the wet weight will be around 650 lb. In this case you would want a lift with a capacity of at least 1000 pounds.
Before lifting the bike check that the wheel locks are in place and engaged. Also, always use the safety locks on the lift so that it doesn't drop on you when you're working.
Find the center of gravity of the motorcycle you're working on. This is usually found around the engine. Next, find the lift points. Fairings or body work may need to be removed if it's in the way of the lifting platform.
Remove any accessories or components that could fall off the bike while it's elevated. Move any wires that could get caught in the lift. Finding the best lift position might take some time, especially if your bike isn't equipped with lower frame rails.
For a stable, steady lift you may need to use wooden or rubber shims.
Before you start working on the bike, secure it with straps. Double check that the bike is steady and won't tip over once it's lifted.
A motorcycle lift stand or support ramp will be needed if you're removing one of the wheels. The other wheel will need to be held up as the change in the center of gravity will cause the bike to become unstable.
FAQ – Best Motorcycle Lifts
What is a Motorcycle Lift?
Motorbike lifts are tools used to raise your motorcycle into a position above the ground that makes it easy to perform maintenance. With a lift there's no need to lay on the ground or bend over to access the hard-to-reach parts on a bike.
Most jacks use a mechanical method, compressed air, or hydraulics to lift the bike into position. Compare to car jacks, motorbike lifts feature different designs and lighter weight capabilities. Most lifts come equipped with a lifting platform, adjustment system, and wheelbase for better stability.
How Does a Motorcycle Lift Work?
Motorcycle stands are positioned under the motorcycle with the bike balanced evenly on top. They can be moved by hand or using wheels depending on the design. With the bike in position, the lifting mechanism is engaged and the entire bike is lifted in the air.
This mechanism can be controlled using a mechanical handle, hydraulic system, or compressed air. There are rubber pads on the platform that prevent the motorcycle from slipping while it's being worked on. Once the work is complete the bike can be easily lowered to the ground and removed from the stand.
Are Most Lifts Universal?
No. Not every motorcycle lift will work on every bike. Since bikes come in all different weights, sizes, and shapes you will need a lifting stand that's designed specifically for your ride.
For example, the best motorcycle lift for Harley-Davidson bikes will be different than what you would need for other types and styles. The total weight capacity is one of the most important factors to consider. It's dangerous and not recommended to exceed the maximum weight capacity on any motorcycle lift.