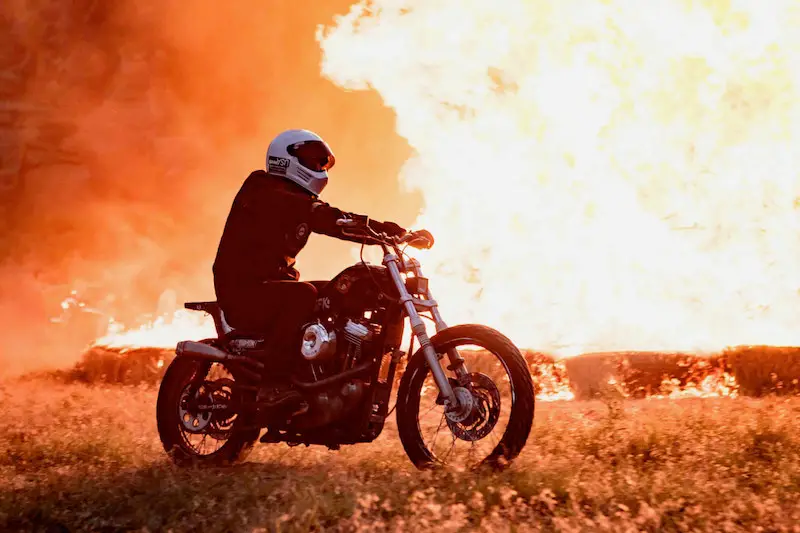 A motorcycle jacket isn't just a fashion statement, it's an important part of the motorcycle safety gear you should be wearing whenever you hit the road. Regardless of the bike you're riding, wearing a proper motorcycle jacket will keep you safe and comfortable.
With so many options to choose from, it can be tricky finding the best motorcycle jacket. You could spend days studying product features, reading different reviews, and browsing all the different styles and safety features. To help save you time, we did the research for you. In this post we'll share the best of the best, based on Amazon reviews and our own experience.
Looking at dozens of different motorcycle jackets, this list shares our top recommendations. These top rated motorcycle jackets are based on customer reviews, protective features, styles, total cost, and a few other key considerations.
This is definitely a piece of motorcycle gear you don't want to skimp on. You'll be able to look good while staying safe whenever you're out on the bike.
Let's take a look and see what your options are!
The Best Motorcycle Jackets in 2020
Joe Rocket Phoenix 5.0 Jacket (Best Motorcycle Jacket Overall)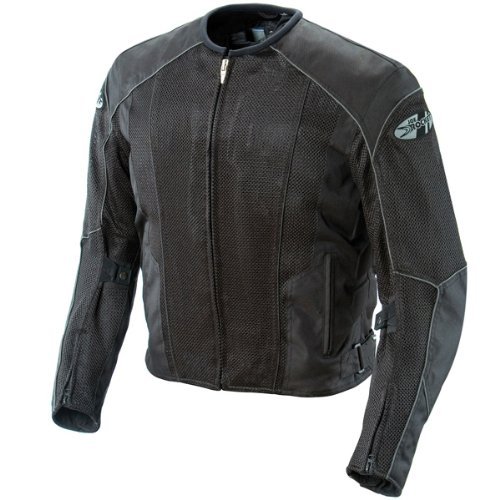 The Joe Rocket Phoenix 5.0 Mesh Textile Jacket is our recommendation for the best motorcycle jacket for most riders. This is a simple, no-frills, and reasonably priced jacket that offers the ventilation and protection you want for warm weather riding
Personally, I'm a big fan of Joe Rocket so it shouldn't be surprising that I'm recommending their Joe Rocket Phoenix 5.0 Mesh Textile Jacket for summer riding. The Phoenix 5.0 jacket is designed using a poly and mesh shell that offers the ventilation you need on those hot summer days.
The mesh allows for air to flow through your jacket, cooling down your body and preventing you from overheating. This jacket also comes with armor protection in the shoulders and elbows to protect your body in case you go down.
On the inside you'll find a removable waterproof liner that protects you from the wind and rain in poor weather conditions. One more interesting feature with this jacket is the incorporated connection zipper that you can use to attach your Joe Rocket riding pants for a complete set.
Overall, it's hard to go wrong with the Joe Rocket Phoenix 5.0 Mesh Textile Jacket if you're looking for a summer motorcycle jacket that's lightweight, affordable, and equipped with additional protection. Here at Rips and Rides we're big fans of Joe Rocket gear so we have no problem personally recommending their products.
Pilot Motosport Direct Air Mesh Jacket (Best Summer Motorcycle Jacket)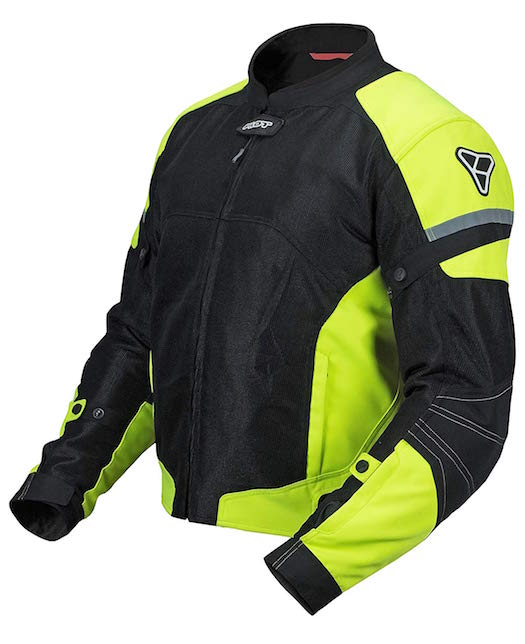 Those of you looking for a cheap summer motorcycle jacket will want to check out the Pilot Motosport Direct Air Mesh Jacket for summer riding. For the price, it would be hard to find a jacket offering better value, especially if you're interested more in protection over looks.
This is a super budget warm weather motorcycle jacket for summer rips! Personally, I love the high visibility colors available – perfect for beginner riders and those of you looking for better visibility on the road.
This is a lightweight, summer motorcycle jacket designs using a lightweight textile material and mesh. These materials help with ventilation and breathability, especially on those brutally hot summer days.
The Pilot Motosport Direct Air Mesh Jacket comes with protection at the shoulders and elbows. There's also a back pad that can be upgraded at any time.
One interesting feature with this jacket is the attention to detail. All of the key impact zones are double-layered and triple stitched leading to better durability and longevity.
Overall, the Pilot Motosport Direct Air Mesh Jacket is a great choice if you're looking for something suitable for summer riding that isn't going to drain your bank account.
Harley-Davidson Trenton Riding Jacket (Best Harley Davidson Motorcycle Jacket)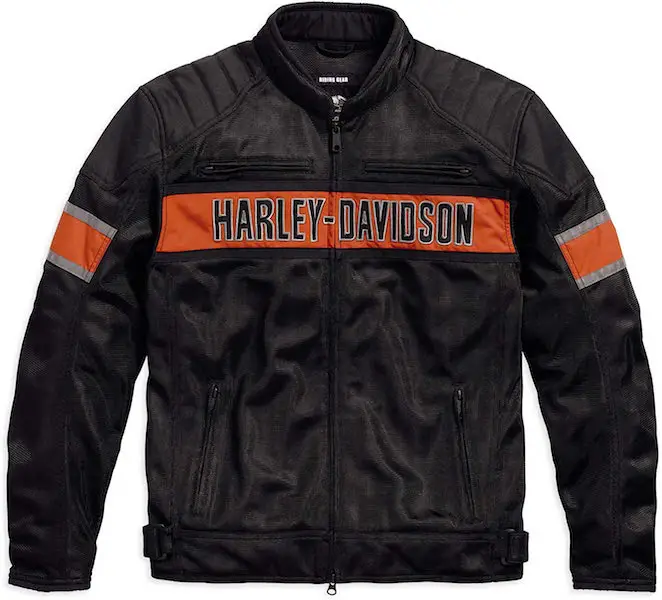 The Harley-Davidson Trenton Riding Jacket is an official riding jacket from Harley-Davidson. This jacket features a lightweight construction, traditional Harley design, and reinforced shoulders and elbows.
With the Harley-Davidson logo on both the front and back of this jacket, everybody is going to know your favorite motorcycle brand. This is a great jacket to pair with your Harley-Davidson motorcycle.
When it comes to protection, there is protective body armor at the elbows and shoulders. It also comes with a padded back, which helps to add further protection.
To help with visibility, there are reflective stripes on the arms, back, and chest. This makes you more visible on your bike, especially at night and in low light conditions.
For storage, there are both interior and exterior zippered pockets. There's also an interior stash pocket as well as a pocket with a media port.
Other features include the pre-curved sleeves, adjustable waist tabs, and interior polyester mesh lining. This is a lightweight and comfortable jacket designed for keeping you safe during summer riding.
Overall, if you're looking for the best Harley-Davidson motorcycle jacket, it's the Harley-Davidson Trenton Riding Jacket that we would recommend. It's well-reviewed, comfortable to wear, and comes with practical features for riding with.
Joe Rocket Atomic 5.0 Textile Motorcycle Jacket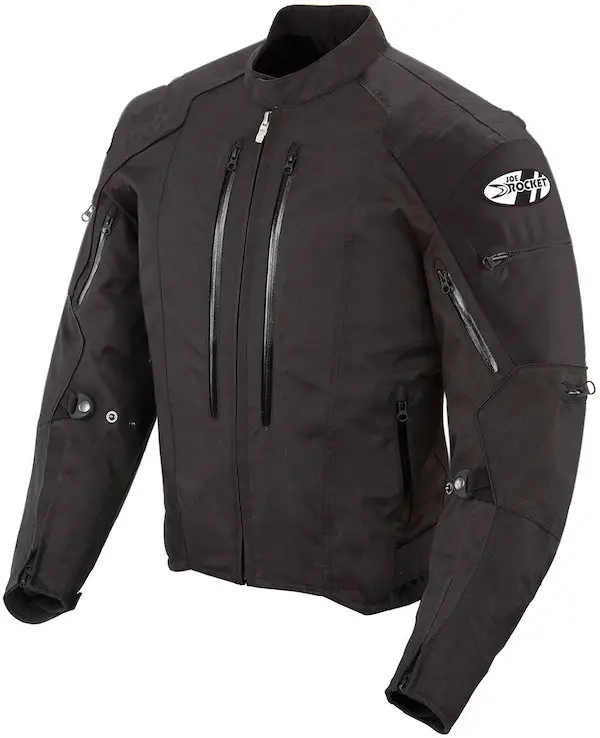 The Joe Rocket Atomic 5.0 Textile Motorcycle Jacket is another Joe Rocket jacket meant for three seasons of riding. It's a great choice for spring, summer, and fall riding while offering ample protection for keeping you safe.
The exterior of the jacket has been treated with a waterproofing application to help keep you dry during the rain. It comes with a variable flow ventilation system, using a series of zippers to increase ventilation to keep you cool and dry.
For protection, the jacket comes with armor in the shoulders and elbows. It also comes with removable back armor to protect your back if you happen to get thrown from the bike.
When it comes to comfort, this jacket is equipped with a 6-point custom adjustment system. This makes it easy to adjust for the right fit when you're out riding.
As for storage, there is one internal chest pocket and two outside pockets for stashing your motorcycle accessories. There's also a large, lower back storage pocket for bigger items.
Other features worth mentioning include the removable full sleeve liner, neoprene cuff design, back expansion panels, and waterproof zippers. All of these make the jacket a great choice if you're looking for something versatile for three-season riding.
Overall, the Joe Rocket Atomic 5.0 Textile Motorcycle Jacket is another suitable option if you're searching for the best motorcycle jacket. This one is versatile, loaded with features, and designed to keep you warm and dry in a wide range of riding conditions.
HWK Motorcycle Jacket (Best Cheap Motorcycle Jacket)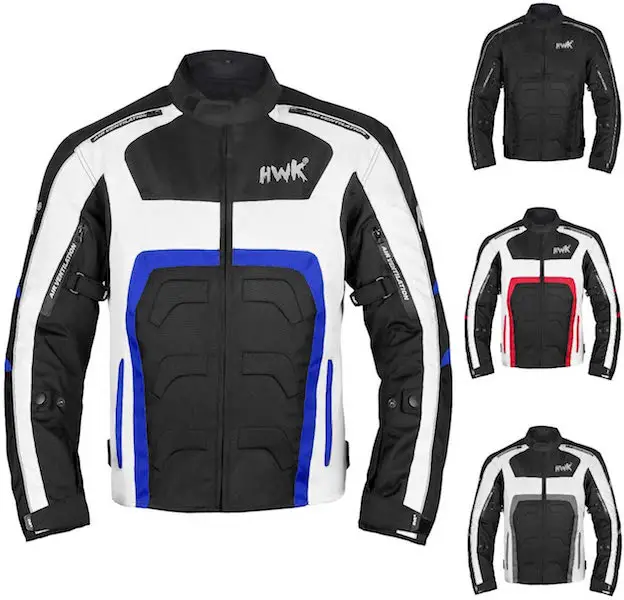 If you're looking for the best cheap motorcycle jacket that actually works, it's the HWK Motorcycle Jacket that we would recommend. This is a popular choice for riders on a budget searching for a jacket that's comfortable and safe to wear.
For the price, it's hard to beat the quality and value of the HWK Motorcycle Jacket. Judging by the reviews, this is also one of the best motorcycle jackets overall that you can find online.
The outer shell is made from a 600D, polyester cordura fabric material. Not only is it lightweight and durable, it's also waterproof and breathable.
On the inside is a detachable, insulated, thermal liner. This makes the jacket ideal for summer riding as well as for the cooler spring and fall seasons.
When it comes to protection, this jacket is equipped with armored shoulders and elbows. It also comes with a high density foam back protector for additional protection
To help with ventilation, there is an air ventilation system on both the front and back of the jacket. Using a series of zippers, it's possible to increase or decrease air flow depending on the temperature.
When it comes to fit, this jacket is equipped with action stretch in the shoulders and elbows to make it more comfortable to wear. It also comes with a soft collar, arm adjusters, and waist adjusters to get a better fit.
Also worth mentioning are the two external pockets, the inner smartphone pocket, the waist connection, and the fully reflective design for better visibility. These are all features available in this jacket, which you would find in higher end jackets as well.
For the price, the HWK Motorcycle Jacket stands as one of the best motorcycle jackets. Whether you're on a budget or just looking for something comfortable and durable, this is a great choice for comfort and safety when you're out riding.
Joe Rocket Phoenix Ion Mesh Jacket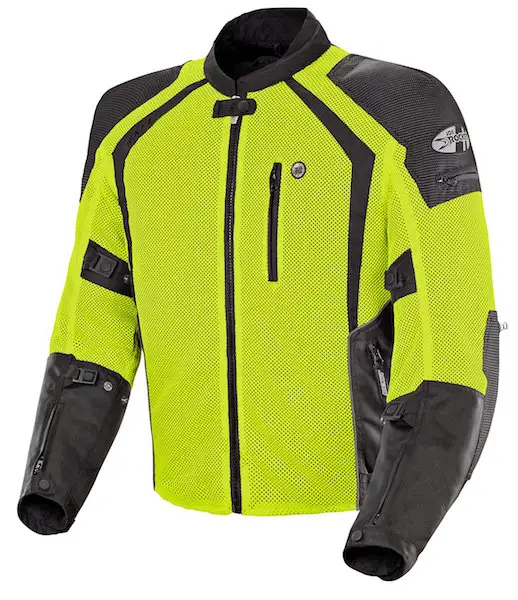 The Joe Rocket Phoenix Ion Jacket is another great mesh motorcycle jacket from Joe Rocket. This jacket is ideal if you're looking for something lightweight and breathable. It even offers high visibility for low light and night time riding. You can't go wrong with more visibility whenever you're out on the bike.
Thanks to the removable inner liner you can use the Joe Rocket Phoenix Ion for the spring and fall as well for the summer. It's a 3-season jacket.
It's easy to remove the liner during the warmer summer months. This helps provide ample ventilation for warm weather riding! This jacket comes various adjustment options. These can be found at the waistband and sleeves offering a better fit and wind protection.
For additional storage there's a large padded lower back pocket. This is great for small accessories you need on the go without having to use a tank bag. The Ion comes in both dark and high-visibility colors depending on what you're looking for.
Overall, the Joe Rocket Phoenix Ion Jacket is a great mid-range mesh motorcycle jacket for summer riding. It's affordable, sharp looking, and comes with some awesome features for an improved riding experience.
Best Motorcycle Jacket Buying Guide
Who Should Buy a Motorcycle Jacket?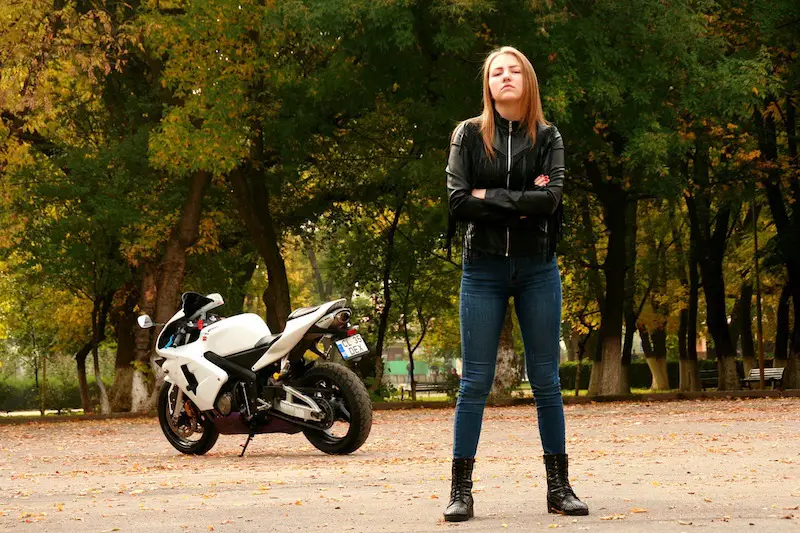 Anybody that rides a motorbike should be wearing a motorcycle jacket. It doesn't matter what type of bike you ride, there's bound to be a jacket that meets your requirements.
Motorcycle jackets are designed to protect riders while at the same time being both comfortable and stylish. They're typically made of durable materials that protect motorcyclists in the event of a crash or accident. These materials absorb impacts and reduce abrasions through the use of integrated or removable armor components.
For riders that want to look stylish, most jackets take advantage of sleek designs and leather materials. Even the modern, textile jackets can look pretty cool as well.
When it comes to comfort, motorcycle jackets help to protect riders from the outdoor weather elements. They keep riders cool in warm climates, and warm and dry during periods of inclement weather. Of course, It depends on the jacket, but there are a lot of different jackets for most riding styles and conditions.
Don't forget to wear the rest of your motorcycle safety equipment whenever you're riding. This includes a motorcycle helmet, motorcycle gloves, and motorcycle boots.
Check out our helpful buying guides on the best motorcycle helmets, best motorcycle gloves, and the best motorcycle boots. These posts will help you find the best pieces of gear for your riding requirements and budget.
What to Look For When Buying a Motorcycle Jacket
There are a number of different features to consider if you're in the market for a new motorcycle jacket. No two jackets are alike and it ultimately depends on your riding style, preferences, and budget.
It's important that the jacket you're wearing keeps you protected, comes with the features you want, and looks stylish all at the same time. Here are the different features to consider when you're searching for the best motorcycle jacket:
Armor (Protection)
Safety is the number one rule when you're out on the bike. That's why it's important to wear a jacket that comes with ample protection.
This protection comes in the form of armor and padding. There should be armor in the elbows, shoulders, and back. These are the three most important areas for armor protection.
Depending on the jacket, this armor could be integrated or removable. Regardless of the style, look for jackets that come with C.E. approved armor as this provides the highest level of protection.
Additionally, keep an eye out for extra padding in the other high-impact areas. This includes the arms, chest, and lower back.
It's hard to argue against your own personal safety. That's why it's important to go with an option that has armor and helps keep you safe when you're on the bike.
Style
When it comes to choosing the best motorcycle jacket, style is another important consideration. Of course you want something that looks cool and portrays the image you're going after.
Typically, riders have four main styles of motorcycle jackets to choose from. These include cruiser, adventure/touring, racing, and sport/street styles. Each offers their own benefits and unique features while being available in either leather or textile options.
Cruiser motorcycle jackets are typically made from leather. These are a popular choice with cruiser and Harley-Davidson riders. This style offers a relaxed fit and helps portray a cool, laid back look. Unfortunately, most cruiser jackets don't come with any armor protection.
Adventure and touring motorcycle jackets are designed to be comfortable and provide protection for a wide range of riding conditions and weather elements. This style is typically highly durable, waterproof, and well ventilated. Most adventure jackets come with thermal liners, a higher collar, and a longer cut to make them more practical for a wider range of conditions. Check out our in-depth guide on the best adventure motorcycle jackets for more recommendations.
Sport and street motorcycle jackets are lightweight, feature a relaxed design, and typically come with ample protection. These are a great choice for local riding and motorcycle commutin,g. This style is usually made of textile materials, with some of the higher end options coming with a removable liner.
Racing motorcycle jackets are best suited for high-powered sports bikes and track days. These are usually made from a thick leather and come equipped with plenty of added protection. This style provides a tight fit and is a great choice for riders racing motorcycles at high speeds.
Ventilation
Almost every motorcycle jacket comes with vents or a mesh construction. This helps motorcyclists better manage their comfort in warm weather.
Without ventilation, it's possible to overheat. It's uncomfortable riding in warmer weather without a steady airflow across the body.
Adjustable vents can keep riders cool and well ventilated. Keep an eye out for jackets with mesh construction features and adjustable, zippered vents.
Take a look at our post on the best mesh motorcycle jackets. These are some great options for staying cool during the summer.
Fabric
Motorcycle jackets are available in a few different types of fabric. The two main choices are leather and textile.
Leather motorcycle jackets are widely popular with cruiser riders and older riders. This style offers great abrasion resistance and suitable protection against road rash. However, leather can be expensive and uncomfortable in poor weather conditions.
Textile motorcycle jackets are popular with most riders and are available in a wide range of different styles. Most of them are budget-friendly, with plenty of options to choose from under $300.
Textile gear is better for poor weather conditions. Most come with additional features, such as integrated armour, ventilation, and pockets. This style breathes well and is more flexible, providing a better riding experience.
Choosing the fabric depends on your personal preferences and the type of riding you're doing. Some riders will even have both a leather and textile motorcycle jacket.
Liners
Removable liners are available with some models. These are most typically found in adventure and touring options.
Liners are a great choice for riding in cold weather or wet conditions. They're easy to use, Easy to remove, and can increase the versatility of a jacket.
Reflective Strips
Reflective strips are a great feature to look for, especially if you're doing a lot of night riding. This is a strip along certain parts of the jacket that becomes reflective at night.
These strips can help increase visibility on the road and provide riders with a safer riding experience. Look for this feature if increased visibility is something you're interested in.
Adjustment Points
It's important to wear gear that fits properly and it's comfortable. There's also better protection with something that fits properly.
Mid-range to higher-end jackets come with adjustment points on the waist, wrists, sides, and sleeves. This makes it easy to customize your fit and enjoy a more comfortable riding experience.
Price
The last thing to consider is how much money you're willing to spend on a motorcycle jacket. There are options available ranging from $50 all the way up to $1000 and more.
How much you're willing to spend depends on your personal budget. At the entry-level, it's a good idea to spend around $300. For this price it's possible to find a jacket that's well rated, equipped with some extra features, and with enough armor to protect you.
Best Motorcycle Jacket FAQ
How Do You Care For a Motorcycle Jacket?
Motorcycle jacket maintenance depends on whether you have a leather or textile jacket. It also depends on the conditions that you're regularly riding in.
With textiles, it's possible to use a washing machine for regular cleaning. Alternatively, consider spot cleaning any problem areas using a moist cloth. A stiff bristle brush can also be used to get rid of any built up dirt or grease.
With leather, you'll want to use an at-home leather cleaning kit. Alternatively, it's possible to bring a leather jacket to a dry cleaner or leather cleaning specialist. Take advantage of any leather cleaning products you're comfortable with using as this can help extend the lifespan of your jacket.
How Do You Find the Right Size?
Most manufacturers will have a sizing chart or product specifications listed on the product page. Using your own measurements, refer to this information to find the right size jacket.
A tape measure will allow you to get the most accurate readings. Measure your chest, neck, and arm length to see what size you'll need.
While many options come with an adjustable fit, there's only so much you can change using velcro or snaps. It's best to find something that fits properly the first time to avoid any issues in the future.
How Long Do Motorcycle Jackets Last?
Unlike helmets, motorcycle jackets can last for many years. Keep an eye on the stitching, armor composition, and any weak points. This will let you deal with any issues you discover before they become a serious problem.
Keep in mind that if you're ever involved in an accident or collision, it's important to replace your jacket right away. Impacts can affect the integrity of the materials and they won't be as effective the next time.
What Type of Motorcycle Jacket is Best for Summer?
During the summer, consider using a mesh motorcycle jacket. These are designed to allow for maximum ventilation that will keep you cool and comfortable during warm weather.
Despite the mesh design, there is still plenty of armor and other practical features. The trade-off is that you don't have to deal with weight, warmth, and bulk of a traditional jacket.
Are Leather Motorcycle Jackets Waterproof?
Unfortunately, leather motorcycle jackets aren't waterproof. They'll be fine in a light rain, or if you're close to home.
Riders that plan on regularly riding in the rain should consider investing in a waterproof motorcycle jacket. Having the right motorcycle rain gear can keep you warm, dry, and comfortable, even in poor conditions.