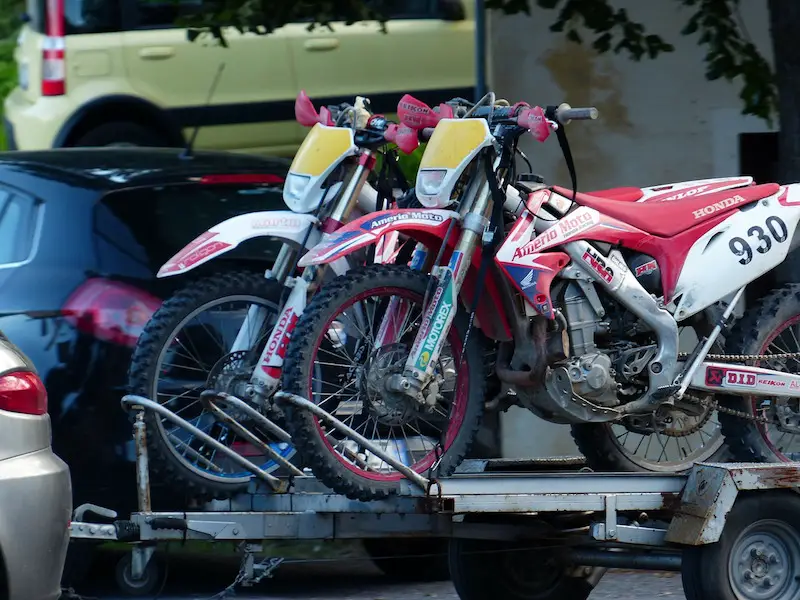 It can be disheartening getting ready for a ride, going to start your motorcycle, and finding out that the battery is dead. This could happen for a number of reasons, from having an old battery to not winterizing your motorcycle properly.
As long as you have a motorcycle jump starter, it's not too difficult to get the bike running again. The problem with using a jumpstarting device is that they're not all designed the same.
Some models are more expensive than others or may not come with the features you need. In this post, we'll be looking at the best motorcycle jump starters you can find on online.
Let's jump right into it!
The Best Motorcycle Jump Starters
DBPOWER 600A 18000mAh Portable Jump Starter (Best Motorcycle Jump Starter)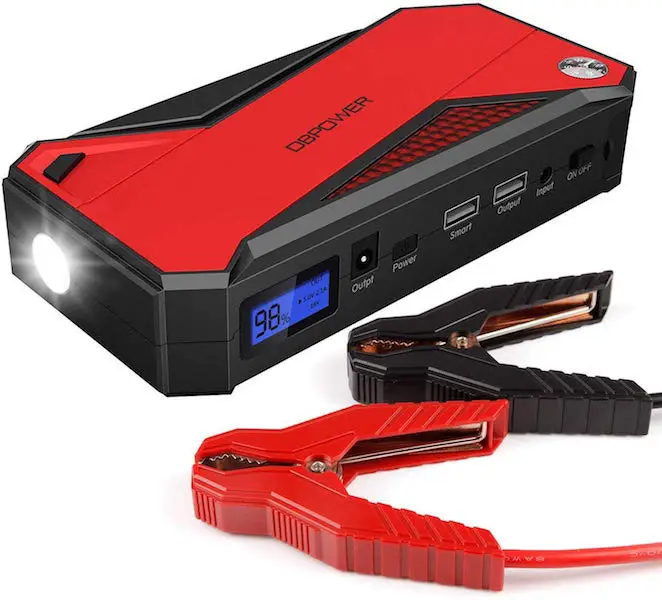 The DBPOWER 600A 18000mAh Portable Jump Starter is portable, compact, and ideal for jumping your motorcycle battery if it dies. While designed for cars, this is a jump starter that's suitable to use with your motorcycle. The best part – it's small enough to fit under the seat for in your tank bag/saddle bags for when you need it.
This nifty jump starter has been designed with portability and ease of use in mind. Thanks to the 18,000mAh capacity, you can keep it charged and ready to use for when you needed. With a peak current of 600A, this jump starter can be used for all motorcycles and the larger vehicles as well.
Not only can you use the DBPOWER 600A 18000mAh Portable Jump Starter to revive a dead motorcycle battery, it has a number of other practical uses. There is a flashlight built into the unit that's great for giving yourself better lighting in low light conditions. It's also equipped with USB ports so you can charge your other devices on the go.
Thanks to the LCD screen, you'll always be able to tell the remaining power and output voltage. This makes it easy to keep this device charged so that it's ready when you need it. Finally, you'll be relieved to learn about the intelligent protect clamps. These clamps are equipped with different protections and preventative measures that help to keep your motorcycle battery and bike electronics safe during the jump start process.
Overall, it's the DBPOWER 600A 18000mAh Portable Jump Starter that I would recommend. In my opinion, this is the best motorcycle jump starter for most riders. The features are practical and ideal for a range of different riding conditions, especially if your battery dies.
NOCO Boost Plus GB40 Battery Booster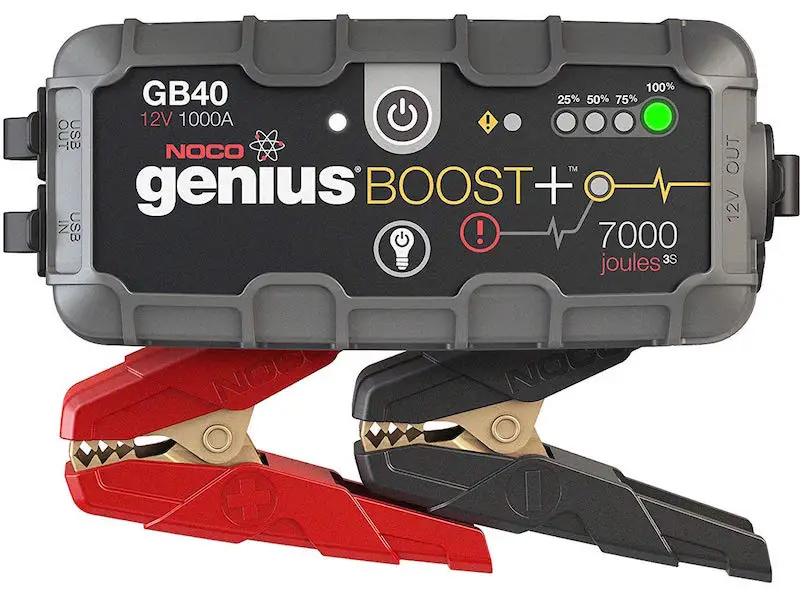 The NOCO Boost Plus GB40 is an incredible jump starter for motorcycle batteries.
 Thanks to its larger size, we personally find the previous two boosters to be better suited for motorcyclists. However, the NOCO Boost Plus GB40 is ideal for bigger bikes, group rides, and perfect to leave in your garage in case of emergency.
This booster pack provides up to 4000 Amps of peak current depending on the model. For motorcycle batteries we recommend going with the 1000 Amps or lower models for the smaller batteries.
With the NOCO Boost Plus GB40 it's possible to get up to 20 jump-starts on a charge. This makes it great for multiple bikes and even at-home use for your car and other vehicles.
Our favorite feature with this jump starter is the spark proof technology and reverse polarity protection. These features help to prevent any issues with connecting the cables and allow you to connect your battery safely.
Some of the other features of the NOCO Boost Plus GB40 booster include the integrated LED flashlight, USB port input, and durable design.
Those of you with more than one bike or any other gas powered toys at home will want to take a look at the NOCO Boost Plus GB40 Battery Booster lithium jump starter. This booster pack is easy to use and boasts a rugged design making it impossible for us not to recommend.
GOOLOO 1000A Peak 20800mAh SuperSafe Jump Starter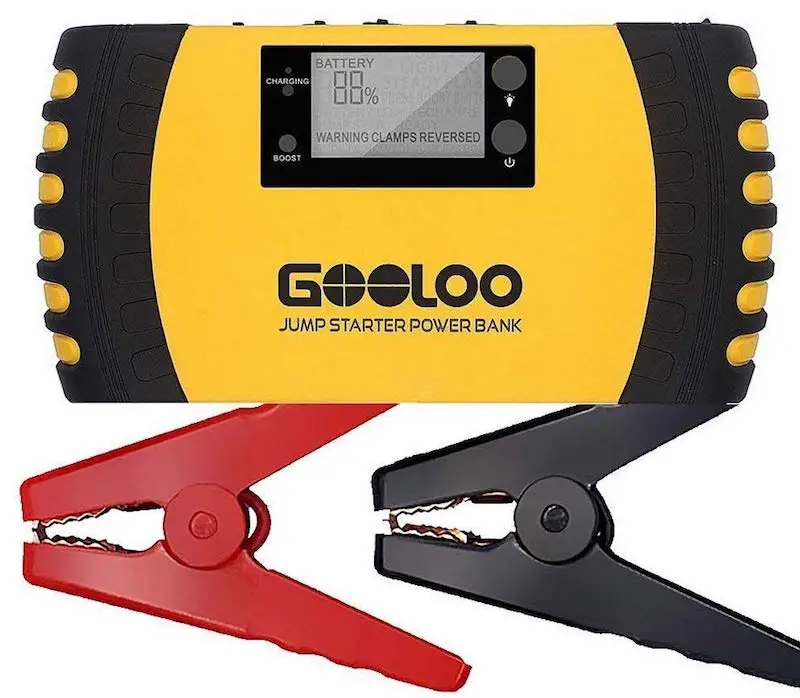 The GOOLOO 1000A Peak is a mid-range motorcycle battery booster that can also be used with cars, snowmobiles, ATVs, smaller vehicle batteries.
A peak current of 1000A can be delivered depending on how much power your battery needs to get started. This booster also comes with an integrated power bank featuring a 20800mAh capacity.
It's possible to enjoy up to 30 battery jump starts with the GOOLOO 1000A Peak Booster on a single charge. Charging this device is done through a wall charger (unfortunately a 12v adapter is not included).
This booster comes with dual USB output including a quick charge 3.0 USB port. These ports give you the ability to keep your smartphone and other devices charged when you're on a ride.
Our favorite feature of the GOOLOO 1000A Peak Booster is the LCD screen. The screen is easy to read and tells you the status of your battery so you can ensure it's always charged.
Finally, the clamps have been upgraded over the previous model. They're bigger, more durable, and easier to set up on your motorcycle battery.
Overall, the GOOLOO 1000A Peak Booster Jump Starter is a great motorcycle jump starter for riders with more than one bike or other vehicles. The 12-month warranty and 30 days money back guarantee make this booster a no-brainer.
The Best Motorcycle Jump Starter Buying Guide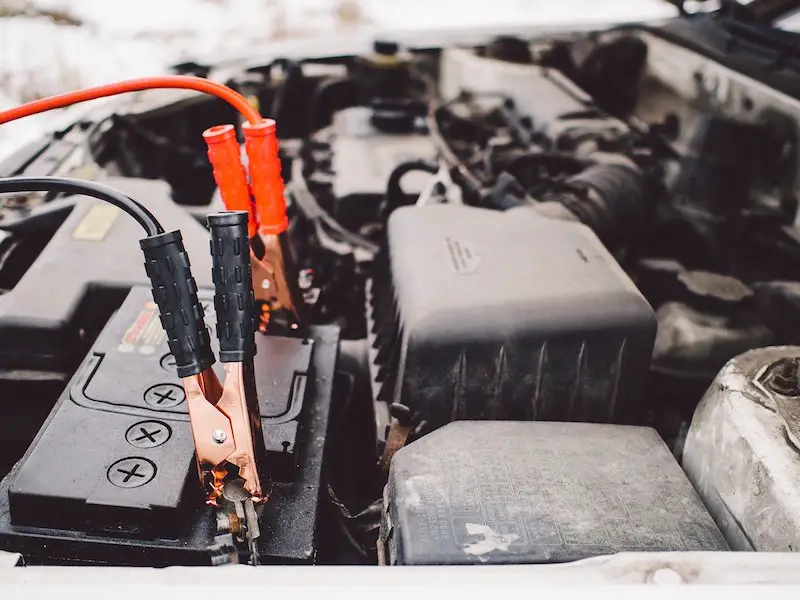 First time buying a motorcycle jump starter? They're great to have and one of the most important essential motorcycle tools. This guide was put together to teach you about the different features to look for in a portable jump starter for your motorcycle.
Each different device has its own benefits and drawbacks depending on your style of riding. Budget and personal preferences also play a role in helping you find the right jump starter.
Take a look at this helpful guide if you're having trouble deciding on the right model. Here are the different features to look for:
Portable Design
The best jump starters are those that are lightweight, portable, and easy to store on your bike.
Avoid any models that are bulky or use full size automotive-spec Parts. These aren't going to be easy to ride with and harder to use with a motorcycle.
Sport bikes and small cruisers will have the least amount of storage capability. Keep this in mind when you're buying a jump starter if you're planning on storing it on your bike at all times.
High Peak Current
Larger bikes with bigger batteries will require a higher peak current to be jumped, especially from a low battery charge.
Look for models with a high peak current.
These models will allow you to jump start your own bike without any current problems. A high peak current jump starter can also be used on other vehicles like snowmobiles, scooters, and boats.
Cheap models typically won't have the high peak current requirements for all motorcycle battery problems. While a cheaper jump starter might work in some cases, it's not what you'll want for any emergency.
There's also the "buy once, cry once" mentality that we follow here at Rips and Rides. Buy the right product the first time, even if it's slightly more expensive than what you're used to, and avoid any problems with it in the future.
Output Voltage
Another feature to keep an eye on is the output voltage off the jump starters you're interested in. The starters designed for cars provide too much power for your smaller, less power-intensive motorcycle battery.
Using a car battery starter could damage your motorcycle battery if you're not careful.
Double check your motorcycle owners manual for any warnings or recommendations before buying a jump starter. Don't forget to look at the actual model specifications as well.
Capacity
Portable jump starters for motorcycles rely on a fully charged power bank as their power source. Just like with the power banks you use for a smartphone, the ones designed for jump starters come in various capacities.
For a motorcycle the higher-capacity you can afford, the better you'll be if you ever have to jump start your bike. Cheaper, less expensive models typically come with capacities under 10,000mAh.
Higher-end, better quality models come with capacities up to 20,000mAh. A higher capacity will help when more than one battery boost is needed.  This is practical when riding with others less maintenance-savvy than yourself.
Built-in Protection
The best jump starters for motorcycles come with built-in safeguards that protect your motorcycle battery against reverse connections or short-circuits. These features prevent your battery or motorcycle electric system from getting damaged.
It's also much harder to shock yourself if you make any mistakes connecting the clamps. Always double check how to properly connect the jump starter to your battery before turning it on.
Thankfully, most motorcycle jump starters come with instructions that make it clear on how to use them.
Additional Features
Many jump starters come with additional features that riders might find useful. Some of these features include USB ports, built-in flashlights, air pressure gauges, and built-in air generators.
Rather than looking at the accessories and additional features, look for a jump starter that's made from quality components. A good motorbike jump starter will be durable and designed with heavy-duty materials.
While some of these additional features are nice to have, they're not necessary for jump-starting your motorcycle.
How to Use a Portable Jump Starter on a Motorcycle
A portable jump starter battery pack for your bike is an essential tool for motorcycle maintenance. Whether you're heading out on a solo day trip or a longer ride with your buddies – you never know when you'll need to jump or charge your motorcycle battery.
Even at home, having the jump start on-hand will prove to be useful. Batteries can die for any number of reasons and it's easier using a booster than your car or another bike. If you're having ongoing trouble, consider buying a new motorcycle battery.
These jump starters will get you back on the road quickly without much stress. You won't need to wait for a motorcycle towing company, flag down another car, or call your mom. With a booster you can simply hook it up, start the bike, and ride off.
The best way to jump start a motorcycle with your jump starter is by following the manufacturer instructions. The video above also goes into detail about getting your bike started.
Why You Need a Motorcycle Jump Starter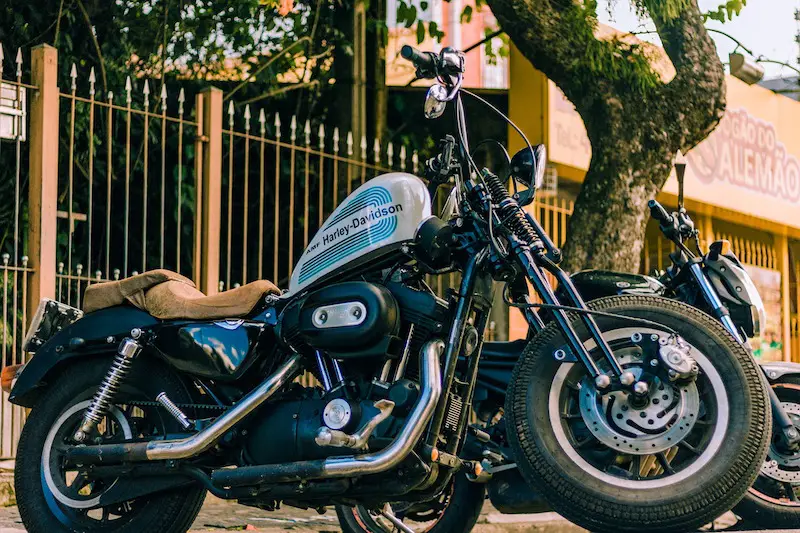 Those of you that ride all year or stay on top of motorcycle maintenance probably won't need a motorcycle jump starter. On the other hand, if you don't drive very often or if your motorcycle is stored during the winter, this may be something you need.
Let's look at the different benefits of investing in one of these products:
Peace of Mind
If you ever need to get your bike running again, it's a good idea to have the best portable motorcycle battery jump starter. This way you won't need to worry about getting stranded if your battery happens to die and you're not at home.
It also means you don't need to rely on someone to come pick you up or wait for a towing service. Instead, you can jump start your bike and be well on your way.
Safe to Use
Using a car or truck to jump start a smaller motorcycle battery can actually damage the battery or the electrical system. This should be avoided, unless it's the only course of action to get the battery running again.
Instead, using the best portable jump starter for your motorcycle prevents needing to rely on a car or truck. This way you can safely start your motorcycle and charge the battery without damaging it.
They're Affordable
Most of the best motorcycle battery jump starters aren't too expensive. They're worth investing in, especially if you're riding older bikes.
This is also something that's going to last many years, since it's not being regularly used. It's better to have it and not need it, just in case.
They're Versatile
Not only are the best motorcycle battery jump starters affordable, they're also versatile. Along with jump starting your bike, they can also be used on cars, trucks, snowmobiles, ATVs, and other vehicles.
This makes them a great tool to have in your garage. For many riders, these should be part of any essential motorcycle tool kit.
They're Easy to Use
Finally, portable jump starters are easy to use. It's simple to hook them up to your motorcycle battery to get it going again.
This way, there's no need to rely on anybody else if you happen to start your motorcycle and find a dead battery. Most of them even come with instructions that everybody can understand.
FAQ
How Long Does a Motorcycle Battery Last Without Charging?
Generally, a motorcycle battery will last between four and six months if you're not using it. However, this depends on a number of factors including age, storage conditions, and battery quality.
With older batteries, they're more likely to die within one or two months. Using a battery tender or maintainer can help prevent this from happening.
How Many Amps Are Needed to Start a Motorcycle?
The answer to this question depends on the condition, size, and starting components of the motorcycle engine. For example, with a 12-volt battery, it will take about 200 amps to start the motorcycle.
Can a Bike Battery Be Overcharged?
Yes, it's possible to overcharge the battery on a motorcycle. This will cause it to die faster and will require its being replaced sooner rather than later.
Avoid leaving a charger connected to the battery continuously. Eventually, the battery will be drained, and it will no longer work.