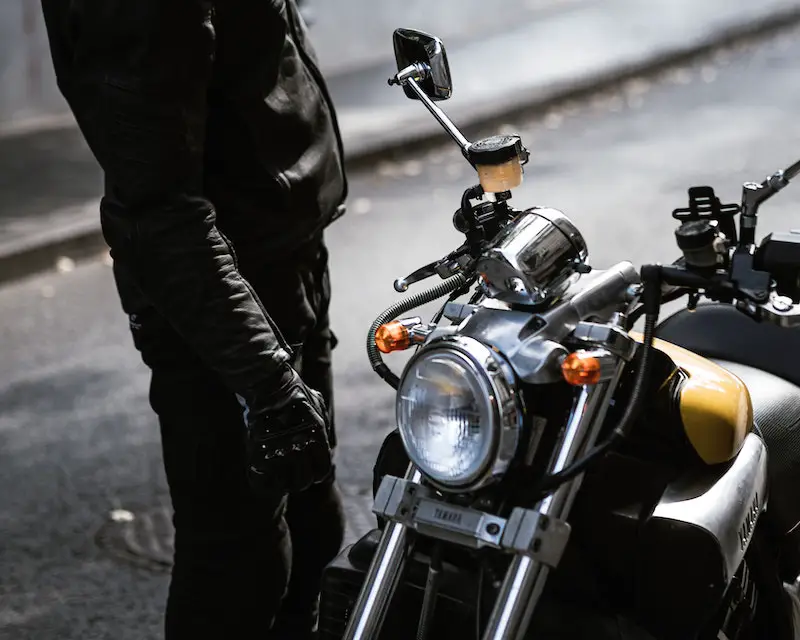 For many of you, motorcycle commuting is a big part of your life. Riding your motorbike to work is more fun, more fuel efficient, and leaves you feeling refreshed.
At the end of the day you also have your motorcycle commute to look forward to. You might even take the long way home or choose to ride the scenic route for some extra fresh air.
While you could just ride any old motorcycle to and from work, there are definitely some bikes that are better suited for the job. In this post, we'll be looking at the best motorcycles for commuting.
This way you'll be able to find the perfect commuter motorcycle for your daily ride to work. All of our recommendations are fuel-efficient and reliable while still being fun to ride.
Even if you already have a bike, adding a second motorcycle into the mix specifically for commuting can be a good idea. You wouldn't want to leave your expensive and higher-end bike outside at work or ride it in unpleasant conditions.
With that in mind, let's take a look at the best commuter motorcycles for most people. Feel free to leave your own recommendations in the comments below. Let's jump right into it!
The Best Motorcycles For Commuting
Honda CB300R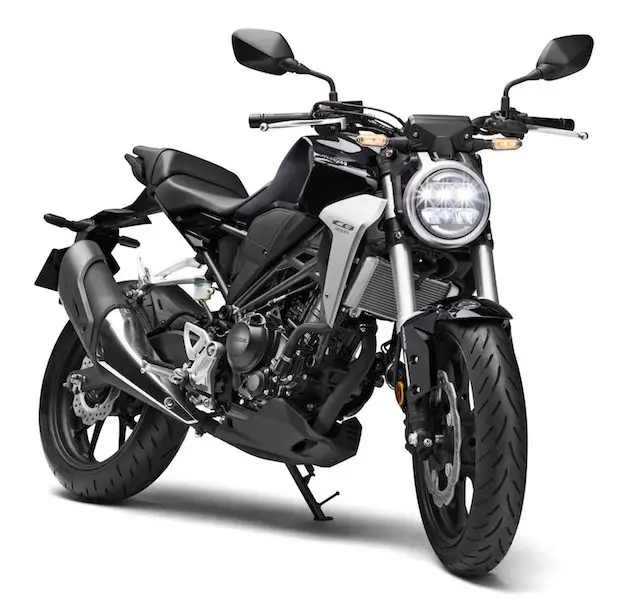 Fuel efficient and reliable 286cc engine
Ideal for urban commuting
Flickable and fun to ride
Honda durability
At the top of our list is the Honda CB300R. This is an affordable and easily maneuverable bike that's perfect for commuting with.
Thanks to its small size you'll be able to effortlessly zip through traffic and flick the bike around on congested city streets. The smaller size makes it easy to find somewhere to park as well.
With its 286cc single cylinder engine, you'll be able to take this bike on the highway. However, it excels in slower moving traffic where you won't have to be revving the engine as high.
When it comes to safety, this bike is equipped with ABS. This is definitely a feature you want when you're riding through erratic traffic conditions.
Another great feature is the overall Honda reliability that you'll enjoy with the Honda CB300R. It's easy to maintain, affordable to ride, and one of the most fuel efficient motorcycles for commuting on the market.
When it comes to riding, riders will enjoy the upright position and seat height of 31.5-inches. This makes it a comfortable bike for both commuting or taking out on the weekend for longer rides.
Finally, the sportbike/naked bike hybrid design makes this an eye-catching piece of machinery. Overall, we definitely recommend the Honda CB300R as one of the best commuter motorcycles for most people.
Vespa GTS 300
You might be thinking – a Vespa isn't a motorcycle! And you're right, it's not. However, when it comes to two-wheel commuting, the Vespa GTS 300 would make a great choice.
This would also be our recommendation if you're looking for the best scooter for commuting. With its single cylinder, 4-stroke 300cc engine, it offers plenty of power for both city and highway commutes.
Compared to a motorcycle, commuting on a scooter is easier and can be more enjoyable. There's no need to worry about changing gears and riders are provided with plenty of protection from the wind and elements.
Scooters, such as the Vespa GTS 300, are fuel efficient and easy to maintain. They tend to be quite small, making them easier to ride in heavy traffic conditions.
The Vespa GTS 300 comes loaded with practical features to make your commute even more enjoyable. These would include ABS, traction control, solid 12 inch tires, and double disc brakes.
Other features worth mentioning include daytime running lights, practical internal storage, digital instrumentation, and a USB charging port. While it may command a higher price, scooters like the Vespa GTS 300 are worth it for both commuting and leisurely rides.
If you're looking for a scooter that can effortlessly tackle city riding and some highway commuting, the Vespa GTS 300 would be a great choice. This is another one of our top recommendations for the best commuter bikes that won't let you down.
Kawasaki Ninja 650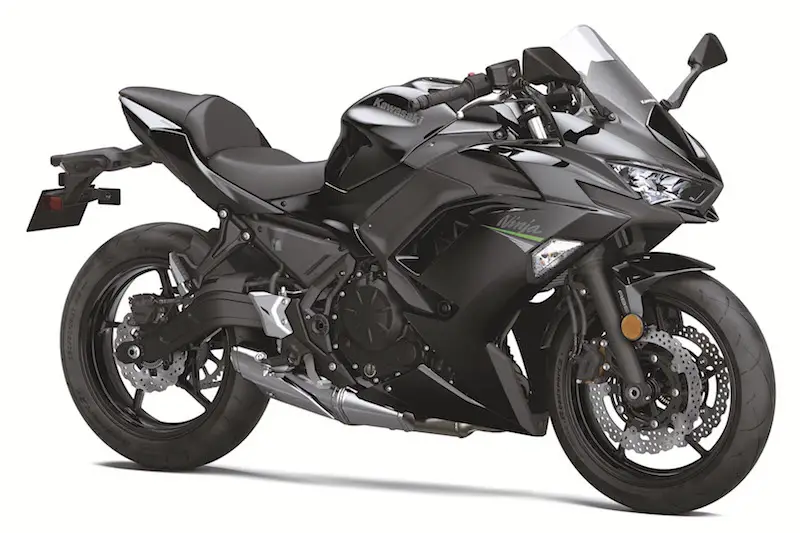 For longer highway commutes, and for something that's fun to ride on the weekends, it's the Kawasaki Ninja 650 that we would recommend. This is a beast of a machine that handles well on the highway and can give you plenty of enjoyment when you're not riding to or from work.
Classified as a sport touring motorcycle, the Kawasaki Ninja 650 has a comfortable, semi upright seating position. This gives you a great vantage point in traffic and reduces the pressure on your lower back, wrists, and neck.
Underneath the hood you're looking at 649cc of power. This is more than enough for keeping up with traffic, passing slower vehicles, and making sure you have fun on the weekends.
The modern sportbike styling is eye-catching, aggressive, and sleek. This helps the bike to stand out with its angular styling, upswept tail cowl, and aggressive headlight design.
The sporty, parallel-twin 649cc engine delivers responsive and smooth performance providing you with an enjoyable commute. Riders will love the mid-range power that you can feel in every gear.
As a Japanese sport bike, you can rest assured when it comes to the reliability of the Ninja 650. This is a reliable and fuel-efficient motorcycle that's fun to ride and easy to maintain.
Other features worth mentioning include the ABS, Bluetooth smartphone connectivity, track like maneuverability, and TFT color instrumentation. All of these features make the Kawasaki Ninja 650 another great choice if you're looking for a motorcycle that's suitable for commuting as well as fun to ride.
Ducati Multistrada 1260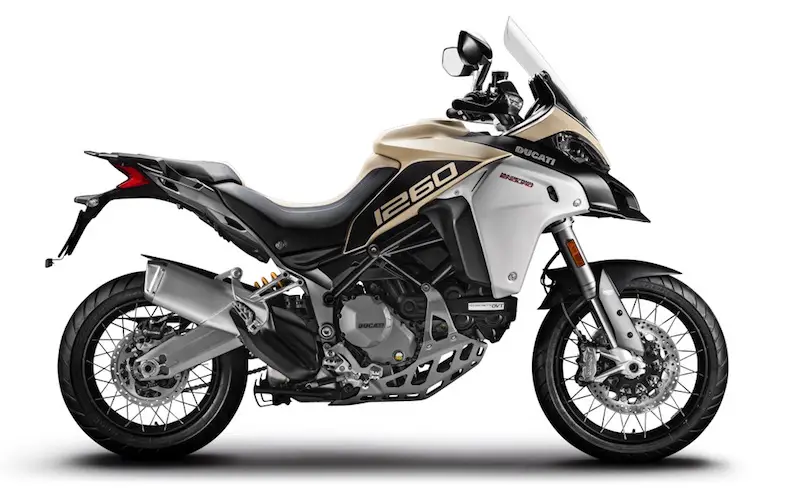 Powerful, 1262cc engine
Upright seating position
More than enough power for highway riding
Great features
The Ducati Multistrada 1260 is a beast of a bike and another great choice for riders with heavy commutes. The upright seating position, powerful engine, and agile handling make this bike ideal for highway riding as well as navigating city traffic.
With the Ducati Multistrada 1260 you'll never have a problem not being able to pass other vehicles on the highway. Thanks to the upright seating position, you'll also arrive at work feeling rested without any pressure or pain on your shoulders, wrists, or lower back.
Not only can you use the Multistrada 1260 for commuting, it can be easily switched into an adventure or touring motorcycle. Throw on your motorcycle saddlebags, load them up, and hit the road for a weekend trip or week-long adventure.
When it comes to commuting, however, there are a few features that help Ducati Multistrada 1260 stand up from the rest. For starters, the 1260 engine is reliable and offers plenty of passing power while allowing you to easily keep up with traffic.
The bike is also equipped with a keyless ignition, tire pressure monitoring, and a nifty quickshifter. These features allow you to spend more time riding or getting to work, rather than worrying about the less important details.
Other features worth mentioning include the standard motorcycle heated grips and the lockable luggage. The grips help to keep your hands warm on those colder days and you can stash your laptop and work clothes in your own luggage setup.
All of these features combined with the comfortable, upright riding position and general reliability results in a refined commuting machine. With a few easy changes this bike can be easily turned into a sporty adventure touring motorcycle as well.
Overall, we would definitely recommend the Ducati Multistrada 1260 if you're looking for a versatile workhorse of a bike that will get you where you need to go in style and comfort. Despite the higher price tag, this is a bike you can use everyday for a wide range of tasks, whatever the weather happens to be.
KTM Duke 390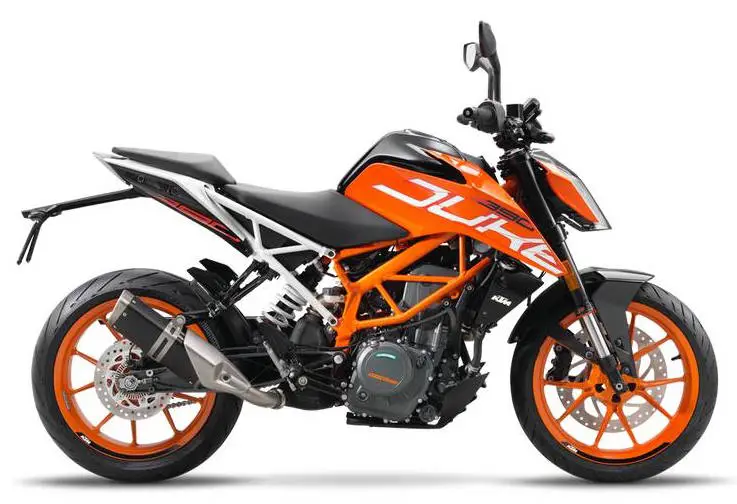 Lightweight and easy to ride
Fuel efficient
Great for filtering in dense traffic
Reliable
Getting back to the smaller and more fuel-efficient bikes, we want to recommend the KTM Duke 390. This is a popular choice for motorcycle commuting in Europe and the Duke 390 is slowly growing in popularity in North America as well.
The KTM Duke 390 is a fun and lightweight bike that will zip you through city traffic with ease. Compared to the Honda CB300R we mentioned earlier, it's a bit heavier, although it comes with an extra 49 pounds of torque to get you out of those tight situations.
The upright seating position is comfortable and provides a great vantage point in city traffic. Despite being a smaller, 373cc motorcycle, the Duke 390 still has plenty of power for keeping up with traffic and passing other vehicles on the highway.
The engine itself produces a punchy 43 horsepower with a top speed of just over 104 MPH. It'll easily keep up with traffic, although it excels best on crowded city streets in urban congestion.
It's also hard to argue against the famed KTM reliability. Not only that, but this bike is fuel efficient as well as being fun to ride on the weekends.
Some of the features worth mentioning include the excellent handling, 43mm USD suspension, and ABS brakes. This bike will get you where you want to go and keep a smile on your face while you're at it.
Honda NC750X (Best Long Distance Commuter Motorcycle)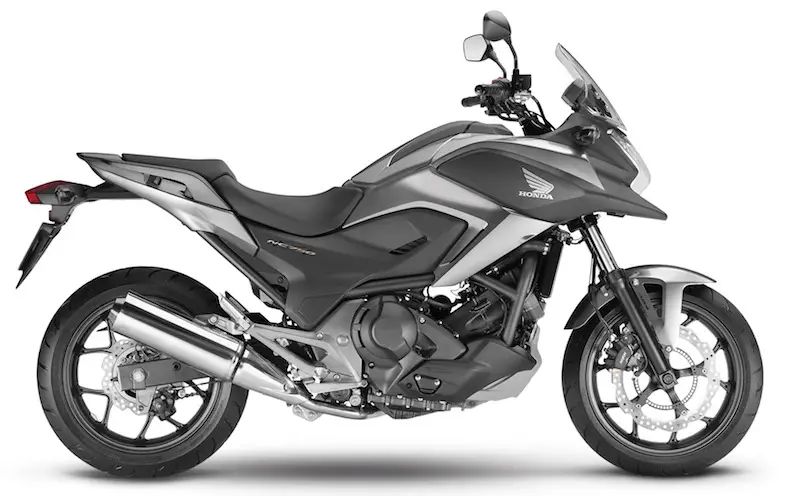 70+mpg fuel economy
Comfortable, upright seating position
DCT Dual Clutch Transmission
Ample internal storage
The Honda NC750X would be our recommendation if you're looking for the best commuter motorcycle for long distance commuting. When it comes to overall value, you'll be hard-pressed to find a better deal than the Honda NC750X.
While it's not the sportiest bike, or the best-looking, the Honda NC750X is reasonably priced. On top of that, it's easy to ride and provides a smooth and comfortable ride that makes it ideal for longer commutes to work on a daily basis.
The 745cc engine is bulletproof and more than capable of keeping up with traffic while giving you the passing power you need on the highway. Depending on the model, some of the Honda NC750X bikes even come with a dual-clutch transmission for an even easier commute.
Most importantly, the Honda NC750X has an impressive fuel economy of over 70 mpg. This helps to save you money in the long run and keeps you from spending too much time filling up at the gas station.
Other features worth mentioning include the impressive internal storage, comfortable seat, upright seating position, and general Honda reliability. This bike has a wide range of aftermarket upgrades and accessories available allowing you to turn it into whatever you want.
Overall, if you're looking for a reliable and powerful commuter motorcycle, it's the Honda NC750X that we would recommend. While it's not going to turn any heads, it's a perfect choice for longer commutes as well as weekend rides.
Honda CRF1000L Africa Twin (Best Motorcycle For Commuting and Touring)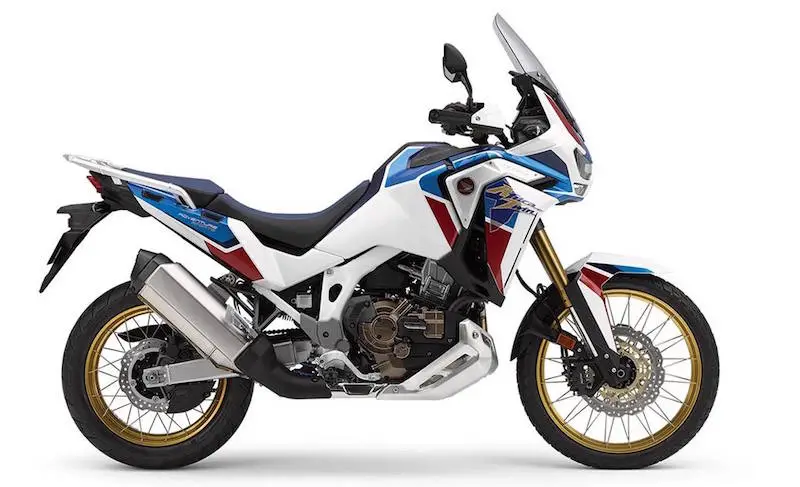 998cc, parallel twin engine
Comfortable, upright seating position
Great for weekend trips and longer motorcycle tours
Loaded with modern features
Despite its size, the Honda CRF1000L Africa Twin makes for the perfect choice if you're looking for a motorcycle that can be used for both commuting and touring. During the week this beast will easily get you to work while on the weekends will get you anywhere you want to go.
There is a recurring theme of adventure motorcycles here in our list of recommendations. That's because they make the ideal bike for commuting as well as for heading out on weekend adventures.
When it comes to riding, this is one of the most comfortable and usable commuter motorcycles currently available. Thanks to its 998cc parallel twin engine, riders have all the power they need for keeping up with and passing traffic on the highway.
The rugged suspension and frame geometry allows riders to sail over potholes, road markings, and deep ruts with ease. With the comfortable, upright riding position there's a clear view of traffic helping to keep you one step ahead when you're on the road.
Not only that, the Honda CRF1000L Africa Twin is loaded with a wide range of practical features. One of the most impressive features is the dual-clutch transmission which handles all the gear shifting for you so you can keep your eye on what's going on ahead.
Other features worth mentioning include the 6.5-inch TFT touch screen, 5 gallon fuel tank, LED running lights, cornering lights, ABS, and cruise control. All of these features help to make the Honda CRF1000L Africa Twin one of the best motorcycles for commuting and touring.
If you're looking for a bike that you can use on your commute and explore the world with on the weekends, the Honda CRF1000L Africa Twin is a great choice. It also has a huge aftermarket of parts, upgrades, accessories, and dedicated forms to help you out with anything bike related.
Is Commuting on a Motorcycle Worth It?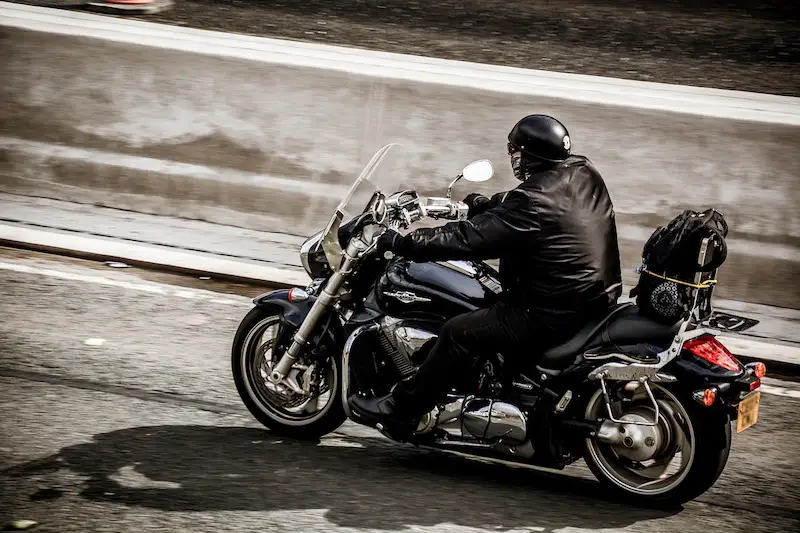 Compared to commuting by public transportation, bicycle, or even by car, motorcycle commuting is probably more expensive. There are a few reasons why this would be the case.
For starters, motorcycles require maintenance far more often than cars. Even the most reliable motorcycles will need valve inspections every 8000 to 10,000 miles. This doesn't include oil changes, chain adjustments, chain cleaning, and other maintenance items that happen more often.
Next, motorcycles have more consumable items than cars. Motorcycle tires need to be replaced every 5,000 to 20,000 miles with the best motorcycle tires you can afford. Brake pads and chains need to be replaced every year, especially if you're racking up the miles with commuting. The chain also needs to be lubed and regularly maintained to prevent any issues or damage to the bike.
There's also the insurance cost and gear costs that need to be considered. Motorcycle insurance money to be paid on top of car insurance. Gear such as motorcycle jackets, motorcycle gloves, motorcycle boots, and other motorcycle accessories need to be invested in and maintained.
While most bikes are surprisingly fuel-efficient, there are also a number of equally fuel efficient cars. For example, a diesel or TDI vehicle will get a comparable fuel economy of some of the most fuel efficient motorbikes out there.
At the end of the year, it's probably going to cost you more to commute on a motorcycle compared to commuting by car, bicycle, or public transportation. However, motorcycle commuting is a lot more fun and can help to give your life some much-needed enjoyment at the beginning and end of your day.
It's a good idea to compare the costs of motorcycle versus car ownership when you're looking at commuting by bike. This will give you a better idea of what costs to expect and whether or not commuting on a motorcycle is worth it.
Is Motorcycle Commuting Safe?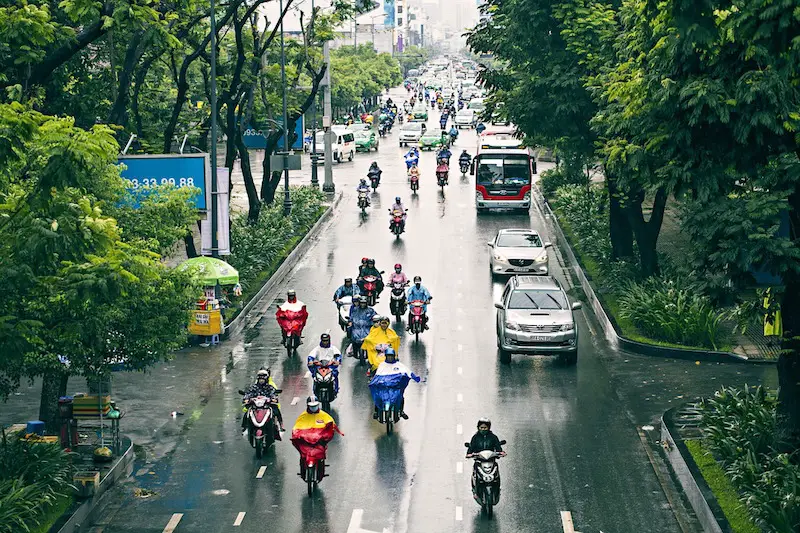 There is an element of risk involved anytime that you get on a motorcycle. It doesn't matter if you're commuting or heading out for a leisurely ride – riding is definitely more dangerous than driving or taking public transportation.
That's not to say that you shouldn't commute with your motorcycle. Instead, you should be focussing your efforts on arriving safely.
This means wearing the proper motorcycle safety gear and paying attention to what's happening in traffic. You might also consider taking a motorcycle safety course, if you haven't already.
Statistically, you're more likely to get critically injured in a motorcycle crash versus a car crash. That's why you should always wear the proper gear, especially the best motorcycle helmet you can afford.
Avoid riding when you're overly tired or during extremely poor weather conditions. Pay attention to what's going on, keep your head on a swivel, and you'll have a much safer motorcycle commute.
Are Sport Bikes Good For Commuting?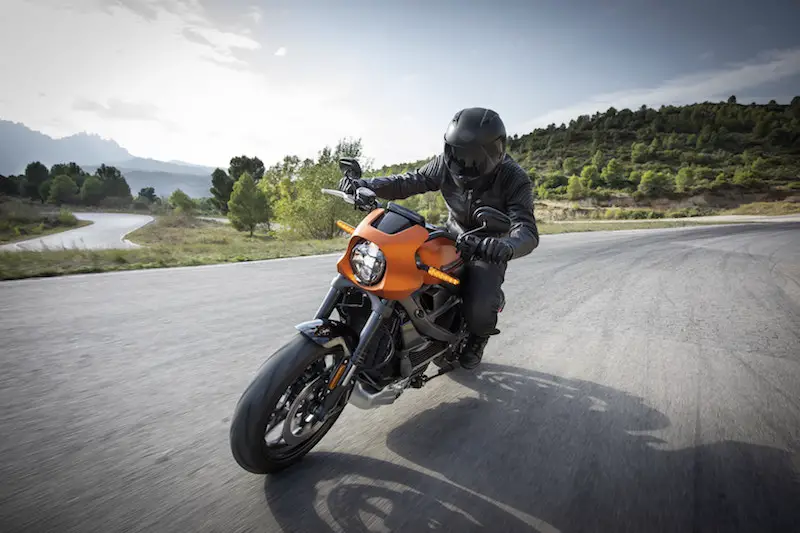 Any motorcycle can be used to bring you from point A to point B. The style, sitting position, and design of the bike will have an influence on how you feel when you arrive.
Sport bikes can definitely be used for commuting and they are a popular choice for many people. For comfort, longer rides will be better on a bike classified as "sport-touring".
Touring and adventure motorcycles, with an upright seating position, are the ideal choice for commuting with. These are comfortable to ride and provide you with the best vantage point of traffic ahead.
The main disadvantage to sport bikes is their aggressive seating position. This place is a lot of pressure on the wrists, neck, and lower back which you might feel during the day.
For shorter commutes a sportbike would do just fine. They're great at highway rides, keeping up with traffic, and giving riders enough power for passing.