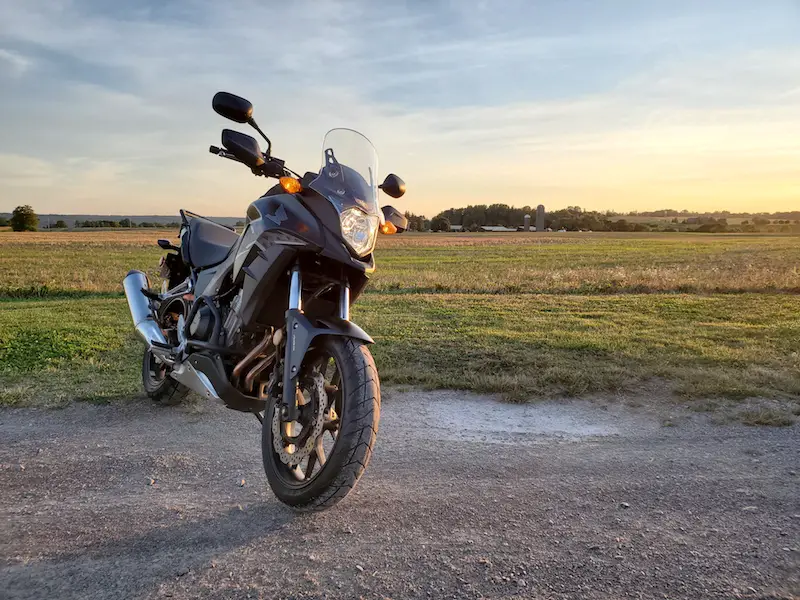 After getting into my first motorcycle accident and totalling my Honda CBR250R, it was time to look for a new motorcycle. Judging by my posts on the best beginner motorcycles and best motorcycles under $5,000, you probably know I'm fond of Hondas. This time, I wanted something fuel-efficient, fun to ride, and reliable for commuting.
The beautiful Honda CB500X kept coming up during my research. I decided to pull the trigger and ended up buying a 2014 Honda CB500X. In this post, I want to share my Honda CB500X review to give you guys a better idea how I feel about this bike.
Whether you're looking for an entry-level motorcycle, something good for commuting, a reliable adventure bike, or all the above – the Honda CB500X is probably your best bet. This is a sexy bike with an impressive fuel economy that's completely capable of highway commuting. Let's take a look at all of the great features that make the Honda CB500X a perfect motorcycle for most riders!
Honda CB500X Review: The Best Ever Motorcycle?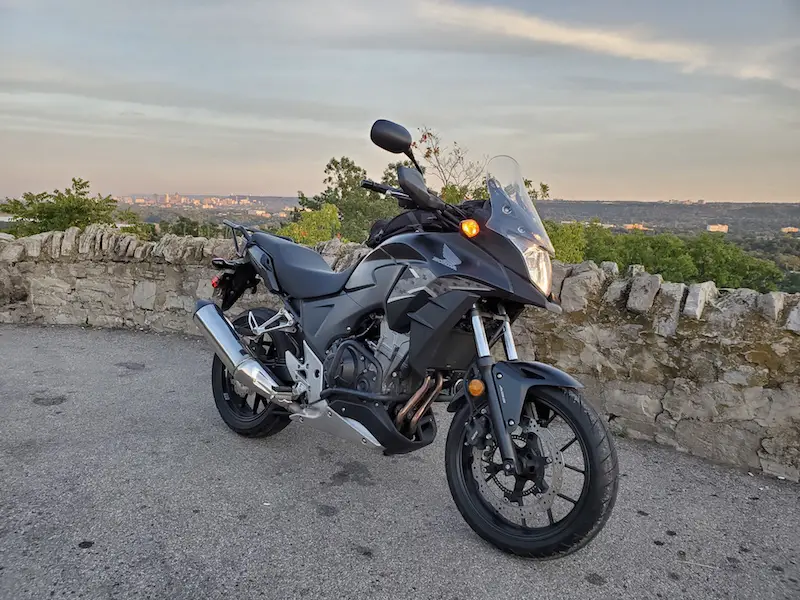 On the surface, nothing really jumps out about the Honda CB500X. It's equipped with a twin cylinder, 180-degree crankshaft engine that's putting out roughly 470 horsepower.
Despite what some might believe to be underpowered, this fuel injected workhorse has more than enough power to get you where you're going. On top of all that, riders are going to love the 70MPG fuel economy, especially on day trips and long commutes.
Not only can the CB500X keep up on the highway, as an adventure bike is designed to be taken off-road for a different type of fun. Paired with a Rally Raid kit and you're looking at one of the best adventure bikes ever made. It will even tear up some logging roads or light trails, as long as you throw on a better set of dual sport tires.
What's So Great About the Honda CB500X?
Sitting on the CB500X for the first time, especially coming from a lighter CBR250R, the 500 felt heavy and awkward. I wasn't used to the upright seating position and ergonomic design of this affordable adventure bike. All of my doubts vanished as soon as I took it down the street for a quick test drive.
The handlebar position is perfect, with easy access to the throttle and all the controls. Thanks to the ergonomic seat design, I could tell the bike was going to be well suited for a longer rides and multi-day trips. The upright seating position allows you to see through traffic and gives you a good command of everything in front of you.
Plugging in the key and turning the ignition on, the modern LCD screen booted right up. The ABS light confirmed the breaks were working and I could already see the fuel economy gauge set at a nifty 4.1L/100KM.
Finally, it was time to hit the starter button. Just like my old CBR250R, the CB500X fired up immediately. This isn't surprising, given it's a Honda. What was surprising, was how quietly and smoothly the twin cylinder engine idled compared to my older, buzzy 250R.
Riding around, I started to appreciate the adventure bike style and rugged design of the CB500X. These bikes are starting to become more popular, no doubt for their comfort, fuel efficiency, and practical riding ability.
The longer travel suspension, 5.5-inches in the front and 4.7-inches in the rear, meant the bike gobbled up bumps and rough roads with ease. It's also possible to adjust both the front and rear suspension, depending on your preferences and where you'll be riding.
Right out of the box, the CB500X is a nearly fully capable adventure bike. It can be made perfect with a few slight upgrades and modifications.
Fuel Economy and Comfort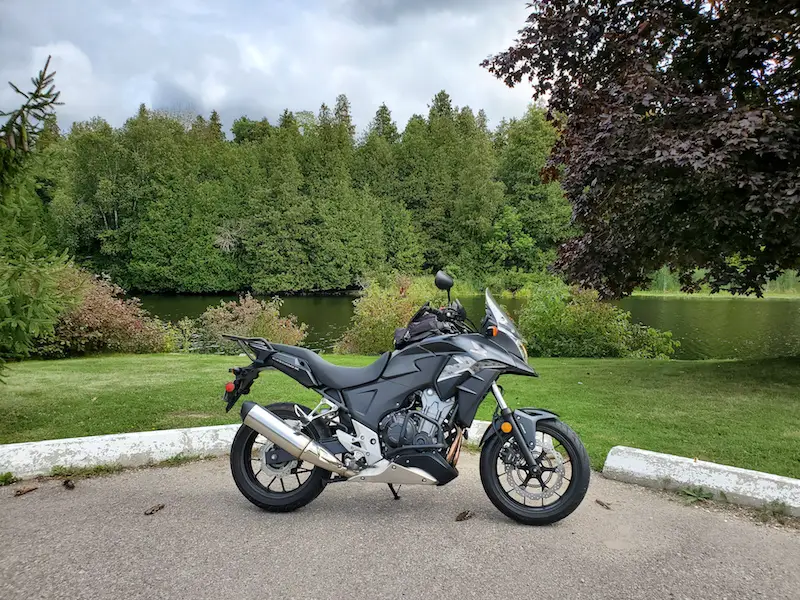 Like I mentioned in the beginning of this Honda CB500X review, the fuel economy is one of the best features of the bike. There's a nifty fuel economy meter on the problem computer. This makes it easy to travel your fuel usage and make adjustments to your riding for better fuel efficiency.
For my style of riding, somewhat aggressive, I'm able to achieve an impressive 4.1L/100KM of fuel efficient. This translates to $4 to $5 per 100KM of riding here in Ontario. Whether you're commuting, or just going on weekend rides, this is reasonably affordable for all but the most budget-minded of motorcyclists. It's hard to go wrong choosing one of the most fuel efficient motorcycles, just like this Honda.
Those of you spending the majority of your time riding on pavement and secondary roads will find this bike to be perfect. You can even toss in the occasional logging road or unpaved road for a bit of honest adventure biking.
When it comes to the engine, I'm a huge fan of the torque. From just about any RPM you can hammer the throttle and the bike will rip. Despite the 47 horsepower between your legs, the CB500X has plenty of power to get you into trouble and keep up with traffic. The torque is more than enough in the powerband is smooth and linear for easy riding.
As for comfort, the CB500X is one of the most comfortable motorcycles I've sat on and used. The upright seating position is comfortable for longer rides without any awkward pains or pressure points. Using the clutch is effortless, with a lot of room in the 6-speed transmission for highway cruising or secondary road carving.
When you're riding along, the small windshield provides ample coverage from the blowing wind. It also helps to keep bugs and rain off of your body, although your head and helmet is left relatively exposed. Depending on your preferences, the windshield can be easily adjusted to a higher or lower setting.
Aftermarket Parts and Accessories
It used to be that riders had difficulty finding aftermarket parts and accessories for adventure bikes other than the V-Strom models. Today, that's not the case, especially with the Honda CB500X. Those of you doing your motorcycle gear shopping online will have no problem finding CB500X accessories and parts readily available.
Everything is available for the CB500X including heated grips, engine guards, rear racks, fender eliminators, kickstands, shocks, and anything else you would want. The Rally Raid kit I mentioned above can turn the CB500X from a mediocre off-road bike into a total monster and RTW-ready motorcycle. Whatever you want to upgrade or change on the bike, it's possible to find parts online and in local stores.
Speaking of parts, there's always going to be OEM Honda parts available for this bike. It's one of the flagship Honda motorcycles, along with the popular CBR500R and CB500F. Both dealers and mechanics are familiar with bikes like this, and you'll have no problem finding parts or having them installed.
Drawbacks to the Honda CB500X
Although I love the CB500X, it does have a few drawbacks worth mentioning. These include the mismatched exhaust, the soft front brake, and the awkward handling. None of these are deal breakers, although I did want to share my thoughts on them in this CB500X review.
To start off with the exhaust, it doesn't match the styling of the rest of the bike. The CB500X has a shiny, bright, aluminum exhaust. Considering the rest of the bike is a matte color, including the matte silver engine case, the exhaust really stands out. It's possible to change the exhaust, but this is an unnecessary and expensive upgrade for not much benefit.
Next up on the drawbacks is the front brake. So far, after 5,000KM of riding, I find the front brake to be too soft. It seems you really have to grab a handful of front brake to take advantage of full stopping power. Thanks to the ABS, it should never be a problem getting the motorcycle stopped in time. The soft front brake is likely due to the single disc brake in the front, although different brake pads can make a difference as well.
The final drawback to the CB500X is its handling. This has to do with the fork, which it seems to compress a little too much going over bumps. When this happens during a turn, it feels a bit squirrelly and it makes you want to get upright immediately. This isn't a major issue and you'll get used to it once you start riding more often. Apart from that, I haven't found any other major drawbacks to the bike worth mentioning.
Honda CB500X Final Thoughts
Overall, the Honda CB500X is one of the best adventure bikes currently on the market. It's perfect if you're looking for something affordable, reliable, fun to ride, and easy to maintain. It really is a perfect bike in so many different ways that it's hard to go wrong with the CB500X if you're currently interested in getting one.
Personally, I don't think I'll ever sell my CB500X. For the riding I do, which is mostly commuting and mid-range motorcycle touring, the CB500X does everything I need. Add the amazing fuel economy and Honda reliability, there's nothing else I want from a motorcycle.
Compared to the V-Strom 650, or even the Honda NC700X, the Honda CB500X is an amazing and utilitarian motorcycle. It's likely you'll find this bike to be a great choice whether you're picking up your first motorcycle or upgrading into the adventure bike market. It doesn't matter if you're commuting, heading out on multi-day trips, or want to head off road and explore the world, the Honda CB500X is an amazing motorcycle that you need to consider!