Whether you're a beginner just getting into motorcycling, or you're a seasoned pro looking for a new ride, the used motorcycle market is where it's at. Why bother taking that hit on depreciation or worrying about dropping an expensive bike?
In this post, we're going to look at some of the best used motorcycles under $5,000. While there are risks to buying a used motorcycle, doing your homework out front can save you a world of stress. Don't forget to check out our very own used motorcycle checklist if you're planning on looking at a bike.
Some people don't like riding used motorcycles – and I can't understand it! It's more affordable to own a used motorbike, even taking into account any preventive or required maintenance. Not only that, but insurance is cheaper and there's a lot more information online when it comes to older motorcycles.
It doesn't matter if you're just getting into the hobby, or if you want to buy a new bike every year to try something different, here are some of the best used motorcycles under $5,000 currently available. Feel free to make any of your own recommendations in the comments below if you think I missed anything. Let's jump right into it!
The Best Used Motorcycles (Under $5000)
Honda CBR250R / CBR300R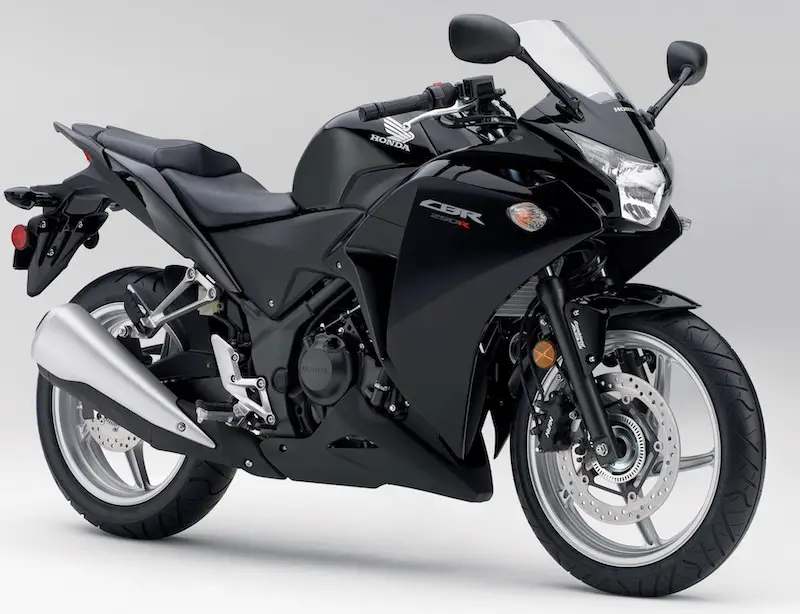 Topping this list is the reliable and affordable Honda CBR250, or the newer model, the Honda CBR300R. Here in Canada these bites can be regularly found for $2,000 to $3000 in amazing condition. At the end of the season I've seen them for as low as $1500 in perfect riding condition.
The Honda CBR250R and CBR300R are what many riders buy as their first motorcycle. They're reliable, easy to maintain, and fun to ride. Given how many there are and how many people want to upgrade to a bigger bike, there are heaps of used CBR250R's available in most local markets.
This bike is fun for both local rides and longer day trips. When I had one, I took it on a number of overnight trips here in Ontario. There are plenty of people riding these around the world and they're extremely popular in Asia.
After upgrading to a 500cc, I actually miss my old Honda CBR250R. There's that saying that it's more fun to ride a slow bike fast, than a fast bike slow. Those of you with experience on smaller bikes definitely know what I'm talking about!
So for just a few thousand dollars you can get a relatively new motorcycle that's still in great condition. The Honda CBR250R and CBR300R are great bikes. They're reliable, new enough that parts are easy to find, and fun to ride. It's hard to go wrong with one of these bikes if you're in the market for a cheap used motorcycle under $3,000 or less.
Honda Superhawk (Best Used Sport Bike Under $5000)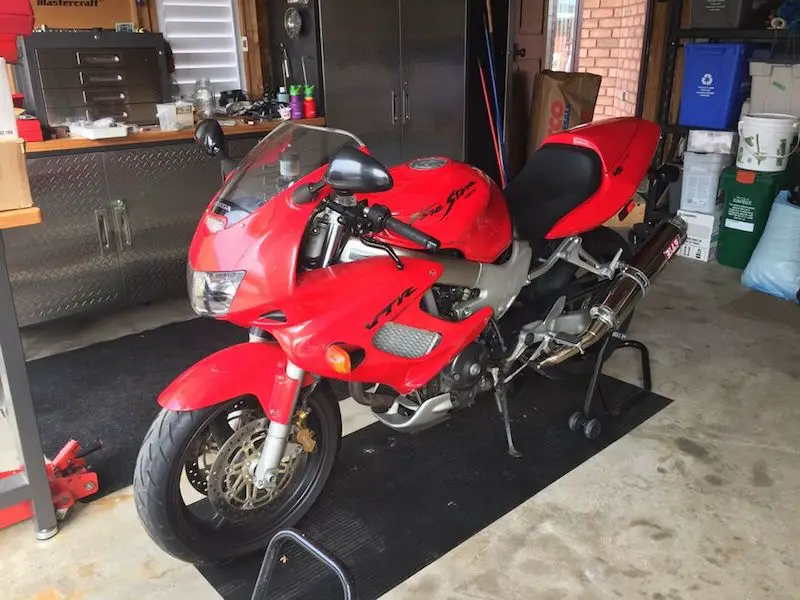 Don't be surprised when you keep seeing Honda's on this list. Honda makes some of the most reliable used motorcycles and they're easy to find for reasonable budgets. Next up on this list is the infamous Honda Superhawk. This bike rose to fame in the late 90s and early 2000s as being an affordable alternative to higher-end Ducati and BMW sports bikes.
The Honda Superhawk can be found in many local markets, here in North America, for well under $5,000. It typically hovers in the $3,000 range depending on mileage, location, and condition. For the price, you'll still have plenty of money left over for any maintenance or upgrades you want to make.
The biggest drawback to the Honda Superhawk is it gas mileage. Many riders have complained about the poor fuel economy. Apart from that it's an overall bulletproof bike that's fun to ride. As a Honda, it's easy to maintain and many local mechanics will have experience working on a bike like this.
With 996cc, the Honda Superhawk has all the power it needs, and then some. Whether you're looking for an aggressive commuter or you want to keep up with litre bikes in the twisties, the Honda Superhawk needs to be considered. For the price and easy maintenance, it's hard to go wrong with this bike, especially if you don't want to buy a Ducati.
Adventure Motorcycles
In the past few years, adventure bikes have taken the world by storm. These are bikes designed to gobble up the miles, whatever the terrain has in store.
Not only are adventure bikes durable and versatile, they're comfortable to ride. They can be loaded up with gear and taken to the remote corners of the globe without breaking a sweat. For the most part, they're fuel efficient, reliable, and perfect for most riding conditions.
With all of this in mind it's no surprise that adventure bikes are so popular today. The upright seating position and huge aftermarket for parts and accessories makes them a great choice for most riders.
Thankfully, this means there are plenty of used adventure motorcycles available in most local markets. Here are our recommendations for the best used adventure motorcycles under $5000!
Kawasaki KLR 650 (Best Used Adventure Motorcycle)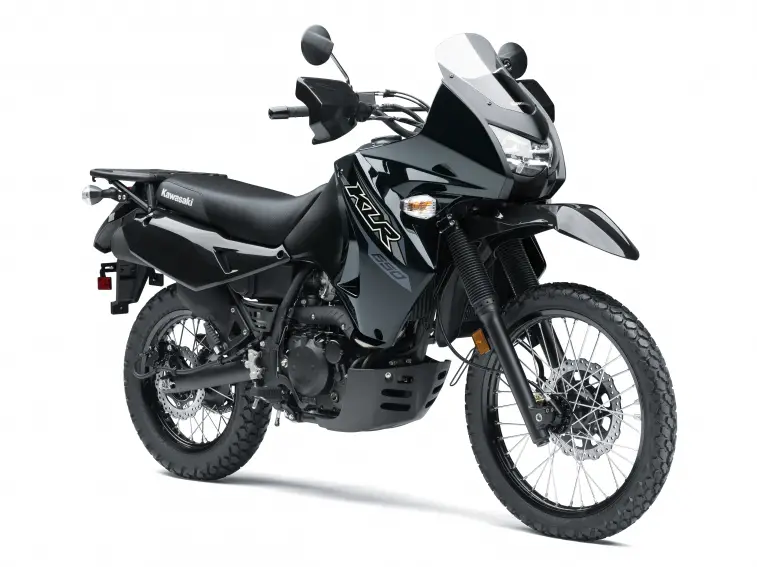 If you're looking for the best used adventure motorcycle, it shouldn't be surprising to see the Kawasaki KLR 650 as one of our recommendations. The KLR 650 is an iconic adventure bike and a great choice for getting off road if you're on a tight budget.
Since 1987, Kawasaki has been releasing this bike every year, with a facelift in 2008. Not much has changed over the years, apart from slight improvements and upgrades to the main components. However, don't think that that means you're not getting an amazing adventure bike for a great price.
It's easy to find parts for the Kawasaki KLR 650 just about anywhere on the planet. As for price, these are available in North America for under $2,000, especially if you get one of the pre-2008 models. Newer models can be found for under $5,000 rather easily.
Thanks to an active online community and a seemingly endless amount of aftermarket parts, the Kawasaki KLR 650 is by far one of the best adventure motorcycles on a budget. They're bulletproof, easy to work on, and recognized by mechanics everywhere. Whether you want something cheap for commuting that's not your run-of-the-mill sports bike, or you want an off-road adventure beater, we definitely recommend checking out the Kawasaki KLR 650.
BMW F650GS Dakar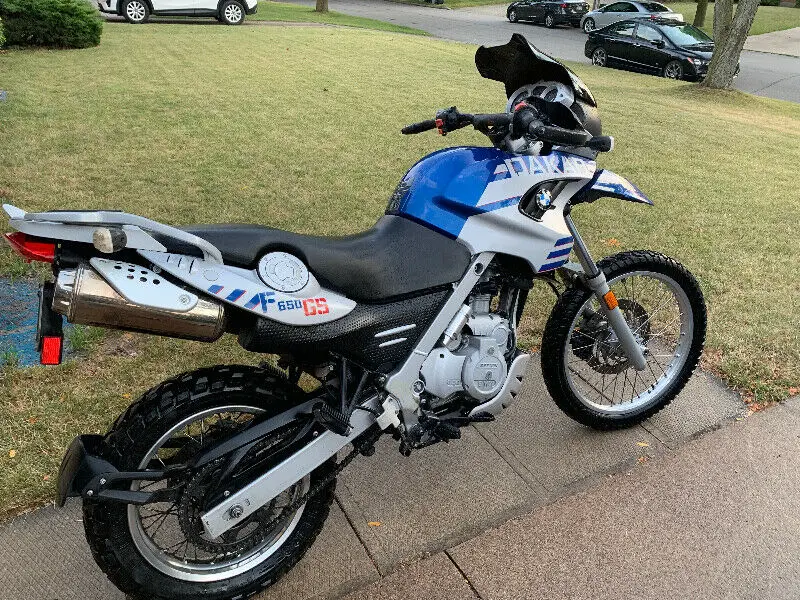 Everybody knows that BMW motorcycles are expensive, even the used ones. Thankfully, if you want to break into the adventure market, the BMW F650GS Dakar can actually be found for reasonable prices. This is arguably one of the best touring motorcycles under $5,000 that's reliable and can rack up 100,000+ miles without breaking a sweat.
While the F650GS is quite popular, the Dakar version takes it to the next level with its unique stylings and eye-catching trim. As a single cylinder adventure bike, the BMW F650GS Dakar is easy to ride and suitable for both beginner and experienced riders. Despite being more expensive to maintain, these BMW motorcycles tend to be reliable and relatively easy to work on.
When it comes to price, you'll be looking at spending close to the $5,000 maximum of this budget range. However, there are typically a lot of accessories and aftermarket upgrades included in the sale of used BMW F650GS Dakar bikes. This makes them a great choice if you're looking to start adventure riding both on road or off road.
Speaking of off-road exploring, the BMW F650GS Dakar was designed for being taken off the road wherever you want to go. The bike is equipped with a larger front wheel and increased suspension travel. These features really help when it comes to off-road adventures.
Although being a smaller 650cc motorcycle, the BMW F650GS Dakar packs all the punch you need. It's lightweight, easy to handle in most road conditions, and comfortable for longer rides. For the price, it's hard to go wrong with the BMW F650GS Dakar, especially if you're looking to start touring or adventure motorcycle riding.
Cruisers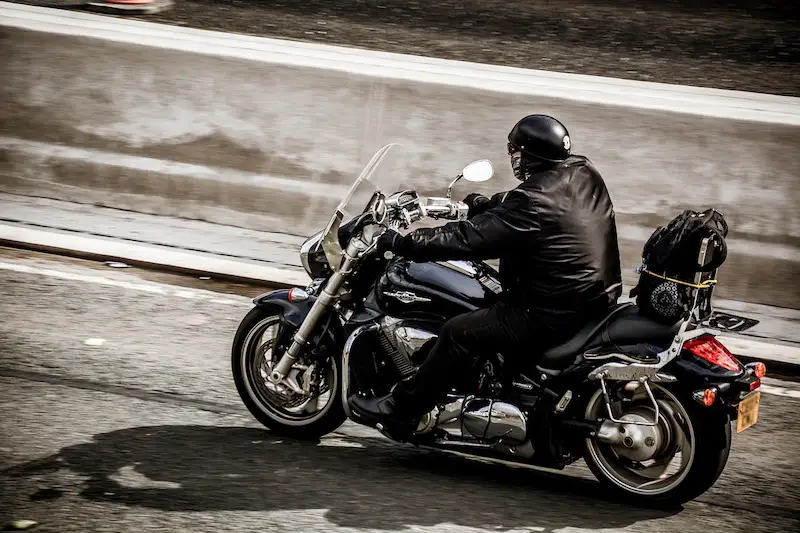 Young or old, new or experienced, cruisers are a popular choice for a vast majority of riders. In North America especially, it's common to see cruisers everywhere you go, anywhere that people are riding.
There are a few reasons for their popularity. Cruisers are comfortable, easy to ride, and they look pretty cool as well. There's lot of space for your feet and the handlebars are usually within easy reach. This makes for a laid-back riding style where you can kick your feet up and enjoy the scenery.
Most cruisers come with enough torque and noise to keep anyone happy, although your neighbors might not like when you come rolling home. They're easy to maintain and, thanks to their popularity, there are plenty of used cruisers to choose from.
Honda Shadow (Best Used Cruiser Motorcycle)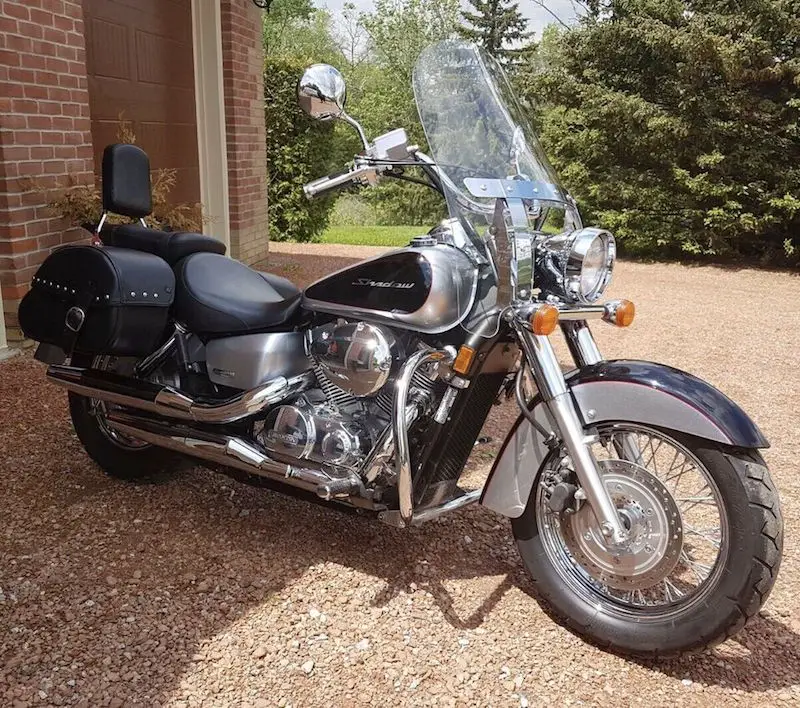 Those of you looking for the best used cruiser motorcycle are going to want to consider the infamous Honda Shadow. The Shadow is a great alternative to taking out another mortgage on a Harley-Davidson. They also look cool, they're reliable, and super easy to maintain compared to many other cruisers.
The Honda Shadow started out as one of the original UJM's, or Universal Japanese Motorcycles. Since coming out in the early 80s, it has grown to be one of the most popular cruisers. Today, plenty can be found on local used markets well under $5,000, depending on the year, condition, and mileage.
Thanks to the popularity of the Honda Shadow, there is a large aftermarket for parts and accessories for this bike. Most mechanics will also be familiar with this bike, as it's the cruiser of choice for riders not interested in getting a Harley Davidson. As a Honda, it's also reliable enough that you can spend most of your time riding instead of worrying about maintenance or repairs.
Starting at 745cc for the smaller model, the Honda Shadow is a great used cruiser motorcycle. It's also a suitable motorcycle for beginners. They're famously comfortable, thanks to the 26-inch seat height, and easy to ride. It's hard to complain about the 55+ MPG fuel economy that the Shadow is able to achieve.
Yamaha Virago 1100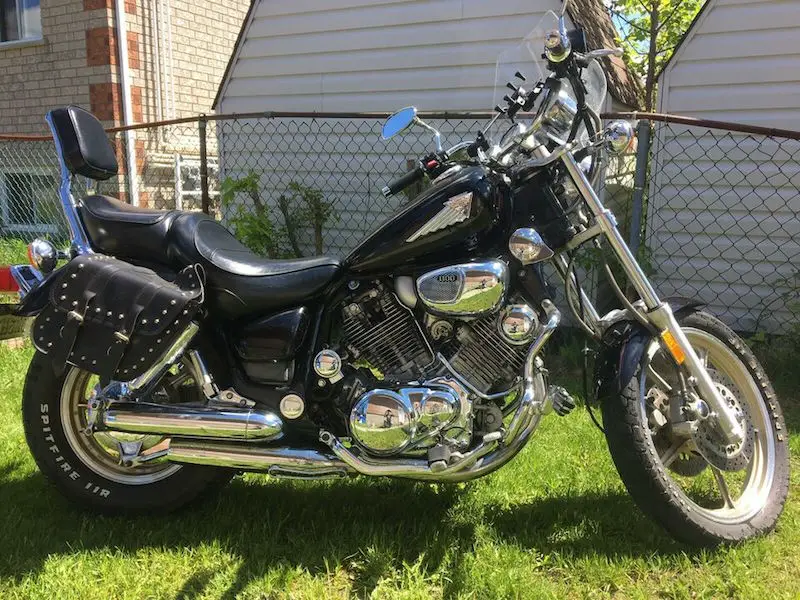 Up until the late 90s, the Yamaha Virago was one of the most popular cruisers in North America. Today, younger riders will know this bike as the Yamaha V-Star 1100. Even in the 80s and 90s, the Virago was known for its durability and style.
Brand new the Virago was available for around $4500. Even at the time that was a bargain for such an incredible bike. Nowadays it's possible to find a Virago in the $2-3000 range. The V-Star 1100 can even easily be found for under $5,000 depending on the year and mileage.
It's hard to go wrong with any of the Yamaha V-Twin machines. Most mechanics will be familiar with them. If they hadn't ridden them in the past, the Virago will at least have been a common bike for mechanics to be working on.
When it was released, the Virago was one of the only cruisrs at the time that came with a shaft drive. Most other bikes had a chain drive or belt final drive, which is harder to maintain and less reliable. The chrome-heavy design also helped make the Virago a distinctive, eye-catching ride.
As a Yamaha, the Virago 1100 is as reliable as can be. Like I've mentioned before, it's hard to go wrong with any Japanese cruiser from any time period. Whether you're looking for replacement parts, upgrades, or general accessories, there's a huge aftermarket for the Virago that's still available today.
Harley-Davidson Sportster 883 (Best Used Harley-Davidson Under $5000)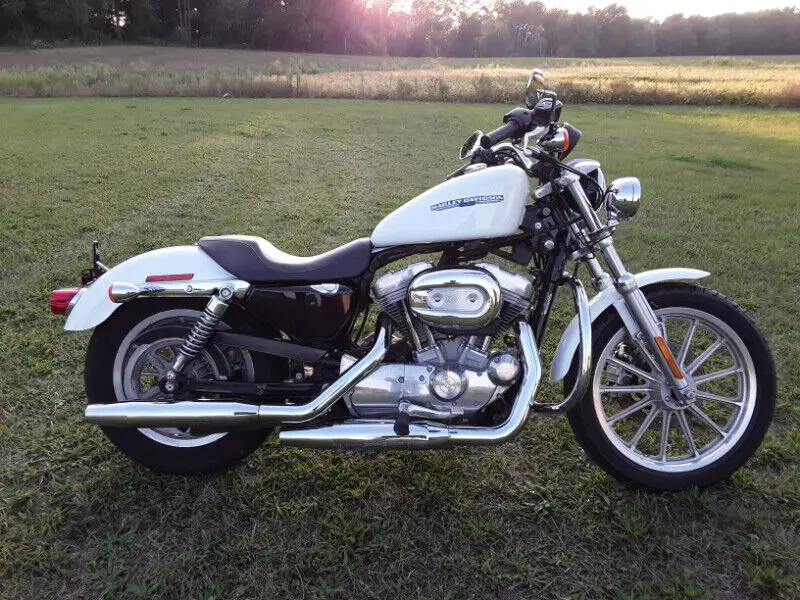 Depending on where you're from, it can be possible to find a Harley-Davidson Sportster 883 for under $5,000. In our opinion, this makes it the best budget Harley-Davidson motorcycle and it's an affordable way to break into the HD community.
While still a popular bike today brand new, the Harley Davidson Sportster 883 is readily available in local used motorcycle markets. If you keep your eye out, you can definitely find them in the $3,000 to $5,000 range. Watch out though, many owners like to heavily modify their Sportster's, so look for one as close to stock as possible.
As a standard cruiser motorcycle, the upright position is comfortable for both commuting and longer rides. Thanks to the 883cc V-twin under your legs, this bike has enough power to impress and throw you back in your seat. For one of the lower end Harley's, many mechanics are familiar with working on the 883 so you won't have any problems with maintenance.
If you're looking to get your first Harley on a budget, or you want to rip around on something American-made, it's hard to go wrong with the Harley Davidson 883 Sportster. Keep an eye on your local markets and you can find the 883 for a steal. Don't forget to get the matching HD gear – just to fit in!
Suzuki SV650 (Best Used Sports-Touring Motorcycle)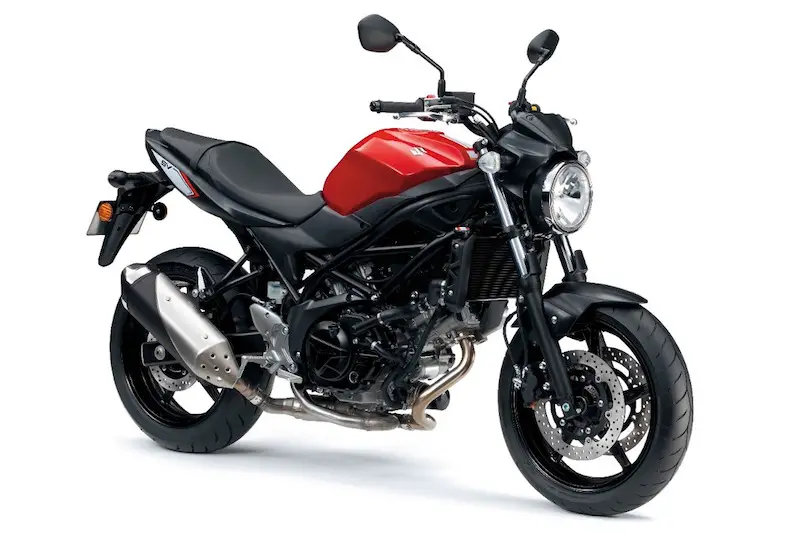 Having been redesigned in 2003, the Suzuki SV650 is a popular used motorcycle for both new and experienced riders. Readily available for under $5000, the power and comfort of the SV650 make it a great choice for commuting, weekend trips, street rides, and anything in between. Many riders like to pick up the SV650 for cheap and turn it into a screaming track bike.
If hitting the track isn't your thing, you'll still enjoy the upright seating position and aggressive gearing on the Suzuki SV650. After the redesign, this bike came equipped with fuel injection and a modified frame. It's a naked motorcycle, so you've got the aggressive look, yet it's still practical enough to be a daily rider.
As one of the most popular used sports touring motorcycles, there is a big aftermarket of parts and accessories for the Suzuki SV650. There's a large online community that you can rely on for maintenance and upgrades. You also won't be surprising any mechanics if you have them to roll into the shop with this bike – many experienced riders have owned or ridden one in the past.
With 125 horsepower, you'll be able to keep up with other spirited riders in the twisties. The 645cc engine is fun enough if you want to rip, and tame enough to keep you out of trouble. At around 437-pounds wet, it's not a heavy bike by any means so you'll be able to zip through traffic or commute without getting tired.
Honda CB750 (Best Used Cafe Racer Motorcycle)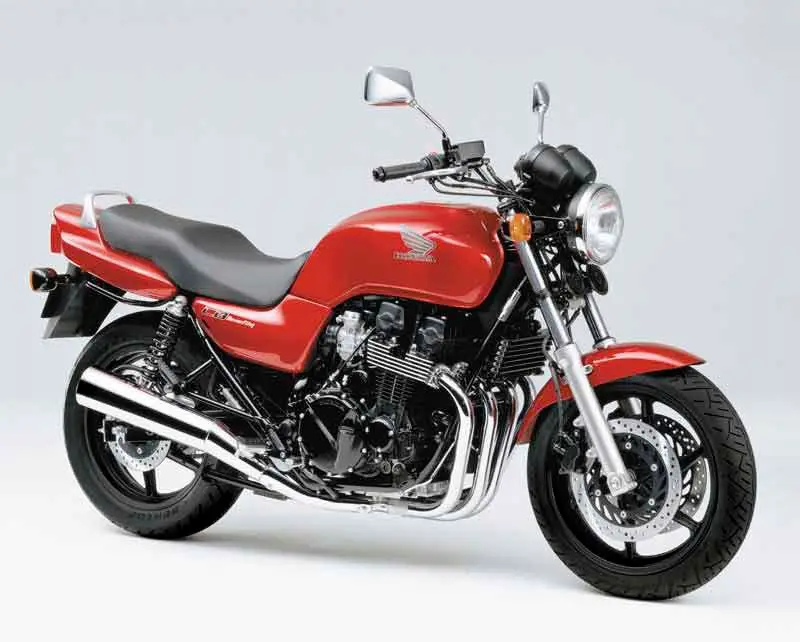 The Honda CB750 is another classic UJM that's bound to turn heads wherever you go. Honda's from any era are bulletproof as they come and this one is no exception. At the time when this bike was released, it was one of the fastest and biggest motorcycles you could get from Honda. Today, the Honda CB750 is still plenty of fun to ride and a great choice if you're looking for the best used cafe racer motorcycle.
Depending on where you're from, it's possible to pick up a Honda CB750 for less than $2,000. Near the higher end of the Range, close to $4,000 or more, these can be found in incredible condition. Keep in mind that the CB750 is becoming more popular for riders looking for a cafe racer project, so they're slowly becoming more expensive.
The Honda CB750 comes equipped with an air-cooled, 736cc engine. Production started back in 1969, but the best models are those from the late 70s and 80s. With an upright seating position and in-line four cylinder engine, the CB750 is fun to ride, reasonably quiet, and comfortable for commuting or weekend trips.
One main drawback to the Honda CB750 is its fuel economy. The thirsty Honda gets just 34.3MPG, or nearly 7L/100KM of driving distance. With the 5gal/19L tank you'll probably be stopping to fuel up more often than you'd like. This definitely isn't one of the most fuel efficient motorcycles you could buy. Regardless, for local city rides, short commutes, and for turning into a cafe racer to take out on weekends, the Honda CB750 still makes the list as one of the best used motorcycles under $5000.
Honda CBR600F4i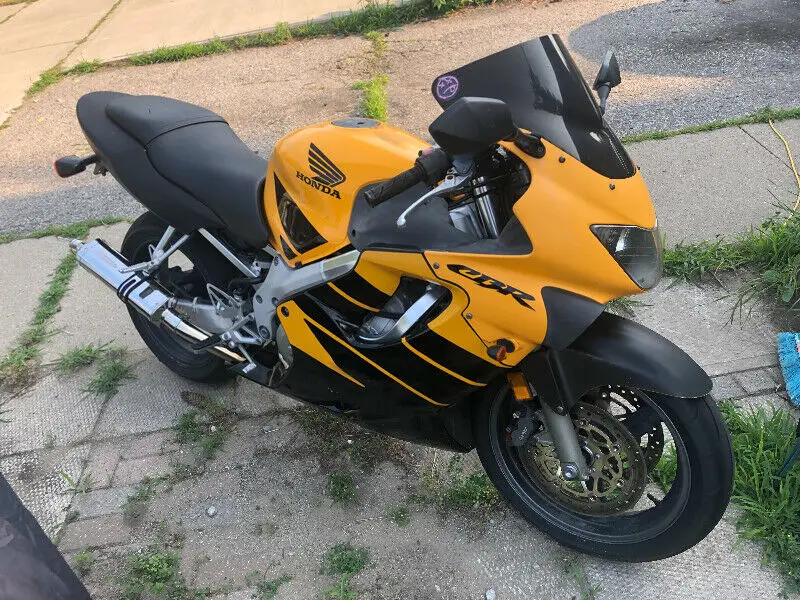 The Honda CBR600F4i is another great option if you're looking for the best used sports bike under $5,000. This is a more modern bike than the Super Hawk we previously mentioned. If you're looking for something a little sporty, more contemporary, and easier to work on, you'll definitely want to check out the Honda CBR600F4i.
The Honda CBR600F4i is the perfect blend of street sport performance and all day comfort. You can take this bike into the city for some aggressive rides, or spend the day exploring the twisties nearby. With a 0 to 60 time of 3.52 seconds, the CBR600F4i is a blast to ride, especially if you're on a budget.
Depending on where you're from, this bike can be found for well under $5,000. Many local markets have them in riding condition starting at $2,000. Some riders like to turn the Honda CBR600F4i into a track bike, but it's also fun for spirited local rides.
Whether you're a beginner or expert, the Honda CBR600F4i is easy to control and handles like a dream. It has that Honda reliability you can count on, a clutch that's easy to use, and a longer throttle as to not intimidate you. Despite being an older bike, there are still plenty of aftermarket parts and accessories available.
It's hard to go wrong with the Honda CBR600F4i if you're looking for a bike that can go fast in a straight line or in the twisties. The comfortable riding position and versatility of the CBR600F4i make it a great choice for riders interested in a used sports bike. For the price, this bike won't break the budget and should last you years of regular riding.
Yamaha FZ-1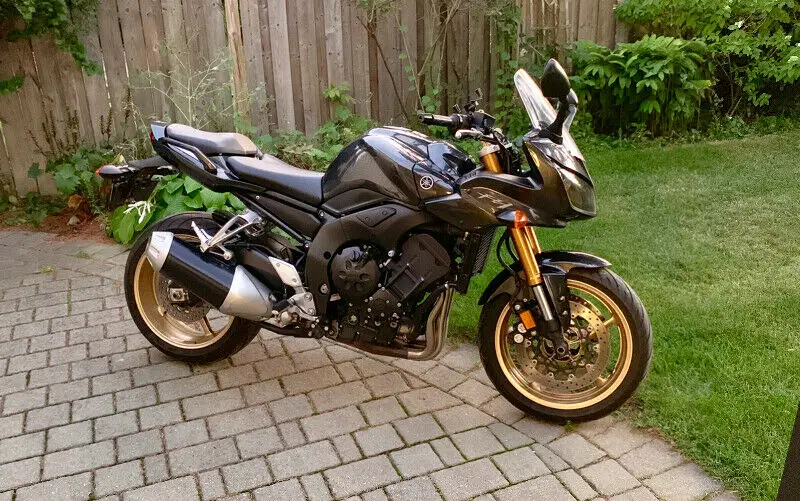 Those of you interested in a naked sports bike are going to want to check out the Yamaha FZ-1. This is a great alternative to the Suzuki SV650 as it's equally as reliable, comparably priced, and just as fun to ride. It's still possible to buy the FZ-1 from Yamaha, but it's the 2001-2005 generation you'll be most interested in if you're on a budget.
The first generation Yamaha FZ-1 comes carbureted with 125 horsepower between your legs. This bike is easy to work on and there are heaps of aftermarket parts and accessories available. It's possible to use the Yamaha FZ-1 as a track bike, although it's more fun for an aggressive street machine or mid-distance tourer.
Thanks to the 998cc engine, you'll have no problem smoking other cars and most bikes off the line. The Yamaha FZ-1 makes for spirited rides in the twisties, and it's also fun for shorter local rides if that's more your thing.equipped with an 4-stroke, inline four engine, this bike is easy to work on and super reliable for long-term ownership.
The Yamaha FZ-1 is one of those bikes that's always going to put a smile on your face whenever you ride. It's versatile, impressively reliable, comfortable to ride, and aggressive enough out on the street or track. While not the best choice for beginners, the Yamaha FZ-1 is an amazing bike for experienced riders looking for raw power.